Unboxing AULA WIND F2028 multimedia keyboard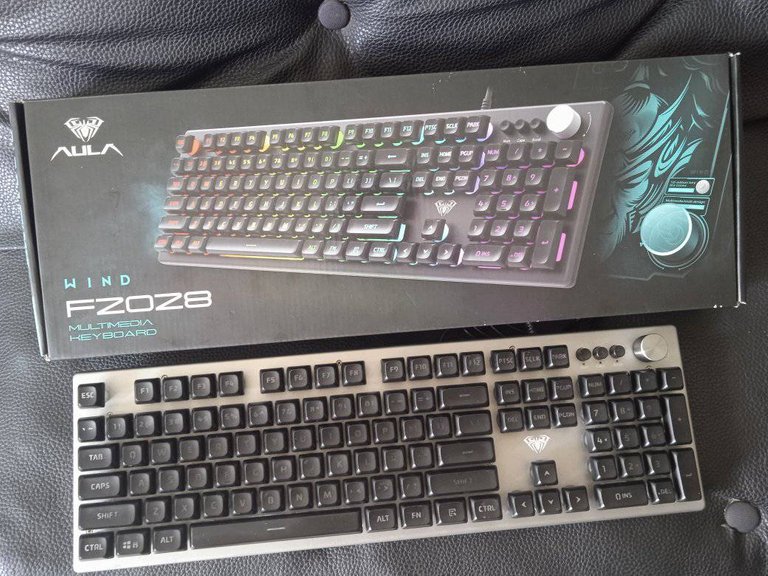 Buenos días comunidad hive adquirí este teclado AULA WIND FZ0Z8 MULTIMEDIA KEYBOARD este teclado lo hace diferente a los estándar o comunes, Es diseñado para juegos el modo retroiluminación RGB el material del teclado es metálico en la cubierta superior en la cubierta inferior es de plástico las teclas son cómodas al tacto y precisa cada una es independiente es un diseño elegante. Características del teclado Es Retroiluminación RGB Cada tecla se iluminan es un RGB común a que me refiero con común ella cambia de color pero solo un tono gris, rojo, morado, amarillo, verde, azul oscuro, azul cielo, la iluminación la podemos cambiar pero en un color fijo. Teclas multimedia a través de Fn son comandos que tiene el teclado para acceso rápido correo iniciar un juego navegar por internet, calculadora Perilla multifunción Modo dual de una tecla. Perilla multifunción funciona para controlar el volumen para mi gusto tiene un toque retro eso y me encanta es tipo los televisores o equipo de sonido de los 90. Otra función que cumple es que podemos ajustar la intensidad de la luz RBG del teclado. También podemos cambiar la luz y el modo de luz como si fuera la luz de arbolito de navidad. El teclado cuenta con una herramienta para quitar las teclas con facilidad y facilitar el mantenimiento. Botones de acceso rápido para controlar la música.
Good morning community hive I acquired this keyboard AULA WIND FZ0Z8 MULTIMEDIA KEYBOARD this keyboard makes it different from the standard or common, It is designed for games RGB backlight mode the keyboard material is metal on the top cover on the bottom cover is plastic keys are comfortable to the touch and accurate each is independent is an elegant design. Keyboard Features It is RGB backlighting Each key is illuminated is a common RGB I mean common she changes color but only a shade of gray, red, purple, yellow, green, dark blue, sky blue, the lighting can change but in a fixed color. Multimedia keys through Fn are commands that have the keyboard for quick access mail start a game browse the internet, calculator Multifunction knob Dual mode of a key. Multifunction knob works to control the volume for my taste has a retro touch that and I love is type televisions or sound equipment of the 90s. Another function is that we can adjust the intensity of the RBG light on the keyboard. We can also change the light and the light mode as if it were the Christmas tree light. The keyboard has a tool to remove the keys easily and facilitate maintenance. Quick access buttons to control the music.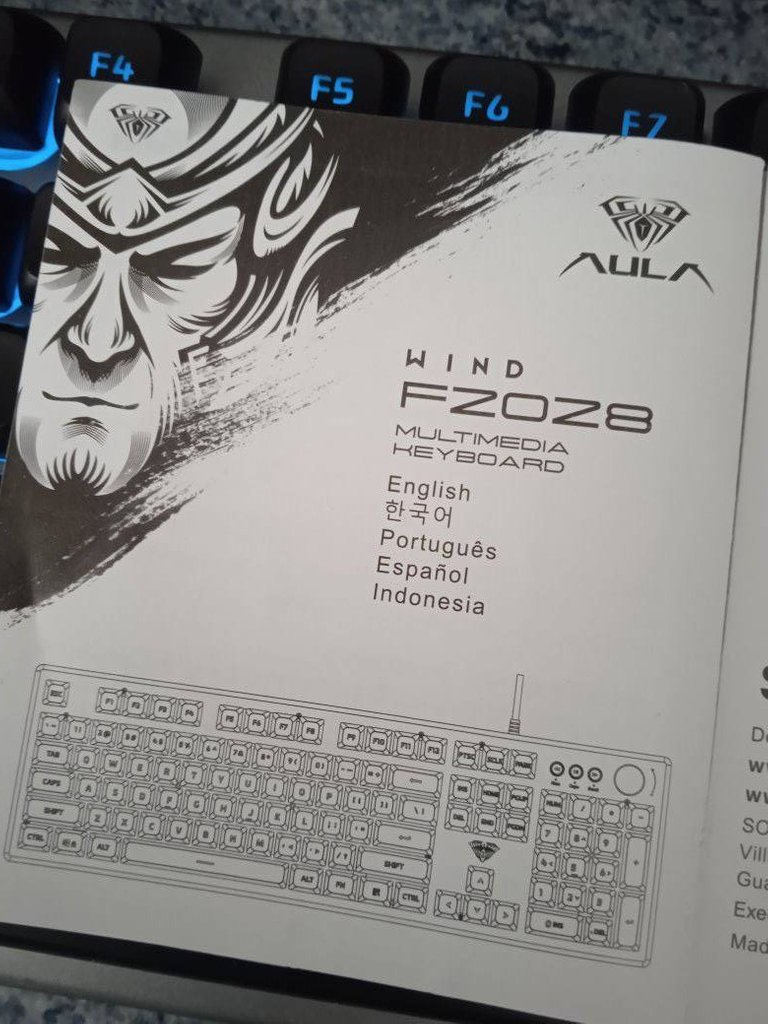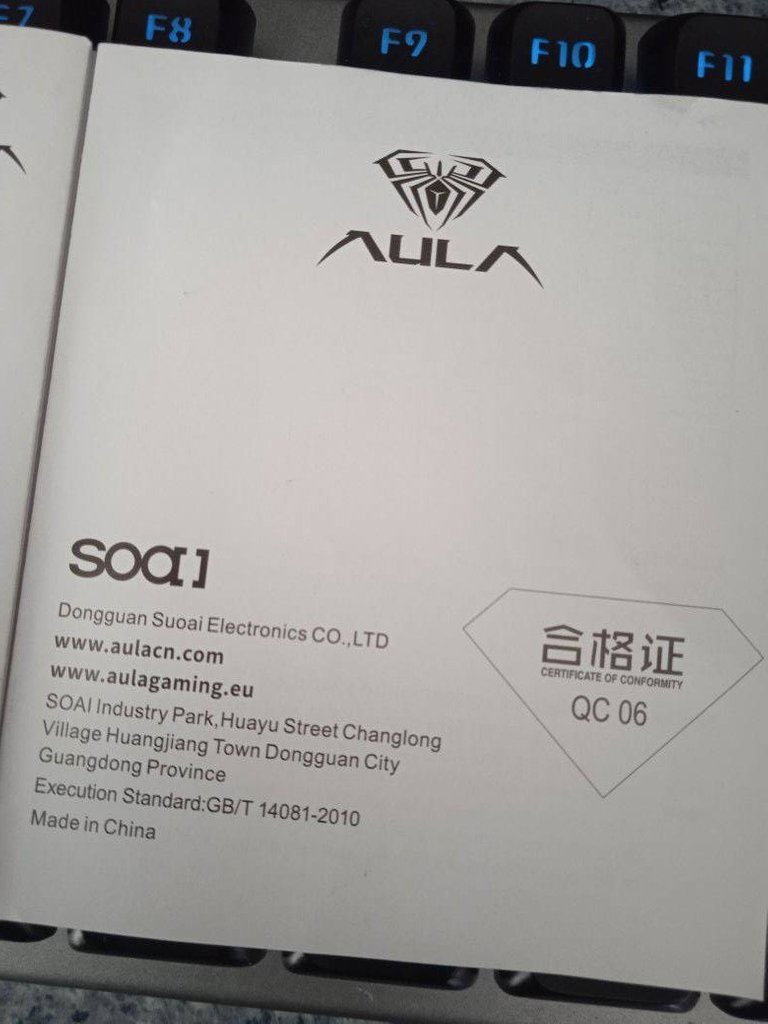 Fuente del contendio / Source of content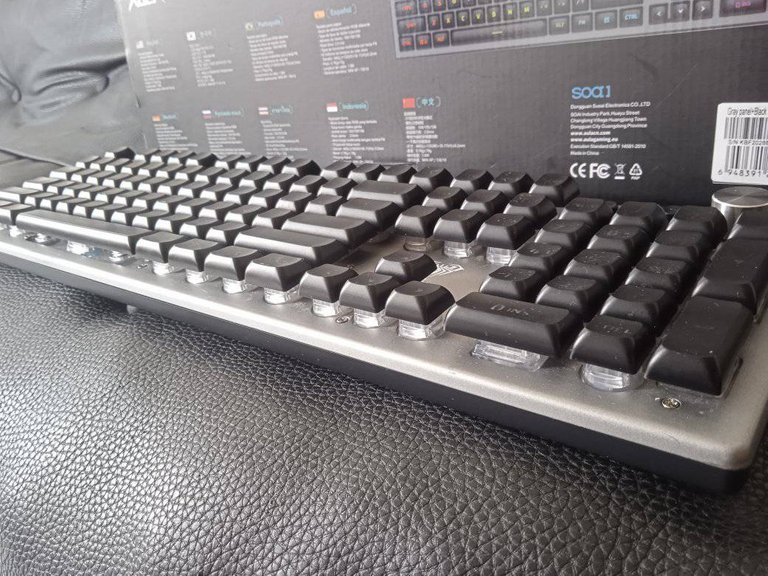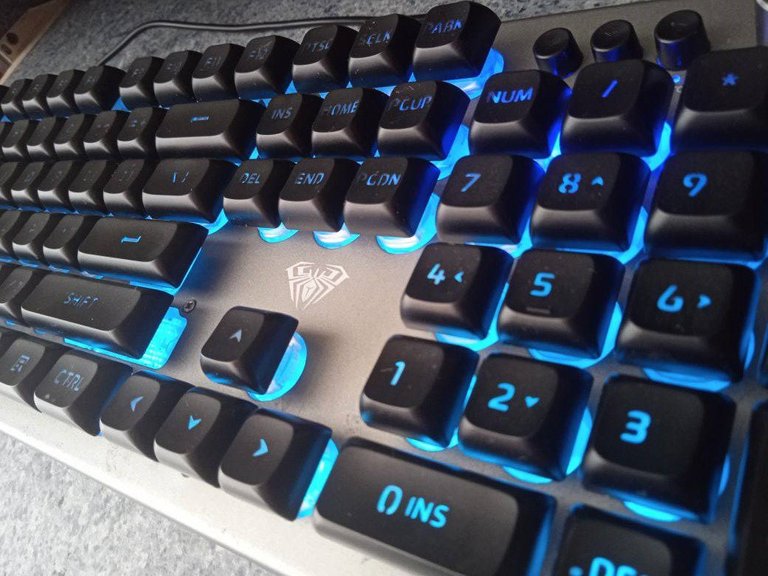 Voy contarles porque lo adquirí siempre cuando compramos un periférico de entrada que puede ser el teclado o ratón siempre nos guiamos por lo que está de moda en el 2022 la tendencia que nos vende el mercado es el RGB muchos clientes por ver más luz creen tener mejor rendimiento y en si lo que aporta es estética en el equipo. En mi caso que trabajo con servicio técnico tengo la ventaja de ver y probar estos artículos de computación. Actualmente estoy trabajando en las mañanas y tardes cuando quiero sentarme en computadora en horas de la noche me hace falta la luz del teclado, cuento con teclado gaming steelserie Zboard limited edition pero sin luz RGB. El cual es incómodo trabajar en horas de la noche. Muchos dirán pero la opción es prender la luz donde tienes tu computadora. Pero está en mi dormitorio en oportunidades está descansando mi esposa y para no molestar con la luz del cuarto y por la noches es mi tiempo libre para crear contenido y jugar mis juegos digamos es la hora de distraerme y sentarme libremente en mi computador hacer lo que me gusta.
I will tell you why I acquired it always when we buy an input peripheral that can be the keyboard or mouse we are always guided by what is fashionable in 2022 the trend that sells us the market is the RGB many customers to see more light believe they have better performance and if what it brings is aesthetics in the team. In my case that I work with technical service I have the advantage of seeing and testing these computer items. I am currently working in the mornings and evenings when I want to sit at the computer at night I need the keyboard light, I have a gaming keyboard steelserie Zboard limited edition but without RGB light. Which is uncomfortable to work at night. Many will say but the option is to turn on the light where you have your computer. But it is in my bedroom when my wife is resting and not to bother with the light of the room and at night is my free time to create content and play my games let's say it is time to distract me and sit freely on my computer to do what I like.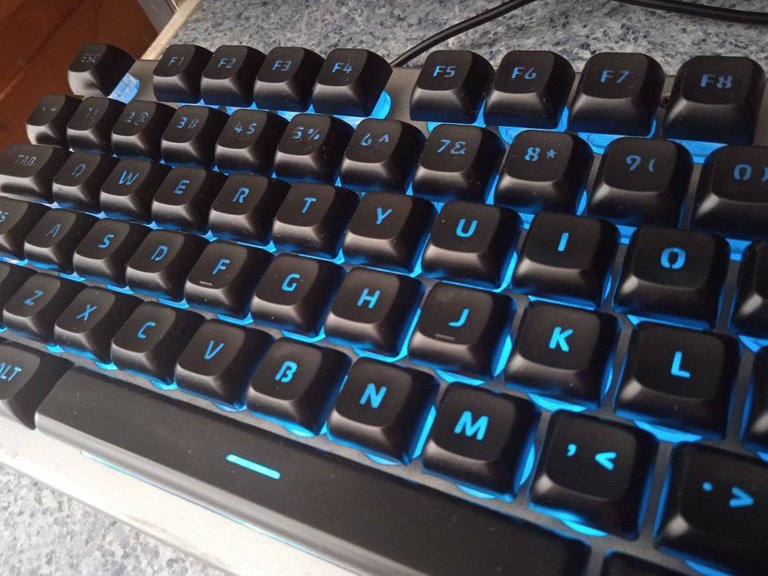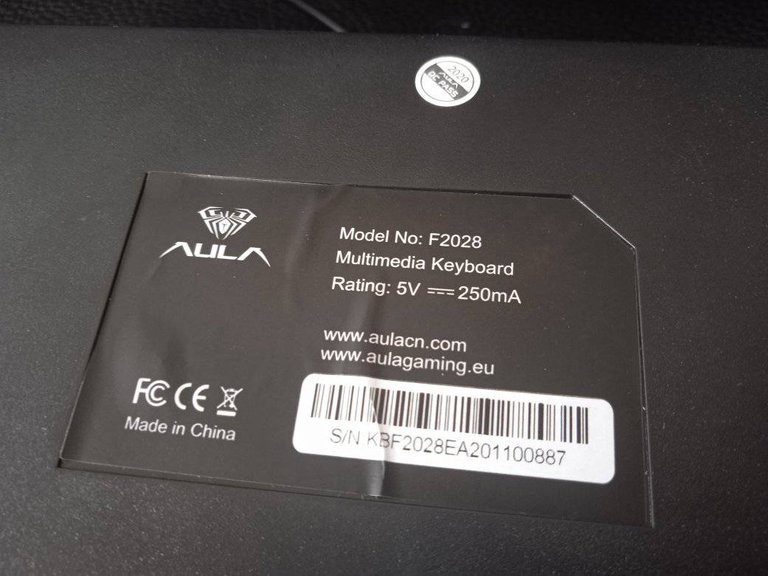 Escribir con un teclado, muchas personas lo realizamos de manera natural es como caminar. Crear post en hive puedo hacerlos en las noches toma tiempo tenemos que utilizar comandos que son símbolos en el teclado y ahí es donde les comento es necesarios el teclado RGB para escribir estos comandos. Hay diferentes precios de teclados en el mercado este me costó 30 dólares es de calidad es AULA es original certificado gaming con marca se destaca por componentes de calidad, hay muchos que son de mala calidad a menor precio el mercado se pueden conseguir en 10 dólares pero son desechables como les comentos amigos siempre traten de comprar marca para que su inversión se mantenga y si posteriormente lo quieren vender es más fácil porque son productos que gustan por su calidad con este con este unboxing los dejo con imágenes y video del producto.
Typing with a keyboard, many people do it naturally is like walking. Create post in hive I can do them at night takes time we have to use commands that are symbols on the keyboard and that's where I tell you is necessary RGB keyboard to write these commands. There are different prices of keyboards on the market this one cost me 30 dollars is quality is AULA is original certified gaming with brand stands out for quality components, there are many that are of poor quality at lower price the market can be achieved in 10 dollars but are disposable as I comment friends always try to buy brand so that your investment is maintained and if you later want to sell it is easier because they are products that like for their quality with this with this unboxing I leave you with images and video of the product.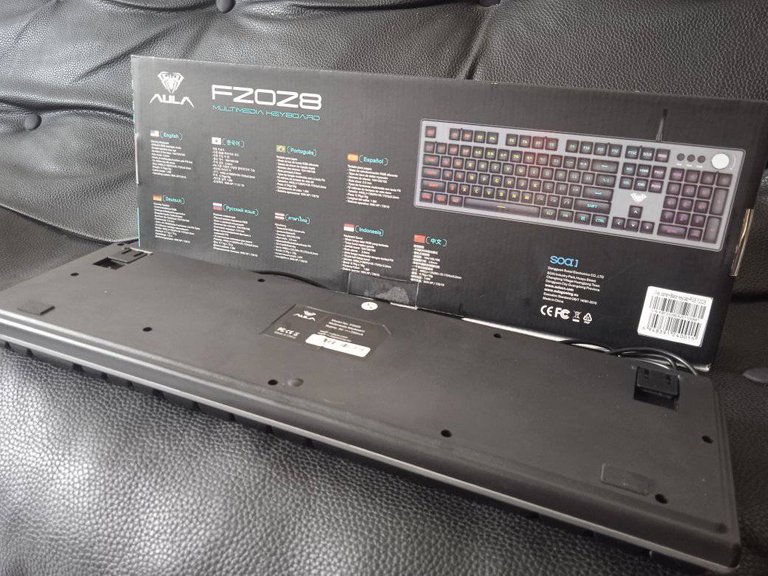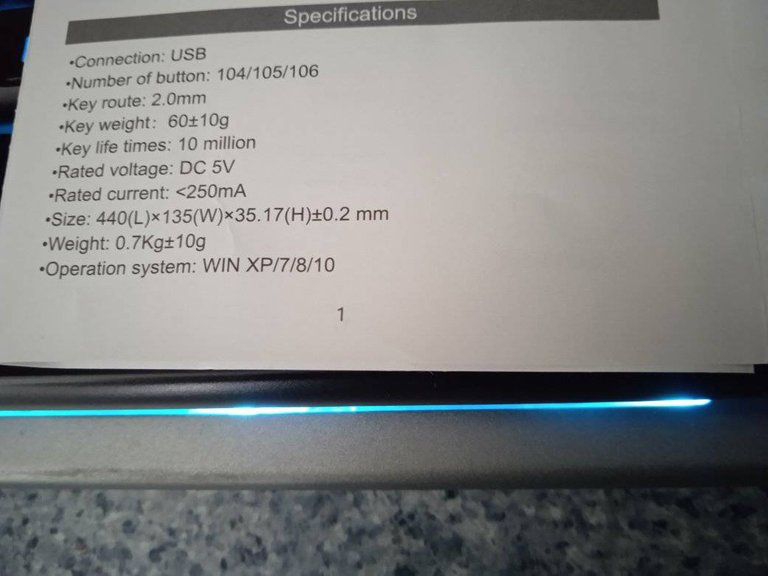 Unboxing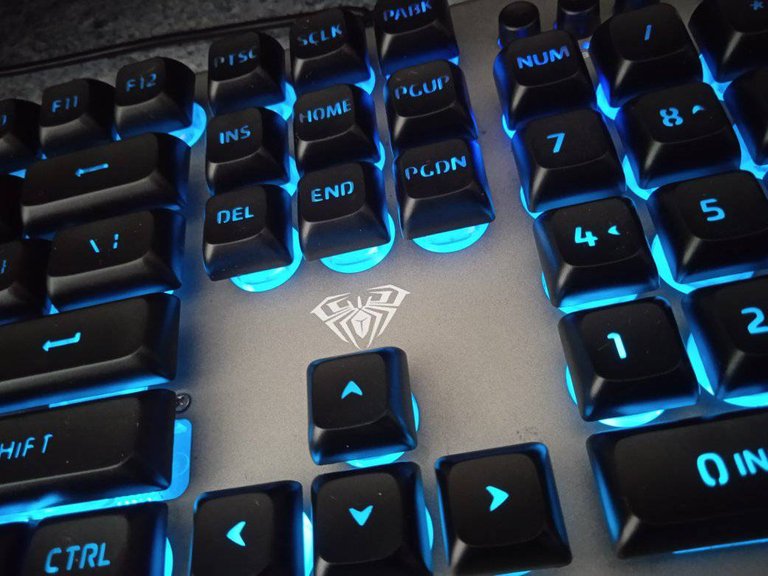 Las imágenes son tomadas con mi teléfono
El manual del teclado apoyo para realizar el contendió del post
Fabricante AULA
Modelo wind F2028
Multimedia keyboard
The images are taken with my phone
The manual of the keyboard support to realize the content of the post
Manufacturer AULA
Model wind F2028
Multimedia keyboard
Instagram
Alejandrojimenez86
Discord
Abgalejo#2572
Canal YouTube
https://www.youtube.com/channel/UC8QThO8MrRLhjVZqNMgNmkg
Canal peakd
https://peakd.com/@guaritosex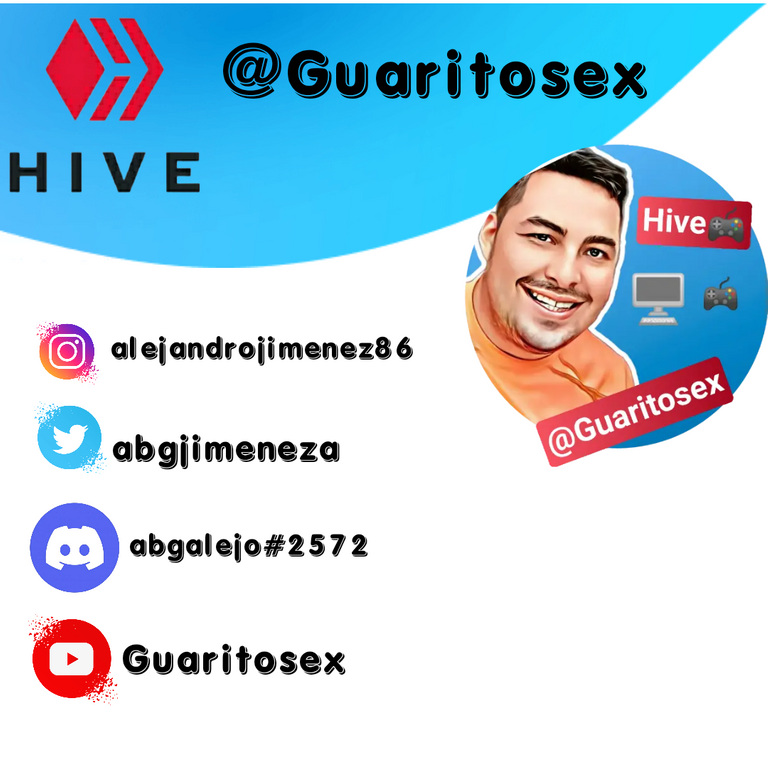 ---
---