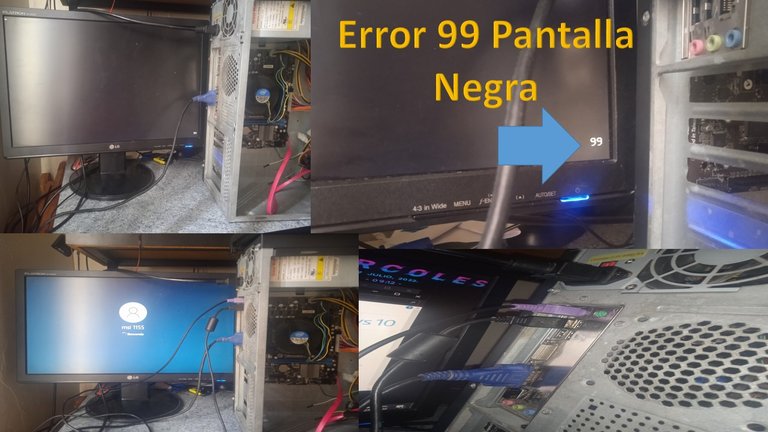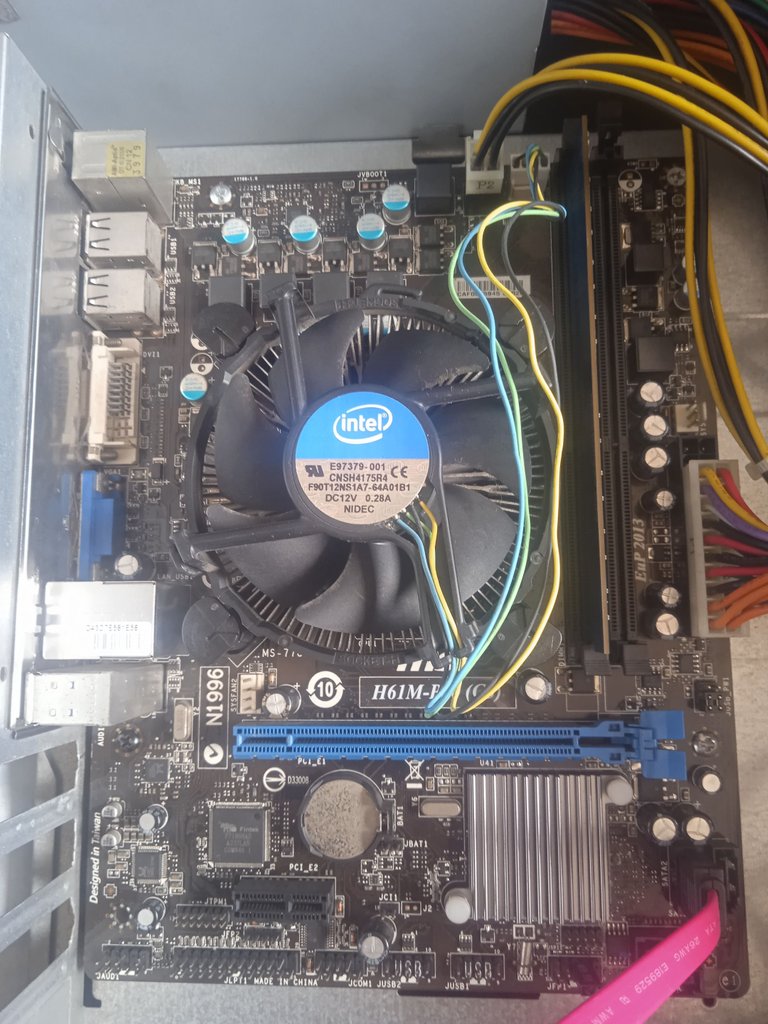 Good morning geek community technology lovers this time I acquired a motherboard MSI 1155 model H61M-P20(G3) this board has the famous problem black screen with this number 99 on the side of the right side at the bottom, to solve this problem I had to do several basic steps but in the end I drew a small conclusion and that is working well I could format the motherboard and perform the basic functions that we do with a desktop computer.
Buenos días comunidad geek amantes de la tecnología en esta oportunidad adquirí una tarjeta madre MSI 1155 modelo H61M-P20(G3) esta placa tiene el famoso problema pantalla negra con este número 99 a un costado de lado derecho en la parte inferior, para solucionar este problema tuve que hacer varios pasos básicos pero a la final saque una pequeña conclusión y me esa funcionando bien la placa madre pude formatearla y realizar las funciones básicas que hacemos con una computadora de escritorio.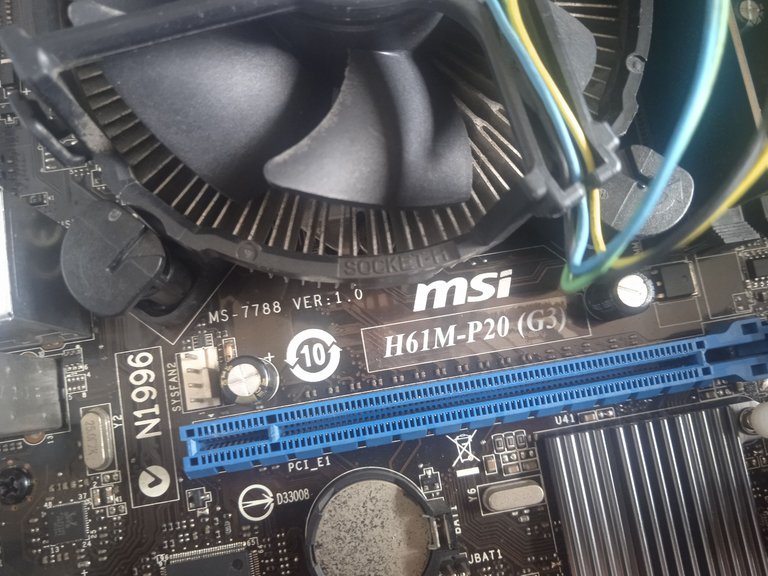 To start I acquired plate with a processor i3 2120 sold it to me in 45 dollars initially I paid a first part that was 30 dollars, I had to test the motherboard and I threw this error, talking to the owner of the plate told me that I was going to solve but so far we have not agreed another motherboard because he has to wait to arrive at his business to pass me one that does not present any detail, at the end of the day 30 dollars for a 1155 board with this processor is super good price despite its detail but it is for personal use to sell it this way I must be sincere with the customer who wants to acquire it with this detail.
Para iniciar adquirí placa con un procesador i3 2120 me la vendieron en 45 dólares inicialmente pague una primera parte que fue 30 dólares, debía probar la placa madre y me arrojo este error, hablando con el dueño de la placa me dijo que iba resolver pero hasta el momento no hemos acordado otra placa madre porque tiene que esperar que lleguen a su negocio para pasarme una que no presente ningún detalle, a fin de cuentas 30 dólares por una placa 1155 con este procesador está súper bien el precio a pesar de su detalle pero es para uso personal venderla de esta forma debo ser sincero con el cliente que la quiera adquirir con este detalle.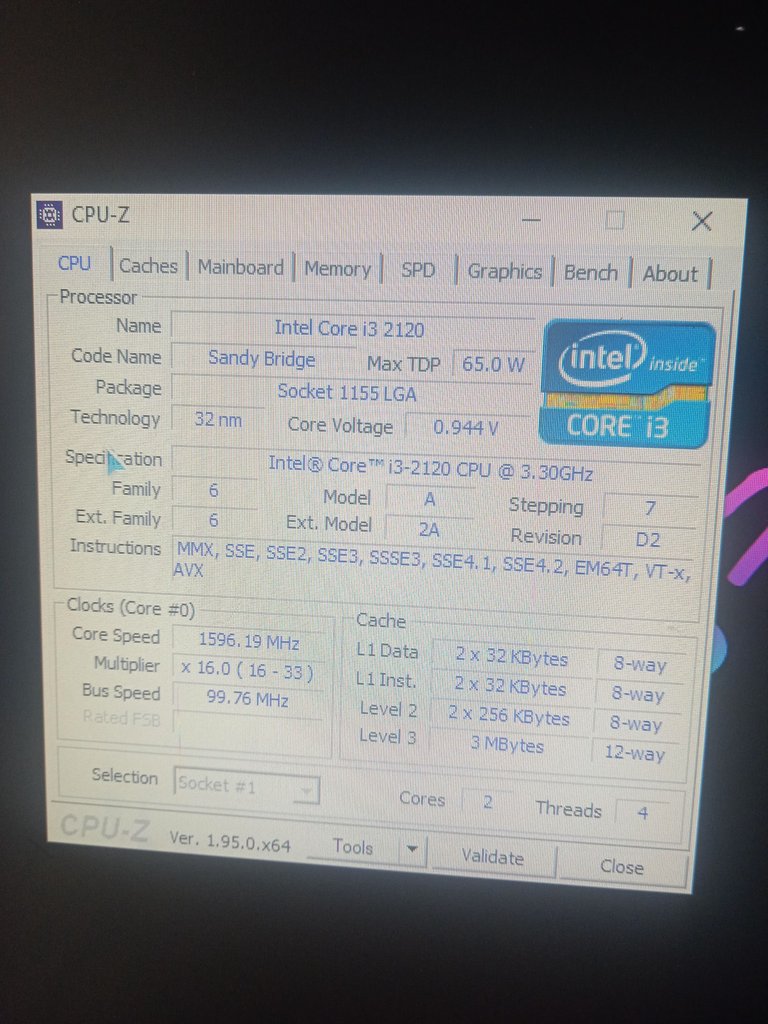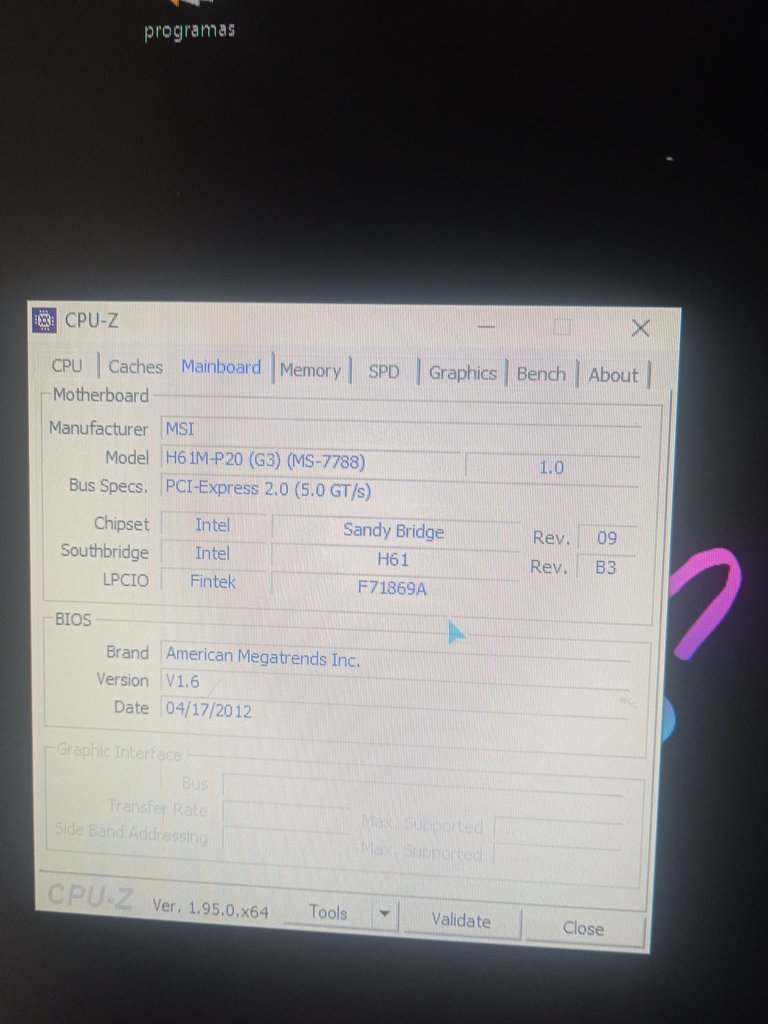 An i3 2120 in the market is in an estimated price of 20 to 25 dollars, fan cooler of the processor is in estimated price of 5 dollars, the plate comes out to me as 5 dollars. The price is good, if I can't change it, I don't lose money and I can recover it easily. To start this problem is due to many factors can be that the motherboard has the updated BIOS, other problems is that a component is short that is not sending the appropriate values that we must do to solve in my case I made several steps to get a solution and to use the motherboard.
Un i3 2120 en el mercado está en un precio estimado de 20 a 25 dólares, fan cooler del procesador está en precio estimado de 5 dólares, la placa me viene saliendo como 5 dólares. Está bueno el precio, si no me logra cambiar igual no pierdo dinero y puedo recupéralo fácilmente. Para iniciar este problema se debe a muchos factores puede ser que la placa madre tiene la BIOS actualizada, otros de los problemas es que un componente esta corto que no está mandando los valores adecuados que debemos hacer para solucionar en mi caso realice varios pasos para conseguir una solución y poder utilizar la placa madre.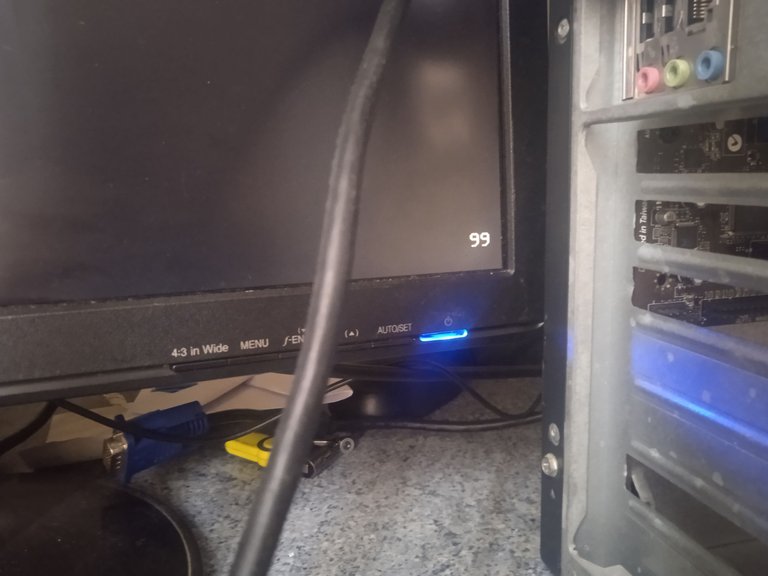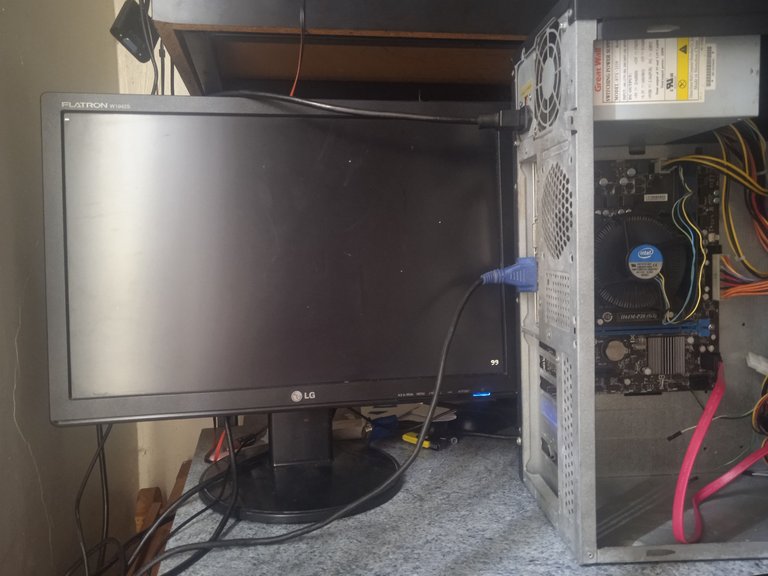 First I changed the processor I have an i3 3220 this processor I put it on the msi motherboard but still threw the error mentioned, note that this processor was on another motherboard of my property and is working perfect, to rule out that the i3 2120 processor was bad I proceeded to use on the motherboard ASUS 1155 and worked correctly, and with that I know that the processor was perfect I will recover my money that point.
En primer lugar cambie el procesador tengo un i3 3220 este procesador lo coloque en la placa madre msi pero aun así arrojo el error mencionado, cabe destacar que este procesador estaba en otra placa madre de mi propiedad y está funcionando perfecto, para descartar que el procesador i3 2120 estaba malo procedí a utilizar en la placa madre ASUS 1155 y funciono de manera correcta, ya con eso sé que estaba perfecto el procesador voy recuperando mi dinero ese punto.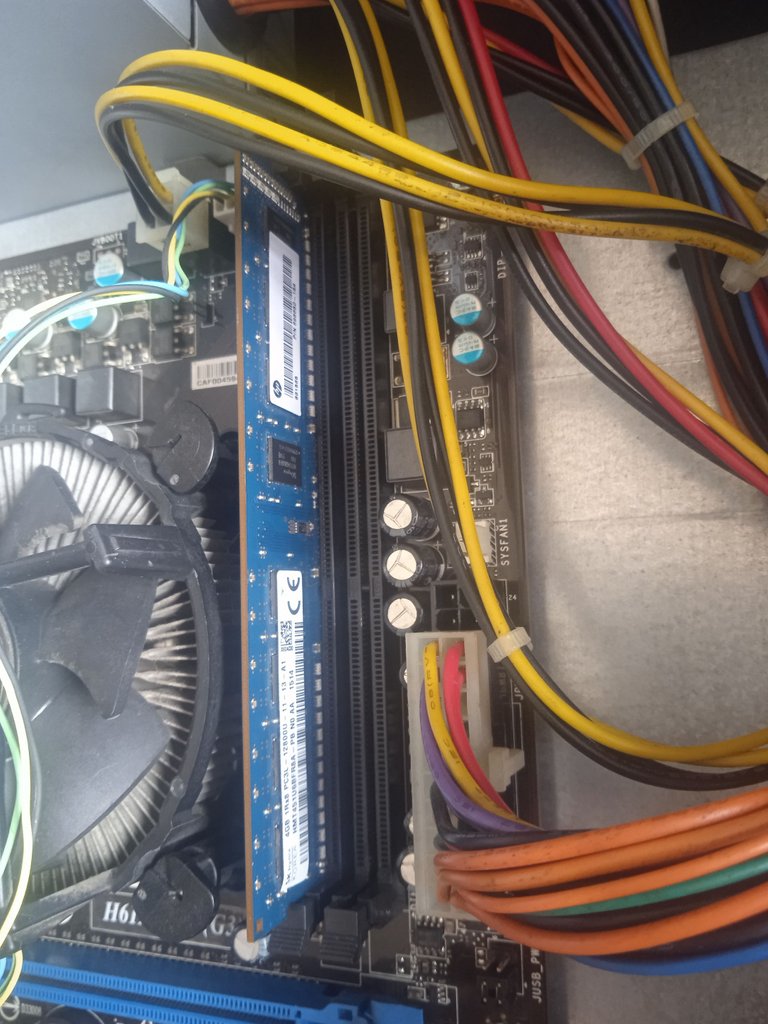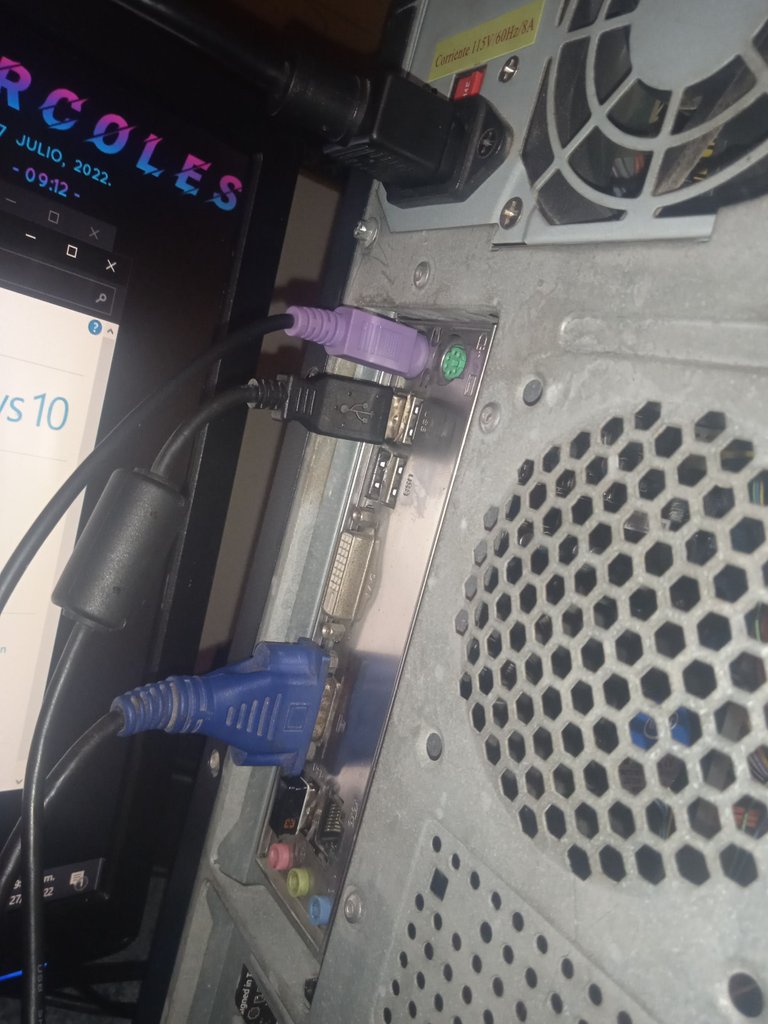 Second place I tried with a Slim power supply from a friend in the same way the same error, I proceeded to change it for another staff that has the correct value in the same way the plate presented the same error, to continue with the component check I need to try is with the RAM memory I tried a 2gb RAM then tried a 4gb RAM Samsung brand in the same way presented the problem, and with this I was that I do as I can solve and we can see many tutorials this plate is very common to happen these problems because there are lots of videos with possible solutions.
Segundo lugar probé con una fuente de poder Slim de un amigo de igual forma el mismo error, procedí a cambiarla por otra personal que tiene el valor correcto de igual forma la placa presento el mismo error, para continuar con el chequeo de componente me falta probar es con la memoria RAM probé una 2gb RAM luego probé con una 4gb RAM marca Samsung de igual forma presento el problema, ya con esto estaba que hago como puedo solucionar y podemos ver muchos tutoriales esta placa es muy común que suceda estos problemas porque hay gran cantidad de videos con posibles soluciones.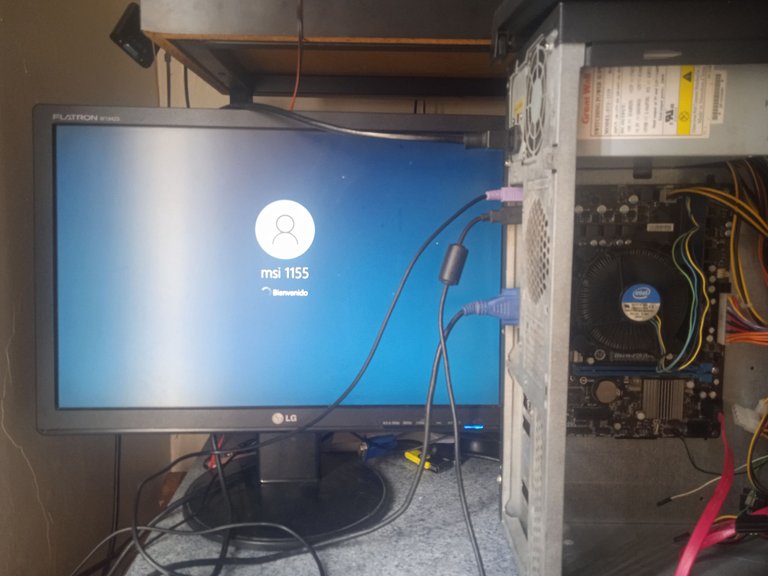 Lastly I tried moving the JUMPER with this we reset the BIOS of the motherboard with this also did not get any solution, my keyboards are all USB to give with solution connect a Ps/2 keyboard and the machine turned on correctly now I can use but if I disconnect this port the machine continues with the same problem, What should I do to use this way trying the different solutions that many people have solved to me in particular this is the only way, it is not the first that I run into this model plates and always bring a detail at the end of the day I will use this plate in this way until I can have a definitive solution. I hope this content is to your liking for people who have this specific motherboard model. MSI 1155 model H61M-P20(G3) version 1.0.
En último lugar probé moviendo los JUMPER con esto reiniciamos la BIOS de la placa madre con esto tampoco se consiguió ninguna solución, mis teclados son todos USB para dar con solución conecte un teclado Ps/2 y la maquina encendió de forma correcta ahora puedo utilizar pero si desconecto este puerto la maquina sigue con el mismo problema, que debo hacer utilizar de esta forma probando las diferente soluciones que muchas personas han solucionado a mí en particular esta es la única manera, no es la primera que me topado con este modelo placas y siempre traen un detalle a fin de cuenta voy utilizar esta placa de esta manera hasta que pueda tener una solución definitiva. Espero que este contenido sea de su agrado para personas que tengas este modelo de placa en específico. MSI 1155 modelo H61M-P20(G3) versión 1.0.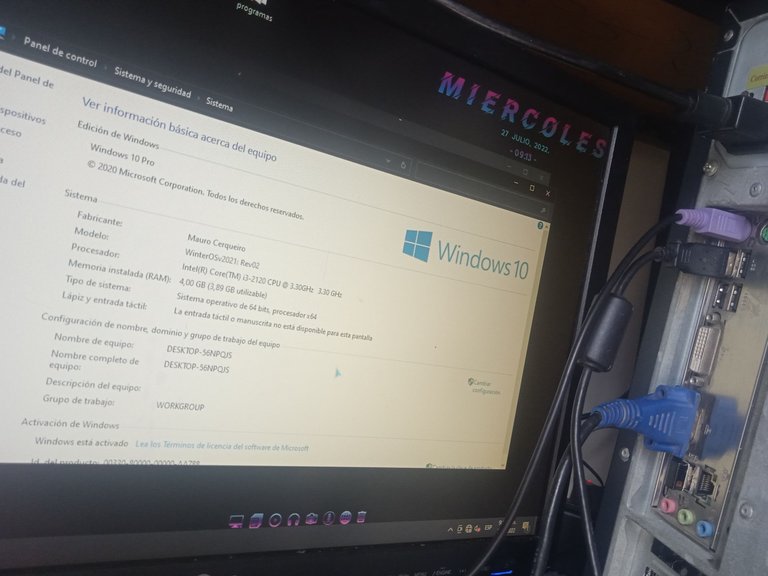 All images are personal images of my computer items.
Todas las imágenes son personales de mis artículos de computación.
Instagram
Alejandrojimenez86
Discord
Abgalejo#2572
Canal YouTube
https://www.youtube.com/channel/UC8QThO8MrRLhjVZqNMgNmkg
Canal peakd
https://peakd.com/@guaritosex