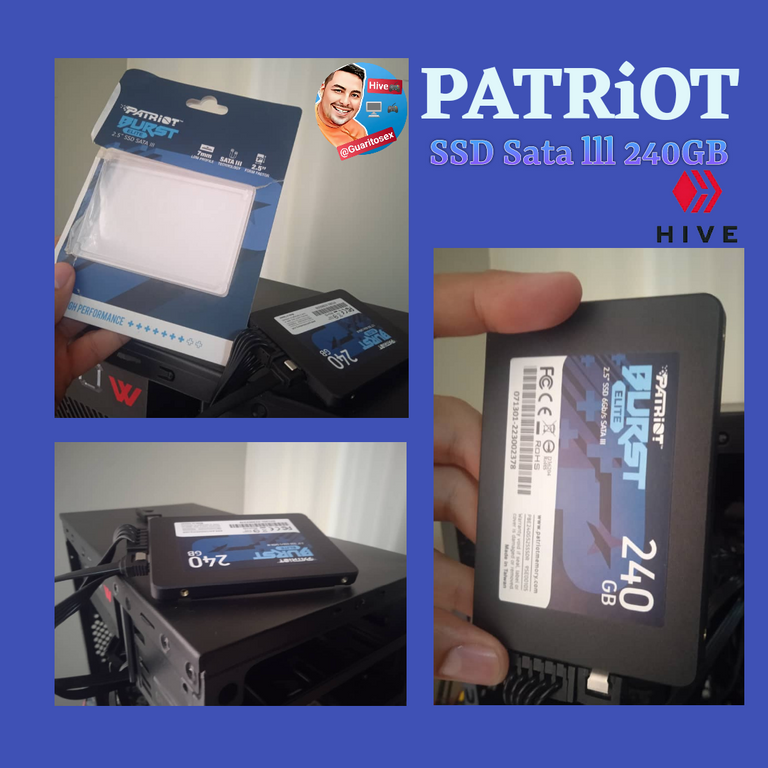 Good morning GEEK ZONE community, this time I come with this SSD PATRIOT TM model BURST ELITE 2.5 "with sata III technology is compatible with MAC that are the product of the Apple and Windows using the original equipment and generic market, when I say generic are teams that we can assemble different brands. To begin with, I acquired this product for 25 dollars is a good price months ago we could easily see in 35 to 30 dollars, this SSD has the capacity of 240GB enough for the drivers of the equipment and basic programs of the same.
Buenos días comunidad de GEEK ZONE, en esta oportunidad vengo con este SSD PATRIOT TM modelo BURST ELITE 2.5" con tecnología sata III es compatible con MAC que son los producto de la Apple y Windows que utilizan los equipos originales y genéricos del mercado, cuando me refiero a genérico son equipos que podemos armar de diferentes marcas. Para empezar, adquirí este producto por 25 dólares es un buen precio hace meses podíamos ver fácilmente en 35 a 30 dólares, este SSD tiene la capacidad de 240GB cantidad suficiente para los drivers del equipo y programas básicos del mismo.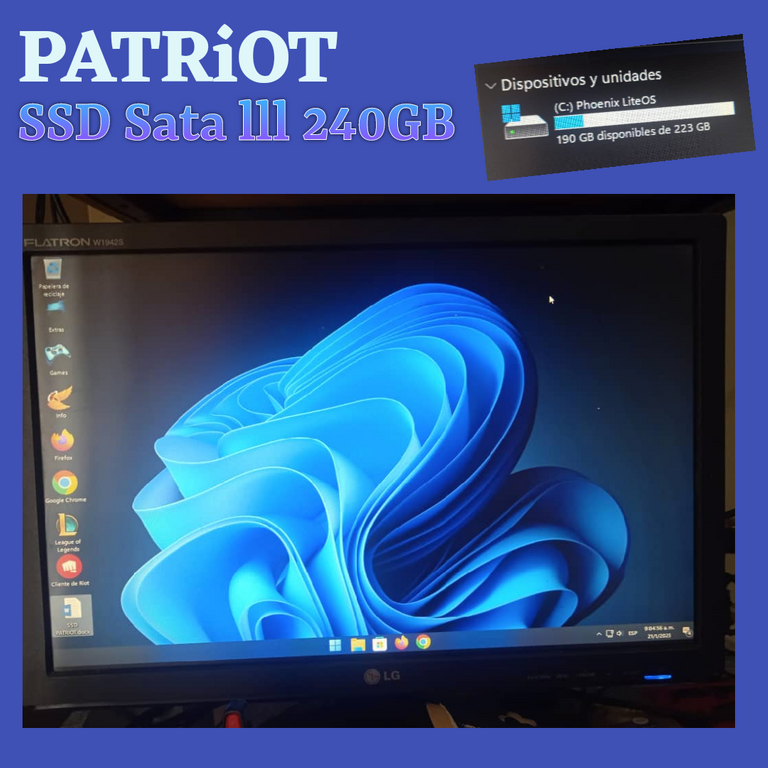 This product has many advantages generally speaking by the capacity of GB, in a previous post I talked about a 16 GB M.2 INTEL brand that gave me the owner of a store in Barquisimeto called TECNO PARTS C.A, in that opportunity I took the challenge of using it by placing a modified operating system of about 10 GB called Phoenix LiteOS, but it really is something complicated and annoying because I had to be careful not to fill the C disk of the operating system. At the beginning I got used to it, but with time it is something impossible even more if we use programs to upload videos from the screen or edit them.
Este producto tiene muchas ventajas hablando en líneas generales por la capacidad de GB, en un post anterior hable de un M.2 de 16 GB marca INTEL que me regalo el dueño de una tienda de Barquisimeto llamada TECNO PARTS C.A, en esa oportunidad asumí el reto de utilizarlo colocando un sistema operativo modificado de unos 10 GB llamado Phoenix LiteOS, pero realmente es algo complicado y fastidioso porque debía estar pendiente de no llenar el Disco C del SISTEMA OPERATIVO. Al inicio me acostumbre, pero ya con el tiempo es algo imposible más aún si utilizamos programas para subir videos de la pantalla o editarlos.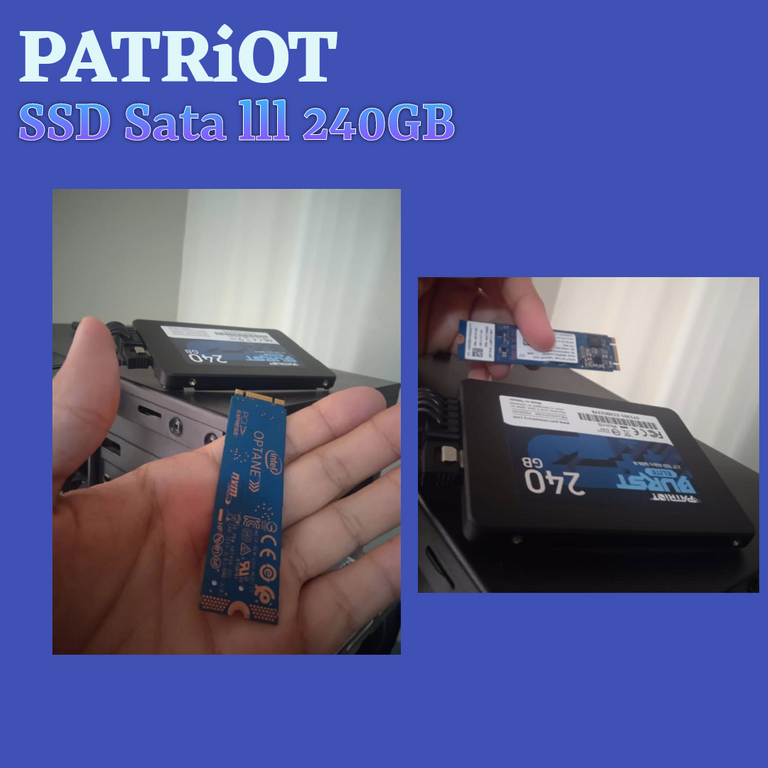 Always when we acquire product is to improve the previous working conditions, an example I can give is that when we surf the internet or download applications or program updates as ROBLOX that uses my daughter was the one that gave me more trouble because it uses the browser and the CACHE saves it on the C disk that is main you are left with nothing space. For a virus I spent more work as I damaged some ISO programs to quickly format my computer, the internet speed of my home is slow was more complicated to have my computer up to date. At the beginning I was working with my M.2 of 16 GB doing the Windows, but with the new operating system that I put Phoenix LiteOS Windows 11 with updates did not leave me any space, I was forced to buy this SSD to be able to solve and continue creating content and using my computer.
Siempre cuando adquirimos producto es para mejorar las condiciones de trabajo anteriores, un ejemplo que puedo dar es que cuando navegamos por internet o descargamos aplicaciones o actualizaciones de programas como ROBLOX que utiliza mi hija era el que me daba más problema ya que utiliza el navegador y la CACHE la guarda en el Disco C que es principal quedas sin nada espacio. Por un virus pase más trabajo ya que me daño algunas ISO programas para formatear de manera rápida mi equipo, la velocidad de internet de mi hogar es lenta fue más complicado tener mi equipo al día. Al inicio estaba trabajando con mi M.2 de 16 GB haciendo el Windows, pero con el nuevo sistema operativo que coloque Phoenix LiteOS Windows 11 con las actualizaciones no me dejo espacio alguno, me vi en la obligación de comprar este SSD para poder solventar y seguir creando contenido y utilizando mi equipo.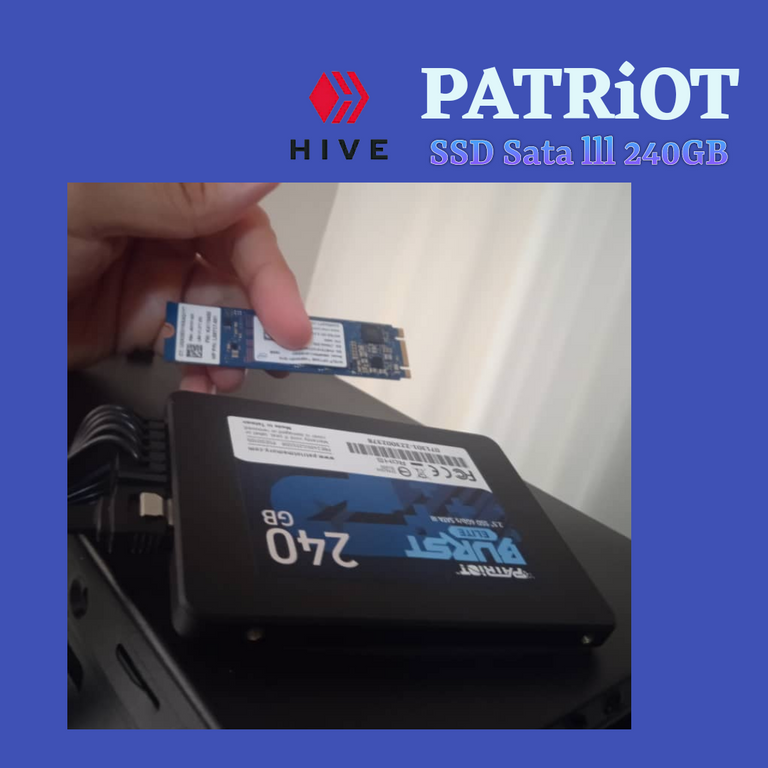 That I could use it with a mechanical hard disk and save me the money I invested, yes I could, but when we get used to a SSD or M.2 the speed of the equipment is great, working with a mechanical hard drive is very slow, in the market we can also find different brands of those SSD, as it is an item that is fashionable and necessary, I can tell you that they vary the speed of it because they bring many times SSD clones of poor quality and we see a physical appearance SSD but we are working internally with a mechanical hard drive, This is common to see with misleading offers that we must use some programs to see the performance of it, when I started using this I had that feeling that it was like poor quality, for what I see in the area I work constantly technical service. I hope you like the content have a point of reference when purchasing this particular item and take into account the capacity of GB.
Que podía utilizarlo con un disco duro mecánico y ahórrame el dinero que invertí, si podía, pero cuando nos acostumbramos a un SSD o M.2 la velocidad del equipo es genial, trabajar con un disco duro mecánico es muy lento, en el mercado también podemos encontrar distintas marcas de esos SSD, como es un artículo que está a la moda y es necesario, puedo decirle que ellos varían la velocidad del mismo porque traen muchas veces SSD clones de mala calidad y vemos un aspecto físico SSD pero estamos trabajando internamente con un disco duro mecánico, esto es común verlo con las ofertas engañosas que debemos utilizar algunos programas para ver el rendimiento del mismo, cuando empecé a utilizar este tenía como ese presentimiento que era como de mala calidad, por los que veo en el área que trabajo constantemente de servicio técnico. Espero que sea de su agrado el contenido tengan un punto de referencia a la hora de adquirir este artículo en particular y tomen en cuenta la capacidad de GB.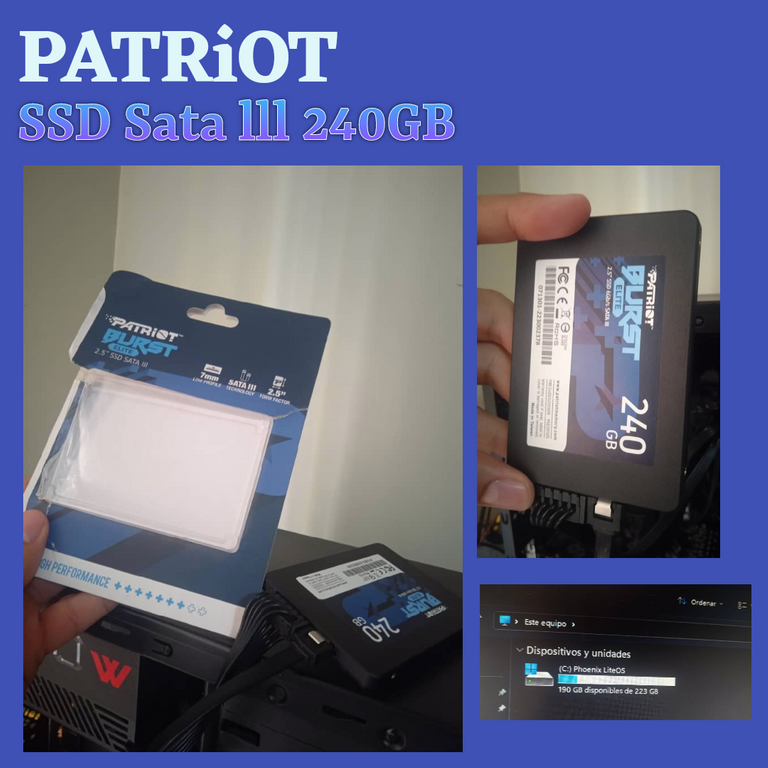 Post on how to use a 16gb M.2 you have this one handy.

Post de cómo utilizar un M.2 de 16gb tienes este a la mano.

https://peakd.com/hive-106817/@guaritosex/improving-my-computers-performance-with-the-super-speed-of-the-intel-nvme-m2-16gb-mejorando-el-rendimiento-de-mi-computadora-c

All images are taken from my cell phone / flyer maker editing program.

Todas las imágenes son tomadas de mi celular / programa para editar flyer maker