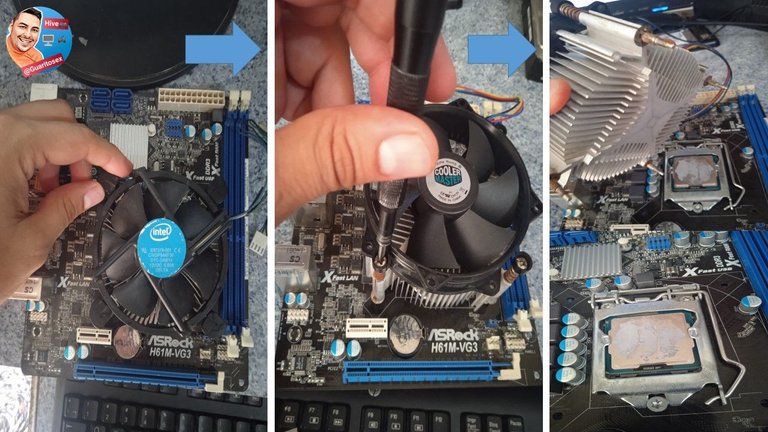 Good morning geek zone community in this opportunity I sell with a small tutorial on how we should remove the fan cooler of the processor what are the 2 options we have to perform this activity one would be because we must perform maintenance to the fan cooler of the processor another buy a new processor, without the help of a technician can perform this activity on our own.
Buenos dias comunidad de geek zone en esta oportunidad vendo con un pequeño tutorial de cómo debemos quitar el fan cooler del procesador cuales son las 2 opciones que tenemos para realizar esta actividad una seria porque debemos realizar el mantenimiento al fan cooler del procesador otra compramos un procesador nuevo, sin ayuda de un técnico podemos realizar esta actividad por nuestra cuenta.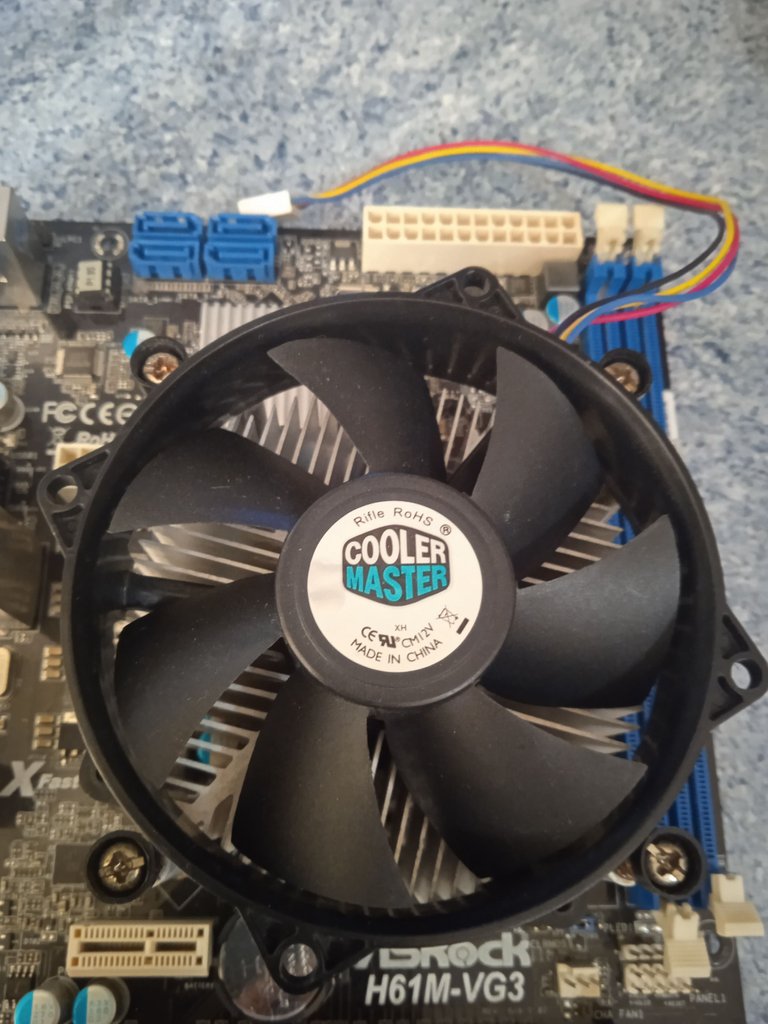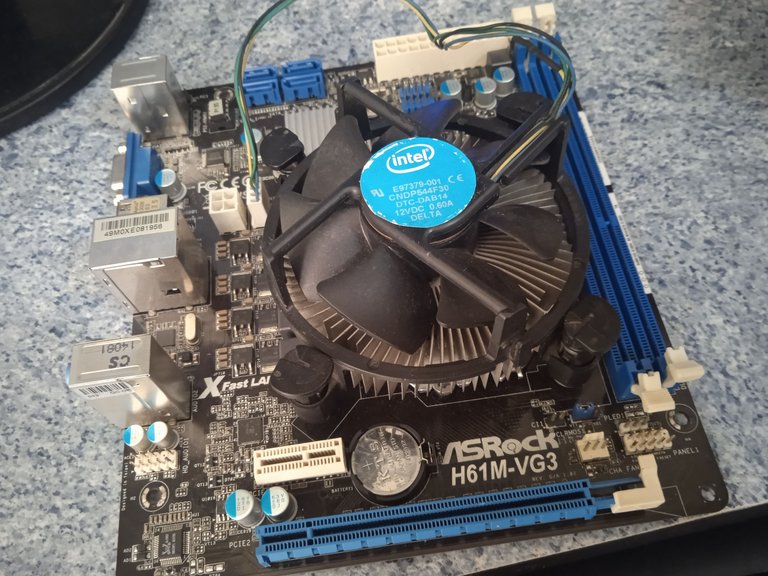 It is a very simple activity but if we do it wrong we can damage the motherboard, this time we will make this presentation with the 1155 boards that are Intel boards are the most common in the market, the procedures with these motherboard does not vary in Intel as they are the same input connectors that hold the fan cooler of the processor. It should be noted that for the 775 generations up to socket 2022, which are the current Intel did not modify this entry the processor fan cooler are the same in the market.
First we must identify the 2 types of processor fan cooler. Common we have the original one that comes with the processor that does not bring screws and a coolermaster that if brings screws, for the generic one the brings are 4 plastic fasteners they bring a lock that has 2 movements from left to right, in the superior part it indicates us which is the movement.
Es una actividad muy sencilla pero si lo hacemos mal podemos dañar la placa madre, en esta oportunidad vamos realizar esta presentación con la placas 1155 que son placas Intel son las más comunes en el mercado, los procedimiento con estas tarjeta madre no varía en Intel ya que son el misma entrada de los conectores que sujetan al fan cooler del procesador. Cabe destacar que para las generaciones 775 hasta el socket 2022, que son los actuales Intel no modifico esta entrada los fan cooler del procesador son los mismo en el mercado.
Primero debemos identificar los 2 tipos de fan cooler del procesador. Comunes tenemos el original que viene con el procesador que no trae tornillos y un coolermaster que si trae tornillos, para el genérico el trae son 4 sujetadores de plástico ellos traen un seguro que tiene 2 movimientos de izquiera a derecha, en la parte superior nos indica una cual es el movimiento.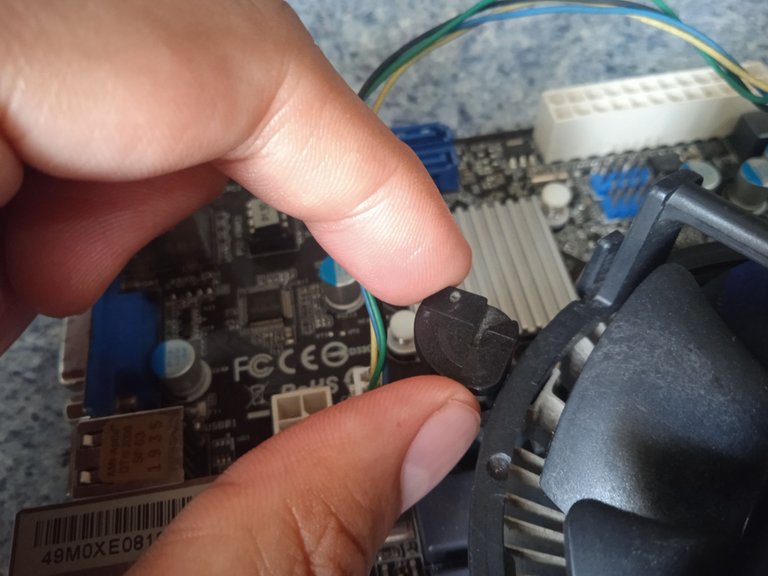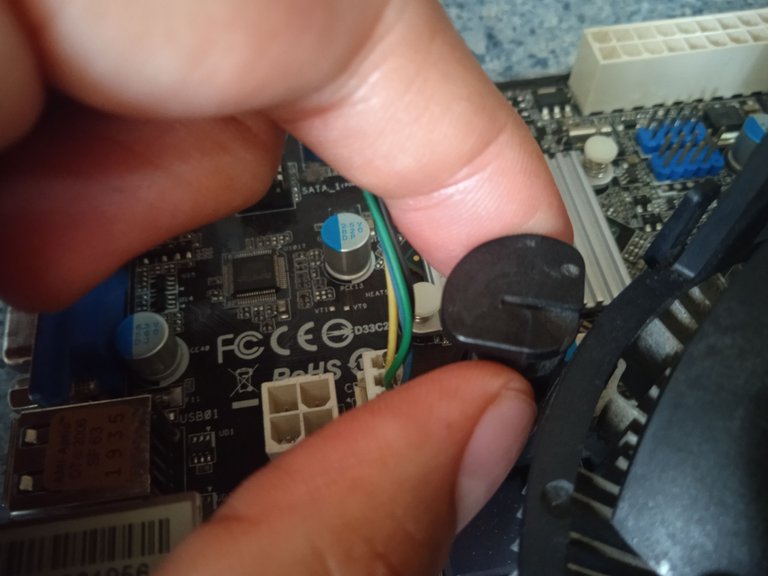 To remove the fan cooler from the processor we must release the lock, if we do not release the lock we can not remove it we must do, we have at the top a little arrow and for the direction of the arrow we must move then we must lift the fastener, that procedure we must do with the 4 fasteners. After that we lift the fan cooler of the processor and remove the power connector.
Para retirar el fan cooler del procesador debemos liberar el seguro, si no liberamos el seguro no podemos retirarlo que debemos hacer, tenemos en la parte superior una flechita y para el sentido de la flecha debemos mover posteriormente debemos levantar el sujetador, ese procedimiento lo debemos realizar con los 4 sujetadores. Luego de eso levantamos el fan cooler del procesador y retiramos el conector de corriente.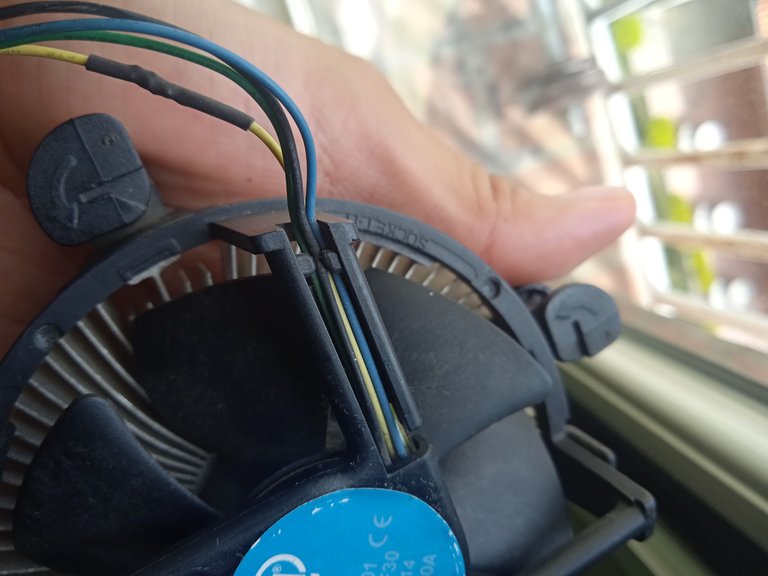 To place it it is advisable to remove the motherboard from the case, because I comment the transparent fastener has 2 paticas but when they are very open we place and press we can split one of them therefore the processor will not be tight with the metal heatsink, in each hole we must fit well and press it he will make a clip we try to lift it and if it is fine we do the job well.
Para colocarlo lo recomendable es retirar la tarjeta madre del case, porque se los comento el sujetador transparente tiene 2 paticas pero cuando están muy abiertas colocamos y presionamos podemos partir una de ellas por ende el procesador no va quedar apretado con el disipador de metal, en cada orificio debemos encajar bien y presionarlo él va hacer un clip lo intentamos levantar y si queda fino realizamos bien el trabajo.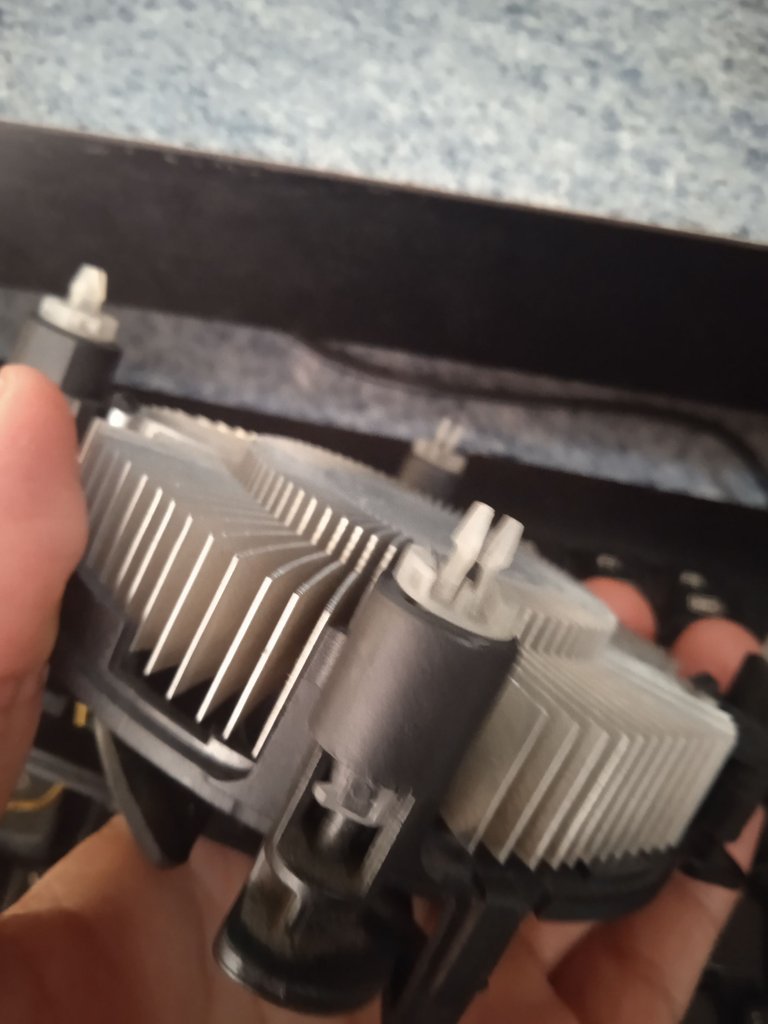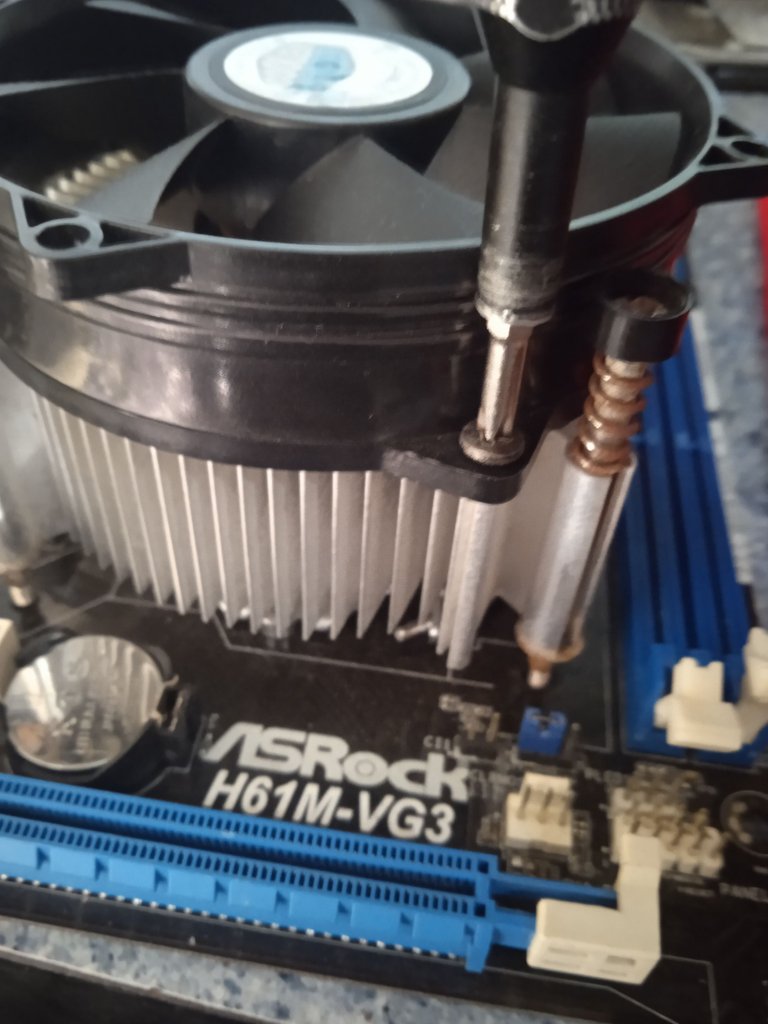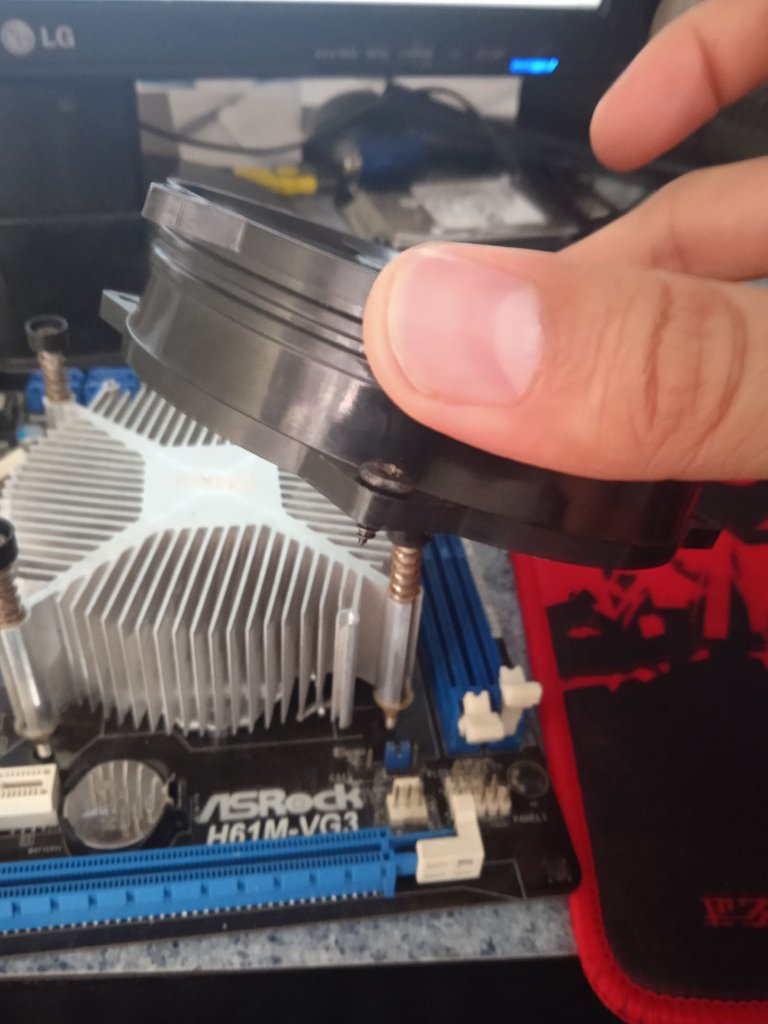 Let's go with the coolermaster heatsink he has 4 screws in many opportunities when I am giving guidance via whassap for images and video calls, many people tend to get confused and remove the small screws that are holding the fan cooler if our decision is to clean only the fan we can remove only those, but it will not leave the aluminum heatsink. For that we must remove the 4 screws that have a spring that hold the fan cooler of the processor completely. On the back of the board there is a plastic sheet that is the connection of both parts.
Vamos con el disipador coolermaster él tiene 4 tornillos en muchas oportunidades cuando estoy dando orientaciones vía whassap por imágenes y video llamadas, muchas personas se tienden a confundir y retiran los tornillos pequeños que son los que sujetan al fan cooler si nuestra decisión es limpiar solo el fan podemos retirar solo esos, pero no va salir el disipador de aluminio. Para eso debemos retirar los 4 tornillos que tiene un resorte que son los que sujetan el fan cooler del procesador completamente. En la parte trasera de la placa esta una lámina plástica que es la conexión de ambas piezas.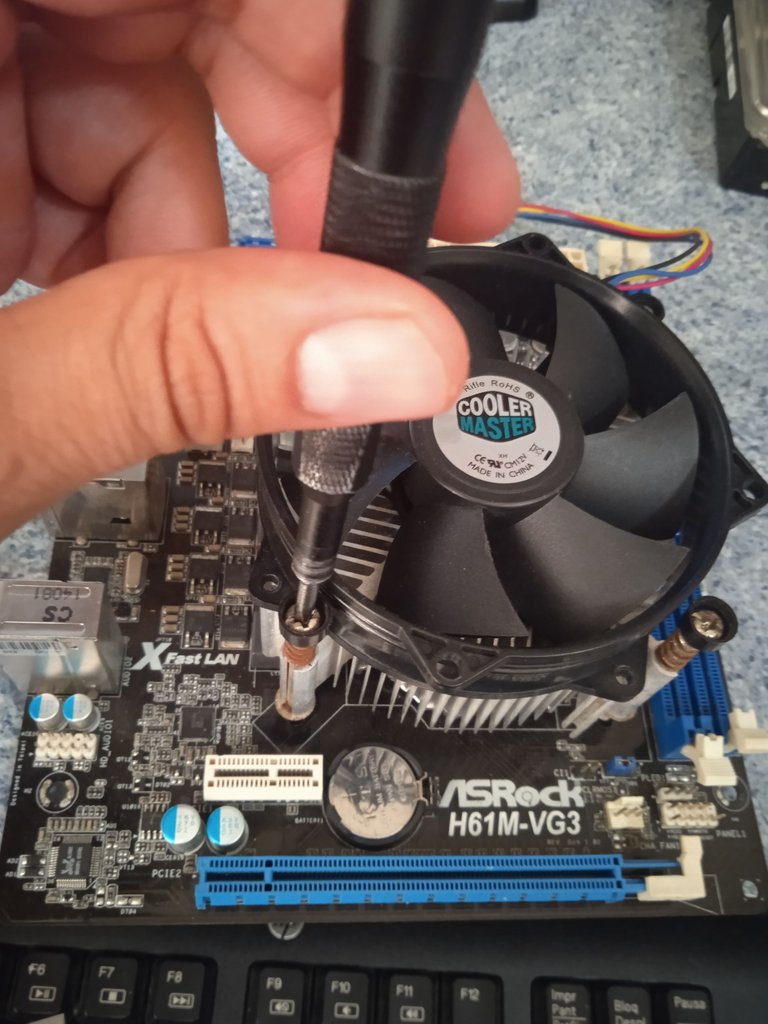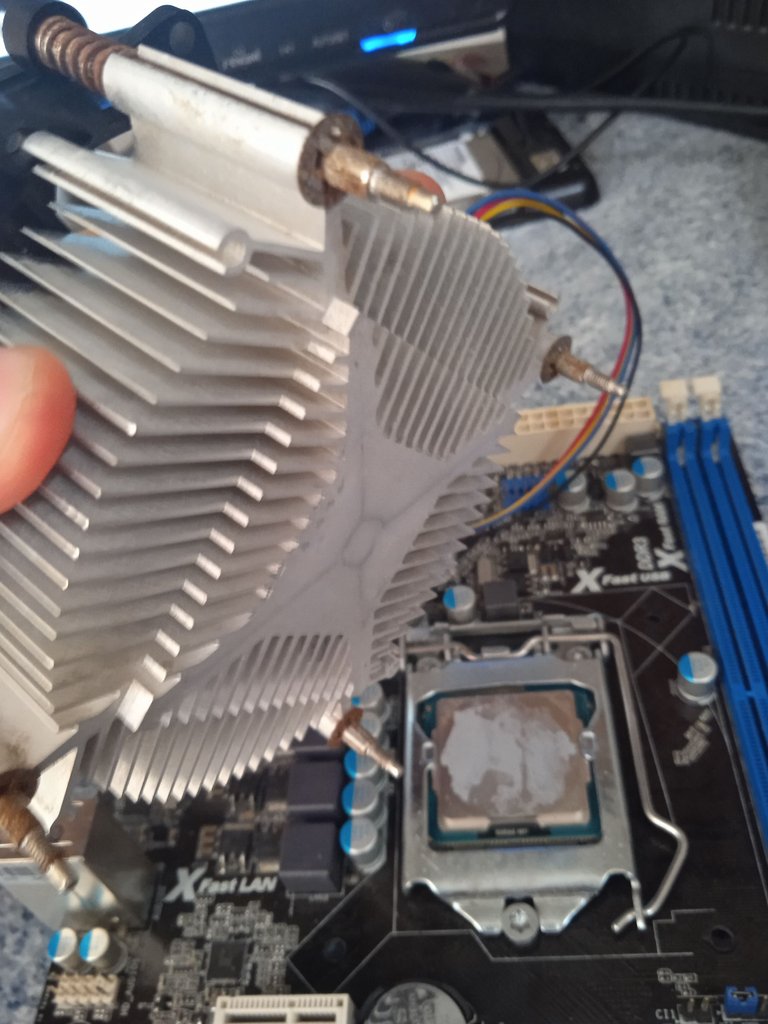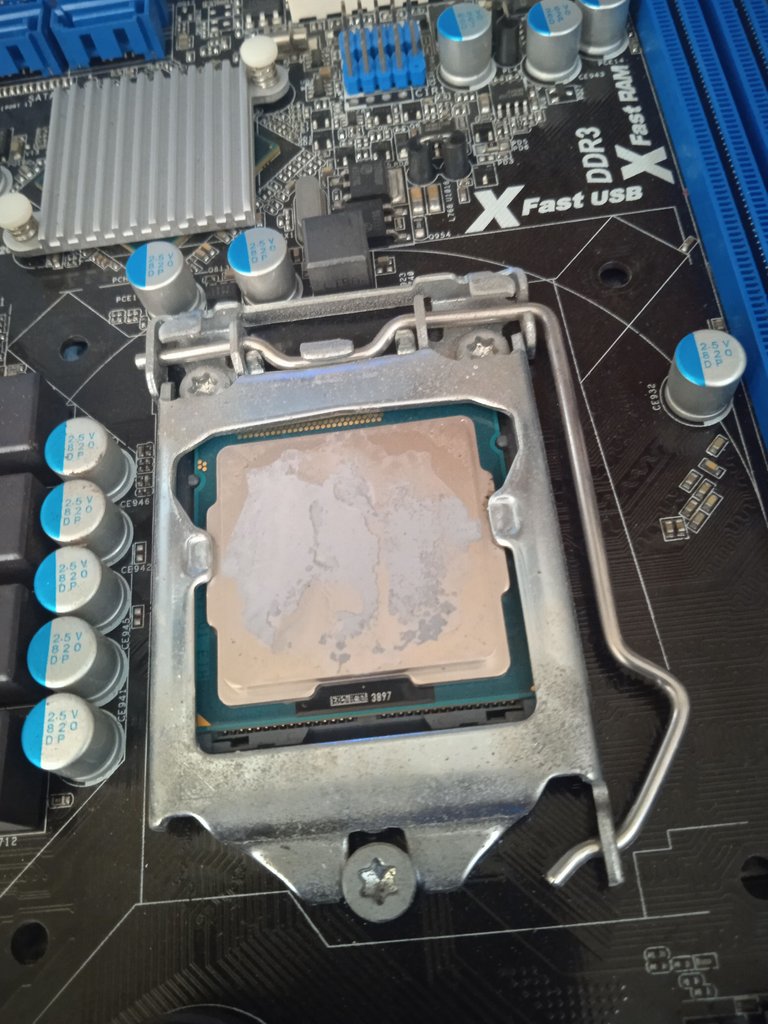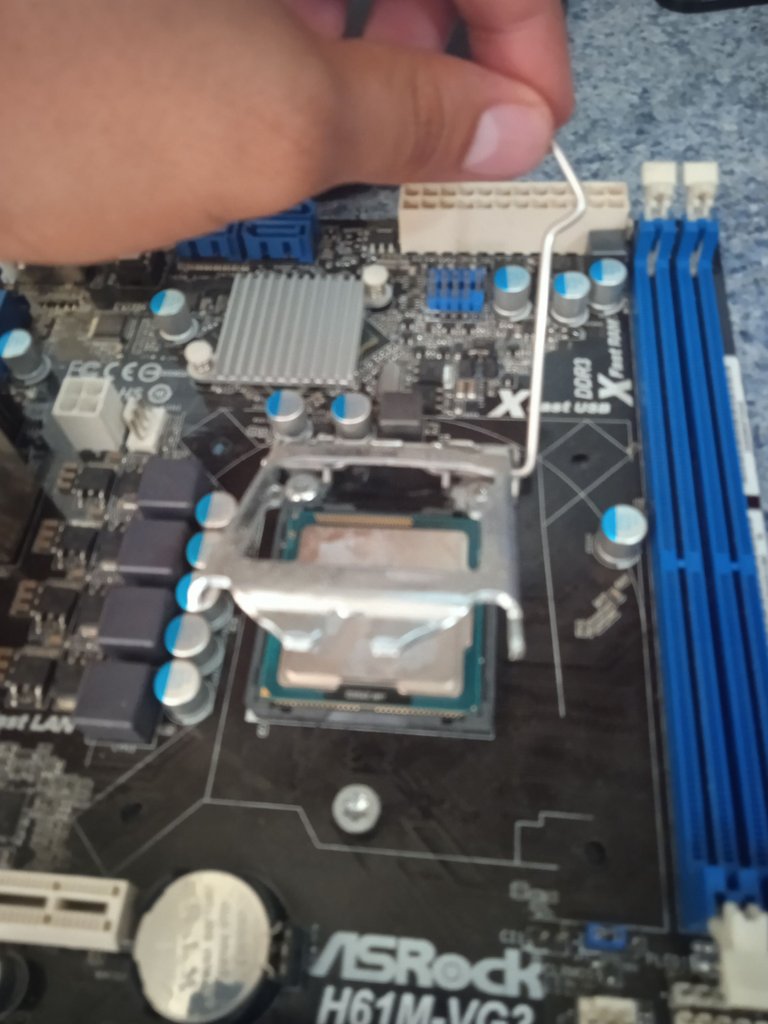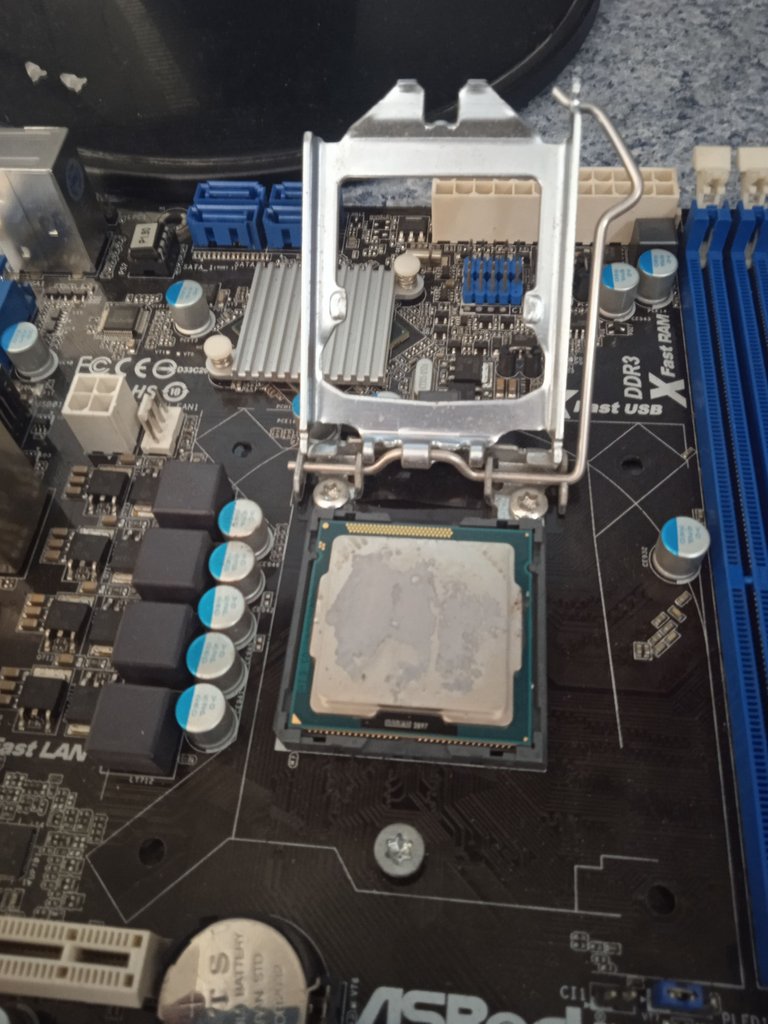 Now we touch the most important point as we must remove the processor we have a metal sheet with a hook or fastener, we must move to the opposite side where it is subject, after that the sheet that tighten the processor is released very carefully we can remove our processor to replace it with another or change it he has some little channels because they have a single input and output. To place the processor do the reverse.
Tips if the processor area is full of dust clean, we must be very careful with the pins of the motherboard if we bend the motherboard is damaged are very weak and have to bend just touching.
Ahora nos toca el punto más importante como debemos retirar el procesador tenemos una lámina de metal con un gancho o sujetador, debemos mover hacia el lado contrario donde está sujeto, luego de eso la lámina que apretar al procesador se libera con mucho cuidado podemos retirar nuestro procesador para sustituirlo por otro o cambiarlo él tiene unos canalitos porque ellos tiene una sola entra y salida. Para colocar haceros lo inverso.
Consejos si área del procesador está llena de polvo limpiar, debemos tener sumo cuidado con los pines de la tarjeta madre si doblamos se daña la placa madre son muy débiles y se tienen a doblar de solo tocar.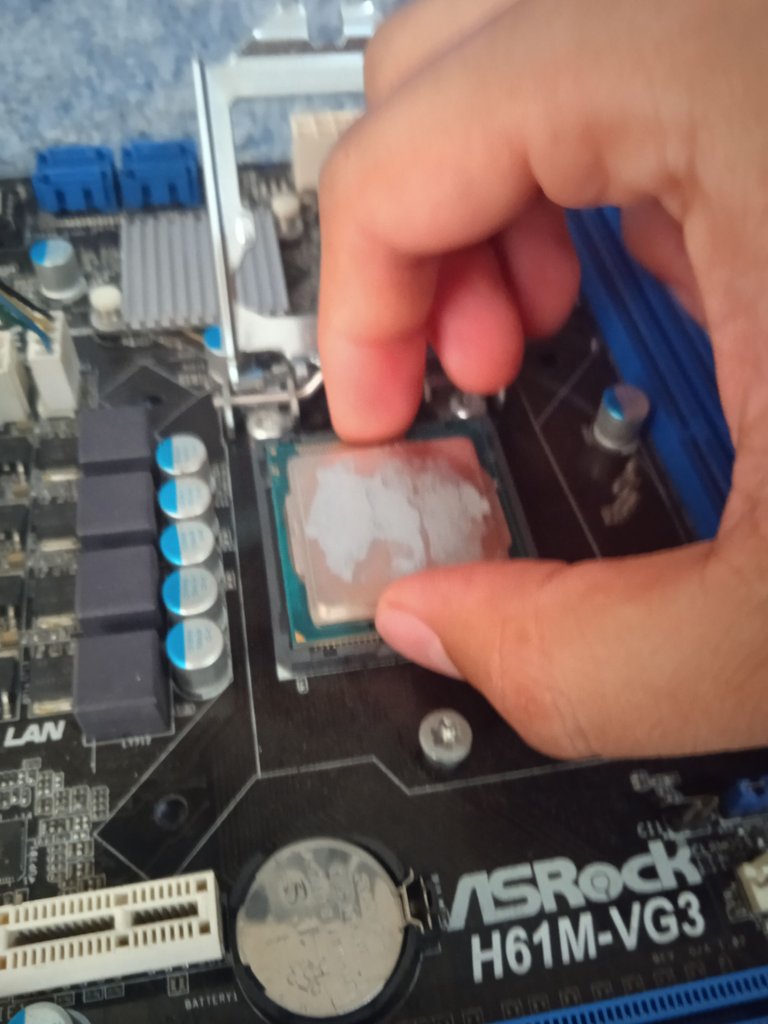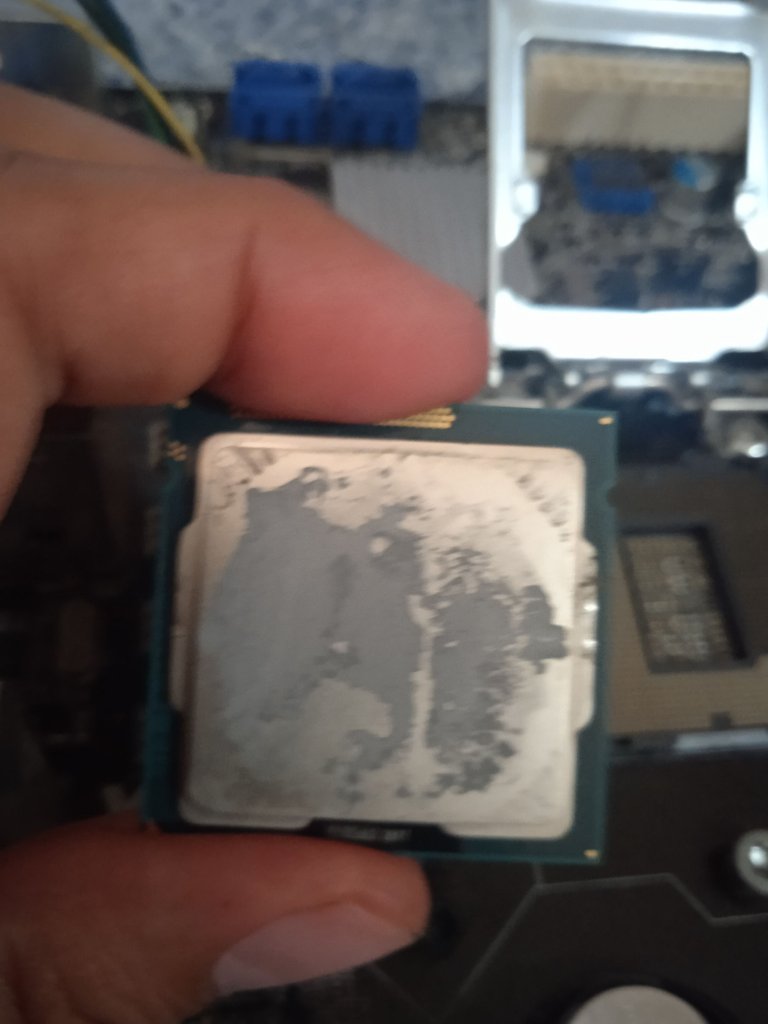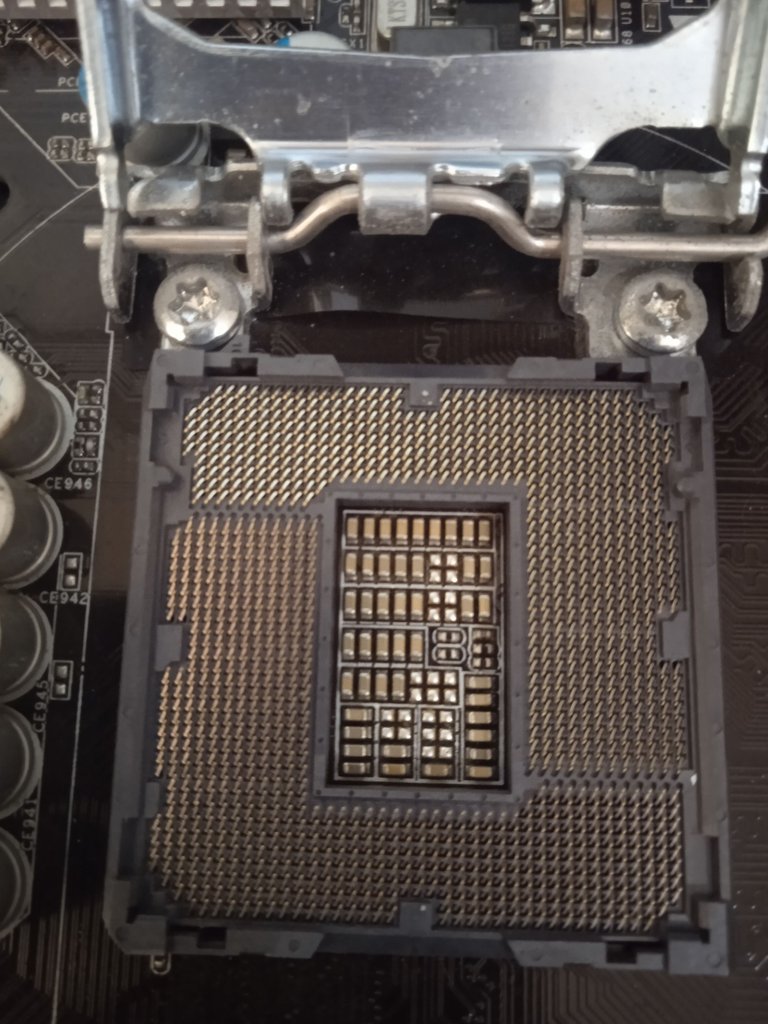 images are personal images taken from my cell phone
imagenes son personales tomadas de mi celular
Instagram
Alejandrojimenez86
Discord
Abgalejo#2572
Canal YouTube
https://www.youtube.com/channel/UC8QThO8MrRLhjVZqNMgNmkg
Canal peakd
https://peakd.com/@guaritosex