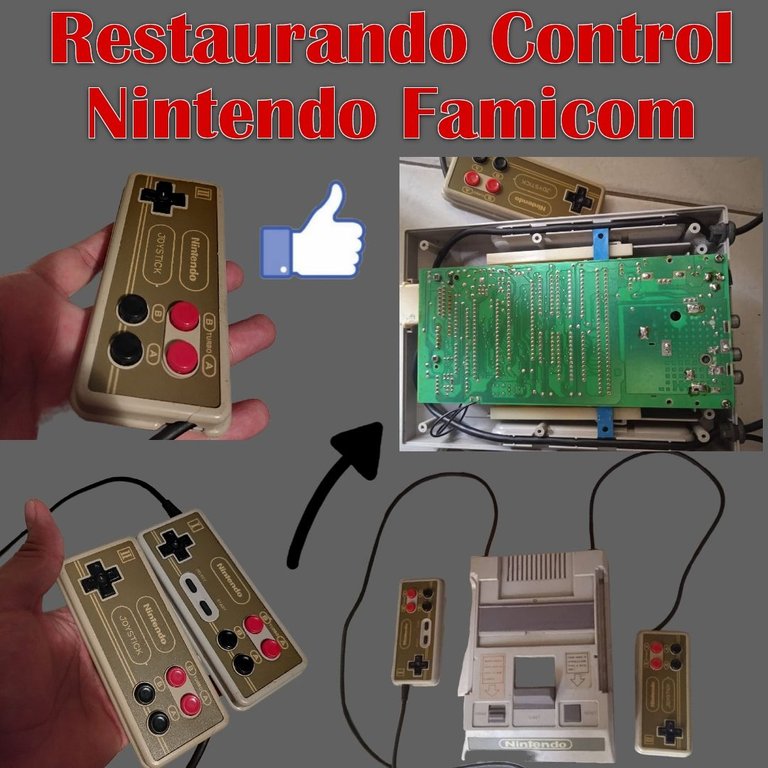 Good morning gamer community this time I come with my retro famicom console this console is the NES or American but Asian nintedo say in a nutshell is a Slim version, about 20 days ago I presented to the community of Geek Zone on that occasion I spoke that should make a restoration for this 100% operational. In this first phase of restoration the detail that presented the console is that the controller or control number 2 does not work.
Buenos días comunidad gamer en esta oportunidad vengo con mi consola retro famicom esta consola es la NES o nintedo americano pero asiática digamos en pocas palabras es una versión Slim, hace unos 20 días se las presente a la comunidad de Geek Zone en esa ocasión hable que debía realizar una restauración para que este al 100 % operativa. En esta primera fase de restauración el detalle que presentaba la consola es que el mando o control numero 2 no funciona.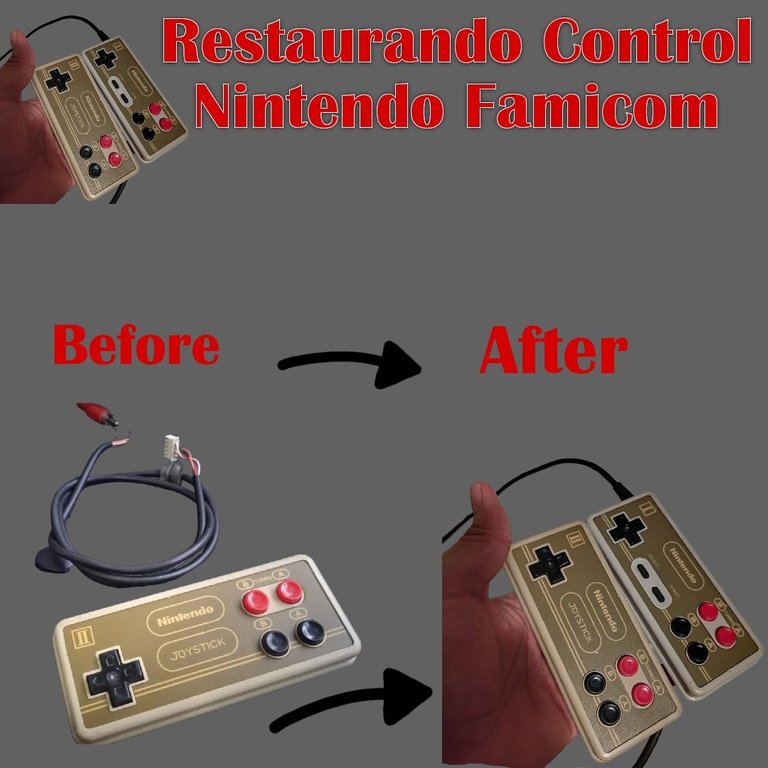 To talk a little about this console for those who do not know the controls come attached to the motherboard, to change them is impossible or difficult to locate one in perfect condition touches repair, find one to buy or exchange in 2022 is an impossible task in a nutshell. The controls have a particularity they come with a Roman numeral that indicates which control. It is located at the top where the arrows are located to direct the character, another difference is that the control 1 brings the select and start buttons, the control 2 does not bring select and start.
Para hablar un poco de esta consola los que no saben los controles viene pegados a la tarjeta madre, para cambiarlos es imposible o difícil ubicar uno en perfecto estado toca reparar, encontrar uno para comprar o intercambiar en el 2022 es una tarea imposible en pocas palabras. Los controles tiene una particularidad ellos viene con un numero romano que indica que mando. Está ubicada la parte superior donde se encuentra las flechas para dirigir el personaje, otra diferencia es que el control 1 trae los botones select y start, el control 2 no trae select y start.
The control that is damaged is the control number 2, the problem I had is that one pressed the buttons did nothing was completely damaged. This control is 36 years old this console is 1986 has my age hehehe, analyzing the fault I see that the cable the rubber split on one side to see that I started to think that could be a split cable this happens when we roll the wires in the control or mishandling and this material is expired rubber for the years has to lose its elasticity, I started to cut the control cable at that distance, with the help of a digital multimeter that is a neighbor who helped me check that the continuity of the signal I was biting little by little until I reached a point that reached the continuity of the end that connects to the motherboard of the console and the end that is glued to the control board.
El control que está dañado es el mando número 2, el problema que tenía es que uno presionaba los botones no hacía nada estaba completamente dañado. Este control tiene 36 años esta consola es de 1986 tiene mi edad jejeje, analizando la falla veo que el cable la goma partida en un costado al ver eso me puse a pensar que podía estar un cable partido esto sucede cuando enrollamos los cables en el control o por mala manipulación ya este material esta vencido las gomas por los años tiene a perder su elasticidad, me puse a cortar el cable del control en esa distancia, con la ayuda de un multímetro digital que es de un vecino que me ayudo chequeamos que llegara la continuidad de la señal fui picando poco a poco hasta que llego un punto que llegaba la continuidad del extremo que se conecta a la placa madre de la consola y el extremo que va pegado a la placa del control.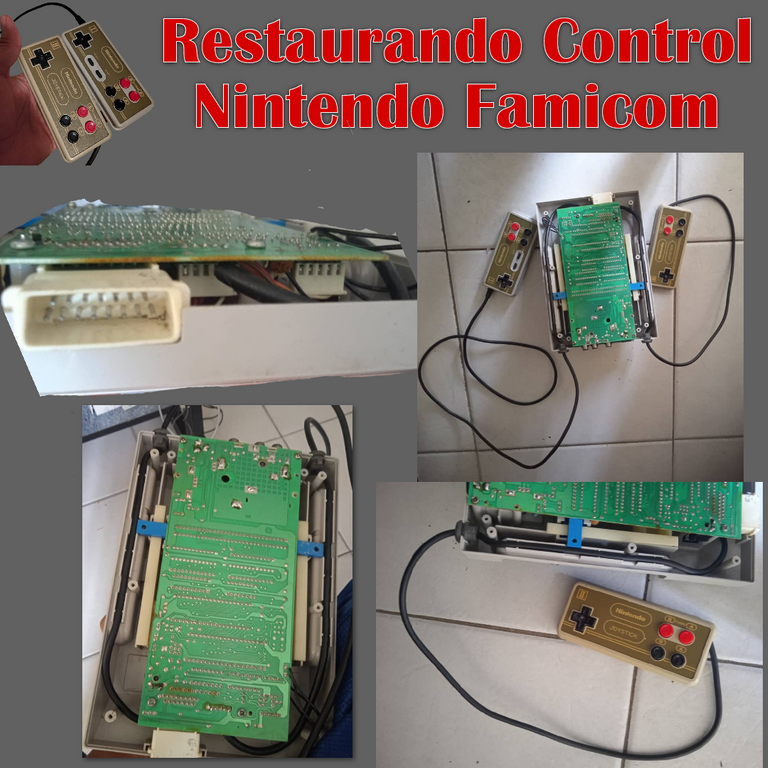 Already at this point I had ready the control to solder the wires on the board, in total there are 5 wires of red, black, orange, white and brown that control the buttons solder these wires is complicated must be a very meticulous person or specialist, because they are like hearing aid wires must first burn the coating and then solder it, I in particular as I use glasses is a little complicated for me to perform this type of welding because I can damage the plate and we must remember that this console the material is delicate for the years that has a classic is difficult to perform any restoration process on it.
Ya en este punto tenia listo el control para soldar los cables en la placa, en total son 5 cables de color rojo, negro, anaranjado, blanco y marrón que controlan los botones soldar estos cables es complicado deben ser una persona muy meticulosa o especialista, porque son como los cables de audífono primero deben quemar el recubrimiento y posteriormente soldarlo, yo en particular como utilizo lentes es un poco complicado para mi realizar este tipo de soldadura porque puedo dañar la placa y debemos recordar que esta consola el materia es delicado por los años que tiene es un clásico es difícil realizar cualquier proceso de restauración en ella.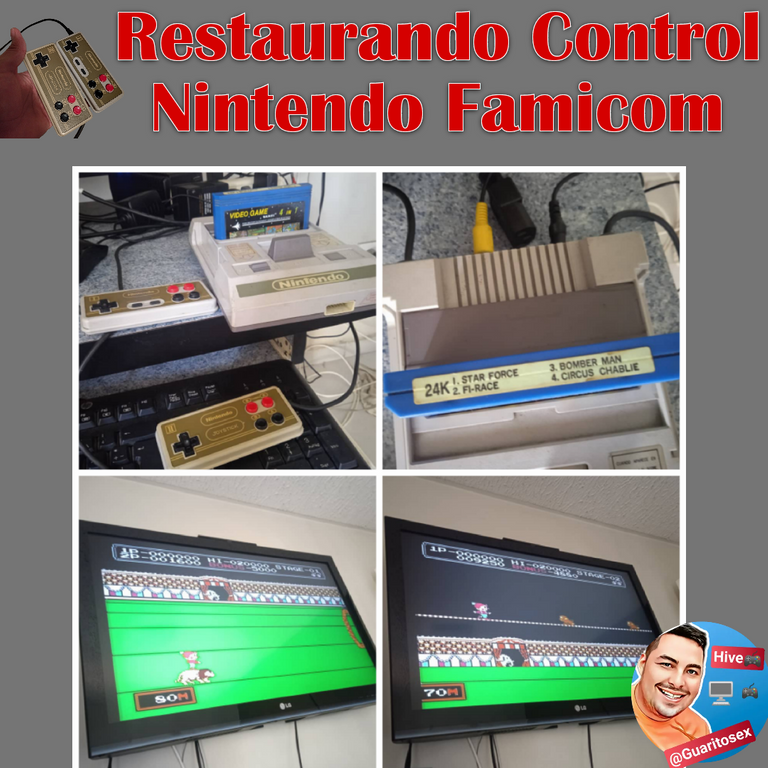 My friend did an excellent job the control was perfect responds all the buttons the only bad thing is that the cable was very short as I can show in the picture, and this console is 100% operational this increases the value in it, because it is a collector's item was original.
Mi amigo realizo un excelente trabajo el control quedo perfecto responde todos los botones lo único malo es que el cable quedo muy corto como lo puedo mostrar en la imagen, ya está consola está al 100% operativa esto aumenta el valor en ella, porque es una pieza de colección quedo original.

https://peakd.com/hive-106817/@guaritosex/i-purchased-this-nintendo-famicom-history-data-and-curiosity-adquiri-esta-nintendo-famicom-historia-datos-y-curiosidad

All images are taken from my cell phone / flyer maker editing program.
Todas las imágenes son tomadas de mi celular / programa para editar flyer maker.