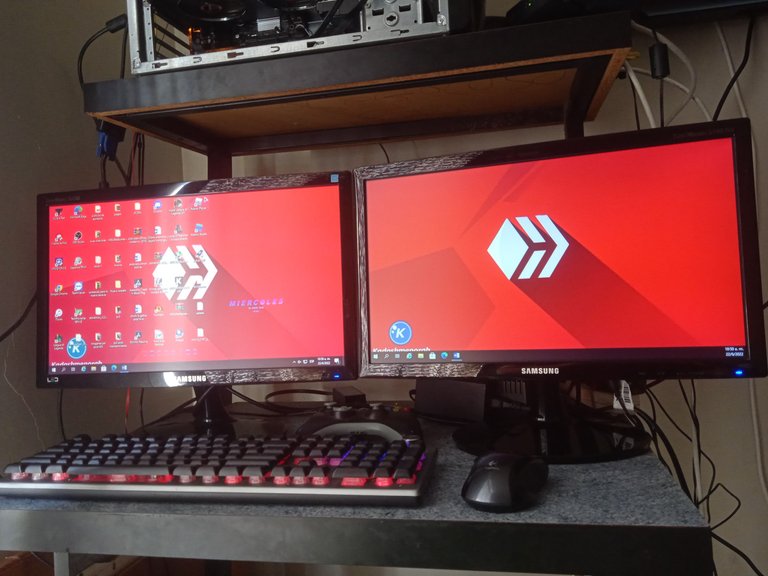 Good day HIVE community in this opportunity I acquired this LED monitor I will tell you my experience take a long time to locate this specific model, in the market we have many options but this in particular is the same brand of my monitor Samsung model S19A300B both are 19 inches are LED analog are 47. 7 khz 60 hz PP - 1366x768 60 HZ both monitors have their touch panel are not buttons the lines of the monitor are elegant the color quality is perfect SAMSUNG always stands out for economic items and excellent quality as I have a graphics card r9 280x 3gb ddr5 I can make the best use and use multiple screens without any problems with compatibility.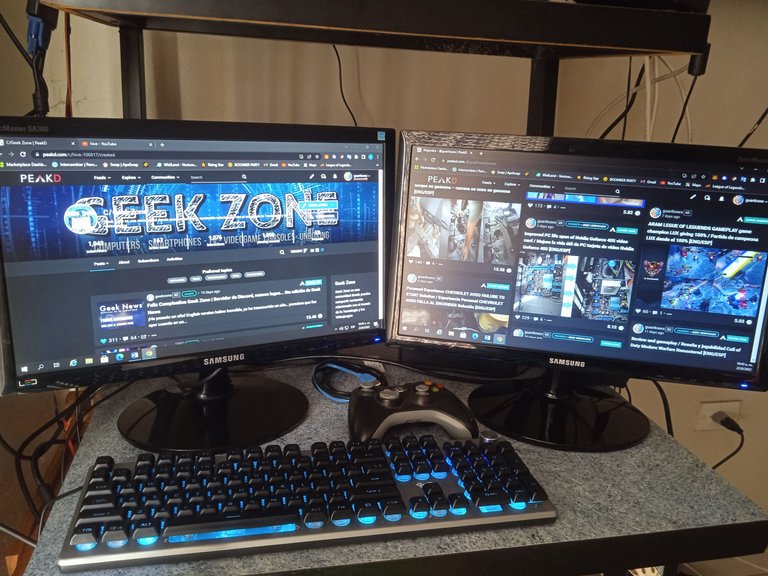 Buen día comunidad HIVE en esta oportunidad adquirí este monitor LED voy contarle mi experiencia dure mucho tiempo en ubicar este modelo en específico, en el mercado tenemos muchas opciones pero está en particular es la misma marca de mi monitor Samsung modelo S19A300B ambos son de 19 pulgadas son LED los analógico son 47.7 khz 60 hz PP - 1366x768 60 HZ ambos monitores tiene su panel táctil no son de botones las líneas del monitor son elegantes la calidad de colores es perfecta SAMSUNG siempre se destaca por artículos económicos y excelente calidad ya que cuento con una tarjeta gráfica r9 280x 3gb ddr5 puedo sacar el mejor provecho y utilizar varias pantallas sin ningún inconveniente con la compatibilidad.

To work in HIVE is a very important tool because I can use several tabs open I use Word to transcribe my post information, I can open a program to translate the text called deelp translator, I use PowerPoint programs to place several images in a single photo to edit my photos with Paint I use these basic programs that are my tools for photo editing little by little I will improve that aspect.
Para realizar trabajos en HIVE es una herramienta muy importante ya que puedo utilizar varias pestañas abiertas utilizo Word para transcribir mi información de los post, puedo abrir en programa para traducir el texto llamado deelp traductor, utilizo los programas PowerPoint para colocar varias imágenes en una sola foto para editar mis fotos con Paint utilizo estos programas básicos que son mi herramientas para edición de foto poco a poco mejorare ese aspecto.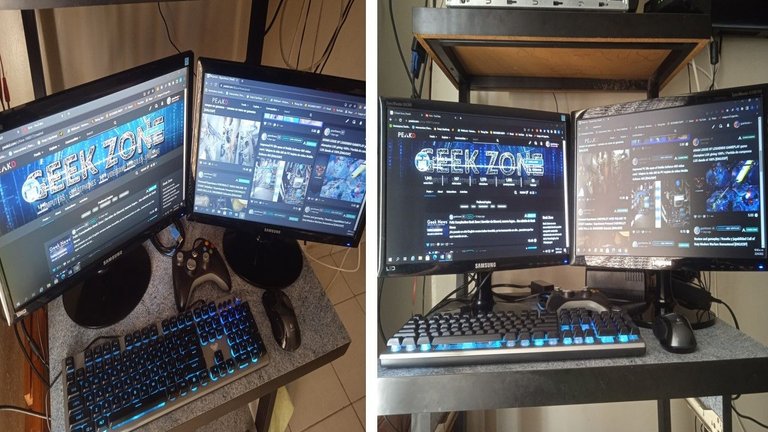 To pass the time I usually use the multiscreens for my gamer environment I can play games listen to music watch videos do those hobbies without closing my screens of the programs I use. For example, my favorite hobby is playing League of Legends and having Discord open so I can talk to my friends and check the groups of the different HIVE communities.
Para pasar el tiempo suelo utilizar las multipantallas para mi ámbito gamer puedo jugar escuchar música ver videos realizar esos pasatiempo sin necesidad de cerrar mis pantallas de los programas que utilizo. Un ejemplo mi pasatiempo favorito es jugar League of Legends tener abierto el Discord para poder hablar con mis amigos chequear los grupos de las distintas comunidades de HIVE.

With these tools that we are acquiring are to facilitate the work save time as my work is focused on computer technical service can get a good price that monitor their physical conditions are 9/10 giving a numerical value its price is $ 60 to $ 70 in stores that sell refurbished equipment if you wanted to buy this item new is an estimated price of 120 to $ 150 I can acquire this at a price of $ 40 really is an excellent price for its condition. Important aspect when we use 2 monitors my point of view have both of the same brand and model is the most because we will have the same color tone in the images the frequency of 60HZ will be equal we will not have an incompatibility in the images usually happens when you have one 60HZ or 75HZ suelde give problems with images and games will not run well if we are using multiscreen.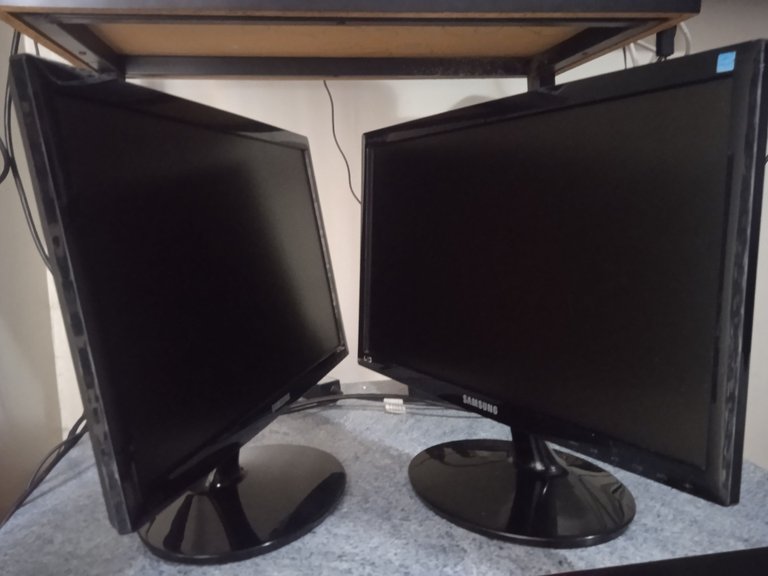 Con estas herramientas que vamos adquiriendo son para facilitar el trabajo ahorrarnos tiempo como mi trabajo está enfocado al servicio técnico de computación puede obtener a buen precio ese monitor sus condiciones físicas están de 9/10 dando un valor numérico su precio es de 60 a 70 dólares en tiendas que venden equipos refurbished si quería comprar este artículo nuevo esta un precio estimado de 120 a 150 dólares yo puede adquirir este a un precio de 40 dólares realmente es un precio excelente por su condiciones. Aspecto importante cuando utilizamos 2 monitores mi punto de vista tener ambos de la misma marca y modelo es lo máximo porque vamos a tener un mismo tono de color en las imágenes la frecuencia de los 60HZ va ser igual no vamos a tener una incompatibilidad en las imágenes suele suceder cuando tienen uno 60HZ o 75HZ suelde dar problemas con las imágenes y los juegos no van correr bien si estamos utilizando multipantallas.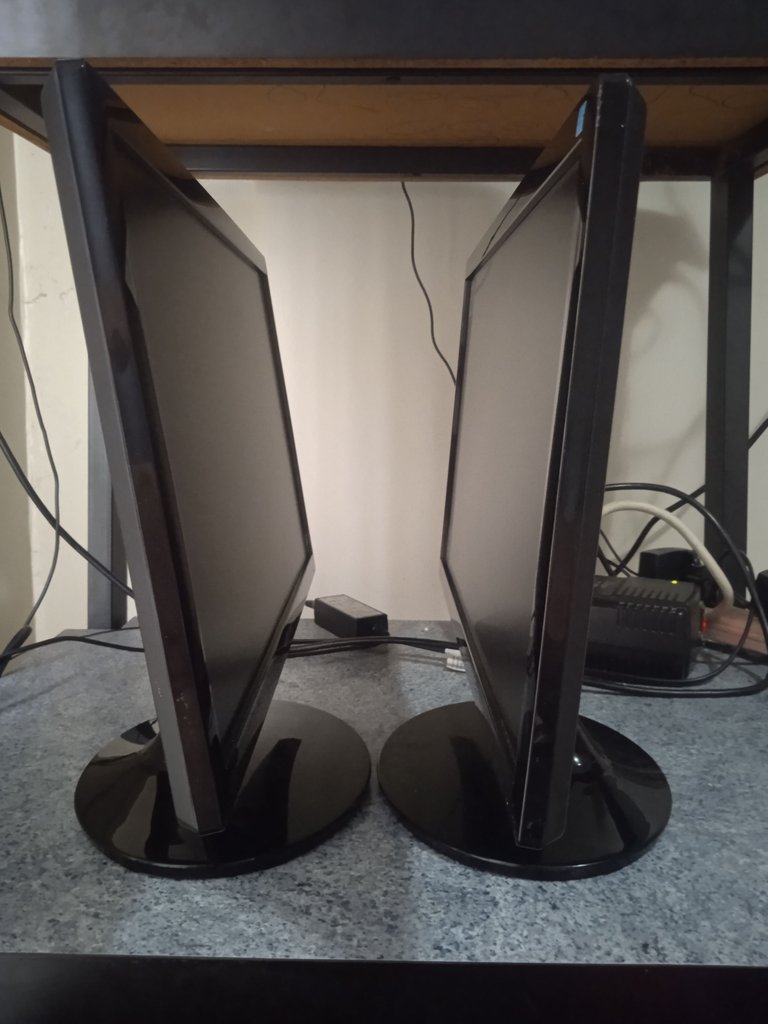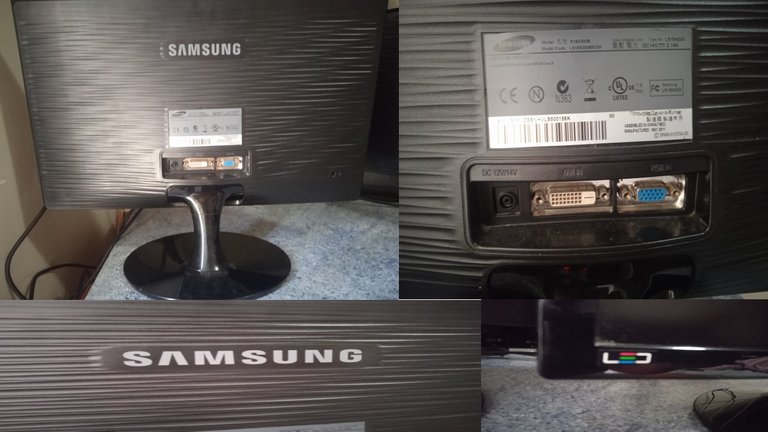 My monitors are the same in the aesthetic part one of them has better image quality that varies because they are different models and my monitor S19A300B has VGA - DVI input. This DVI input is like an HDMI the image quality is superior to VGA and the S19B150N monitor only has VGA input. In the aesthetic part of my team with 2 monitors represents elegance both are of the same brand really look very nice and improves my gamer aspect in my team, acquire these equipment represents a monetary value that in market there are different models brands and prices but this one was adjusted to my budget and as I had one the same I did not miss this opportunity later I plan to acquire a base for 2 monitors that we can place it at different angles to create more harmony and take advantage of my space that is limited.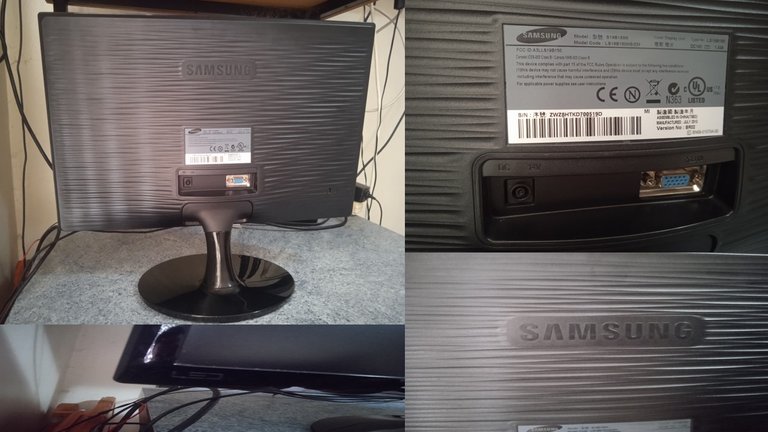 Mis monitores son iguales en la parte estética uno de ellos tiene mejor calidad de imagen eso varia porque son modelos distintos y mi monitor S19A300B tiene entrada VGA – DVI. Esta entrada DVI es como un HDMI la calidad de la imagen es superior a la VGA y el monitor S19B150N solo cuenta con entrada VGA. En la parte estética de mi equipo con 2 monitores representa elegancia ambos son de la misma marca realmente se ven muy bonitos y mejora mi aspecto gamer en mi equipo, adquirir estos equipo representa un valor monetario que en mercado hay distintos modelos marcas y precios pero este se ajustó a mi presupuesto y como tenía uno igual no desaproveche esta oportunidad más adelante pienso adquirir una base para 2 monitores que lo podemos colocar en distintos ángulos para crear más armonía y aprovechar mi espacio que es limitado.

All images were taken from my cell phone are items of my property.
Todas las imágenes fueron tomadas de mi celular son artículos de mi propiedad.
Instagram
Alejandrojimenez86
Discord
Abgalejo#2572
Canal YouTube
https://www.youtube.com/channel/UC8QThO8MrRLhjVZqNMgNmkg
Canal peakd
https://peakd.com/@guaritosex