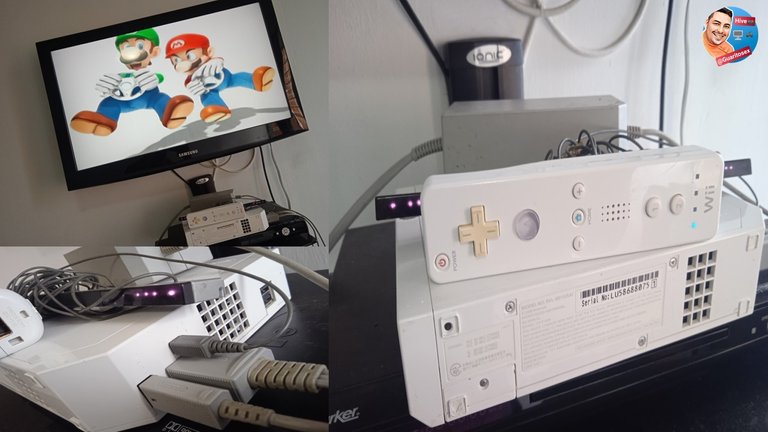 Good day community I acquired this white wii with a friend is one of my favorite consoles for its large number of titles such as retro nintendo games this console requires maintenance because when I use it their temperatures are high in the plastic housing to perform a check the heatsink was without movement these consoles when they keep those undesirable animals like the chiripas tend to have it as a little house I set out to perform maintenance as your reader is perfect read original games I was delivered with the fabulous title of Mario Kart.
Buen día comunidad adquirí este wii blanco con un amigo es una de mis consolas preferidas por su gran cantidad de títulos como juegos retro de nintendo esta consola requiere mantenimiento porque cuando la utilizo sus temperaturas son elevadas en la carcasa plástica al realizar un chequeo el disipador estaba sin movimiento estas consolas cuando las guardan esos animales no deseables como las chiripas tienden a tenerla como casita me dispuse a realizar el mantenimiento ya que su lectora esta perfecta lee juegos originales me la entregaron con el fabuloso título de Mario Kart.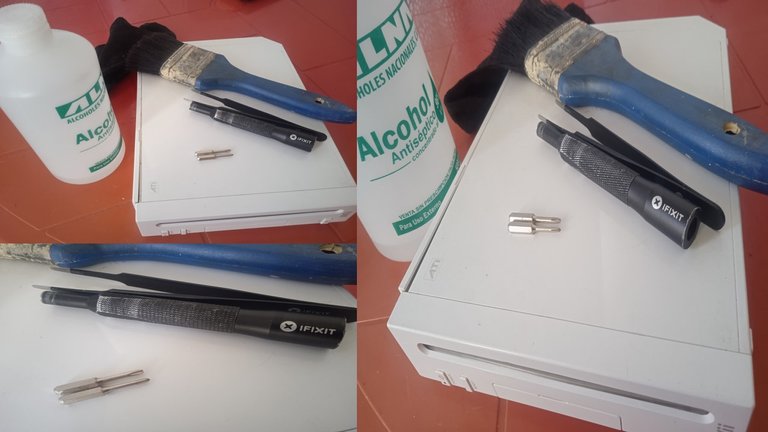 This maintenance is general since I identified the failure at a glance and touching the console I set out to find the tools to start performing this maintenance. First they must count the tools the screwdriver of groove and screwdriver of 3 legs of nintendo is the main thing that we must have not to damage the head of the screws, use a brush, a piece of cloth and alcohol or clean contact and a tweezers of works for electronic components.
Este mantenimiento es general ya que identifique la falla a simple vista y tocando la consola me dispuse a buscar las herramientas para empezar a realizar este mantenimiento. Primero deben contar las herramientas el destornillador de estría y destornillador de 3 patas de nintendo es lo principal que debemos tener para no dañar la cabeza de los tornillos, utilice una brocha, un pedazo de tela y alcohol o limpia contacto y una pinza de trabajos para componentes electrónicos.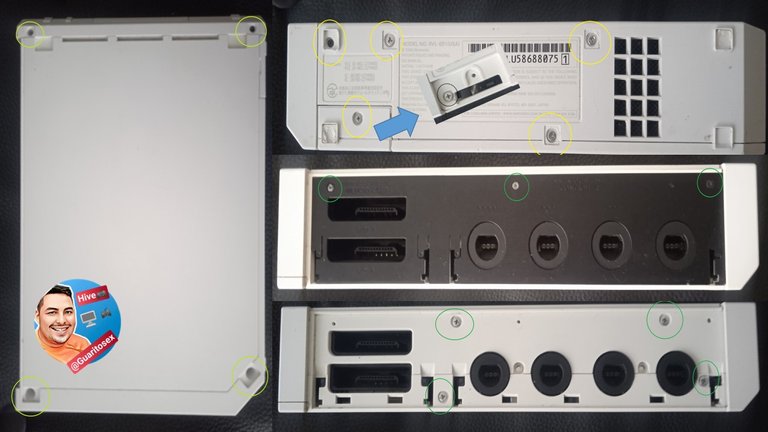 To start remove the cover that protect the entrance of the gamecube controls, the other cover that is the entrance of the gamecube memory card, this console is retro compatible. Consoles nintendo wii that do not have this port for that we must follow other indications. When removing we have 3 screws of grooves that we must unscrew after that we remove the black cover we will find the screws of nintendo and screws of grooves those we must remove. We went to the bottom we have 2 black nintendo screws that are in the part of the front panel of the console 2 silver nintendo that are in the part of the rubbers that allow that the console does not slide these screws are hidden we must locate them and remove that protector to reach them. I removed them with a knife very carefully so as not to damage the plastic.
Para iniciar retire la tapa que protegen la entrada de los controles de gamecube, la otra tapa que es la entrada de las memory card de gamecube esta consola es retro compatible. Consolas nintendo wii que no cuentan con este puerto para eso debemos seguir otras indicaciones. Al retirar tenemos 3 tornillos de estrías que debemos destornillar luego de eso quitamos la tapa negra nos vamos encontrar los tornillos de nintendo y tornillos de estría esos los debemos quitar. Pasamos a la parte inferior tenemos 2 tornillos negros de nintendo que están en la parte del panel frontal de la consola 2 plateados de nintendo que están en la parte de las gomas que permiten que no deslice la consola estos tornillos están escondidos debemos ubicarlos y quitar ese protector para llegar a ellos. Yo los quite con un cuchillo con mucho cuidado para no dañar el plástico.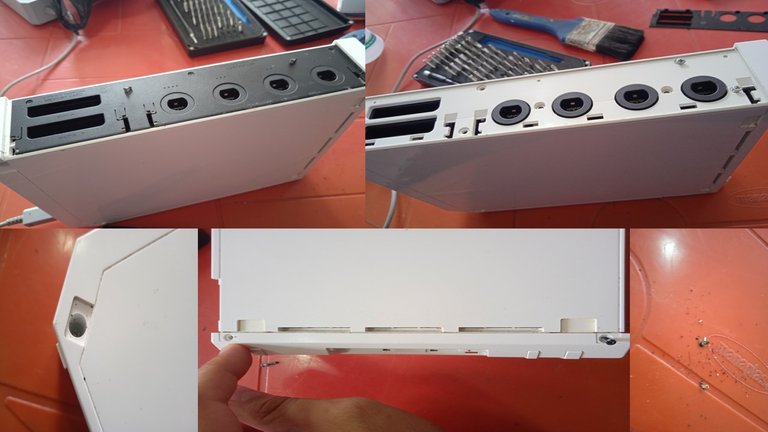 We move to the other side where is the grille and the label of the model of the console and its characteristics we start removing the screw where the battery or battery we will find a nintendo screw in total on this side are 4 screws that are hidden with the protectors these protectors is difficult that the material this good quality I preferred to leave all the screws uncovered after that we remove the front panel very carefully because there is a connector I used a tweezers to remove it and well I entered with the surprise of the fluke and its eggs really was very dirty smell when heated the console felt should perform this maintenance for health reasons and not fight flukes in my home.
Pasamos al otro costado donde está la rejilla y la etiqueta del modelo de la consola y sus características empezamos quitando el tornillo donde está la batería o pila vamos a encontrar un tornillo de nintendo en total en este costado son 4 tornillos que están escondidos con los protectores estos protectores es difícil de que el material este buena calidad yo preferí dejar todos los tornillos al descubierto luego de eso quitamos el panel frontal con mucho cuidado porque está un conector yo para quitarlo utilice una pinza y bueno me entre con la sorpresa de la chiripas y sus huevos realmente estaba muy sucio el olor cuando calienta la consola se sentía debía realizar este mantenimiento por cuestiones de salud y no combatir chiripas en mi hogar.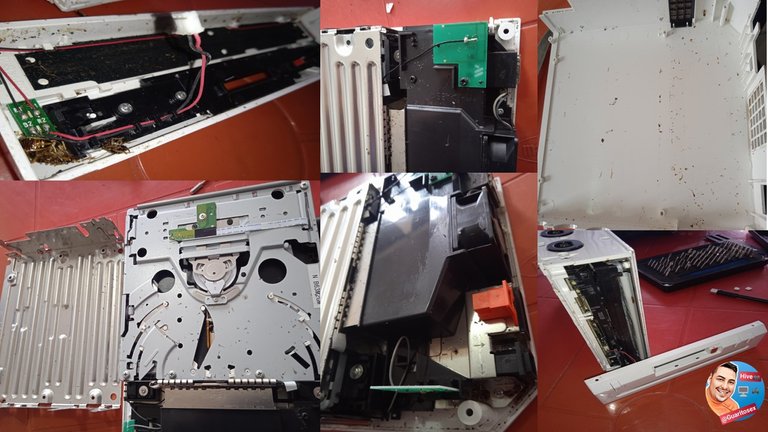 I proceeded to only open up to this point because the console is working perfectly read the original games its buttons the push buttons were perfect the fan cooler remove it and clean well this I usually do constantly with power supplies because with the dirt or hair is usually stuck. Thanks to this maintenance I could give useful life to my Wii console because it needs good cooling to keep its internal components ventilated and take care of the console processor and video chip overheating open these consoles is simple do not have flex what if you must have are the right tools to do a quick and effective job to avoid damaging the head of the screws.
Solo abrir hasta este punto porque la consola está funcionando perfectamente lee los juegos originales sus botones los pulsadores estaban perfectos el fan cooler lo retire y limpie bien esto lo suelo hacer constantemente con las fuentes de poder porque con el sucio o cabello suele quedar pegado. Gracias a este mantenimiento pude darle vida útil a mi consola wii ya que necesita buena refrigeración para mantener sus componentes internos ventilados y cuidar el procesador de la consola y chip de video de un sobrecalentamiento abrir estas consolas es sencillos no cuentan con flex lo que si deben tener son las herramientas adecuadas para hacer un trabajo rápido y efectivo para no dañar la cabeza de los tornillos.

All images are taken from my cell phone with my personal equipment, wii consoles and work tools.
Todas las imágenes son tomadas de mi celular con mis equipos personales consolas wii y herramientas de trabajo.
Instagram
Alejandrojimenez86
Discord
Abgalejo#2572
Canal YouTube
https://www.youtube.com/channel/UC8QThO8MrRLhjVZqNMgNmkg
Canal peakd
https://peakd.com/@guaritosex