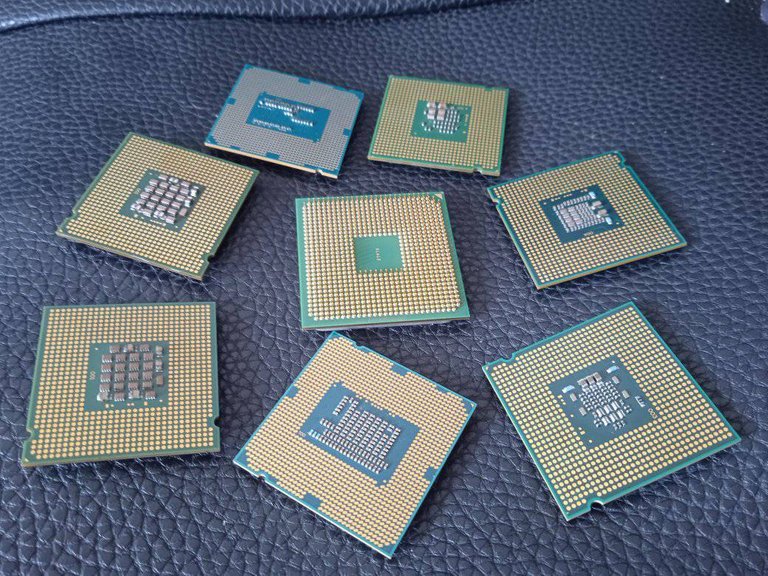 Buenos días comunidad de hive nuevamente contenido de computación es importante a la hora de comprar un procesador seguir estos pasos la compra realiza cuando necesitamos actualizar la computadora o cuando compramos una placa madre sin procesador para comenzar vamos hacer un chequeo visual del procesador si no está montado en la placa madre. Si el vendedor lo tiene colocado en la placa madre hay trabajamos directamente con los programas esto pasos son los que debemos hacer para verificar si el componente esta bueno o malo voy explicar cada uno.
Good morning hive community again computer content it is important when buying a processor to follow these steps the purchase is made when we need to upgrade the computer or when we buy a motherboard without processor to start we will make a visual check of the processor if it is not mounted on the motherboard. If the seller has it placed on the motherboard there we work directly with the programs this steps are what we must do to verify if the component is good or bad I am going to explain each one.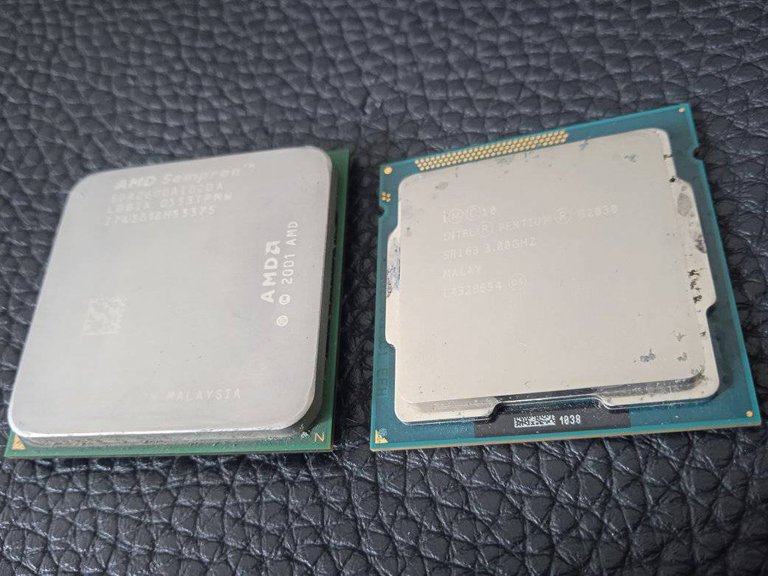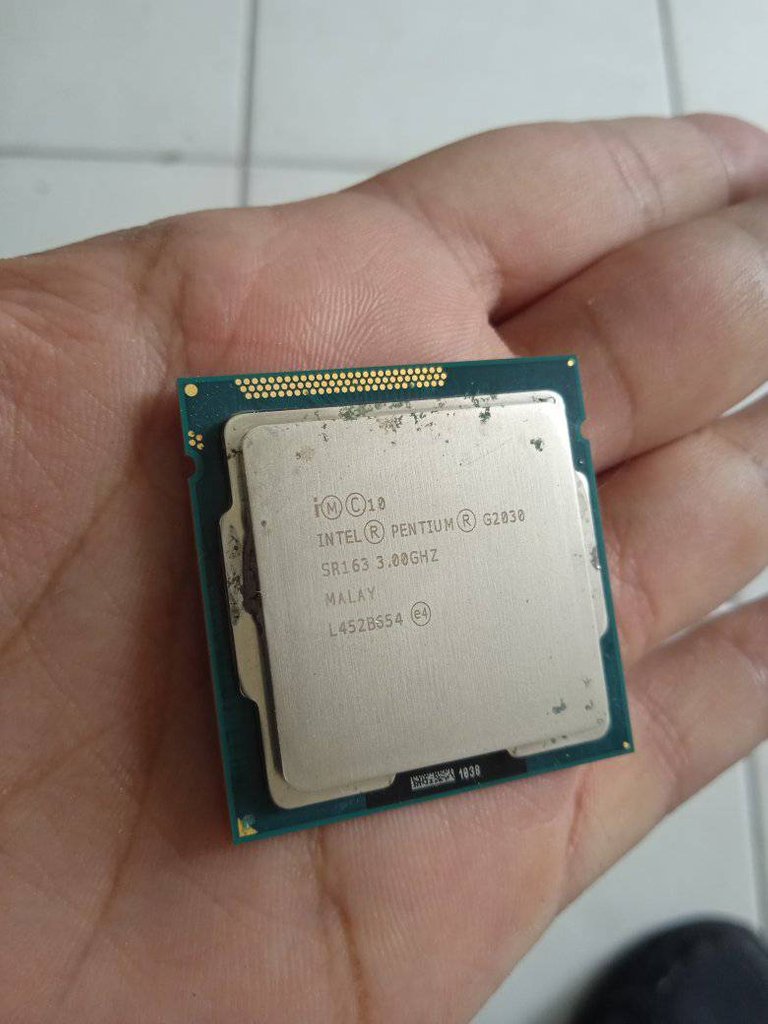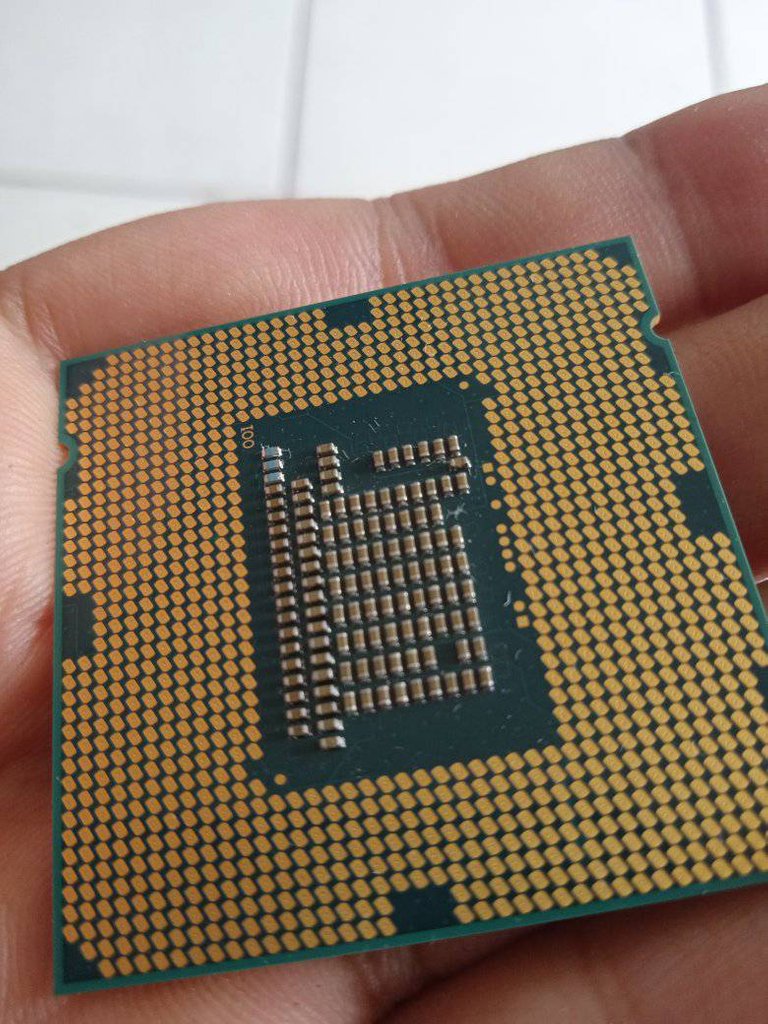 Chequeo visual Lo principal que debemos hacer es hacer un chequeo visual del procesador en muchas oportunidades las personas no lo colocan en un blíster para cuidarlo. Que vamos a cuidar la parte de debajo de los procesadores es muy delicado si no lo colocas en un blíster en los procesadores INTEL tienden a desprender los condensadores, resistencias, son micros de estado sólido. Si identificamos eso está malo no debemos colocar en nuestra placa madre. Hay casos en que puede dar video y la maquina va funcionar en algunos de los casos en otros no prende. Pero si prende no te percatas de eso con el tiempo vamos a tener fallas en el equipo el rendimiento no va hacer al 100% del perfecto funcionamiento. Si no tienes blíster puedes envolver con un papel, colocar en caja que no se golpe para cuidarlo.
Visual check The main thing that we must do is to make a visual check of the processor in many opportunities people do not place it in a blister to take care of it. We are going to take care of the part underneath the processors is very delicate if you do not place it in a blister in the INTEL processors tend to detach the capacitors, resistors, they are solid state microprocessors. If we identify that is bad we should not place on our motherboard. There are cases in which it can give video and the machine will work in some of the cases in others it does not turn on. But if it turns on you do not notice that over time we will have equipment failures, the performance will not be 100% perfect. If you do not have blister you can wrap it with a paper, place it in a box that will not be hit to take care of it.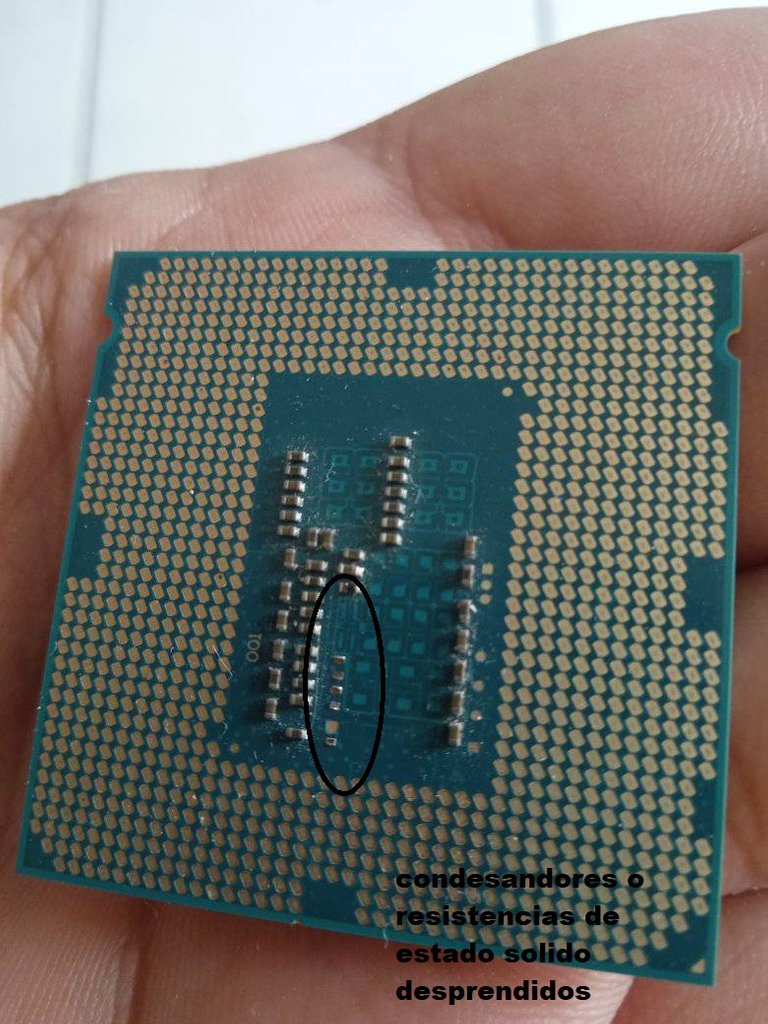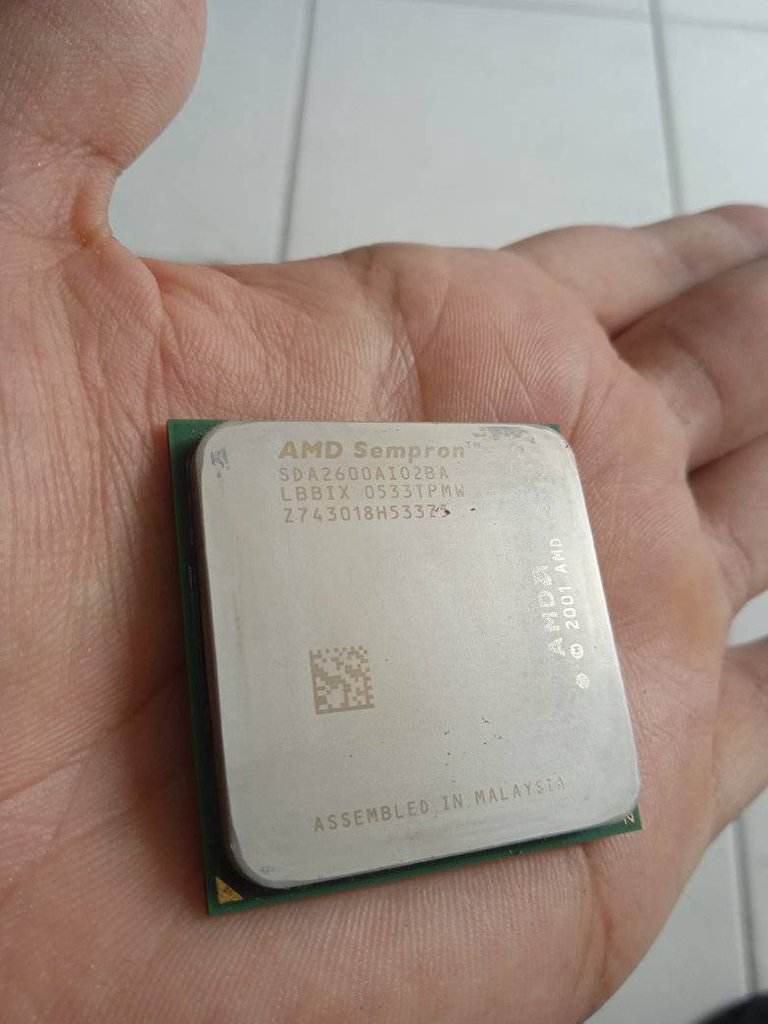 Chequeo visual Los procesadores de AMD tiene pines que son unos aguja que se doblan o parten si vemos uno partido ese procesador no sirve. Al igual que el otro caso pueden dar imagen y pueden prender el equipo pero si tiene ese pin partido o desprendido de un momento a otro puede ocasionar un error y la maquina se reinicia por eso es mejor no montar al equipo para evitarnos ese problema. Los procesadores AMD son más delicados se doblas los pines de mirarlos debemos manipularlos con mucho cuidado y cuando vamos a colocar en la placa madre tienden a no calzar. Me paso en una oportunidad le recomiendo que con una tarjeta del banco tienen que darle forma para que los pines estén alineadas y puedan entrar a la placa madre de manera fácil y no presionándolo porque se van a doblar más pines. Se deben guardar en blíster porque la aparte de abajo son muchos pines y no recomiendo guardar en hoja porque se van doblar y el peor de los casos partir un pin.
Visual check AMD processors have pins that are a needle that bend or break if we see a broken one that processor is not useful. As in the other case they can give image and can turn on the equipment but if the pin is broken or detached from one moment to another it can cause an error and the machine restarts so it is better not to mount the equipment to avoid this problem. The AMD processors are more delicate, the pins bend when we look at them, we must handle them very carefully and when we are going to place them on the motherboard they tend not to fit. I recommend that with a bank card you have to shape it so that the pins are aligned and can enter the motherboard in an easy way and not pressing it because they will bend more pins. They should be stored in blister packs because the bottom part is a lot of pins and I do not recommend to store them in a sheet because they will bend and in the worst case they will split a pin.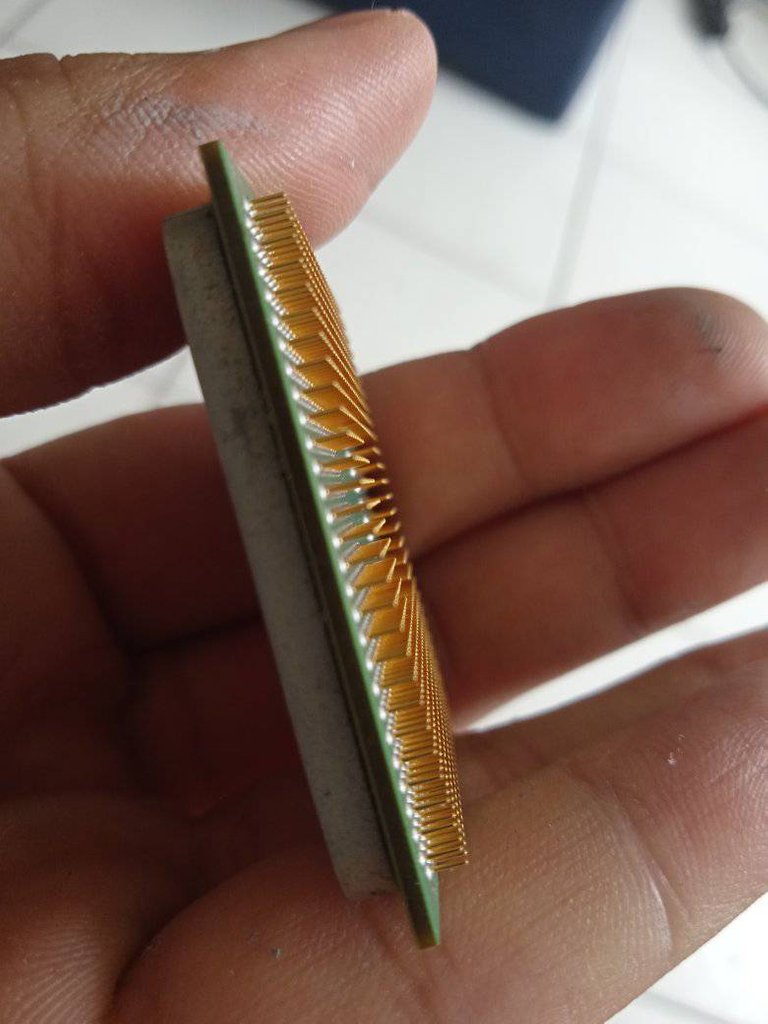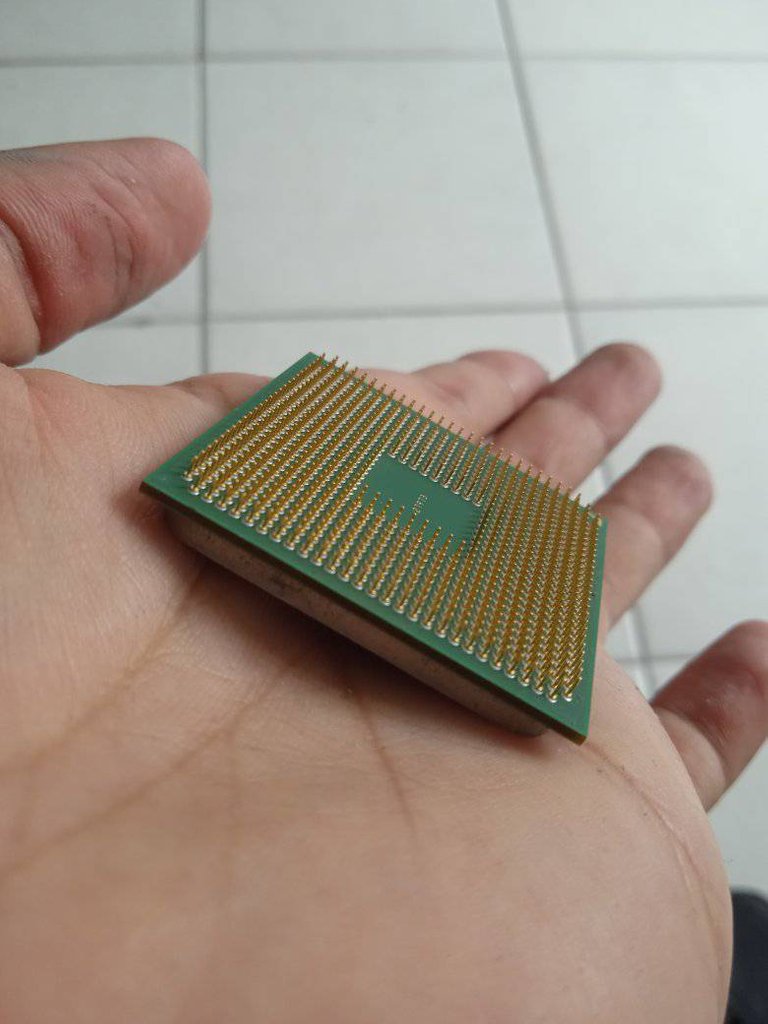 Vamos a la segunda parte del contenido donde voy explicar que programa vamos a descargar son 2 uno se encarga de chequear la temperatura Speccy de los componente y nos vamos a enfocar en la temperatura del procesador y el otro programa es el más importante es CPU Z y con ese vamos a estresar el procesador al 100% una persona promedio que utilice la computadora no va llevar el equipo a ese extremo por eso lo utilizo con eso puedo identificar si esta bueno o malo. Como vamos a saber si la computadora no se apaga reinicia se cuelga es decir la pantalla queda pegada y no responden el mouse o teclado. Por lo general los revendedores de computadoras utilizamos este programa es lo mejor y más efectivo para chequear rendimiento del computador para procesadores AMD y INTEL es el mismo procedimiento. Cuando estamos en servicio técnico y queremos identificar si le hace falta pasta térmica al equipo y no queremos destapar podemos utilizar estos programas para ver que temperaturas del equipo en reposo a que nos referimos cuando no estamos ejecutando algún programa y también estresándolo para saber que temperatura llega. Es muy importante para cambio de pasta térmica y si necesitamos remplazar o hacerle mantenimiento al fan cooler.
Let's go to the second part of the content where I will explain what program we will download are 2 one is responsible for checking the temperature Speccy of the components and we will focus on the temperature of the processor and the other program is the most important is CPU Z and with that we will stress the processor to 100% an average person who uses the computer will not take the team to that extreme so I use it with that I can identify if it is good or bad. How are we going to know if the computer does not shut down, restarts, hangs, i.e. the screen is stuck and does not respond to the mouse or keyboard. Usually computer resellers use this program is the best and most effective to check computer performance for AMD and INTEL processors is the same procedure. When we are in technical service and we want to identify if you need thermal paste to the equipment and we do not want to uncover we can use these programs to see what temperatures of the equipment at rest we mean when we are not running any program and also stressing it to know what temperature it reaches. It is very important to change the thermal paste and if we need to replace or maintain the fan cooler.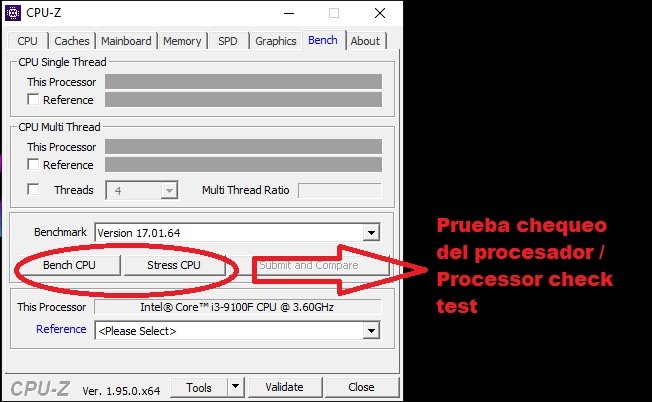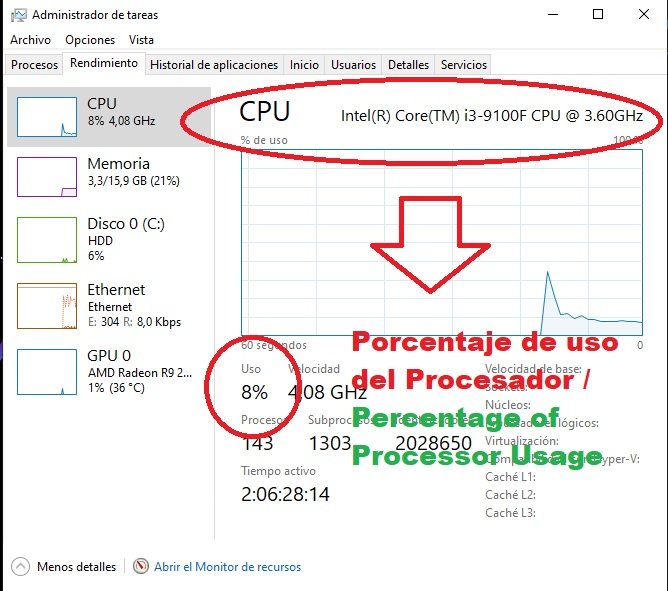 Otro aspecto importante que debemos núcleos del procesador y consumo de energía del procesador. Si el procesador es gama baja esos procesadores son de pocos núcleos si es gama media tiene varios núcleos si es gama alta esta al tope con los núcleos con esto podemos decir que la temperatura del procesador va influir en la cantidad de núcleos por eso en el mercado tenemos fancooler disipador de aire de refrigeración líquida disipadores con cobre y la pasta térmica de diferentes calidades y precios pero es especial para procesadores gama media y alta. Con respecto al consumo de energía mientras más energía a que nos referimos a la corriente el procesador es más caliente, una diferencia que AMD los procesadores consumen más energía que los procesadores INTEL que consumen poca energía en el mercado podemos ver que requieren buena refrigeración para dar más vida útil a los procesadores AMD y los procesadores INTEL utilizamos disipadores de stock que son los que traen de fábrica. Con este factor debemos conocer para saber que temperaturas llegan y no debemos alarmarnos con las características del procesador lo podemos buscar por la página oficial del fabricante y nos dirá cuál es su temperatura normal y su máxima temperatura que puede llegar.
Another important aspect that we must processor cores and processor power consumption. If the processor is low-end those processors are few cores if it is mid-range has several cores if it is high-end is at the top with the cores with this we can say that the processor temperature will influence the number of cores so in the market we have fancooler liquid cooling air heatsinks heatsinks with copper and thermal paste of different qualities and prices but is especially for mid-range and high-end processors. With respect to power consumption the more power we refer to the current the processor is hotter, a difference that AMD processors consume more power than INTEL processors that consume little power in the market we can see that require good cooling to give more life to AMD processors and INTEL processors we use stock heatsinks that are those that bring factory. With this factor we must know to know what temperatures are reached and we should not be alarmed with the characteristics of the processor we can look for it on the official website of the manufacturer and it will tell us what is its normal temperature and its maximum temperature that can reach.

Conclusión comprar procesador nuevo o usado van a trabajar de la misma forma por eso en el mercado nos venden computadoras refurbished mientras una computadoras se realice el mantenimiento adecuado cambio de pasta térmica limpieza del fan cooler la parte de la energía con Ups no vamos a tener ningún problema es difícil que se dañe. Estos son los pasos que se realizan los que vendemos artículos de computación espero que con este contenido les sirva de ayuda si quieren adquirir un procesador muchas gracias a mis lectores y cualquier duda o sugerencias o comentarios asesoría estamos estoy dispuesto ayudarlos.
Conclusion buy new or used processor will work the same way so in the market we sell refurbished computers as long as a computer is properly maintained change of thermal paste cleaning the fan cooler the part of the power with Ups we will not have any problem is difficult to damage. These are the steps that are performed those who sell computer items I hope this content will help you if you want to buy a processor thank you very much to my readers and any questions or suggestions or comments advice we are willing to help you.

Translated with www.DeepL.com/Translator (free version)
Todas las imágenes de los procesadores AMD/INTEL son tomadas de mi celular son mis artículos de trabajo.
Captura de pantalla de mi computadora
Video realizado en mi computadora para explicar el contenido del post
Programas utilizados
CPUID CPU-Z
Speccy64
Se pueden descargar en internet de forma gratuita también está la versión full que podemos comprar
All images of AMD/INTEL processors are taken from my cell phone are my work items.
Screenshot of my computer
Video made on my computer to explain the content of the post.
Programs used
CPUID CPU-Z
Speccy64
You can download it on the internet for free, there is also the full version that we can buy it
Instagram
Alejandrojimenez86
Discord
Abgalejo#2572
Canal YouTube
https://www.youtube.com/channel/UC8QThO8MrRLhjVZqNMgNmkg
Canal peakd
https://peakd.com/@guaritosex