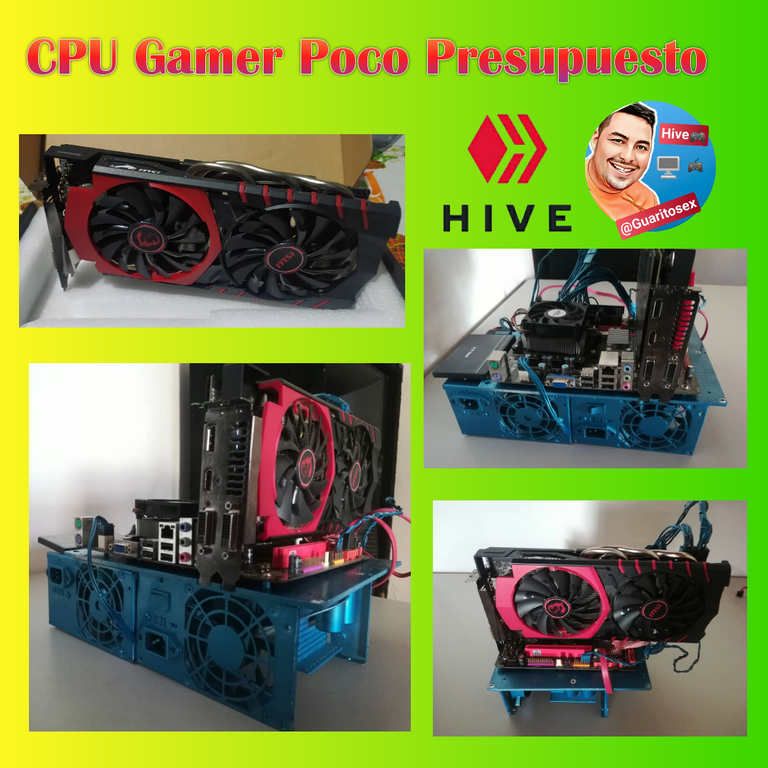 Good morning community I come in this opportunity to present a project of a friend GAMER, which once also speak of a project developed by him a custom SONY PSP, in this project we are both protagonists as we help to get parts of the pieces to assemble your computer GAMER with low budget, the processor is Athlon x4 quad-core RAM memory 4gb BIOSTAR plate, 120gb solid disk MSI r9 380 4GB video card and to finish 2 generic sources. We were able to achieve this project with a total budget of 150 dollars.
Buenos días comunidad vengo en esta oportunidad a presentar un proyecto de un amigo GAMER, el cual en una oportunidad también hable de un proyecto elaborado por él un PSP SONY personalizado, en este proyecto ambos somos protagonista ya que ayude a conseguir partes de las piezas para armar su computadora GAMER con bajo presupuesto, el procesador es Athlon x4 de cuatro núcleos memoria RAM 4gb placa BIOSTAR, disco solido de 120gb tarjeta de video MSI r9 380 4GB y para finalizar 2 fuentes genéricas. Este proyecto lo pudimos conseguir con un presupuesto total de 150 dólares.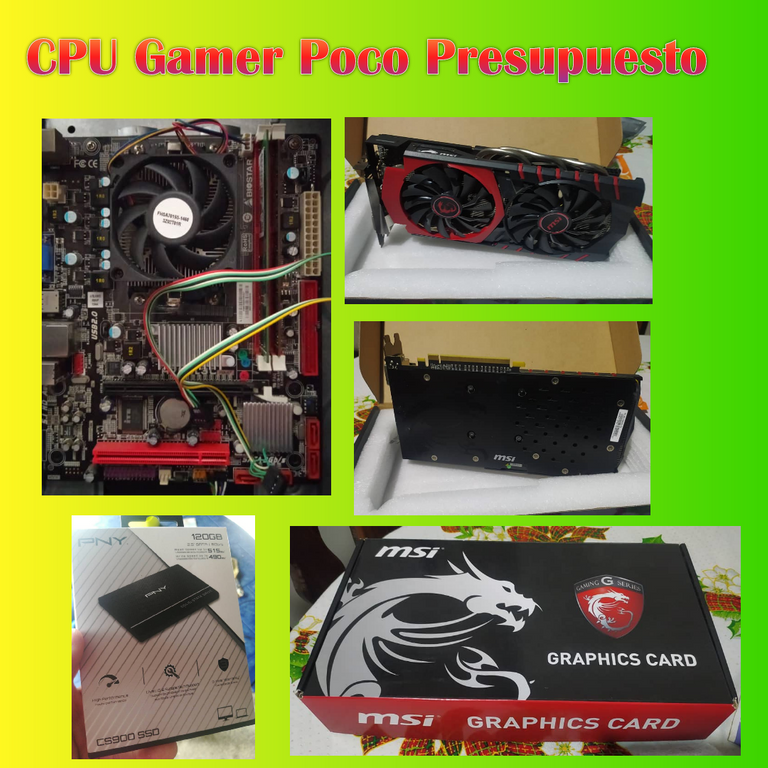 Putting together a computer that can run ps4 games and some current games of 2023 is something complicated as we know in technology is always advancing and our components are becoming obsolete, the challenge of many in finding a way to have fun or perform activities with our computer is a difficult task, My friend David Yepez made an effort to build this machine, with my support he was able to buy the motherboard and RAM memory processor, he sacrificed a custom PSP and a ps4 controller, on the other hand with a mini laptop he was able to sell it for 50 dollars, complete with 20 dollars more he got a 4GB r9 380x video card.
Armar una computadora que pueda correr juegos de ps4 y algunos actuales del 2023 es algo complicado como sabemos en la tecnología siempre va avanzado y nuestros componente van quedando obsoletos, el reto de muchos en buscar una manera de divertir o realizar actividades con nuestro computador es una tarea difícil, mi amigo David Yepez hizo un esfuerzo para armar dicha máquina, con mi apoyo pudo comprar la tarjeta madre y procesador memoria RAM sacrifico un PSP personalizado y un control de ps4, por otro lado con una laptop mini pudo venderla en 50 dólares, completo 20 dólares más consiguió una tarjeta de video r9 380x de 4GB.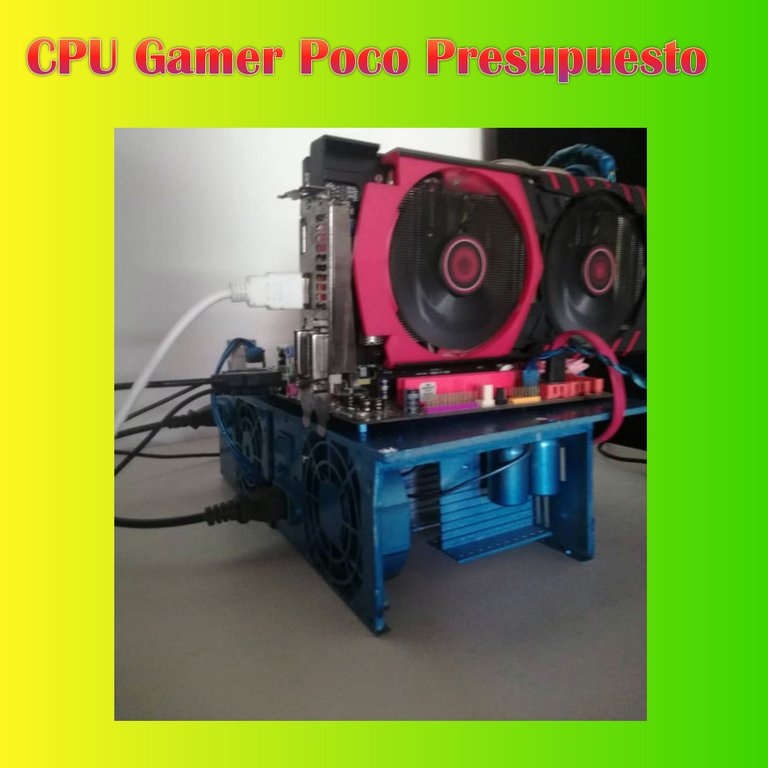 I didn't have more budget, I had to look for a certified power supply so that it could move the mentioned equipment since the graphic card uses 2 pins of 6 for its power supply, at that point we found ourselves with great limitations, a certified power supply is in an average of 50 dollars, but the started project couldn't stay like that, with 2 generic power supplies one to feed the motherboard and another generic power supply to feed the video card. The cables or power adapters were easy to locate because we had saved them from equipment that replaced generic power supplies with certified ones and they were left in the workshop. To turn on both sources at the same time we can acquire in the market an adapter that turns on 2 simultaneous sources.
No contaba con mas presupuesto, faltaba por buscar una fuente certificada para que pueda mover el equipo mencionado ya que la tarjeta gráfica utiliza 2 pines de 6 para su alimentación, en ese punto nos encontramos con grandes limitantes una fuente certificada esta en un promedio de 50 dólares, pero el proyecto arrancado no podía quedar así, con 2 fuentes genéricas una para alimentar la placa madre y otra fuente genérica para alimentar la tarjeta de video. Los cables o adaptadores de corriente fueron fáciles de ubicar porque teníamos guardados de equipos que sustituyeron fuentes genéricas por certificada y nos quedaron en el taller. Para encender ambas fuentes al mismo tiempo podemos adquirir en el mercado un adaptador que prende 2 fuente simultaneas.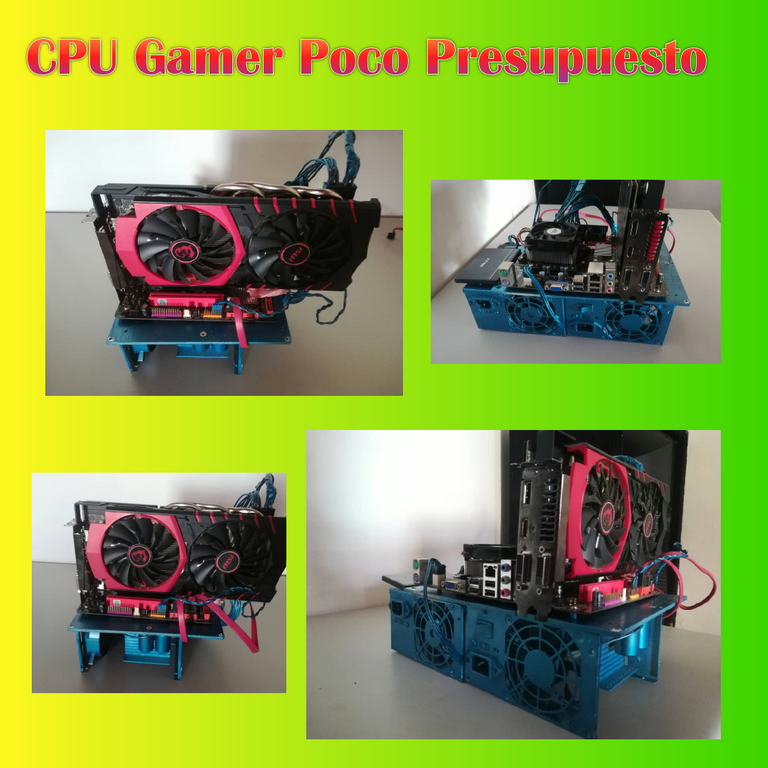 With that was the assembly of the computer and we were with all the materials, now lacked the desire to assemble the team, the fever of my friend was such that we started with everything first we look for a sheet of metal to place the motherboard screws were placed to the extent of the parent plate, then to give an aesthetic touch we placed the 2 sources below the team. As you can see all the equipment is uncovered. The blue color we use a spray paint painted all areas both the power supply and the sheet that holds the motherboard, this project was lying form can be used in comfort because the video card is heavy and thus does not damage the PCI port, with this is completed our project in which we must take into account the power consumption of equipment and the desire to perform these activities with little budget are great step to enjoy a good GAMER computer on a low budget.
Con eso quedo el armado de la computadora ya estábamos con todos los materiales, ahora faltaban las ganas de armar el equipo, la fiebre de mi amigo era tal que empezamos con todo lo primero buscamos una lamina de metal para colocar la placa madre se coloco los tornillos a la medida de la placa padre, luego para darle un toque estético colocamos las 2 fuentes abajo del equipo. Como pueden observar todo el equipo esta al descubierto. El color azul utilizamos una pintura en spray pintamos todas sus áreas tanto la fuente de poder como la lamina que sujeta a la placa madre, este proyecto quedo de forma acostada se puede utilizar con toda comodidad ya que la tarjeta de video es pesada y de esa forma no daña el puerto PCI, con esto queda finalizado nuestro proyecto en el cual debemos tomar en cuenta el consumo de energía del equipo y las ganas de realizar estas actividades con poco presupuesto quedan gran paso para poder disfrutar de una buena computadora GAMER con bajo presupuesto.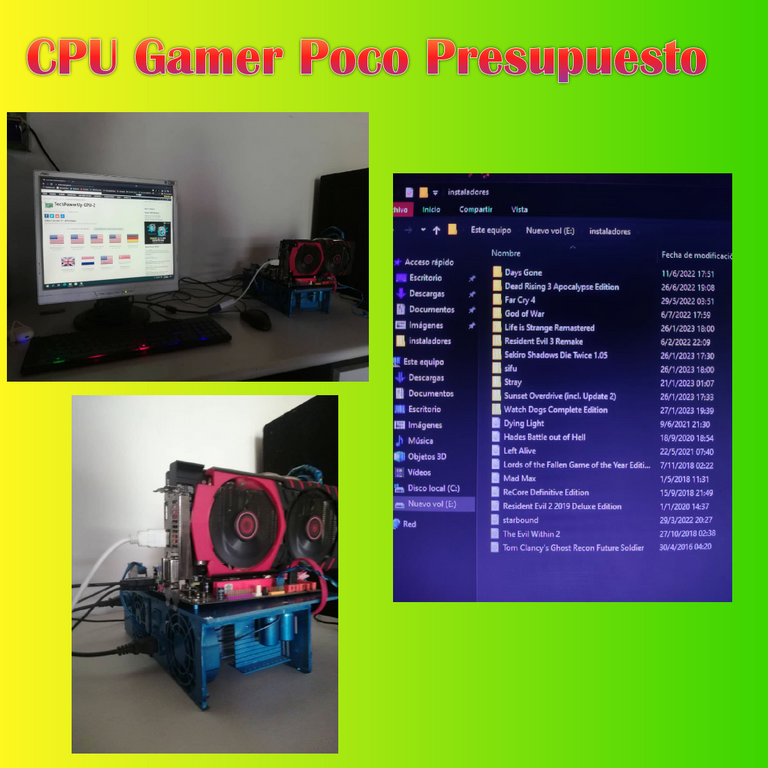 All images are taken from my cell phone / flyer maker editing program.

 Todas las imágenes son tomadas de mi celular / programa para editar flyer maker