---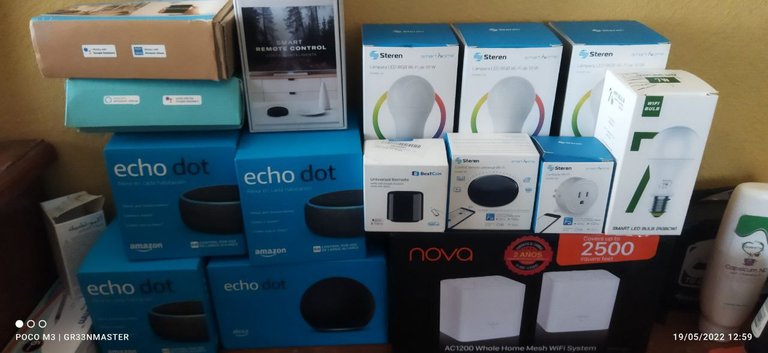 English
Greetings friends today I bring you a post a little different from what I usually share with you, because I am also a fan of technology and Home Automation is something that for years I have been very excited about.
In my city there is a technology store called Steren and I always go to their website to see what they have on offer, this time I saw the Alexa Dot 3rd Gen and 4th Gen devices at a good price, so I broke my piggy bank and went shopping.
Each Alexa device came with a smart bulb plus for each purchase they gave you 10% back in a kind of electronic purse, then taking advantage of this offer I bought in 3 different days accumulating those 10%s and the last Alexa cost me approximately 15 USD the first one or the first two cost me 30 USD so putting together some more little things I needed to automate my home I was collecting the discounts.
In total I think I have spent approximately 400 USD for all the devices, but I feel it is something that was necessary because in my house a lot of electricity is consumed and that because my children leave many lights on, plus air conditioners and televisions, now with this system, I have more controlled electricity consumption and they themselves feel more like turning off and on lights and different devices that are controlled by voice, perhaps for novelty, but I hope they get used to it.
Next I will tell you how much I bought and what I used it for, if you have any questions regarding the operation of any of the devices that I expose here or home automation I will gladly answer you in the comments, I am not an expert, but rather an amateur but very enthusiastic and eager to help.
Spanish
Saludos amigos hoy les traigo una publicación un poco diferente a lo que normalmente les comparto, pues también soy aficionado a la tecnología y la Domótica es algo que desde hace años me emociona mucho.
En mi ciudad hay una tienda de Tecnología llamada Steren y siempre entro a su pagina para ver que tienen en oferta, esta vez vi los dispositivos Alexa Dot 3ra Gen y los 4ta Gen en buen precio, así que rompí mi cochinito y me fui de compras.
Cada dispositivo Alexa venia con un foco inteligente además de que que por cada compra te devolvían el 10% en una especie de monedero electrónico, entonces aprovechando esta oferta compre en 3 días diferentes acumulando esos 10%s y el ultimo Alexa me costó aproximadamente 15 USD el primero o los primeros dos me costaron 30 USD así que juntando algunas cositas mas que necesitaba para automatizar mi casa fui juntando los descuentos.
En total creo que he gastado aproximadamente 400 USD por todos los dispositivos, pero siento que es algo que me era necesario porque en mi casa se consume mucha electricidad y eso porque mis hijos dejan muchas luces encendidas , además de los aires acondicionados y televisiones, ahora con este sistema, tengo mas controlado el consumo de electricidad y ellos mismos sienten mas ganas de apagar y prender luces y diferentes dispositivos que se controlan por voz, talvez por novedad, pero espero se les haga costumbre.
A continuación te platico que tanto me compré y para que me sirvió, si tienes alguna duda en cuanto al funcionamiento de alguno de los dispositivos que aquí expongo o de la domótica con gusto te respondo en los comentarios, no soy un experto, mas bien un aficionado pero muy entusiasta y con ganas de ayudar.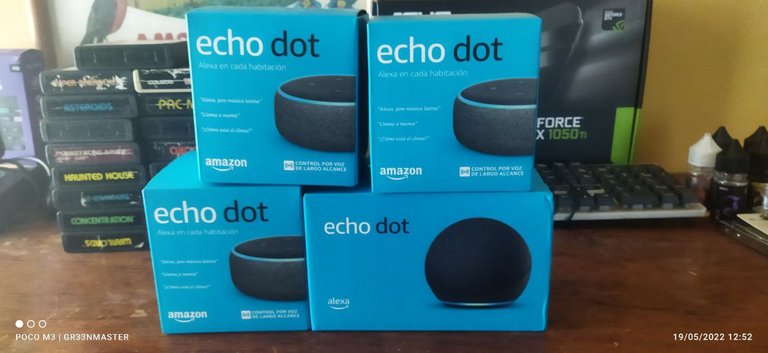 ---
The first thing I bought were the Echo Dot which are talking devices from Amazon with an AI called Alexa, which became popular about 3 to 4 years ago when the first versions came out, at that time there were not many things to do with it but to play music and talk to it, but now you can manage it to turn on or off lights in your house, and can function as an intercom for all rooms, plus I personally like it a lot because I can listen to podcasts, audio books and buy directly with it with my voice.
These I got one of them at 50 usd bought on Amazon, then I saw the offer of the Steren store in my city and that's when I got them cheaper at 30 usd with a smart light bulb included plus that 10% accumulative that made the last one I bought at 15 usd.
I placed one in my study, another in the master bedroom, another in my children's room and the last one in the kitchen, so I covered the whole house.
Lo primero que compré fueron los Echo Dot que son dispositivos parlantes de Amazon con una IA llamada Alexa, que se popularizo ya hace unos 3 a 4 años cuando salieron las primeras versiones, en ese entonces no había muchas cosas que hacer con el mas que poner música y hablar con el, pero ahora tu puedes gestionarlo para que encienda o apague luces de tu casa, así como puede funcionar como intercomunicador para todas las habitaciones, además de que a mi en lo personal me gusta mucho porque en el puedo escuchar podcasts, audio libros y comprar directamente con el con la voz.
Estos los conseguí uno de ellos en 50 usd comprado en Amazon, después vi la oferta de la tienda Steren de mi ciudad y es cuando me salieron mas baratos a 30 usd con un foco inteligente incluido más ese 10% acumulable que hizo que el ultimo que compre me saliera en 15 usd.
Yo coloqué uno en mi estudio, otro en la habitación principal, otro en el cuarto de mis hijos y el ultimo en la cocina, así abarqué toda la casa.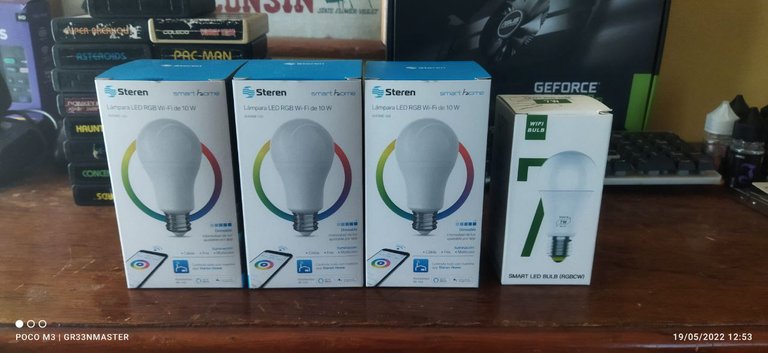 The second thing on my list was the bulbs, which was one of the most important things because this whole system that I implemented in my house is basically to lower energy consumption.
The bulbs I was using before were of 20 W so it is a big difference the fact that these are of 10w and 7w in addition to being able to regulate in its intensity being able to consume at least 1% which is quite a lot if we consider what I was using before.
Of these I got a total of 20, four of which came with the Echos and 16 that I bought separately in the free market in an online store that is dedicated to selling such products.
All the lights connect via internet or bluetooth to configure and manage them, they are compatible with Alexa devices so they are voice controlled as well.
These I distributed throughout the house and replaced all the ones I had before that as I had already told you were LED but of 20w and 15w so I hope to have a change in my electricity bill.
Lo segundo de mi lista fueron los focos que fue una de las cosas mas importantes pues todo este sistema que implementé en mi casa es básicamente para bajar el consumo de energía.
Los focos que usaba antes eran de 20 W así que es una gran diferencia el hecho que estos sean de 10w y 7w además de poderse regular en su intensidad pudiendo consumir como mínimo un 1% que es bastante si consideramos lo que estaba yo usando antes.
De estos conseguí un total de 20, cuatro de los que venían con los Echos y 16 que compré aparte en mercado libre en una tienda en línea que se dedica a vender este tipo de productos.
Todos los focos se conectan vía internet o bluetooth para hacerles la configuración y para gestionarlos, son compatibles con los dispositivos Alexa así que se controlan por voz también.
Estos los distribuí por toda la casa y sustituyeron todos los que tenia antes que como ya les había contado eran de LED pero de 20w y 15w así que espero tener un cambio en mi recibo de electricidad.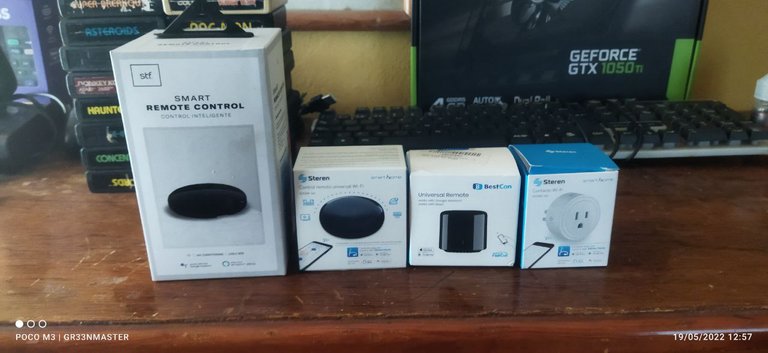 ---
Then we have the universal wifi controls and the smart contact these I bought at Steren and two of them online, at a price of approximately 12 to 15 usd each.
They are essential for home appliances that are not smart to become, as the wifi universal controls capture signals from infra red controls and emulate them to turn on or off when you like from voice control or from the app on your cell phone.
I put one in each room and one in my studio to control air conditioners and TVs.
The contact controls my studio exhaust fan so it doesn't get full of cigarette smoke when I smoke.
Después tenemos los controles universales wifi y el contacto inteligente estos los compré en Steren y dos de ellos por internet, a un precio aproximado de 12 a 15 usd cada uno.
Son esenciales para que aparatos domésticos que no son inteligentes se conviertan, pues los controles universales wifi capturan señales de controles infra rojo y los emulan para encender o apagar cuando tu gustes desde control de voz o desde la app de tu teléfono celular.
Estos los puse uno en cada habitación y uno en mi estudio para controlar aires acondicionados y televisores.
El contacto controla mi extractor de aire del estudio para que no se llene de humo de cigarro cuando fumo.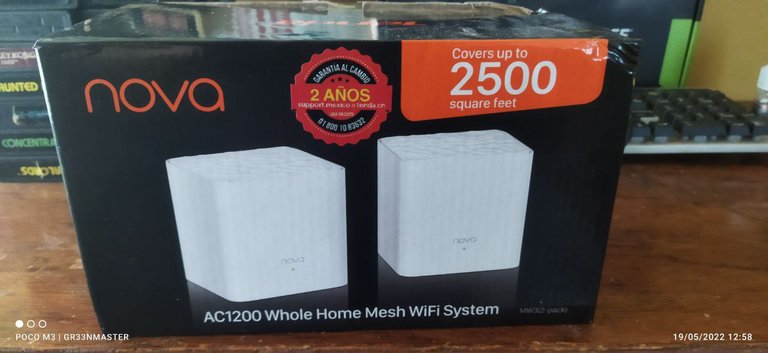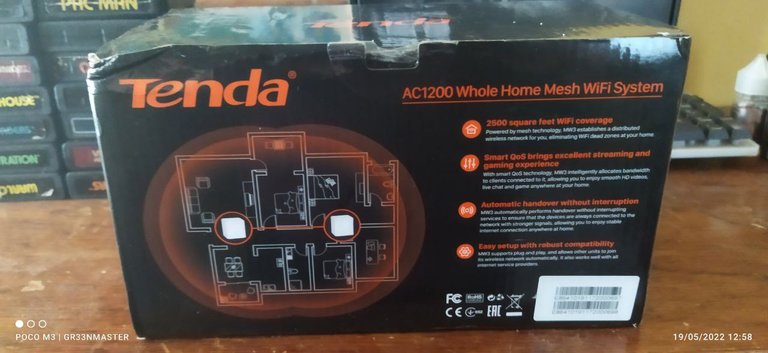 ---
Last but not least is the Tenda Nova, a device that converts your internet in Mesh internet, what this does is that it has more reach because these devices work as nodes repeating the initial internet to a range of 30 meters around with the same intensity as if it were direct from the modem.
Sincerely it is a marvel because for a long time I wanted to increase the range of my internet because in the bathroom and the patio the signal did not reach and it was very annoying, now with these nodes I have internet in the whole house.
In terms of home automation these devices increase the number of devices that can be connected to your net, because with conventional modems or those given by internet companies here in Mexico you can only connect 20/25 devices, but my new smart network has more than 40 devices connected to wifi simultaneously, so it was a necessary expense.
This was one of the most expensive purchases because the cheapest price I found on the internet was 85 usd approximately, the truth is a good price considering that they can cost up to 120 usd.
Well friends these were my acquisitions of this month in terms of home automation technology, I hope soon to get some more things that I want to increase my entire system, such as security devices, some cameras and things like that.
I say goodbye and I wish you all success and the best of luck.
Por ultimo pero no menos importante esta el Tenda Nova un dispositivo que convierte tu internet en internet de Malla que esto lo que hace es que tenga mas alcance pues estos dispositivos funcionan como nodos repitiendo el internet inicial a un rango de 30 mts a la redonda con la misma intensidad que si fuera directo del modem.
Sinceramente es una maravilla pues desde hace rato quería aumentar el rango de mi internet pues en el baño y el patio no llegaba la señal y era muy molesto, ahora con estos nodos tengo internet en toda la casa.
En cuanto a la Domótica estos dispositivos lo que hacen es aumentar el numero de dispositivos que se pueden conectar a tu red, pues con los modems convencionales o los que dan las compañías de internet aquí en México solo se pueden conectar 20/25 dispositivos, pero mi nueva red inteligente tienen mas de 40 dispositivos conectados a wifi simultáneamente, así que era un gasto necesario.
Este fue uno de las compras mas caras pues el precio mas barato que encontré en internet fue de 85 usd aproximadamente, la verdad es un buen precio teniendo en cuenta que pueden llegar a costar hasta 120 usd.
Bueno amigos estas fueron mis adquisiciones de este mes en cuanto a tecnología domótica, espero pronto conseguir algunas cosas mas que quiero aumentarle a todo mi sistema, como dispositivos de seguridad, algunas cámaras y cosas como esas.
Me despido y les deseo mucho éxito y la mejor de las suertes.
---
La Domótica es la tecnología que vuelve inteligente tu casa/ Domotics is the technology that makes your home intelligent
Translated thanks to DeepL.com



---
▶️ 3Speak