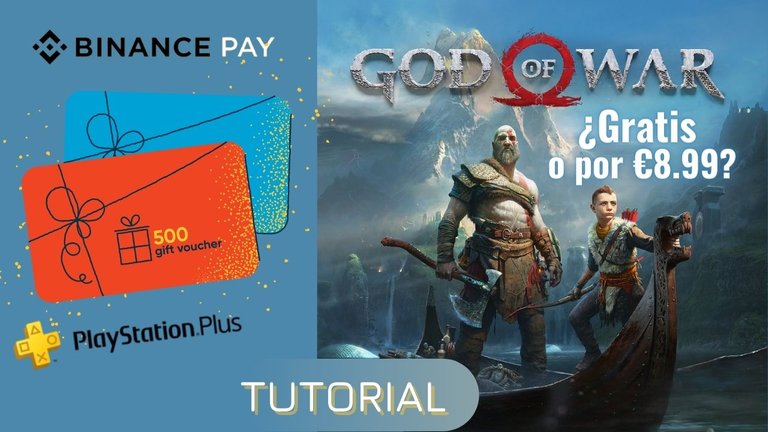 Hace apenas unos días, conversando en el discord de Geek Zone con @josecarrerag y @gabrielserra acerca de los juegos disponibles en las plataformas Epic Games y Steam, les contaba mi deseo de conseguir una buena oferta para poder comprar God of War, pues pagar $31.99 que es el precio actual de la versión para PC me resultaba costoso. Hoy, mientras trabaja con José en algunas actualizaciones del discord, me topé con una noticia que anunciaba que God of War estaría GRATIS este fin de semana para PlayStation 4 y 5 solo con una suscripción de PlayStation plus.
Emocionada, fui hasta la habitación de mis hijos para verificar si era cierta la noticia, y en efecto, así era, con la salvedad de que no tenía una suscripción de PlayStation plus, lo que significaba que de querer el juego debía cancelar $19.99. Ese monto sin duda era menor a los $31.99 que vi días antes, pero todavía seguía pareciéndome mucho dinero, más cuando sabía que existía la posibilidad de conseguirlo sin pagar esa cantidad.
Le hice el comentario a José y allí estuvimos viendo los planes disponibles para la suscripción, y entonces me conseguí con el plan Essential que me permitiría aprovechar las promociones mensuales por solo $6.99. Ahora sí, $6.99 si era un muy buen precio por God of War, aunque luego se convirtieron en €8.99 porque mi cuenta es de España, pero, aun así, valdría la pena.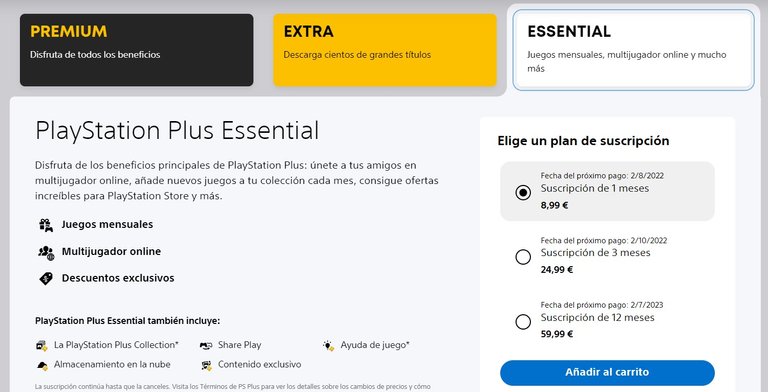 Captura de pantalla de https://www.playstation.com/

Siguiente paso, pagar la suscripción.
Para mi, el mejor método de pago sería hacerlo con criptomonedas, pero no es un método de pago disponible dentro de la plataforma de Sony; sin embargo, si es posible pagar con tarjetas de regalo (giftcard), lo cual es ideal para evitar condenar una tarjeta de crédito a cargos recurrentes mensuales.
Pues, resulta que pudiendo pagar la suscripción con una tarjeta de regalo, también podría hacerlo con criptomonedas... ¿cómo? a través de la plataforma de Binance.
---
El paso a paso es sumamente sencillo, no pierdan detalle.
Lo primero es tener saldo en USDT en la billetera Fondos. Acto seguido, entramos en Pay para acceder al módulo de Binance Pay. Una vez allí, vamos hasta el final de la página y entramos en la sección de ofertas de CoinsBee.
Lo siguiente es seleccionar la región, por defecto se muestra Venezuela, pero es necesario elegir aquella región correspondiente al servicio para el cual compraremos la tarjeta de regalo, en mi caso, debo elegir España. Importante: tildar la opción para mostrar todas las categorías.
Se desplegará una lista de tarjetas disponibles: Amazon, itunes Apple, Steam, Google Play, Xbox Live, etc., y dentro de esas, la de PlayStation. A continuación, debemos elegir de la lista desplegable el monto de la tarjeta de regalo, en mi caso, seleccioné una de €10 y la añadí a la cesta de compra.
Una vez verificado el monto, solo resta colocar el correo electrónico donde recibiremos el código de la tarjeta de regalo, y presionamos en comprar ahora. Posteriormente, confirmamos la transacción en la billetera, y listo… pago exitoso.
Con este proceso ya hemos completado la compra de la tarjeta de regalo, cualquiera que usted haya elegido.

Tan solo un par de minutos después de completada la compra, recibirás un correo electrónico de Coinsbee.com con tu pedido, es decir, el código de 12 dígitos con el que agregaremos saldo a la cuenta de PlayStation, o del servicio elegido (Steam, Amazon, etc.)
En el caso de PlayStation, lo siguiente es ir a la página de PlayStation, loguearnos con nuestras credenciales, y ya en la cuenta ir hasta canjear código, o hacerlo directamente desde el carrito de compras una vez añadido el plan de suscripción de PlayStation plus que hemos elegido. Procesamos la compra, y voilá, plan activo.

Inmediatamente fue hasta el PlayStation a comprobar si ya podría iniciar la descarga, y allí estaba disponible mi deseado God Of War con 45GB de datos esperando ser descargados.
¿Gratis o por €8.99?
Pensandolo bien el juego no me está costando esos €8.99, que ya sería un ahorro increible, pero es mucho menos en realidad, pues tengo todo un mes para seguir descargando juegos, que por cierto, este mes estará gratis también Crash Bandicoot 4… así que ha sido un muy buen negocio el de hoy.
Espero, que les sea de utilidad esta información por si desean aprovechar algunas ofertas o contratar algunos servicios.

Todas las imágenes de esta publicación son capturas de pantalla de la app móvil de Binance, de mi cuenta en la web de PlayStation, y desde la propia consola de PlayStation 4.