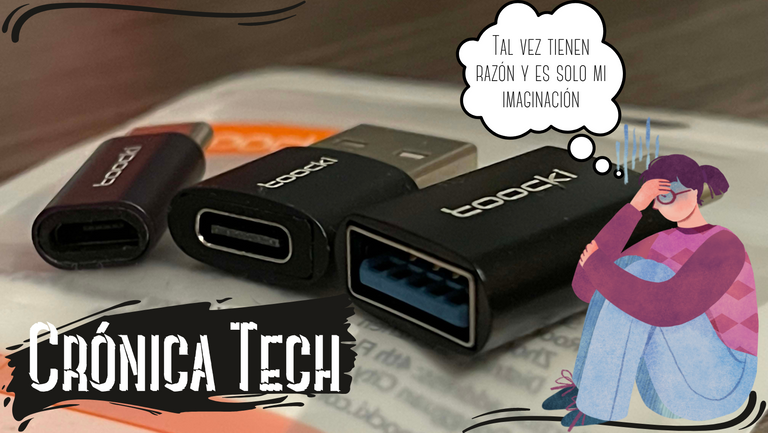 Esta publicación no puede ser un unboxing más, hay demasiadas anécdotas detrás como para solo centrarme en un desempaque.
Déjenme echarles el cuento. Todo comenzó cuando me cambié de un iPhone 7 a un iPhone 12, pues pasé de usar un cable de datos USB-A / LIGHTNING, a uno USB-C / LIGHTNING. Es decir, que necesariamente para cargar mi nuevo teléfono debía tener un adaptador de corriente con puerto de carga C. Considerando que soy usuaria de iPhone hace mucho tiempo, ya tenía en casa varios cargadores originales Apple, pero todos con puerto de carga A. Sinceramente, no quería prescindir de ellos, así que pensé que sería ideal buscar un adaptador que me permitiese convertir ese puerto A en uno C. Y así comenzó todo.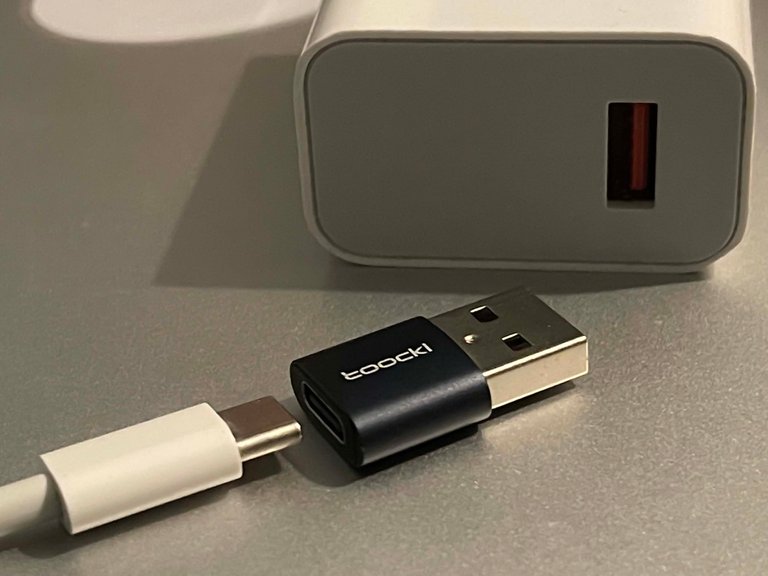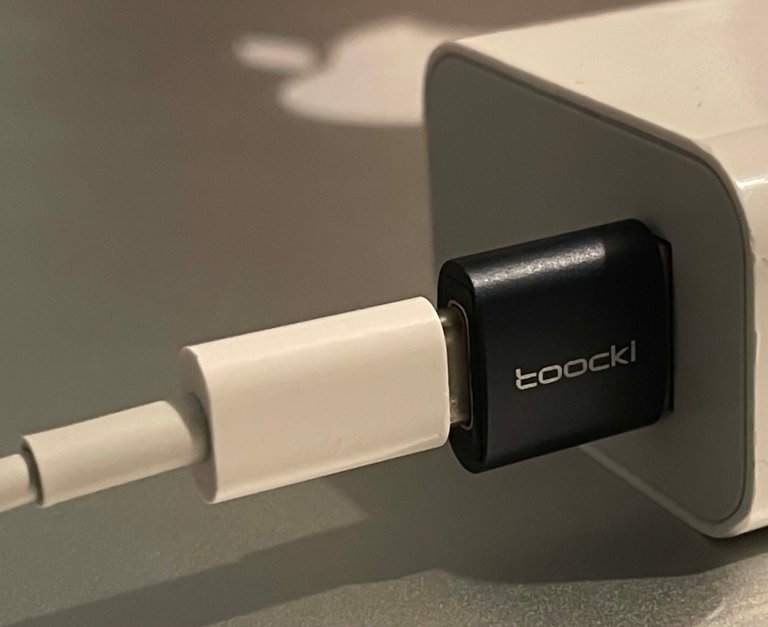 Convencida de lo que quería, y de que esa solución ya existía en el mercado, les hice el comentario a los muchachos, por si en algún momento ellos veían ese adaptador me hicieran el favor de comprarlo, pues si de algo estaba segura es que en Maturín no lo iba a conseguir. En primera instancia explicarles lo que quería, pareció fácil. Podría haber jurado que estábamos en la misma sintonía, pero muy pronto entendí que no jajaja
En esos días, Natalia, Jau y José acudían con frecuencia a tiendas de tecnología en su ciudad, como buenos geeks siempre tenían algún nuevo dispositivo que comprar. Así que cada vez que comentaban que estaban de compras, yo aprovechaba de recordarles preguntar por mi encargo, insistentemente les decía: "no se olviden de preguntar por el adaptador". Y ellos hacían la tarea, me pasaban fotos preguntando: "¿es este?", incluso en momentos parecían haber logrado el objetivo: "Gora, conseguí el adaptador". Pero no, siempre era el adaptador inverso al que yo buscaba, en lugar de ser uno USB-A macho a tipo C hembra, conseguían Tipo C macho a USB-A hembra.
Ante mi constante negativa de responder: "no, ese no es, es al contrario", comenzó entonces la duda: "¿tú estás segura?", "¿no estarás equivocada?", incluso surgieron sugerencias: "compra otro cable y ya", "compra un cargador tipo C". Creo que en su interior pensaban: "Gora debe estar loca", me los imaginaba como en el meme del manicomio: "y ese adaptador del que hablas, ¿está en esta habitación con nosotros?". Así que nada, a la larga todos desistimos. Ellos, de esa búsqueda que parecía irreal; y yo, de tratar de convencerlos de que si existía.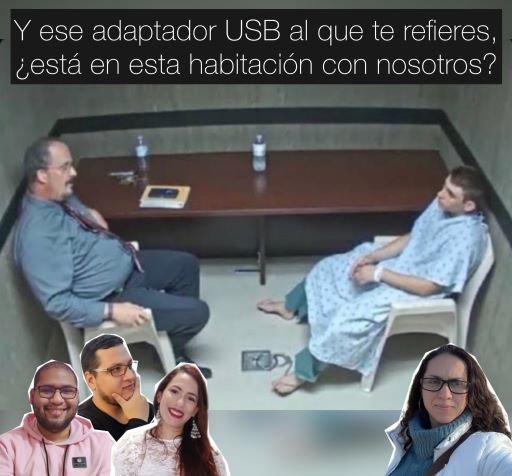 @jauregui98 | @josecarrerag | @soy-laloreto
! [ENGLISH VERSION]
This publication cannot be just another unboxing, there are too many anecdotes behind it to just focus on an unboxing.

Let me tell you the story. It all started when I upgraded from an iPhone 7 to an iPhone 12, as I transitioned from using a USB-A / LIGHTNING data cable to a USB-C / LIGHTNING one. That is, necessarily to charge my new phone I had to have a power adapter with a C charging port. Considering that I am a long-time iPhone user, I already had at home several original Apple chargers, but all with A charging port. Honestly, I didn't want to do without them, so I thought it would be ideal to have an adapter that would allow me to convert that A port into a C port. And that's how it all started.

I was convinced of what I wanted, and that this solution already existed in the market, so I told the guys that if at some point they saw this adapter, they would do me the favor of buying it because if there was one thing I was sure of, it was that I was not going to get it in Maturin. In the first instance, explaining to them what I wanted seemed easy. I could have sworn that we were on the same wavelength, but very soon I understood that we were not hahaha.

In those days, Natalia, Jau, and José frequently visited technology stores in their city, as good geeks they always had some new device to buy. So every time they told me they were shopping, I took the opportunity to remind them to ask for my product, insistently telling them: "don't forget to ask for the adapter". And they would do their homework, sending me pictures and asking: "Is it this one?", even at times they seemed to have achieved the goal: "Gora, I got the adapter". But no, it was always the adapter in inverse to the one I was looking for, instead of being a USB-A male to Type-C female, they got Type-C male to USB-A female.

In the face of my constant refusal to answer: "no, that's not it, it's the other in the opposite", then the doubt began: "are you sure?", "you're not wrong?", even suggestions arose: "buy another cable and that's it", "buy a type C charger". I think that inside they were thinking: "Gora must be crazy", I imagined them as in the meme of the madhouse: " and that adapter you are talking about, is it in this room with us?". So nothing, eventually we all gave up. They, from that search that seemed unreal; and me, from trying to convince them that it did exist.


Pasó más de un año, tal vez mucho más. Compré el cargador tipo C, lamentándome cada día por no poder usar cualquier otro cargador tipo A solo por no tener el bendito adaptador. Cada vez que me quedaba sin batería estando fuera de casa, sufría horrores. Mis power banks solo de puertos tipo A, el cargador del carro solo de puertos tipo A, cualquier cargador en la calle solo de puertos tipo A…y pensaba: "si tan solo tuviese el dichoso adaptador". Y sí, podía volver a usar un cable USB-A a LIGHTNING como el del iPhone 7 y ya, pero me negaba a retroceder.
Tiempo después, me compré unos AirPods Pro y un Apple Watch, y adivinen que cable trajeron…sí, un cable USB-C a LIGHTNING y uno de carga magnética con conector USB-C, no podía ser distinto, es la nueva norma. Nuevamente, tener el adaptador más que un capricho, era una necesidad.
Siempre que pasaba por una tienda de tecnología y veía muchos adaptadores, de inmediato preguntaba por el que yo quería, pero al igual que los muchachos, los vendedores me veían con cara de incredulidad. No podía parar de pensar: "¿coño, en serio a nadie se le ocurre que sería buena idea tener adaptadores que conviertan los archi-populares puertos USB-A en puertos USB-C, más aun siendo estos la nueva tendencia, y considerando que SI EXISTEN?". Bueno, parecía que no, que nadie lo veía necesario a excepción de un vendedor en mercado libre, al que contacté para formalizar la compra online, pero ya había agotado la existencia. ¿Es en serio?
! [ENGLISH VERSION]
More than a year passed, maybe much more. I bought the type C charger, regretting every day not being able to use any other type A charger just because I didn't have the adapter. Every time I ran out of battery on my cell phone while away from home, I suffered horrors. My power banks only type A ports, the car charger only type A ports, any charger on the street only type A ports...and I thought: "if only I had the darn adapter". And yes, I could go back to using a USB-A to LIGHTNING cable like the one on the iPhone 7 and be done with it, but I refused to back down.

Sometime later, I bought myself some AirPods Pro and an Apple Watch, and guess what cable they brought...yes, a USB-C to LIGHTNING cable and a magnetic charging one with a USB-C connector, it couldn't be any different, it's the new norm. Again, the adapter was more of a necessity than a whim.

Whenever I passed by a technology store and saw a lot of adapters, I would immediately ask for the one I wanted, but just like the guys, the salespeople would look at me with a look of disbelief on their faces. I couldn't stop thinking: "_crap, seriously, doesn't anyone think it would be a good idea to have adapters that convert the very popular USB-A ports into USB-C ports, even more so since they are the new trend, and considering that they DO EXIST? Well, it seemed that no, no one saw it necessary except for a seller on mercado libre, whom I contacted to formalize the purchase online, but he had already sold out of stock. Is it really?


Pues nada, ese adaptador como que no estaba destinado a llegar a mis manos. Hasta hace un par de semanas…
Entre varias notificaciones que llegaron ese miércoles a mi celular, una era publicidad de Aliexpress. "3 artículos por 0.99€" alcancé a leer en la pantalla, e inmediatamente me picó la curiosidad y entré a la app. Se trataba de un promoción para la primera compra en la que podía elegir 3 artículos de una lista de productos seleccionados, cada uno a 0.33€ para un total de 0.99€, con envío gratis y en 10 días. Entonces pensé: "por qué no". ¡Cuál no sería mi sorpresa! en ese listado estaba un pack de 3 adaptadores, y uno de ellos era el que yo tanto había buscado…además, los 3 por solo 0.33€. Obviamente de inmediato lo agregué al carrito, y con otros 2 productos más, completé la compra.
Una semana después, ya el paquete estaba en mis manos, y con él, el dichoso y anhelado adaptador. Lo cómico es que al comprar el pack, terminé también comprando el adaptador que los muchachos siempre conseguían. Recibí en total 3 adaptadores USB OTG de la marca Toocki, todos elaborados en aleación de aluminio, lo que ayuda a disipar el calor que se genera en la transmisión de datos.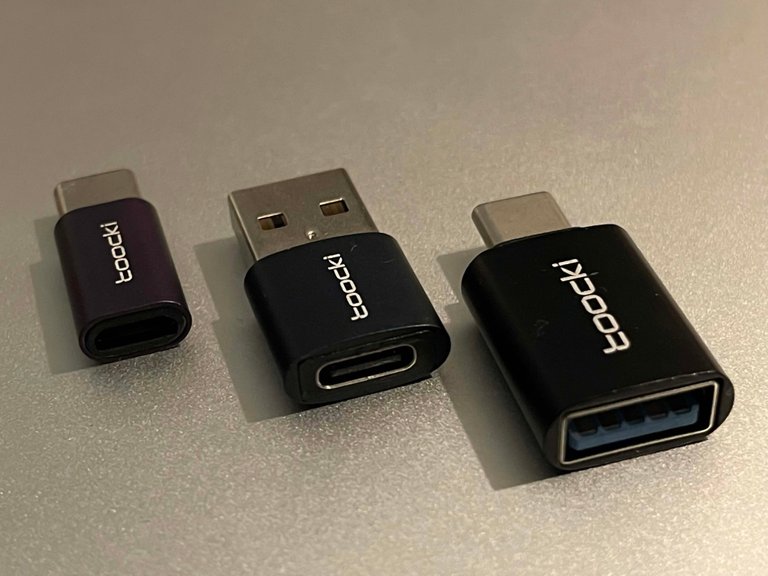 Contenido del pack:
• USB-A 3.0 a Tipo C (5Gbps / alta velocidad de transmisión)
• Tipo C a USB-A 3.0 (5Gbps / alta velocidad de transmisión)
• Tipo C a Micro USB 2.0 (480Mbps / velocidad estándar)
Pues bien, podrán suponer que ahora si me siento realizada ¡lo logré!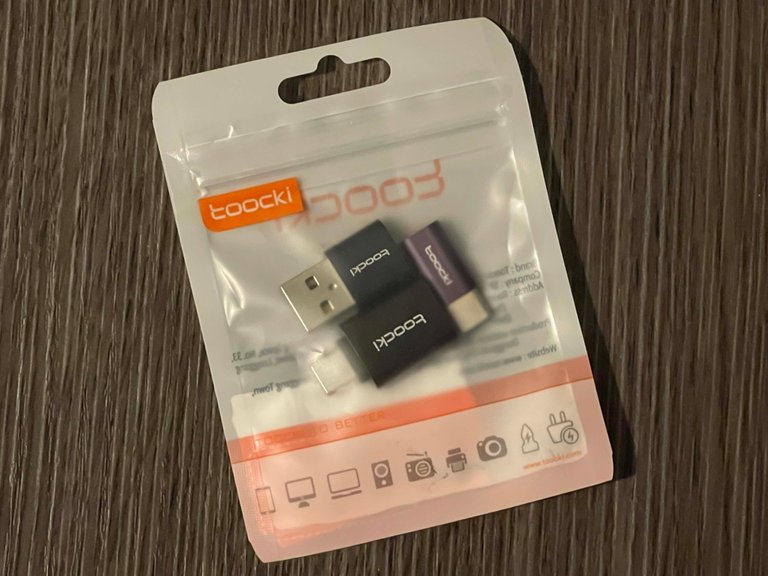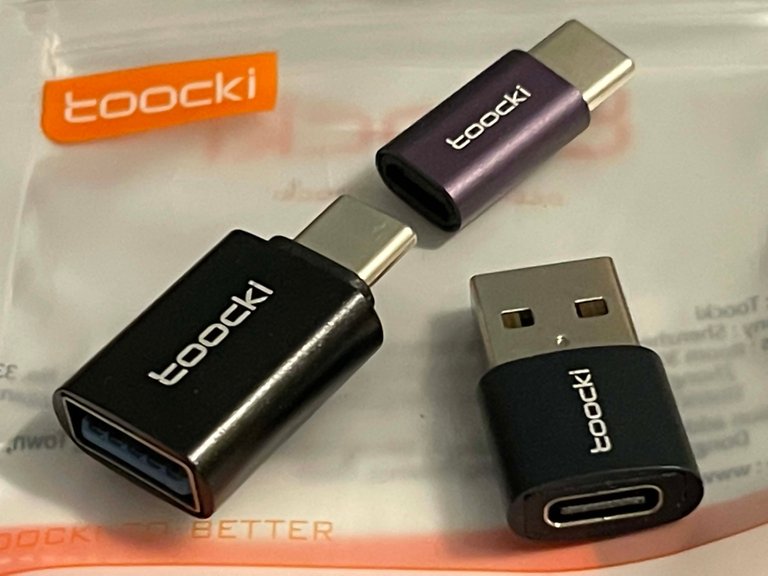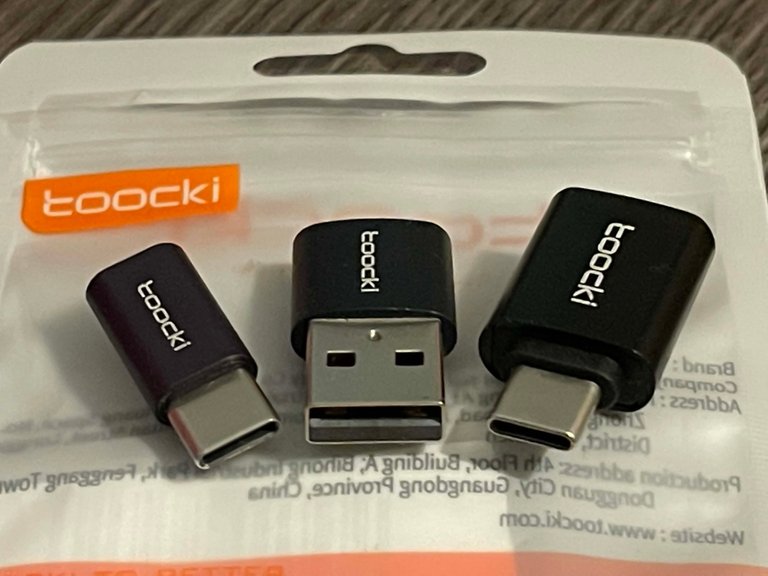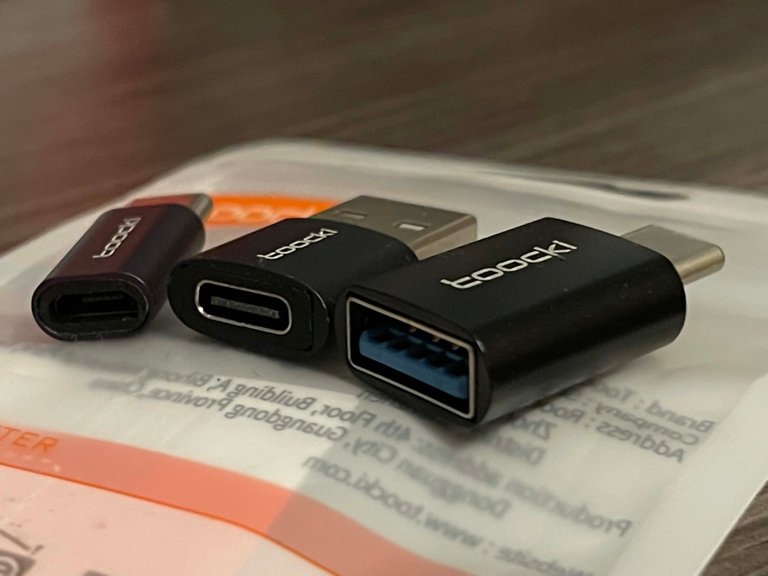 ! [ENGLISH VERSION]
Well, nothing, that adapter seemed not destined to get my hands on it. Until a couple of weeks ago...

Among several notifications that I received that Wednesday on my cell phone, one was an advertisement from Aliexpress. "3 items for 0.99€" I managed to read on the screen, and I was immediately curious and opened the app. It was a promotion for the first purchase in which I could choose 3 items from a list of selected products, each at 0.33€ for a total of 0.99€, with free shipping in 10 days. Then I thought: "why not". What a surprise! in that list there was a pack with 3 adapters, and one of them was the one I had been looking for in the past...plus, all 3 for only 0.33€. Obviously, I immediately added it to the cart, and with 2 more products, I completed the purchase.

A week later, the package was in my hands, and with it, the long-awaited adapter. The funny thing is that when I bought the pack, I ended up also buying the adapter that the guys always got. I received a total of 3 Toocki USB OTG adapters, all made of aluminum alloy, which helps dissipate the heat generated during data transmission.

Package contents:


USB-A 3.0 to Type-C (5Gbps / high-speed transmission)

Type-C to USB-A 3.0 (5Gbps / high-speed transmission)

Type-C to Micro USB 2.0 (480Mbps / standard transmission rate)

Well, you can guess that now I feel so happy, I did it!


Apenas lo tuve en mis manos no pude evitar tomar una foto y enviársela a @josecarrerag solo para dar fe que finalmente había conseguido el adaptador, y éste que no era producto de mi imaginación, que si existe y que es real.
Ahora, ¿quieren saber lo más loco de esta historia? pues bien, todos esos viejos adaptadores de corriente que yo tanto quería seguir aprovechando cuando comprase el adaptador USB, ahora no los tengo conmigo, quedaron en Venezuela…fin de esta crónica.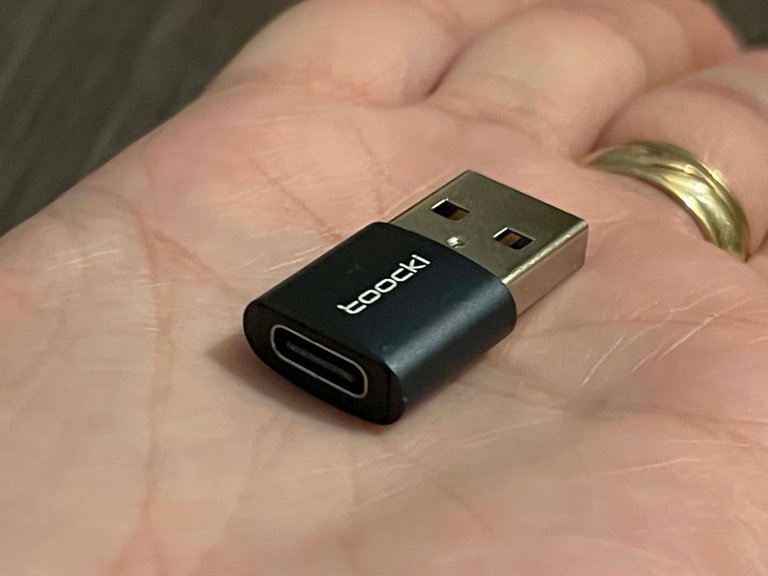 ! [ENGLISH VERSION]
As soon as I had it in my hands I couldn't help but take a picture and send it to @josecarrerag just to prove that I finally got the adapter and that it was not a figment of my imagination, that it does exist and it is real.

Now, do you want to know the craziest part of this story? Well, all those old power adapters that I wanted to take advantage of when I bought the USB adapter, now I don't have them with me, I left them in Venezuela...end of this chronicle.


Todas las imágenes de esta publicación son de mi autoría y propiedad tomadas con un iPhone 12 Pro Max.
Los avatares utilizados en el meme son propiedad de Jau, José y Naty, respectivamente.
All images in this post are my authorship and property taken with an iPhone 12 Pro Max.
The avatars used in the meme are owned by Jau, Jose and Naty, respectively.