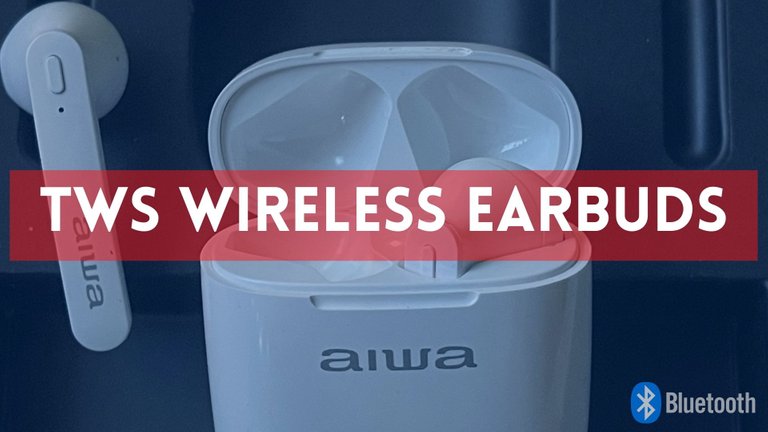 Hello, hello, my dear Geeks
A few days ago I shared with you the unboxing of my new Onikuma K20 headset, in that publication I mentioned how satisfied I am with them, and I also told you that the only thing I missed from my old headphones is the wireless connection via Bluetooth because as you know, the Onikuma K20 are wired, whose connection focuses on improving the sound quality. Considering that I bought them to play games on my computer, and use them to connect to discord, it does not affect me at all that the connection is wired; however, when listening to music on the cell phone, watching videos on the Tablet, or even watching TV, if I was missing the benefits of the wireless connection, so I decided to activate my plan B: buy a wireless earbuds TWS.
Before you think that the second set of headphones might be an unnecessary purchase, let me justify my decision. These earbuds are in-ear, i.e. they go directly into the ear, and additionally, they are of the Bluetooth TWS (True Wireless Stereo) type, i.e. each earbud (right and left) can work independently of each other because there is no cable linking them together. This means that it is enough to use at least one of the earbuds to enjoy all its functions without any restriction, I can answer a call while driving, listen to music when I go for a walk, in fact, I can even use one of them while the other one is in the case charging, no problem.
I think this type of device is super useful not only for listening to music but also for managing certain functions of my cell phone without having to manipulate the mobile phone directly.... now do you see that I needed them?
Hola, hola, mis queridos Geeks.
Hace pocos días compartí con ustedes el unboxing de mis nuevos auriculares Onikuma K20, en esa publicación les mencioné lo satisfecha que estoy con ellos, y también les comenté que lo único que extrañaba de mis viejos auriculares es la conexión inalámbrica vía bluetooth, pues como bien saben, los Onikuma K20 son alámbricos, cuya conexión apuesta por la mejora en la calidad del sonido. Considerando que los compré para jugar en mi computadora, y usarlos para conectarme a discord, no me afecta para nada que la conexión sea por cable; sin embargo, a la hora de escuchar música en el celular, ver videos en la Tablet, o hasta ver TV, si estaba extrañando las bondades de la conexión inalámbrica, por lo que decidí activar mi plan B: comprar unos auriculares inalámbricos TWS.
Antes de que piensen que unos segundos audífonos podría ser una compra innecesaria, permítanme justificar mi decisión. Estos audífonos son intraurales, es decir van directo en el odio, y adicionalmente, son del tipo Bluetooth TWS (True Wireless Stereo), es decir, que cada auricular (derecho e izquierdo) pueden funcionar independiente el uno del otro porque no existe ningún cable que los una entre sí. Lo anterior significa que basta con usar al menos uno de los auriculares para poder disfrutar de todas sus funciones sin restricción alguna, puedo responder una llamada mientras voy manejando, escuchar música cuando salgo a caminar, de hecho, puedo incluso usar uno de ellos mientras el otro está en el estuche cargándose, sin problemas.
Este tipo de auriculares me resultan super útiles no solo para escuchar música, sino también para la gestión de ciertas funciones de mi teléfono celular sin necesidad de tener que manipular directamente el equipo... ¿ahora ven que si los necesitaba?

Right now the market is crowded with options as far as TWS wireless earbuds are concerned, there are all brands, colors, and designs, I would have loved some Apple Airpods Pro, but its price is way out of my budget, so I just looked for one that met the classic three B's, you know, good, nice and cheap. In that search I came across two options that I liked, both from AIWA, the AWTWSD1, and the AWTWSD2V; for a design issue I went for the second option, the price difference was not huge between one and the other, the first cost $23, and the second $30, although I saw them in another store at $50...crazy.
En estos momentos el mercado está abarrotado de opciones en lo que a auriculares inalámbricos TWS se refiere, los hay de todas las marcas, colores y diseños, a mi me habrían encantado unos Airpods Pro de Apple, pero su precio está muy fuera de mi presupuesto, por lo que solo busqué alguno que cumpliese con las clásicas tres B, ya saben, buenos, bonitos y baratos. En esa búsqueda me topé con dos opciones que me gustaron, ambos de la marca AIWA, el modelo AWTWSD1 y el AWTWSD2V; por un tema de diseño me fui por la segunda opción, la diferencia de precios tampoco era enorme entre uno y otro, los primeros cuestan $23, y los segundos $30, aunque los vi en otra tienda en $50…la locura.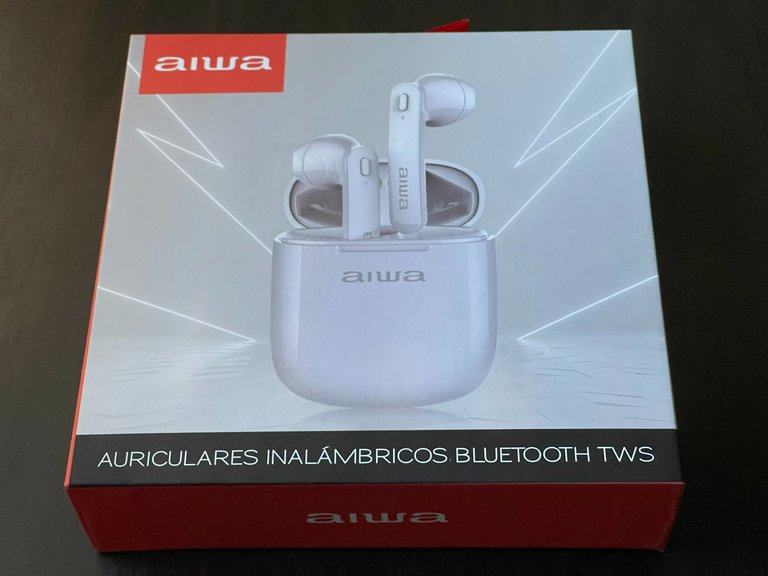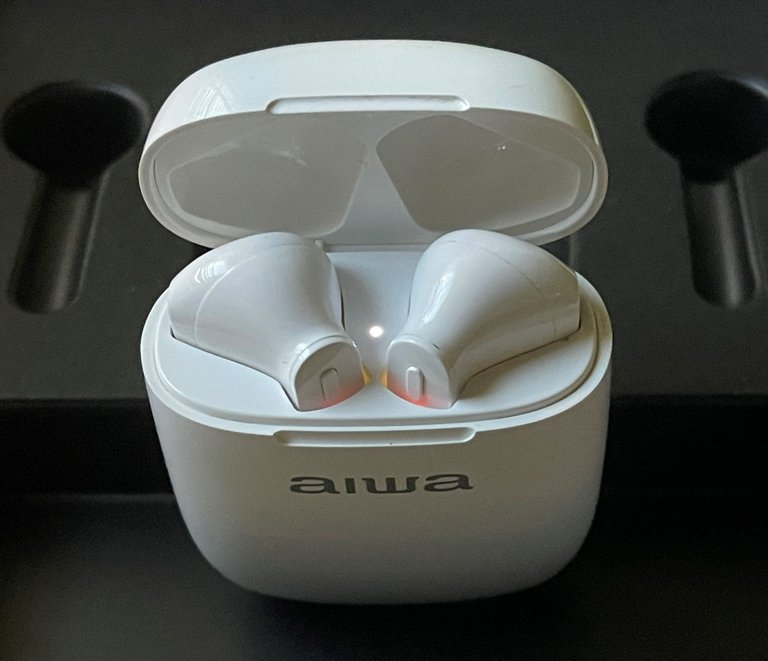 The first point in favor of the AIWA AWTWSD2V earbuds I chose is that they have a Bluetooth 5.0 connection, which is the most recent version of this connection standard with significant advantages in data transmission speed. Continuing with the specifications, the sound is high definition stereo, the battery can last up to 3 and a half hours of active use in conversations or playing, the charging of the case is through a micro USB cable. Something particular is that both earbuds are equipped with a multifunction button that allows you to control the music player (play, pause, back, forward), answer or redirect calls, and what I like the most, it allows you to interact with Siri (only available for iOS) which greatly improves the user experience.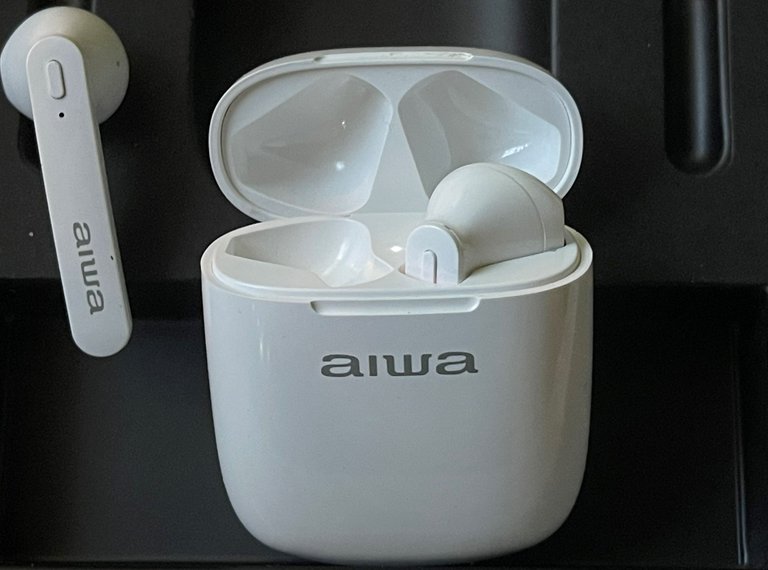 El primer punto a favor de los earbuds AIWA AWTWSD2V que elegí es que tienen conexión bluetooth 5.0, que la más versión más reciente de este estándar de conexión con significativas ventajas en la velocidad de transmisión de datos. Continuando con las especificaciones, el sonido es estéreo de alta definición, la batería puede durar hasta 3 horas y media de uso activo en conversaciones o reproducción, la carga de la funda es a través de un cable micro USB. Algo particular es que ambos auriculares traen un botón multifunción que permite controlar el reproductor de música (reproducir, pausar, atrasar, adelantar), responder o desviar llamadas, y lo que más me gusta, permite interactuar con Siri (solo disponible para iOS) lo que mejora la experiencia de uso en gran medida.

The earbuds come in a small box with printed specifications, and when we open it we find two earphones (left and right), a charging case, a micro USB cable, and of course, the user manual. With the micro USB cable, we charge the charging case, and then inside it we charge the earbuds, it is the typical little case that everyone carries everywhere.
Los audífonos vienen en una pequeña cajita que tienen impresas las especificaciones, y al abrirla nos encontramos con dos auriculares (derecho e izquierdo), un estuche de carga, un cable micro USB, y por supuesto, el manual de usuario. Con el cable micro USB cargamos el estuche de carga, y luego dentro de él se cargan los earbuds, es el típico estuchito que todos llevan a todos lados.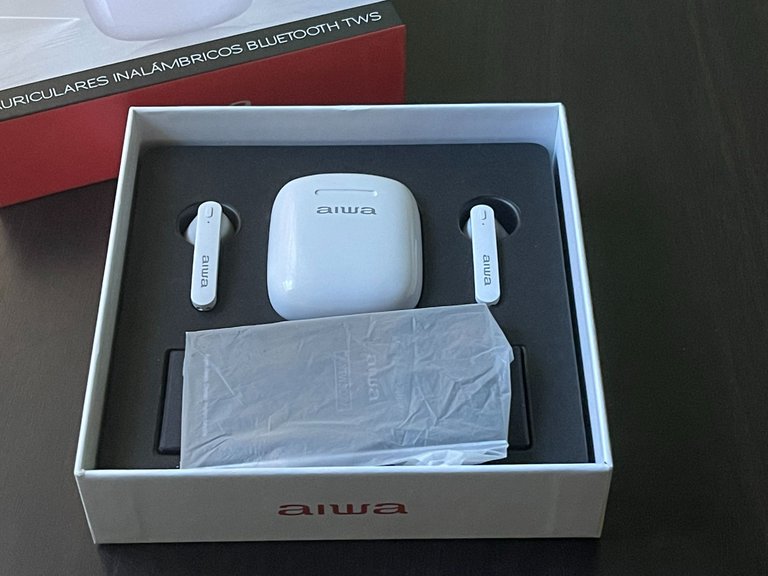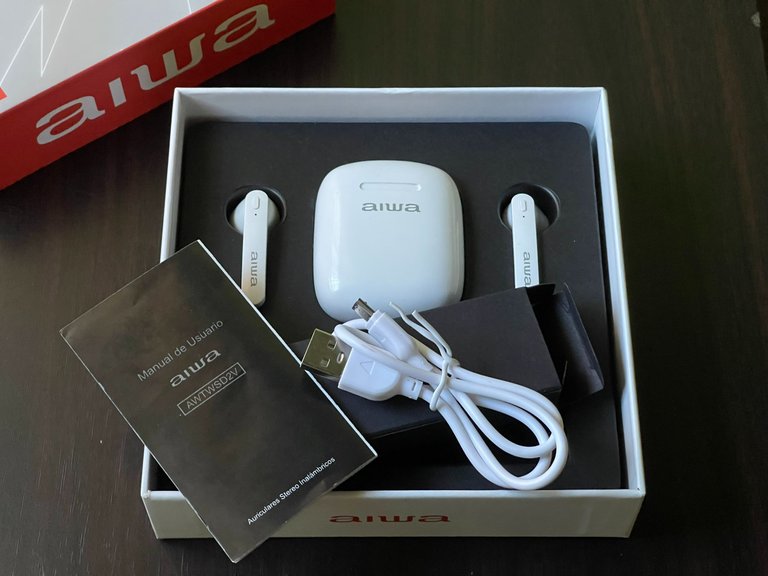 Now I will tell you about my experience using the AIWA AWTWSD2V earbuds, the first thing I must tell you is that the sound quality is fabulous, I could say that they sound brutal; however, they have against that being of a standard size is not equally comfortable for any ear, for example, I feel big, while my husband says that they fit him very well, by this I mean that I can use them for walking, but not for running because they would fall easily. As for the operability with the cell phone, it's great that it allows interaction with Siri because otherwise, its use would be quite limited, although you could always control the music player without having to take out the cell phone.
Ahora paso a hablarles de mi experiencia usando los earbuds AIWA AWTWSD2V, lo primero que debo decirles es que la calidad del sonido es fabulosa, podría decir que suenan brutal; sin embargo, tienen en contra que al ser de un tamaño estándar no es igual de cómodo para cualquier oído, por ejemplo, yo los siento grandes, mientras que mi esposo dice que en él se adaptan muy bien, con esto quiero decir que los puedo usar para caminar, pero no para correr, porque se caerían con facilidad. En cuanto a la operatividad con el celular, es genial que permita la interacción con Siri porque de lo contrario su uso sería bastante limitado, aunque siempre se podría controlar la reproducción de música sin necesidad de sacar el celular.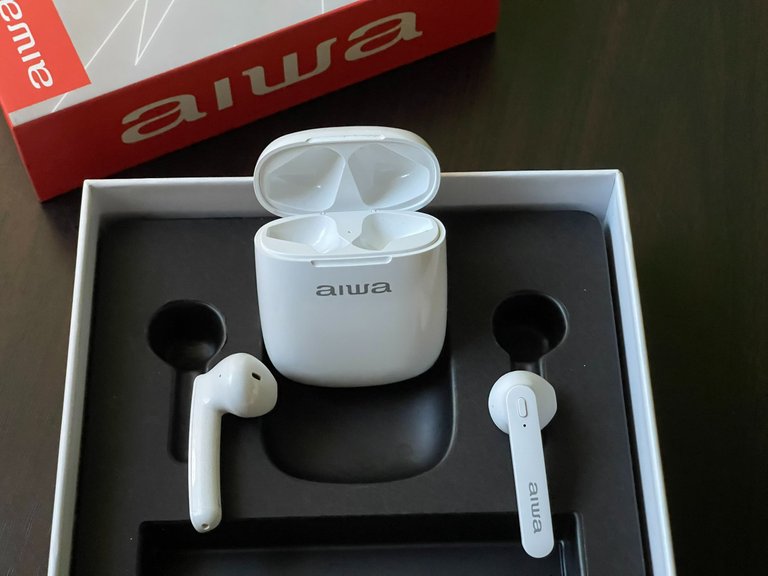 Overall, it is a product that I can recommend, the price-quality ratio is fair, even for its performance I would say that even superior. It is easy to pair with devices, compatible with all devices that work with Bluetooth, so you can use it with a cell phone, tablets, iPods, car players, TV, etc... It has been a good buy.
En líneas generales, es un producto que puedo recomendar, la relación precio calidad es justa, incluso por sus prestaciones diría que hasta superior. Es de fácil vinculación con los dispositivos, compatibles con todo aparato que funcione con bluetooth, así que pueden usarlo con el celular, la tableta, el iPod, el reproductor del carro, la tv, etc. Ha sido una buena compra.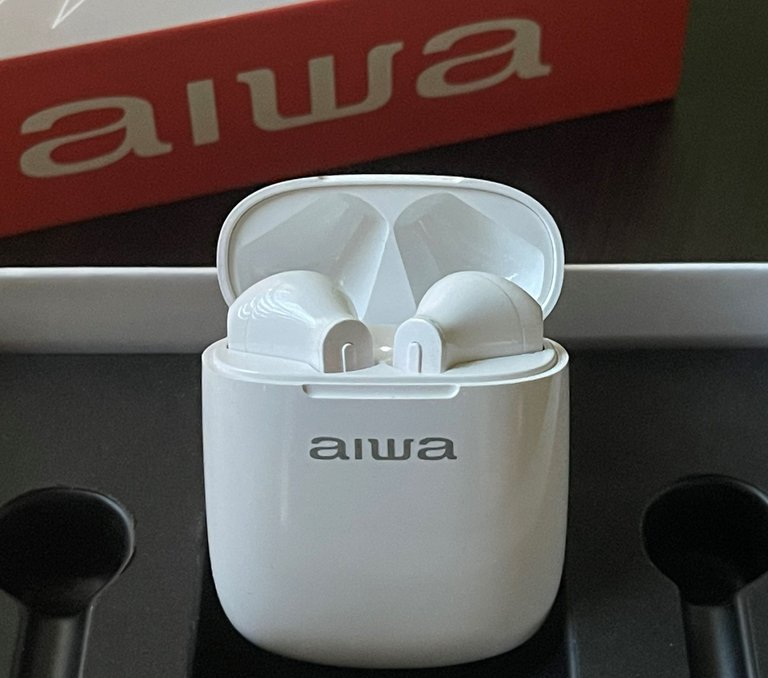 All images in this post are my authored and owned images taken with an iPhone 12 Pro Max.
The cover has been designed in Canva.