Hello to all the Geek Zone community, lately I have seen a lot of interest from many members on the subject of WiFi connectivity, so I thought to bring you some tricks to improve our connection to the maximum, although more than tricks, are options that we have available in our router that will allow us to take better advantage of our WiFi.
Hola a toda la comunidad de Geek Zone, últimamente he visto mucho interés por parte de muchos miembros en el tema de la conectividad WiFi, por lo que se ocurrió traerles unos trucos para mejorar nuestra conexión al máximo, aunque más que trucos, son opciones que tenemos disponibles en nuestro router que nos permitirán sacarle mejor provecho a nuestro WiFi.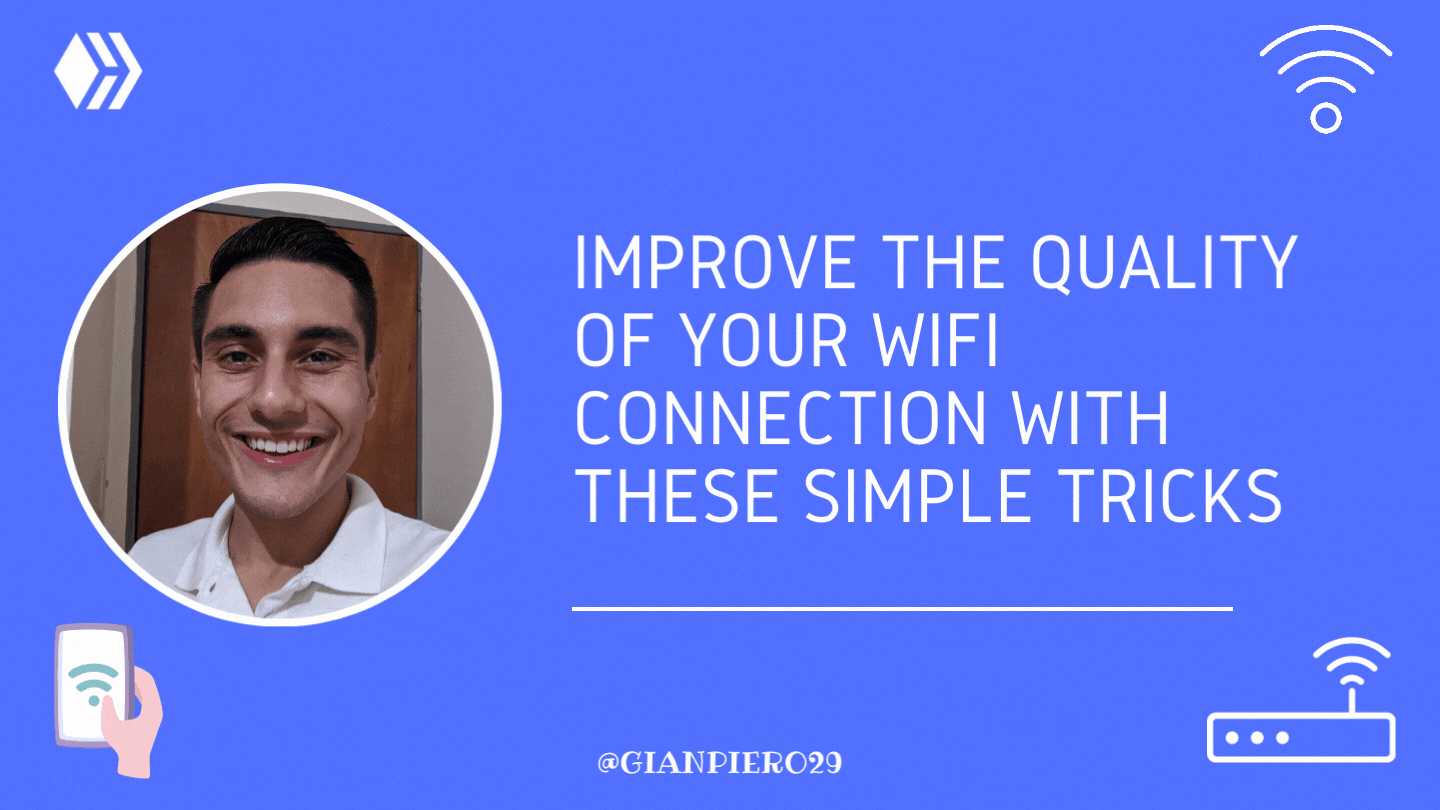 Cover made by me, using Canva tool // Portada hecha por mí, utilizando la herramienta Canva
---
First of all, all these options can be found in the configuration of your router, and although they may vary depending on the model, most of these are repeated in most of them, and to access its configuration you only have to access the IP address of the router, this can usually be found under it, and in most cases is the same, 192. 168.0.1 or 192.168.1.1, although there are others, these are the most usual, on the other hand, if you do not want to make your life too complicated, most brands such as TP-LINK, Tenda, or D-LINK, have their own applications for iOS and Android, which have virtually the same options and may be easier to access for some people. Now let's get to the tricks:
Primero que nada, todas estas opciones las pueden encontrar en la configuración de su router, y aunque pueden variar dependiendo el modelo, la mayoría de estos se repiten en la mayoría de ellos, y para acceder a su configuración solo tienes que acceder a la dirección IP de router, esta normalmente la pueden encontrar debajo de él, y en la mayoría de los casos es la misma, 192.168.0.1 o 192.168.1.1, si bien existen otras, estas son las más usuales, por otra parte, si no quieren enrollarte mucho la vida, la mayoría de marcas como TP-LINK, Tenda, o D-LINK, tienen sus propias aplicaciones para iOS y Android, las cuales poseen prácticamente las mismas opciones y pueden ser más fáciles de acceder para algunas personas. Ahora sí, vamos con los trucos: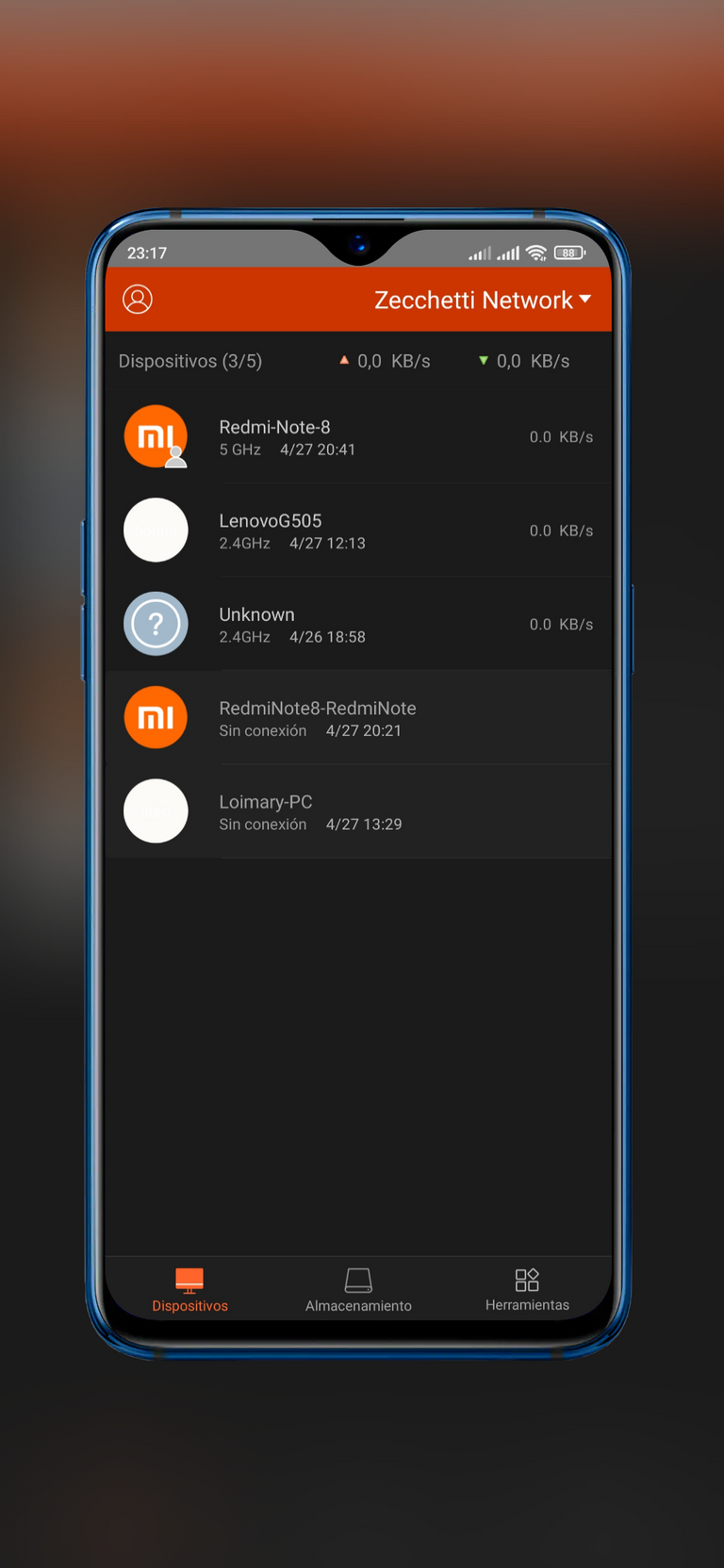 Screenshot taken by me, decorated with the SnapMod app // Captura de pantalla tomada por mí, decorada con la app de SnapMod
---
Control the consumption of your devices // Controla el consumo de tus dispositivos
---
It is not a secret to anyone that sometimes some of our family members are downloading content, watching Netflix or anything that consumes more bandwidth than normal, slowing down the connection at a time when we may need it to be as fast as possible, for these cases, there is an option where we can limit the maximum speed that a specific device can access, in some we will have to set the speed ourselves and in other models, we do not get with preset options like these for every need, such as web pages only, high resolution videos or game.
No es un secreto para nadie que a veces algún familiar nuestro estás descargando contenidos, viendo Netflix o cualquier cosa que consuma más ancho de banda de lo normal, ralentizando la conexión en un momento en que quizá necesitemos que esté lo más veloz posible, para estos casos, existe una opción en que la podemos limitar la velocidad máximo a que un dispositivos específico puede acceder, en algunos tendremos que poner la velocidad nosotros mismos y en otros modelos, no conseguimos con opciones preestablecidas como estas para cada necesidad, como páginas web únicamente, videos en alta resolución o juego.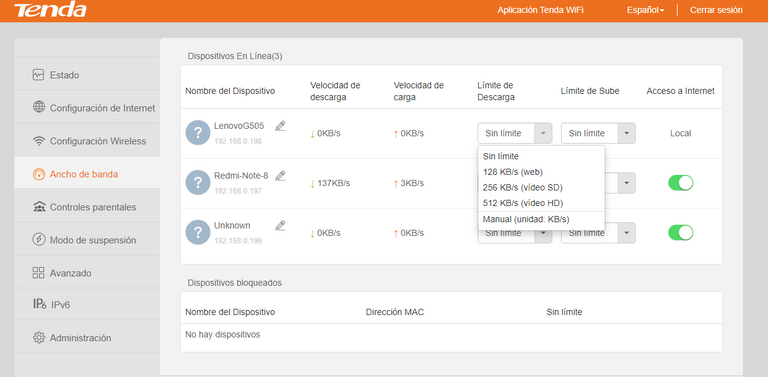 Screenshot taken by me // Captura de pantalla tomada por mí
---
Blacklist // Lista Negra
---
This is an option that has a little to do with the previous one and that, in addition to limiting their speed we could totally block their access to our network if necessary, this is quite useful in those moments where we realize that there are some unknown devices connected and that probably have obtained the key through someone else and not from us, the commonly called "WiFi thieves", that if they abound our network could slow it down quite a lot.
Esta es una opción que tiene un poco que ver con la anterior y que, además de limitarles la velocidad, podríamos bloquear totalmente su acceso a nuestra red en caso de ser necesario, esto es bastante útil en esos momentos donde nos damos cuenta de que hay algunos dispositivos desconocidos conectados y que probablemente hayan obtenido la clave por medio de alguna otra persona y no de nuestra parte, los comúnmente llamados "ladrones de WiFi", que si abundan nuestra red podrían ralentizarla bastante.
Screenshot taken by me // Captura de pantalla tomada por mí
---
Hide your network // Esconder tu red
---
Very few people know that most routers allow us to turn on our network, but what does this mean: As we know, when we connect to a network, we open our Wifi section on our pc or mobile and there we are displayed a list of available networks, but there is a way to completely disappear from that list, and is hiding the network and then connect to it manually by placing your SSID, security protocol and password, this will not prevent foreign hands steal our wifi, but at least we put it more difficult.
Muy pocas personas saben que la mayoría de routers nos permiten encender nuestra red, pero ¿esto qué significa?: Como sabemos, al momento de conectarnos a una red, abrimos nuestro apartado Wifi en nuestra pc o móvil y allí se nos despliega una lista de redes disponibles, pero hay una forma de desaparecer por completo de esa lista, y es escondiendo la red y luego conectarse a ella manualmente colocando su SSID, protocolo de seguridad y contraseña, esto no imposibilita que manos ajenas roben nuestro wifi, pero al menos se lo ponemos más difícil.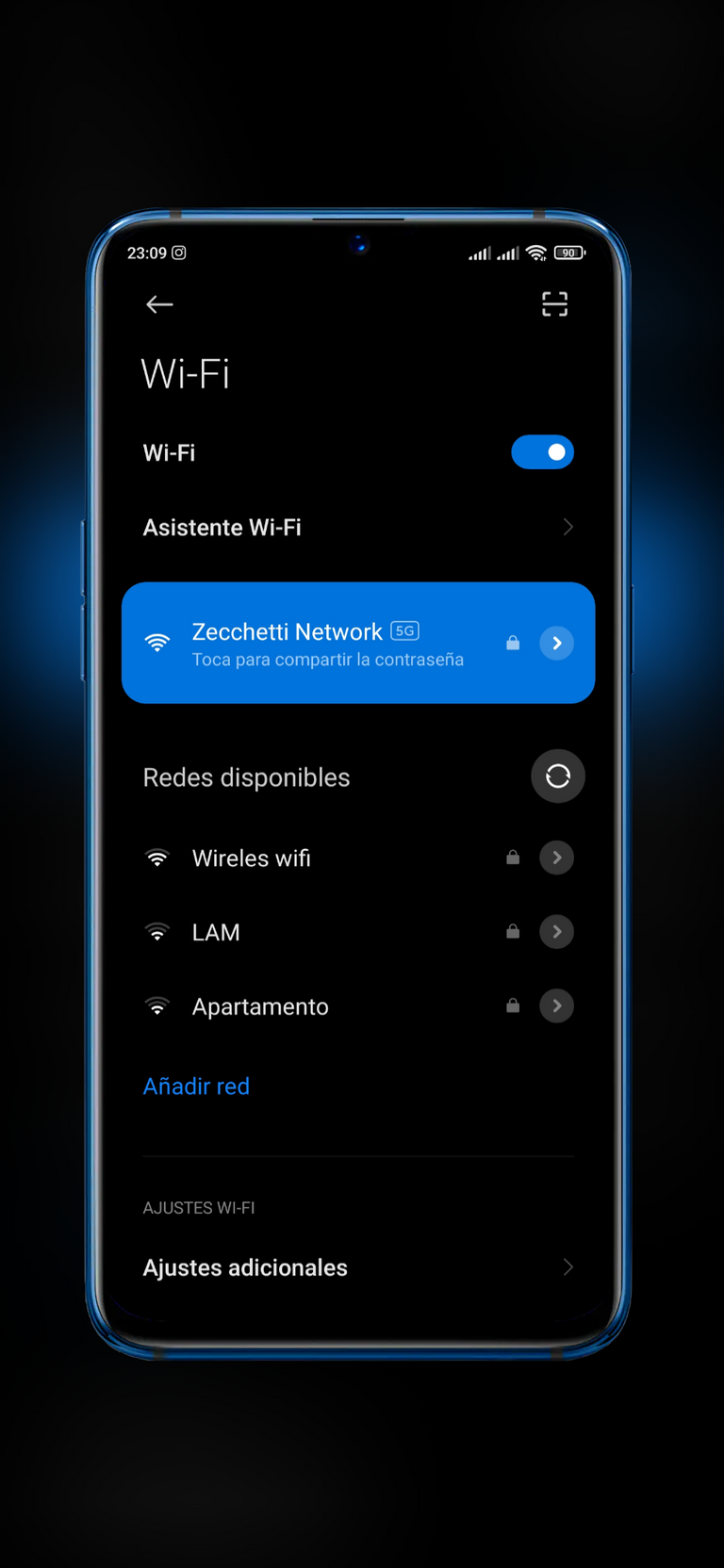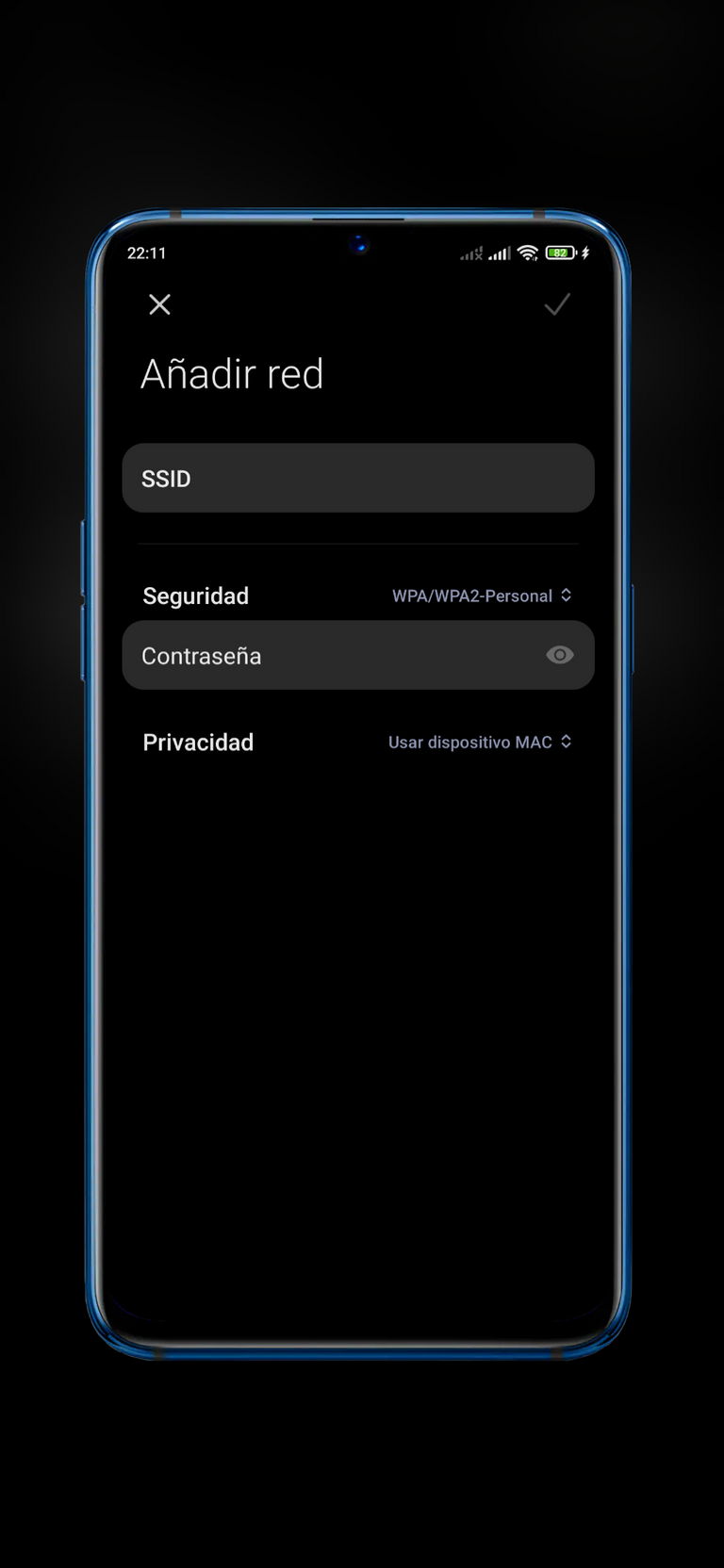 Screenshot taken by me, decorated with the SnapMod app // Captura de pantalla tomada por mí, decorada con la app de SnapMod
---
Set the correct channel // Establece el canal correcto
---
In case you did not know, there are 13 channels in the 2. 4 GHz, where our network can be hosted, but sometimes if we live in a residential complex or in a building where there are many networks available, if ours is in the same channel as many of them, this can cause interference in the signal or loss of range in them, it is as if all these networks collide, perhaps its effect is not very noticeable, but from time to time we may notice that our network does not reach areas of the house that should reach or that the speed that reaches our device is not the same as we have contracted, so it is best to change our network to a channel where there is the least amount of network possible, this can be seen with applications such as Wifi Analizer, which will allow us to see, through a graph which is the one that suits us best, although there are also models of routers that do this process automatically, adapting to the one that is freer at the time.
si no sabían, existen 13 canales en la frecuencia de 2.4 GHz, donde pueda estar alojada nuestra red, pero a veces si vivimos en un conjunto residencial o en un edificio donde hay muchas redes disponibles, si la nuestra está en misma canal que muchas de ellas, esto puede causar interferencia en la señal o pérdida de rango en las mismas, es como si todas esas redes chocaran, quizá su efecto no sea muy notorio, pero sí que de vez en cuando podremos notar que nuestra red no alcanza zonas de la casa que debería alcanzar o que la velocidad que nos llega a nuestro dispositivo no es la misma que tenemos contratada, por lo que lo mejor será cambiar nuestra red a un canal donde haya la menor cantidad de red posibles, esto lo podemos ver con aplicaciones como Wifi Analizer, que nos permitirá ver, mediante un gráfico cual es el que más nos conviene, aunque también hay modelos de routers que hacen este proceso automáticamente, adaptándose al que esté más libre en el momento.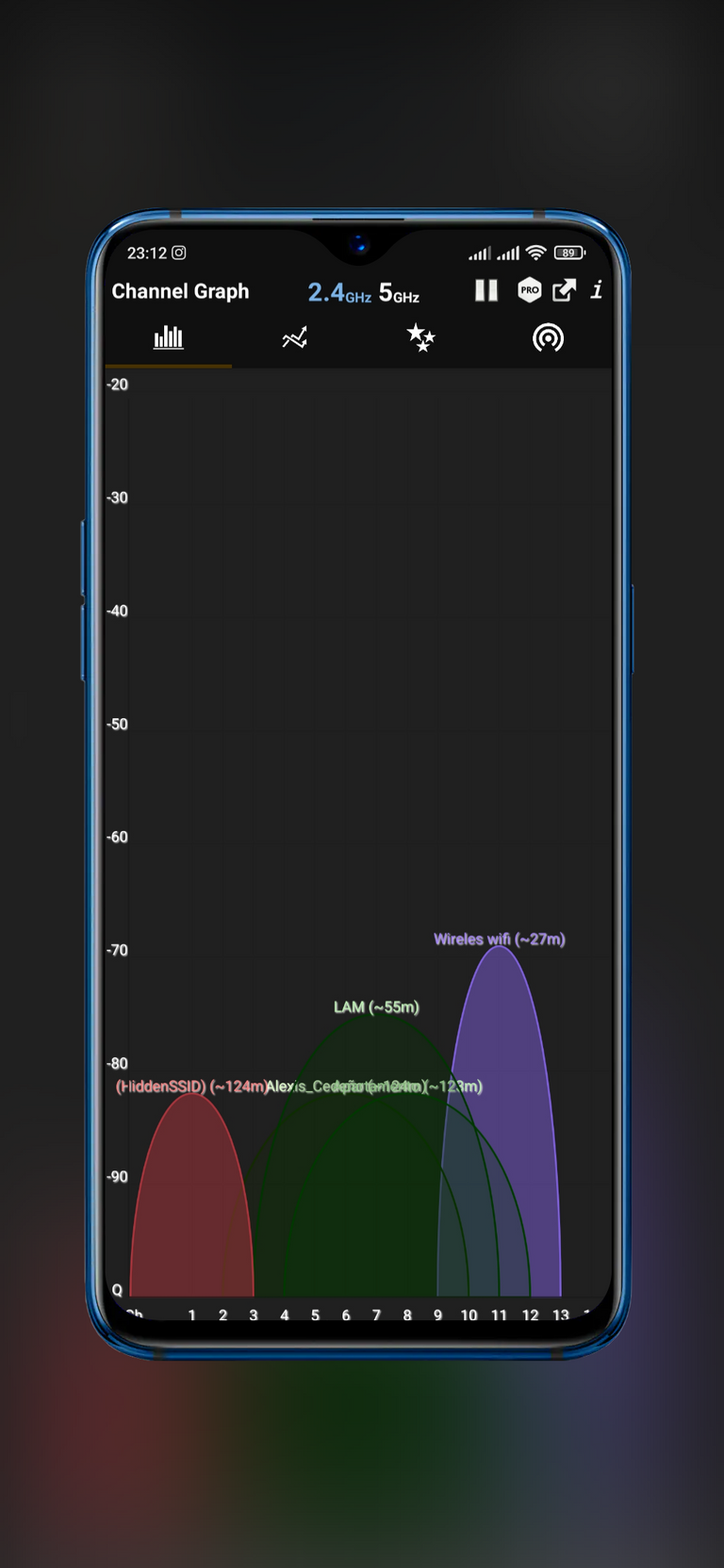 Screenshot taken by me, decorated with the SnapMod app // Captura de pantalla tomada por mí, decorada con la app de SnapMod
---
Configure the DNS server of your choice // Configura el servidor DNS que quieras
---
As everyone knows, we can change the DNS address through which our device will connect to the Internet, the most famous being Google's: 8.8.8.8.8 or 1.1.1.1, but what few people know is that they can do it directly on their router, which saves us the trouble of having to go through the process of changing it on each of our devices. In case you did not know, a specific DNS server allows us some advantages such as access to blocked pages in some regions, more speed when browsing, or even the opposite, there are DNS that filter all malicious content on the web, so we can not access certain websites, but this protects us from possible malwares that may affect our device, it all depends on our need.
Como todos saben, podemos cambiar la dirección DNS mediante la cual nuestro dispositivo se conectará a internet, siendo las más famosas la de Google: 8.8.8.8 o las 1.1.1.1, pero lo que pocas personas saben es que lo pueden hacer directamente en su router, lo cual nos evita la molestia de tener que hacer el proceso de cambiarlo en cada uno de nuestros dispositivos. Por si no lo sabías, un servidor DNS específico nos permite algunas ventajas como acceso a páginas bloqueadas en algunas regiones, más velocidad a la hora de navegar, o incluso, todo lo contrario, hay DNS que filtran todo el contenido malicioso de la web, por lo que no podremos tener acceso a ciertos sitios web, pero esto nos protege de posibles malwares que puedan afectar nuestro dispositivo, todo dependerá de nuestra necesidad.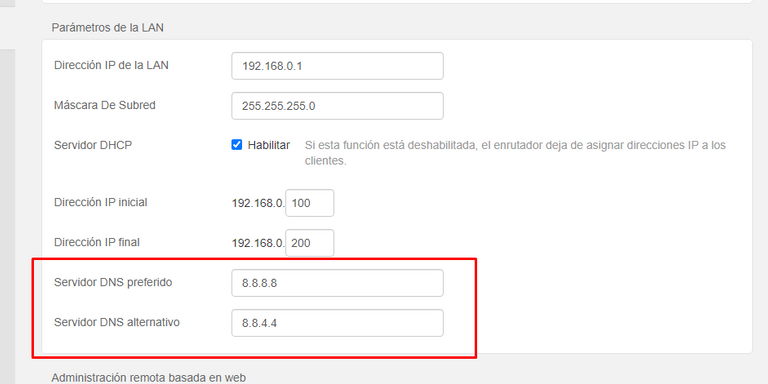 Screenshot taken by me // Captura de pantalla tomada por mí
---
Protect your network // Protege tu red
---
As I told you before, to access all these options you have to access the configuration of our router, which we can protect with a password so that only we can access, the problem is that most of these devices, by default, have a very basic and known password, I always recommend that when you buy a new router, the first thing you should do is to change that password, because remember that whoever has that password will be able to have full control of your network, being able to do many things on it without us even realizing it.
Como les conté antes, para tener acceso a todas estas opciones hay que acceder a la configuración de nuestro router, la cual podemos proteger mediante una contraseña para solo nosotros podamos acceder, el problema es que la mayoría de estos dispositivos, por defecto, tienen una contraseña muy básica y conocida, por estar presente en muchos modelos o simplemente, no tienen ninguna, por lo que siempre recomiendo que a la hora de adquirir un nuevo router, lo primero que deben hacer es cambiar esa contraseña, porque recuerden que quien tenga esa contraseña será capaz de tener el control total de tu red, pudiendo hacer muchas cosas en ella sin que siquiera nos demos cuenta.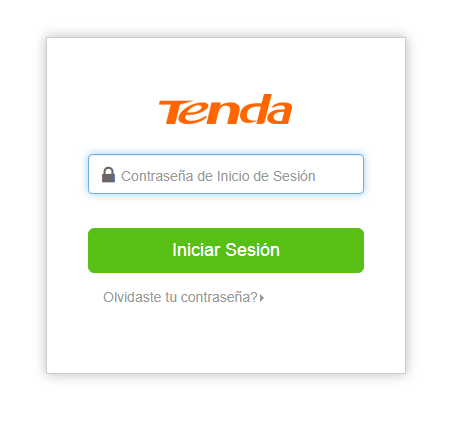 Screenshot taken by me // Captura de pantalla tomada por mí
---

Thank you all very much, I hope this publication has been useful, see you another time, greetings.
Muchas gracias a todos, espero esta publicación les haya sido de utilidad, nos vemos en otra ocasión, saludos.