Hello to all the Geek Zone community, today I come to talk about a very powerful tool that can help you organize your college assignments, your Hive blog, or your whole life if you wish, I'm talking about nothing more and nothing less than Notion.
Hola a toda la comunidad de Geek Zone, hoy les vengo a hablar de una herramienta muy poderosa que los podrá ayudar a organizar sus tareas de la universidad, su blog de Hive, o su vida entera si así lo desean, les hablo nada más y nada menos que de Notion.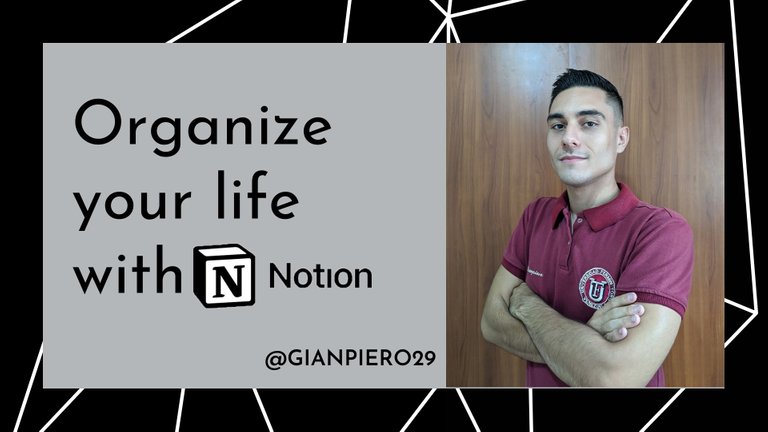 Cover made by me, using the Canva tool.// Portada hecha por mí, utilizando la herramienta Canva
---
What is Notion? // ¿Qué es Notion?
---
Notion is a software for PC and mobile devices for task management, note taking, team management and an infinite number of other uses, this under a dashboard interface or canva, which allows us to visualize all our tasks in the way we like, as it is 100% customizable, imagine it as a blank canvas where you can capture all your ideas.
Notion es un software para PC y dispositivos móviles de gestión de tareas, toma de notas, gestión de equipo y una infinidad de usos más, esto baja una interfaz de tablero o canva, las cual nos permite visualizar todas nuestras tareas de la forma que más nos guste, ya que es 100% personalizable, imagínenlo como un lienzo en blanco donde puedes plasmar todas sus ideas.
---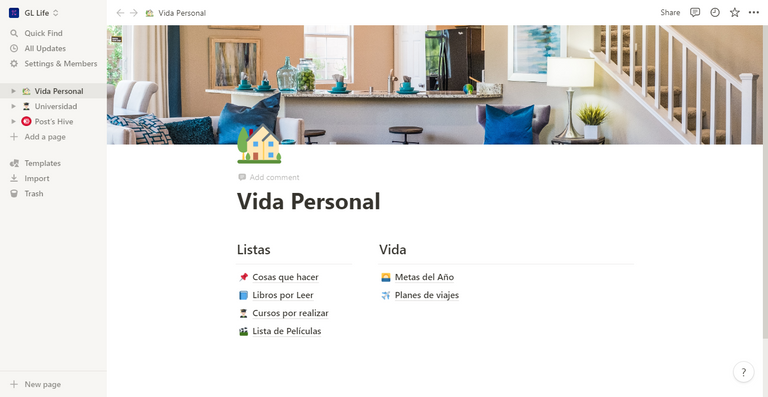 Capture taken from my Notion board // Captura tomada de mi tablero de Notion.
---
In it you can create task lists, data tables, insert images, videos, and everything you want in a very visual way, in my case, I use it a lot to organize the tasks of my university and for my publications in Hive, for example, let's start with the university, as you can see I have 3 columns, "Pending", "In process" and "Delivered", in this way I can add entries to pending and when they are ready just dragging to the column of delivered, which allows you to see all the information at all times, without missing any detail.
En ella puedes crear listas de tareas, tablas de datos, insertar imágenes, videos, y todo lo que tú quieras de forma muy visual, en mi caso, lo utilizo bastante para organizar las tareas de mi universidad y para mis publicaciones en Hive, por ejemplo, comencemos con la universidad, como ven tengo 3 columnas, "Pendientes", "En proceso" y "Entregadas", de estas forma puedo ir añadiendo entradas a pendientes y cuando estén listas solo con arrastrar a la columna de entregados ya estaría, lo que permite ver toda la información en todo momento, sin que se te pueda pasar alguna detalle.
---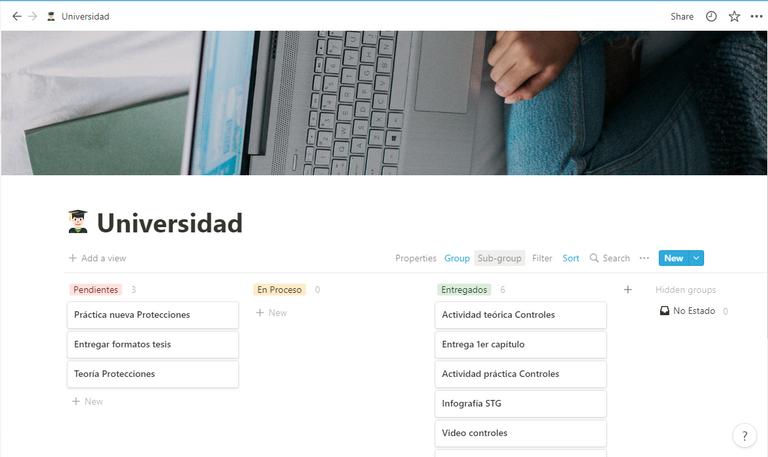 Capture taken from my Notion board // Captura tomada de mi tablero de Notion.
---
Now let's go to my favorite section, my Hive publications, as you can see, in this case I have 4 columns, one with my ideas for future publications, another one for when I have them written, but not mounted on the platform, another one for when I have them programmed in Peakd and the last one with all my publications uploaded to Hive. When I told you that you could customize everything, I wasn't lying, look how I added a logo and a banner of the platform to make it look better.
Ahora vamos con mi sección favorita, la de mis publicaciones de Hive, como ven, en este caso tengo 4 columnas, una con mis ideas para futuras publicaciones, otra para cuando los tengo escritos, pero no montados en la plataforma, otra para cuando los tengo programados en Peakd y la última con todas mis publicaciones subidas a Hive. Cuando les dije que se podía personalizar todo, no les mentía, fíjense como le agregué un logo y un banner de la plataforma para que se viera de mejor manera.
---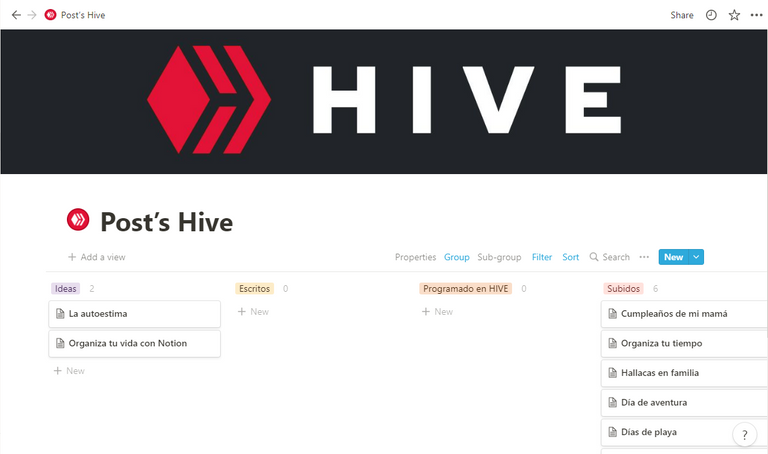 Capture taken from my Notion board // Captura tomada de mi tablero de Notion.
---
Another option that I love about Notion is the possibility of working on templates that we have previously made, like this one I made, where I can add the title, the community, the content of the publication, and even the tags to have absolutely everything programmed to optimize the time I invest in my publications.
Otra opción que me encanta de Notion es la posibilidad de trabajar sobre plantillas que previamente hayamos hecho, como esta que hice yo, donde puedo agregar el título, la comunidad, el contenido de la publicación, e incluso las etiquetas para así tener absolutamente todo programado para optimizar el tiempo que invierto en mis publicaciones.
---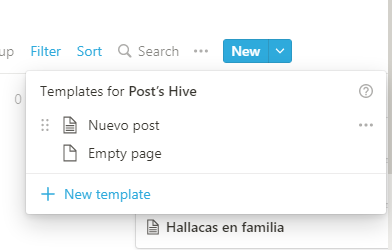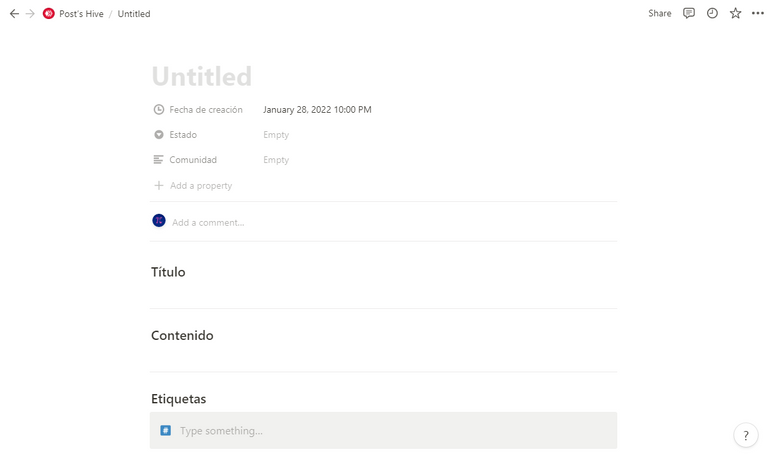 Captures taken from my Notion board // Capturas tomada de mi tablero de Notion.
---
As you may have seen, I have not been using Notion for a long time, but since I met him I loved it and I'm trying to squeeze all its advantages to the maximum, maybe at first it seems tedious to make your board, but this is not a problem, since the Notion community is very active, and from the same app you have access to thousands of templates made by users of the community for free, this will make that a few minutes you can have your board ready and start using it.
Como habrán visto, no tengo mucho tiempo usando Notion, pero desde que lo conocí me encantó y estoy tratando de exprimir todas sus ventajas al máximo, quizá en un principio parezca tedioso hacer tu tablero, pero esto no es problema, ya que la comunidad de Notion es muy activa, y desde la misma app tienes acceso a miles de plantillas realizadas por usuarios de la comunidad totalmente gratis, esto hará que unos pocos minutos puedas tener listo tu tablero y poder comenzar a usarlo.
---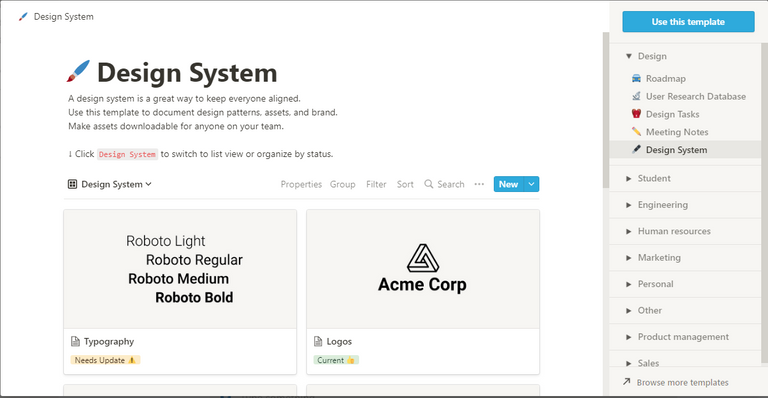 Capture taken from my Notion board // Captura tomada de mi tablero de Notion.

Thank you all for reading, I hope you take advantage of this incredible tool to organize your time to the maximum, greetings to all, see you another time.
Gracias a todos leer, espero aprovechen esta increíble herramienta para organizar su tiempo al máximo, saludos a todos, nos vemos en otra ocasión.