¡Ha pasado un año!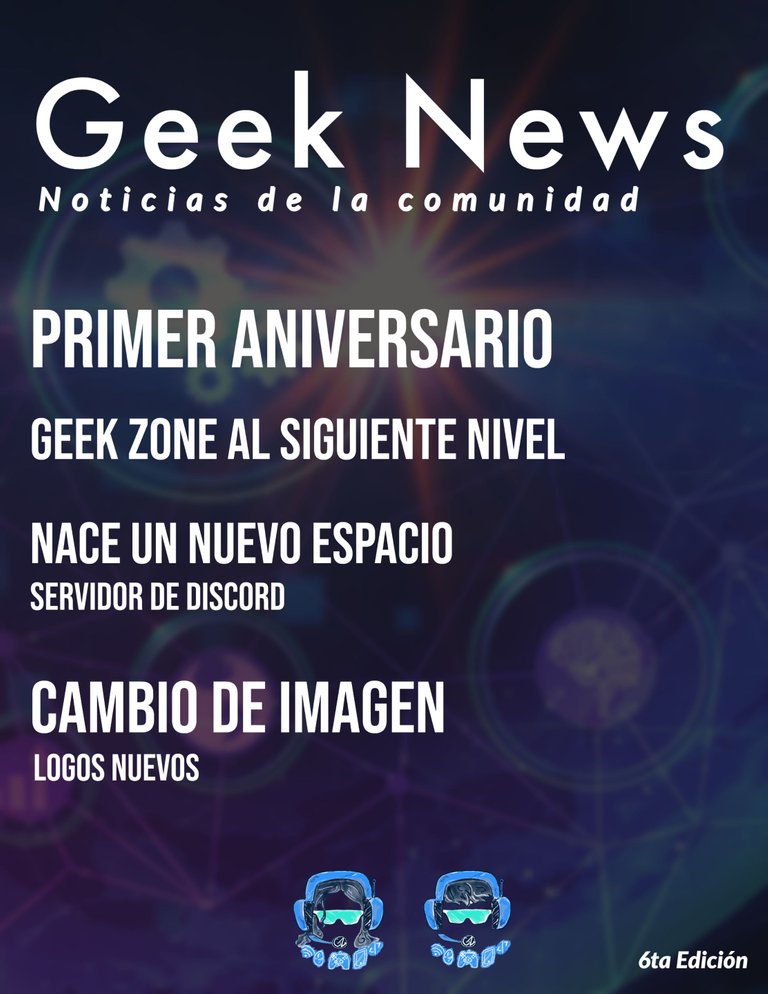 English version below
Increíble, ya ha transcurrido un año… pareciera que fue ayer cuando en una apasionada conversación de tecnología nos dimos cuenta que la comunidad geek tenía una deuda con Hive, había un vacío en el contenido tecnológico que merecía salir a la luz.
Para entonces, pocos se animaban en compartir su pasión por la tecnología, eran escasas las publicaciones con reseñas de aplicaciones, o de eventos tech, muy pocos se atrevían a compartir un unboxing para mostrar la emoción que esto produce. ¿La razón? la ausencia de un espacio de encuentro para los creadores de contenido de tecnología, así fue como un 4 de junio se cristalizó oficialmente la maravillosa idea y nació Geek Zone, una comunidad donde pudiésemos compartir desde nuestra experiencia la pasión que nos une, una comunidad construida por y para geeks.
Conscientes de que el término tecnología abarca mucho, en un principio pensamos enfocar la comunidad exclusivamente hacia lo IT, que abarca todo lo referido a la información y las comunicaciones, esto daría cabida al contenido relacionado con la electrónica, las telecomunicaciones, la computación, el internet, etc. Sin embargo, sentimos que la comunidad geek merecía más de su esencia, por lo que el contenido gaming no podía ser excluido de ninguna manera, así como otros tantos aspectos que poco a poco hallarán en Geek Zone un punto de encuentro.
Este ha sido un año de mucho aprendizaje y crecimiento para todos en la comunidad, juntos hemos construido nuestro lugar tech. Estamos felices y honrados de tener miembros verdaderamente activos y comprometidos con hacer de Geek Zone el punto de referencia tecnológica en Hive. Valoramos el sentido de pertenencia que muchos han desarrollado, ese ha sido nuestro norte en todo momento, pues este espacio nos pertenece a todos.
Toda evolución conlleva a un cambio, y aunque de manera natural surge la resistencia al cambio, éstos son necesarios para avanzar al siguiente nivel. La esencia de Geek Zone sigue intacta, pero su imagen en esta nueva etapa es otra, una imagen que devela lo que está por venir. Prepárense para unirse a la aventura.

Servidor de Discord

Fortalecer los lazos entre los miembros de la comunidad nos augura éxitos y sostenibilidad en el tiempo, es por ello que queremos pasar al siguiente nivel en lo que a comunicación efectiva se refiere, creando un espacio para una comunicación más fluida y personal. A partir de este momento los invitamos a todos a unirse al servidor de Geek Zone en Discord, donde podrán compartir más de cerca su pasión geek.
Queremos que se sientan en la libertad de compartir sus ideas y sugerencias para mejorar, que el servidor sirva de espacio para guiar y educar a quienes lo necesiten, que sea un espacio para el aprendizaje y también para el entretenimiento. Los canales del servidor estarán disponibles para que la misma comunidad organice eventos, actividades, torneos, competencias, etc. Están en su casa, disfruten la experiencia.
Ahora bien, es importante insistir en que este servidor persigue fortalecer de compañerismo, pero de ninguna manera sustituye la interacción que debe existir en la comunidad Geek Zone en Hive. Recuerden siempre que esta es una red social, por lo que la interacción genuina es lo más importante, y lo que más valoramos. No es publicar por publicar, Geek Zone no es un repositorio de post, es consumir el contenido de todos, es aportar ideas, es motivar, es educar, es crecer con comentarios que infundan valor. Sigamos siendo la comunidad que todos merecemos.

¡Feliz Aniversario!

Agradecemos @gaeljosser por ayudarnos con el diseño de los logos.
---
Geek Zone es un espacio conducido por los ingenieros @gorayii y @josecarrerag que nació para convertirse en un lugar de encuentro para los grandes amantes de la tecnología, un lugar donde compartir ideas, opiniones, experiencias, tendencias y todo aquello que demuestre que ser geek es una verdadera pasión.
¿Qué podemos publicar en esta comunidad?
Unboxing y reseñas de cualquier dispositivo y/o aparato tecnológico.
Ensamblaje, mantenimiento y/o configuración de equipos (computación, redes, telecomunicaciones, videojuegos, etc.)
Experiencias personales en el área de tecnología.
Visitas a tiendas o ferias de tecnología
Noticias, tendencias y actualidad tecnológica.
Reseñas y Gameplay de videojuegos (Leer las normas aqui)

English

It's been a year!
Incredible, it has already been a year... it seems like yesterday when in a passionate conversation about technology we realized that the geek community had a debt with Hive, there was a gap in the technological content that deserved to come to light.
By then, few were encouraged to share their passion for technology, there were few publications with reviews of applications, or tech events, very few dared to share a unboxing to show the excitement that this produces. The reason? the absence of a meeting place for the creators of technology content, so it was that on June 4 was officially crystallized the wonderful idea and Geek Zone was born, a community where we could share from our experience the passion that unites us, a community built by and for geeks.
Aware that the term technology covers a lot, at first we thought to focus the community exclusively towards IT, which covers everything related to information and communications, this would accommodate the content related to electronics, telecommunications, computing, internet, etc.. However, we felt that the geek community deserved more of its essence, so gaming content could not be excluded in any way, as well as many other aspects that will gradually find in Geek Zone a meeting point.
This has been a year of much learning and growth for everyone in the community, together we have built our tech place. We are happy and honored to have members who are truly active and committed to making Geek Zone the tech reference point in Hive. We value the sense of belonging that many have developed, that has been our north at all times, because this space belongs to all of us.
Every evolution leads to change, and although resistance to change naturally arises, it is necessary to advance to the next level. The essence of Geek Zone is still intact, but its image in this new stage is different, an image that reveals what is to come. Get ready to join the adventure.

Discord server

Strengthening the bonds between members of the community augurs success and sustainability over time, that is why we want to move to the next level in terms of effective communication, creating a space for a more fluid and personal communication. From now on we invite you all to join the Geek Zone server on Discord, where you can share more closely your geek passion.
We want you to feel free to share your ideas and suggestions for improvement, we want the server to serve as a space to guide and educate those who need it, to be a space for learning and also for entertainment. The server's channels will be available for the community to organize events, activities, tournaments, competitions, etc. You are at home, enjoy the experience.
Now, it is important to insist that this server aims to strengthen fellowship, but in no way replaces the interaction that should exist in the Geek Zone community in Hive. Always remember that this is a social network, so genuine interaction is the most important thing, and what we value the most. It is not posting for the sake of posting, Geek Zone is not a repository of posts, it is consuming everyone's content, it is contributing ideas, it is motivating, it is educating, it is growing with comments that instill value. Let's continue to be the community we all deserve.

Happy Anniversary!

Thank you @gaeljosser for helping us with the logo design.
---
Geek Zone is a space led by engineers @gorayii and @josecarrerag that was born to become a meeting place for technology lovers, a place to share ideas, opinions, experiences, trends and everything that shows that being a geek is a true passion.
What can we publish in this community?
Unboxing and reviews of any technological device and/or gadget.
Assembly, maintenance and/or configuration of equipment (computers, networks, telecommunications, video games, etc.).
Personal experiences in the area of technology.
Visits to technology stores or fairs.
News, trends and current technology news.
Reviews and Gameplay of videogames (Read the rules here)