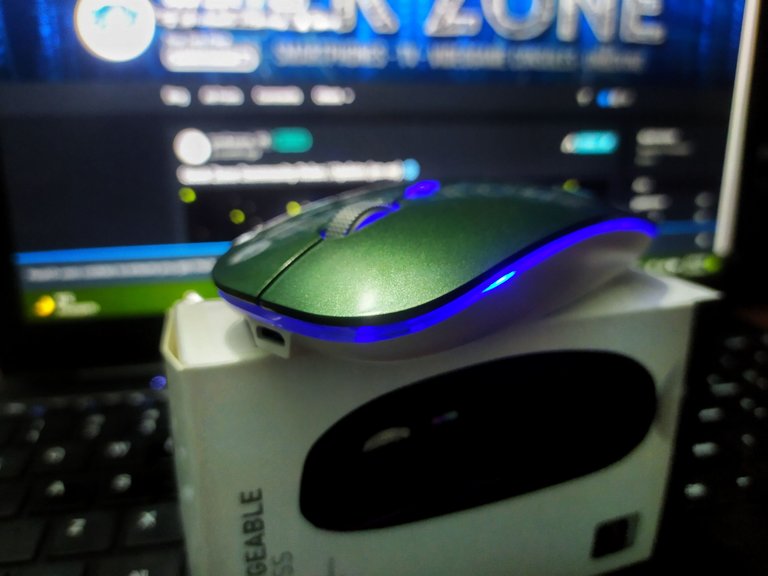 ---
It's been a while since I am using a laptop instead of a desk computer. Everything is closer and smaller. There is not as much room for parts as on a pc, so you must think wisely how to handle any extra components. One of these matters refers to the available USB ports. My laptop only has two which is quite limited considering I could connect a gamer control, a mouse, printer, portable disk, among others. Since my computer can receive Bluetooth signals, I decided to abandon my wired mouse and be free from cables. In this post, I tell you about the device I purchased, and my user experience.
As I mentioned, I was using a regular wired mouse connected to my computer through the USB port. Honestly, the cable was tedious. I had to roll up most of the cable to feel comfortable, but it then represented a weight for moving the mouse around. Definitely, it was not the best experience. So, I wanted to replace it with a better option. I was seeking to get rid of the cable mostly, but other improvements would be welcomed too.
Ha pasado un tiempo desde que uso una computadora portátil en lugar de una computadora de escritorio. Todo es más cercano y más pequeño. No hay tanto espacio para piezas como en una PC, por lo que debe pensar sabiamente cómo manejar cualquier componente adicional. Uno de estos asuntos se refiere a los puertos USB disponibles. Mi laptop solo tiene dos lo cual es bastante limitado teniendo en cuenta que podría conectarle un control gamer, un mouse, impresora, disco portátil, entre otros. Dado que mi computadora puede recibir señales de Bluetooth, decidí abandonar mi mouse con cable y estar libre de cables. En esta publicación, les cuento sobre el dispositivo que compré y mi experiencia de usuario.
Como mencioné, estaba usando un mouse con cable normal conectado a mi computadora a través del puerto USB. Honestamente, el cable era tedioso. Tuve que enrollar la mayor parte del cable para sentirme cómodo, pero luego representó un peso para mover el mouse. Definitivamente, no fue la mejor experiencia. Entonces, quería reemplazarlo con una mejor opción. Estaba buscando deshacerme del cable principalmente, pero otras mejoras también serían bienvenidas.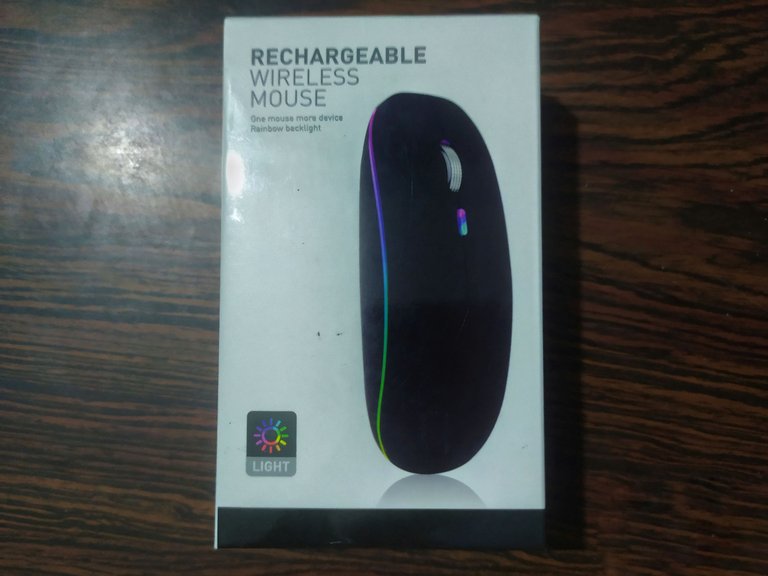 I found this option in a local store. The Rechargeable Wireless Mouse was an economic, diverse, simple choice to purchase. I had mainly what I needed; the possibility to get rid of any cable. It provided other bonus features like a good incorporated battery (no purchasing of triple A ones), It could be connected through two main methods using Bluetooth signal, it is silent (no click, click, click), and it has pretty color lights.
Encontré esta opción en una tienda local. El mouse inalámbrico recargable fue una opción económica, diversa y sencilla de comprar. Tenía principalmente lo que necesitaba; la posibilidad de deshacerse de cualquier cable. Proporcionó otras características adicionales como una buena batería incorporada (sin comprar triple A), se puede conectar a través de dos métodos principales mediante la señal de Bluetooth, es silencioso (sin clic, clic, clic) y tiene bonitas luces de colores.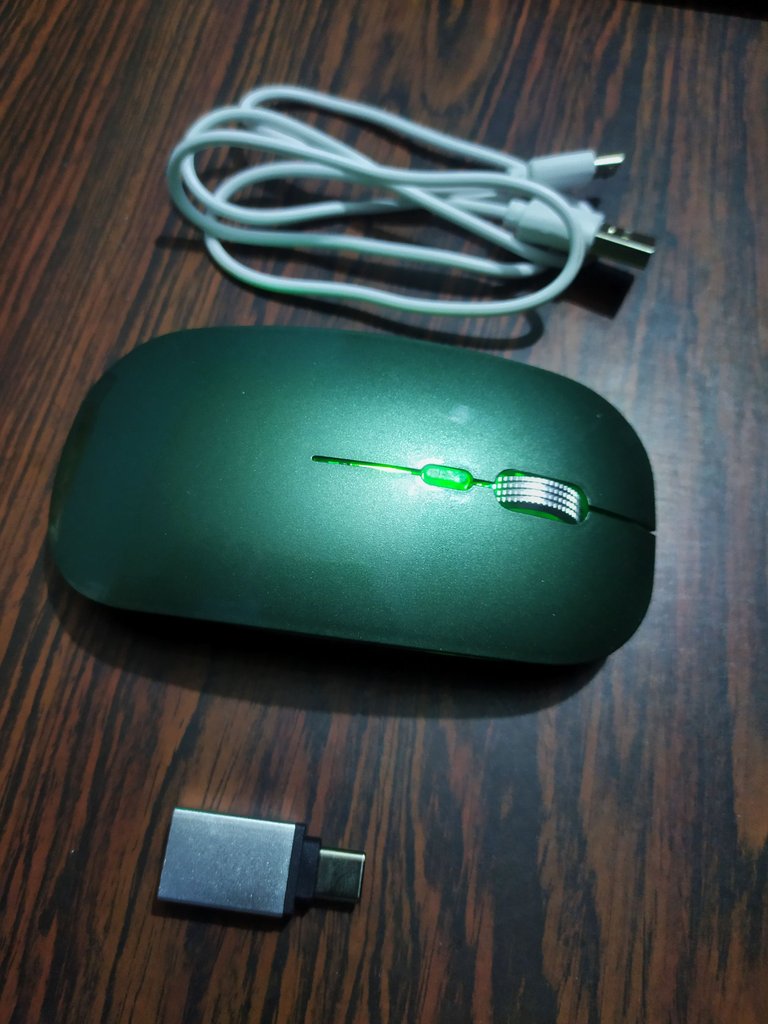 Basically, the mouse brought these three components. a charging cable, a USB type B to USB convertor, and the mouse itself. The charging cable has a USB type b connection; I was not a fan of that, but for the price I could not complaint. The convertor was just a nice extra. Now, the mouse feels light, smooth, silent as it points out, and comfortable to use. The middle button (the scroll wheel) also moves soft enough but offering just the right amount of resistance so the user notices how long it is moving on the screen.
Básicamente, el ratón trajo estos tres componentes. un cable de carga, un convertidor de USB tipo B a USB y el propio ratón. El cable de carga tiene una conexión USB tipo b; Yo no era fanático de eso, pero por el precio no me puedo quejar. El convertidor fue solo un buen extra. Ahora, el mouse se siente liviano, suave, silencioso y cómodo de usar. El botón central (la rueda de desplazamiento) también se mueve lo suficientemente suave pero ofrece la cantidad justa de resistencia para que el usuario se dé cuenta de cuánto tiempo se mueve en la pantalla.
---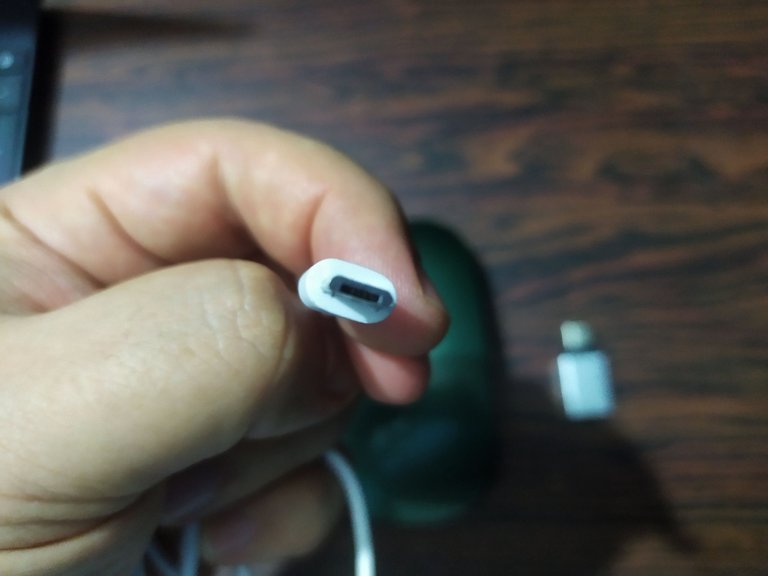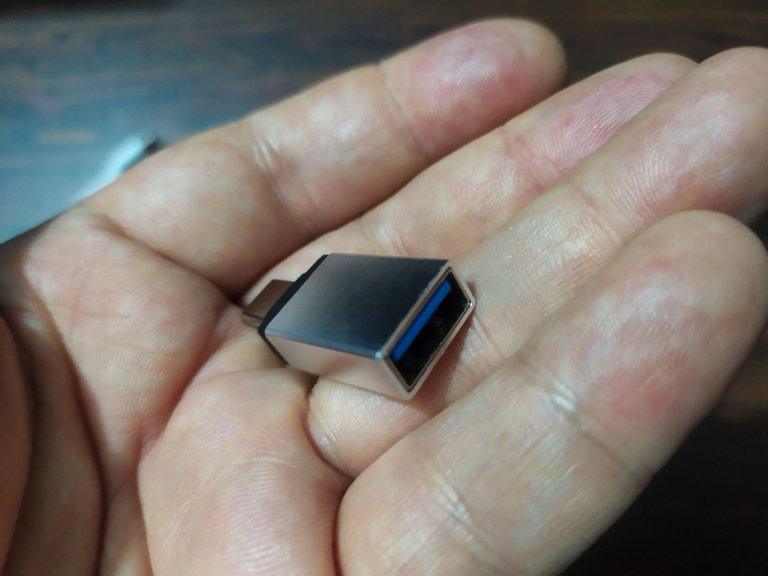 Now, this mouse can be connected wireless through two mechanisms. One is by using its own Bluetooth device, and the other is by connecting it directly with the computer's Bluetooth receptor. The use of its own receptor would take away the USB slot I wanted free, so it is more comfortable just to connect it directly to my laptop. It is great to count with both options in case one would have a desk computer without a Bluetooth receptor. It is also important to mention such device only works for the mouse; it is exclusive, and it won't work to receive any other Bluetooth signals.
Ahora bien, este ratón se puede conectar de forma inalámbrica a través de dos mecanismos. Una es usando su propio dispositivo Bluetooth y la otra es conectándolo directamente con el receptor Bluetooth de la computadora. El uso de su propio receptor me quitaría la ranura USB que quería libre, por lo que es más cómodo solo conectarlo directamente a mi computadora portátil. Es genial contar con ambas opciones en caso de tener una computadora de escritorio sin receptor Bluetooth. También es importante mencionar que dicho dispositivo solo funciona para el mouse; es exclusivo y no funcionará para recibir ninguna otra señal de Bluetooth.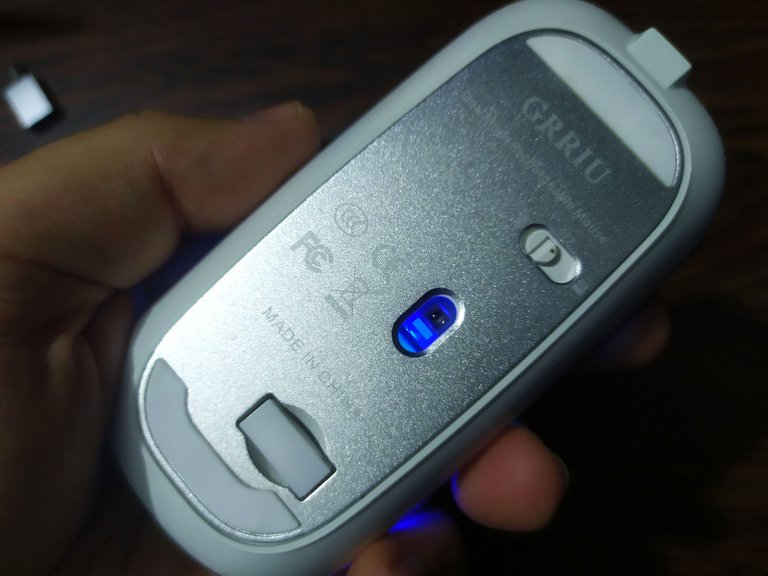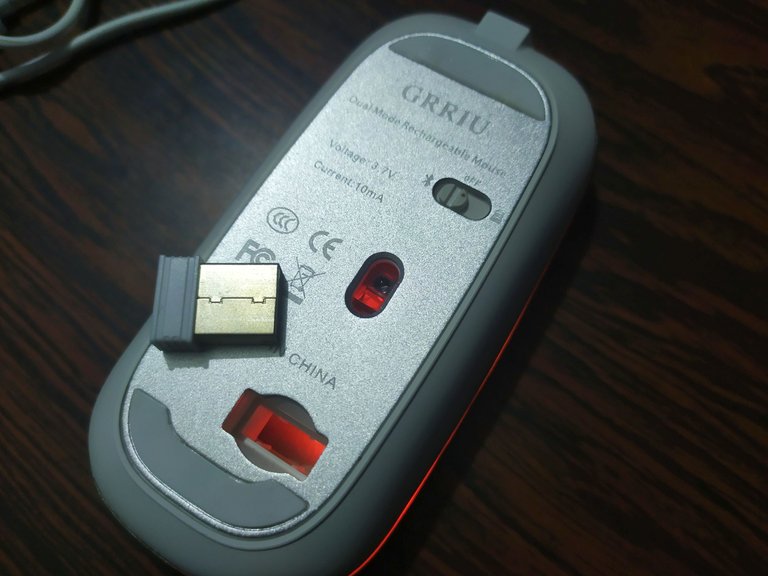 On the bottom part of the mouse, the Bluetooth receptor is incorporated. It also has a switch to activate the method of connection we are using: direct Bluetooth, using a receptor, and the off setting.
En la parte inferior del ratón se encuentra incorporado el receptor Bluetooth. También tiene un interruptor para activar el método de conexión que estemos usando: Bluetooth directo, usando un receptor y la configuración de apagado.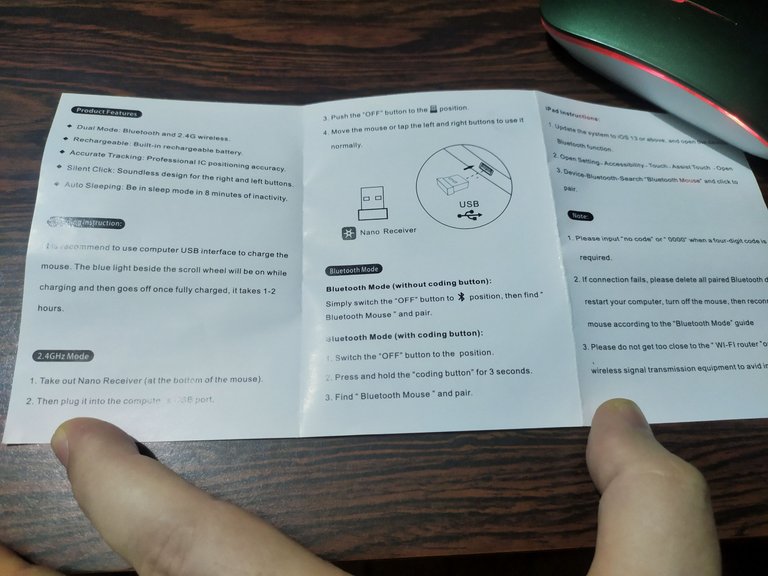 Let's talk about recharging this little baby. In the instructions it says that it is best to charge it through a USB port in the computer. It will take around one to two hours to complete. There is a light next to the scroll wheel which will go blue once the charging is complete.
Hablemos de recargar a este pequeño bebé. En las instrucciones dice que lo mejor es cargarlo a través de un puerto USB en la computadora. Tardará entre una y dos horas en completarse. Hay una luz al lado de la rueda de desplazamiento que se volverá azul una vez que se complete la carga.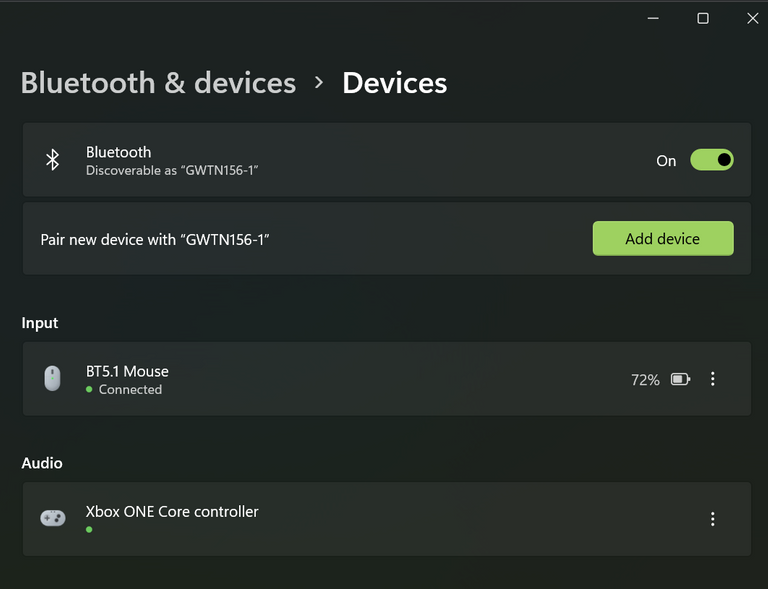 One way to assess the amount of battery the device has is by going to the Bluetooth settings menu. There can will see the device connected (BT5.1 Mouse) and it will display the charge it has. I tested the mouse for over a week, and I can say it could easily last 10 days before needing any charging at all.
Una forma de evaluar la cantidad de batería que tiene el dispositivo es ir al menú de configuración de Bluetooth. Allí podrá ver el dispositivo conectado (Ratón BT5.1) y mostrará la carga que tiene. Probé el mouse durante más de una semana y puedo decir que fácilmente podría durar 10 días antes de necesitar carga alguna.
It definitely is an user improvement. I am happy with my purchase. I am free from wires, click noises, and I have a free USB port in my laptop now. Nobody would suspect if I am playing online instead of studying... cough, the silent feature is really nice. I recommend to acquire one completely.
Definitivamente es una mejora del usuario. Estoy contento con mi compra. Estoy libre de cables, ruidos de clic y ahora tengo un puerto USB libre en mi computadora portátil. Nadie sospecharía si estoy jugando en línea en lugar de estudiar... tos, la función de silencio es realmente agradable. Recomiendo adquirir uno por completo.
---

@gaeljosser
Redmi note 7 camera
Edition with Snapseed
gif image made with Gif Studio app