As is well known, there are indispensable devices in every field that make an experience infinitely more enjoyable in some activities or another ones, in the case of gaming it is true that the mouse and keyboard are quite comfortable and have managed to develop quite well. And games like first or third-person shooters or MOBAs are infinitely better to handle with these than with a controller, as well as in Souls-like games or typical console games it is necessary to have a controller to enjoy the gaming experience, otherwise, it can become uncomfortable.
Como bien se sabe hay artefactos indispensables en cada rubro que hacen una experiencia infinitamente más amena en alguna que otra actividad, en caso del gaming es cierto que el ratón y teclado son bastante cómodos y han sabido desenvolverse bastante bien. Y es que juegos como shooters en primera o tercera persona o los MOBA es infinitamente mejor manejarse con estos que con un mando, así como en juegos tipo Souls-like o los típicos de consola es necesario tener un mando para poder disfrutar sí o sí de la experiencia de juego, ya que si no puede tornarse incómoda.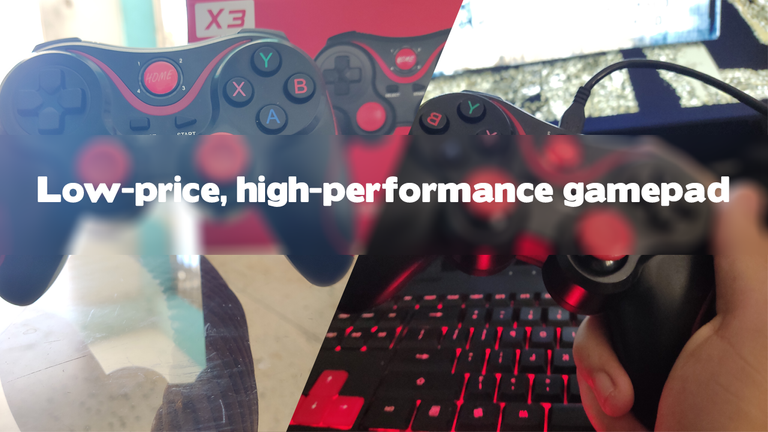 ---
It often happens that when we are console players and we migrate to a PC we need to visit previously played titles such as PlayStation 2 or to see games like Dark Souls in which the use of the controller will make the journey much more enjoyable. Something like that happened to me since one of the things I wanted to do was to be able to visit games like Shadow of the Colossus, Fifa Street 2, or Dark Souls, titles that I played a lot and in which I had a lot of fun so I needed to get one since playing with a keyboard was not an option.
Muchas veces sucede que cuando somos jugadores de consola y migramos a una PC tenemos la necesidad de visitar títulos anteriormente jugados como los de PlayStation 2 o de ver juegos como Dark Souls en los cuales el uso de mando nos hará la travesía mucho más amena. Algo así me pasó, ya que una de las cosas que quería hacer era poder visitar juegos como el Shadow of the Colossus, Fifa Street 2 o los Dark Souls, títulos muy jugados por mí y en los cuales me divertí un montón por lo que necesitaba hacerme con uno, ya que jugar con teclado no era una opción.
To be honest, I wanted something quite practical that did not cost much because I do not plan to give excessive use to what is the controller in general, I just want to spend some other game with it, but I do not plan to use it most of my day so telling some friends suggested me to investigate about this model which met the features I am looking for and also has the utility of being by Bluetooth, Seeing reviews I was convinced and in my area I found it at a good price so I decided to try it to see how it was and tell my experience since I know that many are like me, so let's go.
Siendo sinceros quería algo bastante práctico que no costase mucho ya que no planeo darle un uso excesivo a lo que es el mando en general, solo quiero pasarme algún que otro juego con él, pero tampoco planeo usarlo la mayoría de mi día por lo que comentándole a unos amigos me sugirieron investigar acerca de este modelo el cual cumplía con las características que busco y además tiene la utilidad de ser por bluetooth, alámbrico y ser multiplataforma, viendo reseñas me convencí y en mi zona lo encontré a un buen precio por lo que decidí probarlo a ver que tal era y contar mi experiencia ya que sé que mucho están como yo estaba, así que vamos con mis apreciaciones.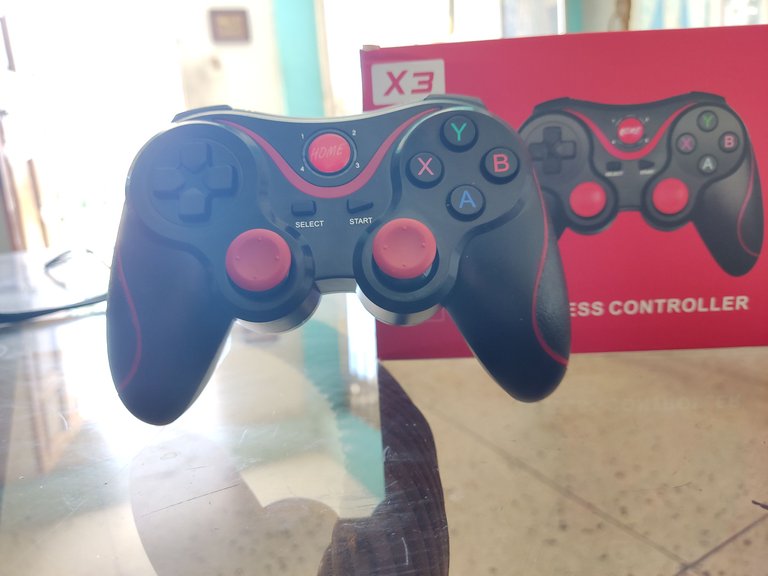 The first and most remarkable thing about it is the price, I know it's not the cheapest as I've seen generic PS3 controllers for 10 or fewer dollars, and of course, the real question is, is it worth paying more for it than going for the others? And yes, what is different about the X3 is that it offers something very important nowadays and that is multiplatform which, yes, already puts a considerable addition that other generic controllers don't offer. That is why this was the preponderant factor for which I considered going for them rather than another and it is a section which I am grateful to have taken into account since it has been very helpful.
Lo primero y más resaltante de él es el precio, sé que no es el más barato ya que por ahí he visto mandos de PS3 genéricos por 10 o menos dólares, y es que claro, la pregunta real es ¿Vale entonces la pena pagar más por él que irse por los otros? Y es que sí, realmente lo diferente de los X3 es que ofrecen algo muy importante hoy en día y es la multiplataforma la cual sí, ya pone un agregado considerable el cual otros mandos genéricos no ofrecen. Es por esto que este fue el factor preponderante por el cual consideré irme por ellos antes que por otro y es un apartado el cual agradezco haber tomado en cuenta ya que me ha sido de mucha ayuda.
Besides that, at the time I had the original PS3 controller and the problem was the connectivity and third-party software for use, plus not all games recognized it easily so it was a journey to use it on several occasions. In this case, I went for a hybrid controller because of the connectivity of the same and is that yes at least in a wired way (which is the way I use it since I do not have a Bluetooth adapter to my PC) with just connect them and give them to R1 in Windows 10 recognizes them instantly, and in games like Elden Ring, Hollow Knight or PCSX2 itself recognized the controller at the touch, as it usually uses the driver of the Xbox 360.
Además de que en su momento tuve el mando original de la PS3 y el problema era la conectividad y los software de terceros para su uso, además de que no todos los juegos lo reconocían fácilmente por lo que era una travesía poder usarlo en varias ocasiones. En este caso me fui por un mando híbrido por la conectividad del mismo, y es que sí por lo menos de manera alámbrica (que es la forma que lo empleo, ya que no poseo adaptador bluetooth a mi PC) con solo conectarlos y darles al R1 en Windows 10 los reconoce instantáneamente, y en juegos como Elden Ring, Hollow Knight o la propia PCSX2 me reconoció el mando al toque, porque suele usar el driver del de la Xbox 360.
I can say that I am someone very picky when it comes to comfort because in any small aspect I can feel uncomfortable and dissatisfied with something, but in the case of this gamepad when it comes to having it in my hands I have never come to feel discomfort in it as it does its job quite well. But as a negative point, it is true that for games that require precision (such as if you play COD Mobile) I feel it is too uncomfortable because of the low sensitivity of the sticks in this section which requires millimetric aiming.
Puedo decir que soy alguien muy picky en el apartado de la comodidad, ya que ante cualquier pequeño aspecto puedo sentirme incómodo e insatisfecho con algo, pero en el caso de este gamepad a la hora de tenerlo en mis manos no he llegado nunca a sentir una incomodidad en él, porque cumple bastante bien su trabajo. Pero como punto negativo es cierto que para juegos que requieran precisión (como por ejemplo si jugarás COD Mobile) siento que es demasiado incómodo por la poca sensibilidad de los sticks en este apartado el cual requiere de apuntados milimétricos.
But for all other games is quite compliant in this section, because despite being plastic in most finishes has a pretty good grip plus fairly accurate response times. For this I wanted to have an experience in different games in general, fortunately, I have been able to use it in several like those I mentioned before and for sure it has been something that has surprised me as I thought it would be quite rough and annoying, but not at all has been so, plus in the part of Bluetooth response times are good.
Pero para todos los demás juegos es bastante cumplidor en este apartado, ya que a pesar de ser de plástico en la mayoría de acabados tiene un agarre bastante bueno además de tiempos de respuesta bastante precisos. Para esto quería tener una experiencia en distintos juegos en general, afortunadamente he podido usarlo en varios como los que mencioné antes y a ciencia cierta que ha sido algo en lo que me ha sorprendido ya que pensé que sería bastante tosco y molesto, pero para nada ha sido así, además de que en la parte de bluetooth los tiempos de respuesta son buenos.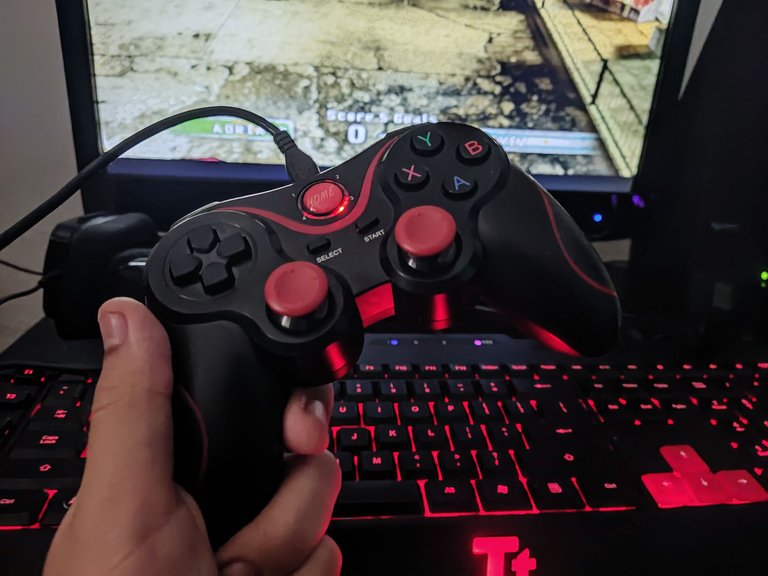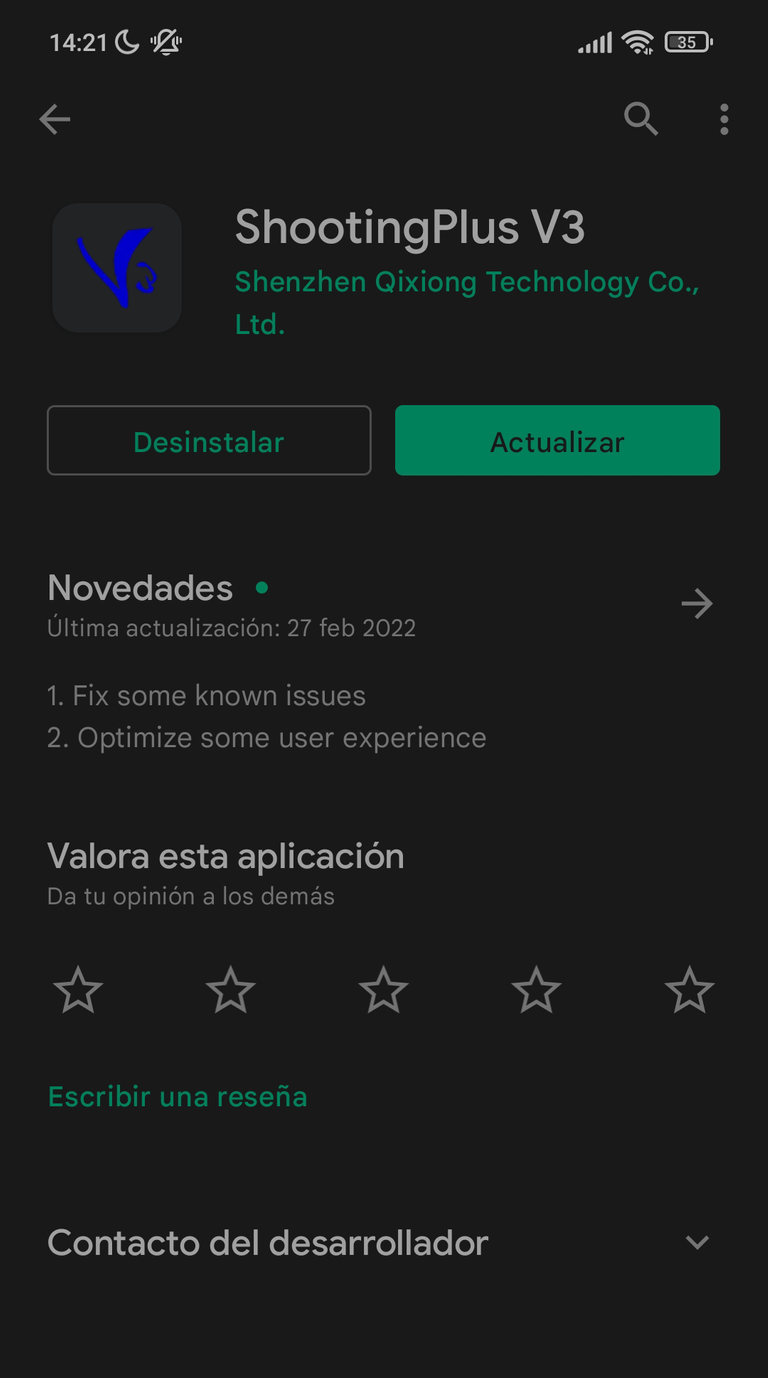 The Gamepad X3 brings a grip to put your mobile and this is fixed quite securely, really in what is the Bluetooth section which I tested, also the response is something that has not been a problem since the times in which runs anything we do with the controller is practically instantly. What is true is that the controller gives you to configure in any game you want, but don't make me a mess I downloaded an apk from the PlayStore which brings configurations in most games like COD Mobile (although as I said, to my perception is more comfortable with the hands), PUBG, Genshin Impact, etc..
El Gamepad X3 trae un agarrador para poner tu móvil y este queda fijo de forma bastante segura, realmente en lo que es el apartado bluetooth el cual probé, también la respuesta es algo que no ha sido problema, ya que los tiempos en los que se ejecuta cualquier cosa que hacemos con el mando prácticamente es al instante. Lo que sí es que el mando te da para configurar en cualquier juego que quieras, pero para no hacerme un lío bajé una apk de la PlayStore la cual trae configuraciones en la mayoría de los juegos como COD Mobile (aunque como dije, a mi percepción resulta más cómodo con las manos), PUBG, etc.
-
As for the PC if it is true that this brings a cable to charge it and in which theory should be the way to connect it to our PC, but surprise, it is not so because this cable in addition to how uncomfortable it is (as it is very short) is so thin that does not allow the flow of information on it so if we want to use it we must have a cable itself, if it allows the flow of data, such as a cell phone for example which is the one I use in my case. Once connected to the PC it will turn on by itself and press (in my case) the R1 button automatically Windows 10 detects the device and downloads its driver, which is the one of the Xbox 360.
En cuanto en la PC si es verdad que este trae un cable para cargarlo y en el que teoría debería ser la manera de conectarlo a nuestra PC, pero sorpresa, no es así, ya que este cable además de lo incómodo que es (porque es muy corto) es tan fino que realmente no permite el flujo de información en él por lo que si queremos utilizarlo deberemos de tener un cable propio que, si permita el flujo de datos, como el de un celular por ejemplo el cual es el que utilizo yo en mi caso. Ya una vez conectado en la PC él encenderá solo y presionando (en mi caso) el botón R1 automáticamente Windows 10 detecta el dispositivo y descarga su driver, que es el del Xbox 360.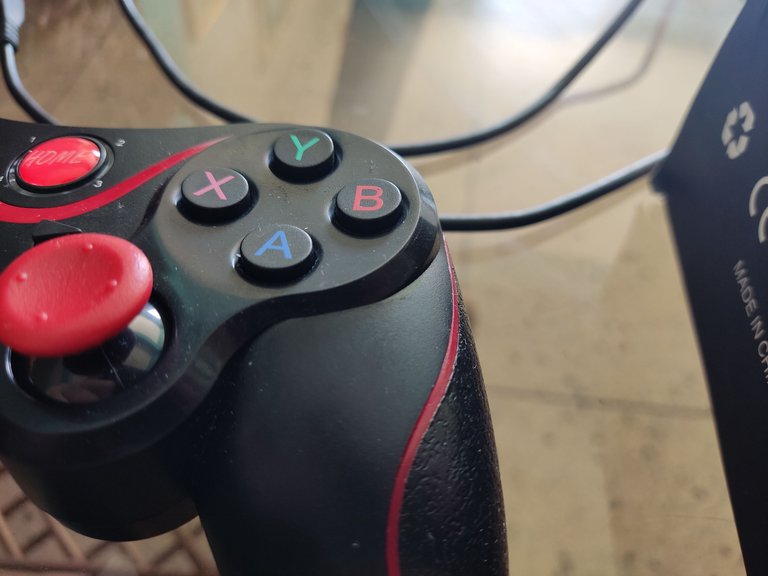 The important question,
is it worth it?.
La pregunta importante,
¿vale la pena?.
-
Well... yes, the answer is that I think it is worth this gamepad, especially for all the things it offers us as being practical, nice, and most importantly accessible. I think it is an option that I have read a lot on the internet that has turned out good and I come to add my grain of sand saying from my experience that it is a very functional controller and that I recommend. I think it can currently be found for just over 15 dollars and even in some areas of Caracas, I have heard that it is handled in less, around 12 or 10 dollars so even more for that price you can have a gamepad that allows you to play on any device you have. If you made it this far thank you very much for reading and see you in the next one.
Pues sí, la respuesta es que totalmente creo que vale la pena este gamepad, sobre todo por todas las cosas que nos ofrece como ser práctico, agradable y mucho más importante, accesible. Considero que es una opción que he leído mucho en internet, que ha salido buena y vengo a agregar mi grano de arena diciendo desde mi experiencia que es un mando muy funcional y que recomiendo. Opino que actualmente puede encontrarse por poco más de 15 dólares e incluso en algunas zonas de Caracas he escuchado que se maneja en menos, alrededor de 12 o 10 dólares por lo que más aún por ese precio puedes tener un gamepad que te permita jugar en cualquier dispositivo que tengas. Si llegaste hasta acá muchas gracias por leer y nos vemos en la siguiente.
---
All pics in this post was taken by me .
-
The gifs were recorded and edited by me directly to the gamepa d .