If you're a person who usually plays games on your PC you will know that the keyboard is one of the most important peripherals along with the mouse, since factors such as comfort, grip, or the sensations that these can provide you usually make the difference when it comes to enjoying a game or not. At least it is clear to me, and it is a factor that after testing different models I can confirm today.
Si eres una persona que suele jugar en tu PC sabrás que el teclado es uno de los periféricos más importantes junto con el mouse ya que factores como la comodidad, agarre o las sensaciones que puedan proveerte estos suelen marcar la diferencia a la hora de disfrutar o no un juego. Al menos es algo que tengo claro, y es un factor que luego de ir probando con diferentes modelos puedo a día de hoy llegar a confirmar.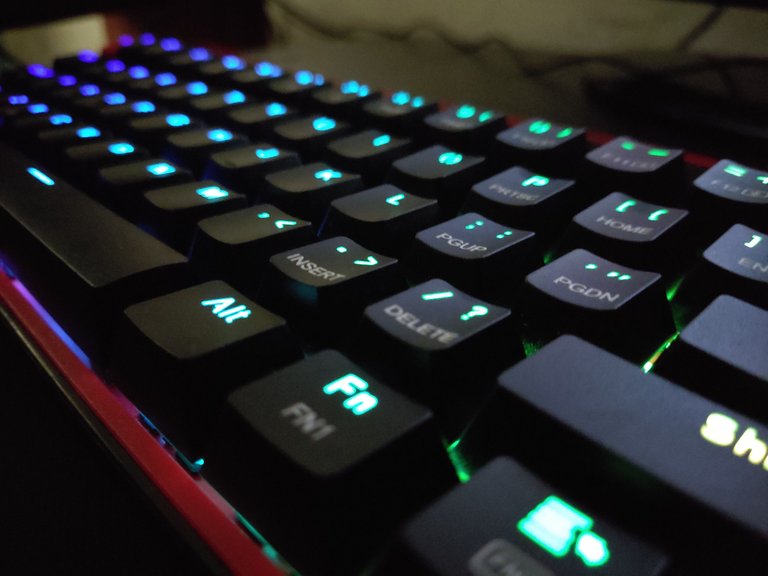 A few months ago I brought to my blog the review of my old keyboard, a membrane keyboard that I acquired quite a while ago and which I can not complain about at all, after giving it continuous use for 8 years that I bought it on Amazon (2013-2014). A few weeks ago it started to fail me a little bit, the main thing was some broken and unstable key supports and the preponderant factor was the cable, which used to disconnect, so I thought it was time to give it a rest.
Hace unos meses traje a mi blog la review de mi antiguo teclado, uno de membrana que adquirí hace bastante y del cual no puedo quejarme en lo absoluto, luego de darle un uso continuo durante 8 años que lo compré por Amazon (aprox 2013-2014). Hace unas semanas empezó a fallarme un poco, lo primordial fue algunos soportes en las teclas rotos e inestables y el factor preponderante que fue el cable, el cual solía desconectarse, por lo que pensé que ya era hora de darle descanso.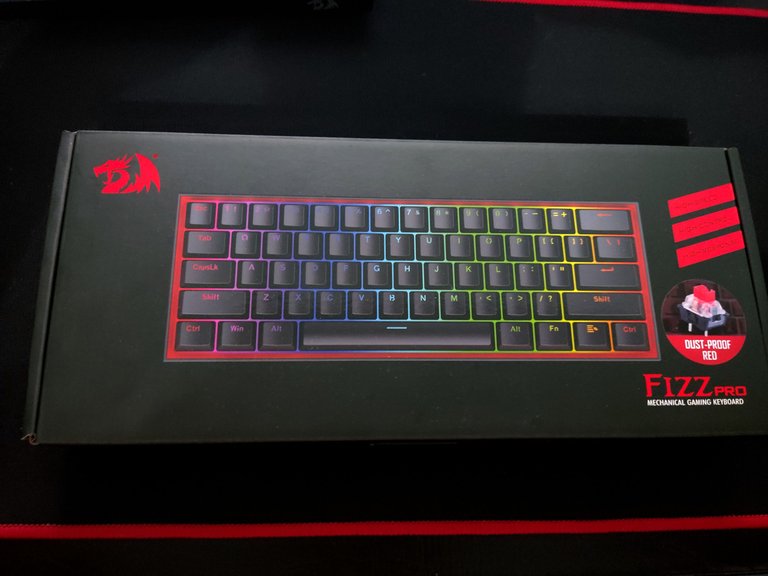 Among varieties of brands where I live, one of the most popular lately has been Redragon, a Chinese brand that has climbed not only here but throughout Latin America, I had never had anything of this brand so I was a little afraid of it. Among several models, I opted for this one more than anything else for several things, its connectivity, design, ergonomics, and even more the price that a 60% wireless can be achieved at low price.
Entre variedades de marcas en donde vivo una de las que más ha sonado últimamente ha sido Redragon, marca china que ha escalado no solo aquí sino en toda Latinoamérica, nunca había tenido algo de esta marca por lo que tenía algo de miedo con ella. Entre varios modelos, me decanté por este más que nada por varias cosas, su conectividad, diseño, ergonomía y más aún el precio que para ser un 60% inalámbrico se puede conseguir a bajo precio.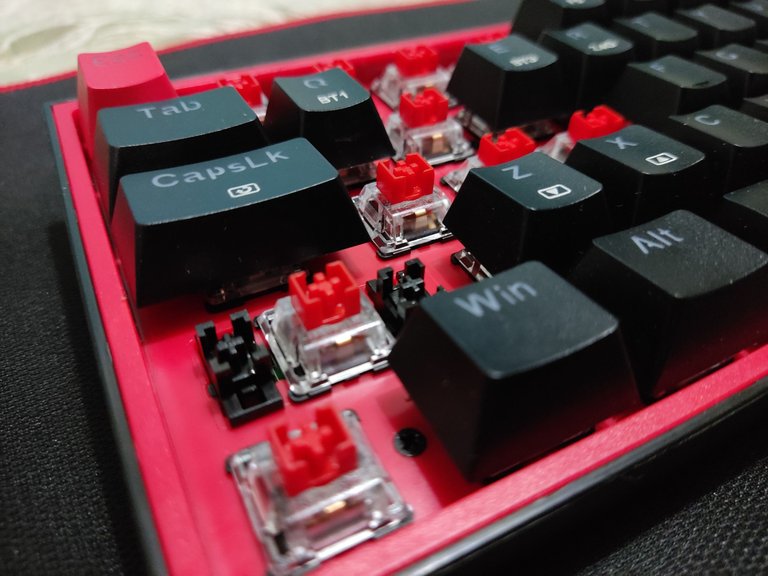 As you can see this keyboard has an ergonomics of 60% of the usual keys, plus Outemu red switches that although they are not cherry brand switches for what I'm looking for work quite well. I do not want to delve too much into the subject, I want to focus this publication to show in detail the contents of the box, this is for those who are thinking of buying it and the rest after some time of use will raise their respective review.
Como verán este teclado cuenta con una ergonomía del 60% de teclas habituales, además de switches Outemu red que si bien no son switches de la marca cherry para lo que busco funcionan bastante bien. Tampoco quiero ahondar mucho en el tema, personalmente quiero centrar esta publicación para mostrar de forma detallada el contenido de la caja, esto para quienes estén pensando en adquirirlo y de resto luego de un tiempo de uso plantearé su respectiva revisión.
When I found the box the first thing I thought was 'no way, this is a miniature' and of course, when you are used to the usual size of the keyboards can surprise you a lot and more talking about a keyboard itself reduced. Personally, the box itself is quite nice and eye-catching and the fact that it is built in this way gives it a minimalist touch, something quite cool.
Cuando encontré la caja lo primero que pensé fue en 'no way, esto es una miniatura' y es que claro, cuando estás acostumbrado al tamaño habitual de los teclados puede sorprender un montón y más hablando de un teclado en sí reducido. Personalmente, la caja en sí está bastante linda, llamativa y el hecho de estar construido en este sentido le da un toque minimalista, algo bastante cool.
Once we proceed to open it we will observe the contents in general the keyboard will be wrapped in a protective paper with bubbles and inside it, we will see some user manuals and stickers of the brand. Also in the box are other accessories that complement the keyboard itself and add functionality, at a first touch I could notice it was quite solid despite its size and super comfortable to the hand in addition to its beautiful 'clickity-clack' typing.
Una vez procedemos a abrirla observaremos el contenido en general, obviamente el teclado que estará envuelto en un papel de protección con burbujas y dentro del mismo veremos unos manuales de usuario y pegatinas de la marca. También en la caja se encuentran otros accesorios que complementan al teclado en sí y le agregan funcionalidad, a primeros tactos pude notarlo bastante sólido a pesar de su tamaño y super cómodo a la mano además de su hermoso tecleo 'clickity-clack'.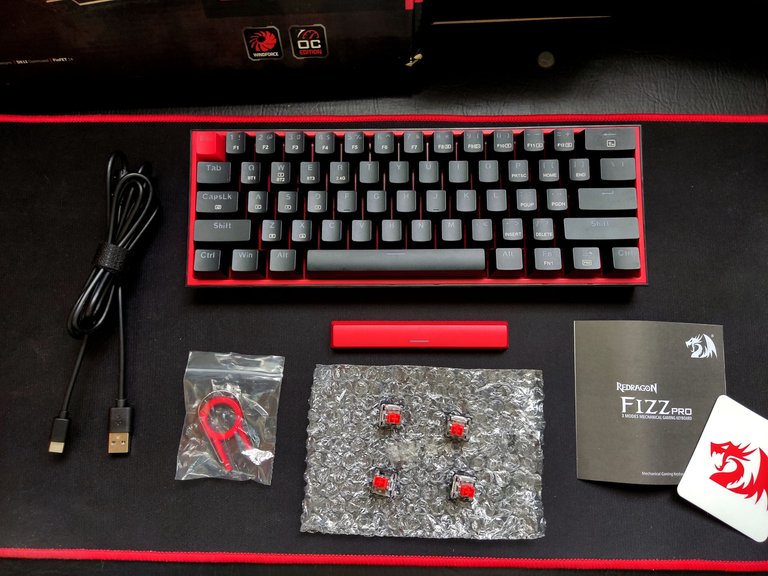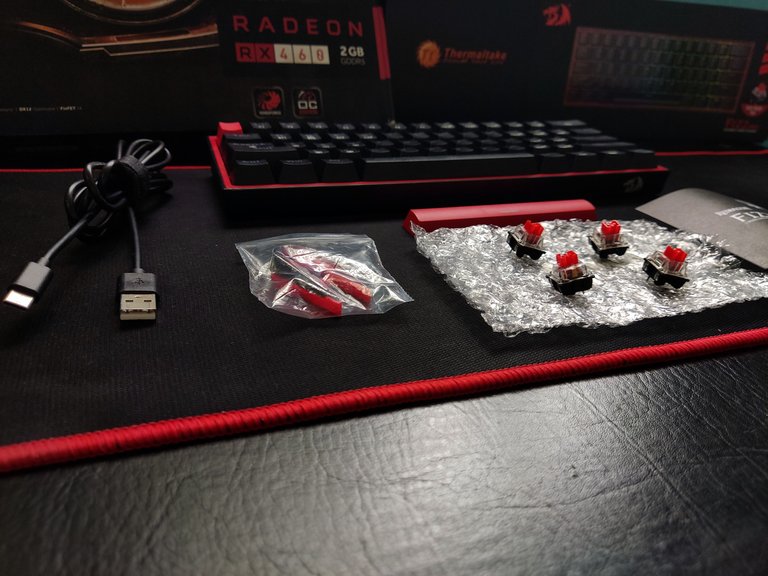 After we take it out, at the bottom of the keyboard we will have the accessories I mentioned before, its cable to be able to use it wired and charge it, tools to remove keycaps and switches, two new keys 'Escp' and 'space' red color and also something I liked is that it comes with 4 spare switches in case you damage any of them.
Luego de que lo sacamos en la parte inferior del teclado tendremos los accesorios que mencioné anteriormente, su cable para poder usarlo de forma alámbrica además de cargarlo, herramientas para poder sacar keycaps y los switches, dos nuevas teclas de 'Escp' y 'espacio' color rojo y además algo que me gustó es que trae 4 switches de repuesto en caso de que se te dañe alguno.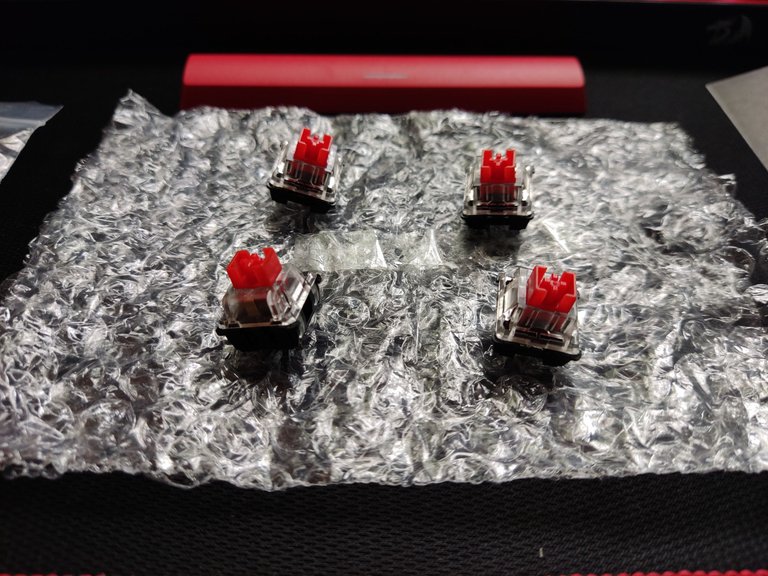 I liked the section about bringing spare switches in case you happen to damage or lose one, we know that it is not easy to order them since not everywhere usually sell them -especially in my area- so it is something to thank. I can also observe that although the cable doesn't mesh, it is quite high quality and has a decent length to be able to connect it in a wired way.
Personalmente, me gustó el apartado de traer switches de repuesto en caso de que se te llegue a dañar o extraviar alguno, sabemos que no es tarea fácil pedirlos ya que no en todos lados suelen venderlos -espacialmente en mi zona- así que es algo de agradecer. También puedo observar que el cable si bien no es mallado se nota de bastante calidad además de traer un metraje bastante decente para poder conectarlo de forma alámbrica.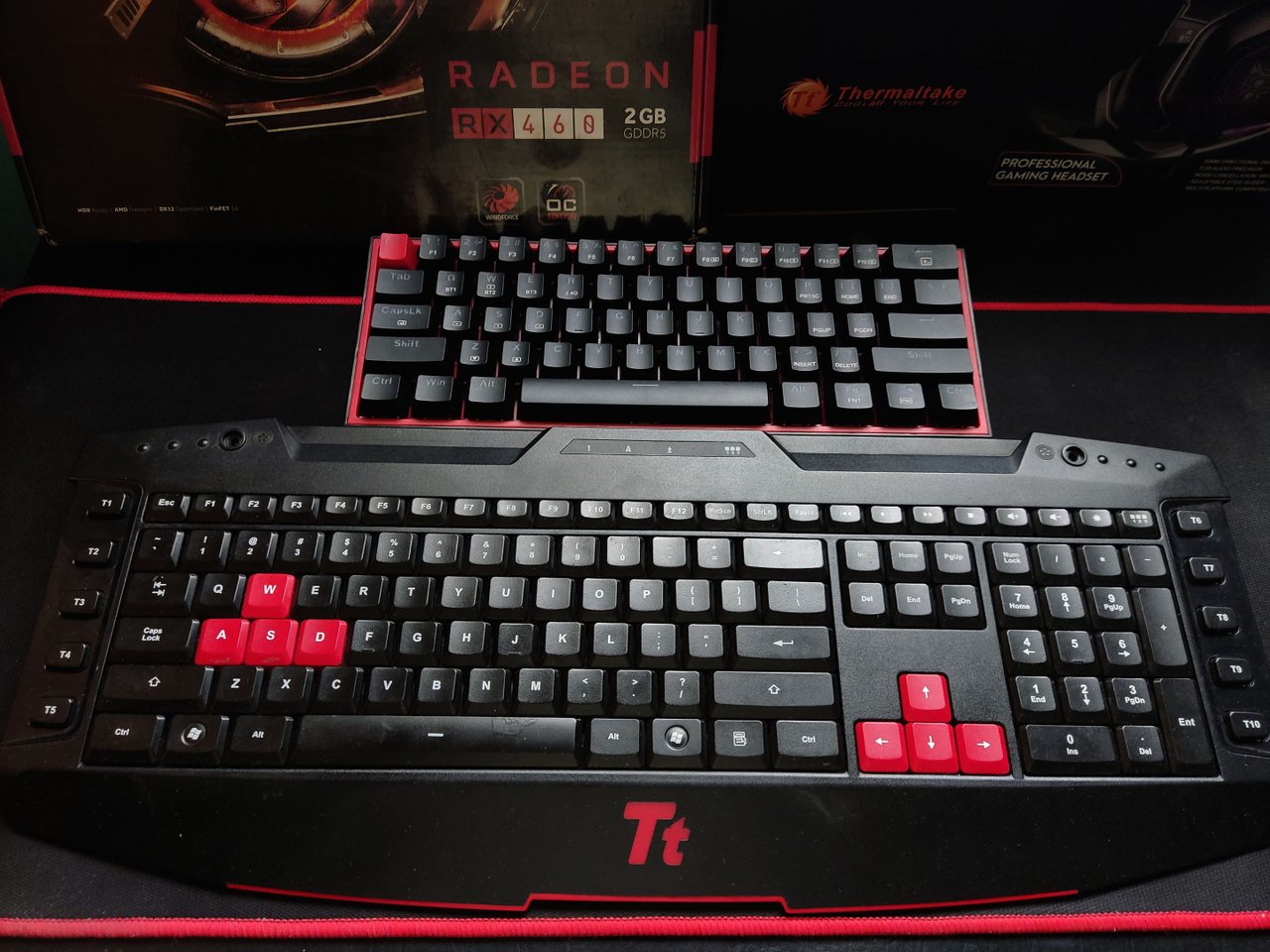 Wow, I don't know what to say, it is a drastic change to go from a keyboard like this to one like this, but mainly it is something that will be very helpful because I don't have a large space on my desk so when playing shooters it will be great to have free space for the mouse. Anyway, it will be a task that I will have to get used to since it is not easy to get rid of buttons such as direction and numeric keypad.
Wow, la verdad es que no sé que decir, es un cambio drástico pasar de un teclado así a uno como este, pero principalmente es algo que me será de mucha ayuda ya que en mi escritorio no cuento con un espacio amplio por lo que a la hora de jugar shooters me vendrá buenísimo para tener espacio libre para el mouse. De todas formas, será una tarea de la cual tendré que irme acostumbrando ya que el hecho de desprender de botones como dirección y bloq numérico no es fácil.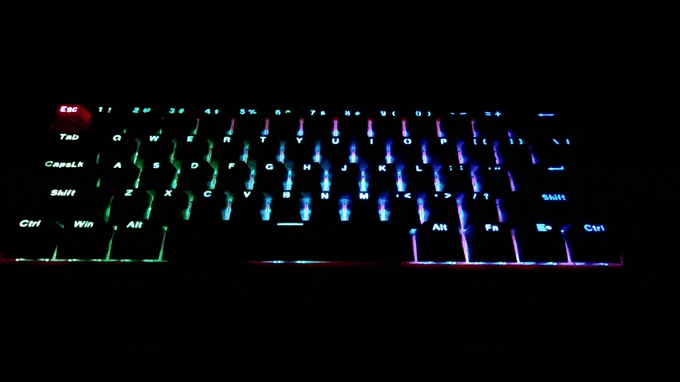 Once I took everything out it was time to connect it, I like the way it looks in my setup as it matches the color of the desktop, mousepad, and the mouse itself as well as making it look a little more minimalist and less outrageous as it was before. If you saw in my previous posts in the community it is something easy to see that only the previous keyboard occupied half of the table.
Ya una vez saqué todo llego el momento de conectarlo, me agrada la forma como se ve en mi setup ya que combina con el color del escritorio, mousepad y el mouse en sí además de hacerlo ver un poco más minimalista y menos escandaloso como era antes. Si viste en mis anteriores post en la comunidad es algo fácil de ver que sólo el teclado anterior ocupaba la mitad de la mesa.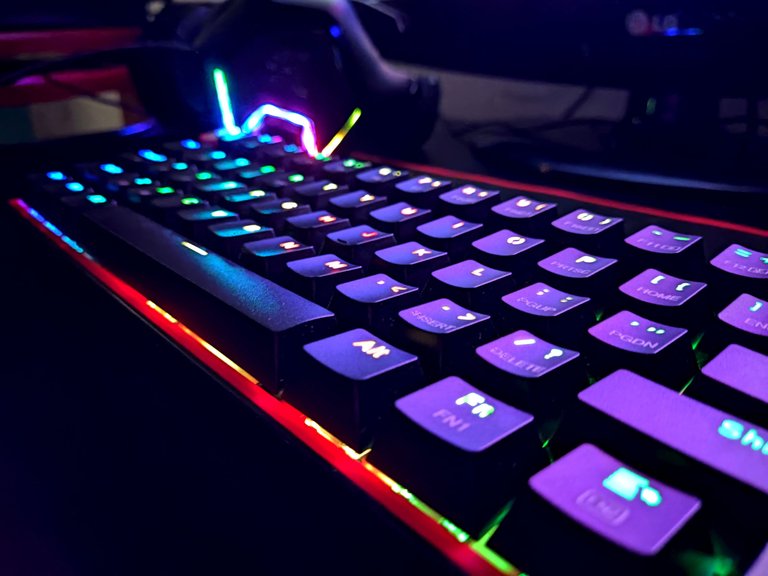 Here I am, I have been using it and I can say that the sensations are totally good, the switches sound perfect without being at all outrageous besides being quite comfortable and the plus of being able to connect it with its 2.4 Hertz dongle is also a plus when you want to move it, in theory, the manual says that the battery should last about 14 days of continuous use but I know that in the end it will end up being less but it is something that I have not yet discovered.
Aquí llevo, he estado usándolo y puedo decir que las sensaciones son totalmente buenas, los switches suenan perfecto sin llegar a ser para nada escandalosos además de ser bastante cómodo y el plus de poder conectarlo con su dongle de 2.4 hercios también es un plus a la hora de querer moverlo, en teoría dice el manual que la batería debe durar 14 días de uso continuo, pero sé que al final del todo terminará siendo menos, pero es algo que aún no he descubierto.
-
I think for now it was a good buy, it certainly brings something different that I needed for a long time and for which I had been bothering constantly, I feel now with a little more freedom and comfort when typing in games plus how minimalist and beautiful it looks, now it's time to see how I get along with it. Anyway, if you got this far I thank you and I hope you liked, see you in the next one.
Creo que por los momentos fue una buena compra, sin duda aporta algo distinto que me hacía falta desde hace tiempo y por lo cual venía incomodándome de forma constante, me siento ahora con un poco más de libertad y comodidad a la hora de teclear en juegos además de lo minimalista y bonito que se ve, ahora toca ver cómo me desenvuelvo con él. En fin, si llegaste hasta acá te agradezco y espero que te haya gustado este desempaquetado, nos vemos en la siguiente.
---
Every pic/gif in this post was taken by me.
-
If you want to know more info about the keyboard, I invite you to read the page I took as a reference.
_