For some time now the life of the average gamer has been getting progressively worse, due to the constant shortage of a product as essential to playing as they are the graphics cards or better known as GPUs. For no one is a mystery that finding some new ones is an impossible task (unless you are willing to spend a kidney on it) as several today are monopolized by another market which is mining, I will not talk about it in this post but we must be clear that usually are handled by the second-hand market being this the main resource for most gamers to opt for what we dream so much that is to assemble a PC to play in decent conditions.
Desde hace tiempo la vida del gamer promedio se ha ido agravando de manera progresiva, debido a la escasez constante de un producto tan primordial para jugar como lo son las tarjetas gráficas o mejor conocidas como GPU's. Para nadie es un misterio que el encontrar algunas nuevas es una tarea imposible (a menos que estés dispuesto a gastar un riñón en ello) ya que varias hoy en día están acaparadas por otro mercado que es la minería, no pienso hablar de ello en este post pero hay que tener claro que por lo general se manejan por el mercado de segunda mano siendo este el principal recurso para la mayoría de gamers de poder optar por las que tanto soñamos que es armar una PC para jugar en condiciones decentes.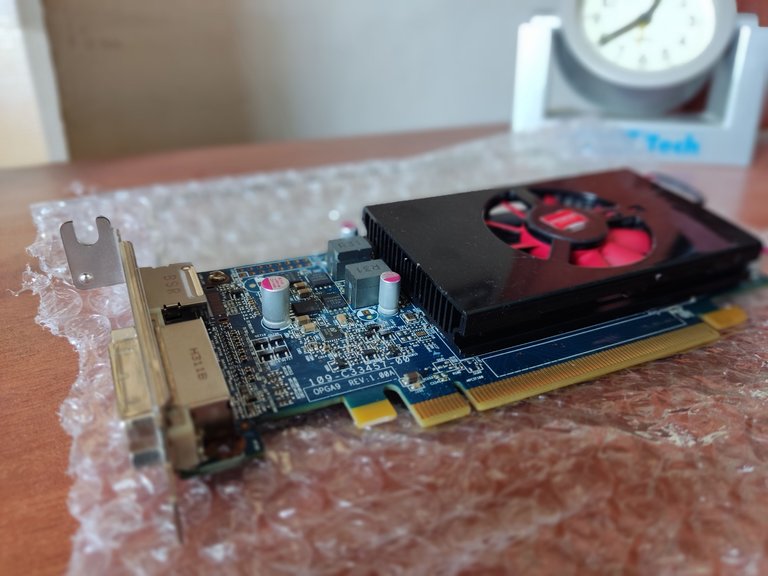 I've been suffering from this issue for a while now, in general without lying to you I've never had a graphics card on my computer since the first PC I built was quite old and with the integrated graphics of the processor, it was enough for most of the titles that a 10-year-old kid who also had a console could want to play. Fortunately, the years passed but the enthusiasm about pc's didn't, so today I wanted to see if I could build something that could work decently without spending so much (although this last part would end up being a disaster hahah).
Hace un tiempo que llevo sufriendo con el tema, por lo general sin mentirles nunca he tenido una tarjeta gráfica en mi computador ya que desde hace tiempo la primera PC que armé era bastante vieja y con los gráficos integrados del procesador me bastaba para la mayoría de títulos que un niño de 10 años que además tenía consola podía llegar a querer jugar. Afortunadamente los años pasaron pero el gusto por las pc's no, por lo que a día de hoy quería ver si podía armar algo con lo que pudiera trabajar decentemente sin gastar tanto (aunque esta última parte terminaría siendo un desastre hahah).
I had been asking for recommendations and researching on my own for a while now since without exaggeration the graphics market in my area is a real mess, you usually don't get anything and what you usually get is at triple the real price. Thanks to several recommendations from @rishahp I got one that more or less could give me a decent performance for a normal price, which is nothing more and nothing less than the Radeon HD 7570, a modest graphics card but it is quite powerful for its price.
Desde hace tiempo estaba pidiendo recomendaciones e investigando por mi cuenta ya que sin exagerar el mercado de gráficas en mi zona es un auténtico desastre, por lo general no se consigue nada y lo que se suele conseguir es al triple del precio real. Gracias a varias recomendaciones de @rishahp conseguí una que más o menos podía darme un rendimiento decente por un precio normal, que es nada más ni nada menos que la HD 7570 de AMD, una tarjeta gráfica modesta pero que es bastante rendidora para su precio.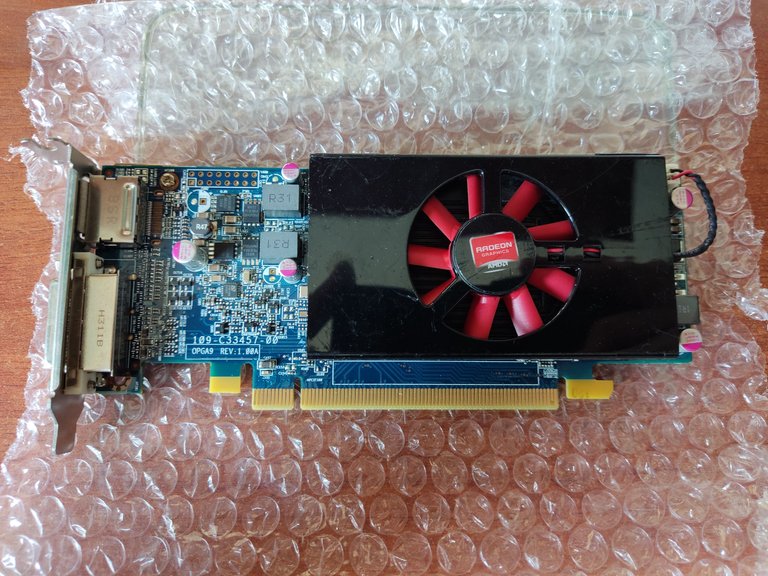 The PC is part of the fashions that today have become a trend, and it is nothing more and nothing less than a refurbished HP that I caught in a nearby store, for $90, she brings "decent" specifications which I will leave in more detail below. And while it is not the best PC in the world, at least for office use I found it quite decent, decent multitasking, decent storage too and I think that perhaps one of the points in which I did not analyze well but later you will know why I say so is the processor. And yes, while the processor is not that the processor is not a potato I did not do the relevant benchmarks and comparisons to know what was the real power of it. I say this because I did not know that it was from the lower end of AMD processors, specifically the lowest of its series and with a rather complex chipset which does not accommodate virtually any improvement, however, combined with a GPU can give some good results in games in particular.
La PC forma parte de las modas que hoy en día se ha hecho tendencia, y es nada más y nada menos que una HP refurbished que pillé en una tienda cercana, por 90$, ella trae especificaciones "decentes" las cuales dejaré en más detalle más abajo. Y es que, si bien no es la mejor PC del mundo por lo menos para ofimática me pareció algo bastante decente, multitarea decente, almacenamiento decente también y creo que quizás uno de los puntos en los cuales no analicé bien pero más adelante sabrán el porqué lo digo es en el procesador. Y sí, si bien el procesador no es que sea una patata no hice los benchmarks y comparaciones pertinentes para saber cuál era la potencia real del mismo. Esto lo digo porque no supe que era de la gama más baja de los procesadores AMD, específicamente el menor de su serie y con un chipset bastante complejo el cual no da cabida a prácticamente ninguna mejora, sin embargo combinado con una GPU puede dar algunos buenos resultados en juegos en particular.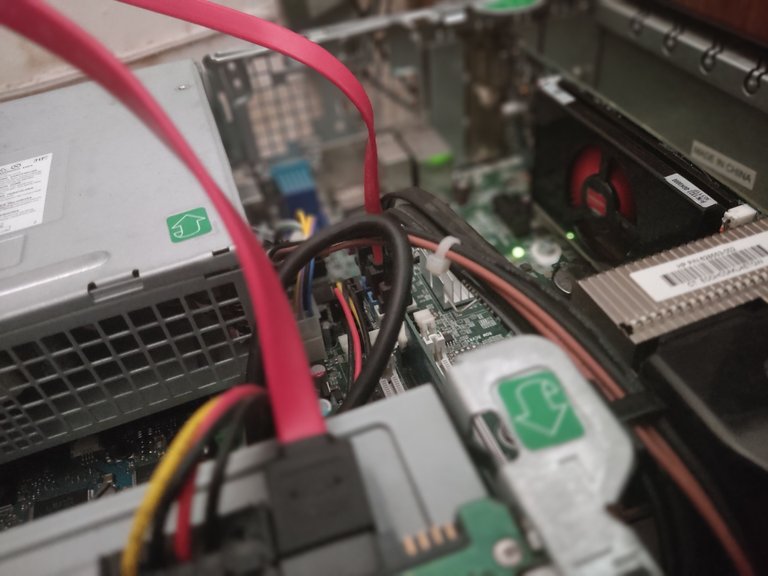 CPU
AMD A4-5300b
RAM
8 GB DDR3 1600 Mhz
HDD
320 GB
PSU
240W generic
It's a funny thing, the case is super compact as these computers are usually oriented in its manufacture to offices so they make the greatest possible reduction of free spaces to make something that is compact and works well. Fortunately, the 7570 is very small so being able to fit it, in that case, is not a problem, but I am sure that to do it with other graphics cards we might have to change it. Anyway, I was able to acquire the graphics card for a modest price on an online marketplace in refurbished quality as well, I had seen several benchmarks and the results surprised me. A 30$ graphics card (I have even seen them in 20 or 25) that could run current games like CS: GO, GTA V, etc. and this is thanks to the technology in which they are made, now the real question is to see what would be the performance with the bundle that I told you before.
Es algo gracioso, el case es super compacto ya que estos equipos suelen ser orientados en su fabricación a oficinas por lo que hacen la mayor reducción posible de espacios libres con el fin de hacer algo que sea compacto y funcione bien. Afortunadamente la 7570 es pequeñísima por lo que el poder introducirla en ese case realmente no es un problema, pero si estoy seguro que para hacerlo con otras gráficas quizás tendríamos que optar por cambiarlo.
De todas formas, pude adquirir la gráfica por un precio módico en un mercado online en calidad de reacondicionada también, había visto varios benchmarks y los resultados realmente me sorprendían. Una gráfica de 30$ (que incluso las he visto en 20 o 25) que podía mover juegos actuales como CS:GO, GTA V, etc. y esto es gracias a la tecnología en la cual están hechas, ahora la verdadera pregunta es ver cuál sería el rendimiento con la bundle que le comenté anteriormente.
My plans were not that greedy, I just played with integrated graphics all the time and I wanted to take all the load off my processor which made the task of recording something quite tedious as I was reloading it all the time and the only program that allowed me to record was Fraps which gave me 50 GB recordings which I had to do a process to convert, edit and render them, so yeah, I just wanted to take that load off and be happy hahah. So well, I decided to give it a try and see how it worked for me and if it meant an improvement.
Realmente mis planes no eran tan avariciosos, simplemente jugaba con gráficos integrados todo el tiempo y quería quitarle todo la carga a mi procesador el cual hacía la tarea de grabar algo bastante tedioso ya que lo recargaba todo el tiempo y el único programa que me permitía grabar era Fraps el cual me daba grabaciones de 50 GB las cuales tenía que hacer un proceso para poder convertirlas, editarlas y renderizarlas, así que sí, solo quería quitarme esa carga y ser feliz hahah. Así que bueno, decidí probarla a ver que tal me iba y si significaba una mejora.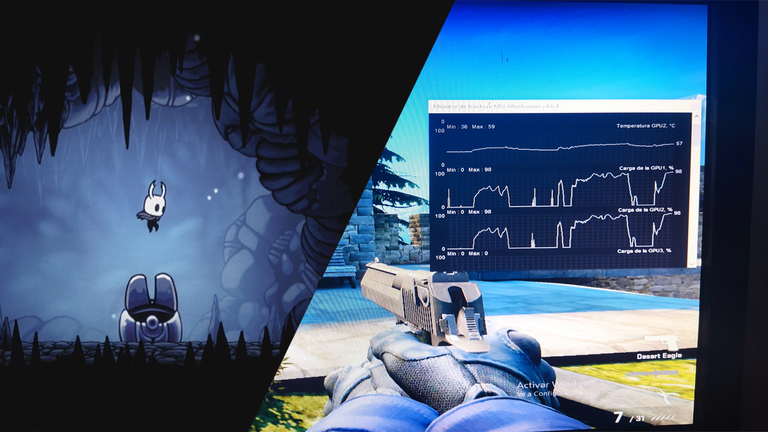 Well, I tried it in two games which I am quite a fan of, one because it is the one I find myself playing (yes, I know I have a thousand years doing it) which is Hollow Knight, and another one which I love to spend time playing with friends in HGC since we used to play too much to 1.6 and decided to jump to a newer version, which is Counter-Strike in its Global Offensive version. Actually, both games used to run at a quite playable quality, especially HK, but it is true that CS: GO used to have several downs, so I would say that with the integrated graphics it was not playable at all.
Pues, la probé en dos juegos los cuales soy bastante fanático, uno porque es el cual me encuentro pasándolo (si, lo sé tengo mil años haciéndolo) el cual es Hollow Knight, y otro el cual me encanta para pasar el rato jugando con amigos en HGC, ya que solíamos jugar demasiado al 1.6 y decidimos saltar a una versión más reciente, el cual es Counter Strike en su versión Global Offensive. Realmente, ambos juegos solían correr a una calidad bastante jugable, sobre todo HK, pero si es cierto que CS:GO solía tener varios bajones, por lo cual diría que con los gráficos integrados no era nada jugable.
In HK the game was already playable, the noticeable difference I could perceive was when recording, because before the work of doing it all fell on the poor AMD A4, so the recordings in programs like Bandicam came out very laggy. This time the improvement is quite noticeable as the processor is not doing all the work and deliberate that part to the GPU, so you can get decent performances recording in this game of 60 FPS, and without recording of +70.
En HK el juego ya era jugable, la diferencia notable que pude percibir fue a la hora de grabar ya que antes el trabajo de hacerlo recae todo en el pobre AMD A4, por lo que las grabaciones en programas como Bandicam salían muy laggeadas. Esta vez se nota bastante la mejora al no estar haciendo todo el trabajo el procesador y deliberar esa parte a la GPU, por lo que se puede conseguir unas performances decentes grabando en este juego de 60 FPS, y sin grabar de +70.
Well, in what is CS: GO if I ran into something unpleasant at first, I did not expect at any time, which if you've been in the situation of adapting a graphic to your PC is something that surprises to see it. And yes, nothing more and nothing less I detected that I was getting a bottleneck, at first I could not perceive it well as the game was going well, approximately I could say more than 50 fps in-game, but the performance dropped then and that was something that left me very confused, how can it go well at first and then suddenly drop to more than half of what it was doing? Confusing indeed.
Ahora bien, en lo que es CS:GO si me topé con algo desagradable al principio, no me lo esperaba en ningún momento, lo cual si has estado en la situación de adaptar una gráfica a tu PC es algo que realmente sorprende al verlo. Y sí, nada más y nada menos detecté que me estaba haciendo un cuello de botella, al principio no lo pude percibir bien ya que el juego iba bien, aproximadamente podría decir más de 50 fps en juego, pero el rendimiento bajó entonces y eso fue algo que me dejó muy confundido, ¿cómo puede ir bien al principio y de repente bajar a más de la mitad de lo que hacía? Confuso sin duda.
And yes, after talking quite a bit with risha I was able to realize by looking at the stats in the MSI Afterburner, the graphics at all times were maxing out at 50 percent of its capacity while the processor was always between 90 and 100 percent of continuous usage. However then fiddling a bit with the Catalyst driver options I was able to get it to take advantage of most (not all) of the time graphics, which allowed me to play in 720p at a quality of about 40-30 fps outdoors and 50 fps indoors, obviously this without recording.
Y sí, después de hablar bastante con risha me pude dar cuenta mirando las estadísticas en el MSI Afterburner, la gráfica en todo momento estaba al máximo del 50 por ciento de su capacidad mientras que el procesador estaba siempre entre el 90 y el 100 por ciento de uso continuo. Sin embargo luego trasteando un poco con las opciones del driver Catalyst pude conseguir que aprovechara la mayor parte del tiempo (no todo) la gráfica, lo que me permitió jugar en 720p a una calidad de unos 40-30 fps en exteriores y 50 fps en interiores, obviamente esto sin grabar.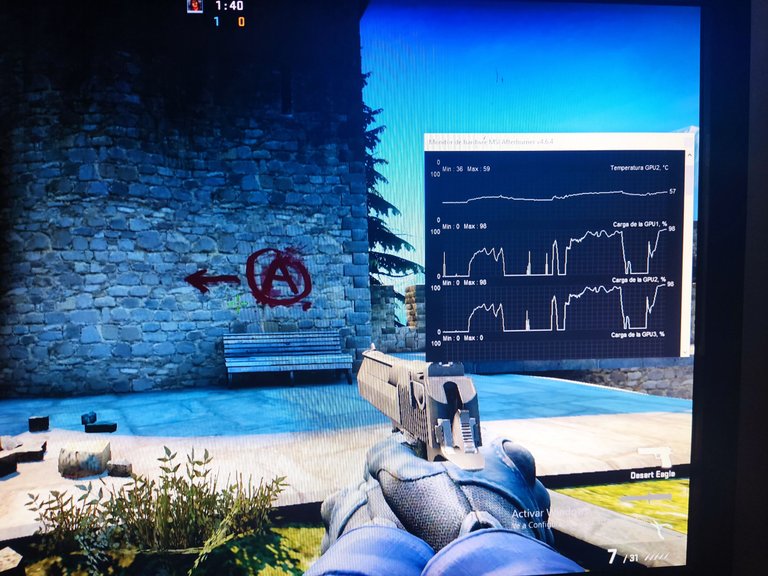 In conclusion, I think it is a good improvement, unfortunately, the bottleneck is a shame since it is a processor of the same year but it does not take away the playability. That yes, it is a good PC that will allow you to record in games not so demanding so if you are looking to make content is pretty good, I think with an i3 / i5 / i7 second generation onwards could go perfect and squeeze its full potential, and that's why I decided to go for this branch of processors and build a PC around it, but that I will tell in another post. If you have one of these PCs (especially those that come with processors like an i5 or i3) I recommend you to make the change, because for what it's worth I think it's a pretty powerful graphics card in all senses, so you can squeeze even more the potential of your CPU and not burden it with all the work. If you made it this far, thank you very much for reading, and see you in the next one.
En conclusión, creo que es una buena mejora, lastimosamente el cuello botella es una pena ya que es un procesador de su mismo año pero no le quita lo jugable. Eso sí, es una buena PC que te permitirá grabar en juegos no tan demandantes por lo que si buscas es hacer contenido es bastante buena, creo que con un i3 / i5 / i7 de segunda generación en adelante podría ir perfecto y exprimir todo su potencial, y es por eso que desconcertado decidí irme por esta rama de procesadores y armar una PC en torno a ello, pero eso lo contaré en otra publicación. Realmente si tienes uno de estos PC's (especialmente los que vienen con procesadores como un i5 o i3) te recomiendo dar el cambio, ya que para lo que vale creo que es una gráfica bastante rendidora en todos los sentidos, por lo cual podrás exprimir más aún el potencial de tu CPU y no cargarle todo el trabajo. Si llegaste hasta acá, muchas gracias por leer y, nos vemos en la siguiente.
---
All pics in this post are of my property.
-