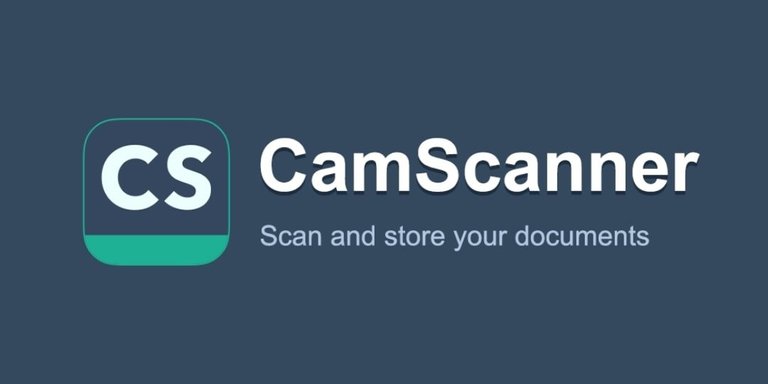 source
---
For a long time, we humans have realized how bulky can be the physical occupation of documents, if we go to the final of it in many cases tragically end up in the trash or being reused as recyclable sheets. I have been thinking about this for a long time and fortunately I have noticed that the people too have also realized how important it has been to digitize everything in order to have a freer use.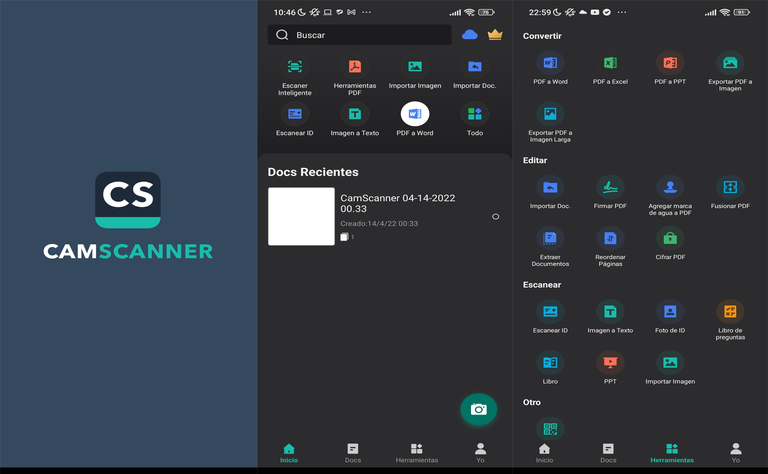 Long ago that many in places like the university or schools, in general, were participants annoying and repeated times had to print works of 50 pages, fortunately, as a result of virtual classes we have been understanding how useful it is the digitization of documents and that is why I bring an application that has served for scanning in general in an intelligent and simple way that no other application has offered me so far, CamScanner.
CamScanner is basically as its name suggests an application that allows our smartphone to do the job that for example we did with printers years ago that is to scan them to have them in a single file. As I indicated the work above is that CamScanner not only focuses on scanning documents but gives us options to scan photos and also gives options to digitize signatures.
It is on Android - and iOS and is free, although it has micropayments on the app.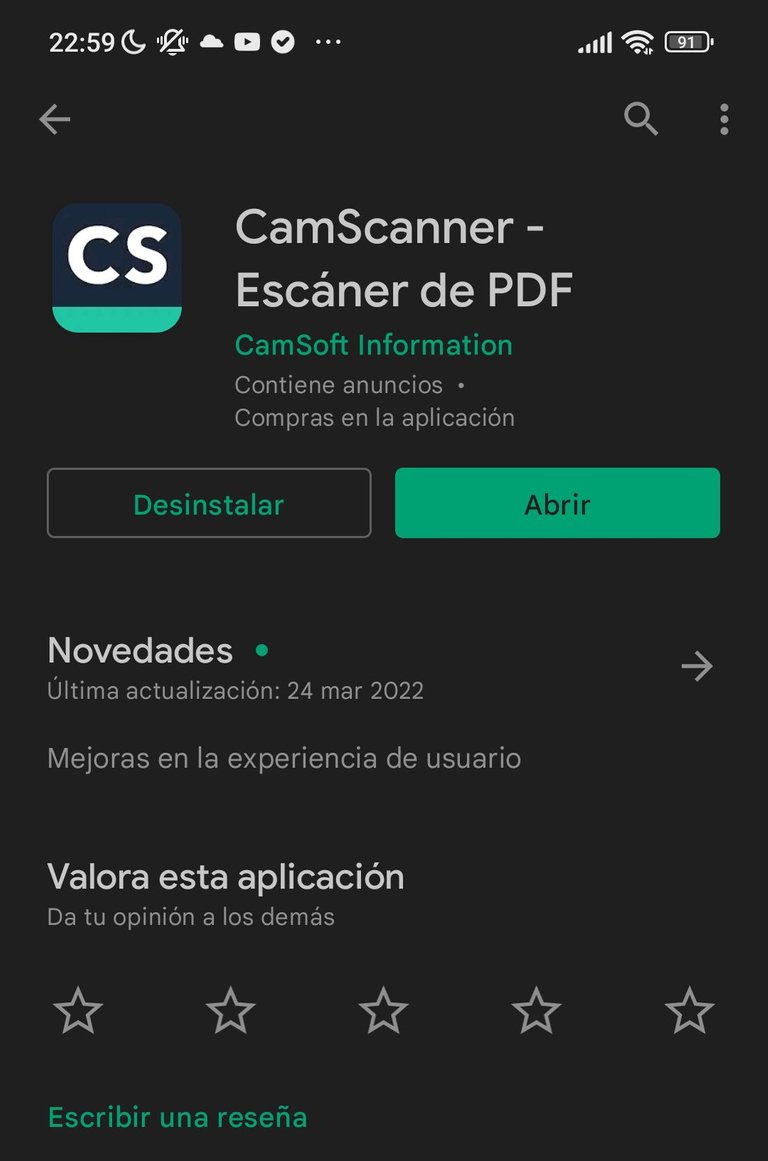 -
simple and useful.
What I like about it is how intuitive it is, and it often happens that there are applications such as ''Notion'' with which you usually feel quite lost and it's necessary to dig into a tutorial on the internet to learn how to use it. With CamScanner is the opposite, because as soon as you start it will give you a tutorial on how to start using it, which is not complicated at all, and it also gives you access to other types of uses in addition to the documents I mentioned.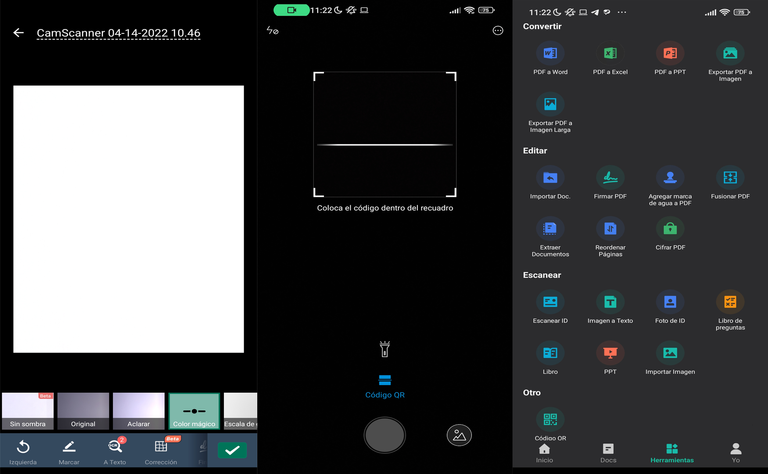 I summarize it as a useful application, its uses are focused on scanning in general and it will allow us several modes that will focus on what we are looking for either a document, a photograph, a presentation, an ID, etc.. In addition to the section on allowing us to digitize signatures in case they are needed, something curious and useful is that for example in my case in college last semester I was doing mandatory community service, and to be watching online will not know how many times I had to sign papers, which saved me a lot.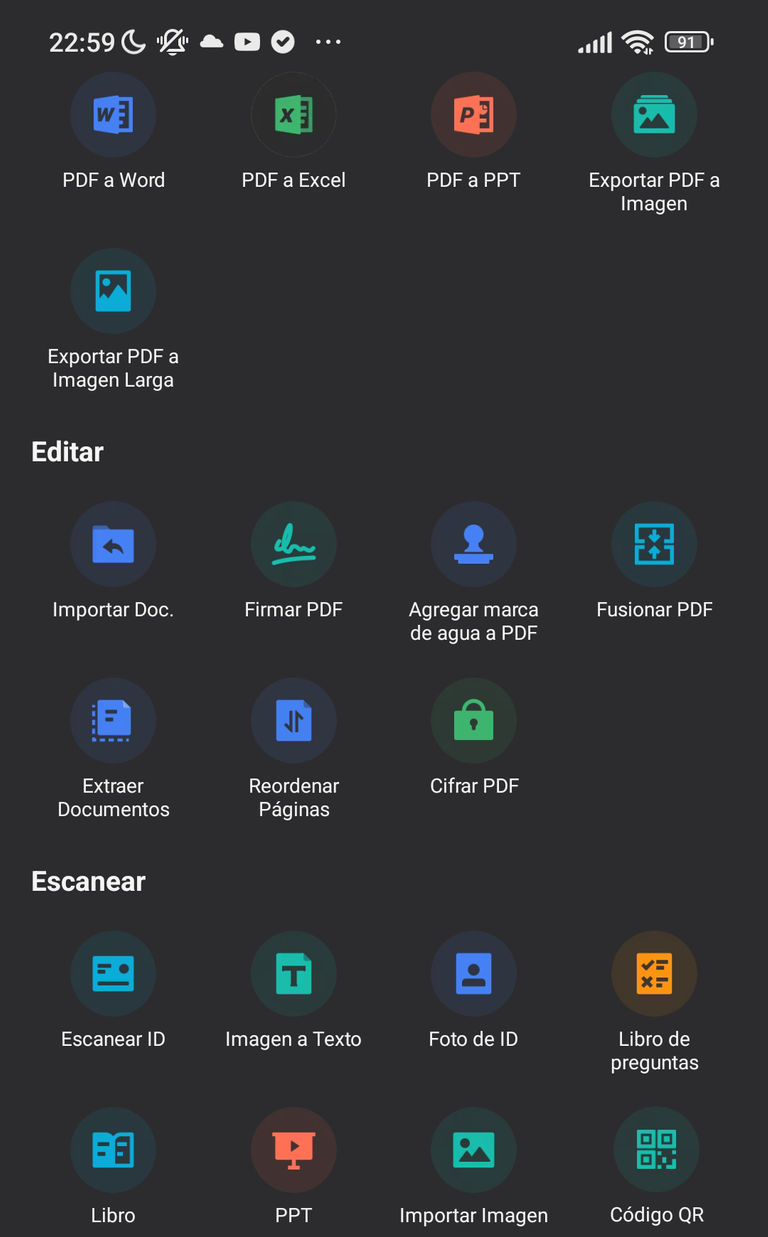 Convert.
It also allows you to convert files, specifically documents, many times we need to present in a certain format either because the teacher requires it in case you are studying or also because you do not want to mess up anything you did. CamScanner allows you to convert from PDF to various formats such as DOCX, PPT, PNG, or JPEG, apart from being able to export the scanned photos in question to the format of your choice which makes everything easier.
Once you want to scan in a normal way by clicking on the camera icon, you will be able to navigate through the different options it allows you to capture in a centered way and choose between permanent flash (flashlight mode) or in a traditional way. Then you can take repeated scans and reorder them in the way you find more comfortable and as I said before you can export them in the document format of your preference, and even if you want them to be by images or what ever be the format you want.
-
My favorite part is perhaps when we find those old photos that we developed before a camera and we want to use them in some social network, I have tried several scanners of photos/documents / etc. and certainly where I have noticed the best results of sharpness and clarity than other apps. The flaw of many scanners is that they do not usually capture the traces of the photos clearly and practically look as if we take it dry with the cell phone or worse, which does not help.
It also allows us to put some filters on the images we take, this is quite useful if for example you are in the middle of an exam or a written work and you need everything to be understood to the letter. Many times it happens that the way we take the picture completely spoils the understanding of it, for this if you are in a hurry and do not want to move you can apply a filter that highlights the clarity, in addition to being able to retouch some settings of it.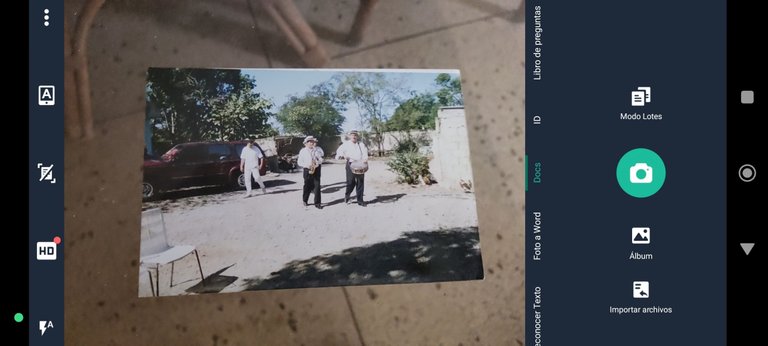 Why CamScanner and not others already in the app store? I think my answer is oriented to the type of user that I am, I prefer to have an application that brings together several utilities than having several applications that bring together a single one. As I explained before, CamScanner is an application that has a pretty big added value and this kind of application is worth having the space stored in your cell phone without any doubt.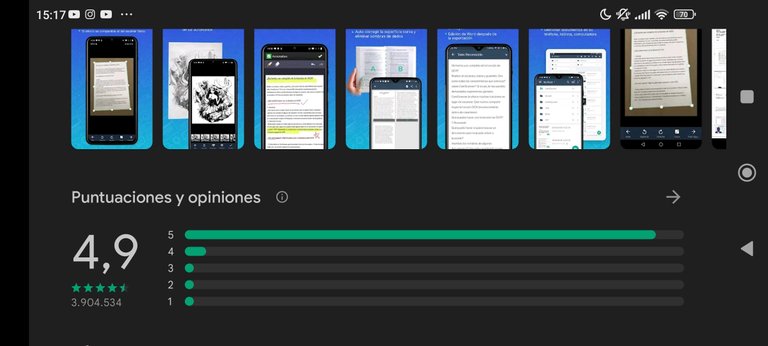 Many times I have seen people who only take pictures of documents or physical photographs that need to be digitized, either just to publish them or because they prefer to upload them to the cloud. In my case, it usually happens that in my house there are large amounts of albums of old developed photos and this has been a very useful and simple way to save that space by simply uploading those photos to the cloud and thus freeing up considerable space in what was a room full of those of it.
If you have already tried it, or you are interested in doing so, let me know what you think and how has been your experience with it. I hope that I know that there are many people with a similar case to mine who can solve that and even serve as a tool when having to send any document of any kind. If you have made it this far, thank you very much for reading, and see you in the next one.
---
Español
---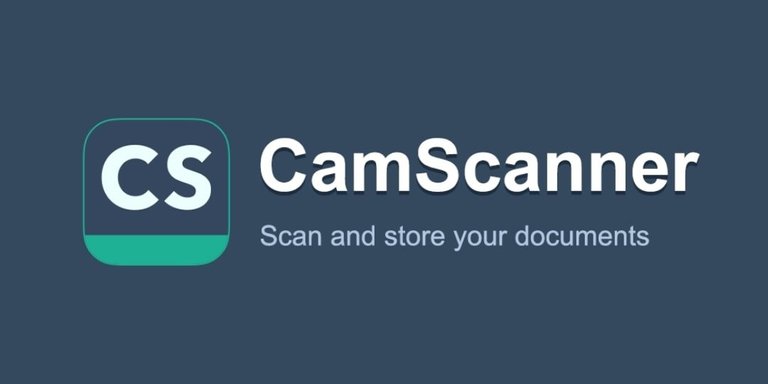 source
---
Desde hace tiempo que los humanos nos hemos dado cuenta de lo aparatosos que pueden ser la ocupación física de documentos, si vamos al papel real de los mismos en muchas ocasiones terminan de forma trágica en la basura o siendo reutilizados como hojas reciclables. Desde hace tiempo que era algo que pensaba y afortunadamente he ido notando que las personas en general también se han dado cuenta de lo importante que ha sido digitalizar todo, dándole un uso más libre.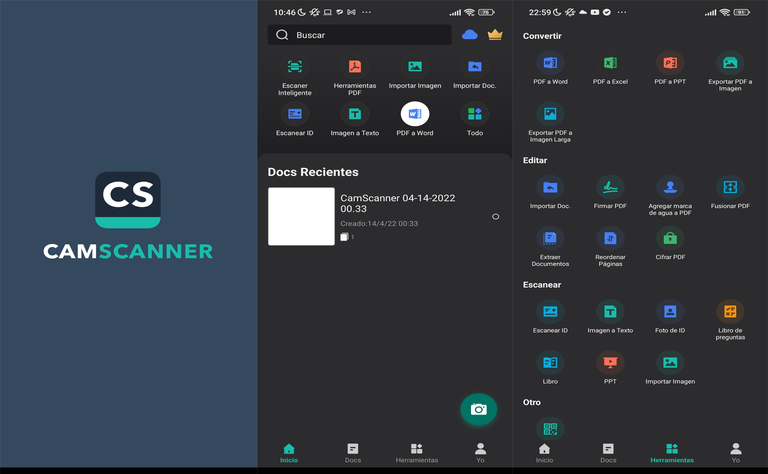 Hace tiempo que muchos en sitios como la universidad o el colegio en general éramos participes de molestas y reiteradas veces que tocaban imprimir trabajos de 50 páginas, afortunadamente a raíz de las clases virtuales hemos ido entendiendo lo útil que es la digitalización de documentos y es por esto que traigo una aplicación que ha servido para el escaneo en general de forma inteligente y sencilla que ninguna otra aplicación me ha ofrecido hasta el momento, CamScanner.
CamScanner es básicamente como su nombre lo indica una aplicación que permite hacer que nuestro smartphone realice el trabajo que por ejemplo hacíamos con impresoras años atrás que es escanear a los mismos para poder tenerlos en un solo archivo. Como indiqué el trabajo anteriormente es que CamScanner no se centra solo en el escaneo de documentos, sino que nos da opciones para poder escanear fotos y además de esto da opciones de poder digitalizar firmas.
Se encuentra tanto en Android - como en iOS y es gratuita, aunque cuenta con micropagos.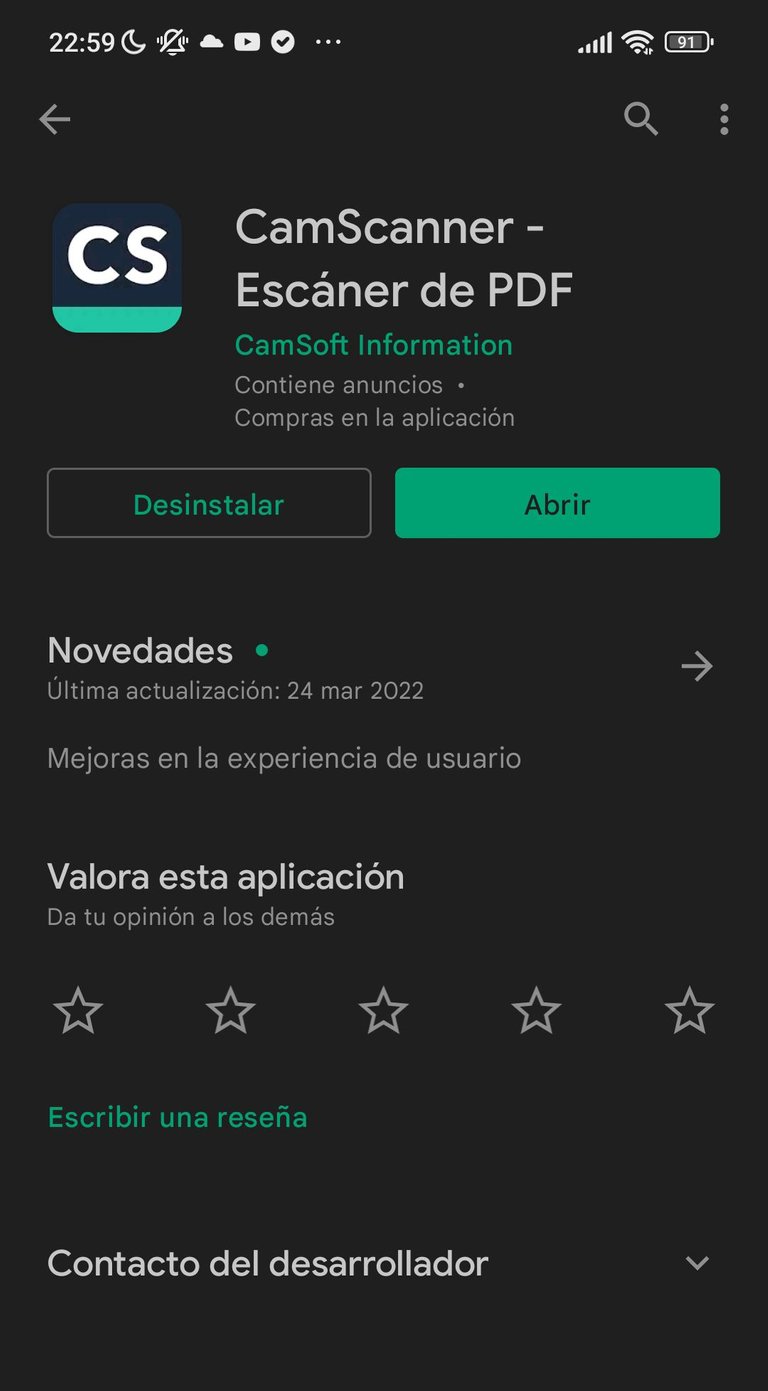 -
Simple y útil.
Lo que me gusta de ella es lo intuitiva que es, y es que muchas veces sucede que hay aplicaciones como por ejemplo ''Notion'' con las que sueles sentirte bastante perdido y es necesario indagar en un tutorial en internet para aprender como usarla. Con CamScanner pasa todo lo contrario ya que ella misma apenas comienzas te dará un tutorial de como empezar a usarla lo cual no es para nada complicado, además de darte acceso a otro tipo de usos además de como indiqué documentos.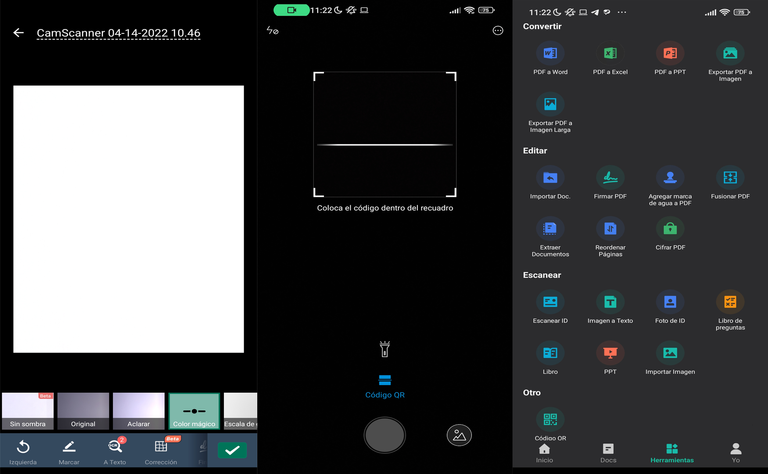 Yo la resumo a ella como una aplicación de utilidad, sus usos son centrados en el escaneo en general y ella nos permitirá varios modos que se enfocarán en lo que estemos buscando ya sea un documento, una fotografía, una presentación, una ID, etc. Además del apartado de permitirnos digitalizar firmas en caso de que se ameriten, algo curioso y útil es que por ejemplo en mi caso en la universidad el semestre pasado estuve haciendo servicio comunitario obligatorio y al estar viendo de forma online no sabrán las veces que tuve que firmar papeles, lo cual me salvó bastante.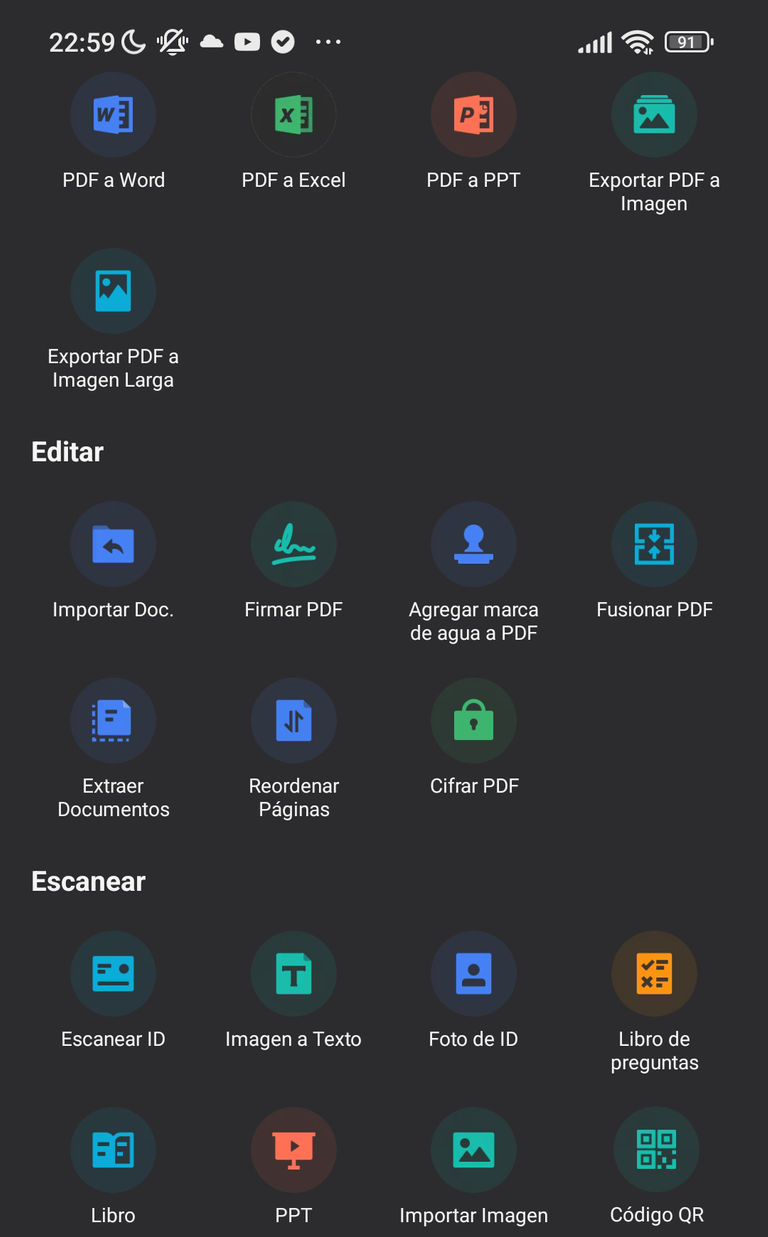 Convertir.
También permite convertir archivos, específicamente documentos, muchas veces necesitamos presentar en determinado formato ya sea porque te lo requiere el profesor en caso que estés estudiando o también porque quieras que no se descuadre nada de lo que hiciste. CamScanner permite convertir de PDF a varios formatos como DOCX, PPT, PNG o JPEG, aparte de poder exportar las fotos escaneadas en cuestión al formato de tu preferencia que nos hace todo más sencillo.
Una vez deseas escanear de forma normal dándole al ícono de una cámara, podrás navegar en las diferentes opciones que te permite además de poder capturar de forma centrada y elegir entre flash permanente (modo linterna) o de forma tradicional. Luego puedes tomar reiterados escaneos y reordenarlos en la forma que te parezca más cómoda y como dije anteriormente puedes exportarlo en el formato de documento de tu preferencia, hasta en fotos.
-
Mi parte favorita es quizás cuando encontramos esas fotos antiguas que revelamos ante una cámara y queremos usarlas en alguna red social, he probado varios escáners de fotos / documentos / etc y sin duda donde he notado los mejores resultados de nitidez y claridad que otras apps. El defecto de muchos escáners es que no suelen captar los rastros de las fotos de forma clara y prácticamente se ven como si la tomásemos a secas con el celular o peor, algo malísimo.
También ella permite poner algunos filtros en las imágenes que tomamos, esto es bastante útil si por ejemplo estás en medio de un examen o un trabajo escrito y necesitas que todo se entienda al pie de la letra. Muchas veces suele suceder que la forma en como tomamos la foto estropea por completo el entendimiento de la misma, para esto si estás en muchos apuros y no quieres moverte puedes aplicar un filtro que evidencie la claridad, además de poder retocar algunos ajustes de ella.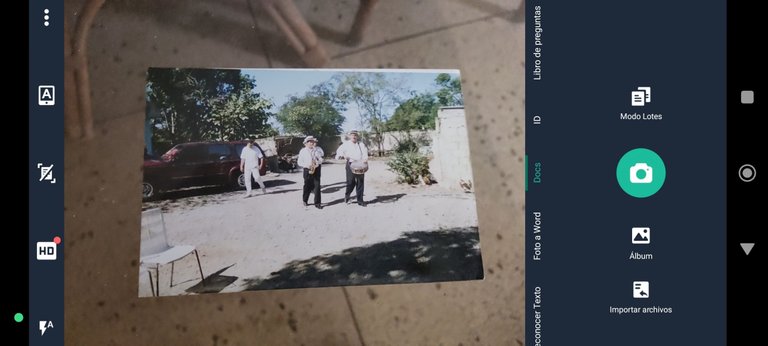 ¿Por qué CamScanner y no otros ya existentes en la tienda de aplicaciones? Creo que mi respuesta va orientada a el tipo de usuario que soy, prefiero tener una aplicación que reúna varias utilidades que tener varias aplicaciones que reúnan una sola. Como expliqué antes, CamScanner es una aplicación que tienen un valor agregado bastante grande y este tipo de aplicaciones son de las cuales vale tener el espacio almacenado en tu celular sin duda alguna.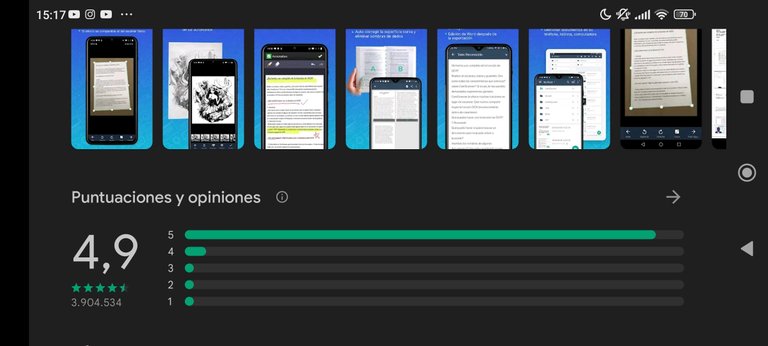 Muchas veces he visto gente que solo toma fotos a los documentos o fotografías físicas que requieren digitalizar, ya sea por sólo publicarla o porque prefieren subirla a la nube. En mi caso suele pasar que en mi casa hay grandes cantidades de álbumes de fotos reveladas a la antigua y esta ha sido una manera muy útil y sencilla de poder ahorrar ese espacio simplemente subiendo esas fotos a la nube y así liberar un espacio considerable de lo que era un cuarto o closet llena de ellas.
Si ya la has probado, o te interesa hacerlo cuéntame que tal te parece y como ha sido tu experiencia con ella. Ya espero que sé que hay muchas personas con un caso parecido al mío puedan solucionar eso y que incluso sirva como una herramienta a la hora de tener que mandar cualquier documento. Si has llegado hasta acá muchísimas gracias por leer y nos vemos en la siguiente.
---
The pics used in this post without source were taken by me.
-