¿Qué tal todo? Luego de casi un mes inactivo por acá vuelvo con un poco sobre reparación de computadoras. En la cuenta secundaria si estuve publicando bastante pero por acá como soy un poco más selectivo con el contenido, no había producido mucho.
Este nuevo año empezó bastante movido, tanto en cuanto a nuevas responsabilidades como retos que afrontar. Hace poco se abrió una puerta que promete bastante en cuanto a lo que puedo traer al blog, sin embargo no es prudente ser impulsivo y dar por hecho lo que ha de venir, toca ser paciente. Pero bueno, pasada esta pequeña introducción entremos en materia.
What's up? After almost a month of inactivity I'm back with a little bit about computer repair. In the secondary account I have been posting a lot but here as I am a little more selective with the content, I had not produced much.
This new year started quite busy, both in terms of new responsibilities and challenges to face. Recently a door opened that promises a lot in terms of what I can bring to the blog, however it is not wise to be impulsive and take for granted what is to come, it is time to be patient. But well, after this little introduction, let's get down to business.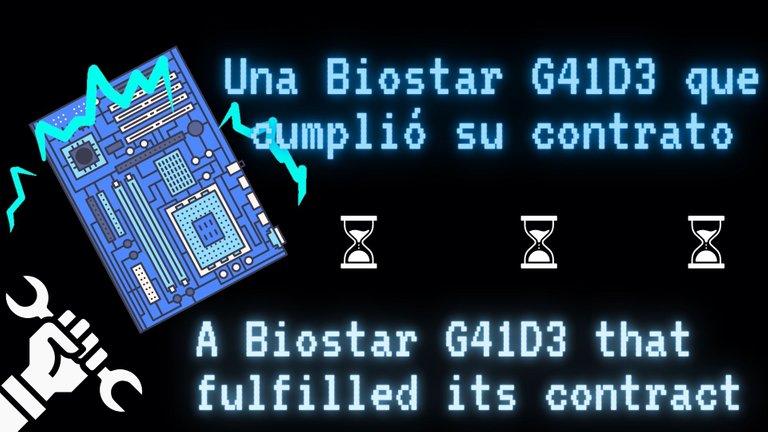 El "paciente" de hoy es un computadora con una placa Biostar "G41D3", esta actualmente está descontinuada. En cuanto a su fecha de lanzamiento, se ubica antes del 2012 según estuve investigando. Traté de usar ChatGPT para ver si me ayudaba a ser más preciso con la fecha pero no dio tan buenos resultados. Esta placa me llegó con problemas para reconocer el disco duro y luego empezó a fallar en el arranque para posteriormente dejar de dar video.
Ya estaba muy tocada por el desgaste del tiempo. A pesar de no haber sido usada por una temporada, tuvo sus días de gloria y gran utilidad en la familia que la frecuentaba.
Para este reto tuve varias trabas importantes pues el presupuesto no era muy grande por lo que debía aprovechar el resto de piezas en la nueva placa. Estas fueron 1 fuente de poder de 500w, 1 disco duro HDD e 80gb, 2 cables SATA, 1 unidad de DVD y un módulo de memoria ram DDR3 de 1GB 1333.
La búsqueda se prolongó más de una semana hasta que se dio la oportunidad en una empresa a la que he prestado servicio técnico a las computadoras y en menor medida, de apoyo en el uso de alguna herramienta de software.
La placa sustituta fue de hecho muy similar a la que ya cumplió su vida útil. Se trato de una Biostar G4D3C. Procedí a limpiarla, luego aplicarle pasta térmica y luego ponerla a prueba. Es entonces cuando tuve algunos inconvenientes.
Today's "patient" is a computer with a Biostar "G41D3" motherboard, this one is currently discontinued. As for its release date, it is located before 2012 according to what I was researching. I tried using ChatGPT to see if it would help me be more accurate with the date but it didn't give such good results. This board came to me with problems recognizing the hard drive and then it started to fail to boot and subsequently stopped giving video.
It was already badly affected by the wear and tear of time. In spite of not having been used for some time, it had its days of glory and great utility in the family that frequented it.
For this challenge I had several important obstacles because the budget was not very big so I had to take advantage of the remaining parts in the new board. These were 1 500w power supply, 1 HDD 80gb hard drive, 2 SATA cables, 1 DVD drive and a 1GB 1333 DDR3 ram memory module.
The search went on for over a week until the opportunity arose at a company I have serviced computers and to a lesser extent, support in the use of some software tool.
The replacement board was in fact very similar to the one that had reached its useful life. It was a Biostar G4D3C. I proceeded to clean it, then apply thermal paste and then put it to the test. That's when I had some problems.



Source / Fuente: Biostar Official Page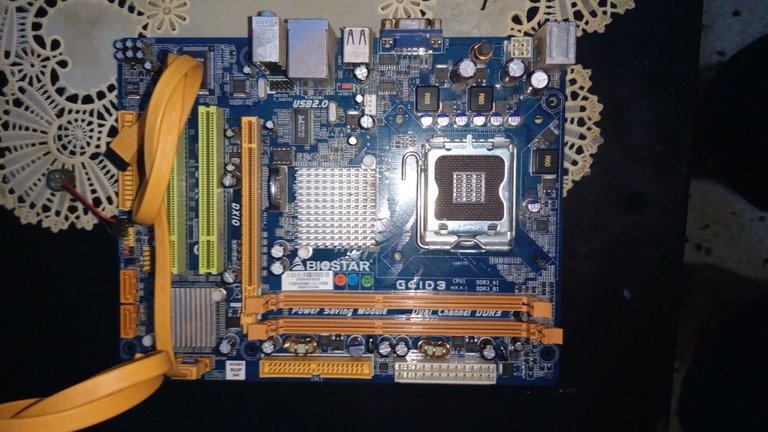 Damaged motherboard / Placa dañada, Biostar G41D3. Foto Original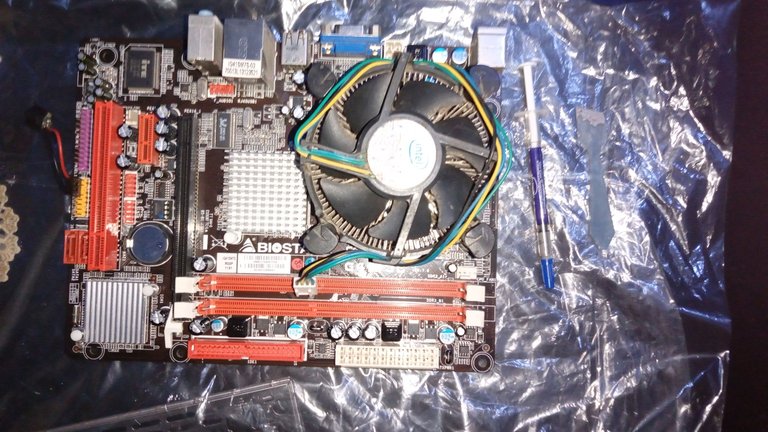 Replacement motherboard / Placa sustitua, Biostar G41D3C. Foto Original

Los problemas empezaron con fallas a la hora de mostrar video, para resolverlo cambié el procesador por uno igual que tenía guardado. Cometí el error de cambiar la pasta antes de probarlo, por lo que malgaste una pequeña cantidad, una novatada a tomar en cuenta en el futuro.
Había dado por sentado su funcionamiento a tal punto que me percaté de la falla cuando ya tenía todo armado, esa novatada me costó un tiempo en volver a desarmar, ajustar todo fuera del case para luego hacer el cambio de procesador y ver si no seguía insistiendo en la misma falla o se recalentaba.
Posterior a eso vino el trabajo de software, a pesar de que me habían asegurado que el disco ya tenía un buen tramo adelantado, tuve que reinstalar el sistema, el paquete office, el navegador, reproductor VLC, lector de PDF y todo lo indispensable para su funcionamiento. Luego toco rearmar y poner a prueba varias veces, en ese proceso me percaté de que la unidad de DVD también tiene fallas por lo que la desconecté pero no la retire.
Esta máquina quedó con un procesador Dual Core, 1 módulo DDR3 de 1Gb, 80gb de almacenamiento interno, S.O Windows 7 Ultimate y poco más. Está bastante descontinuada, sin embargo aún admite más memoria Ram por lo que es menester llevarla a 4Gb y darle un poco más de utilidad en ofimática y trabajos menores que es para lo que califica.
The problems started with failures at the time of displaying video, to solve it I changed the processor for an identical one that I had saved. I made the mistake of changing the paste before testing it, so I wasted a small amount, a hazing to take into account in the future.
I had taken for granted its operation to such an extent that I noticed the failure when I had everything assembled, that hazing cost me some time to disassemble again, adjust everything out of the case and then change the processor and see if it did not continue to insist on the same failure or overheated.
After that came the software work, although I had been assured that the disk already had a good stretch ahead, I had to reinstall the system, the office package, the browser, VLC player, PDF reader and everything necessary for its operation. Then I had to reassemble and test several times, in this process I realized that the DVD drive also has failures so I disconnected it but did not remove it.
This machine was left with a Dual Core processor, 1 DDR3 module of 1Gb, 80gb of internal storage, S.O Windows 7 Ultimate and little else. It is quite discontinued, however it still supports more Ram memory so it is necessary to take it to 4Gb and give it a little more utility in office and minor work that is what it qualifies for.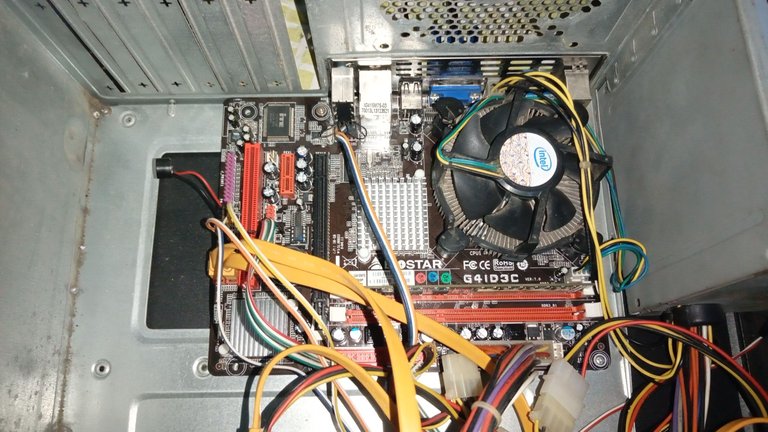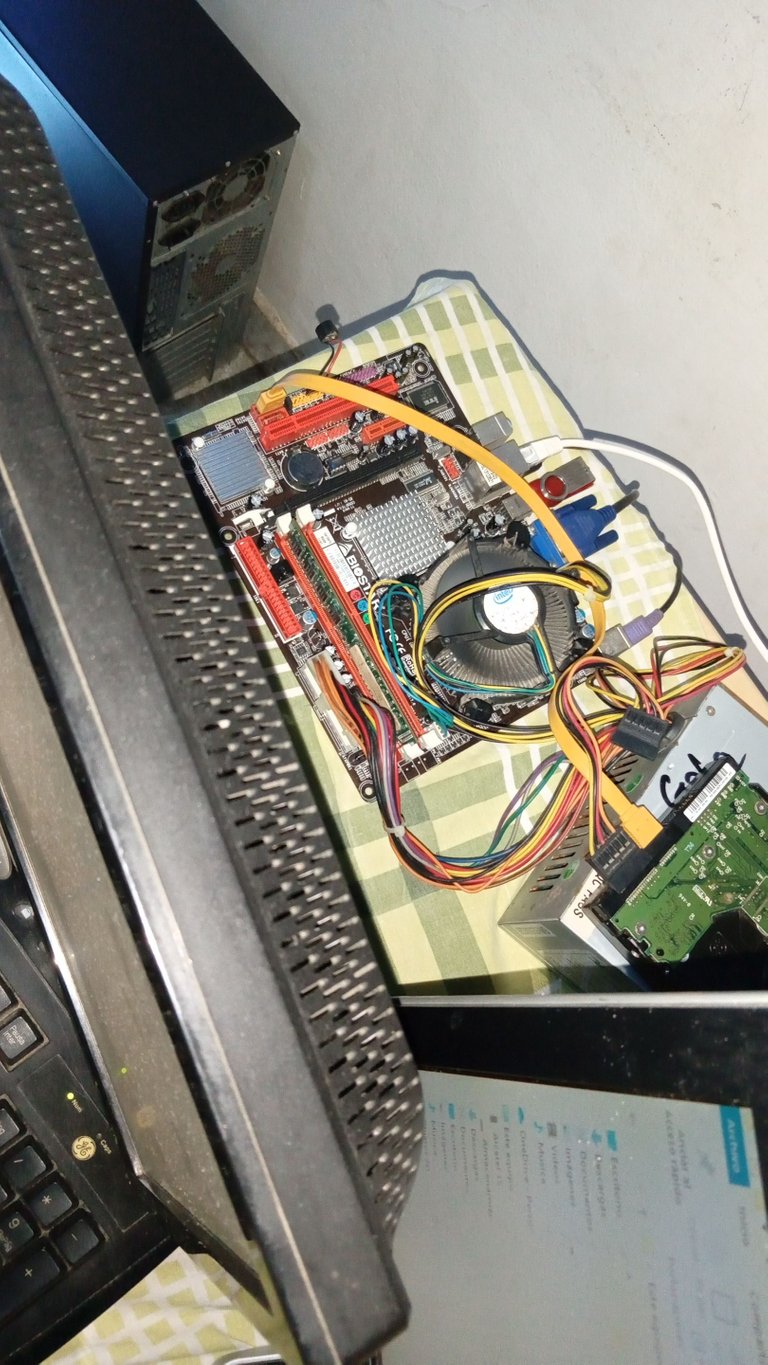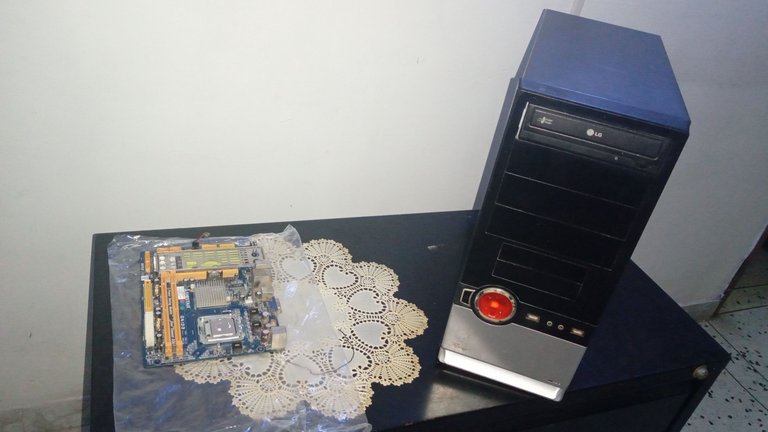 Fotos originales



---
Puedes seguirme por acá si lo deseas:
You can follow me here if you want: