English
Greetings to all, fellow Hivers who love technology, this time I would like to share with you a brief unboxing of a Mercusys router that I bought recently, specifically a couple of hours ago.
Español

Saludos a todos, compañeros Hivers amantes de la tecnología, en esta ocasión me gustaría compartir con ustedes un breve unboxing de un router marca Mercusys que compré recientemente, expecíficamente hace un par de horas.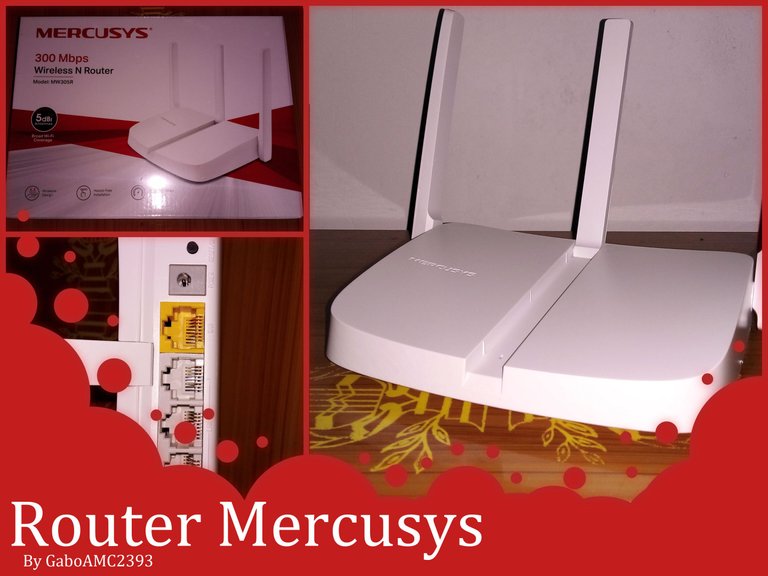 ---
English
I didn't buy it for my house, because I don't have internet at home, but I use my phone data, but I always travel to my mom's house to connect to the internet; in fact, almost every day I travel there, so I thought it was a good idea to buy this router since the previous one was giving failures.
What was wrong with it? Well, it used to turn off all of a sudden and then turn on by itself after a couple of seconds. I remember that I replaced a part a couple of months ago and this problem was solved, but it showed this problem again so I decided it was time to replace it.
Below is a picture of the old router:
Español
No lo compré para mi casa, porque en mi casa no tengo internet, sino que uso los datos del teléfono, pero siempre viajo a casa de mi mamá para conectarme en internet; de hecho, casi todos los días viajo para allá, así que me pareció buena idea comprar este router ya que el anterior estaba dando fallas.
¿Qué fallas estaba dando? Pues solía apagarse de repente y se encendía solo luego de un par de segundos. Recuerdo que le cambié una pieza hace un par de meses y este problema se solucionó, pero volvió a mostrar esta problemática así que decidí que ya era hora de reemplazarlo.
A continuación una foto del viejo router:
---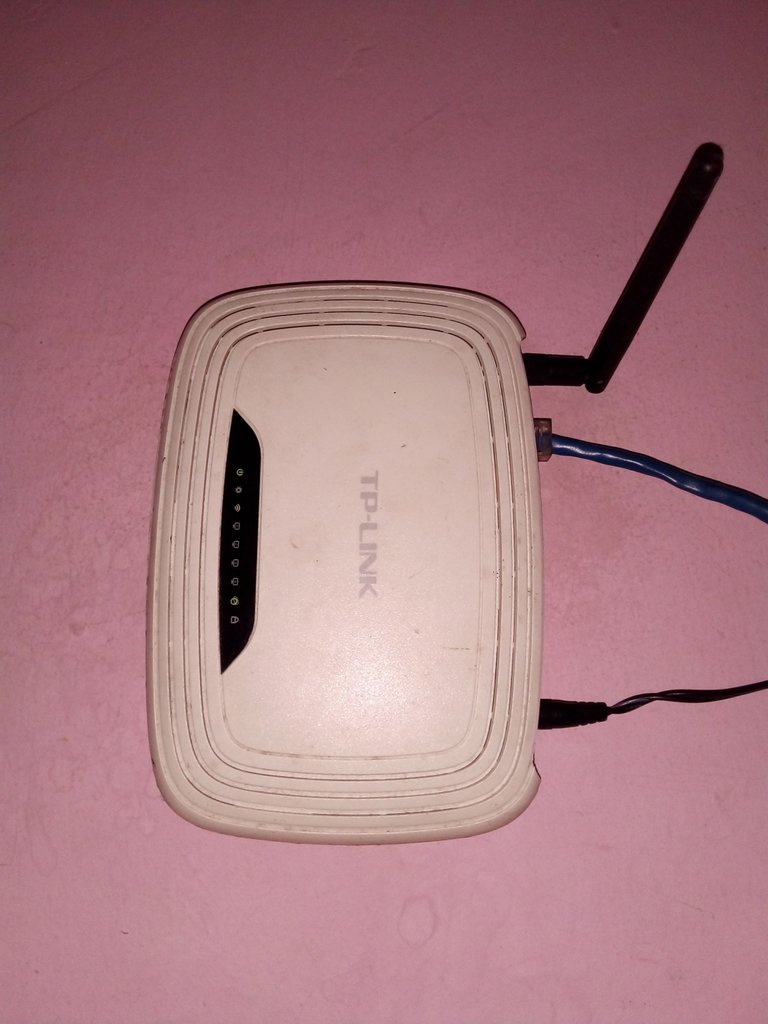 ---
Although it is a TP-Link branded device, it was certainly showing those faults I mentioned and sooner rather than later it would turn itself off again and not turn on anymore, so better to replace it now before it gets damaged rather than having to look for a replacement in a hurry.
As I said, I usually connect to the internet at my mother's house, so replacing this equipment would not only benefit the family, but me as well, as it would allow me to have a more stable connection. For example, as for 3speak videos, I will no longer have to pray to God that the router doesn't shut down while I upload a video, but I will be able to upload them with complete peace of mind....
As for specifications, in the box you can see some of this Router:
-300Mbps, a speed that I imagine is closely linked to the speed of our internet. But I imagine that this speed is fulfilled at the time of making transmissions of files through the local network.
-Easy installation. It is certainly easy to install it.
-Easy to use. Yes, it is easy to use, connect, reboot and configure.
-It has three antennas, as shown in the picture on the box. Something very beneficial because it allows greater range.
Aunque es un equipo de marca TP-Link, ciertamente estaba mostrando esas fallas que ya mencioné y más temprano que tarde volvería a apagarse por sí solo y no encendería más, así que mejor reemplazarlo ahora antes de que se dañe en lugar de tener que buscar un reemplazo de manera apresurada.
Como ya dije, yo normalmente me conecto a internet en casa de mi madre, así que hacer el cambio de este equipo no solo beneficiaría a la familia, a mi también, ya que me permitiría tener una conexión más estable. Por ejemplo, en cuanto a los videos de 3speak ya no tendré que rogar a Dios para que no se apague el router mientras subo un video, sino que podré subirlos con total tranquilidad...
En cuanto a especificaciones, en la caja se pueden observar algunas de este Router:
-300Mbps, una velocidad que imagino va muy ligada con la velocidad de nuestro internet. Pero imagino que esta velocidad se cumple a la hora de hacer trasmisiones de archivos a través de la red local.
-Fácil instalación. Ciertamente es fácil instalarlo.
-Fácil uso. Sí, es fácil usarlo, conectarlo, reiniciarlo y configurarlo.
-Cuenta con tres antenas, tal como se observa en la foto de la caja. Algo muy beneficioso pues permite mayor alcance.
---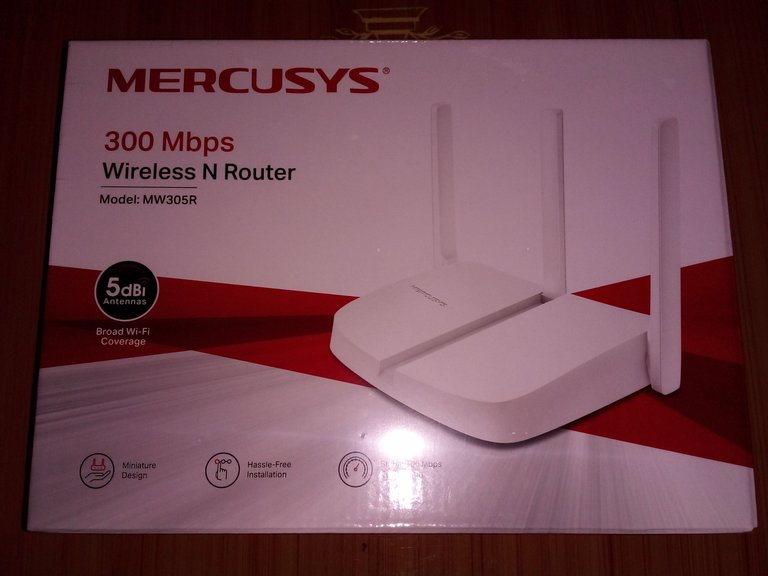 ---
The device comes with what most of the accessories that come with these devices: the power cable, the internet cable and the router itself.
As for the charger, it has the following specifications:
Input: 100-240v ~ 50/60Hz 0.3A
Output: 5V - 0.6A
El dispositivo trae lo que la mayoría de los accesorios que vienen con estos equipos: el cable de alimentación, el cable de internet y el propio router.
En cuanto al cargador, tiene las siguientes especificaciones:
Input: 100-240v ~ 50/60Hz 0.3A
Output: 5V - 0.6A
---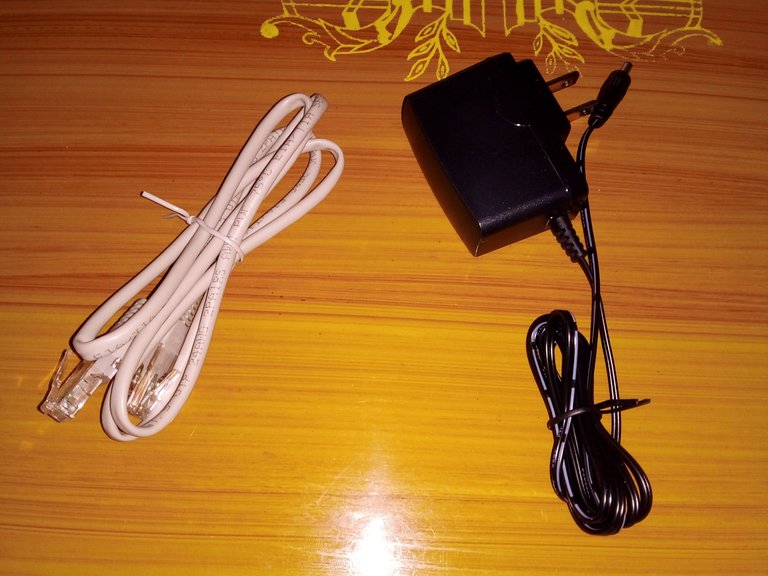 ---
The type of internet cable that brings is a RJ45 that is connected to the modem and the router itself, in this case in the yellow connector, the other ports are to distribute the internet to other devices.
El tipo de cable de internet que trae es un RJ45 que va conectado en el moden y en el propio router, en este caso en el conector de color amarillo, los otros puertos son para distribuir el internet hacia otros dispositivos.
---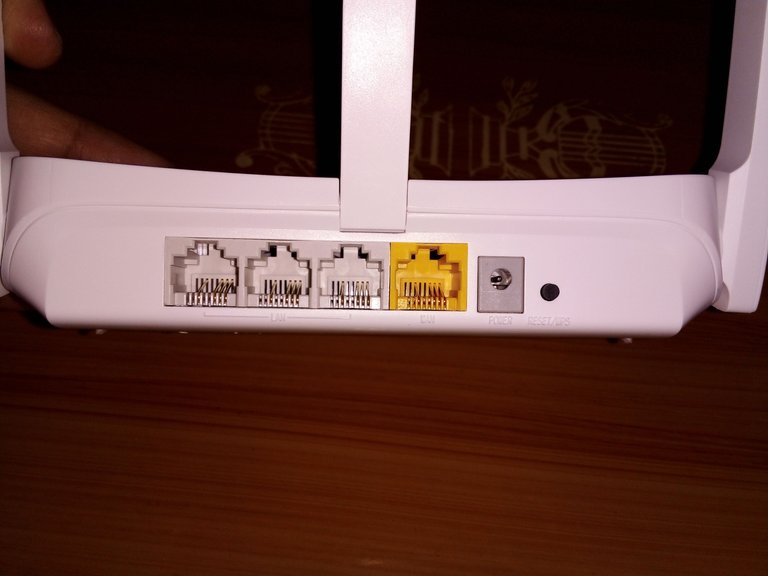 ---
As for its installation, it is certainly quite simple. You simply place its power cable and connect the rj45 cable, which will serve as a link between the modem and the router.
In fact, in the manual you will find all the steps to follow to connect and configure the device, so that there is network and internet in the house.
En cuanto a su instalación, ciertamente es bastante sencilla. Simplemente se coloca su cable de alimentación y se conecta el cable rj45, el cual servirá de nexo entre el modem y el router.
De hecho, en el manual se encuentran todos los pasos a seguir para conectar y configurar el dispositivo, para que haya red e internet en la casa.
---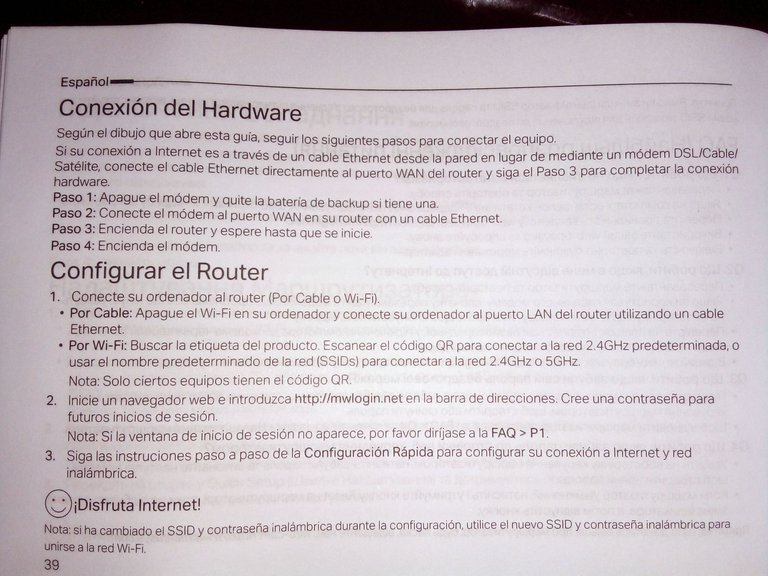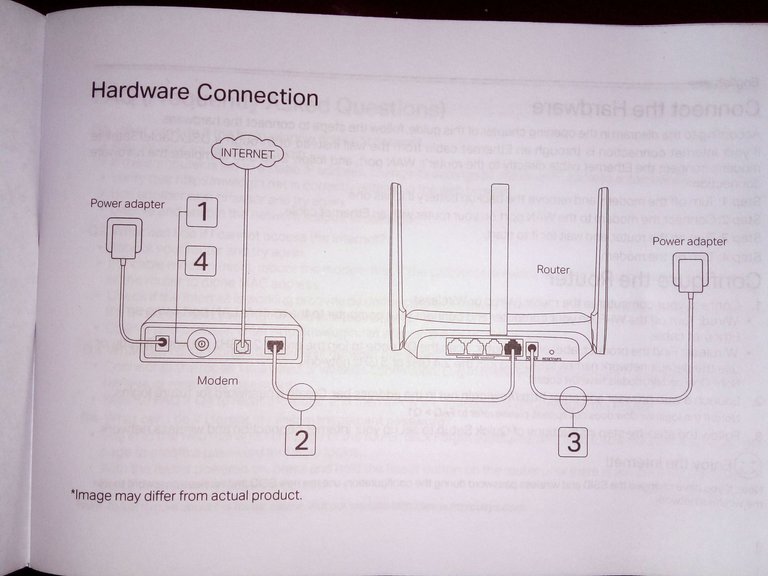 ---
In my case I left it hanging on the wall, in an area where it can distribute internet to the whole house.
En mi caso lo dejé colgado a la pared, en un área donde puede distribuir internet a toda la casa.
---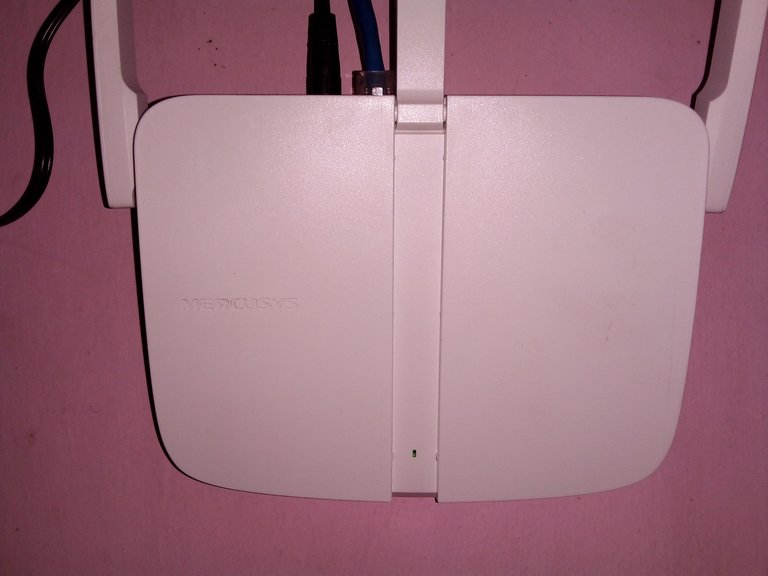 ---
---
As for its range, due to its three antennas, it allows me to distribute the internet over a fairly large area of the house, approximately more than 20 meters around; this is a much greater range than the previous router, which only distributed internet to a couple of rooms of the house at most.
Well friends, this has been all for now, for my part I am very happy with my new acquisition because it will allow me to work with more tranquility.
I invite you to leave your opinions below in the comments, as always I will be happy to read them, without more to add, I say goodbye then....
See you next time!
....
En cuanto a su alcance, debido a sus tres antenas, me permite distribuir el internet por un área bastante extensa de la casa, aproximadamente más de 20 metros a la redonda; este es un alcance mucho mayor al del router anterior, que solo distribuía internet a máximo un par de habitaciones de la casa.

Bien amigos, esto ha sido todo por ahora, por mi parte estoy mi contento con mi nueva adquisición porque me permitirá trabajar con mayor tranquilidad.

Los invito a dejar sus opiniones abajo en los comentarios, como siempre estaré encantado de leerlos, sin más que agregar, me despido entonces...



¡Hasta la próxima!
---
---

Traducido con DeepL
Últimos tres post/Last three posts:
Alto's Odyssey: Modo Zen - Sandboard
Colors
⭐ Foami & anime fusion ⭐ Contest: Optimus Prime

The Terminal

HiveDIY