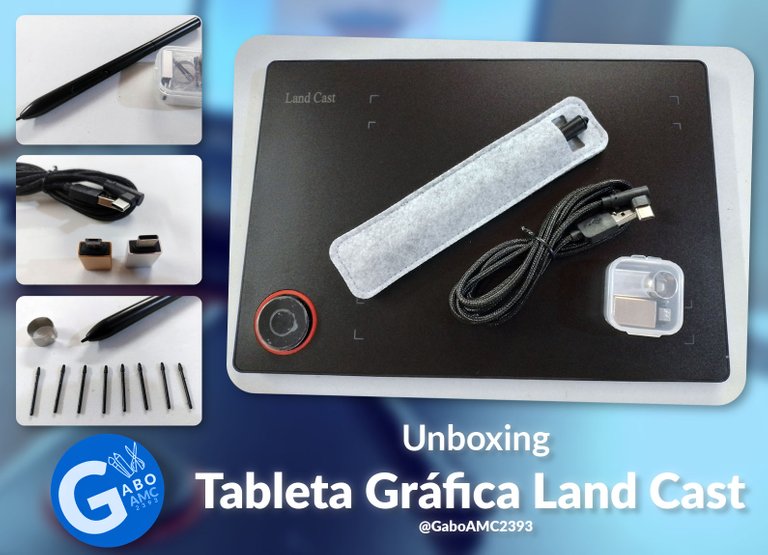 ---
English
The other day I ordered through a certain virtual store a graphic tablet quite cheap to start drawing with this kind of tools.
The truth is that I have never drawn with a graphic tablet, I almost always do my digital drawings using the mouse of the pc or my finger, with the touch pad of the laptop. It's not easy that way, but I do what I can.
Well, recently the graphic tablet I had ordered arrived, a fairly inexpensive one that will allow me to see what I can do with this tool and get used to the use of these devices.
Español
El otro día ordené por cierta tienda virtual una tableta gráfica bastante económica para comenzar a dibujar con este tipo de herramientas.
La verdad nunca he dibujado con tableta gráfica, casi siempre hago mis dibujos digitales usando el mouse de la pc o el dedo, con el touch pad de la laptop. No es fácil así, pero hago lo que puedo.
Pues bien, hace poco llegó la tableta gráfica que había ordenado, una bastante económica que me permitirá ver qué puedo hacer con esta herramienta e ir acostumbrándome al uso de estos dispositivos.
---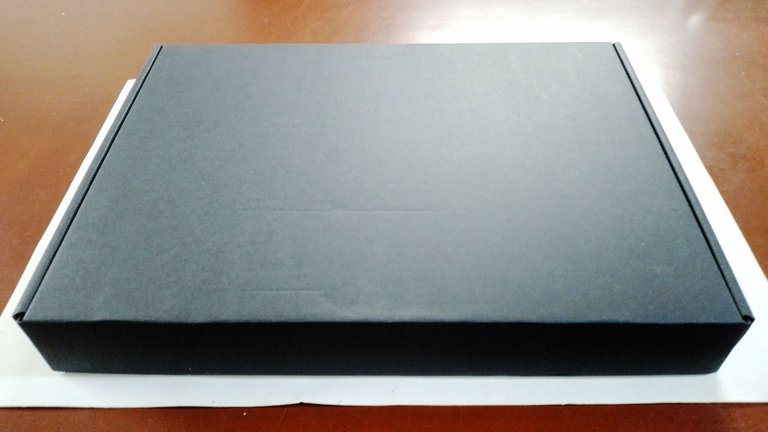 ---
According to the product description, it is a Land Cast 8x6. I don't know too much about graphic tablet brands, but I suppose there will be better brands that one can become familiar with as one develops more in digital drawing.
As you can see, the product arrived sealed, with everything the seller promised.
Según el la descripción del producto, es una Land Cast 8x6. No sé demasiado de marcas de tabletas gráficas, pero supongo que habrá marcas mejores con las que uno pueda ir familiarizándose conforme va desarrollándose mas en el dibujo digital.
Como pueden ver, el producto llegó sellado, con todo lo que prometía el vendedor.
---
---
I took the device out of the box, as well as all the other accessories it comes with. The first impression I had is that the tablet is quite large. I thought it was going to be a bit smaller, but no, it is spacious, with good space for drawing.
Saqué el equipo de la caja, al igual que todos los demás accesorios que trae. La primera impresión que tuve es que la tableta es bastante grande. Pensé que iba a ser un poco más pequeña, pero no, es amplia, con buen espacio para dibujar.
---

---
Before deciding which one I was going to buy, I was checking what each tablet came with and the truth is that they all came with practically the same thing, besides the tablet and the pencil, obviously.
They came with a cable, spare tips for the pencil, some came with OTG type C micro USB connectors for mobile devices, others didn't. The point is that I decided to buy this one. The point is that I decided for this one because in relation to size, price, accessories, it was the one I saw the best, plus it was the one that best fit my budget.
Antes de decidir cual me iba a comprar, estuve revisando qué traía cada tableta y la verdad es que todas traían prácticamente lo mismo, además de la tableta y el lápiz, obviamente.
Traían su cable, puntas de repuesto para el lápiz, algunas traían conectores OTG tipo C micro USB para dispositivos móviles, otras no. El punto es que me decidí por esta porque en relación tamaño, precio, accesorios, era la que veía mejor, además que era la que más se ajustaba a mi presupuesto.
---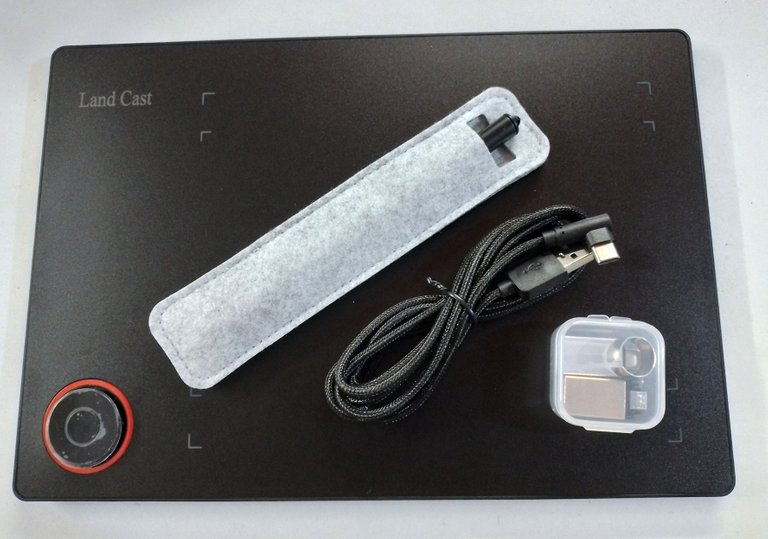 ---
Below I show you everything that came in the package:
A continuación les muestro todo lo que traía en el empaque:
---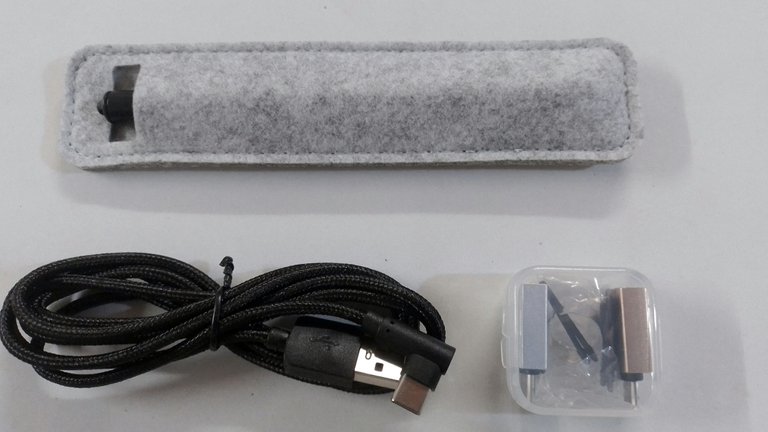 ---
In addition to the tablet itself, it came with its stylus with a cloth case for storage.
It also came with a small box with two OTG connectors. As I said, one type C or micro USB.
In addition, it brings the cable that connects the graphics tablet with the device on which you are going to draw, which can be a laptop or a cell phone/tablet, it is compatible with both.
Además de la propia tableta en si, traía su lápiz con un estuche de tela para guardarlo.
También traía una pequeña cajita en donde estaban los dos conectores OTG. Como dije, uno tipo C o otro micro USB.
Además, trae el cable que conecta a la tableta gráfica con el dispositivo en el que vas a dibujar, que puede ser una laptop o un celular/tableta, es compatible con ambas cosas.
---
---
Regarding the pencil tips, it comes with 8 spare tips and a sort of ring-shaped "tweezers" to remove the default pencil tips.
Con respecto a las puntas que trae para el lápiz, trae 8 puntas de repuesto y una suerte de "pinza" con forma de anillo para retirar la punta que ya tiene el lápiz por defecto.
---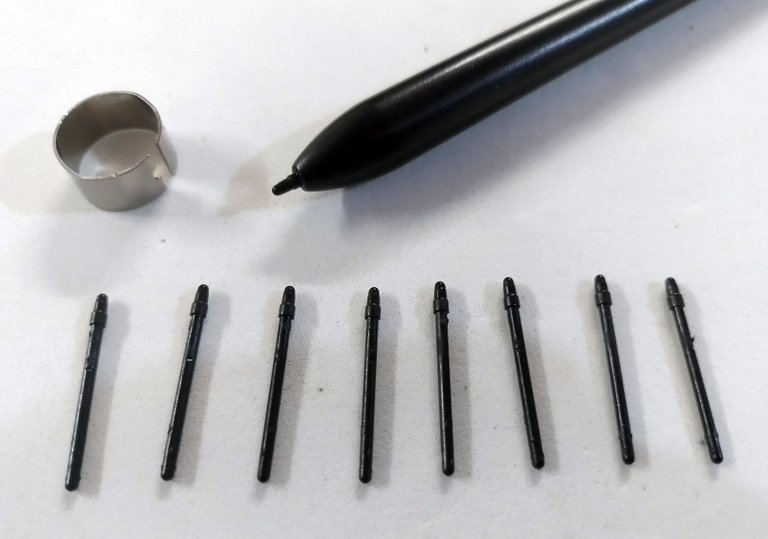 ---
Now, how can you connect it? Well the tablet has a type C port, to connect the cable to the device you want to use, via USB or with the OTG connector if we are going to use an android device.
Ahora bien, ¿cómo se puede conectar? Pues la tableta tiene un puerto tipo C, para conectar el cable al dispositivo que se quiera usar, a través de USB o con el conector OTG si vamos a usar un dispositivo android.
---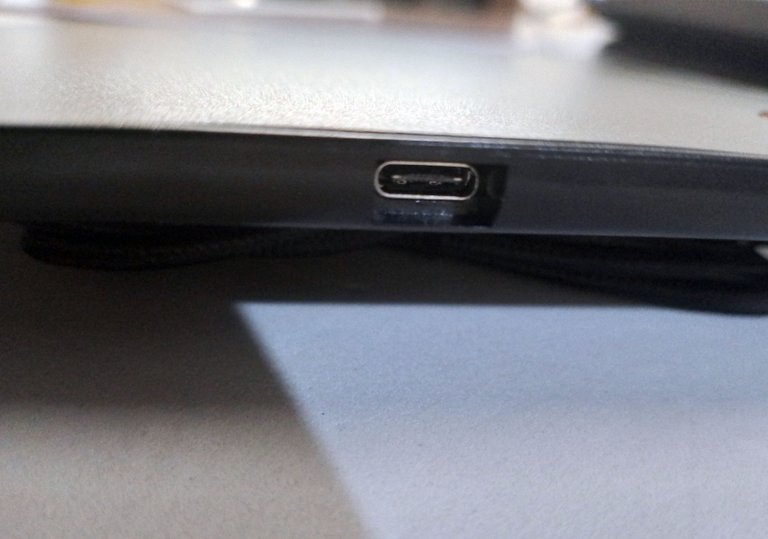 ---
A curious thing is that the tablet itself brings its drivers to install them directly. Every time it is connected to the laptop, a pop-up window appears like the one that appears when a USB is inserted.
When we open the folder we find the necessary programs to use this tool.
Algo curioso es que la propia tableta trae sus drivers para instalarlos directamente. Cada vez que se conecta a la laptop, aparece una ventana emergente como la que aparece cuando se inserta un USB.
Al abrir la carpeta encontramos los programas necesarios para que se pueda usar esta herramienta.
---
---
Installation is quite intuitive, just click on Tablet Setup and wait for the installer to load.
La instalación es bastante intuitiva, simplemente se hace clic en Tablet Setup y esperamos a que cargue el instalador.
---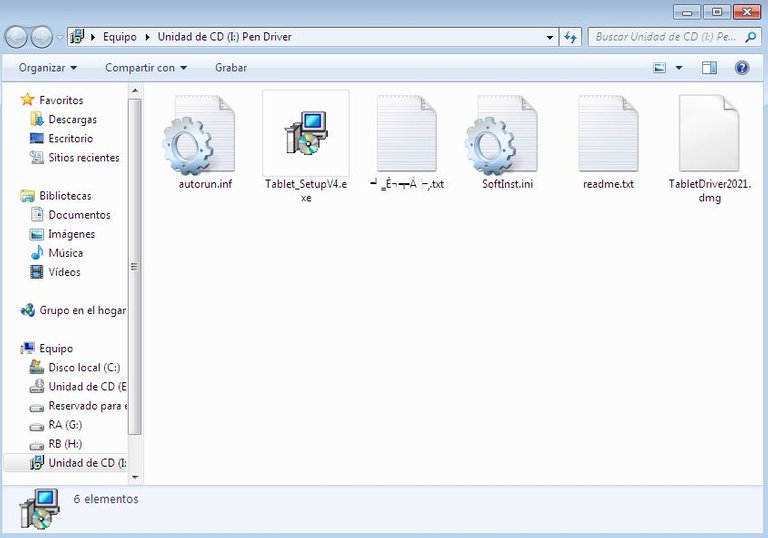 ---
The program executable or the installation wizard will open. In this first view, click on Next.
Se abrirá el ejecutable del programa o el asistente de instalación. En esta primera vista hay que hacer clic en siguiente.
---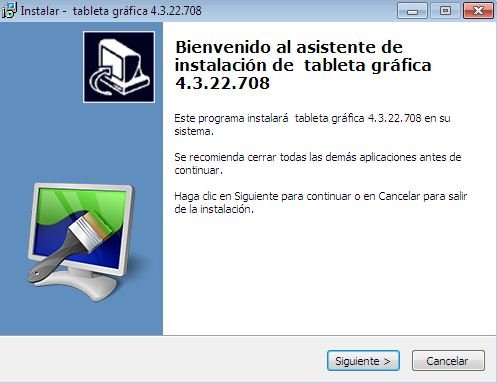 ---
You must also choose the folder where the tablet programs will be installed and then click next:
Se debe elegir también la carpeta donde se va a instalar los programas de la tablet y luego clic en siguiente:
---
---
Once the installation is configured, click on "Install" and that's it. In the final screen an icon will appear where we can choose if we want to download a painting software called Paint Tool SAI, this is optional. I did not download it.
Una vez configurada la instalación, se hace clic en "Instalar" y listo. En la pantalla final nos aparecerá un icono donde podemos elegir si queremos descargar un software de pintura llamado Paint Tool SAI, eso es opcional. Yo no lo descargué.
---
---
I don't know if it happened before or after I installed the tablet's programs, but I noticed that a little blue light came on on the side of the graphics tablet, near its Type-C connector.
No sé si sucedió antes o después de que instalé los programas de la tableta, pero me di cuenta que se encendió una pequeña lucecita azul a un costado de la tableta gráfica, cerca de su conector tipo C.
---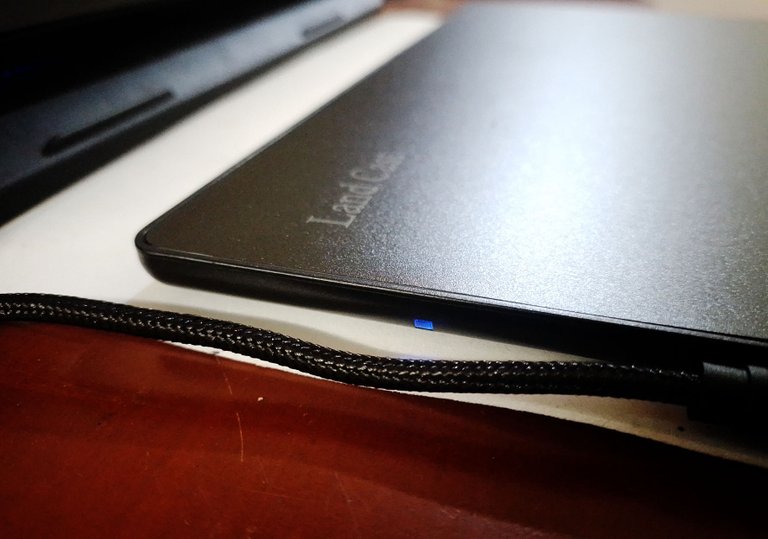 ---
This way my graphic tablet was installed, which I started to use at once to make a drawing I had in mind.
De esta manera quedó instalada mi tableta gráfica, la cual comencé a usar de una vez para hacer un dibujo que tenía en mente.
---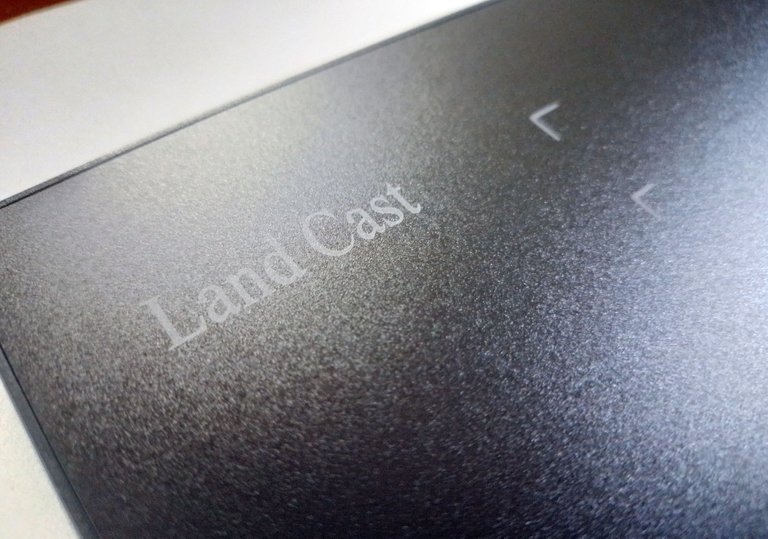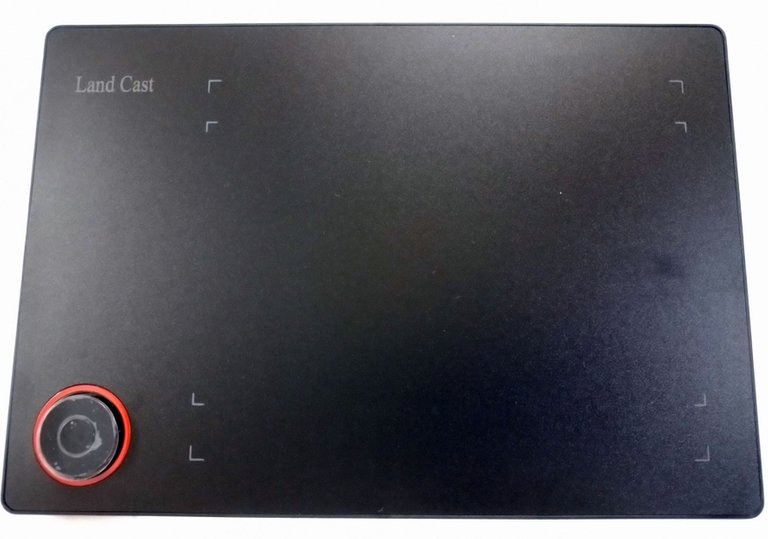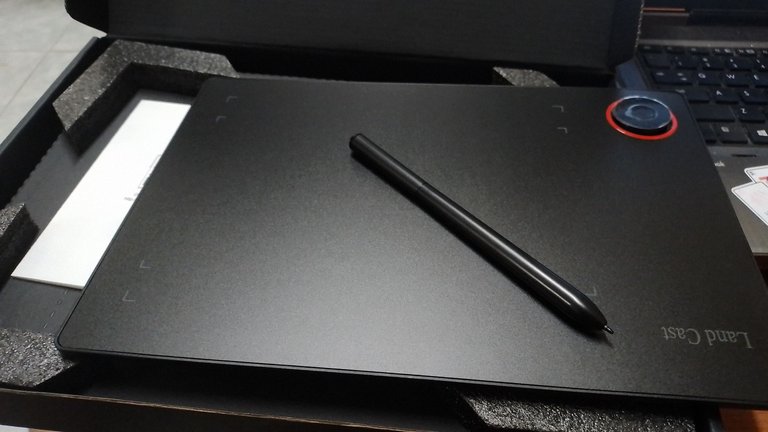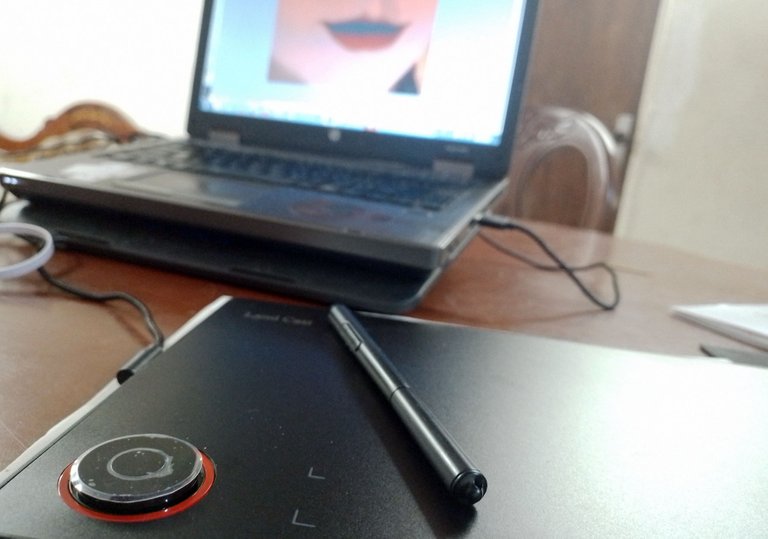 ---
Well folks, that's all for now. It's a kit that I'm very happy with and I hope it will be of great use to me. What did you think of my publication? I would like to know your opinions, so I invite you to leave it below in the comments.
Thank you very much for reading it. With nothing more to add, I'll say goodbye then...
See you next time!
Bien amigos, esto ha sido todo por ahora. Es un equipo con el que estoy muy contento y espero que me sea de gran utilidad. ¿A ustedes qué les ha parecido mi publicación? Me gustaría saber sus opiniones, así que los invito a dejarla abajo en los comentarios.
Les agradezco mucho por su lectura. Sin más que agregar, me despido entonces...
¡Hasta la próxima!
---