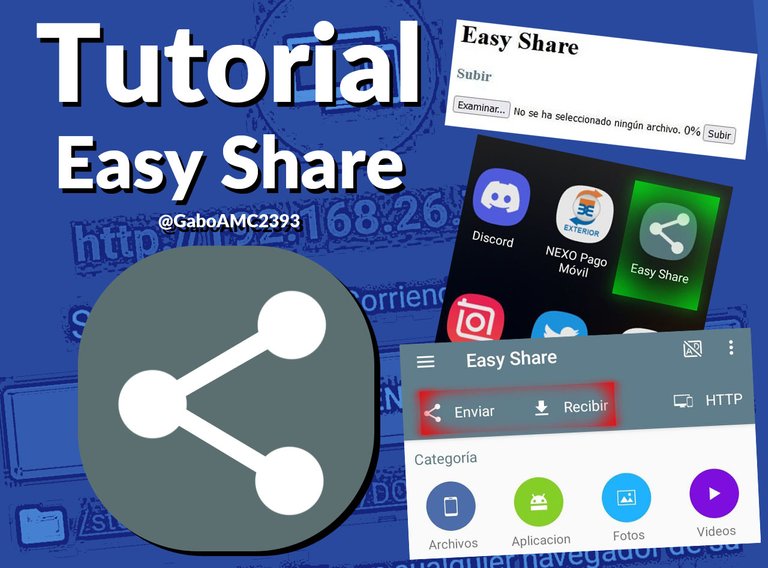 ---

The other day a friend told me that she had problems transferring some photos from her cell phone to her computer.
It turns out that she didn't have a cable and the whole process she did to transfer them from one device to another seemed quite complicated, because she sent them to her email from her phone, then she opened the email on the pc and downloaded the photos there.
Well, I found it a bit complicated and although there may be other ways to do it, the truth is that I use an app to share my files to other devices in an easy and simple way.
It is the Easy Share app, an application that is in the Play Store and you can download it by following this link:

El otro día una amiga me comentó que había tenido problemas para transferir unas fotos desde su celular hacia su computador.
Resulta que no tenía cable y todo el proceso que hacía para pasarlo de un dispositivo a otro me pareció bastante enredado, pues lo enviaba a su correo desde el teléfono, luego abría el correo en la pc y allí descargaba las fotos.
Pues bien, me pareció un poco complicado y aunque quizás hay otras maneras de hacerlo, lo cierto es que yo uso una app para compartir mis archivos a otros dispositivos de manera fácil y sencilla.
Se trata de la app Easy Share, una aplicación que está en la Play Store y la pueden descargar siguiendo este enlace:
---
https://play.google.com/store/apps/details?id=com.idea.share&hl=es_SV
---
The app is quite light and easy to use, and it has a simple and comfortable interface for the user.
When we install it we have the screen I show below. From there we can comment to send and receive files from other devices.
La app es bastante ligera y fácil de usar, además de que cuenta con una interface sencilla y cómoda para el usuario.
Al instalarla tenemos la pantalla que les muestro más abajo. Desde allí podemos comentar a enviar y recibir archivos desde otros dispositivos.
---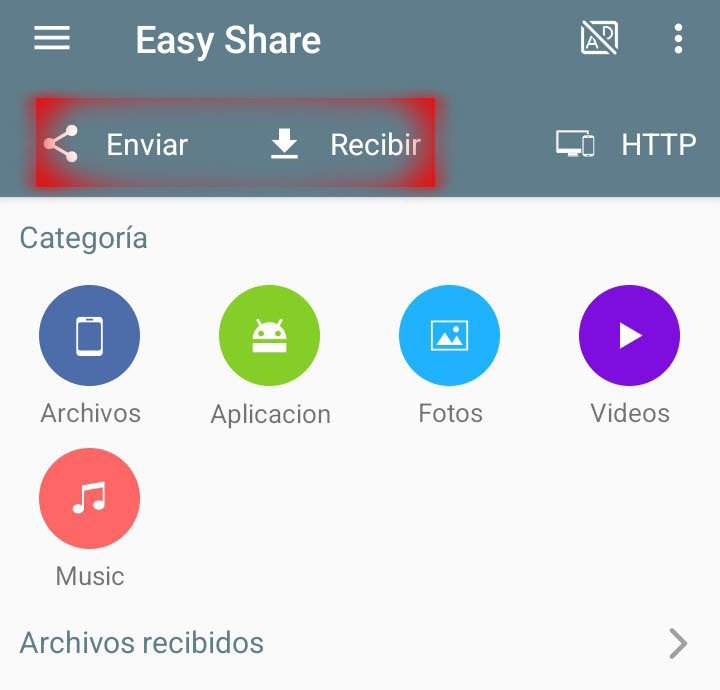 ---
When sending the files we have the option to choose the method through which we want to share it. In this case it gives us the option to transfer it through the local network (WIFI).
Note that from the same app we have other apps from which you can share files, such as gmail, bluetooth, among others.
Al enviar los archivos tenemos la opción de elegir el método a través del cual queremos compartirlo. En este caso nos da la opción de transferirlo a través de la red local (WIFI).
Fíjense que desde la misma app tenemos otras app desde donde se pueden compartir los archivos, como gmail, bluetooth, entre otros.
---
---
When choosing the WIFI option, a small warning appears where we must press the accept button.
It simply gives us the recommendations for the app to work. It asks us to make sure that the device with which the information is to be shared is connected to the same WIFI network.
Once it finds another device connected to the network (and that also has the app), it will send the file.
Al elegir la opción WIFI, aparece un pequeño aviso en donde debemos presionar el botón aceptar.
Simplemente nos da las recomendaciones para que la app funcione. Nos pide que estemos seguros de que el dispositivo con el que se va a compartir la información esté conectado a la misma red WIFI.
Una vez encontrado algún otro dispositivo conectado a la red (y que también tenga la app), enviará el archivo.
---
---
As you can see in the images below, you can also share apps, photos, videos and even audios.
It is a file sharing application, so it fulfills its function by being able to share with other devices any type of file.
Como pueden ver en las imágenes de abajo, también se pueden compartir app, fotos, videos y hasta audios.
Es una aplicación para compartir archivos, así que cumple su función al poder compartir con otros dispositivos cualquier tipo de archivo.
---
---
However, it may happen that the device to which we want to send a file is a desktop PC that does not have Bluetooth or that we simply do not have a USB cable to send files from the cell phone to the PC.
In these cases the application has an option called HTTP.
To explain it in a simple way, through this option we will be able to access, from the pc, to the files of the cellular that has the active app, everything through a url that we will write in the navigator.
Sin embargo, puede darse el caso que el dispositivo al que queremos enviar un archivo sea una pc de escritorio que no tenga bluetooth o que sencillamente no tengamos un cable USB para enviar archivos desde el celular a la pc.
En estos casos la aplicación tiene una opción llamada HTTP.
Para explicarles de manera sencilla, a través de esta opción podremos acceder, desde la pc, a los archivos del celular que tiene la app activa, todo a través de una url que escribiremos en el navegador.
---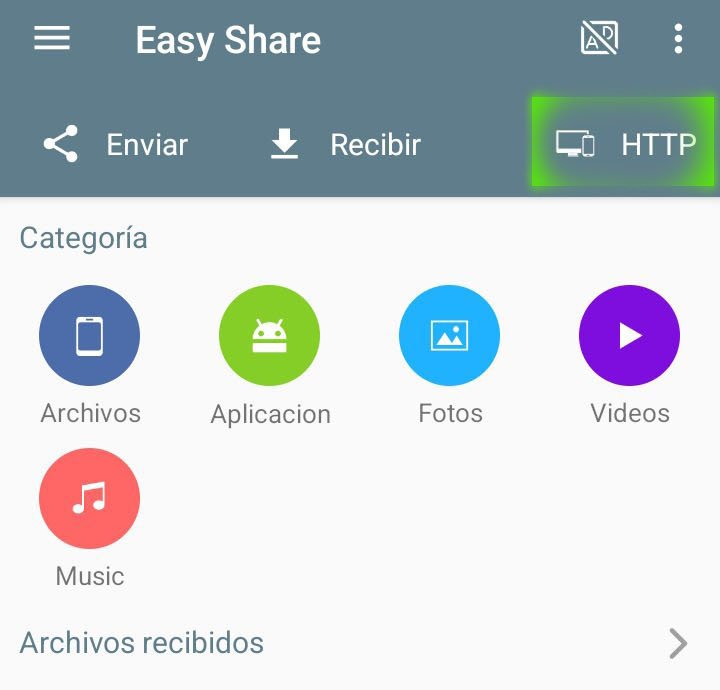 ---
When pressing on this HTTP option the same warning mentioned above appears, where it urges us to be sure that our pc is connected to the same WIFI network.
Although I don't have wifi, I do use the data sharing or WIFI Zone option to connect my pc and my cell phone on the same network.
On the other hand, a small notification appears in the notification area of the phone that the HTTP server is running.
Al presionar en esta opción HTTP aparece el mismo aviso mencionado anteriormente, donde nos insta a estar seguros de que nuestra pc está conectada a la misma red WIFI.
Aunque no tengo wifi, sí uso la opción de compartir datos o Zona WIFI para conectar mi PC y mi teléfono celular en la misma red.
Por otra parte, en el área de notificaciones del teléfono aparece una pequeña notificación de que el servidor HTTP se está ejecutando.
---
---
Well, I told you about a URL. This URL is one that the app assigns every time we start the HTTP server.
The app displays the URL quite visibly, for this example it is 192.168.26.71:8080.
I just typed the numbers but to access from the pc to the phone, you must type that link as is, including the https, in your browser.
Bien, les hablé de una URL. Esta URL es una que asigna la app cada vez que iniciamos el servidor HTTP.
La app muestra la URL de manera bastante visible, para este ejemplo es 192.168.26.71:8080.
Yo solo escribí los números pero para acceder desde la pc al teléfono, deben escribir ese enlace tal cual está, incluyendo el https, en su navegador.
---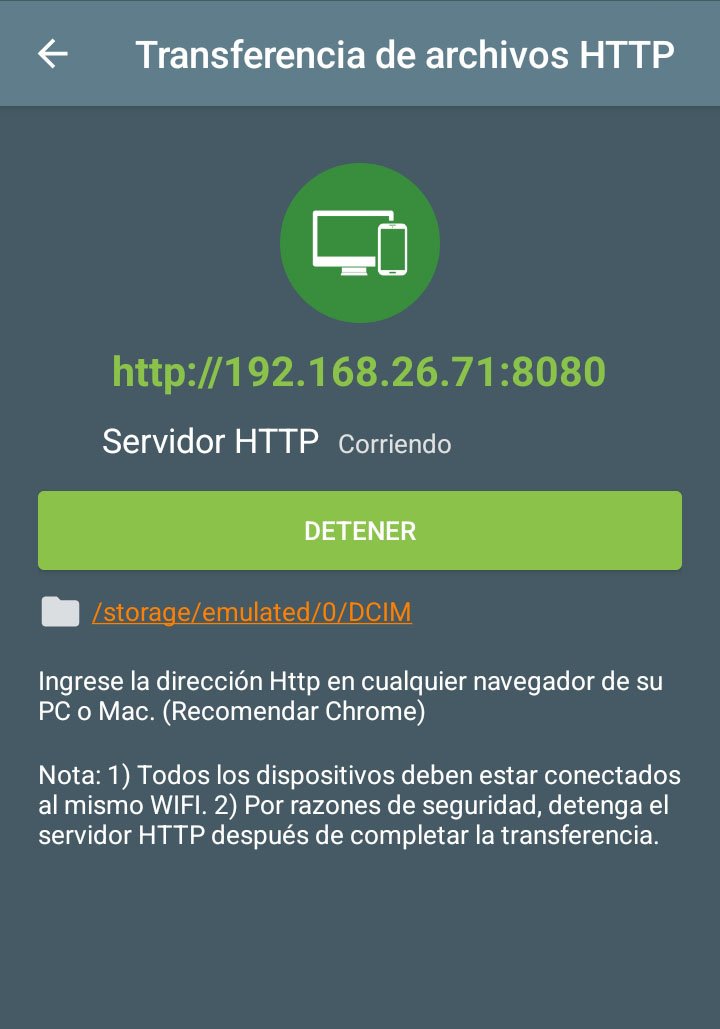 ---
For this example I used Firefox. Notice in the address bar that I typed the same URL provided by the app. Once typed, press enter and that's it.
Para este ejemplo usé Firefox. Fíjense en la barra de direcciones que escribí la misma URL que proporciona la app. Una vez escrita, presionamos enter y listo.
---
---
The Easy Share main screen will load.
Through this screen we will see the files of our device. We can see the different folders that we can see in the file manager of the cell phone, only in a simpler and simplified way.
We will be able to navigate between these folders to find the folder where the file we want to download is.
Nos cargará la pantalla principal de Easy Share.
A través de esta pantalla veremos los arhivos de nuestro dispositivo. Podemos ver las distintas carpetas que podemos ver en el gestor de archivo del celular, solo que de manera más sencilla y simplificada.
Podremos navegar entre estas carpetas para encontrar la carpeta donde está el archivo que deseamos descargar.
---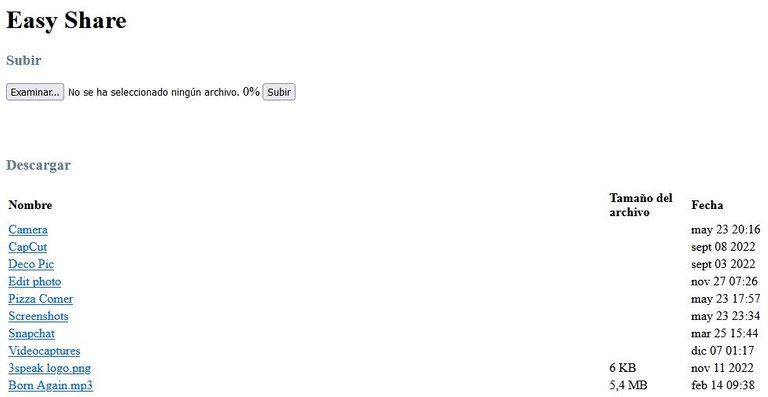 ---
For this example I will download an image from a folder called "Pizza Comer". This folder is on my phone and to access it simply click on the folder, where we can see the pictures inside.
We just need to click on the picture we want to download, immediately the picture will appear in the download area.
Para este ejemplo voy a descargar una imagen de una carpeta llamda "Pizza Comer". Esta carpeta está en mi teléfono y para acceder a ella simplemente se hace clic en la carpeta, donde podremos ver las fotografías que hay dentro.
Solo debemos hacer clic en la foto que deseamos descargar, de inmediato aparecerá la foto en el área de descargas.
---
---
As you can see, I easily managed to access this file from my PC and transfer it from my cell phone to my desktop device in a very short time, without cable or bluetooth.
Como ven, de manera sencilla logré acceder a este archivo desde mi pc y pasarlo desde el celular a mi dispositivo de escritorio en muy poco tiempo, sin cable ni bluetooth.
---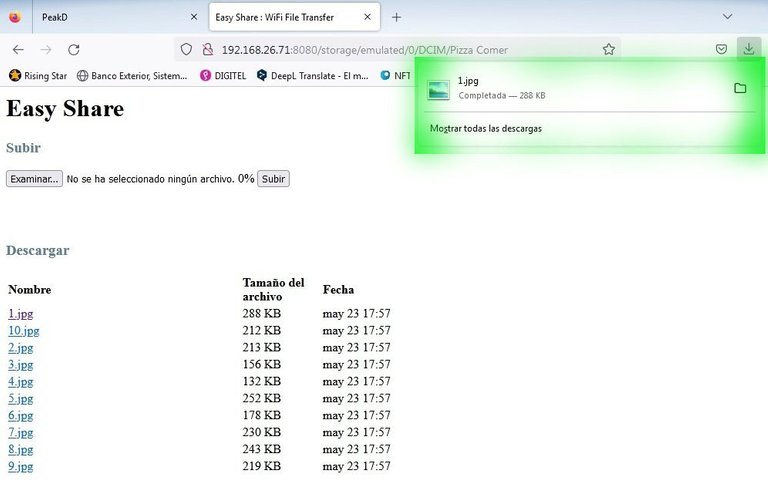 ---
Each downloaded file will appear in the "Downloads" folder of our computer.
In the image below you can see the image named 1.jpg
Cada archivo que se descargue, aparecerá en la carpeta "Descargas" de nuestro equipo.
En la imagen a continuación pueden ver la imagen llamada 1.jpg
---

---
Just as we can download files from the phone to the pc, we can also do the opposite, send files from the pc to the phone.
At the top of the Easy Share interface in the browser, there is the subtitle "Upload". Clicking on the "Browse" button will load a window where we can browse and search for the file we want to send.
Así como podemos descargar archivos del teléfono a la pc, también podemos hacer lo contrario, enviar archivos de la pc al teléfono.
En la parte superior de la interface de Easy Share en el navegador, está el subtítulo "Subir". Al hacer clic en el botón "Examinar", se cargará una ventana donde podremos navegar y buscar el archivo que queremos enviar.
---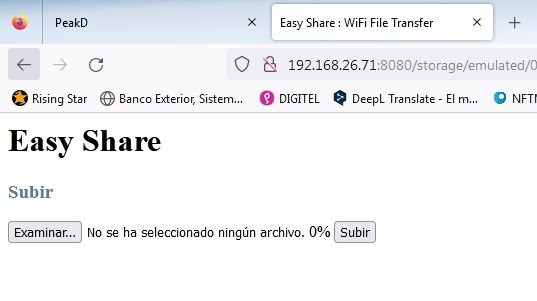 ---
In this case I chose a small image called Coffee.jpg.
En este caso yo elegí una pequeña imagen llamada Coffee.jpg.
---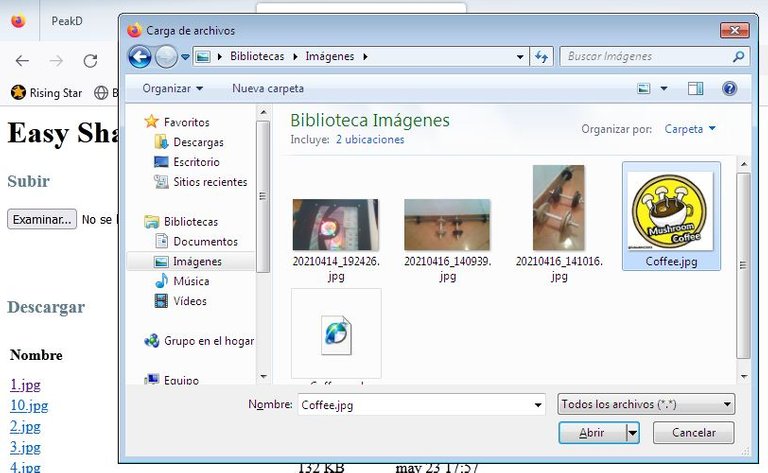 ---
To upload this image completely to the cell phone, select the image and click on the Upload button, which is to the right of "Browse".
As soon as it is 100% uploaded, a small "Success" sign will appear, indicating that the file has been successfully uploaded to the cell phone.
Para cargar esta imagen por completo al celular se selecciona la imagen y hacemos clic en el botón Subir, el que está a la derecha de "Examinar".
Tan pronto cargue al 100% aparecerá un pequeño cartel que dice "Success", indicándonos que el archivo se subió correctamente al celular.
---
---
This file can be found in the cell phone using our file manager. In Downloads we will find a folder called Easy Share; in turn, inside that folder there is another folder called File.
Este archivo lo podemos encontrar en el celular usando nuestro gestor de archivos. En Descargas encontraremos una carpeta llamada Easy Share; a su vez, dentro de esa carpeta hay otra carpeta llamada File.
---
---
There you will find not only the image that we have just sent from the PC to the cell phone, but also all the images that we have transferred through this process.
In the same way, in the app we can visualize the received files at the bottom of the home screen.
Allí no solo se encontrará la imagen que acabamos de enviar desde la pc al celular, sino todas las imágenes que trasferimos a través de este proceso.
De igual manera, en la app podemos visualizar los archivos recibidos en la parte baja de la pantalla de inicio.
---
---
Como ven es una app bastante sencilla de usar que nos puede sacar de algún aprieto en caso de que queramos enviar archivos del cel a la pc (y viceversa), pero no contemos con un cable USB ni bluetooth.
Como recomendación, siempre asegúrense de detener el servidor HTTP cuando hayan terminado, esto se hace presionando el botón "Detener".
La app aparece junto a las otras app, así que podemos acceder a ella cada vez que queramos.
Como ven es una app bastante sencilla de usar que nos puede sacar de algún aprieto en caso de que queramos enviar archivos del cel a la pc (y viceversa), pero no contemos con un cable USB ni bluetooth.
Como recomendación, siempre asegúrense de detener el servidor HTTP cuando hayan terminado, esto se hace presionando el botón "Detener".
La app aparece junto a las otras app, así que podemos acceder a ella cada vez que queramos.
---
---
Well friends, that's all for now. I hope you found this post useful or at least that you liked it. I invite you to leave your opinions below in the comments, as always I will be happy to read them.
Thank you very much for taking the time to read it. With nothing more to add, I'll say goodbye then...
See you next time!
Bien amigos, esto ha sido todo por ahora. Espero que este post les resulte útil o cuando menos que les haya gustado. Los invito a dejar sus opiniones abajo en los comentarios, como siempre estaré encantado de leerlos.
Les agradezco mucho que se tomaran el tiempo de leerme. Sin más que agregar, me despido entonces...
¡Hasta la próxima!
---