Reviving with 512 MB of RAM (Reviviendo con 512 MB de RAM)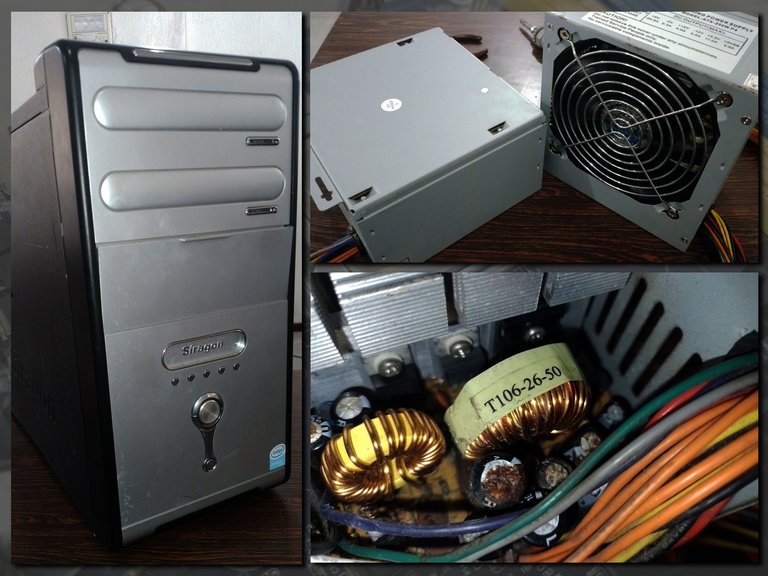 The other day I got an old Siragon computer. I had already seen computers like this, but this one had the peculiarity that it did not always turn on and when it turned on it turned off again.
Evidently this computer would have some problems, since it was a warrior with a lot of fights on top; however, I looked for my tools and I started to work to see what could be done.

El otro día me llegó un equipo bastante viejo de la marca Siragon. Ya había visto computadores así, pero este tenía la peculiaridad de que no encendía siempre y cuando encendía se volvía a apagar.

Evidentemente tendría algunos problemas este computador, pues era un guerrero con muchas luchas encima; sin embargo, busque mis herramientas y puse manos a la obra a ver que se podría hacer.
As soon as I opened the computer I could see that there was some damage to some important components of the motherboard.
Sure, everything was dirty and dusty, but that was something I could fix; however, the damaged components were not something I could fix, at least not for now.
Apenas abrí el equipo pude ver que había cierto daño en algunos componentes importantes de la tarjeta madre.

Claro, todo estaba sucio y lleno ve polvo, pero eso era algo que podría solucionar; sin embargo, el tema de los componentes dañados no lo podría solucionar al menos no por ahora.
To start with the maintenance I began by removing all the screws that were in some parts such as the floppy and the DVD drive. This computer did not come with a hard disk so it was something I also had to fix.
All the screws that I was taking out I left them in a small case, this is important so that they do not get lost.
Para comenzar con el mantenimiento comencé retirando todos los tornillos que había en algunas piezas como el floppy y la unidad de DVD. Esta computadora no traía Disco Duro así que era algo que también debía solucionar.

Todos los tornillos que iba sacando los dejé en un pequeño estuche, esto es importante para que no se pierdan.
One thing worth noting is that this equipment was so old that it still had IDE cables. These cables were manufactured in about the 1980's, so imagine how old they are.
I even felt they were a little toasted, maybe they don't work anymore, so I thought it would be best to ditch them and go with a SATA hard drive instead.
Algo que vale la pena comentar es que este equipo era tan viejo que aún tenía cables IDE. Estos cables se fabricaron aproximadamente en los años 80, así que imaginen lo viejo que son.

Incluso sentí que estaban un poco tostados, quizás ya no funcionen, así que pensé que lo mejor sería dejarlos de lado y usar mejor un disco duro SATA.
It was clear that there was a problem with the power supply as well, since the computer would not turn on. So I wanted to check it thoroughly to see what could be done with this computer to solve the problem.
So I started removing all the screws from the back to remove it.
Estaba claro que había un problema con la fuente de poder también, ya que el equipo no encendía. Así que quise revisarla a fondo a ver qué se podría hacer con este computador para resolver el problema.

Por ello comencé a retirar todos los tornillos de la parte trasera para retirarla.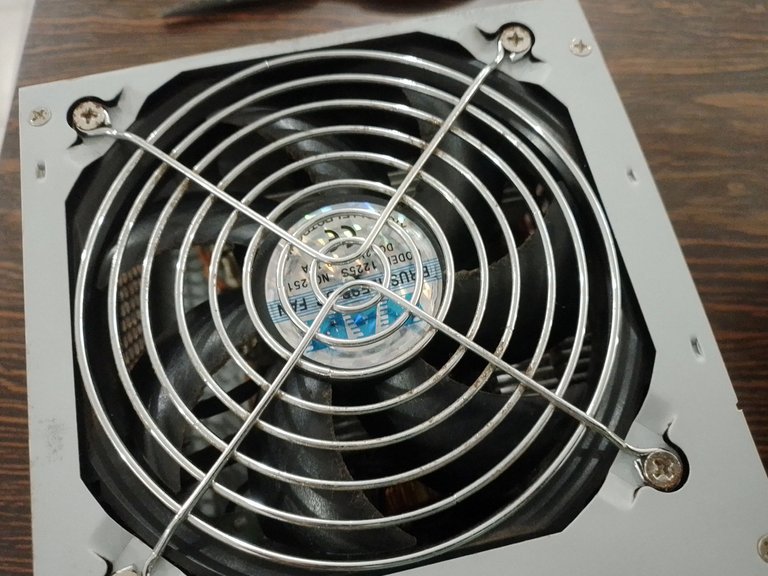 I opened the power supply and indeed, it was in very bad conditions, in fact many filters were exploded and some were covered with a kind of paste that covered many of these components.
Then I measured the values of the power supply and indeed, it did not show the necessary values to work properly.
Abrí a su vez la fuente de poder y en efecto, estaba en muy malas condiciones, de hecho muchos filtros estaban explotados y algunos cubiertos de una suerte de pasta que cubría a muchos de estos componentes.

Entonces medí los valores que arrojaba la fuente y en efecto, no arrojaba los valores necesarios para funcionar correctamente.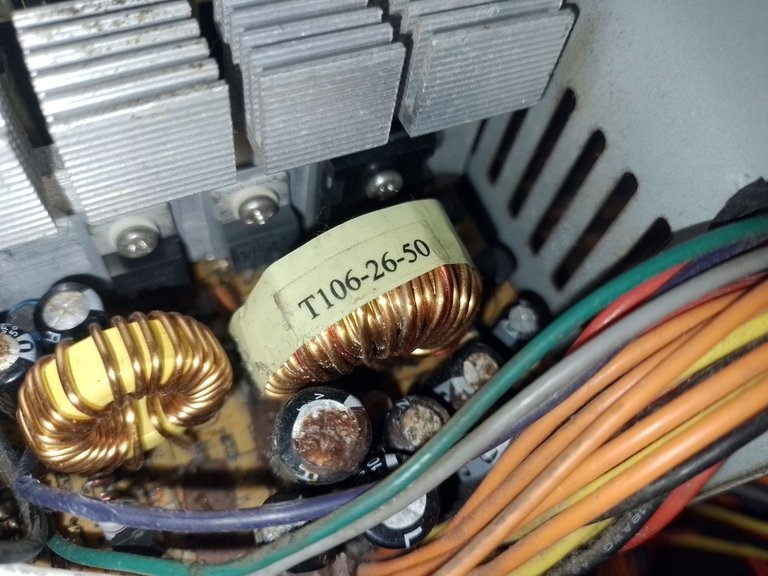 I thought about changing some filters, but I didn't have the spares so I decided to change the entire power supply, which I did have a spare. It was a little more powerful but it would do the trick to get this computer to turn on.
Pensé en cambiar algunos filtros, pero no tenía los repuestos así que decidí cambiar la fuente completa, de la cual sí tenía repuesto. Era un poco más potente pero serviría para hacer que este computador encendiera.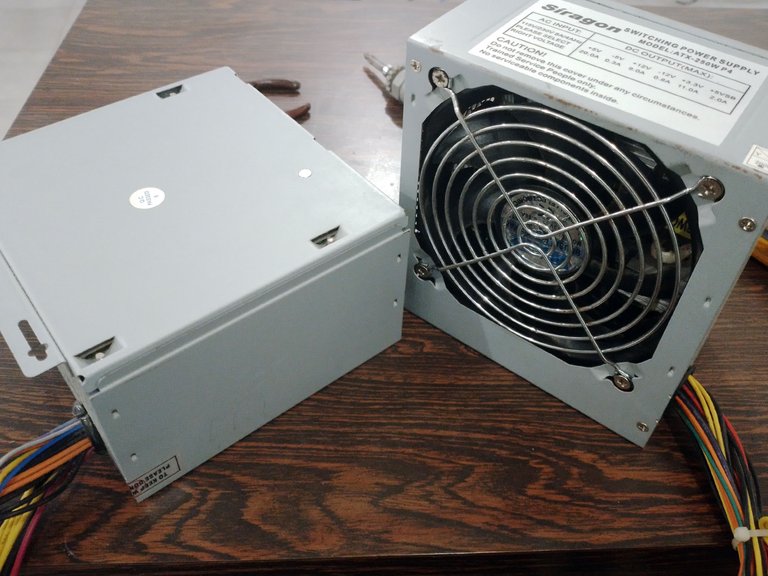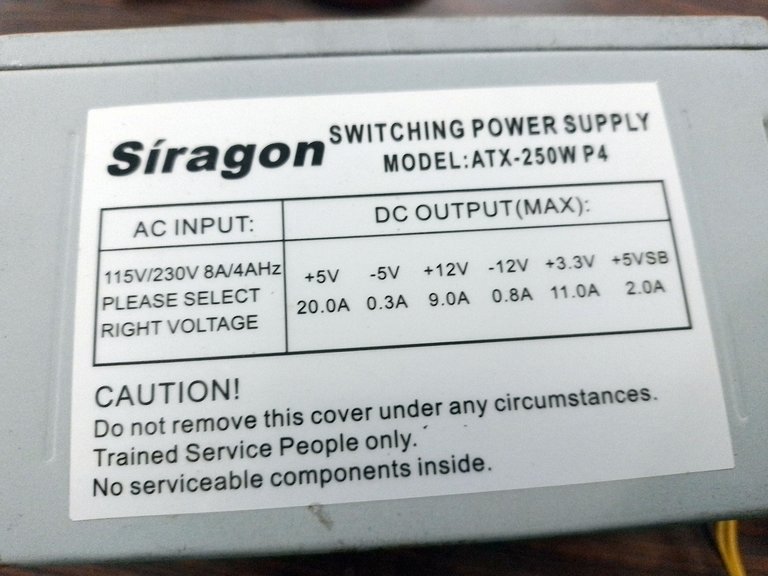 This way the equipment was left without any cables or anything. Then I proceeded to remove also the motherboard to clean it.
As a parenthesis, I found this little envelope with silica gel, which is great for combating humidity.
I had never seen one in a computer before, I had seen one in shoe boxes, but it is interesting that someone has put one like this inside the case of the computer.
De esta manera el equipo quedó sin ningún cable ni nada. Entonces procedí a retirar también la tarjeta madre para limpiarla.

A manera de paréntesis, fíjense que me encontré este pequeño sobre con silica gel, que es buenísimo para combatir la humedad.

Nunca había visto uno en un computador, sí en cajas de zapato, pero es interesante que alguien haya puesto uno como este dentro del case del equipo.
I removed the fan from the processor, cleaned it and changed the thermal paste. Precisely the filters around the processor were the ones that were a bit bloated.
I was not sure if the machine would turn on but I would do my best to make it.
Retiré el fan del procesador, lo limpié e hice el cambio de pasta térmica. Precisamente los filtros que estaban alrededor del procesador eran los que estaban un poco inflados.

No estaba seguro de si la máquina encendería pero haría todo lo posible por lograrlo.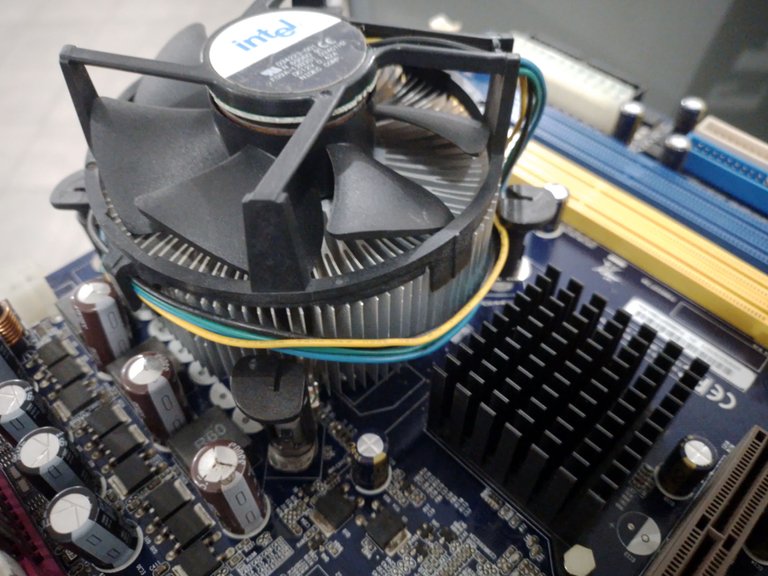 Surprise surprise, here the RAM card was a rather old one of barely 512MB. Evidently a very basic piece of equipment that would serve for the simplest office tasks, such as writing documents or making slides.
Well, I removed the one 512MB card I had and cleaned up the contacts with an eraser. The computer has 4 slots for more cards, so I might try to find another one to expand the original RAM that comes with the computer, but for now it will stay with 512MB only.
Sorpresa sorpresa, aquí la tarjeta RAM era una bastante vieja de apenas 512MB. Evidentemente un equipo muy básico que serviría para las tareas más sencillas de oficina, como redactar documentos o hacer diapositivas.

Pues bien, retiré la única tarjeta de 512MB que tenía y le limpié los contactos con un borrador. La computadora tiene 4 espacios para colocar más tarjetas, así que podría tratar de encontrar otra para expandir la RAM original que trae el equipo, pero por ahora se quedará con 512MB solamente.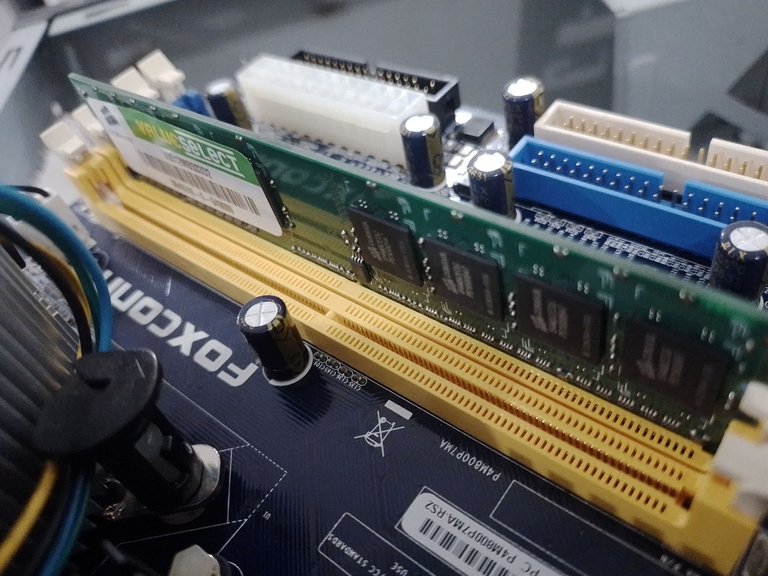 After cleaning the motherboard and all the components, I started to install everything inside the case. First was the motherboard, then the RAM card, the DVD drive, the floppy and the new power supply.
Ya después de limpiar la tarjeta madre y todos los componentes, comencé a instalar todo dentro del case. Lo primero fue la tarjeta madre, luego la tarjeta RAM, la unidad de DVD, el floppy y la nueva fuente de poder.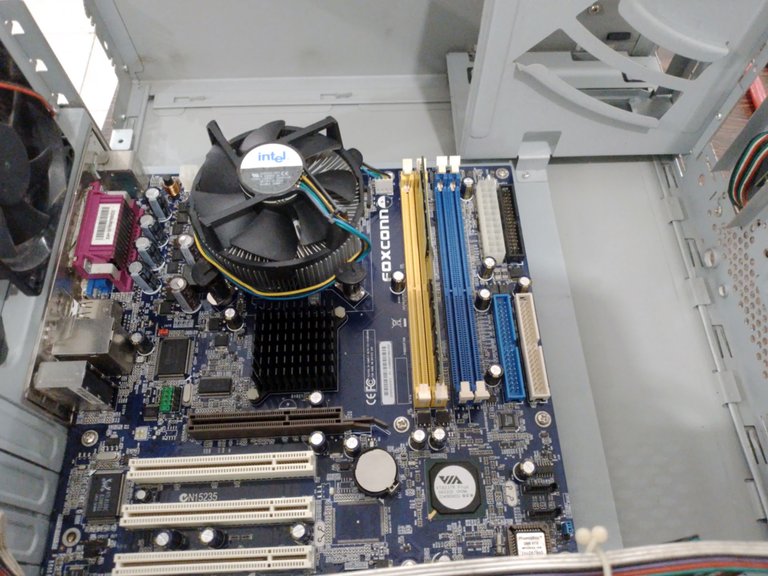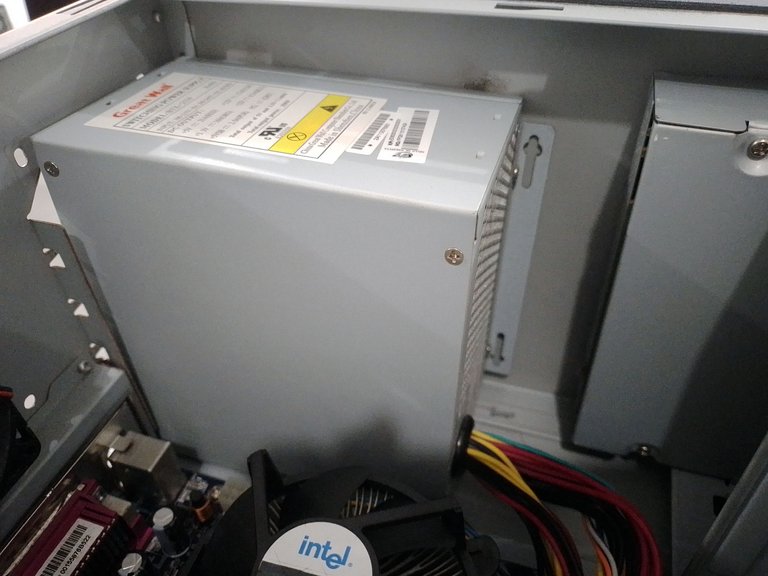 This computer did not have its own hard drive, so I looked for one in the warehouse and installed it.
As I said, I wanted to put a SATA one in it as I didn't have much confidence in those IDE cables which, again, seemed to be toast, as if they were brittle.
Este computador no contaba con un disco duro propio, así que busqué uno en el depósito y se lo instalé.

Como dije, quería colocarle uno SATA pues no tenía demasiada confianza en esos cables IDE que, de nuevo, parecían estar tostados, como quebradizos.
Finally, I connected all the cables from the power supply to the motherboard and the other components.
At this point I shut down the equipment, hoping that it would turn on...
Ya para finalizar conecté todos los cables de la fuente de poder a la tarjeta madre y los otros componentes.

Ya en este punto cerré el equipo, con esperanzas de que encendiera...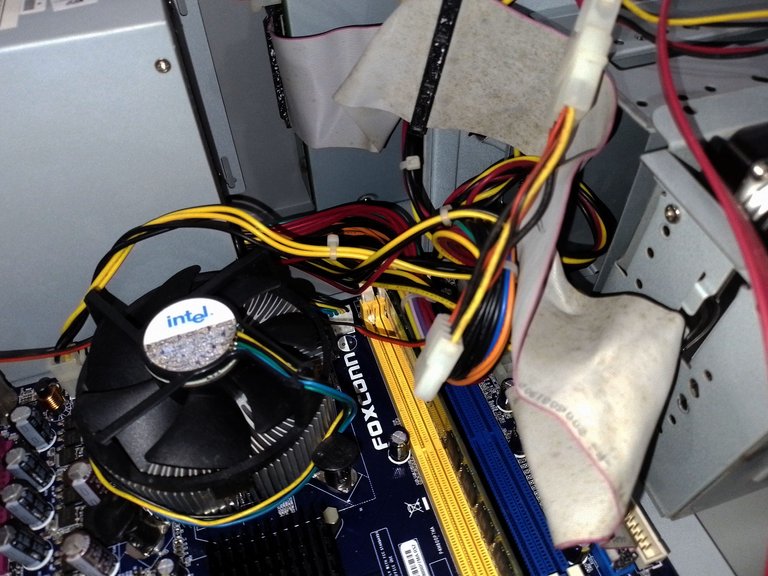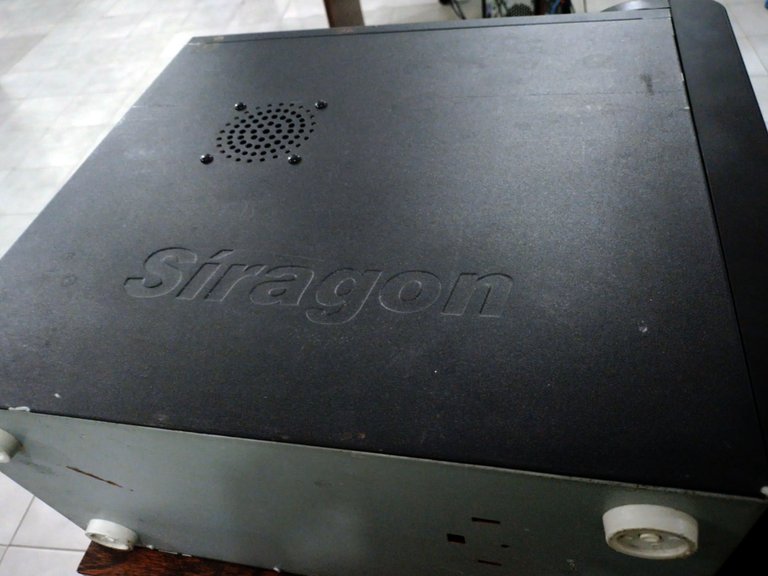 All in all I was optimistic, so I connected the computer to my test monitor and then turned on the button. I'll leave you a couple of GIFs so you can see what happened...
Con todo me mostraba optimista, así que conecté el computador a mi monitor de pruebas y entonces encendí el botón. Les dejaré un par de GIF para que ustedes vean qué sucedió...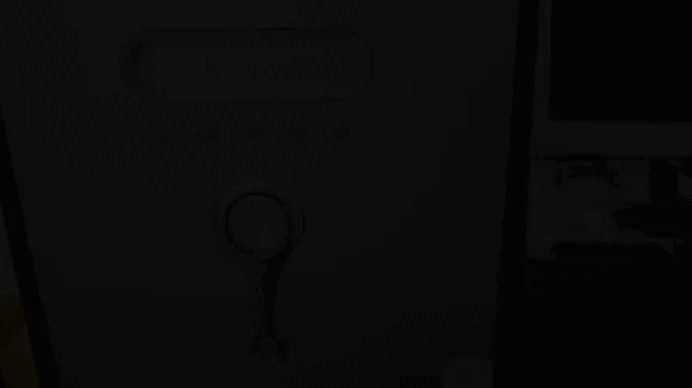 As you can see, the computer turned on. It didn't take me long to install a version of Windows and it supported it correctly, despite the low capacity of the computer.
Como ven, el equipo encendió. No tardé en instalarle una versión de Windows y lo soportó correctamente, a pesar de la baja capacidad del equipo.
What did you think of this repair? I would like to know your opinions, so I invite you to leave your thoughts below in the comments...
I appreciate you taking the time to read my post. With nothing more to add, I'll take my leave then...
See you next time!
¿Qué les ha parecido esta reparación? Me gustaría saber sus opiniones, así que los invito a dejar sus opiniones abajo en los comentarios...

Agradezco que se tomaran el tiempo de leer mi publicación. Sin más que agregar, me despido entonces...



¡Hasta la próxima!
---

---
---