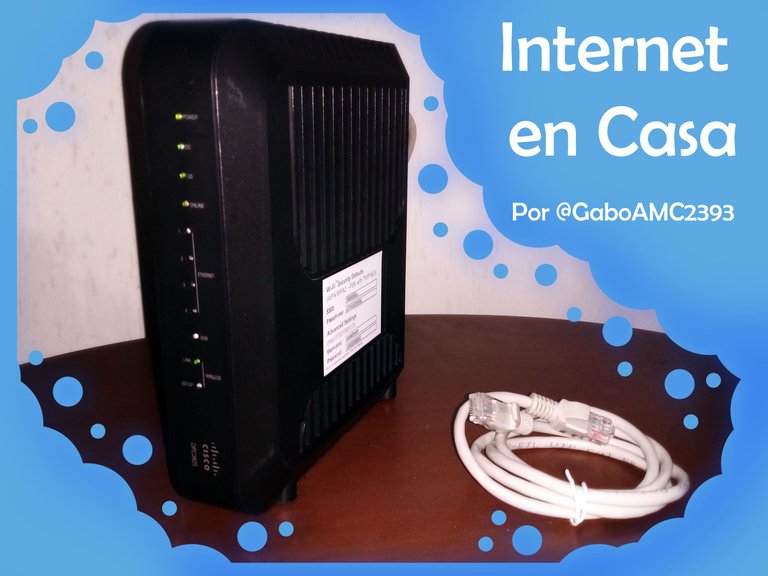 English
For those of us who are active on the Internet, having an unlimited Internet connection is a must. Unfortunately, in my house I did not have this service because there were no companies that were opening contracts to new customers, they only kept the internet service to those who already had a contract with them.
However, I recently made the necessary arrangements and they agreed to open a contract for my house, so in effect I already have internet at home...
Español
Para los que hacemos vida activa en la red, tener una conexión ilimitada a internet es algo indispensable. Lamentablemente, en mi casa no contaba con este servicio por no tener compañías que estuvieran abriendo contratos a nuevos clientes, solo mantenían el servicio de internet a los que ya tenían contrato con ellos.
Sin embargo, hace poco hice las diligencias necesarias y accedieron a abrir un contrato para mi casa, así que en efecto ya tengo internet en casa...
---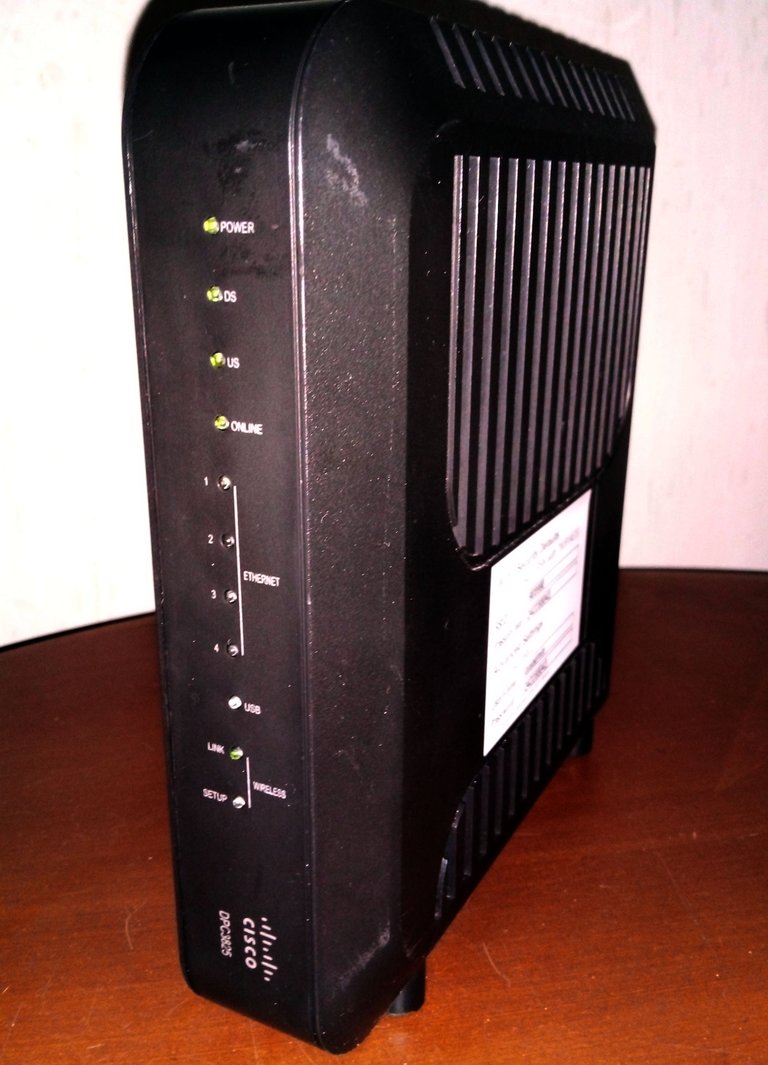 ---
As you can see in the image above, they brought me a Cisco modem router model Dpc3825. When I contracted the service I thought they did not offer this type of equipment but the truth is that I think it is great because I will not need to buy an additional router as I had to do at my grandmother's house.
This is an advantage for me, since all the equipment I have at home is wireless. Besides, the range is quite good, it has signal in the whole house...
Como observan en la imagen de arriba, me trajeron un modem router Cisco modelo Dpc3825. Cuando contraté el servicio pensé que no ofrecían este tipo de equipos pero la verdad es que me parece genial porque no tendré la necesidad de comprar un router adicional como tuve que hacer en casa de mi abuela.
Esto es una ventaja para mi, ya que todos los equipos que tengo en casa son equipos inhalámbricos. Además, el alcance es bastante bueno, tiene señal en toda la casa...
---
| | |
| --- | --- |
---
As for the configuration, it is quite simple, like most routers. Obviously I could not configure it myself because of the contract, the whole process had to be done by the company's technicians.
Even so, for those who do not have much experience, the equipment itself has this label that can be seen in the photo below, where it shows data such as SSID, the gateway, which almost always for all routers is 192.168.1.1 or 192.168.0.1, among other nomenclatures; and the username and password to enter this interface that the equipment has to configure the network.
En cuanto a la configuración es bastante sencilla, como la de la mayoría de los routers. Evidentemente no pude configurarlo yo por contrato, todo el proceso debían hacerlo los técnicos de la empresa.
Aún así, para quien no tenga mucha experiencia, el mismo equipo tiene esta etiqueta que se observa en la foto a continuación, donde muestra datos como SSID, la puerta de enlace, que casi siempre para todos los routers es 192.168.1.1 o 192.168.0.1, entre otras nomenclaturas; y el username y password para ingresar a esta interface que tiene el equipo para configurar la red.
---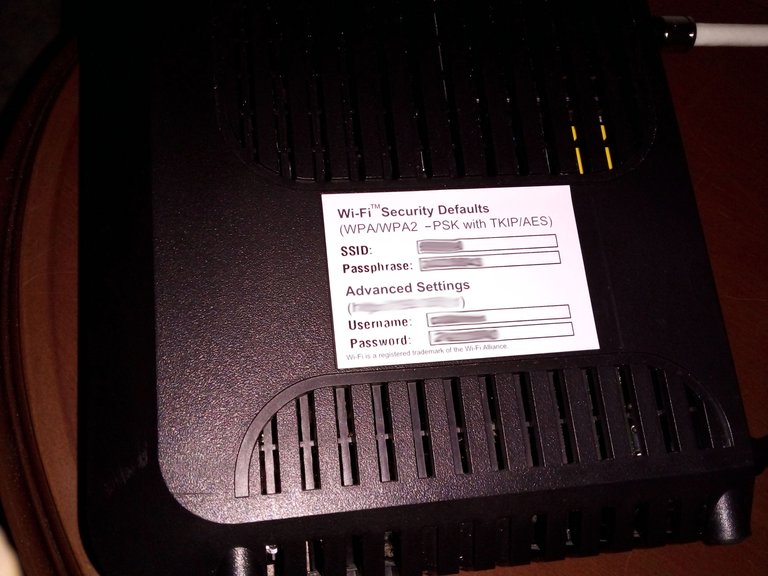 ---
In addition to the main equipment, the company brought the power cable and RJ45 cable to connect to equipment that does not have access to a wireless connection.
It is worth mentioning, these are some technical data of the power regulator:
Input: 100-240V~50/60Hz 0.8A
Output: 15V - 1.6A
Adicional al equipo principal, la compañía trajo el cable de energía y el cable RJ45 para conectar a equipos que no tengan acceso a una conexión inhalámbrica.
Cabe destacar, que estos son algunos datos técnicos del regulador de energía:
Input: 100-240V~50/60Hz 0.8A
Output: 15V - 1.6A
---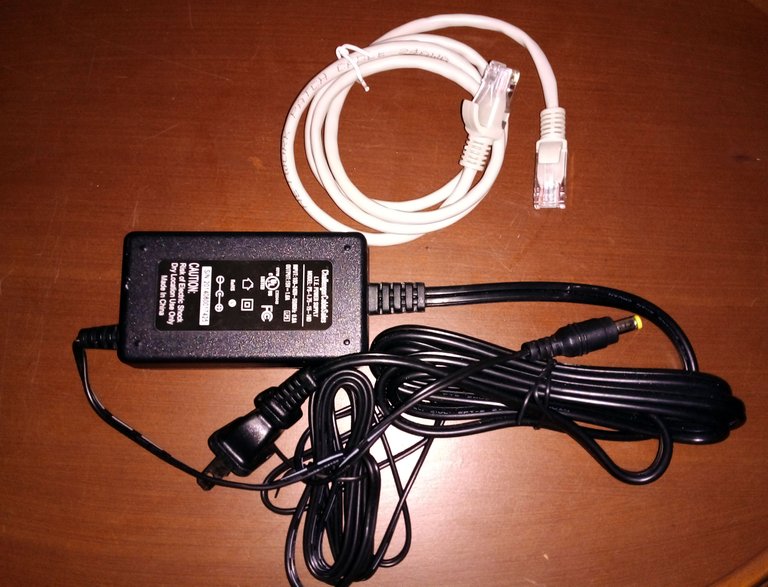 ---
On the back, the unit has all the ports available for connecting other equipment. It has for connecting up to four and a USB port where other compatible equipment can be connected.
For example, I have seen network repeaters that connect to this type of equipment through this USB port, so this could be a utility.
Por detrás, el equipo tiene todos los puertos disponibles para conectar otros equipos. Tiene para conectar hasta cuatro y un puerto USB en el que se pueden conectar otros equipos compatibles.
Por ejemplo, he visto repetidores de red que se conectan a este tipo de equipos a través de este puerto USB, así que esta podría ser una utilidad.
---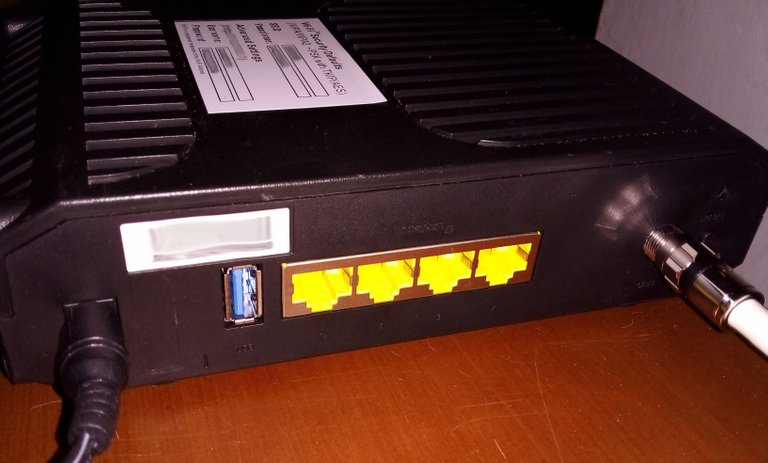 ---
As an additional fact, since this is a contract service, I obviously could not do the connection and installation of the cable by myself.
The technicians came to the house, connected the cable to the pole, hung it in the house and finally made the TV and internet connection.
Como dato adicional, al ser este un servicio por contrato, evidentemente no pude hacer la conexión y la instalación del cable por mi mismo.
Los técnicos vinieron a casa, conectaron el cable al poste, lo colgaron en la casa y finalmente hicieron la conexión tanto de tv como de internet.
---
---
Here is a final look at everything that came with this internet contract. By the way, for anyone who wants to know, the company I contracted is Inter, with the only residential plan they had available for new contracts.
So far the speed is relatively stable and working well for me. Hopefully it will not give me any problems.
Acá un vistazo final de todo lo que vino en este contrato de internet. Por cierto, para quien desee saber, la compañía que contrate es Inter, con el único plan residencial que tenían disponible para nuevos contratos.
Hasta ahora la velocidad es relativamente estable y me funciona bien. Esperemos que no de ningún tipo de problemas.
---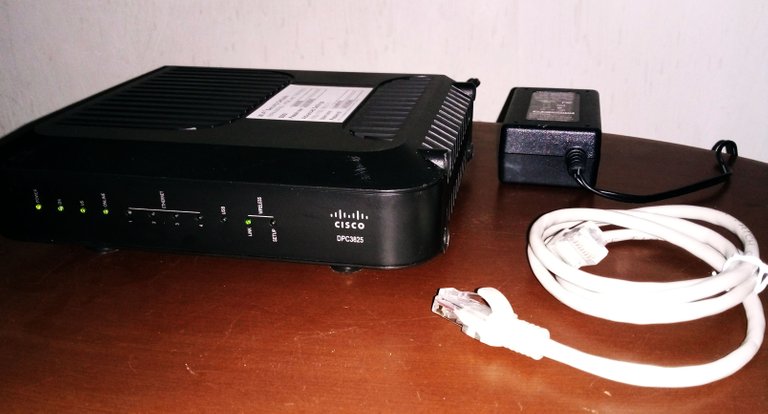 ---
Well friends, that's all for now. I am happy because I was finally able to make this publication, because I finally have internet at home. Previously I had to travel to my grandmother's house to connect to the internet or just use the data service of my cell phone, but with this acquisition I have managed to simplify things a little more.
Thanks to HIVE and everyone who has supported me so far. I invite you to leave your opinions below in the comments, as always I will be happy to read them. With nothing more to add I'll say goodbye then....
See you next time!
Bien amigos, esto ha sido todo por ahora. Estoy contento porque al fin pude hacer esta publicación, porque al fin tengo internet en mi casa. Anteriormente debia viajar a casa de mi abuela para conectarme a interenet o simplemente recurrir al servicio de datos de mi celular, pero con esta adquisición he logrado simplificar un poco más las cosas.
Gracias a HIVE y a todos los que me han apoyado hasta ahora. Los invito a dejar sus opiniones abajo en los comentarios, como siempre estaré encantado de leerlos. Sin más que agregar me despido entonces...
¡Hasta la próxima!
---
---

Traducido con DeepL
Últimos tres post/Last three posts:
Photos in the park
Sunrise
Gabo Hallacas

The Terminal

HiveDIY