English
In my free time I never lose the habit of sitting down to play on my cell phone. I was looking in the play store for a game that caught my attention and I found this platform game that, despite being free and for mobile, is quite interesting.
A platform game, ninja, cell phone, shurikens, a great combination. I present Ninja Arashi
Español
En mi ratos libres no pierdo la costumbre de sentarme a jugar en mi celular. Estuve buscando en la play store algun juego que me llamase la atención y encontré este juego de plataforma que, a pesar de ser gratis y para celular, es bastante interesante.
Un juego de plataforma, ninja, celular, shurikens, una gran combinación. Les presento Ninja Arashi
---
---
I had already seen other games like this of ninjas and the truth is that I had been disappointed because they tend to be repetitive, but I really liked this one because you don't get bored. At least I found each level I was advancing entertaining and I did not get bored at any time.
You can download it directly from the playstore by following this link:
Ya había visto otros juegos así de ninjas y la verdad es que me habían decepcionado porque tienden a ser repetitivos, pero este la verdad que me gustó bastante porque no te aburres. Al menos a mi me pareció entretenido cada nivel que estuve avanzando y no me aburrí en ningún momento.
Puedes descargarlo directamente de la playstore siguiendo este enlace:
---
https://play.google.com/store/apps/details?id=com.blackpanther.ninjaarashi&hl=es_VE&gl=US
---
On the main screen are the levels of the game. Obviously we have nothing at the beginning, no coins, crystals, nothing. To start simply select the level (the first one, because we are starting), then click on Play.
En la pantalla principal se encuentran los niveles del juego. Evidentemente no tenemos nada al comenzar, ni monedas, cristales, nada. Para comenzar simplemente hay que seleccionar el nivel (el primero, pues estamos comenzando), luego hay que hacer clic en Play.
---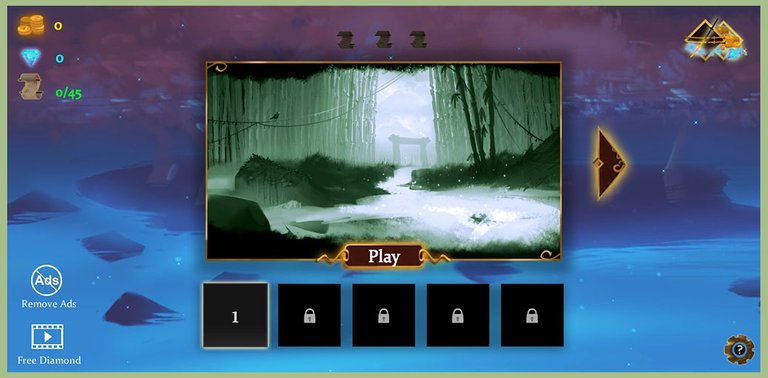 ---
In the beginning we are presented with an intro of what happened to the character. The typical story of a ninja seeking revenge on an enemy who murdered his family. Typical in some of these games.
After this intro we start with the initial level. As you can see in the image below, the scenery and characters are mostly black, except for some details such as wood, fire, among other things.
En el inicio se nos presenta una intro de lo que pasó con el personaje. La típica historia de un ninja que busca venganza de un enemigo que asesinó a su familia. Lo típico en algunos de estos juegos.
Luego de esta intro comenzamos con el nivel inicial. Como pueden observar en la imagen de abajo, el escenario y los personajes son negros en su mayoría, salvo algunos detalles como la madera, el fuego, entre otras cosas.
---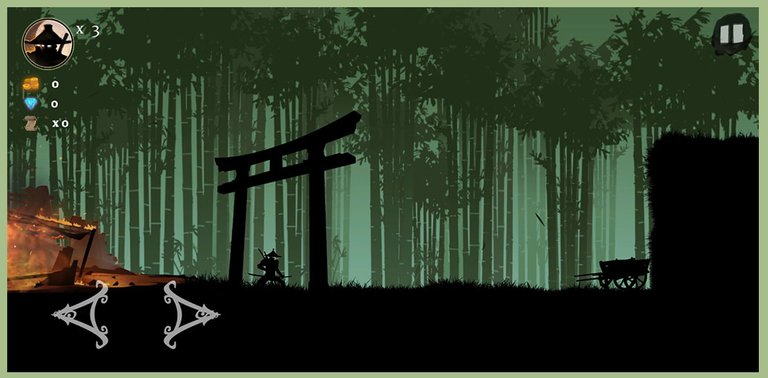 ---
The background is quite colorful and with quite interesting designs. All of them quite artistic and reminiscent of that characteristic Asian style.
El fondo sí es bastante colorido y con diseños bastante interesantes. Todos bastante artísticos recordando ese estilo asíatico bastante característico.
---
---
I'll digress here, before continuing with the gameplay, as the game has a section for purchases, like almost all these games.
There are options to buy skins, improve character skills, remove ads and buy coins or diamonds. In my opinion, the latter are easily obtained throughout the game.
Aquí voy a hacer un paréntesis, antes de continuar con la jugabilidad, ya que el juego tiene una sección para compras, como casi todos estos juegos.
Hay opciones para comprar skins, mejorar las habilidades del personaje, eliminar los anuncios y comprar monedas o diamantes. En mi opinión, estas últimas se consiguen fácilmente a lo largo del juego.
---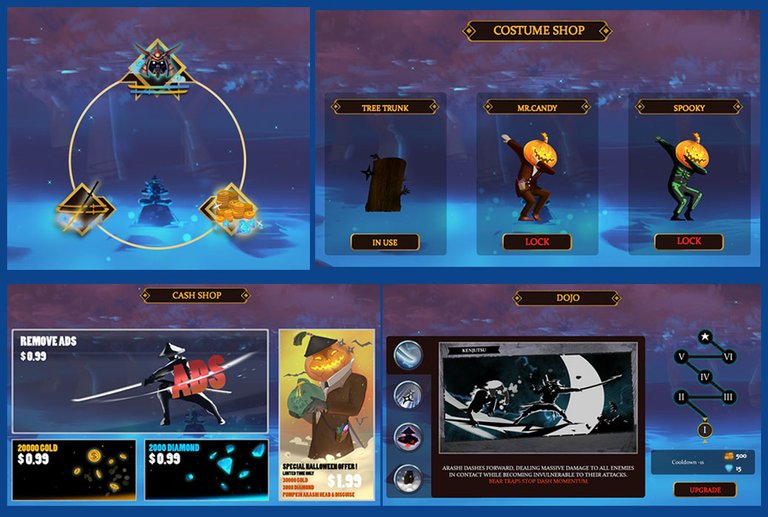 ---
Going back to the initial level, in this level we are given a brief tutorial at the beginning, where we are explained that we can do a double jump, throw shurikens to attack enemies or do a slash with the katana to instantly finish all enemies.
Volviendo al nivel inicial, en este nivel se nos da un breve tutorial al comienzo, donde nos explica que podemos hacer un salto doble, lanzar shurikens para atacar a los enemigos o hacer un corte con la katana para acabar instantáneamente con todos los enemigos.
---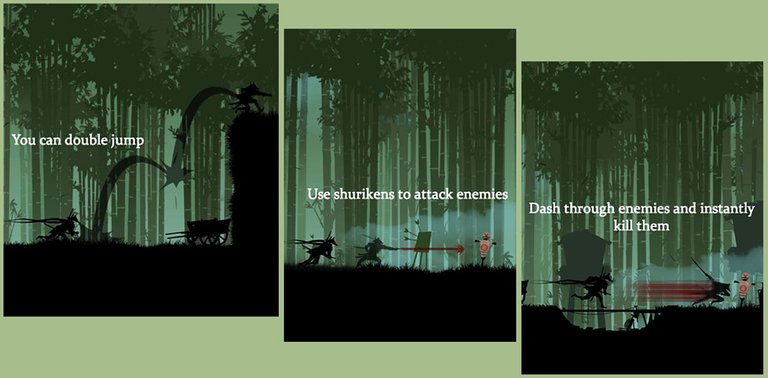 ---
It also shows us some details such as hidden rooms where we will find very important things like coins, crystals or extra lives.
También nos muestra algunos detalles como habitaciones ocultas en donde encontraremos cosas muy importantes como monedas, cristales o vidas extras.
---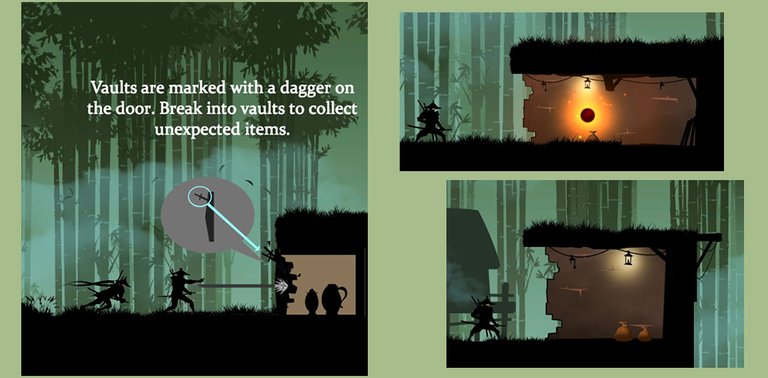 ---
How to play? Well, after the tutorial, the controls that are on the screen help us to play in a very intuitive way.
Personally I really liked the gameplay of the game because it is not slow at all, it is as you could imagine a ninja game, fast, stylish and with cool attacks.
¿Cómo se juega? Pues, después del tutorial, los controles que estan en pantalla nos sirven para jugar de manera bastante intuitiva.
En lo personal me gustó mucho la jugabilidad del juego porque no es para nada lento, es como podrías imaginar un juego de ninjas, rápido, con estilo y con ataques bien geniales.
---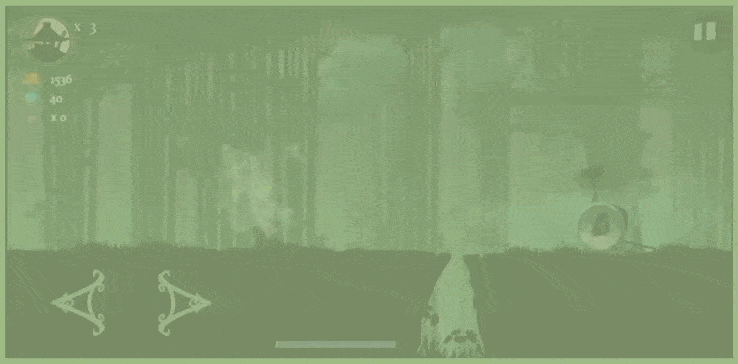 ---
Shurikens are the most used in the game, it is the ranged attack with which you can defeat almost all enemies.
Also, thanks to these shurikens is that we can destroy, for example, the walls that hide the secret rooms that are throughout the game, where are those treasures that I mentioned before.
Las shurikens son las que más usas en el juego, es el ataque a distancia con el que se pueden derrotar a casi todos los enemigos.
También, gracias a estas shurikens es que podremos destruir, por ejemplo, las paredes que ocultan las habitaciones secretas que hay a lo largo del juego, en donde estan esos tesoros que ya mencioné antes.
---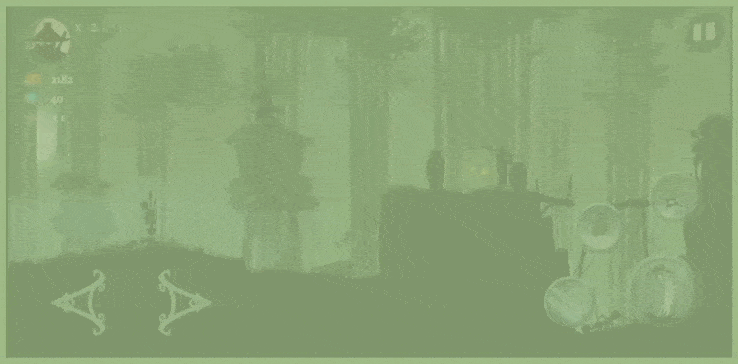 ---
There are many traps in the game, but just as there are traps there are many things that help us to solve these problems. For example, there is this sphere that I show you in the image below.
By taking this blue sphere, we can create around us a force field that protects us against the acid, the fire and some traps; emphasis on some, because the force field does not work with a spear, for example.
Hay muchas trampas en el juego, pero así como hay trampas hay muchas cosas que nos sirve para solventar estos problemas. Por ejemplo, está esta esfera que les muestro en la imagen de abajo.
Al tomar esta esfera azul, logramos crear alrededor de nosotros un campo de fuerza que nos proteje contra el acido, el fuego y algunas trampas; énsasis en algunas, porque el campo de fuerza no funciona con lanza, por ejemplo.
---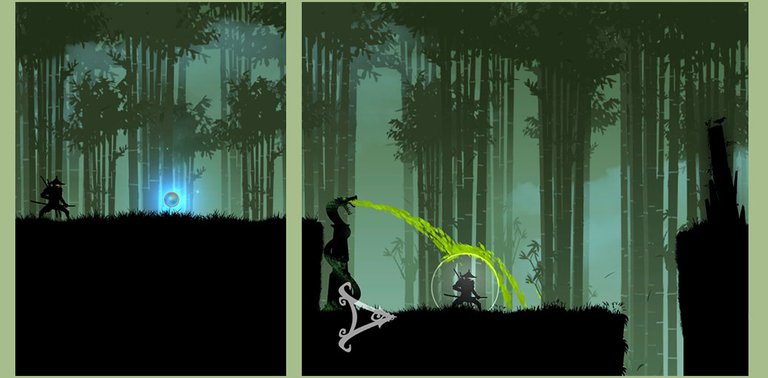 ---
The objective of the game, leaving aside the story, is to find some scrolls that will allow us access to the next map. There are usually three, so far I have not had to recover more than 3 scrolls.
If we don't find these scrolls we simply can't advance to the next level. This is important to know, because in my case I spent about 10 minutes trying to find out why I couldn't advance to the next level and it was because I had left one of these scrolls behind...
El objetivo en sí del juego, dejando de lado la historia, es encontrar unos rollos que nos permitirán el acceso al siguiente mapa. Suelen ser tres, hasta ahora no he tenido que recuperar más de 3 rollos.
Si no encontramos estos rollos simplemente no podremos avanzar al siguiente nivel. Este es importante saberlo, porque en mi caso yo estuve como 10 minutos intentando saber por qué no podía avanzar de nivel y era por esto, porque había dejado olvidado uno de estos rollos...
---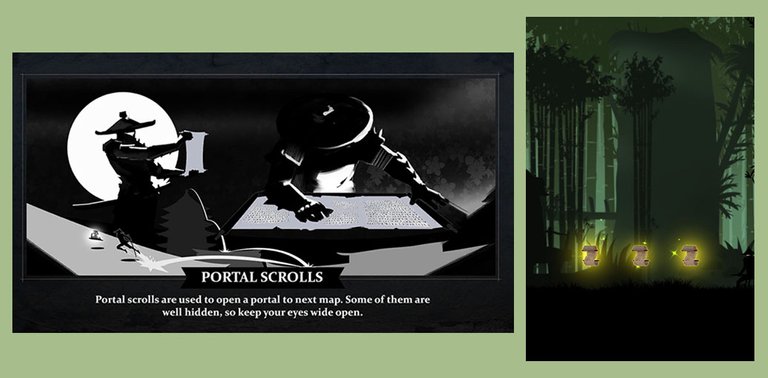 ---
Well, the end of each level is easy to identify because we arrive at a glowing portal with a bell. Note, if we have not captured the scrolls that I mentioned, this portal will not be glowing, but off.
To pass the level we simply have to move towards the portal and the level will be complete.
Bien, ya el final de cada nivel es fácil de identificar porque llegamos a un portal brillante con una campana. Ojo, si no hemos capturado los rollos que ya les mencioné, este portal no estará brillando, sino apagado.
Para pasar el nivel simplemente debemos avanzar hacia el portal y el nivel estará completo.
---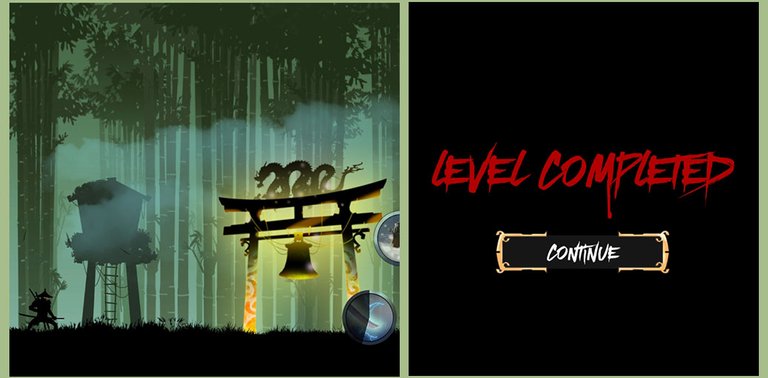 ---
Yes, it's all very nice, but the truth is that the game is quite challenging. As I said, there are traps everywhere and an endless number of ways in which the character can die.
See, for example, the following animations to get an idea of the ways in which the character can die...
Sí, muy bonito todo, pero la verdad es que el juego es bastante desafiante. Como dije, hay trampas por todos lados y un sin fin de maneras en las que el personaje puede morir.
Vean por ejemplo, las siguientes animaciones para que se hagan una idea de las maneras en que el personaje puede morir...
---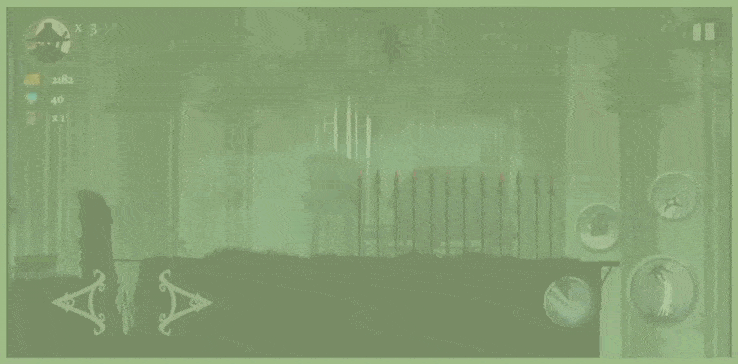 ---
The great thing is that we have 3 lives and if we lose them, we can use 3000 coins, which we get in the same game, to get 2 more lives to go back to the last point where we were. We can also see an advertisement if we don't have coins.
In any case, if even with 5 lives we can't advance the level, the game will be over and we can restart the level to start from 0 that level, losing all the progress we had in that level. Of course, the advances in previous levels are not lost.
Lo genial es que contamos con 3 vidas y si las perdemos, podemos usar 3000 monedas, que obtenemos en el mismo juego, para obtener 2 vidas más para volver al último punto en el que estuvimos. También podemos ver una publicidad si no tenemos monedas.
En cualquier caso, si ni con 5 vidas logramos avanzar el nivel, el juego habrá terminado y podremos reiniciar el nivel para comenzar de 0 ese nivel, perdiendo todo el avance que teníamos en ese nivel. Claro, los avances en niveles anteriores no lo perdemos.
---

---
As you can see, it is a very complete game that can be quite entertaining for some people. I liked it, but I warn you that in some levels it can be quite difficult, not recommended for those who get stressed playing these games when they get complicated...
Well friends, this has been all, what do you think? You can leave me your opinion of the game or the publication below in the comments, as always I will be happy to read them. With nothing more to add, I'll say goodbye then...
See you next time!
Como ven, es un juego bastante completo y que puede resultar bastante entretenido para algunos. A mi me gustó, pero advierto que en cierto niveles puede llegar a ser bastante difícil, no recomendable para aquellos que se estresan jugando estos juegos cuando se complican...
Bien amigos, esto ha sido todo. ¿Qué opinan? Me pueden dejar su opinión del juego o de la publicación abajo en los comentarios, como siempre yo estaré encantado de leerlos. Sin más que agregar, me despido entonces...
¡Hasta la próxima!
---
---

Traducido con DeepL
Últimos tres post/Last three posts:
MediBang Paint Pro: A great drawing tool
Challenge to Gabo #6
Continúa la historia: La espada oxidada