Hello to all the Geek Zone community! Welcome once again to my blog! Previously, I had shared my experience with the InPods 12 headset that can be found at a cost of only 10 dollars, however, the same contains its disadvantages, which reduces the quality of the device for their respective purchase. Now, this time I want to introduce you to one of the most amazing gamer headsets in terms of presentation, sound quality, comfort, extraordinary software management and other peculiarities.
¡Hola a toda la comunidad de Geek Zone! ¡Bienvenidos una vez más a mi blog! Anteriormente, había compartido de mi experiencia con los auriculares InPods 12 que lo podemos encontrar a un costo de tan solo 10 dólares, sin embargo, la misma contiene sus desventajas, lo cual, reduce la calidad del dispositivo para su respectiva compra. Ahora bien, en esta ocasión quiero darles a conocer uno de los auriculares gamer más sorprendentes en cuanto a presentación, calidad de sonido, comodidad, extraordinaria gestión por software y demás peculiaridades.
---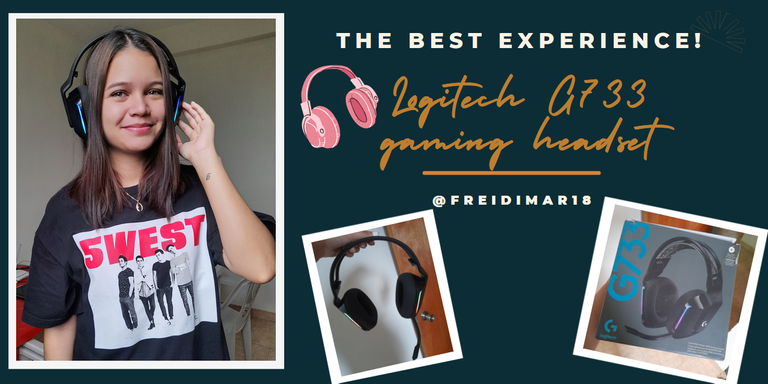 Image made in /
Imagen realizada en Canva
The Logitech G733 gaming headset, I learned of its existence thanks to my boyfriend
@reivalg
who made the purchase of it a few years ago. In my case I have used it in video games like League of Legend and Valorant (I do not have much travel there) but I have been able to corroborate how interesting and wonderful it can be to have in your hands a headset of such excellent quality / price. I know that for video game lovers this is undoubtedly an extremely important device when playing, example; Valorant, which, having a headset like this allows a greater advantage to hear more clearly the steps of the opposing team, thus giving an incredible experience in the gameplay.
Los auriculares de juegos Logitech G733, supe de su existencia gracias a mi novio
@reivalg
quien hizo la compra de la misma hace unos años. En mi caso lo he usado en videojuegos como League of Legend y Valorant (no tengo mucho recorrido allí) pero he podido corroborar lo interesante y maravilloso que puede llegar a ser el tener en tus manos unos audífonos de tan excelente calidad / precio. Sé que para los amantes de los videojuegos esto sin duda es un dispositivo sumamente importante a la hora de jugar, ejemplo; Valorant, lo cual, contar con un auricular como este permite una mayor ventaja para escuchar de manera más clara los pasos del equipo contrario, dando así una increíble experiencia en la jugada.
---

To begin with, I will tell you how is the price of it and if it is really worth spending a high amount of dollars for a wireless headset. First of all, the headphones are made by Logitech, so you can realize that we will not regret the purchase because it is characterized by offering high-end equipment. This one has a cost of 120$ approximately, I remember that the purchase my boyfriend made it through the original Logitech page and it took a month to be delivered.
I should note that its price is in line with the quality of the headset overall, due to the fact that it exceeds all expectations in terms of sound and performance. So, you definitely won't back out if you wish to someday purchase it.
Para comenzar, les contaré que tal es el precio de la misma y si realmente vale la pena gastar una cantidad elevada de dólares por un auricular inalámbrico. En primer lugar, los audífonos son de la marca Logitech, así que se podrán dar cuenta que no nos arrepentiremos de la compra ya que la misma se caracteriza por ofrecer equipos de gama alta. Esta tiene un costo de 120$ aproximadamente, recuerdo que la compra mi novio la hizo por la página original de Logitech y demoró un mes para ser entregado.
Debo destacar que su precio se ajusta a la calidad del auricular en general, debido a que sobrepasa todas las expectativas en cuanto a sonido y prestaciones. Así que, definitivamente no te retractarás si deseas algún día adquirirlo.
---

Every time I have the opportunity to enjoy a good headset, the first thing I see is its design and material quality. Therefore, I have a lot to say about the headphones, among them, the range of colors; it is available in black, white, purple, and blue, certainly an excellent range of colors, so it makes it somewhat complicated when choosing. The second thing I will cover about its design are the front lights that can be configured with the Logitech G Hub software. What material is it made of? It's plastic and they have a creative band with reversible suspension that is completely resistant and fits over the head. This can be removed or simply left on the headset, and my favorite part is the dual-layer memory foam, which allows for a snug and comfortable fit.
As a last feature, it has several ports and controls to turn on, lower and raise the volume and also mute the microphone. It also has an exclusive port to place the microphone and the USB port for charging.
Cada vez que tengo la oportunidad de disfrutar de unos buenos audífonos lo primero que visulizo es su diseño y calidad del material. Por ello, tengo mucho que decir sobre los auriculares, entre ellos,
la gama de colores
; ésta se encuentra disponible en color negro, blanco, lila, y azul, sin duda una excelente gama de colores, por lo que, lo vuelve algo complicado a la hora de elegir. Lo segundo que abarcaré de su diseño son
las luces frontales
que podemos configurarlas con el software Logitech G Hub. ¿De qué material está hecho? Es de plástico y tienen una creativa banda con suspensión reversible completamente resistente que se ajusta a la cabeza. Ésta la podemos retirar o simplemente dejarlas en lo auriculares, asimismo, mi parte favorita es la espuma viscoelástica de doble capa, lo cual permite un ajuste cómodo y perfecto.
Como última característica, cuenta con varios puertos y controles tanto para encender, bajar y subir el volumen y asimismo silenciar el micrófono. Además de contener un puerto exclusivo para colocar el micrófono y el puerto USB para su respectiva carga.
---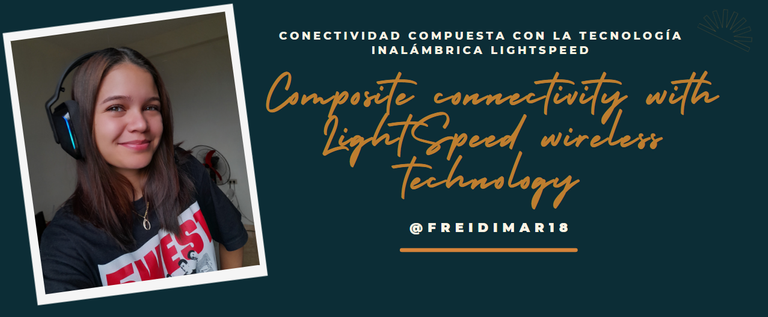 Its connectivity is given as I described in the title, by Lightspeed wireless technology, so it can be used up to 20 meters away from the pc where it is connected. It does not have bluetooth technology, so I consider it a disadvantage of the helmet. To make them work we must insert the receiver into the USB port of the pc (a pendrive that comes with the headset), then press the power button located on the left side of the helmet and ready, if you want to enhance and configure it, what is recommended is to download the Logitech G HUB software to access the advanced features, there we can configure the lights and sound in our own way.
Su conectividad se da tal cual como lo describí en el título, por la tecnología inalámbrica Lightspeed, por lo que, puede ser utilizado hasta 20 metros de distancia desde la pc en la que esté conectada. Ésta no posee tecnología bluetooth, por lo que, lo considero una desventaja del casco. Para hacerlos funcionar debemos insertar el receptor en el puerto USB de la pc (un pendrive que viene con el auricular), luego, se presiona el botón encender que se encuentra en el lado izquierdo del casco y listo, si se desea potenciarlo y configuarlo, lo que se recomienda es descargar el software Logitech G HUB para acceder a las funciones avanzadas, allí podemos configurar las luces y sonido a nuestra manera.
---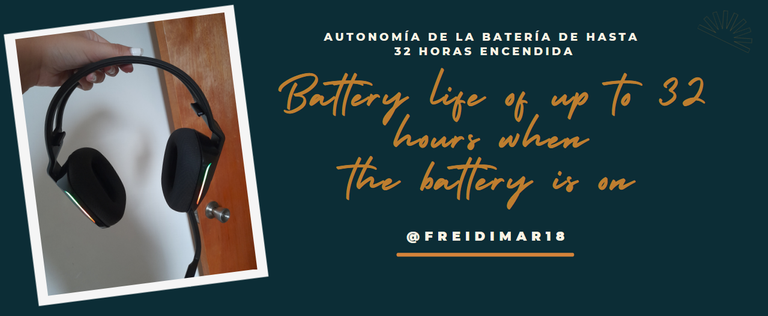 Regarding the battery life, it performs very well, and this is definitely one of my favorite parts of the headset, it can last about 32 hours with the LED lights off and about 24 hours with the lights on. For its part, to find out how much battery life is left we visit the G Hub app and there we find its status. On the other hand, it takes three hours to charge, and it can be used while it is connected and receiving a charge.
Respecto a la durabilidad de la batería rinde muchísimo, y ésta sin duda en una de mis partes favoritas del auricular, ésta puede durar alrededor de 32 horas con las luces LEDs apagadas y unas 24 horas con las luces encendida. Por su parte, para saber cuánta batería le queda visitamos la aplicación G Hub y allí encontremos su estado. Por otro lado, a la hora de cargarlos demora tres horas, aparte se puede utilizar mientras está conectado recibiendo carga.
---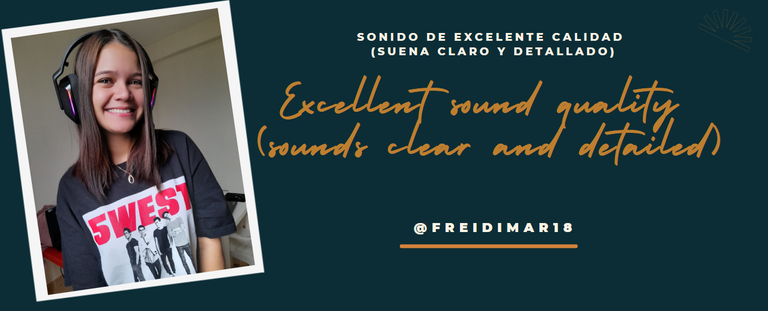 Finally, one of the most important features of the headset is the sound, which is very clear and accurate, we can also vary it when configuring them, for its part, you can appreciate the low and high tones in a neat way. On top of that, the removable microphone that comes with the Logitech G733 headset works flawlessly. So yes, I had an amazing experience with them.
Finalmente, una de las características sumamente importante de los auriculares es el sonido, lo cual, se escucha muy claro y preciso, también podemos variarlo a la hora de configurarlos, por su parte, se pueden apreciar los tonos bajos y altos de forma nítida. Además de ello, el micrófono extraíble que viene con los auriculares Logitech G733 funciona de una manera impecable. Así que sí, me he llevado una increíble experiencia con ellos.
---
Do I recommend purchasing the Logitech G733 headset headphones? 🤔
¿Recomiendo la compra de los auriculares auriculares Logitech G733? 🤔
As I have been saying, it is one of the best headphones I have been able to experience, so, every time I can I will recommend it for its quality and for being so efficient when it comes to either play, enjoy good music. It generates a lot of comfort. The only thing I feel that takes away points are its connectivity limitations but otherwise, a wonderful option to have a different experience, thank you very much for getting here!
Como lo he venido expresando, es uno de los mejores audífonos que he podido experimentar, así que, cada vez que pueda lo recomendaré por su calidad y por ser tan eficiente a la hora ya sea de jugar, disfrutar de una buena música. Genera mucha comodidad. Lo único que siento que le quita puntos son sus limitaciones de conectividad pero del resto, una maravillosa opción para tener una experiencia diferente, ¡muchísimas gracias por llegar hasta aquí!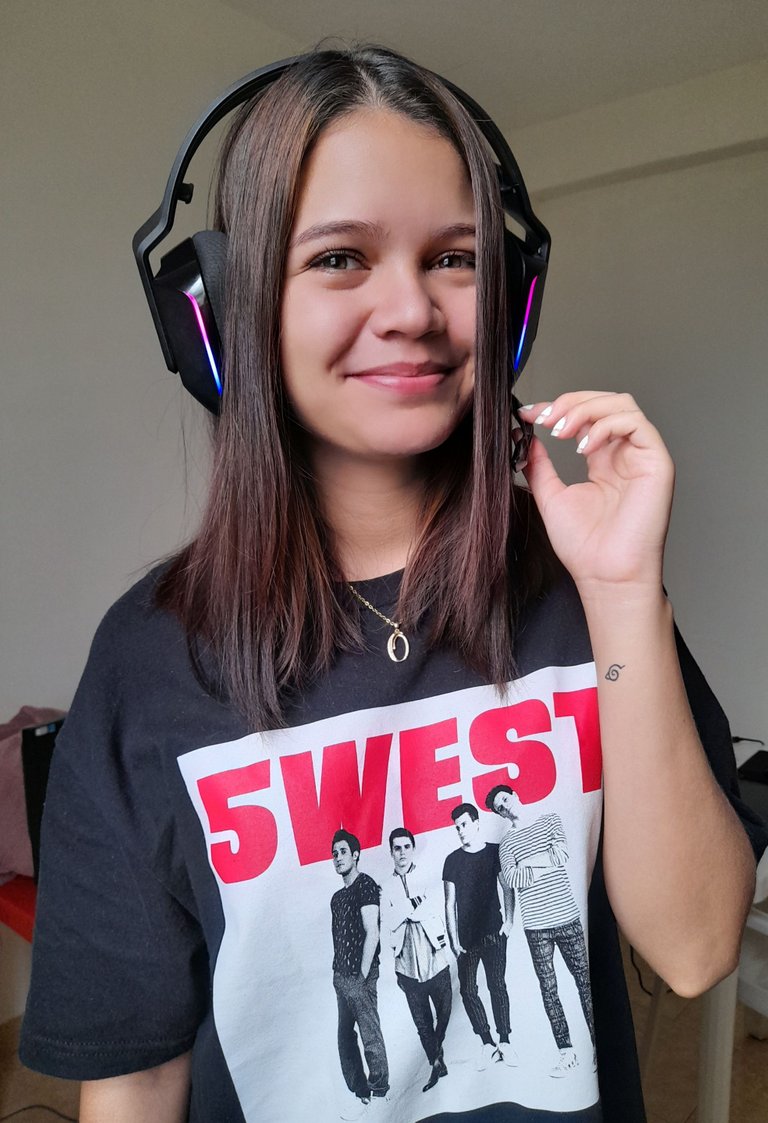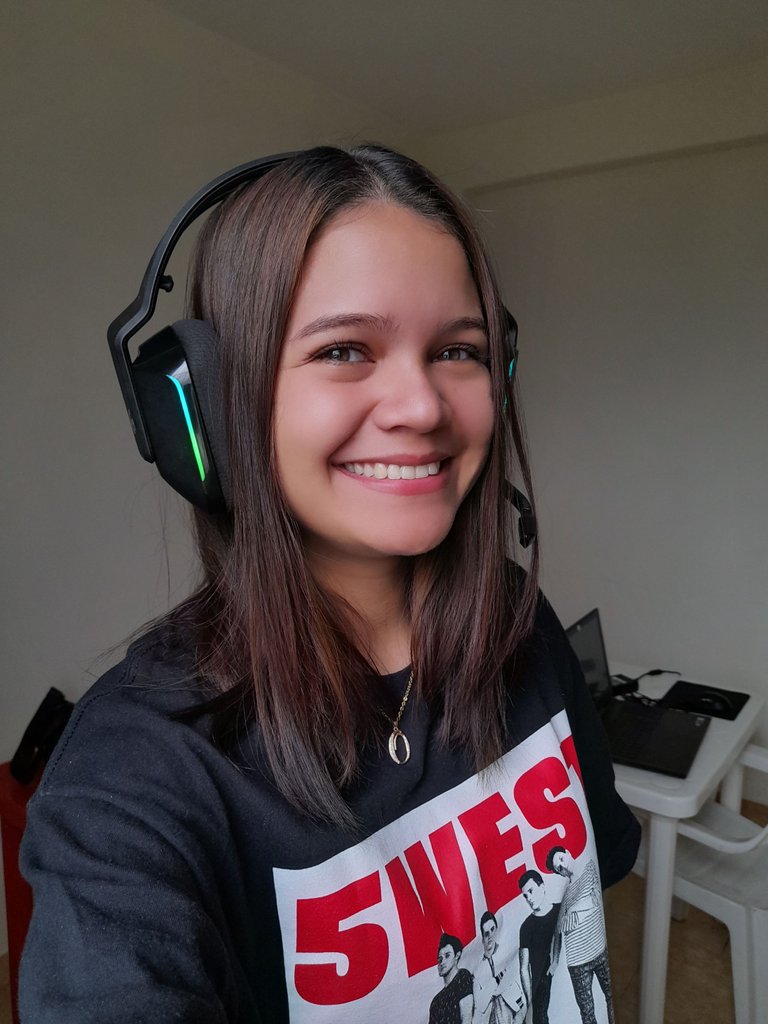 ---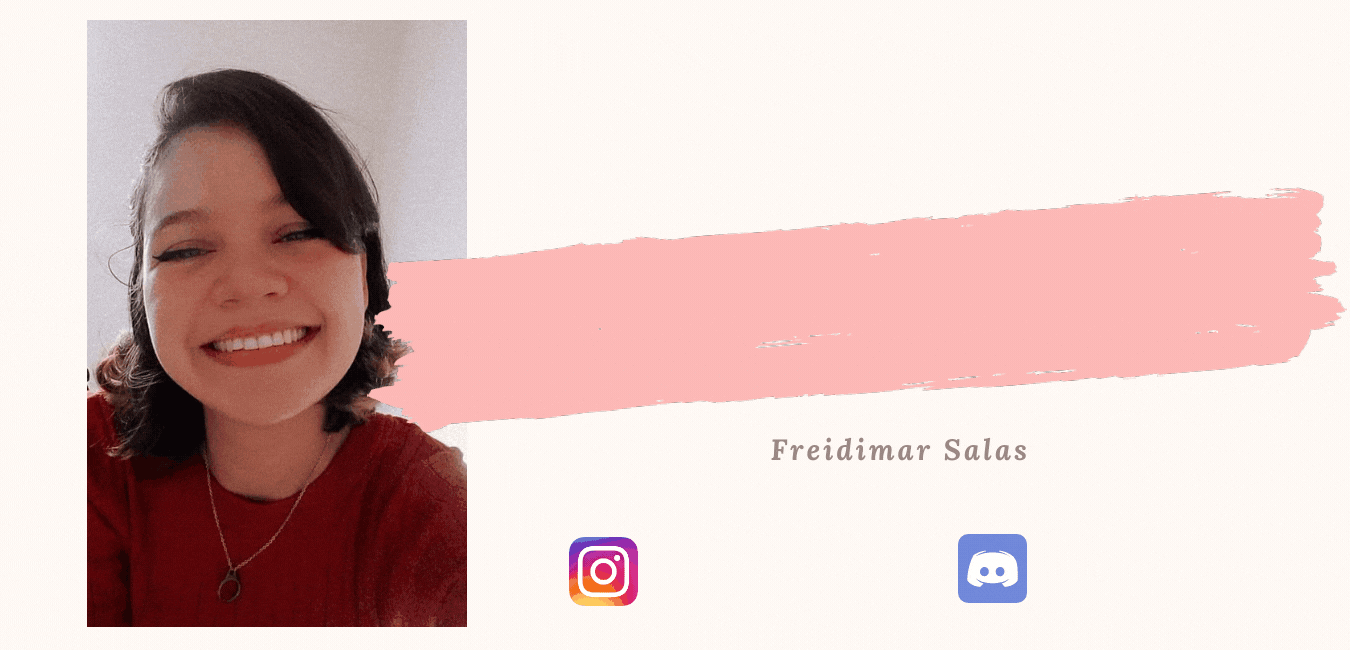 Important sources / Fuentes importantes:
✎ Translator / Traductor: Deepl
✄Text separators / Separador de textos: Visit here
All pictures were taken with my Samsung Galaxy A12 phone /
📷Todas las fotografías fueron tomadas con mi télefono Samsung Galaxy A12 📲