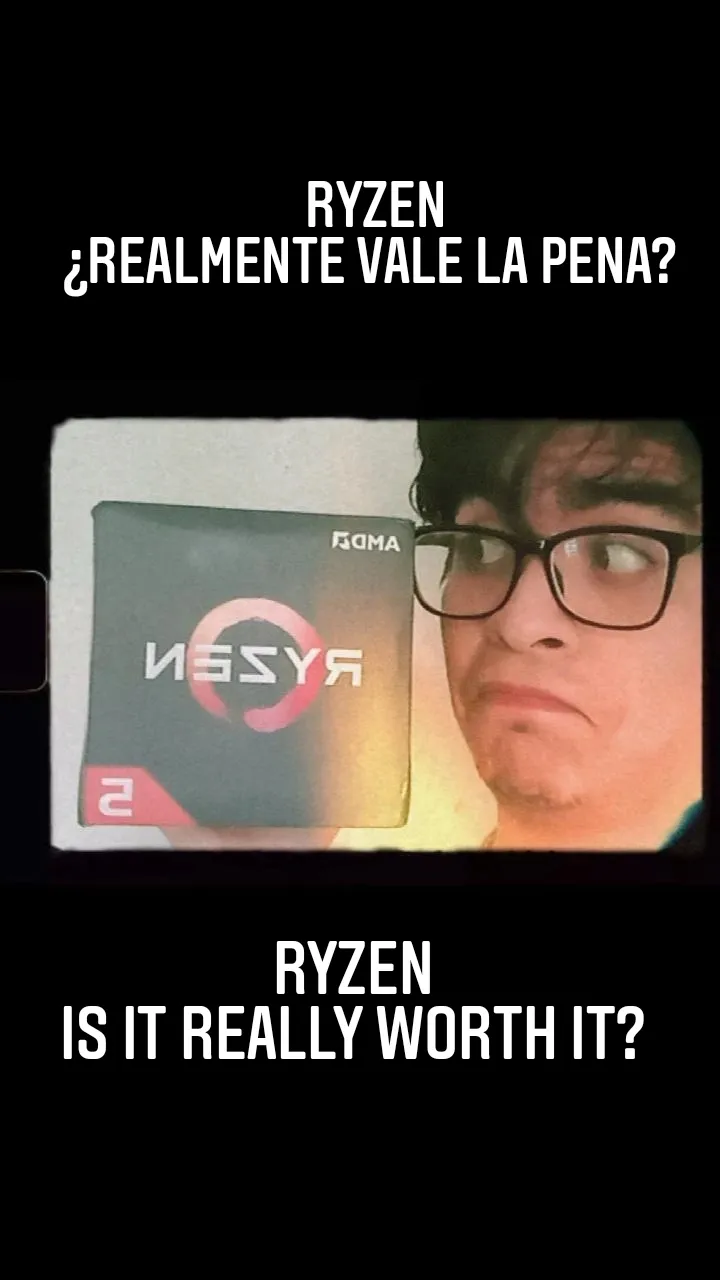 ---
¡Bienvenidos querida comunidad Geek! espero que todos anden bien, no he publicado esta semana por aquí, mas que nada porque me he quedado un poco sin ideas de que hablar, ya saben que generalmente traigo cositas para compartir, como pruebas con programas, comparaciones entre navegadores o aprendizajes con distintas apps, pero bueno, digamos que he tenido un poco seca la pensadora, hasta que eche un ojo a las cajitas que me gusta coleccionar y la vi, vi lo que me gustaría contar y traer hoy con ustedes, la experiencia que he tenido saltando desde Intel y sus procesadores modestos que van desde los Dual Core hasta ya casi la entrada de los i3, esta publicación será mas que nada como una anécdota ~ recomendación, pues el gusto que he tenido con Ryzen sinceramente es algo que ningún procesador me ha dado hasta ahora, aunque sinceramente no he tenido la oportunidad de comparar muchos, así que tengan eso cuenta, con eso dicho, comencemos.
Welcome dear Geek community! I hope everyone is doing well, I have not posted here this week, mostly because I've been a little out of ideas to talk about, you know I usually bring little things to share, such as tests with programs, comparisons between browsers or learning with different apps, but well, let's say I've had a little dry the thinker, until I took a look at the little boxes that I like to collect and saw it, I saw what I would like to tell and bring with you today, the experience I've had jumping from Intel and its modest processors ranging from Dual Core to almost the entry of the i3, this publication will be more than anything as an anecdote ~ recommendation, because the taste I've had with Ryzen sincerely is something that no processor has given me so far, although honestly I have not had the opportunity to compare many, so keep that in mind, with that said, let's begin.
---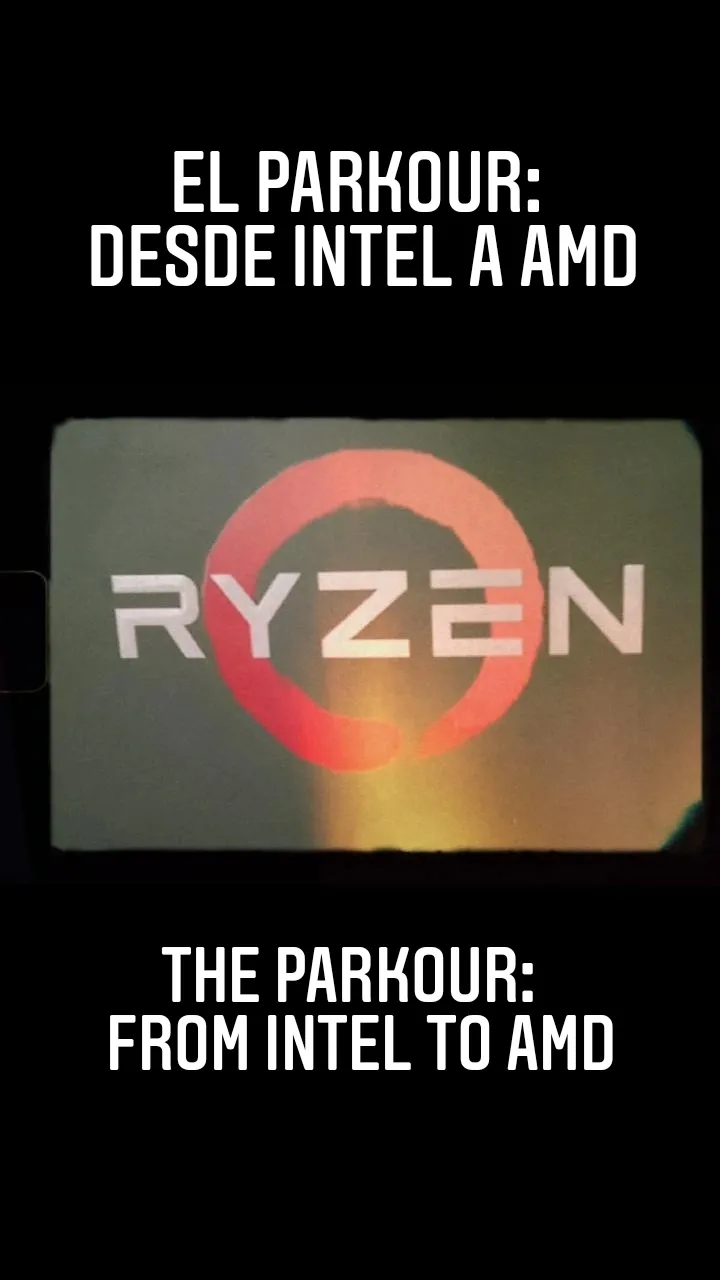 ---
Antes de hacer un párrafo súper extendido con todas las cosas buenas que he experimentado con Ryzen, primero tengo que hablar de Intel ¿Porque? pues porque toda mi vida he utilizado procesadores Intel, al menos desde que entendí que había dos marcas en el mercado, mi padre, un ingeniero en sistemas, se aseguro que yo entendiera las partes mas básicas de las computadoras, entre ellas, el procesador, para mi pensamiento el procesador era lo que hacia veloz a la computadora y lo que mas importaba para poder instalar juegos de la época, hoy se que las PC trabajan bajo una armonía entre todos los componentes, en los que pueden destacar 1 o 2 pero que generalmente todos necesitan de todos para operar de manera eficiente, en esos años, Intel siempre estuvo presente en todas las computadoras que utilice en esos días y me acompañaron incluso cuando me mude, estando ya en Puerto Ordaz, tenia el sueño de mejorar mi computadora a un i7 esos procesadores tan absurdamente potentes en ese entonces que curiosamente, esas generaciones ya van quedando relegadas con las que están saliendo hoy en día, Recuerdo que mis primeros procesadores, fueron un Pentium IV, después un Dual Core y por ultimo (creo), los Core 2 Duo, este ultimo de hecho siendo el que mas "Exprimí" por así decirlo, con juegos, programas y demás, a partir de ahí no pude avanzar mas en las generaciones y modelos, lo que causo que inevitablemente tuviera un retraso tecnológico importante, a pesar de ello, Intel, sobre todo los procesadores Core 2 Duo, se portaron excelentemente bien para sus capacidades y mis exigencias (que no fueron pocas, de hecho una vez coloque un Core 2 Duo a minar por puro experimento, si, la CPU, el chiste se cuenta solo) pase un tiempo en ese limite tecnológico hasta que por fin, logre construir una computadora... lo lógico hubiese sido quedarse con Intel... ¿Porque? ... En ese momento mi presupuesto era bastante amplio y quería apuntar a lo mejor que pudiera permitirme, a fin de cuentas, sabia que una PC bien robusta significaba que tendría mas medios para obtener ingresos y generar contenido, quería un procesador, que fuera rápido, que cumpliera con los requisitos recomendados y que me permitiera sacarle el máximo provecho a todos los juegos que me habia perdido... entre toda esa investigación muchos apuntaban a que Ryzen era mejor, a que intel tenia mejor eficiencia pero que Ryzen era el líder en el campo de los videojuegos... Tome la decisión y seguí adelante con el resto de piezas, ¿Cómo resulto eso?
Before I make a super extended paragraph with all the good things I have experienced with Ryzen, first I have to talk about Intel Why? Because all my life I have used Intel processors, at least since I understood that there were two brands in the market, my father, a systems engineer, made sure I understood the most basic parts of computers, including the processor, for my thinking the processor was what made the computer fast and what mattered most to install games of the time, today I know that PCs work under a harmony between all components, In those years, Intel was always present in all the computers I used in those days and accompanied me even when I moved, being already in Puerto Ordaz, I had the dream of upgrading my computer to an i7 those processors so absurdly powerful at that time that curiously, those generations are now relegated to the background, I remember that my first processors were a Pentium IV, then a Dual Core and finally (I think), the Core 2 Duo, the latter in fact being the most "squeezed" so to speak, with games, programs and so on, from there I could not advance further in the generations and models, which inevitably caused me to have an important technological delay, despite this, Intel, especially the Core 2 Duo processors, behaved excellently well for its capabilities and my demands (which were not few, in fact once I put a Core 2 Duo to mine for pure experiment, yes, the CPU, the joke tells itself) spend some time in that technological limit until finally, I managed to build a computer. ... the logical thing would have been to stay with Intel... Why? At that time my budget was quite large and I wanted to aim for the best I could afford, after all, I knew that a robust PC meant I would have more means to earn income and generate content, I wanted a processor that was fast, that met the recommended requirements and that would allow me to get the most out of all the games I had missed ... among all that research many pointed out that Ryzen was better, that Intel had better efficiency but that Ryzen was the leader in the field of video games... I made the decision and went ahead with the rest of the parts, how did that work out?
---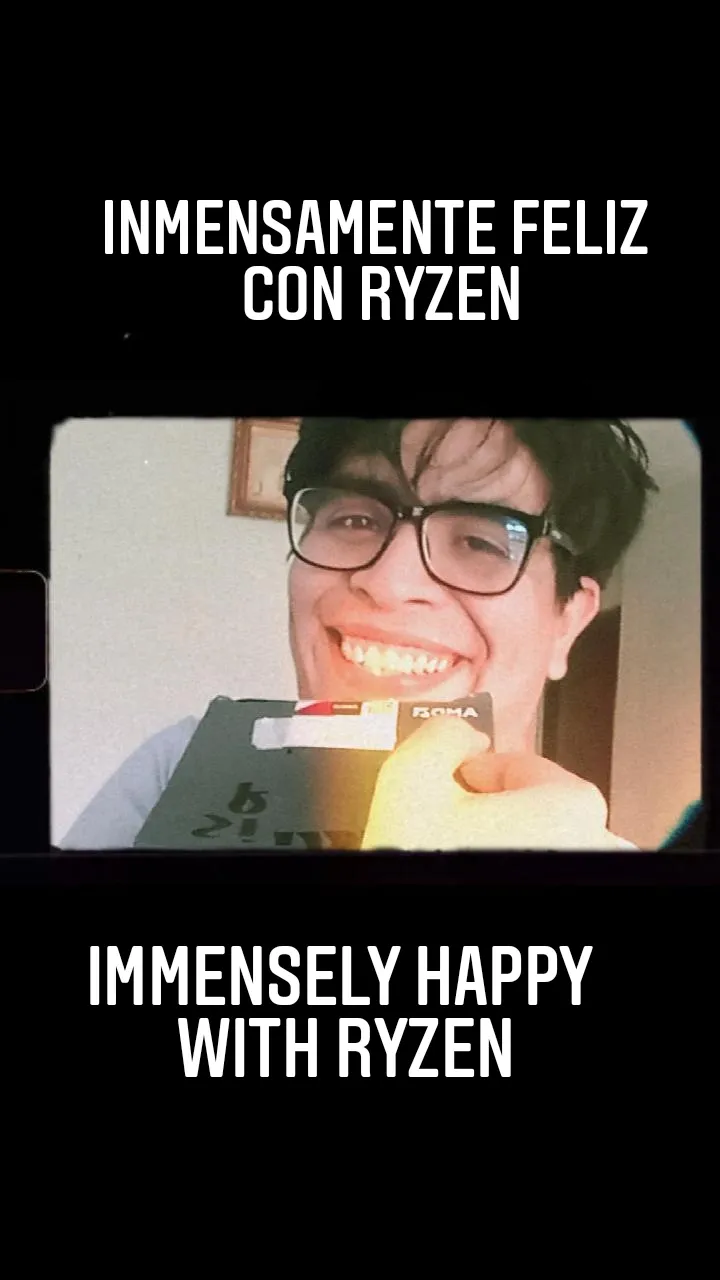 ---
Simplemente ha sido espectacular :) las capacidades del Ryzen y la versatilidad de acciones que puedo ejecutar al mismo tiempo me han parecido impresionantes desde que he ido instalando programa tras programa, sin mentirles Juego Fallout 4 mientras tengo el editor de videos encendido, el Telegram abierto y el navegador también, y como dije antes, no todo esto se debe al procesador, es toda la computadora que trabaja unida para hacerlo todo lo mejor posible para el usuario, pero no puedo quitarme de la cabeza, el martirio que era tan solo abrir el editor y el telegram en mi antigua computadora, ya habiendo pasado un buen tiempo desde que la arme y que la he ido usando, solo puedo decir que Ryzen no me ha decepcionado en ninguna ocasión y si estas pensando en adquirir uno, te diría que tuvieras en mente mis palabras, sobretodo si estas pensando en dar el gran salto a un PC hecha para jugar videojuegos, se que es caro, pero a cambio de la felicidad que brinda, vale la pena. ¿Que opinas de AMD y de Intel? Me interesa mucho saber cuales han sido sus historias con sus procesadores :)
It has simply been spectacular : ) the capabilities of the Ryzen and the versatility of actions that I can run at the same time have seemed impressive since I have been installing program after program, without lying to you I play Fallout 4 while I have the video editor on, Telegram open and the browser too, and as I said before, not all this is due to the processor, is all the computer that works together to do everything as best as possible for the user, but I can not get out of my head, the martyrdom that was just opening the editor and telegram on my old computer, having spent a good time since I built it and I have been using it, I can only say that Ryzen has not disappointed me on any occasion and if you are thinking of buying one, I would say that you have in mind my words, especially if you are thinking of making the big leap to a PC made to play video games, I know it's expensive, but in exchange for the happiness it brings, it's worth it. What do you think about AMD and Intel? I am very interested to know what your stories have been with their processors :)
---