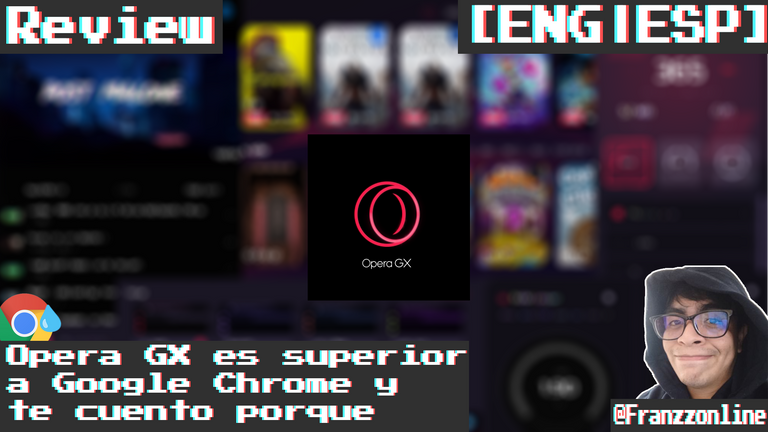 ---
¡Bienvenida querida comunidad Geek! Hoy me complace decir que estoy atravesando una nueva forma de navegar en la red, una forma mas rápida, mas accesible y mas cómoda de disfrutar de todas las ventanas que se despliegan, una nueva manera de como disfrutar y estar al tanto de las redes sociales y en resumen, una nueva forma de experimentar el internet, como, hasta ahora, no había podido disfrutar, se que esto les puede hacer levantar la ceja y preguntarse si es que vendí mi alma a alguna compañía, que seria el equivalente a decir el diablo en estos tiempos, pero no, aun no, mas bien, lo que les estoy comentando viene de la pura experiencia de una semana maravillosa, donde me he sentido en total control administrativo de mis redes (Y los que me conocen saben que soy un desastre para responder mensajes o para estar al tanto, por ejemplo, al discord) Hoy les quiero hablar de mi crush digital, Opera GX.
Welcome dear Geek community! Today I am pleased to say that I am going through a new way of surfing the net, a faster, more accessible and more comfortable way to enjoy all the windows that are displayed, a new way of how to enjoy and be aware of social networks and in short, a new way to experience the internet, as, until now, I had not been able to enjoy, I know this may make you raise your eyebrow and wonder if I sold my soul to some company, which would be the equivalent of saying the devil in these times, but no, not yet, rather, what I am telling you comes from the pure experience of a wonderful week, where I have felt in total administrative control of my networks (And those who know me know that I am a disaster to answer messages or to be aware, for example, to discord) Today I want to talk about my digital crush, Opera GX.
---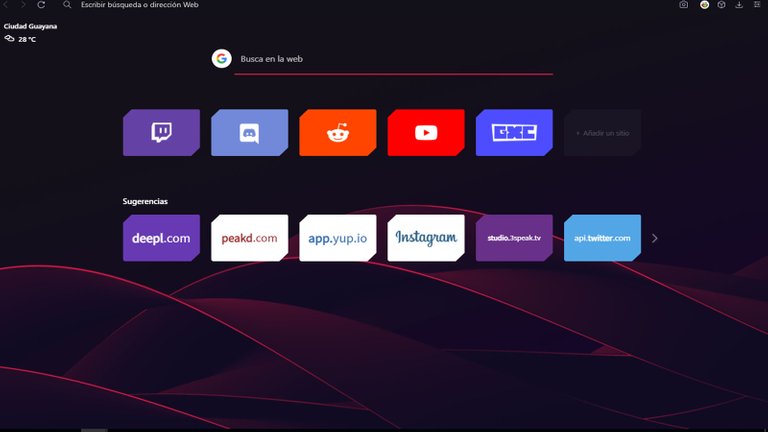 ---
Con una interfaz interesante y con un estilo que particularmente me encanta, Opera GX se nos presenta ya con una serie de ventanas predeterminadas y que son, bastante populares y además lógicas para que este en las primeras cosas que quisiéramos buscar, Por ejemplo, no tenemos que gastar tiempo escribiendo "You Tube" en el buscador, o en "Reddit" estas opciones ya viene predeterminadas y si usamos un tiempo el navegador, ira guardando sugerencias de nuestras búsquedas, hasta ahora todo normal y nada impresionante es cierto, pero no me pueden negar que es una estética totalmente diferente a lo normal en Google Chrome.
With an interesting interface and with a style that I particularly love, Opera GX is already presented with a series of default windows and that are quite popular and also logical for this in the first things we would like to search, for example, we do not have to spend time typing "You Tube" in the search engine, or "Reddit" these options are already predetermined and if we use the browser for a while, it will save suggestions of our searches, so far all normal and nothing impressive is true, but I can not deny that it is a totally different aesthetic than normal in Google Chrome.
---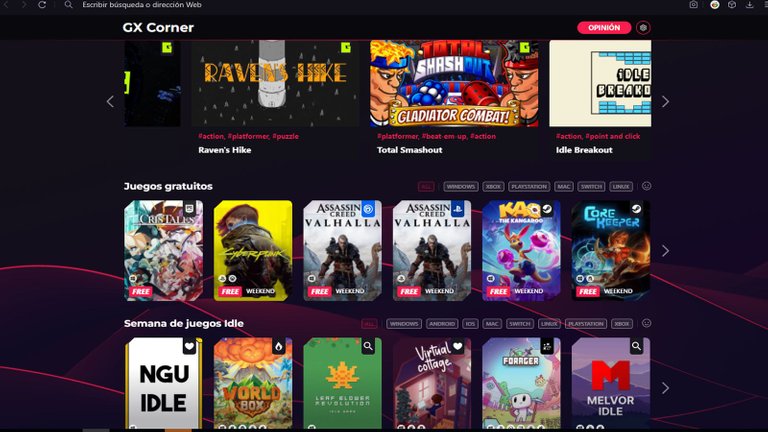 ---
Sin embargo cuando damos unos pasos mas adelante, nos damos cuenta de que existe una sección en el navegador dedicado totalmente a los juegos y es que Opera GX en si mismo esta pensando para el gaming, comprimiendo una gama de juegos gratuitos, demos de juegos Triple A, noticias sobre videojuegos, reseñas y un sin mas de cosas en las que tranquilamente puedes dedicar una mañana para enterarte de todo. Cosa que a mi como jugador que soy me encanta demasiado. Y seguro el mas escéptico dirá: "Pero es que solo tiene una sección de juegos y ya, gran cosa" Oh no querido Amigo, apenas estoy empezando, mejor ve a buscar unas papitas porque ahora voy a ir con las redes sociales.
However when we take a few steps further, we realize that there is a section in the browser dedicated entirely to games and Opera GX itself is thinking for gaming, compressing a range of free games, demos of Triple A games, news about video games, reviews and a lot of things that you can easily spend a morning to find out everything. As a gamer myself, I love it too much. And surely the most skeptical will say: "But it only has a games section and that's it, big deal" Oh no dear friend, I'm just starting, better go get some chips because now I'm going to go with the social networks.
---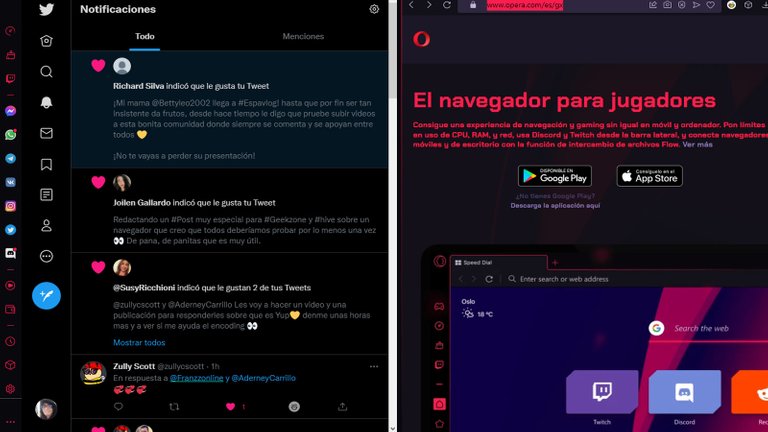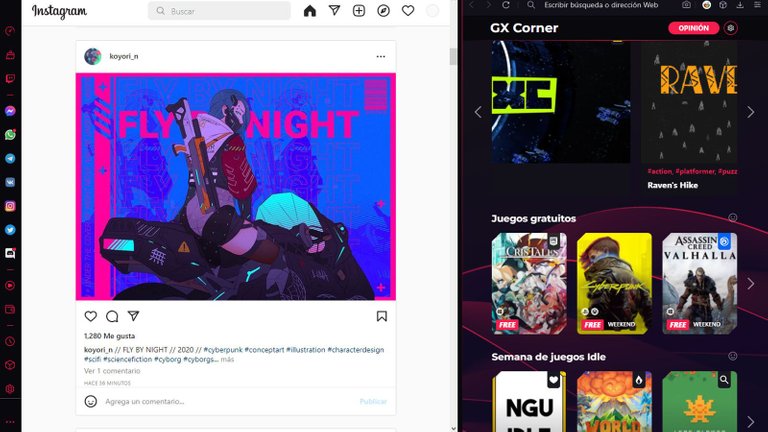 ---
Opera GX cuenta con algo que me ha resultado demasiado importante, algo que me ha hecho preguntarme ¿Por qué carajos no instale este navegador antes? y eso de lo que hablo es la accesibilidad a las redes sociales desde el panel izquierdo, ¿Tienen idea de lo útil que es tan solo dar un clic y en un instante estar revisando Whatsapp, Instagram y Discord? Estoy seguro que todos los que nos dedicamos a manejar mensajes, a moderar comunidades y estar al tanto de grupos, sabemos que sumamente importante tener accesibilidad rápida para no perdernos de nada mientras estemos activos, en la PC.
Opera GX has something that has been very important to me, something that has made me wonder why the fuck I didn't install this browser before, and what I'm talking about is the accessibility to social networks from the left panel, do you have any idea how useful it is to just give a click and in an instant be checking Whatsapp, Instagram and Discord? I am sure that all of us who are dedicated to manage messages, to moderate communities and to be aware of groups, know that it is extremely important to have quick accessibility to not miss anything while we are active, on the PC.
---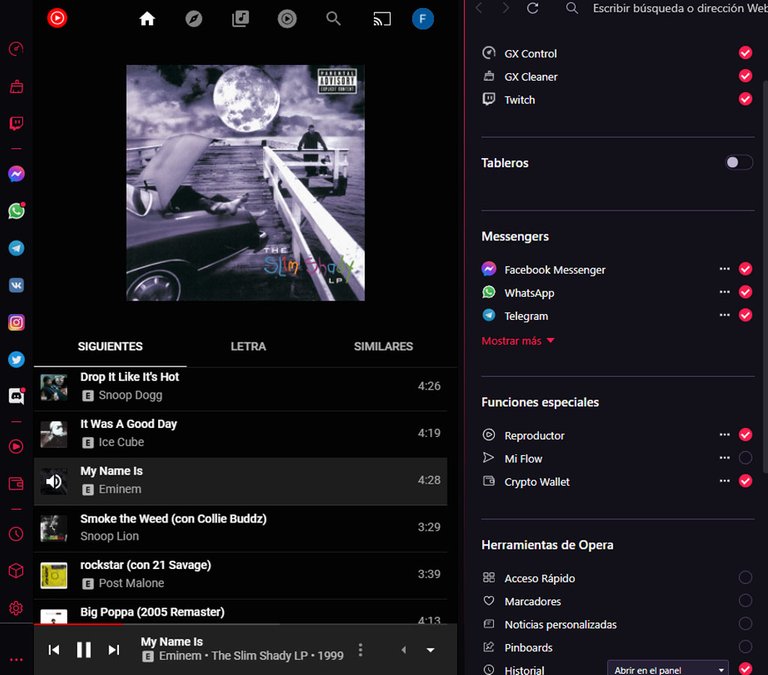 ---
¿No te interesa tener el alguna de estas redes sociales? siempre puedes configurarlo haciendo click derecho y seleccionando configurar barra lateral, aquí podremos quitar y agregar las redes que aparezcan por defecto, naturalmente, también se pueden agregar otras extensiones que te interesen, Además, mientras hacemos cualquier actividad en el navegador, podemos colocar a que suene cualquier canción de nuestro gusto tan solo haciendo click en la opción de "Reproductor" lo cual nos llevara a You Tube Music o si lo prefieres a Spotify, Apple Music, Deezer, Soundcloud y mas.
Not interested in having any of these social networks? you can always configure it by right clicking and selecting configure sidebar, here we can remove and add the networks that appear by default, naturally, you can also add other extensions that interest you, In addition, while we do any activity in the browser, we can place to sound any song of our taste just by clicking on the "Player" option which will take us to You Tube Music or if you prefer to Spotify, Apple Music, Deezer, Soundcloud and more.
---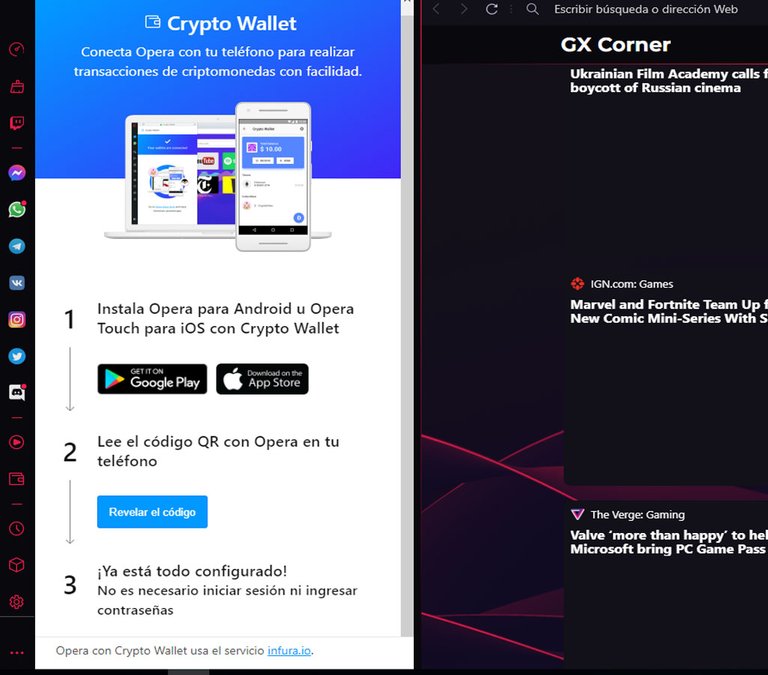 ---
Cabe destacar también que Opera no se cierra a las Criptomonedas, aunque esta opción lamentablemente no he podido explorarla se que a alguno de ustedes podar resultarle útil consultar su Wallet desde el mismo navegador tan solo abriendo la opción en el panel izquierdo, no me pueden decir que no es genial, pero espera, Alto ahí, aun no he hablado de la mejor parte.
It should also be noted that Opera is not closed to Cryptocurrencies, although this option unfortunately I have not been able to explore it, I know that some of you may find it useful to consult your Wallet from the same browser just by opening the option in the left panel, you can not tell me it's not great, but wait, stop there, I have not yet talked about the best part.
---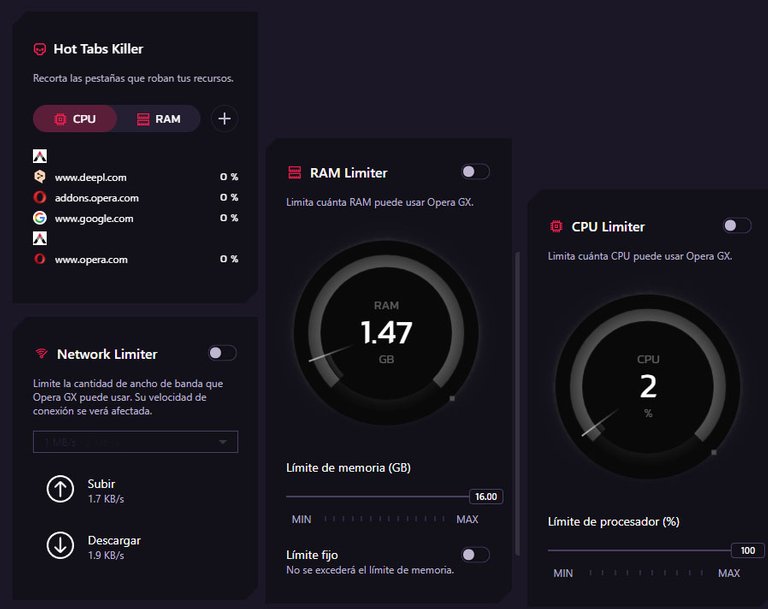 ---
Así es, reserve lo mejor para el final, o al menos lo que a mi me parece una de las mejores cosas pues hay para elegir, Opera GX también nos permite limitar o indicar cuanto queremos que se use del equipo mientras se navega, algo que sinceramente, tiene que reconocer que ni te pregunta el mismo Google Chrome, por eso el titulo de este post es como es, en Opera realmente te sientes que estas en control de muchos aspectos sin sentirte saturado ni perdido, algo que pocos navegadores pueden lograr, además, para mi gusto personal, el hecho de que este pensado para juegos lo hace mi navegador ideal en casi todo sentido, creo que todo el que le gusten los juegos, que quiera manejar sus redes sociales mas eficientemente o que le interese ver que otras cosas hay aparte de Google Chrome, sin temor a equivocarme, les recomendaría Opera, no llevo la cuenta de cuantas veces he dicho "Opera" así que seguramente están saturados jajajaj, pero bueno, esto es lo quería traer hoy y me interesaría saber cuales son sus navegadores preferidos, obviamente, Opera no es perfecto y puede que le encuentre detalles a través del tiempo, siendo uno de ellos que quizás, no haya tanta variedad en extensiones como nos gustaría, pues la mayoría se concentra es en Google Chrome, pero bueno, ya dejo de escribir, finalizando con esta pregunta ¿Cuál es el navegador del que mas has disfrutado alguna vez?
That's right, reserve the best for last, or at least what seems to me one of the best things because there are to choose from, Opera GX also allows us to limit or indicate how much we want to use the computer while browsing, something that honestly, you have to recognize that even Google Chrome does not ask you, that's why the title of this post is as it is, in Opera you really feel that you are in control of many aspects without feeling saturated or lost, something that few browsers can achieve, in addition, for my personal taste, the fact that this designed for games makes it my ideal browser in almost every way, I think everyone who likes games, who wants to manage their social networks more efficiently or who is interested in seeing what else there is besides Google Chrome, without fear of being wrong, I would recommend Opera, I do not keep track of how many times I have said "Opera" so surely they are saturated hahahahahah, but well, this is what I wanted to bring today and I would be interested to know what are your favorite browsers, obviously, Opera is not perfect and you may find details over time, being one of them that perhaps, there is not as much variety in extensions as we would like, because most is concentrated in Google Chrome, but well, I stop writing, ending with this question What is the browser that you have most enjoyed some time?
---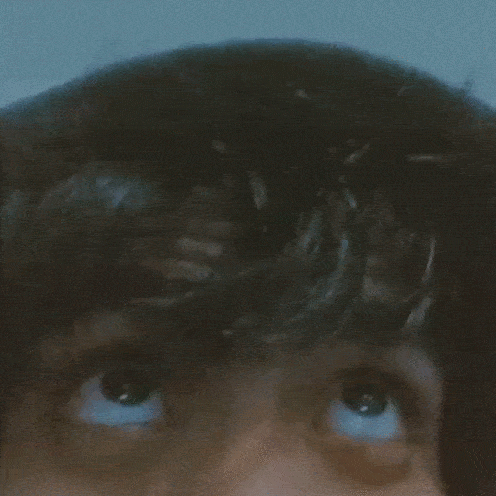 ---