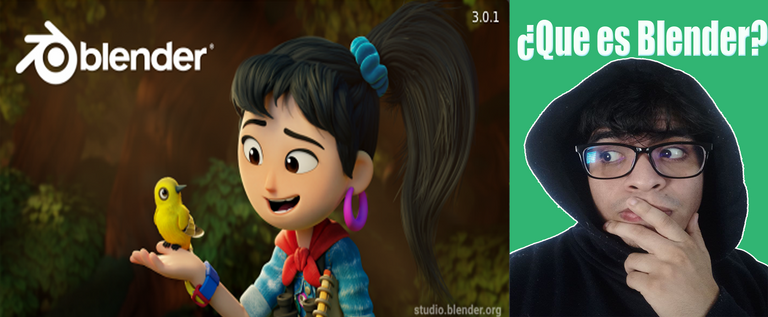 ---
¡Bienvenidos querida comunidad! espero que todos estén bien, en esta oportunidad quiero hablar un poco sobre un programa que hace mucho tiempo me ha llamado la atención y desde hace días, en un arranque de curiosidad y de querer aprender cosas nuevas, me anime a descargarlo y probarlo en la PC, se trata nada mas y nada menos, que de Blender, un programa que a simple vista..... no tiene ni una remota idea de que es tampoco, parece que es una especie de editor, quizás una copia rara del Photoshop o del illustrator, pero no, es de hecho, uno de los programas mas populares en cuanto a la creación de personajes en 3D y que además cuenta con funciones extraordinarios que me encantaría explorar en esta publicación, pero que tomare para una futura publicación mas exhaustiva, dado que aun, no conozco del todo bien al programa, por lo que hoy, solo hablare de los mas básico y delas capacidades que tiene que ofrecer Blender y del uso que me gustaría darle, comencemos.
Welcome dear community! I hope everyone is well, this time I want to talk a little about a program that has long caught my attention and for days, in a burst of curiosity and wanting to learn new things, I decided to download it and try it on the PC, it is nothing more and nothing less, than Blender, a program that at first glance ..... it seems that it is a kind of editor, perhaps a rare copy of Photoshop or illustrator, but no, it is in fact, one of the most popular programs in terms of creating 3D characters and also has extraordinary features that I would love to explore in this publication, but that I will take for a future publication more comprehensive, since even, I do not know the program well, so today, I will only talk about the most basic and delas capabilities that Blender has to offer and the use that I would like to give, let's start.
---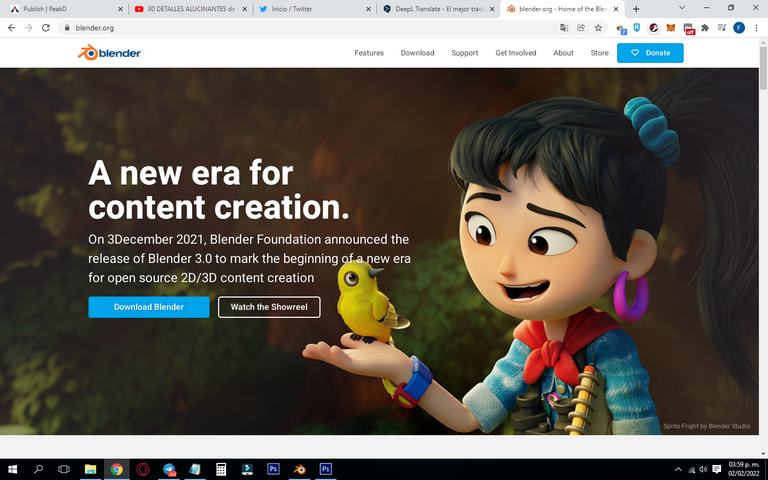 ---
Para empezar a describir Blender, tenemos que ir a su sitio Web para poder tener mejores contextos sobre que es lo que hace el programa y también, tener una idea de como esta constituido y bajo que licencias opera también, puedes averiguarlo aquí, en
Blender.org
pero en primera instancia, Blender es un programa hecho por su comunidad que es totalmente gratis y no tiene ningún problema para que lo uses con propósitos comercial, lo cual esta demasiado chévere, pero esto son solo los términos legales del asunto, si vamos al programa veremos que no es poca cosa lo que ofrece.
To start describing Blender, we have to go to its website to have a better context about what the program does and also, to have an idea of how it is constituted and under what licenses it operates too, you can find out here, at
Blender.org
but in first instance, Blender is a program made by its community that is totally free and has no problem for you to use it for commercial purposes, which is too cool, but this is just the legal terms of the matter, if we go to the program we will see that it is no small thing what it offers.
---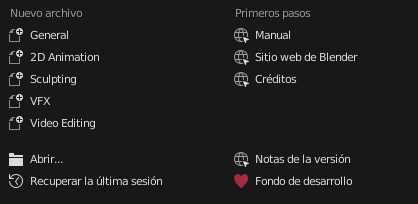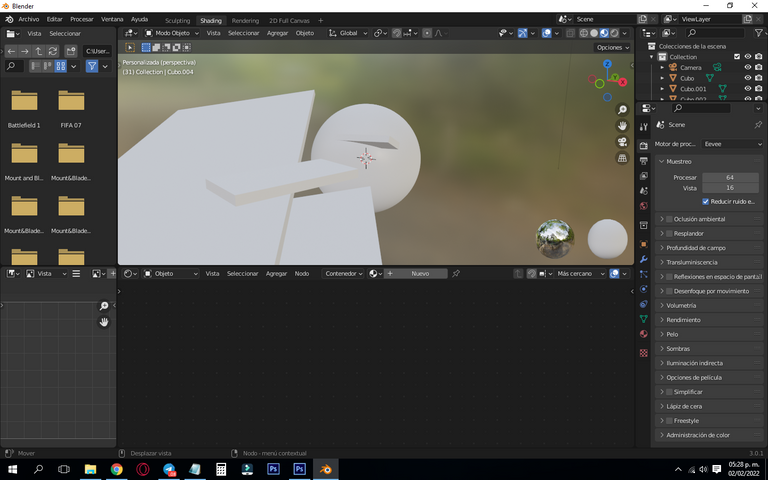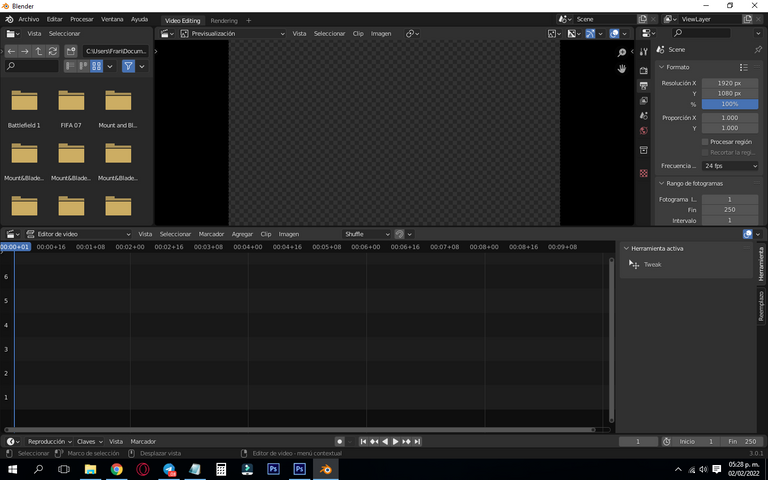 ---
A diferencia de otras compañías como Adobe, que divide sus esfuerzos en diferentes aplicaciones que se especializan en distintas áreas, como ilustración, efectos especiales, edición de fotografía, etc. Blender a penas lo abres, ya te pregunta ¿Qué es lo que harás hoy? están entre sus opciones, Archivos en 2D, Esculpir, VFX (efectos visuales) e incluso edición de video, no pueden decir que por lo menos no es impresionante y es una de las primeras impresiones mas gratas que me he llevado editando hasta ahora.
Unlike other companies like Adobe, which divides its efforts into different applications that specialize in different areas, such as illustration, special effects, photo editing, etc. Blender, as soon as you open it, asks you what are you going to do today? Among its options, 2D files, Sculpting, VFX (visual effects) and even video editing, you can't say that at least it is not impressive and it is one of the most pleasant first impressions I have had editing so far.
---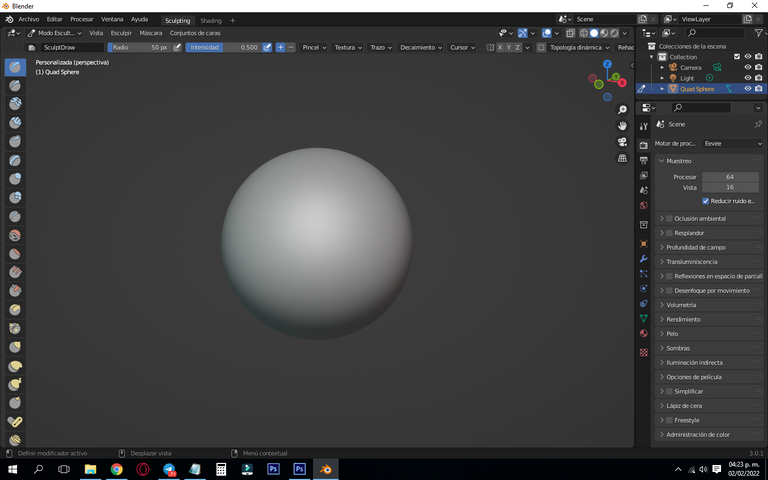 ---
La razón por la que decidí instalar Blender en mi computadora, no es solo por el hecho de que este programa tiene un estrecha relación con el mundo del modelado y de los videojuegos, si no porque también, veo gran potencial para hacer diverso contenido acerca del mismo, por no decir que es otra de las fuentes infinitas de ideas, dado que este, depende de la imaginación de su usuario, y mira que yo tengo ideas bastante locas que me encantaría hacerlas realidad, sin embargo, hace falta un conocimiento, que a mi parecer es bastante complicado de conseguir simplemente aprendiendo con la practica, en ese aspecto no es como como Photoshop o como otros programas mas amigables y menos complejos... pero es justamente por eso que me gusta, pues, al ser tan variado y contar con tantas opciones, no se puede negar que los limites solo te los pones tu mismo.
The reason why I decided to install Blender on my computer, is not only because this program has a close relationship with the world of modeling and video games, but also because I see great potential to make various content about it, not to say that it is another infinite source of ideas, since it depends on the imagination of its user, and I have some pretty crazy ideas that I would love to make them reality, however, it takes a knowledge, which in my opinion is quite complicated to get just learning with practice, in that aspect is not like Photoshop or other more friendly and less complex programs, but that's exactly why I like it, because, being so varied and having so many options, you can not deny that the limits are only put by yourself
---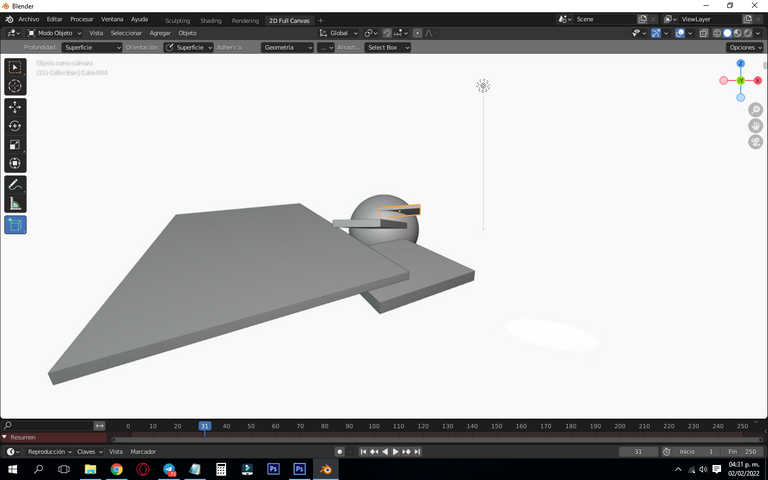 ---
A pesar de que no puedo ahondar mas en las capacidades del programa, entendiendo que soy bastante novato en casi todas las opciones que dispone salvo el editor de video, tengo una especie de certeza, casi corazonada, de que añadir Blender a mi biblioteca mental de conocimientos, va a ofrecer otra fuente mas de inagotables ideas, experiencias, y quien sabe, puede hasta que de forma artística, pueda ofrecer muchísimas cosas interesantes, como modelar a Hivers en 3D, crear animaciones o muchas cosas mas, todo esto, es algo que me gustaría aprender y que pondré en practica a lo largo de este año. Me pregunta ¿Ya conocías de Blender? ¿Qué opinas de las capacidades de este programa? me encantaría saber su opinión querida audiencia, estoy seguro que ustedes tendrán muchos mas conocimientos que su servidor :)
Although I can not delve deeper into the capabilities of the program, understanding that I am quite novice in almost all the options available except the video editor, I have a kind of certainty, almost hunch, that adding Blender to my mental library of knowledge, is going to offer another source of inexhaustible ideas, experiences, and who knows, maybe even in an artistic way, it can offer a lot of interesting things, like modeling Hivers in 3D, creating animations or many other things, all this, is something that I would like to learn and that I will put into practice throughout this year. I wonder if you already knew Blender, what do you think about the capabilities of this program, I would love to know your opinion dear audience, I'm sure you will have much more knowledge than yours truly :)
---