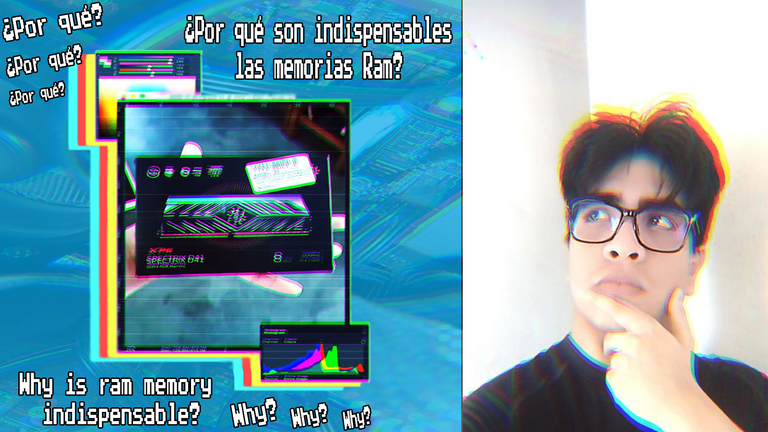 ---
¡Bienvenidos queridos Geeks! ¿Cómo están? en esta ocasión estaré hablando un poco sobre las memoria RAM y su uso indispensable en prácticamente cualquier dispositivo y equipo, y es que sin entrar en tanta complicación, la memoria es una de las cosas que mas nos importa a la ahora de adquirir un equipo que pueda manejar distintas aplicaciones o programas sin colapsar en el proceso, a muchos nos ha pasado que la computadora se nos queda colgada, que el teléfono no responde a nuestras interacciones, o que el iPad o la Tablet tardan 40 años en reaccionar, en fin, creo que una buena parte del mundo tiene una historia con los distintivos que se congelan de esta forma, pero que no saben muchos y es que buena parte de esos problemas, provienen de una falta de capacidad en cuanto a la memoria, en esta oportunidad exploraremos un poco lo que son las memorias, para que sirven y porque, incluso tienes un procesador súper potente, estarías condenado si no tienes este componente tan importante bien cubierto, comencemos.
Welcome dear Geeks! How are you? this time I will be talking a little about RAM memory and its indispensable use in virtually any device and equipment, and without going into so much complication, memory is one of the things that matters most to us when acquiring a computer that can handle different applications or programs without collapsing in the process, many of us have experienced that the computer hangs, that the phone does not respond to our interactions, or that the iPad or Tablet takes 40 years to react, in short, I think that a good part of the world has a history with the badges that freeze in this way, but that many do not know and is that many of these problems, come from a lack of capacity in terms of memory, this time we will explore a little what are the memories, what they are for and why, even you have a super powerful processor, you would be doomed if you do not have this important component well covered, let's start.
---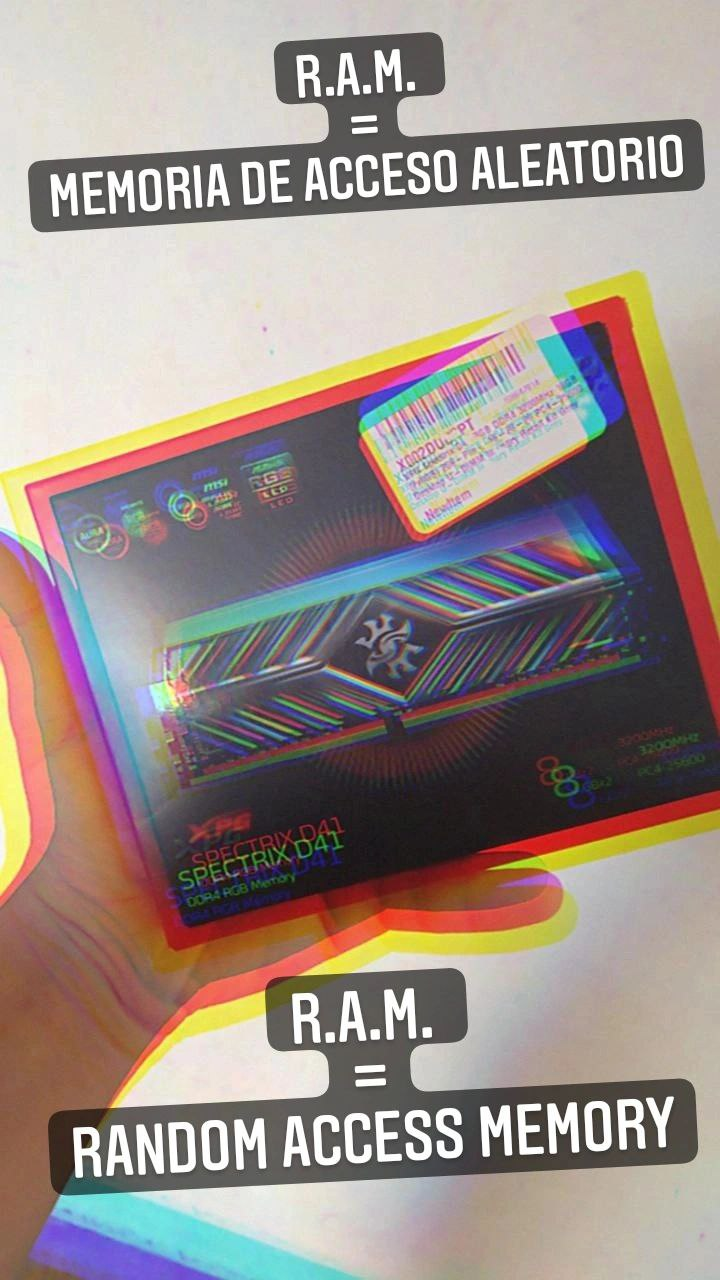 ---
R.A.M. no es mas que una abreviación de sus siglas y lo que hace es prácticamente almacenar datos y ahora diras, "Ahhh pero eso es lo que hace el disco duro" y en parte tendrías algo de razón, pero por otra, estarías tremendamente errado, las memorias R.A.M. son extremadamente necesarias por en el ellas se tiene acceso instantáneo a la data que se escribe en ellas, sirven para almacenar temporalmente, además con el espacio sobrante, el sistema puede operar mejor o peor dependiendo de la capacidad de la misma y de la cantidad de aplicaciones que corramos en simultaneo, cuando esta se satura de programas, ocurren los conocidos "Crash" donde se congela totalmente el sistema.
R.A.M. is nothing more than an abbreviation of its acronym and what it does is practically store data and now you will say, "Ahhh but that's what the hard disk does" and in part you would have some reason, but on the other hand, you would be tremendously wrong, the R.A.M. memories are extremely necessary because in them you have instant access to the data that is written in them, they serve to store temporarily, also with space left over, the system can operate better or worse depending on its capacity and the data that is written in them. are extremely necessary because in them you have instant access to the data that is written in them, they serve to store temporarily, also with the excess space, the system can operate better or worse depending on the capacity of the same and the number of applications that we run simultaneously, when this is saturated with programs, the known "Crash" occurs where the system freezes completely.
---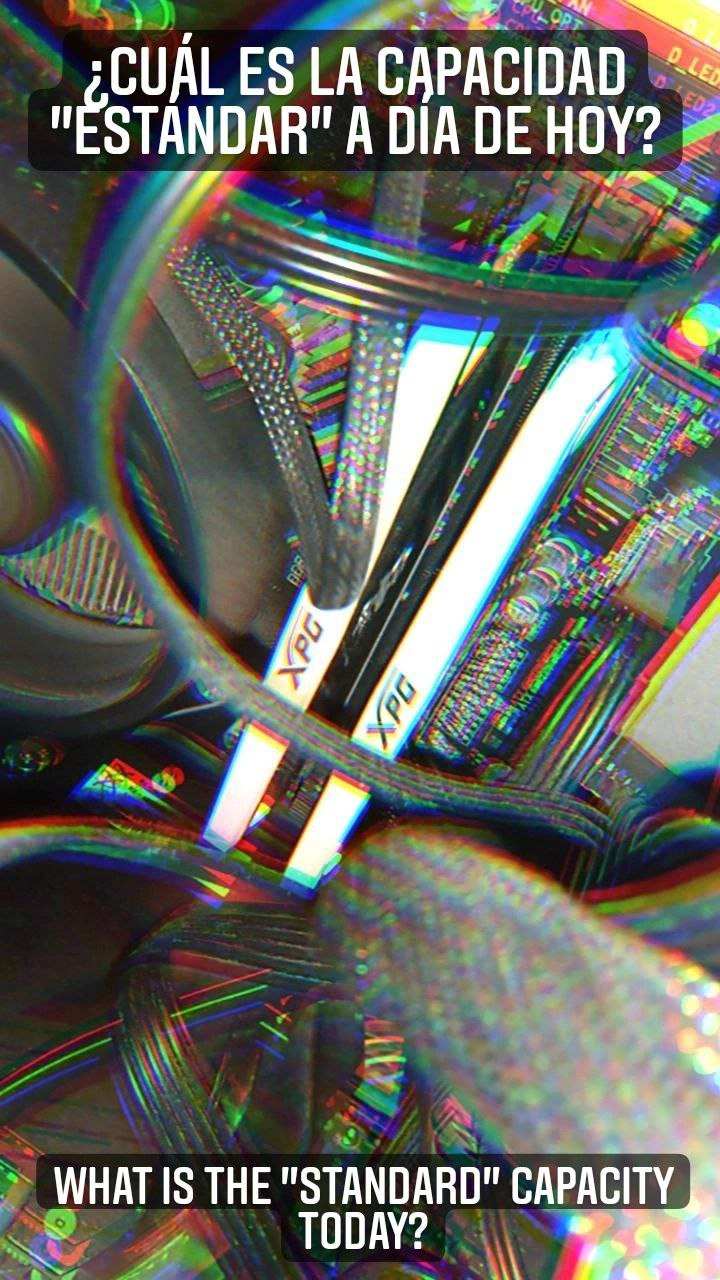 ---
Responder esta pregunta es un poco complicado, pues los programas se vuelven mas complejos, mas pesados o con mas funcionalidades, basta por ejemplo, con ver 10 u 8 años atrás, donde el que tenia 8 GB de RAM, era considerado esta en el Tope, donde podrías correr casi cualquier cosa que quisieras, juegos, programas y videos simultáneamente mientras te tomabas un cafecito, hoy dia, decir que vas justo con 8 GB es quedarse un poco corto, sin embargo, cuando digo, lo digo pensando en los programas mas pesados y exigentes a día de hoy, no por ello, hay que afirmar que todos necesitamos estar en capacidad tan bestial con nuestra memoria, eso, dependerá al final, de que es lo que desea hacer el usuario, que es lo que necesita, y si en el futuro, puede o no volverse obsoleto rápidamente o si tiene cierta durabilidad aquello que desea, se que poco especifico estas palabras, pero, colocando un ejemplo, no creo que un oficinista, que solo trabaja con Excel o Saap, necesite tener 32 GB de RAM, un Ryzen 9 o el ultimo grito de Intel, todo depende, repito, de lo que busquemos hacer con nuestro equipo, por eso es importante que definas para que usaras tu equipo y cuanta RAM sera suficiente para tus tareas.
Answering this question is a bit complicated, because the programs become more complex, heavier or with more features, just look at 10 or 8 years ago, where the one who had 8 GB of RAM, was considered to be at the top, where you could run almost anything you wanted, games, programs and videos simultaneously while you had a cup of coffee, programs and videos simultaneously while you had a cup of coffee, today, to say that you go just with 8 GB is a bit short, however, when I say, I say it thinking about the heaviest and most demanding programs today, not for this reason, it must be said that we all need to be in such a beastly capacity with our memory, that, it will depend in the end, of what the user wants to do, what he needs, and if in the future, it can or not become obsolete quickly or if it has certain durability what he wants, I know that little I specify these words, but, placing an example, I do not believe that an office worker, who only works with Excel or Saap, need to have 32 GB of RAM, a Ryzen 9 or the latest Intel, it all depends, I repeat, of what we seek to do with our team, so it is important to define what you will use your team and how much RAM will be enough for your tasks.
---