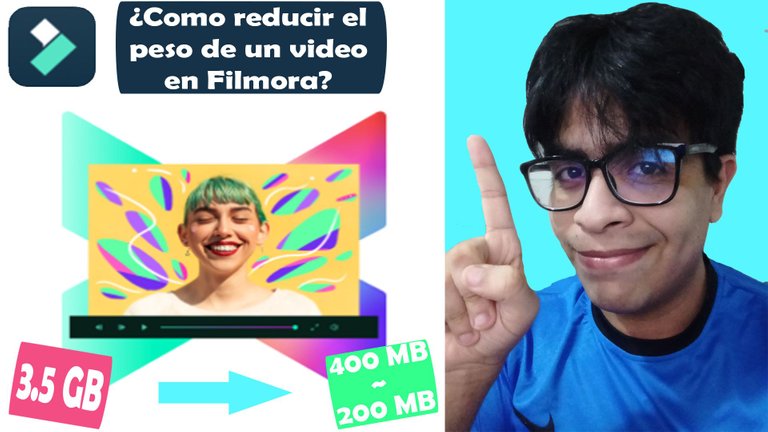 ---
¡Bienvenidos queridos lectores! espero que todos anden bien en estos días y en este inicio de semana, he decidido darle algunos tips y compartir algo de conocimiento con respecto a la creación y edición de videos, particularmente, a lo que para muchos es una pesadilla, la comprensión de un video, cosa que para nosotros los mortales que no disponemos de la mejor conexión, o que incluso tenemos que compartir la red pues no tenemos opción a tener una red privada en nuestro hogar, necesitamos que los videos sean lo mas livianos posibles y a su vez, tratar de que se mantenga una calidad decente, mantener este equilibrio es algo que no es sencillo al inicio, pero se puede manejar gracias al uso de apps o desde nuestro propio editor, hoy les compartir un par de herramientas pero me centrare mas que nada en como hacerlo desde el editor de Video Filmora X comencemos.
Welcome dear readers! I hope everyone is doing well these days and at the beginning of this week, I have decided to give you some tips and share some knowledge regarding the creation and editing of videos, particularly, what for many is a nightmare, the understanding of a video, something that for us mortals who do not have the best connection, or even have to share the network because we have no option to have a private network at home, we need the videos to be as light as possible and in turn, try to maintain a decent quality, maintain this balance is something that is not easy at first, but can be managed through the use of apps or from our own editor, today I will share a couple of tools but I will focus more than anything on how to do it from the editor Video Filmora X lets start.
---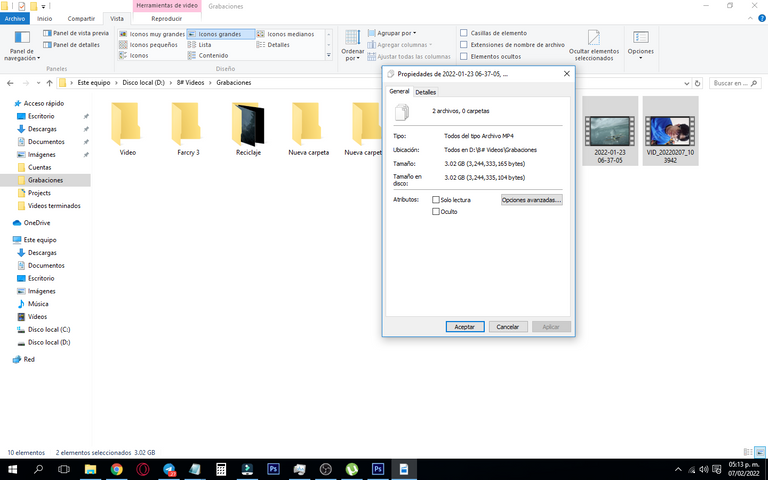 ---
Lo primero que tenemos que hacer antes de pasar a la reducción del peso es seleccionar nuestro videos, es normal que nuestros videos, puedan pesar mas de un 1 GB dependiendo del Software con que estamos grabando, en mi caso, necesito tener dos metrajes que vendrían siendo lo que sale en pantalla y lo que se ve mientras me grabo a mi mismo, o que nos deja dos videos, después puedo explicar como hago para sincronizar ambos pero centrémonos en el peso. Como verán, aquí se puede ver un total 3.02 GB solamente entre esos dos videos, demasiado, de hecho, equiparable quizás a lo que puede pesar una película en HD hay que encontrar una forma de reducir su tamaño.
The first thing we have to do before going to the weight reduction is to select our videos, it is normal that our videos, can weigh more than 1 GB depending on the software with which we are recording, in my case, I need to have two footage that would be what comes out on screen and what you see while I record myself, or that leaves us two videos, then I can explain how I do to synchronize both but let's focus on the weight. As you will see, here you can see a total of 3.02 GB only between these two videos, too much, in fact, perhaps comparable to what can weigh a movie in HD you have to find a way to reduce its size.
---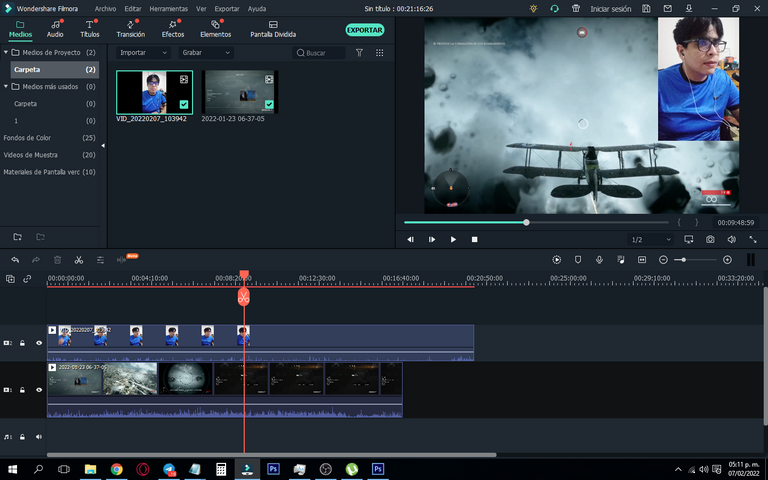 ---
Ya en el editor procedemos a a cargar los archivos y procedemos a ver que todo este en orden, tanto las relaciones de aspecto como las grabaciones, el audio y demás, aquí no hay mucho que contar pues dependerá mas que nada de si van a recortar o no los metrajes, para este ejemplo, no recortare y exportare los videos tal cual como fueron grabados.
Already in the editor we proceed to load the files and proceed to see that everything is in order, both aspect ratios and recordings, audio and so on, here there is not much to tell because it will depend mostly on whether or not to cut the footage, for this example, do not cut and export the videos as they were recorded.
---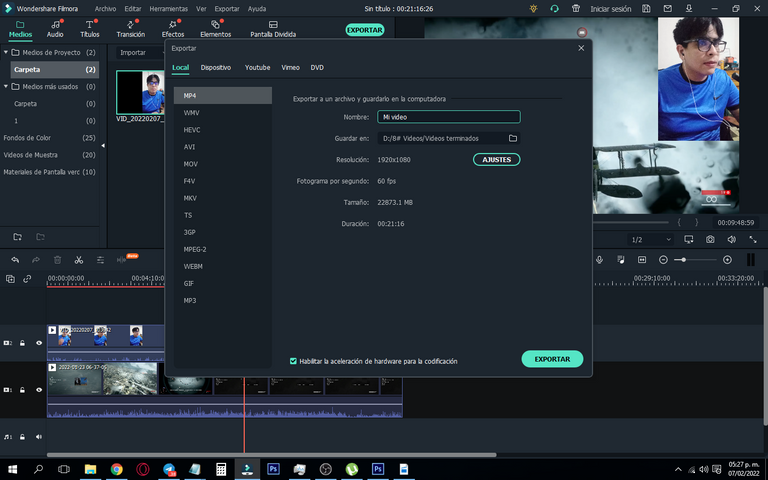 ---
Una vez vamos a exportar, nos encontraremos la verdadera clave para poder reducir el tamaño de nuestros videos en los ajustes, sin embargo, hay que fijarse también en todos los formatos posibles que hay para exportar, pues algunos ofrecen utilidades que pueden interesarles dejare un
enlace
para que tengan informacion, por ahora solo concentrémonos en los ajustes, que es donde veremos como podemos reducir el tamaño.
Once we go to export, we will find the real key to be able to reduce the size of our videos in the settings, however, we must also look at all possible formats that there are to export, as some offer utilities that may be of interest I will leave a for you a
link
to have more information, for now let's just concentrate on the settings, which is where we will see how we can reduce the size.
---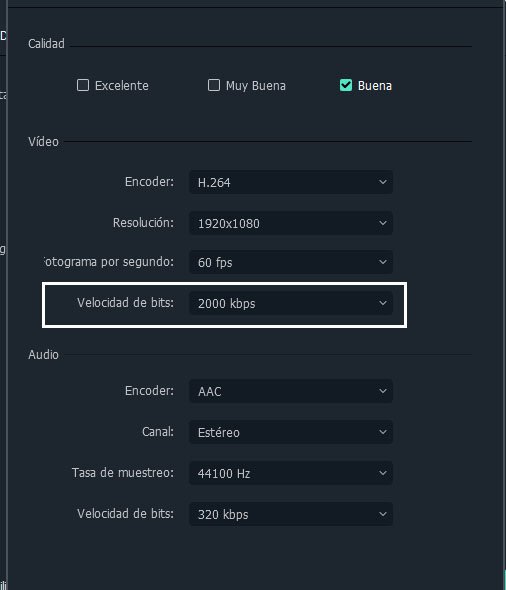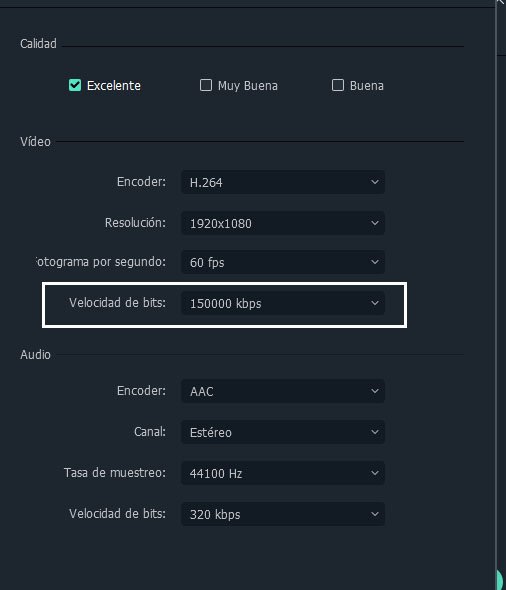 ---
La clave para reducir el tamaño de un video en Filmora se encuentra en ni mas ni menos que en la velocidad de bits, esta propiedad es lo que hará que nuestro se vea de mejor o peor calidad una vez terminemos de exportarlo, lo cual al modificarlo a nuestro deseo, podemos ver como el peso del video va a variar. He aquí una comparación.
The key to reduce the size of a video in Filmora lies in nothing more or less than the bit rate, this property is what will make our video look better or worse quality once we finish exporting it, which by modifying it to our desire, we can see how the weight of the video will vary. Here is a comparison.
---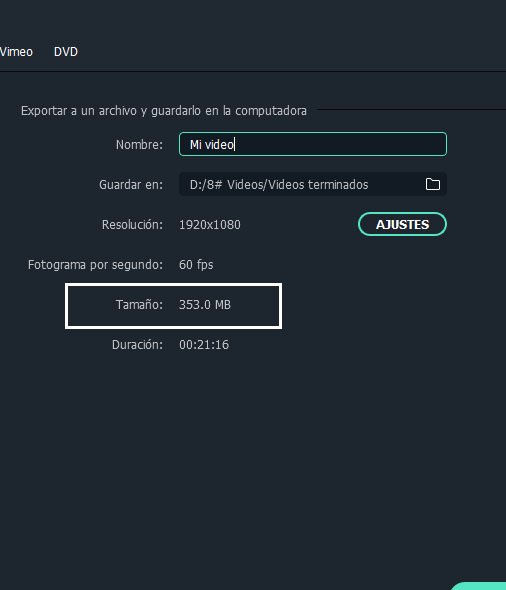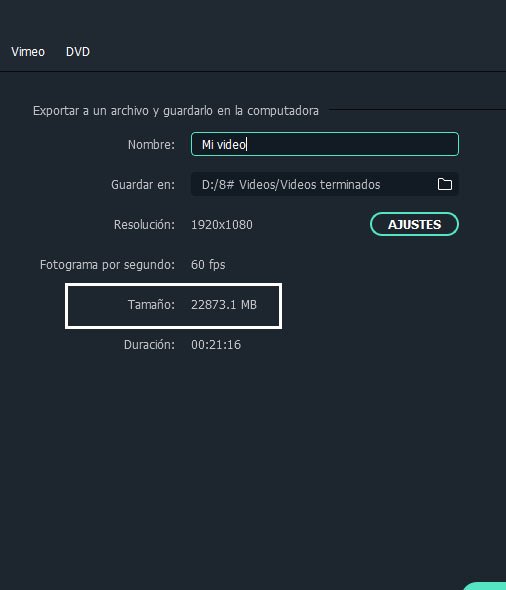 ---
Como podemos observar, pasamos de 2.28 GB con una velocidad de bits de 150000 a 353 MB con una velocidad de bits de 2000 una reducción bestial y que se a va traducir en una perdida de calidad, pero no tan notoria como se puede creer y que mantendrá aun así bastante aceptable, incluso, si utilizamos la opción de "Personalizado" podremos indicar que sea todavía menor la velocidad de Bits, pero yo recomiendo dejarlo en 2000 en caso de no tener una conexiona internet estable o no tan rapida.
As we can see, we go from 2.28 GB with a bit rate of 150,000 to 353 MB with a bit rate of 2000, a beastly reduction that will translate into a loss of quality, but not as noticeable as you might think, and will still be quite acceptable, even if we use the "Custom" option we can indicate that the bit rate is even lower, but I recommend leaving it at 2000 in case you do not have a stable or not so fast internet connection.
---
¿Otras opciones?
Other options?
---
Sin embargo, soy consciente de que no todos usamos Filmora y que de hecho esta es mas una manera curiosa de comprimir un video que una que pueda decir que se aplique para todos los programas o apps, sin embargo, dejare aquí un programa y una App para que también puedan contar con estas opciones y que también he probado.
However, I am aware that not all of us use Filmora and that in fact this is more a curious way of compressing a video than one that I can say applies to all programs or apps, however, I will leave here a program and an App so that you can also have these options and that I have also tested.
---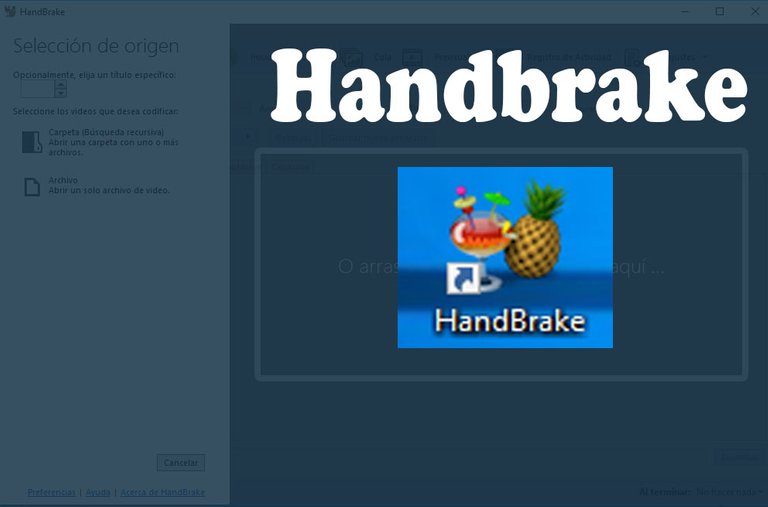 ---
A pesar de no usar mucho este programa puedo dar mi palabra de que es muy útil y que de hecho algunos creadores de contenido en Hive lo usan para comprimir sus videos, es rápido, confiable y entendible de usar aunque como desventaja pide que tengas una computadora actualizada y especialmente que tengas unas apps de Microsoft instaladas en el sistema lo cual se puede resolver, pero es un poco fastidioso.
Although I don't use this program much I can give my word that it is very useful and in fact some Hive content creators use it to compress their videos, it is fast, reliable and understandable to use although as a disadvantage it asks that you have an updated computer and especially that you have some Microsoft apps installed on your system which can be solved, but it is a bit annoying.
---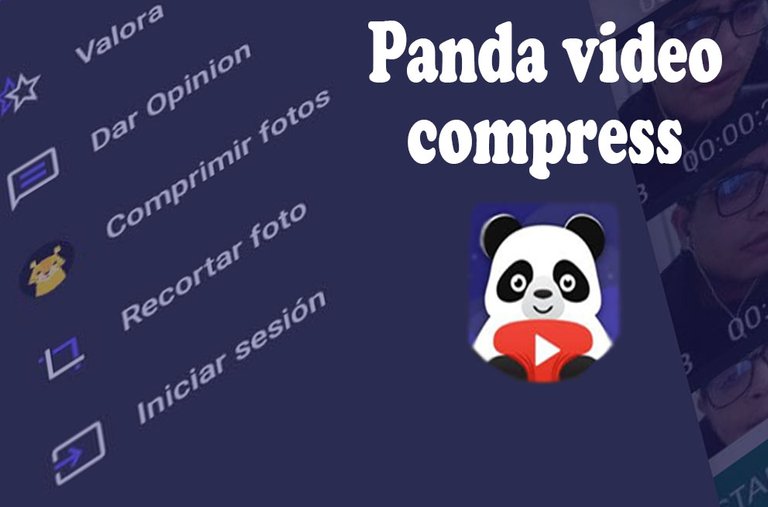 ---
Por otro lado para la opción de los teléfonos, tenemos múltiples aplicaciones en la Playstore, pero una amable creadora de contenido (
@lunaticanto
) fue quien me recomendó esta app para comprimir los videos directamente en el teléfono y aunque la compresión puede tardar un rato, cumple su función bastante bien.
On the other hand, for the phone option, we have multiple apps in the Playstore, but a kind content creator (
@lunaticanto
) was the one who recommended me this app to compress videos directly on the phone and although the compression can take a while, it does its job quite well.
---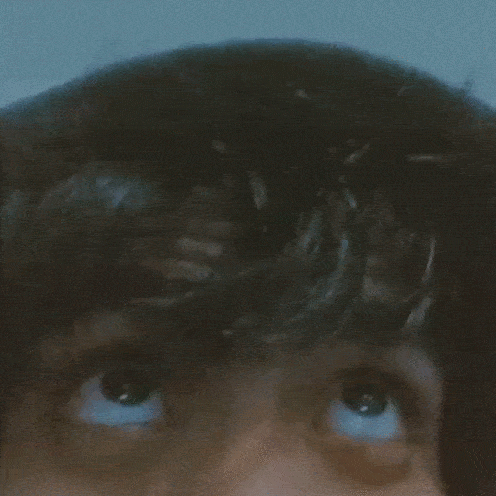 ---
¡Muchas gracias por leer! espero que les sirva de ayuda para cuando vayan a crear sus videos :)
Thank you very much for reading! I hope it will help you when you create your videos :)