Who else loves ice cream as much as me? And you can't be an ice cream lover without doing everything to have them freshly made at home hahaha, I have said it repeatedly, ice cream is my weak point if we talk about desserts, you can be sure that, if you put me to choose from a variety of desserts, ice cream will always be my first choice, which is why I bought a machine to make ice cream at home. While it is true that they can be made with some technique or another and are just as good or even better than the ones we buy in the store, I have wanted one of these machines since I heard about their existence, but it was not until yesterday that I was able to buy one, taking advantage of the fact that they were on sale at a local appliance store.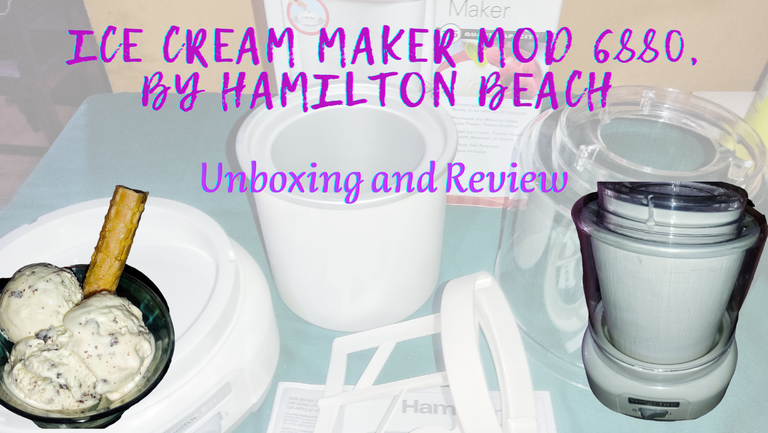 Taking advantage that my brother had an outing scheduled for the state capital I asked him to buy me the ice cream machine, because the truth was at a very good price, it had a discount of 40%, which is a tempting offer, because even on Amazon they are more expensive, not counting the shipping cost. Without thinking much (if I thought more, I would not buy it) and with the old saying "That's what I work for" I decided and yesterday afternoon I had my ice cream maker at home, I looked like a little girl with a new toy, and it is literally like that, those who love cooking like me, know what it feels like to have a new device in the kitchen.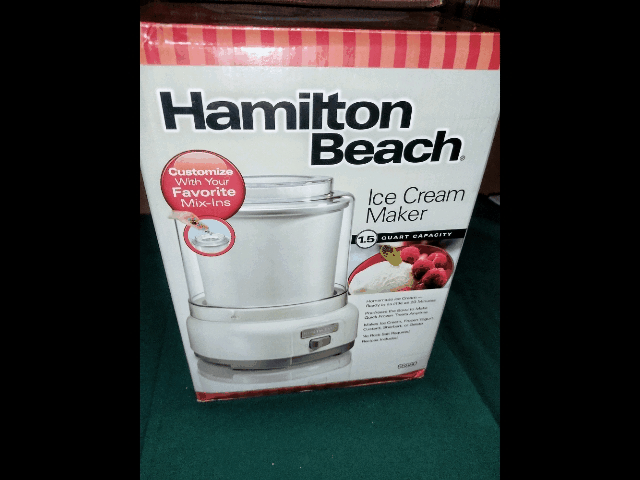 To tell the truth, this machine is not very difficult to operate, it has just an on and off button, consists of a freezing bowl, which brings a kind of liquid that must be frozen in order to create the creamy ice cream that we want so much, a mixing paddle that goes inside the freezing bowl and it is this paddle which is responsible for distributing the mixture to make ice cream and this against the frozen wall of the bowl. A base motor that is nothing more than a rotating base that is responsible for rotating the freezer bowl and create ice cream, and a cover that makes the thing does not get out of control and ice cream is sprinkled throughout the kitchen.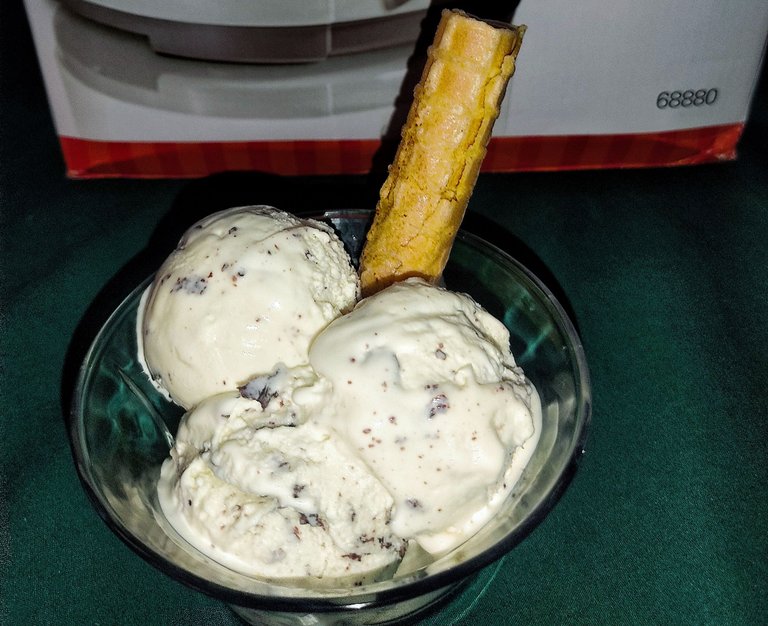 We must freeze the bowl for at least 12 hours to be able to use our ice cream maker, so basically this machine does not make ice cream from scratch, you have to do the process of freezing the bowl, and the instruction manual brings several recipes for making ice cream, or if you prefer you can use your own recipe, with the foresight that the freezing bowl only accepts 4 cups of ice cream mix, if you add more than this you run the risk of spilling the mixture and also not freeze completely and ruin the work. The manual indicates that between 20 and 40 minutes you have your ice cream ready, I got it in 18 minutes using one of the recipes that brings the manual, so for that part I am more than satisfied with the result.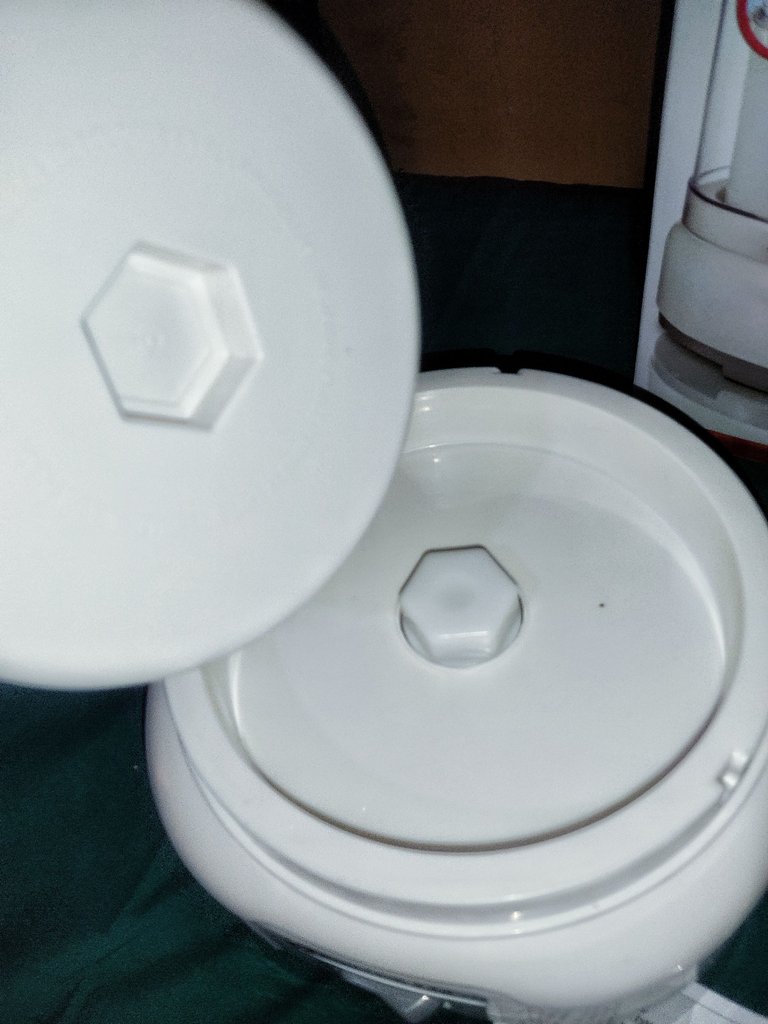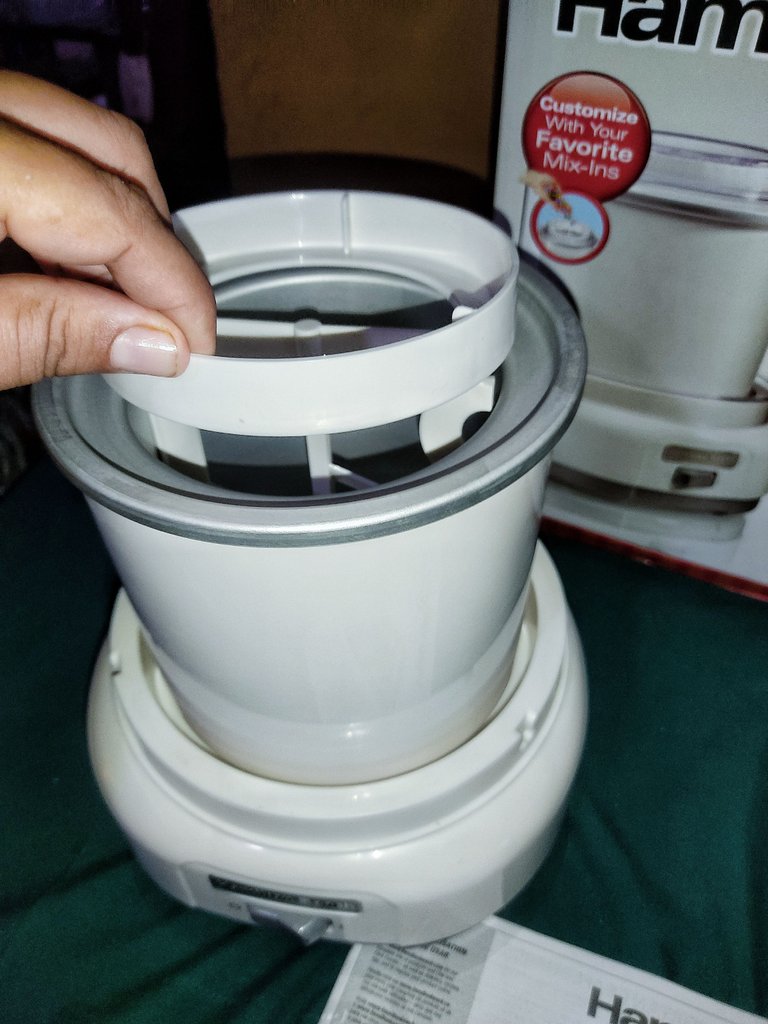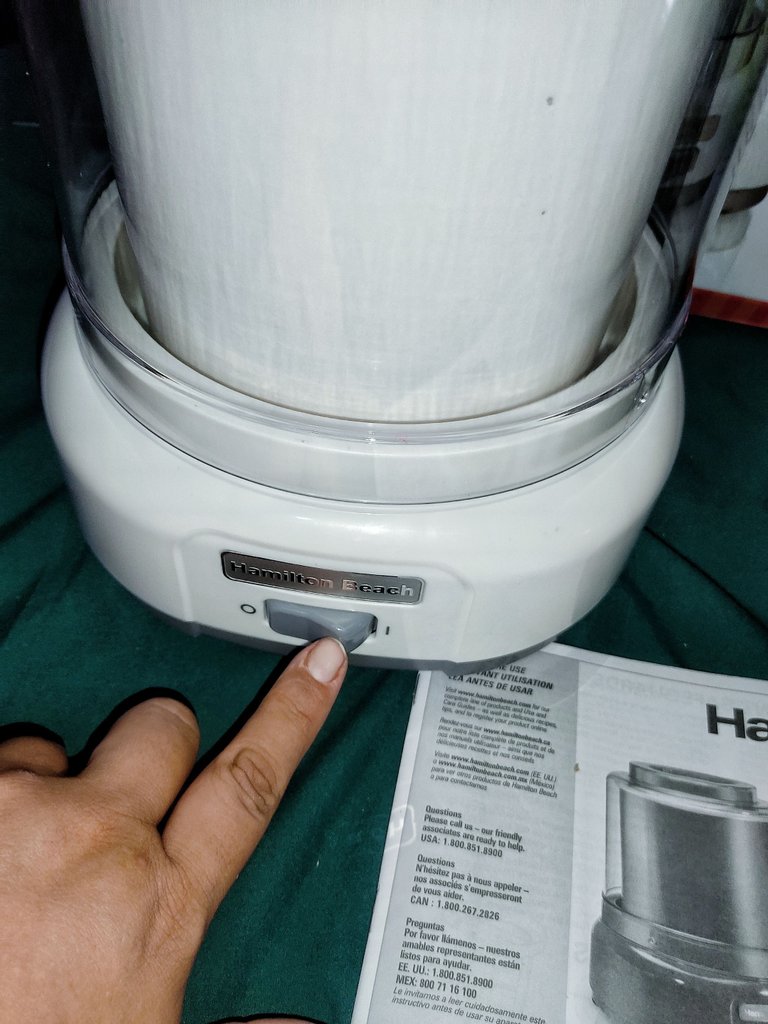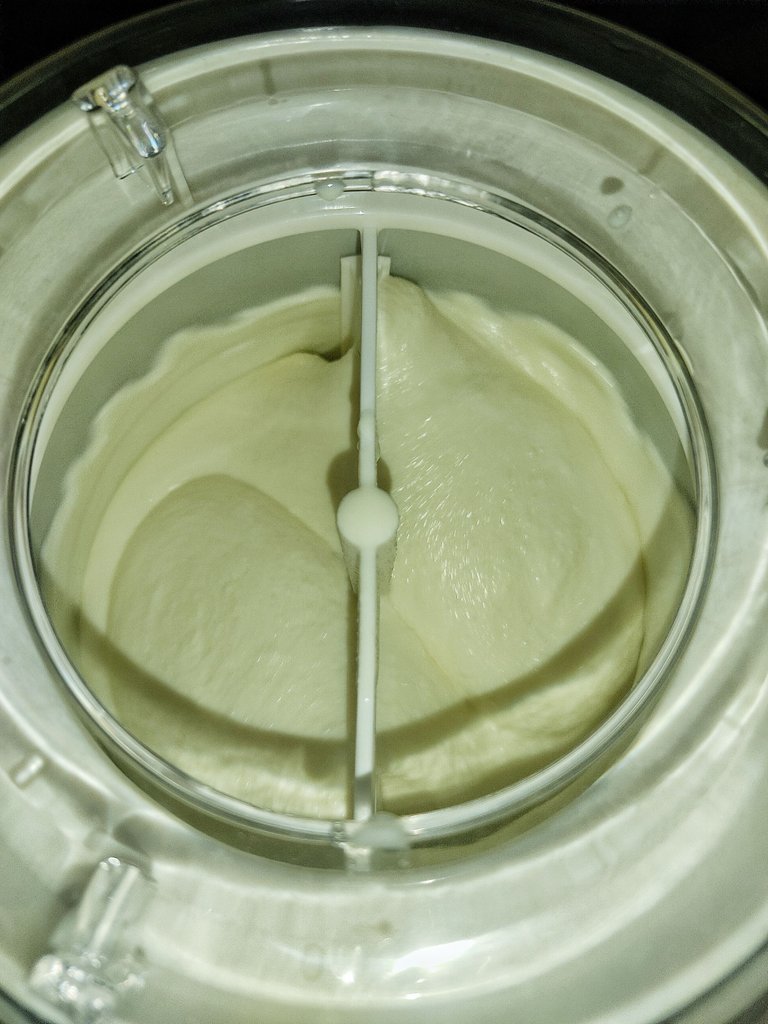 My recommendation is to add less than the 4 cups of preparation indicated in the manual, since I added that amount and after 16 minutes the mixture was already spilling a little so I wasted about half a cup of ice cream (actually I ate it, it was very delicious). The downside of this machine, in my opinion, is that the bowl only allows to make about a liter of mixture, which for large families like mine is not at all favorable hahaha, however, these bowls are sold separately, which allows us to make several flavors if desired. Overall I love the ice cream maker, it is super fast, which is perfect for me, because waiting 24 hours to have an ice cream in my hands, is not something I like very much. The basic vanilla ice cream recipe that comes with the manual is perfect, I added a few spoonfuls of melted chocolate when the ice cream was almost ready, and it was very similar to the Stracciatella flavor which is one of my favorites, so with this the machine earns extra points.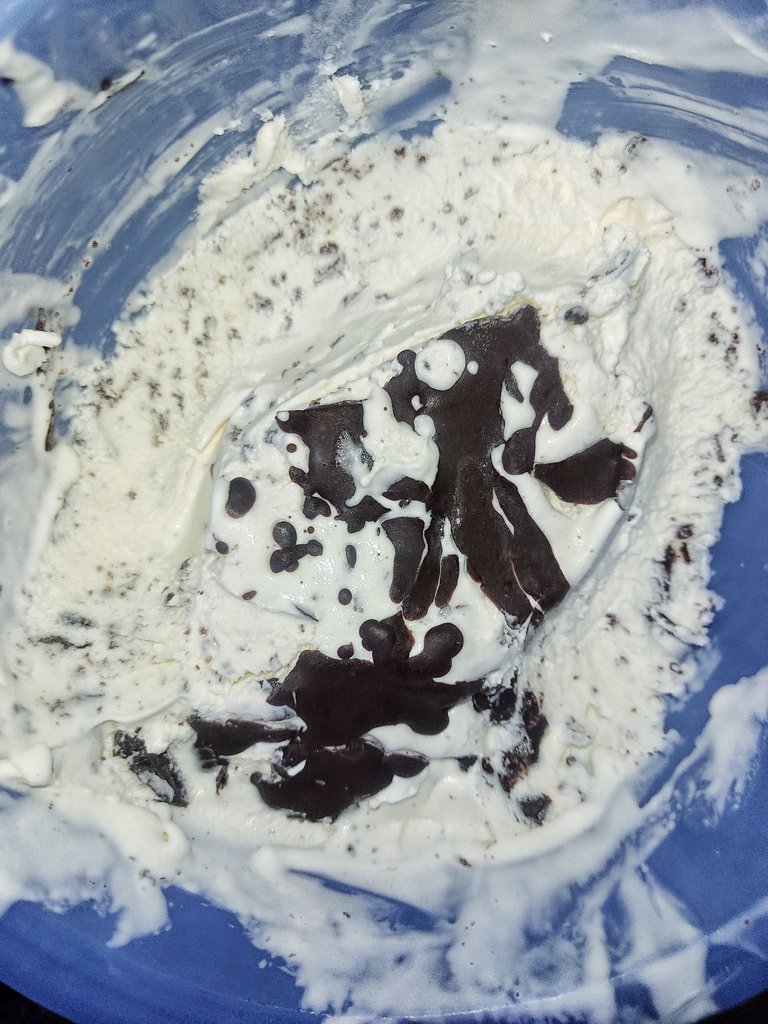 Images owned by me, taken with the camera of my Xiaomi Redmi Note 9S Edited and Snapseed Photoroom and Canva.
Thank you for taking the time to read this post, if you have any questions, criticisms or suggestions, I would appreciate it if you put them in the comment box, and remember, you too can do magic on the kitchen and wherever you go!


[ES]

¿Quién más ama tanto los helados como yo? Y no se puede ser un amante de los helados sin hacer todo por tenerlos en casa recién hechos jajaja, lo he dicho en repetidas oportunidades, los helados son mi punto débil si de postres hablamos, puedes estar seguro de que, si me ponen a escoger entre una gran variedad de postres, el helado siempre será mi primera opción, es por ello que me he comprado una máquina para hacer helados en casa. Si bien es cierto que se pueden hacer con alguna que otra técnica y quedan igual e incluso mejor que los que compramos en la tienda, he querido una máquina de estas desde que supe de su existencia, pero no fue hasta ayer que pude comprar una, aprovechando que estaban en rebaja en una tienda de electrodomésticos local.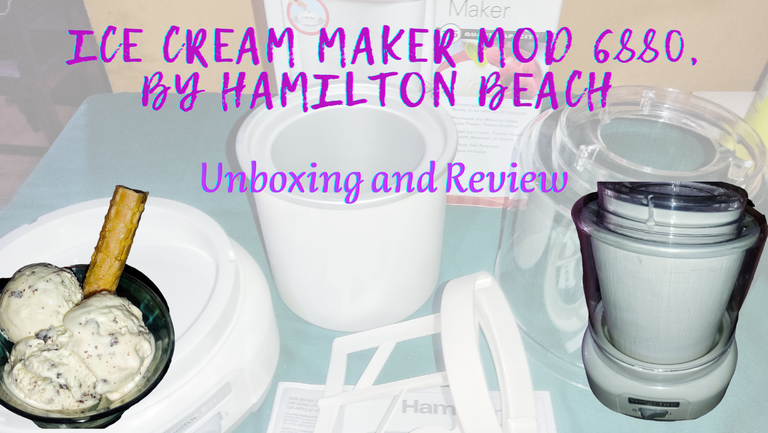 Aprovechando que mi hermano tenía una salida programada para la capital del estado le pedí el favor de que me comprara la máquina de helados, pues la verdad estaba a muy buen precio, tenía un descuento de un 40%, lo cual es una oferta tentadora, pues incluso en Amazon están más costosas, eso sin contar el costo del envió. Sin pensarlo mucho (si lo pensaba más, no la compraba) y con el viejo dicho "Para eso trabajo" me decidí y ayer en la tarde ya tenía mi máquina de hacer helados en casa, parecía niña con juguete nuevo, y literal es así, los que aman la cocina como yo, saben lo que se siente tener un artefacto nuevo en la cocina.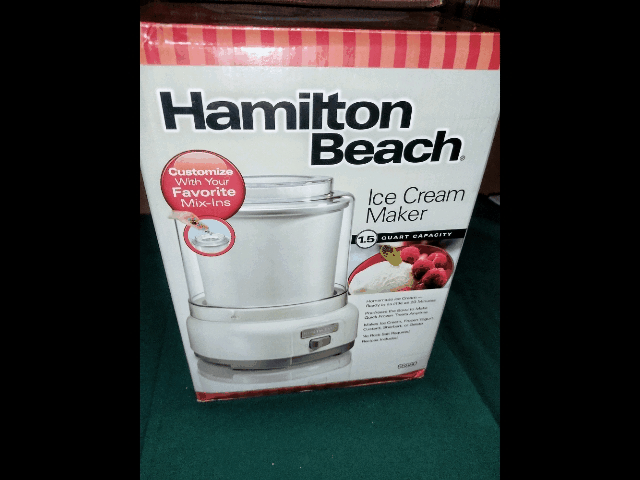 A decir verdad, esta máquina no es muy difícil de operar, tiene apenas un botón de encendido y apagado, consta de un tazón congelador, que trae una especie de líquido que debe congelarse para de esta manera poder crear el cremoso helado que tanto deseamos, una paleta de mezclado que va dentro del tazón congelador y es esta paleta la que se encarga de ir distribuyendo la mezcla para hacer el helado y esta de contra la pared congelada del tazón. Un motor base que no es más que una base giratoria que se encarga de hacer rotar el tazón congelador y crear el helado, y una cubierta que hace que la cosa no se descontrole y se riegue helado por toda la cocina.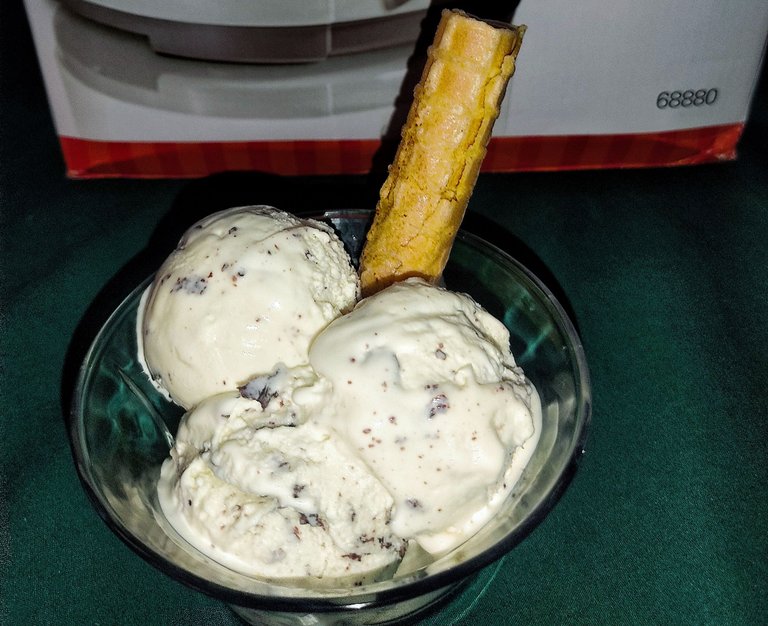 Debemos llevar al congelador el tazón por lo menos unas 12 horas para poder utilizar nuestra máquina de hacer helados, así que básicamente esta máquina no hace helados desde cero, hay que si o si hacer el proceso de congelar el tazón, y el manual de instrucciones trae varias recetas para hacer helados, o si lo prefieres puedes utilizar tu propia receta, con la previsión de que el tazón congelador solo admite 4 tazas de preparado para hacer helados, si se agrega más de esto corres el riesgo de que se derrame la mezcla y que además no se congele del todo y arruinemos el trabajo. El manual indica que entre 20 y 40 minutos tienes tu helado listo, yo lo obtuve en 18 minutos utilizando una de las recetas que trae el manual, así que por esa parte estoy más que satisfecha con el resultado.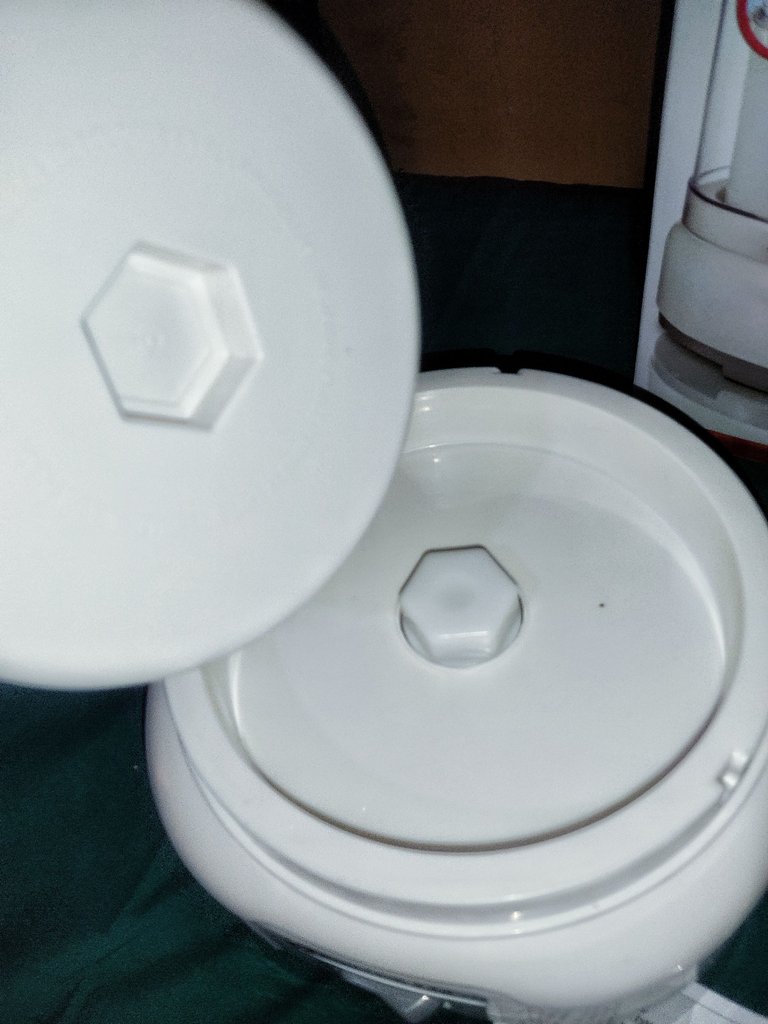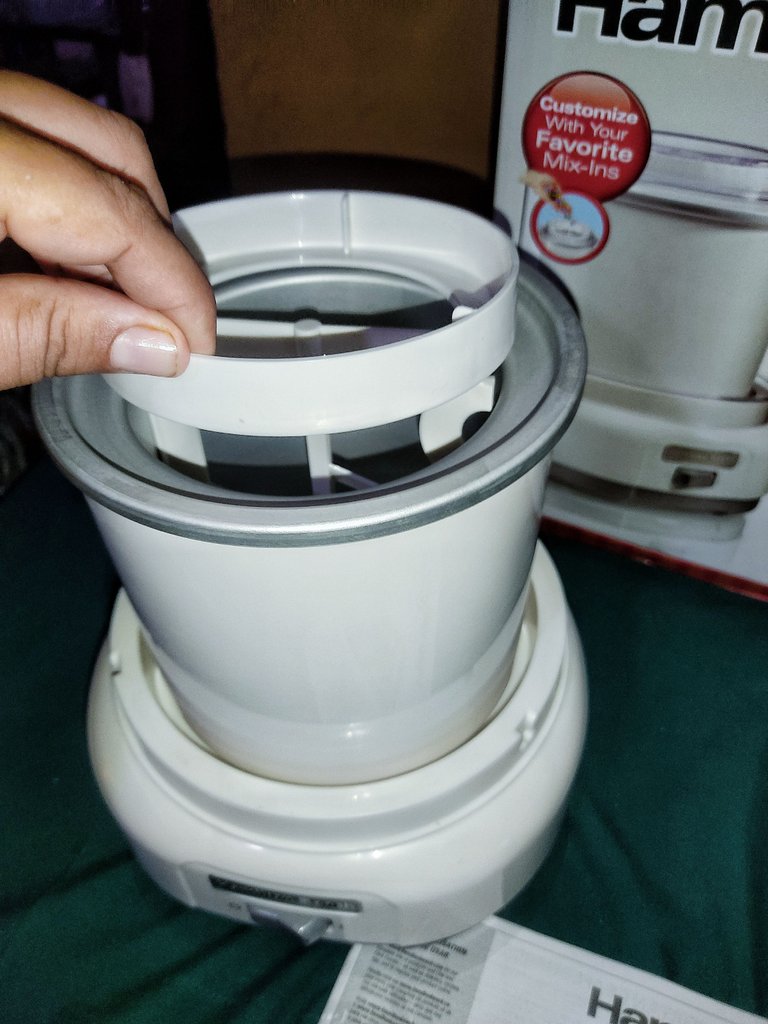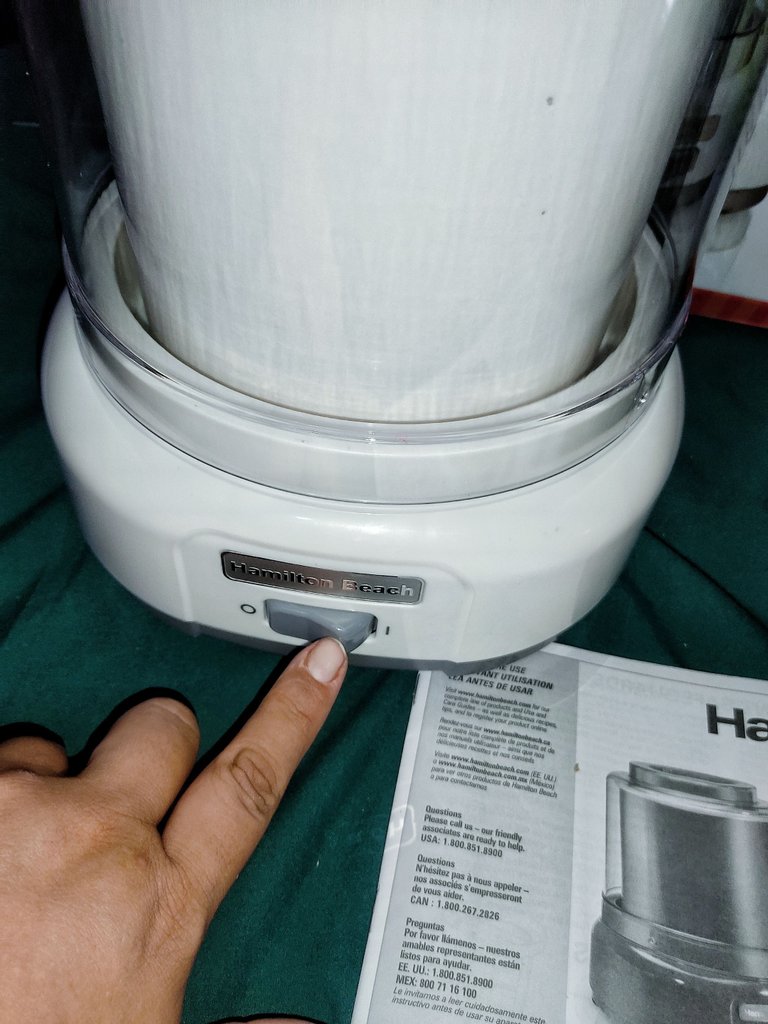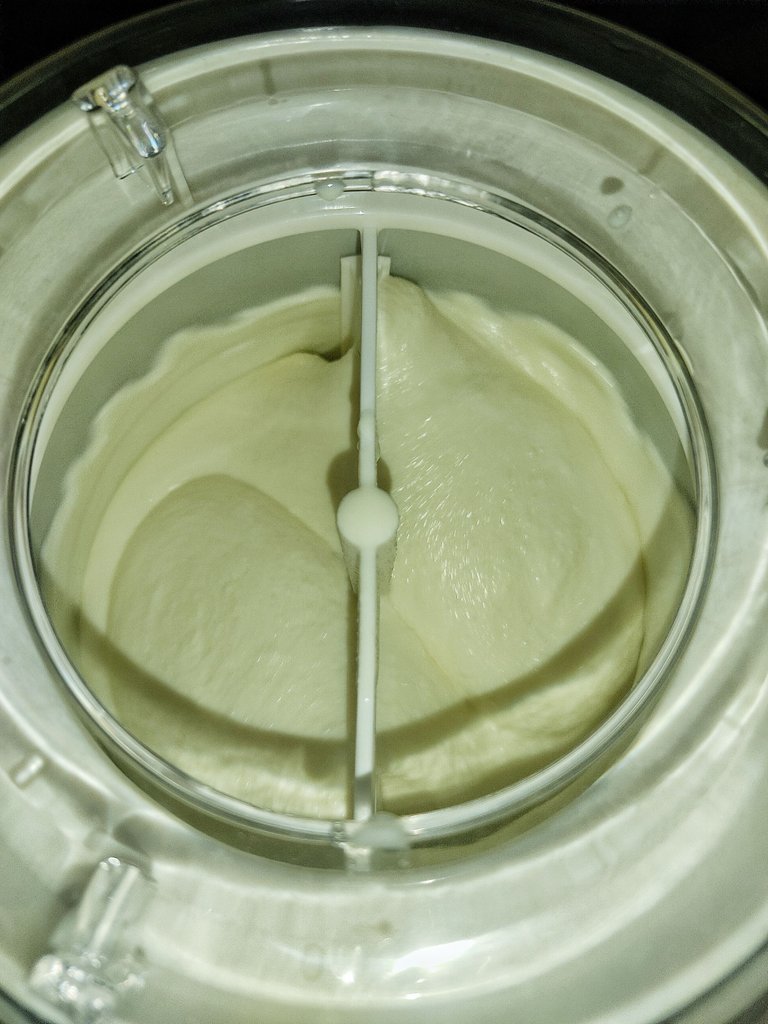 Mi recomendación es agregar menos de las 4 tazas de preparación que indica el manual, ya que yo le agregué esa cantidad y a los 16 minutos ya se estaba derramando un poco la mezcla por lo que se desperdició aproximadamente media taza de helado (en realidad me lo comí yo, estaba muy delicioso). Lo negativo de esta máquina, a mi parecer, es que el tazón solo permite realizar un litro de mezcla aproximadamente, lo cual para familias numerosas como la mía no es nada favorable jajaja, sin embargo, se venden estos tazones por separado, lo que nos permite realizar varios sabores si así se desea. En líneas generales me encanta la máquina de hacer helados, es super rápido, lo cual es perfecto para mí, pues esperar 24 horas para tener un helado en mis manos, no es algo que me agrade mucho. La receta de helado de vainilla básico que viene con el manual es perfecta, le adicione unas cucharadas de chocolate derretido cuando ya el helado tenía estaba casi listo, y quedo muy parecido al sabor Stracciatella que es de mis favoritos, así que con esto la maquina ganas unos puntos extras.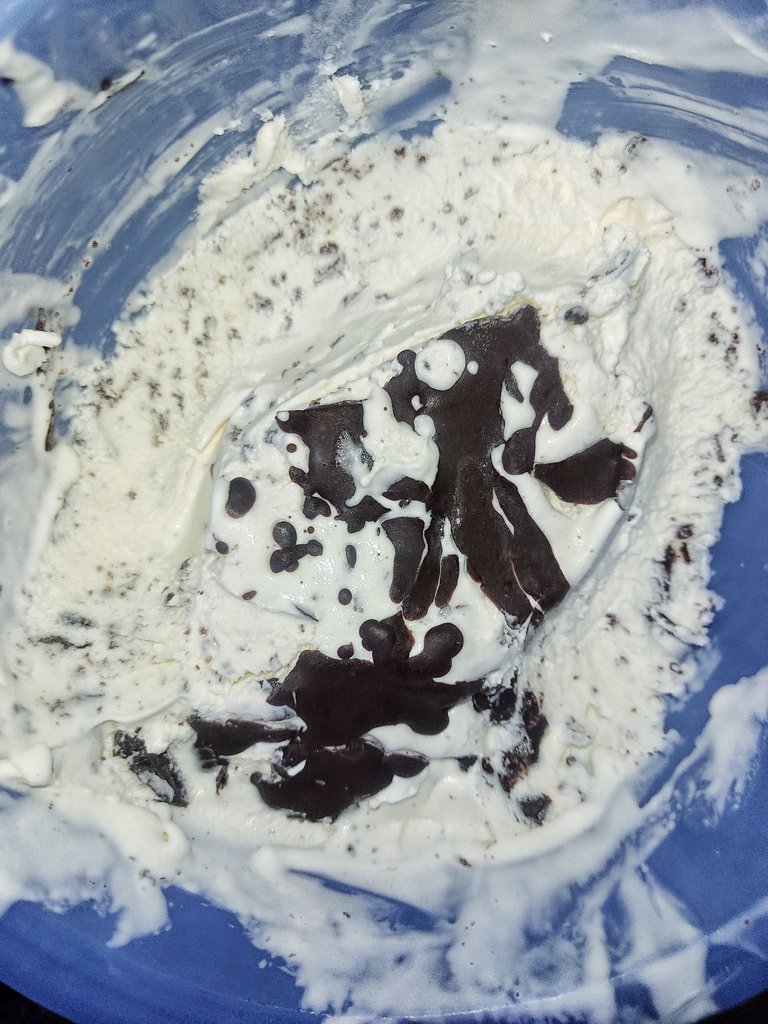 Imágenes de mi propiedad, tomadas con la cámara de mi Xiaomi Redmi Note 9S Editadas y Snapseed Photoroom y Canva.
Gracias por tomarse el tiempo de leer esta publicación, si tiene alguna pregunta, crítica o sugerencia, la agradecería que la pusiera en la caja de comentarios, y recuerda, ¡Tú también puedes hacer magia en la cocina ya dondequiera que vayas!



Created by @robinsonlgil



---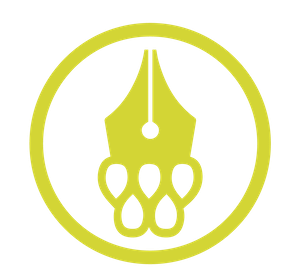 Come and support @Cervantes as Witness in https://peakd.com/me/witnesses
---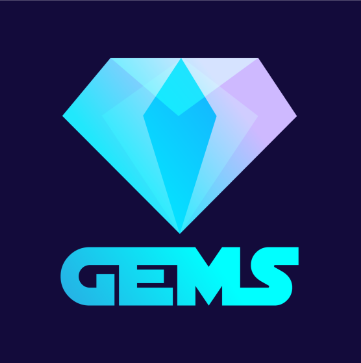 Join
@gems-community
's
Discord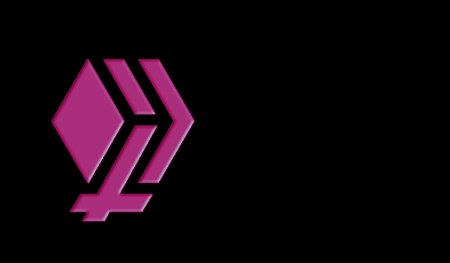 Created by @derangedvisions