Purificador de aire Filtrete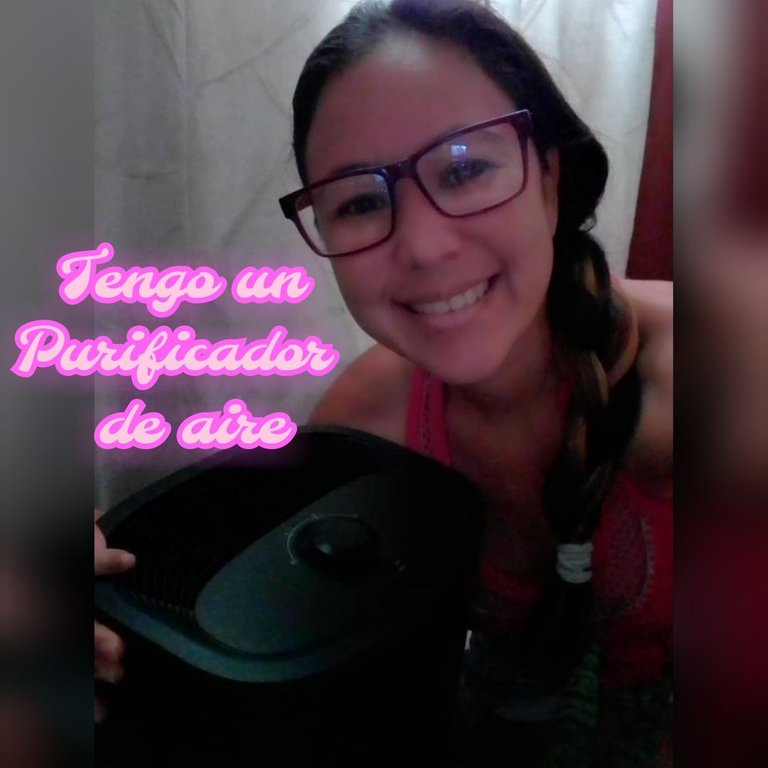 I have it and now I explain my new acquisition: The silent air purifier.
Hello! my dear tech-savvy friends and all those things that in the eighteenth century did not exist and life was very boring, I greet you from my heart hoping you are very well.
Today I want to show you a device-object-SAVIOR that came to my home to stay:
It is the silent purifier for my mother.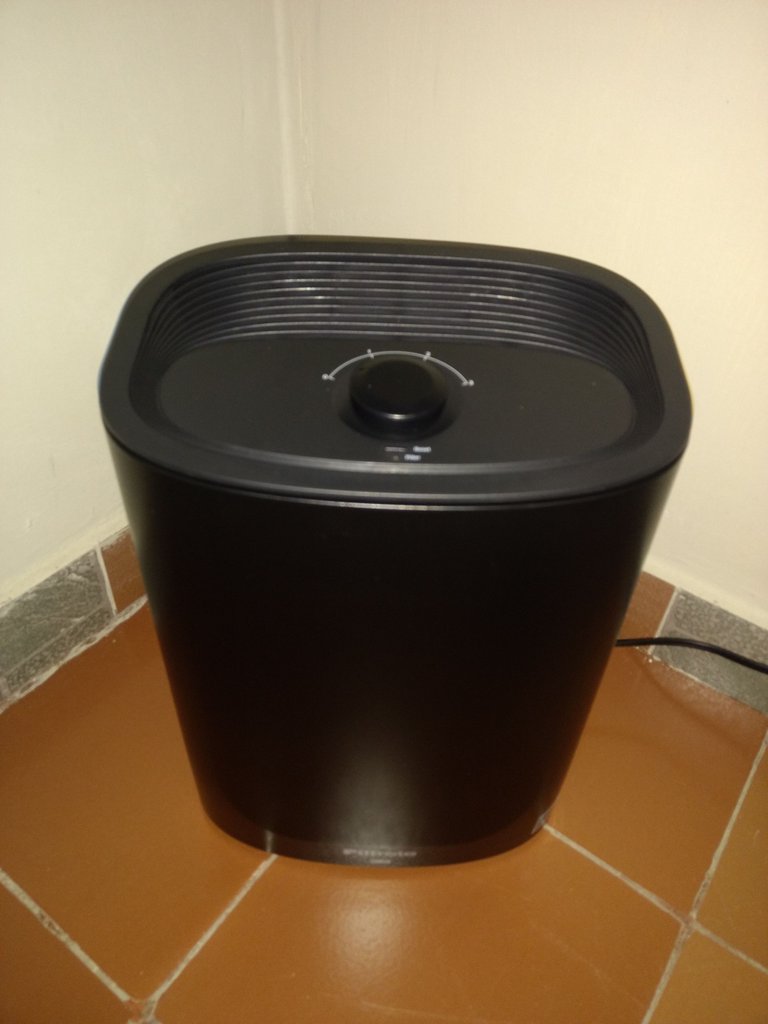 And what is a purifier?
Well, as its name suggests, it is a device that serves to purify the air of harmful particles that are absorbed by our body imperceptibly, but over time, can be harmful to our health.
Ummm interesting And what does it do in my home?
That's a very good question. My mom suffers from chronic rhinitis so in my home for a long time now we have not known what strong odors like chlorine are, any dust particles always have to be removed and of course, the rooms have to be spotless.
However, I was still suffering from the allergy problem and I didn't know what to do anymore. One day, this wonderful gift arrived and wao! the change was almost immediate.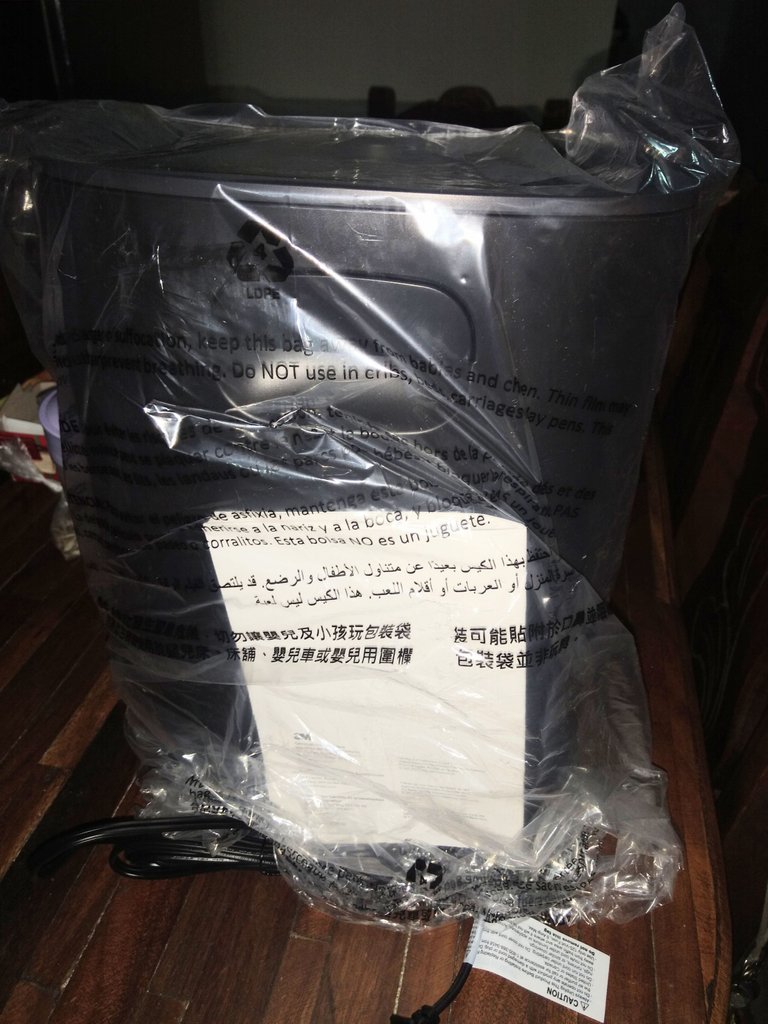 Lo tengo y ahora les explico mi nueva adquisición: El purificador de aire silencioso.
¡Hola! mis queridos amigos conocedores de la tecnología y todas esas cosas que en el siglo XVIII no existían y la vida era muy aburrida, les saludo desde mi corazón esperando que se encuentren muy bien.
Hoy les quiero mostrar un aparato-objeto-SALVADOR que llegó a mi hogar para quedarse:
Es el purificador silencioso para mi madre.
y ¿Qué es un purificador?
Bueno, como su nombre lo indica, es un aparato que sirve para purificar el aire de particulas dañinas que son absorbidas por nuestro organismo de forma imperceptible, pero que al pasar el tiempo, pueden ser perjudiciales para nuestra salud.
Ummm interesante ¿Y qué hace en mi hogar?
Esa si es una muy buena pregunta. Mi mamá sufre de una rinitis crónica por lo cual en mi hogar desde hace mucho tiempo no sabemos lo que son olores fuertes como el cloro, cualquier partícula de polvo siempre tiene que ser eliminada y por supuesto, los cuartos tienen que estar impecables.
Sin embargo, seguía padeciendo el problema de alergia y ya no sabía que hacer. Un día, llegó este maravilloso regalo y ¡Wao! el cambio fue casi inmediato.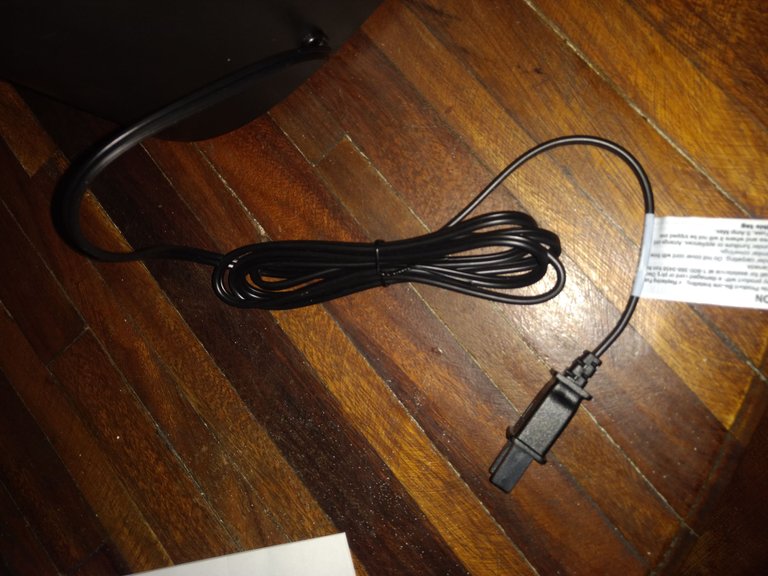 Now, what benefits do they bring to our room?
Of course I had to do a little research apart from the manual that comes with it. The purifier helps filter out those small particles that 98% (very high numbers) of us do not notice on a frequent basis.
For example, in my mother's room there are "no" elements of Mold, pollen or any animal traces (I thought because I didn't see them) but, there are 0.3 micron particles that as I write this article and give you this information I don't even know what I am talking about but it sounds important to know that our air needs to be purified.
In this room, the cats of the urbanization, run, or sit on the ceiling; it seems that there is no relation but the pet hairs or the ceiling gives off very small particles that over time creates dirty and harmful environments for the body, especially for people with allergies, asthma or any respiratory condition. At the time of COVID-19, we realized that infection traveled through the air and we learned that it was important to keep our home clean. What a thing! we learned to take care of ourselves.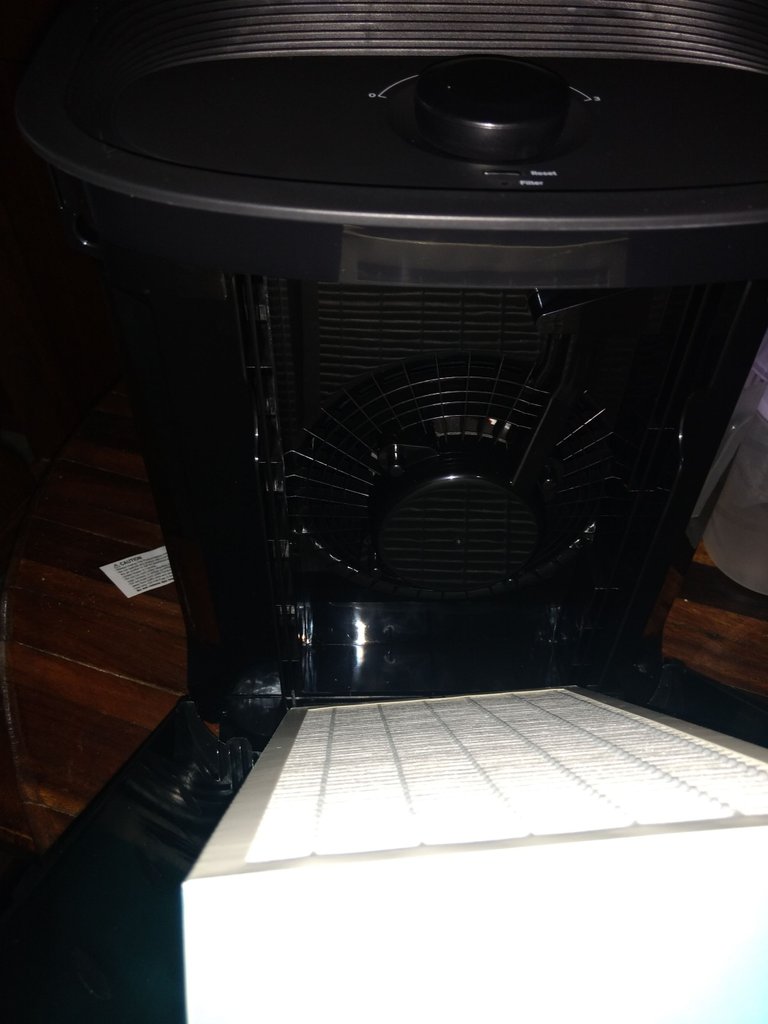 Ahora, ¿Qué beneficios aportan a nuestra habitación?
Por supuesto que tuve que investigar un poco aparte del manual que incluye. El purificador ayuda a filtrar esas pequeñas partículas que el 98% (cifras muy altas) no percibimos de manera frecuente. Por ejemplo, en la habitación de mi madre no "existen" elementos de Moho, polen o algún rastro de animal (según pensaba yo porque no las veía) pero, existen particulas de 0,3 micrones que mientras escribo el artículo y les doy esta información ni siquiera sé de que hablo pero suena importante saber que nuestro aire necesita ser purificado.
En esta habitación, los gatos de la urbanización, corren, o se sientan en el techo; pareciera que no hay relación pero los pelos de mascotas o el techo desprende partículas muy mínimas que al paso del tiempo va creando los ambientes sucios y perjudiciales para el organismo, mayormente para las personas aleérgicas, asmáticas o con cualquier afección respiratoria. En la época del COVID-19, nos dimos cuenta que la infección viajaba por el aire y nos enteramos que era importante mantener nuestro hogar limpio ¡Que cosas! aprendimos a cuidarnos.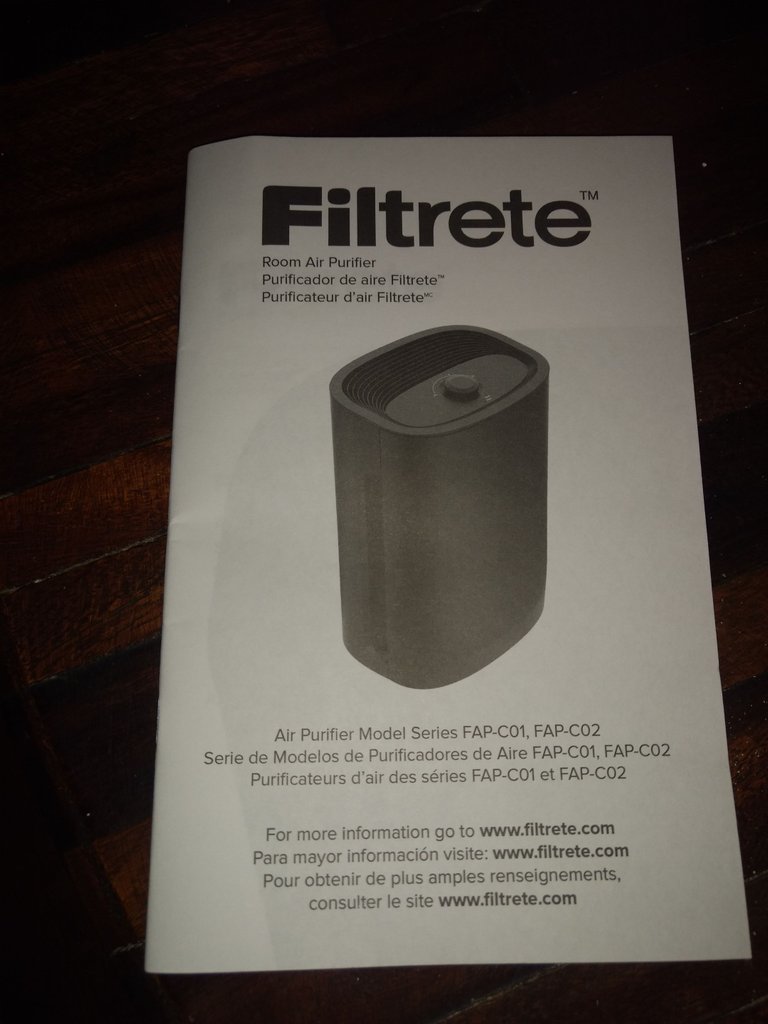 How has this purifier helped?
I repeat, the change was almost immediate. The purifier filters the air of mold, pollen, animal particles, even food smoke when cooking. This air purifier Filtrete brand, has first class technology capable of filtering and cleaning the air I tell you, you can feel it!
It is a silent model, so it is almost imperceptible whether it is on or off, I love this quality! Because when you are sleeping, it makes no difference or noise that affects the rest.
Another feature that I love, is its elegant and lightweight design that blends in the room and I can easily move it from one place to another (You know that thing about moving energy).
I've cleaned the room, and even the dust that I used to get from it has been reduced by half. I have checked the filter and I can honestly tell that it has absorbed the dust, but it still has some life left in it.
I definitely recommend it. You don't have to have a respiratory condition to have it in your home, but if you have any allergies it might help. I didn't know about it but now that it lives in my home I don't know how I could live without it!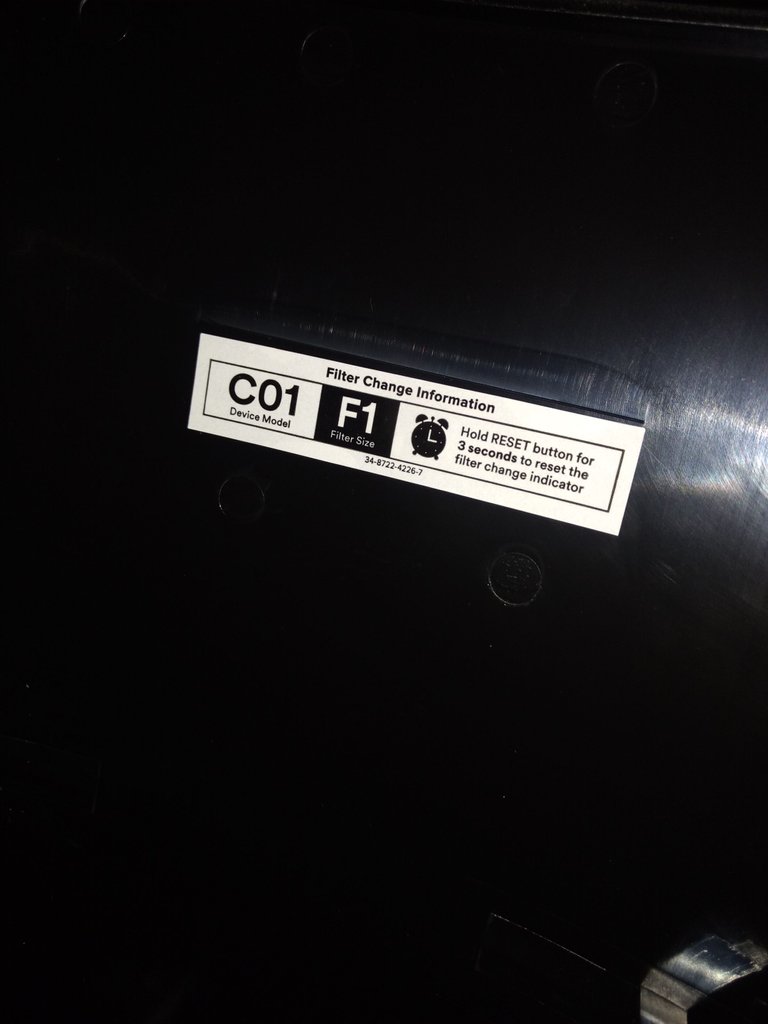 ¿Cómo ha servido este purificador?
Repito, el cambio fue casi de inmediato. El purificador se encarga de filtrar el aire del moho, polen, partículas animales, hasta del humo de la comida cuando cocinamos. Este purificador de aire de marca Filtrete, cuenta con tecnología de primera capaz de filtrar y limpiar el aire que les digo ¡Se siente!
Es un modelo silencioso, así que es casi imperceptible que este prendido o apagado ¡Esta cualidad me encanta! Porque cuando se esta durmiendo, no hace diferencia o ruido que afecte el descanso.
Otra característica que me encanta, es su diseño elegante y liviano que combina en el cuarto y puedo trasladarlo fácilmente de un lado a otro (Saben aquello de mover energías).
He limpiado el cuarto, y hasta el polvo que antes sacaba, se disminuyó a la mitad. He revisado el filtro y honestamente se nota que ha absorbido el polvo, pero aun le queda vida útil.
Yo definitivamente lo recomiendo. No es necesario tener alguna afección respiratoria para tenerlo en el hogar, pero si hay alguna persona alérgica esto podría ayudar. Yo lo desconocía pero ahora que vive en mi hogar ¡No sé como pude vivir sin él!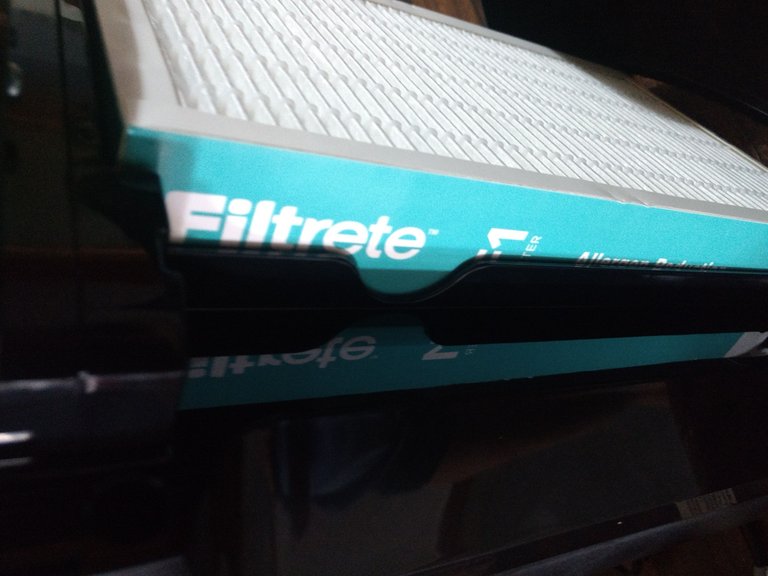 This air purifier is Filtrete brand. Its equipment weighs approximately one kilo. It is easy to clean. Easy installation: just open the hatch, place the filter and turn it on. It comes with its manual and that's it, you don't need anything else.
As a precaution, we must place it in a stable place, without anything interrupting its operation, such as carpets or curtains. Do not place in hot rooms, manipulate or open if not authorized. Keep away from children or pets and do not allow them to use it as a toy. Do not place in open spaces or outdoors, that is to say, care as any electrical appliance that deserves care for its preservation and better duration.
So my dear technology lovers, we should always make sure that our acquisitions are not only beautiful or "fashionable", but also functional and practical for our life. This will transform into well-being and will be worth every penny paid for it.
Thanks to you for the space and reading me. I hope it is useful and you can make decisions to improve your home spaces.
The photographs are my property. The cover is edited in the GridArt App.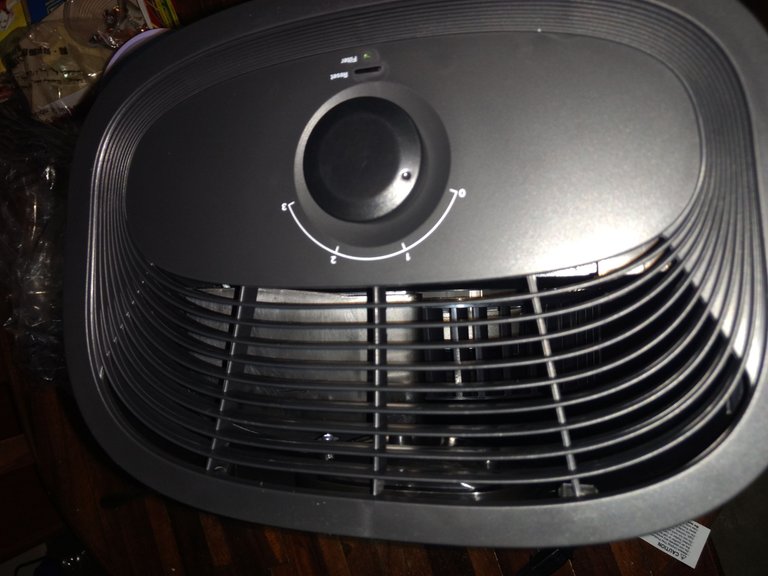 Este purificador de aire es marca Filtrete. Su equipo pesa aproximadamente un kilo. Es de fácil limpieza. Fácil instalación: solo abrimos la compuerta, colocamos el filtro y prendemos. Viene con su manual y ya, no necesita de más nada.
Como precaución, debemos colocarlo en un sitio estable, sin que nada interrumpa su funcionamiento como alfombras o cortinas. No colocar en habitaciones calientes, manipular o abrir si no esta autorizado. Alejar de los niños o mascotas y no permitir que lo usen como juguete. No colocar en espacios abiertos o al aire libre, es decir, cuidados como cualquier aparato eléctrico que merece cuidado para su preservación y mejor duración.
Así que mis queridos amantes de la tecnología, siempre debemos procurar que nuestras adquisiciones a parte de ser bonitos o "estar a la moda", yo aconsejo que sean funcionales y prácticos para nuestra vida. Esto se transformará en bienestar y valdrá la pena cada centavo pagado por ello.
Gracias a ustedes por el espacio y leerme. Espero que sea útil y puedan tomar decisiones para mejorar sus espacios en el hogar.
La fotografias son de mi propiedad. La portada es editada en la App GridArt.