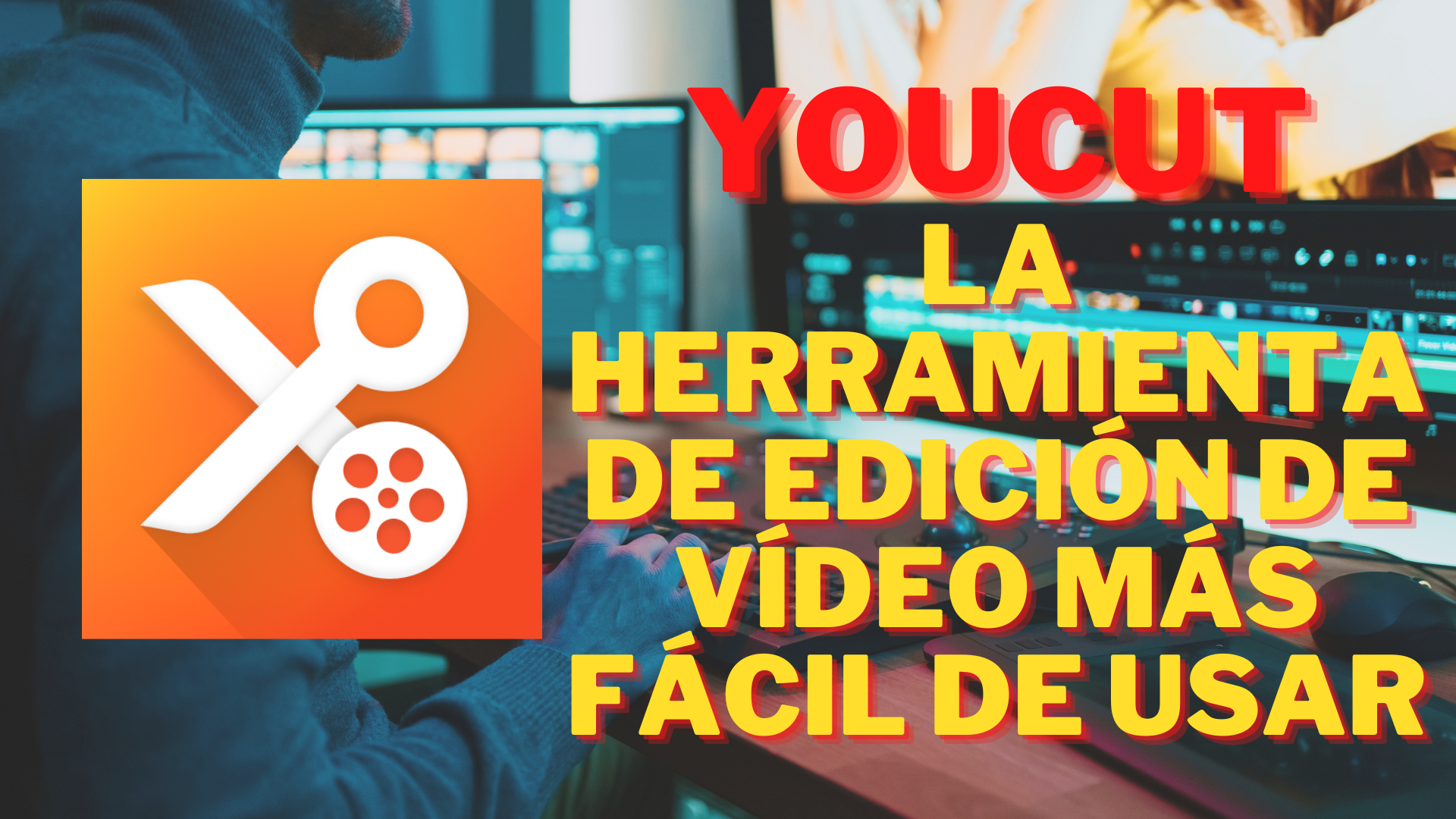 Imagen hecho en Canva con recursos gratuitos de canva, el logo de la app la tome de la play store / Image made in Canva with free resources from canva, the logo of the app I took it from the play store.

---
Hola a todos, un cordial saludo a toda la comunidad Geek, ¿cómo están el día de hoy? Espero que muy bien, y creo que mejorara cuando lean sobre esta aplicación para editar videos que vengo a explicar de manera detallada en esta publicación, ya que como creadores de contenido buscamos aplicaciones que estén a la altura del trabajo que hacemos en Hive, ya sea con videos informativos, videos reseñas o gameplays. Ya que si tenemos las mejores herramientas haremos el trabajo más fácilmente y de manera optimizada. Además, una de las primeras ventajas que encuentro de esta aplicación ya que desde que inicie a publicar videos en 3speak no he dejado de usarla, es que no deja molestas marcas de agua, es super liviana, versátil y ofrece una gran cantidad de herramientas muy utiles que te pueden ayudar a la hora de editar tus videos sin la necesidad de ser usuario premium. Esta maravillosa aplicación se llama: YouCut y la pues conseguir tanto en la Play Store Como en la Apple Store, Como dije antes, hare una reseña de lo que la aplicación tiene para ofrecer, luego me puedes saber tu opinión si la has usado o nunca habías oído de ella.
Hello everyone, a warm greeting to all the Geek community, how are you today? I hope very well, and I think it will improve when you read about this application to edit videos that I come to explain in detail in this publication, because as content creators we look for applications that are at the height of the work we do in Hive, either with informative videos, video reviews or gameplays. Because if we have the best tools we will do the job more easily and in an optimized way. In addition, one of the first advantages I find of this application since I started publishing videos in 3speak I have not stopped using it, is that it does not leave annoying watermarks, it is super light, versatile and offers a lot of very useful tools that can help you when editing your videos without the need to be a premium user. This wonderful application is called: YouCut and you can get it both in the Play Store and in the Apple Store, As I said before, I will make a review of what the application has to offer, then you can let me know your opinion if you have used it or had never heard of it.
---

Borrador
Tomado desde la aplicacion en mi telefono / Taken from the application on my phone

---
Cuando abrimos la aplicación lo primero que podemos notar si ya hemos hecho ediciones anteriores es que guarda borradores de esos videos por si más adelante quisieras editarlos o si tu batería esta próxima a acabarse y no tienes el tiempo. Esta herramienta es muy útil ya que deja a edición tal cual la hiciste la última vez, claro para que funciones correctamente este borrador, no debes borrar de tu dispositivo los videos que estes editando, ya que así si puede perderse todo el progreso o edición que hayas realizado.
When we open the application the first thing we can notice if we have already made previous editions is that it saves drafts of those videos in case you want to edit them later or if your battery is about to run out and you do not have the time. This tool is very useful because it leaves the editing as you did the last time, of course for this eraser to work properly, you should not delete from your device the videos you are editing, because then you can lose all the progress or editing you have done.
---

Cortar
Tomado desde la aplicacion en mi telefono / Taken from the application on my phone


---
Ya en el menú de edición tienes muchas herramientas a tu disposición, la primera que puedes usar es la herramienta de corte de video, que a mi parecer es muy completa y puedes hacer los cortes de manera muy precisa, si te pasa como a mí y cometes muchos errores en tus videos mientras los grabas eso lo puedes eliminar de manera precisa con esta herramienta, ya que incluso puedes cortar exactamente en milisegundos. La herramienta de corte tiene a su vez 3 modos de corte, recortar, donde cortas pedazos del principio o final. El modo de corte Cortar, corta pedazos en el centro del video o secciones enteras sin afectar el principio o el final de tu video y finalmente el modo dividir que es el que más uso, te permite cortar de manera muy precisa y dividir en secciones tu video para quitar pedazos indeseados o agregar transiciones.
Already in the editing menu you have many tools at your disposal, the first one you can use is the video cut tool, which in my opinion is very complete and you can make the cuts very precisely, if it happens to you like me and you make many mistakes in your videos while recording them you can eliminate them precisely with this tool, since you can even cut exactly in milliseconds. The cut tool has 3 cutting modes, trim, where you cut pieces from the beginning or end. The Cut mode cuts pieces in the center of the video or entire sections without affecting the beginning or the end of your video and finally the Split mode, which is the one I use the most, allows you to cut very precisely and divide your video into sections to remove unwanted pieces or add transitions.
---

Musica
Tomado desde la aplicacion en mi telefono / Taken from the application on my phone


---
La segunda herramienta es la de Música, esta sección es muy entretenida, ya que puedes agregar muchas cosas como canciones libres de derechos de autor, efectos como campanas, maullidos, silbidos, disparos, etc. Y además puedes exportar canciones desde tu dispositivo. Además, se guarda un historial con las canciones que has usado para que en futuras ediciones te resulte más fácil buscar tus canciones o efectos favoritos, claro para descargar canciones libres de derechos de autor o efectos de sonido debes tener internet.
The second tool is Music, this section is very entertaining as you can add many things like royalty free songs, effects like bells, meows, whistles, gunshots, etc. And you can also export songs from your device. In addition, it saves a history with the songs you have used so that in future editions it will be easier for you to find your favorite songs or effects, of course to download royalty free songs or sound effects you must have internet.
---

Filtro
Tomado desde la aplicacion en mi telefono / Taken from the application on my phone
Tomado desde la aplicacion en mi telefono / Taken from the application on my phone


---
La tercera herramienta de edición es la de Filtro, donde puedes agregar uno de los más de 40 estilos de filtros gratis que tiene la aplicación, y aunque alguno de los mejores es para usuarios premium, la gran mayoría para el uso gratuito son bastante utiles. Por ejemplo, puedes usar el efecto glitch, el VHS o el de la televisión vieja, así como el de una cámara grabando. Tambien un filtro que divide las pantallas y otro que te hace tener la visión térmica del depredador jaja.
The third editing tool is the Filter tool, where you can add one of the more than 40 free filter styles that the application has, and although some of the best ones are for premium users, the vast majority for free use are quite useful. For example, you can use the glitch effect, the VHS or old TV, as well as a camera recording. Also a filter that splits the screens and another one that makes you have the thermal vision of the predator haha.
---

Letras
Tomado desde la aplicacion en mi telefono / Taken from the application on my phone
Tomado desde la aplicacion en mi telefono / Taken from the application on my phone


---
La siguiente herramienta es la de Letras, que es bastante completa si descarga todas las fuentes que tienes disponibles. Con esta herramienta puedes hacer efectos divertidos a las letras que quieres que aparezcan en el video, como que aparecen de izquierda a derecha, letras emergentes o letras con efecto zoom. Tambien puedes editar el color o ponerles un fondo para que resaltes, así como hacer las letras cursivas o configurar el espacio donde quieres que estén.
The next tool is the Lettering tool, which is quite complete if you download all the fonts you have available. With this tool you can make fun effects to the letters that you want to appear in the video, such as left to right, pop-up letters or zoomed letters. You can also edit the color or put a background to make them stand out, as well as make the letters italic or set the space where you want them to be.
---

Adhesivo, Mascara PIP y Velocidad
Tomado desde la aplicacion en mi telefono / Taken from the application on my phone


---
The next tool allows you to put stickers, emojis or gifs in your video, this is very useful if you say funny things in your videos or you can place emojis in peak moments to give more emotion to the video, As for the GIFs then choose from the extensive library of Vichy a large bank of gifs, as well as create your own stickers or strikes.
La siguiente herramienta te permite poner adhesivos, emojis o gifs en tu video, esto es muy útil si en tus videos dices cosas chistosas o puede colocar emojis en momentos cumbres para darle más emoción al video, En cuando a los GIFs pues elegir de entre la amplia biblioteca de Vichy un gran banco de gif, además de crear tus propios adhesivos o strikes.
---
---
La herramienta máscara PIP Te permite configurar un segundo video en tus videos, algo así como una miniatura que usan muchos los gamer en sus gameplays, pero puedes configurar este mini video flotante de diferentes formas, además de hace lo de fondo transparente.
The PIP mask tool allows you to set up a second video in your videos, something like a thumbnail that many gamer use in their gameplays, but you can set up this floating mini video in different ways, plus it makes the background transparent.
---
---
Y la herramienta velocidad te permite acelerar o reducir la velocidad a un video, ya sea porque quieres un resultado en Camara rápida o lenta, la configuración es muy sencilla y siempre puede ver una visualización de tu video.
And the speed tool allows you to speed up or slow down a video, either because you want a result in fast or slow motion, the configuration is very simple and you can always see a visualization of your video.
---

Fondo
Tomado desde la aplicacion en mi telefono / Taken from the application on my phone


---
La herramienta fonda es muy útil ya que te permite ajustar tu video a cada tipo de aplicación sin importar en qué sentido se haya grabado o resolución, si tu video es horizontal, pero quieres subirlo a 3Speak y quieres que se vea vertical, puedes hacerlo simplemente seleccionando el formato YouTube, y así con las demás opciones. Además, pues agregar color al fondo del video o cualquier fotografía que quieras ya sea una que tenga en banco de imágenes de la app o de tu galería.
The fonda tool is very useful as it allows you to adjust your video to each type of application no matter in which direction it was recorded or resolution, if your video is horizontal, but you want to upload it to 3Speak and you want it to look vertical, you can do it simply by selecting the YouTube format, and so on with the other options. Also, you can add color to the background of the video or any photo you want, either one that you have in the app's image bank or from your gallery.
---

Grabacion, Volumen, girar y voltear
Tomado desde la aplicacion en mi telefono / Taken from the application on my phone
Tomado desde la aplicacion en mi telefono / Taken from the application on my phone


---
Las ultimas herramientas que te presenta la aplicación son Grabación, Volumen, girar y voltear, donde puedes darle la dirección que deseas a tu video sin importar como se le haya grabado puedes modificarlo y darle u buen resultado con estas herramientas. Y si grabas gameplays con tu teléfono y te gusta agregar la voz durante la edición lo puedes hacer con la herramienta grabación, que reduce mucho los ruidos externos y hace que tu voz suene nítida, yo uso esta herramienta mucho en mis videos.
The last tools that the application presents are Recording, Volume, rotate and flip, where you can give the direction you want to your video no matter how you have recorded you can modify and give u good result with these tools. And if you record gameplays with your phone and you like to add your voice during editing you can do it with the recording tool, which reduces a lot the external noises and makes your voice sound clear, I use this tool a lot in my videos.
---

Guardado final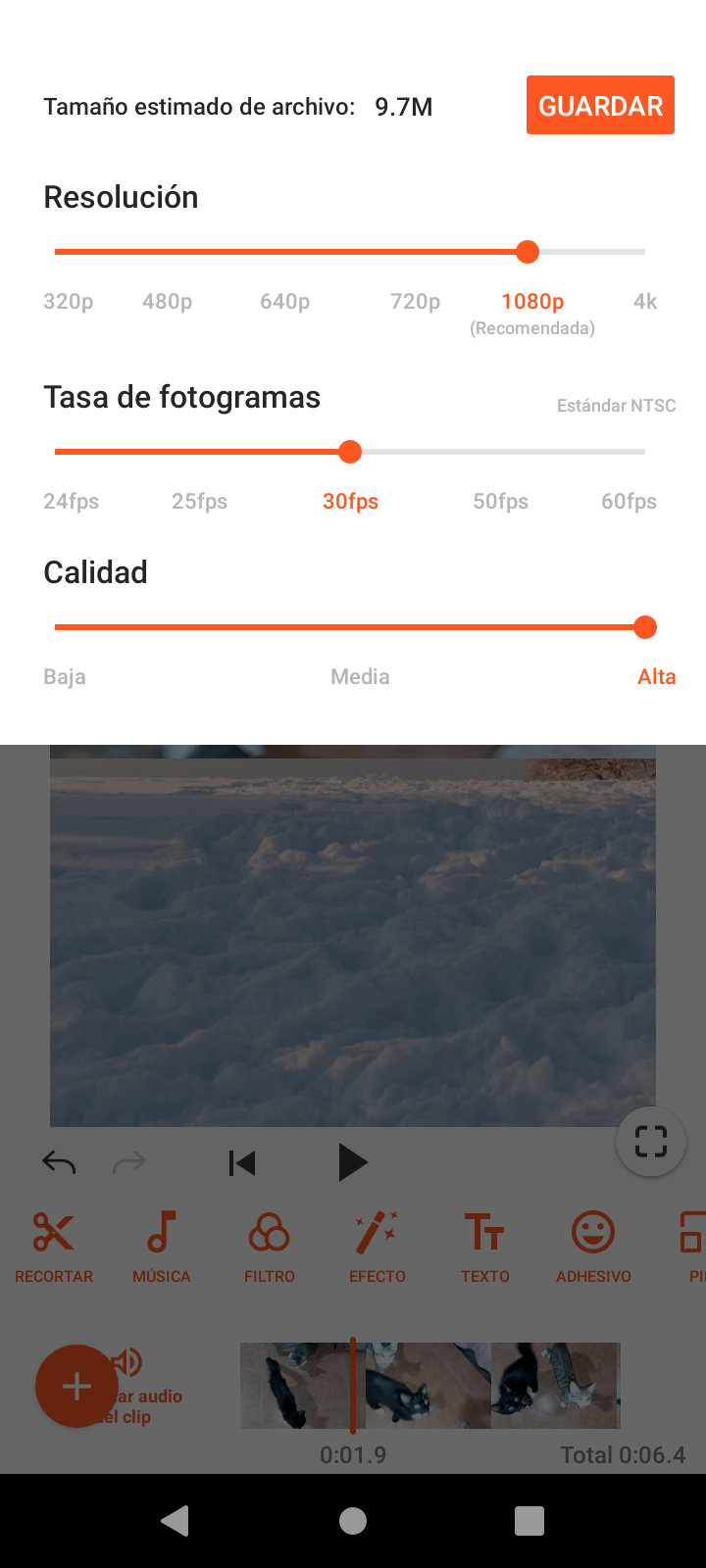 Tomado desde la aplicacion en mi telefono / Taken from the application on my phone


---
Finalmente tenemos las opciones de guardado del video, la aplicación reconocerá automáticamente la resolución de tu video y te recomendara guardarle en la resolución apropiada, así como los FPS y la calidad, esto tambien los puedes modificar ya sea porque el peso de tu video sea mucho o porque quieras darle mayor calidad, claro eso hará que la calidad se pierda o se ralentice el video.
Finally we have the video saving options, the application will automatically recognize the resolution of your video and will recommend you to save it in the appropriate resolution, as well as the FPS and the quality, you can also modify this either because the weight of your video is too much or because you want to give it more quality, of course that will make the quality to be lost or slow down the video.
---
---
Así que en conclusión, esta aplicación es muy completa y potente, además de tener muchas herramientas para tu uso como editor de videos y creador de contenido, es sumamente versátil y no consume mucho uso de la memoria RAM ni del procesador, aunque esta aplicación funciona muy bien en dispositivos de 1GB lo más recomendable es usarla en dispositivos superiores a 3 Gb de RAM, tambien me gustaría agregar que tiene un modo de conversión en segundo plano, es decir que si terminaste de editar tu video y deseas guardarlo pero necesitar hacer otras cosas con tu teléfono lo puedes hacer, ya que el proceso continua en segundo plano sin ningún inconveniente. La aplicación está en constante desarrollo y siempre se le añaden nuevas funciones muy utiles o mejoran las que ya tiene. Si deseas descargarla tienes los enlaces al principio de esta publicación, muchas gracias por leer, espero que esta información te haya resultado muy útil, nos vemos hasta una próxima ocasión.
So in conclusion, this application is very complete and powerful, besides having many tools for your use as a video editor and content creator, it is extremely versatile and does not consume much use of RAM or processor, although this application works very well on 1GB devices it is best to use it on devices above 3 Gb of RAM, I would also like to add that it has a background conversion mode, that is to say that if you finished editing your video and want to save it but need to do other things with your phone you can do it, since the process continues in the background without any inconvenience. The application is in constant development and is always adding new useful features or improving the ones it already has. If you want to download it you have the links at the beginning of this publication, thank you very much for reading, I hope this information has been very useful, see you until next time.
---
La aplicación pertenece a InShot Inc. / The application belongs to InShot Inc.

Gif hecho en Canva Y los separadores tambien fueron hechos por mi en canva / Gif made with Canva And the dividers were also made by me in canva.