---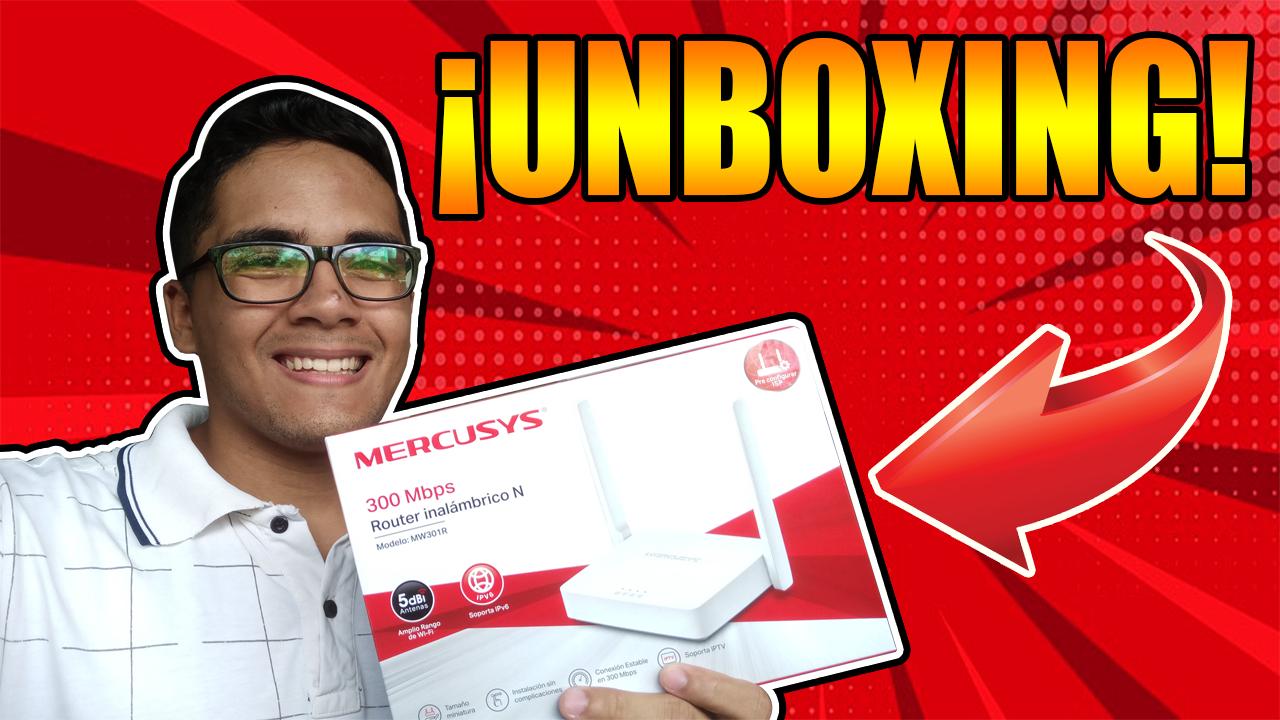 ---
Hello to all dear friends of the Geek community, I hope you are very well. We are all enjoying a good World Cup, quite exciting and intense, but today I wanted to bring the unboxing of a Mercusys brand Reuter, one of the most basic, but quite functional, join me in this video and publication if you want to know what it is and what this small Reuter offers, but with a lot for the user.
I wanted to start that after putting the fiber optic, I had to wait until today to be able to acquire a Reuter, since the company that sold me the fiber had no availability of Reuter, so I had to gather little by little, of course I wanted to buy it 2 weeks ago, but the fall of the market made me have to wait a little longer, meanwhile I used the Hostpot or the coverage area option of my wife's laptop to have wifi in the house.
But today after having the full money I went to the center of my city and acquired a brand of Reuter with which I am familiar and to which I am quite fond of, as it is very easy to handle and although it is low-end works quite well for personal use. It is the xp-link sub-brand: Mercusys, a brand that surprises for what it offers. For example, this Reuter, model MW201R. It has very useful features such as: compact size and easy to carry (literally measures 15 cm), the installation does not take long to install and without complications or external applications, also allows a stable wireless connection of up to 300Mbps and finally supports IPTV to watch Internet TV.
Hola a todos queridos amigos de la comunidad Geek, Espero que se encuentren muy bien. Todos estamos disfrutando de un buen mundial, bastante emocionante e intenso, pero el día de hoy quería traer el unboxing de un Reuter de marca Mercusys, uno de los más básicos, pero bastante funcional, acompáñame en este video y publicación si quieres saber de qué se trata y que ofrece este Reuter pequeño, pero con mucho para el usuario.
Quería comenzar que luego de poner la fibra óptica, tuve que esperar hasta el día de hoy para poder adquirir un Reuter, ya que la compañía que me vendió la fibra no tenía disponibilidad de Reuter, así que tuve que reunir poco a poco, claro yo quería comprarlo hace 2 semanas, pero la caída del mercado hizo que tuviera que esperar un poco más, mientras tanto usaba el Hostpot o la opción de zona de cobertura de la laptop de mi esposa para tener wifi en la casa.
Pero el día de hoy luego de tener el dinero completo fui hasta el centro de mi ciudad y adquirí una marca de Reuter con la que estoy familiarizado y a la cual le tengo bastante cariño, ya que es muy fácil de manejar y anqué es de gama baja funciona bastante bien para uso personal. Se trata de la submarca de xp-link: Mercusys, una marca que sorprende por lo que ofrece. Por ejemplo, este Reuter, de modelo MW201R. Tiene funciones bastante utiles tales como: Tamaño compacto y fácil de llevar (literalmente mide 15 cm), la instalación no lleva mucho tiempo de instalación y sin complicaciones ni aplicaciones externas, además permite una conexión estable inalámbrica de un máximo de 300Mbps y por último soporta IPTV para ver televisión por internet.*
---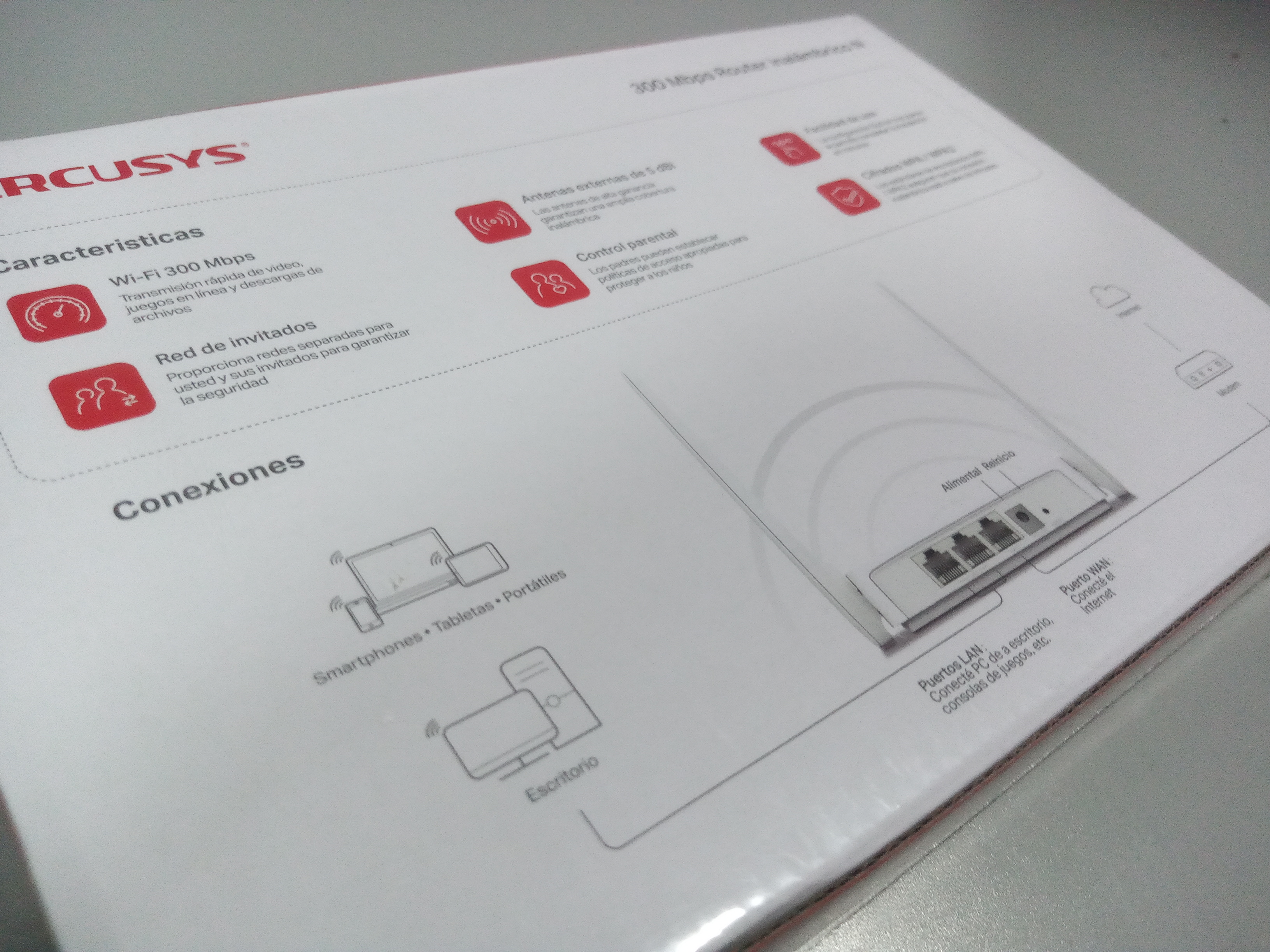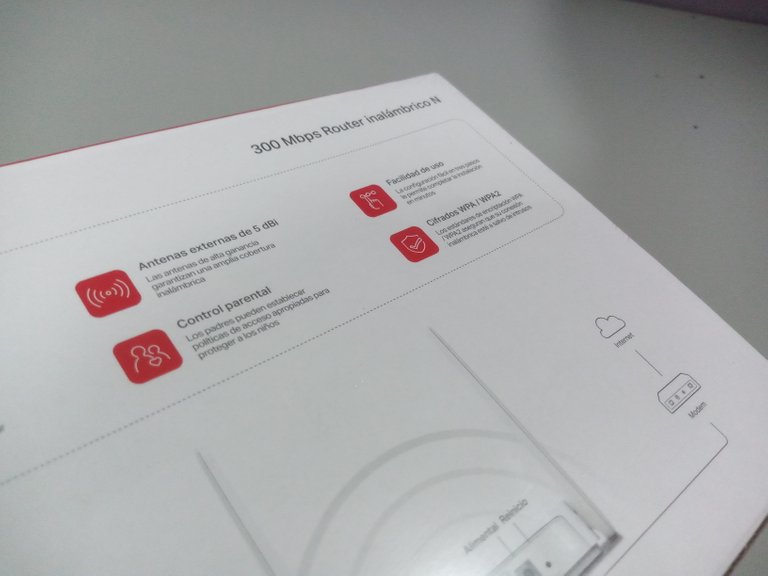 ---
Now when I opened the box I could notice that it is an extremely minimalist packaging, as it only has 4 things inside the package, and that is: The Reuter, a UTP cable with RJ45 connector, a quick installation manual and a 3 amp power transformer. It is like the box of the iPhone 14 in fact the Reuter box is extremely thin, but in reality it is all that is needed as the power of this Reuter is in its configuration.
Ahora al abrir la caja pude notar que es un empaquetado sumamente minimalista, ya que únicamente tiene 4 cosas en el interior del empaque, y esto es: El Reuter, un cable UTP con conector RJ45, un manual de instalación rápida y un transformador de corriente de 3 amperios. Es como la caja del iPhone 14 de hecho la caja del Reuter es sumamente delgada, pero en realidad es todo lo que se necesita ya que la potencia de este Reuter está en su configuración.
---
| | |
| --- | --- |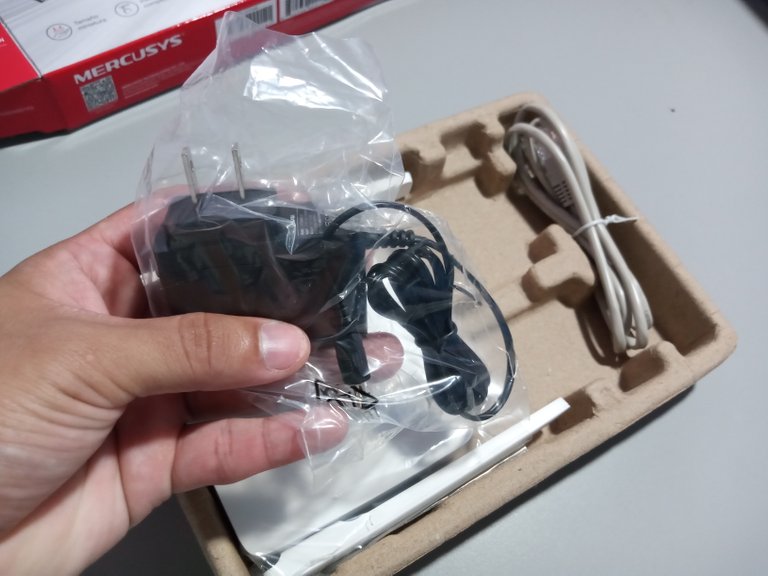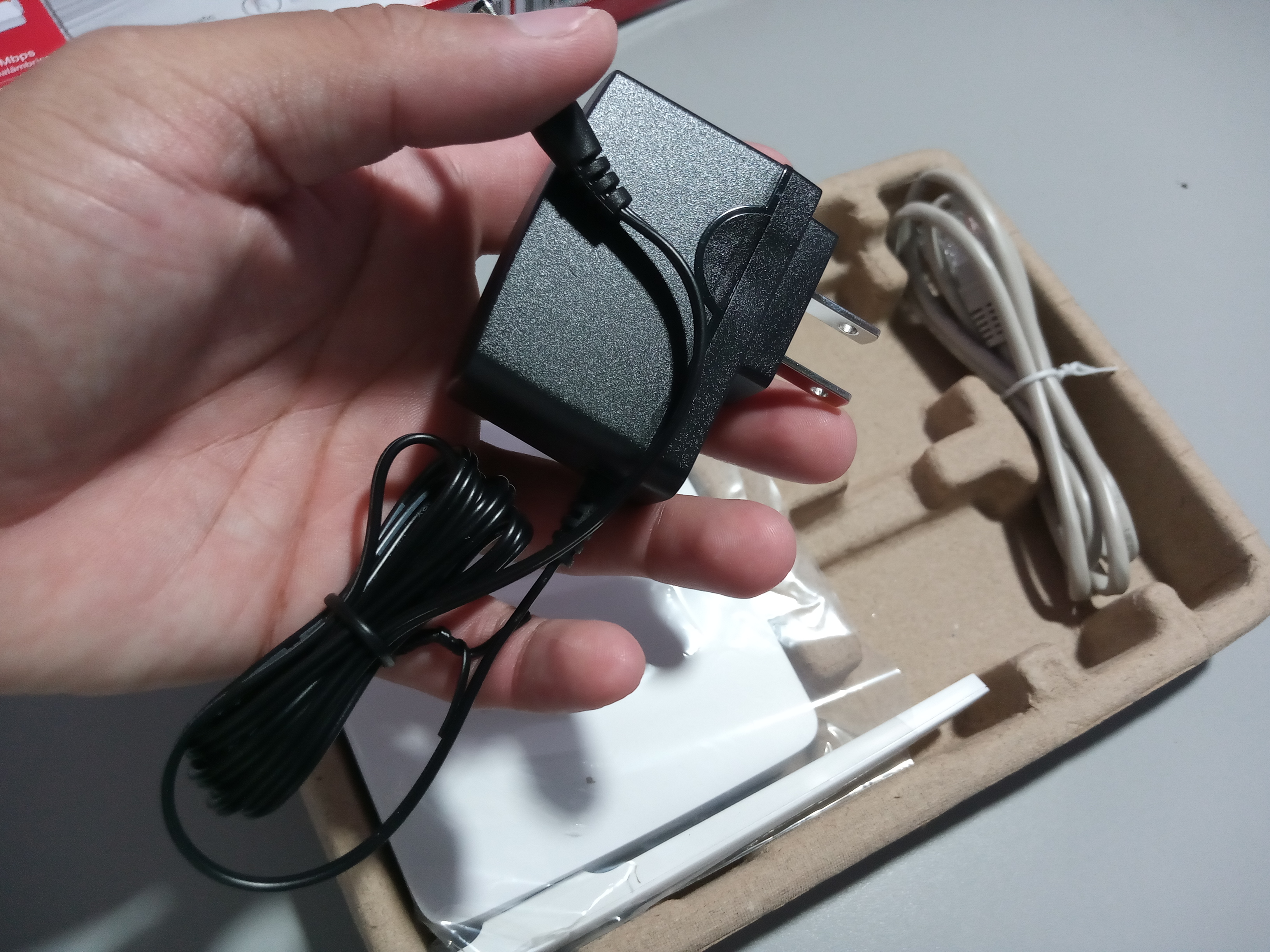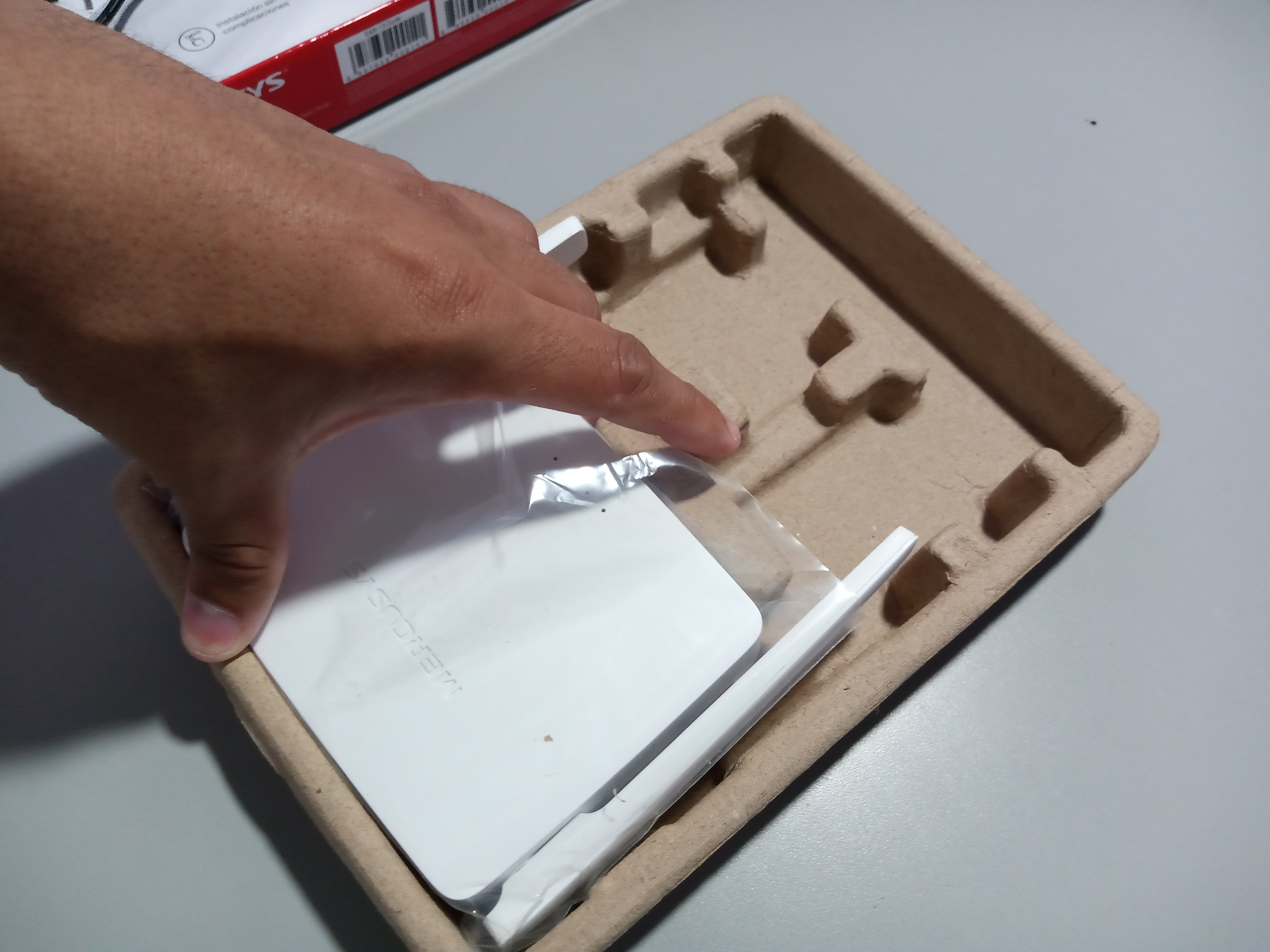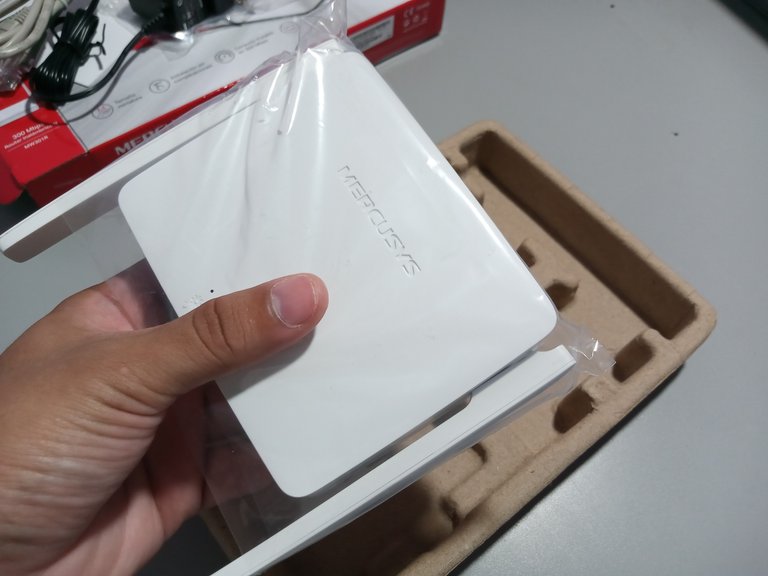 | | |
| --- | --- |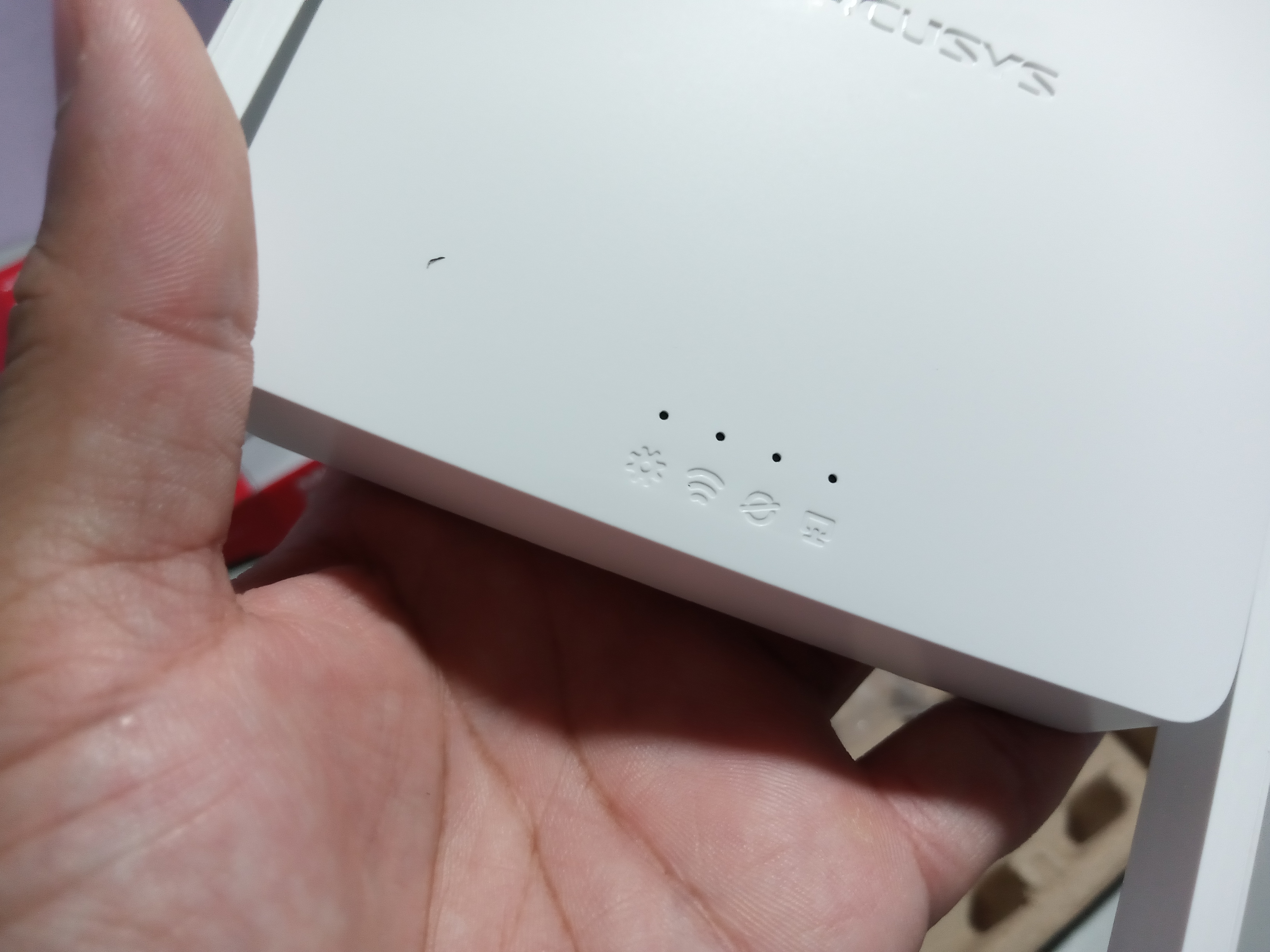 ---
To install it in my house I only had to place some nails in the wall at a distance of 6CM since that is the distance of the holes that has the Reuter to support it from the wall, I thought it was pretty good to place it near the fiber optic model to be able to handle it better and look a little neater. The Reuter on the back has 3 rj45 inputs, the first one right next to the power input is the WAN connection where you connect the internet coming from the miden and then there are w more ports to connect a PC or laptop through the ethernet port. The installation is quite simple as the manual says.
Something important to emphasize is that the gray UTP cable that comes with the Reuter only works in one direction, because for hours I was trying to establish a connection and nothing worked and it was because I had the gray UTP cable in the opposite direction, so that's a good thing to know during installation. Now another good thing to know is that the configuration of the Reuter is also very simple, I am fiber optic and it worked the way I am going to explain, but maybe if you use another internet provider you should call them and ask them what configuration you should apply.
Para instalarlo en mi casa tuve que únicamente colocar unos clavos en la pared a una distancia de 6CM ya que esa es la distancia de los hoyos que tiene el Reuter para apoyarlo de la pared, me pareció bastante bien colocarlo cerca del modelo de fibra óptica para poder manejarlo mejor y que se vea un poco más ordenado. El Reuter por la parte de atrás tiene 3 entradas rj45, la primera justo al lado de la entrada de poder es la conexión WAN donde se conecta el internet que viene del miden y luego hay w puertos más para conectar una PC o una laptop por el puerto ethernet. La instalación es bastante sencilla como dice el manual.
Algo importante a recalcar es que el cable gris UTP que trae el Reuter solo funciona en un sentido, ya que por horas estuve intentando establecer una conexión y nada funcionaba y era porque tenía el cable UTP gris en sentido contrario, así que eso es un buen dato a saber durante la instalación. Ahora otro buen dato es para la configuración del Reuter es tambien sumamente sencilla, yo que soy fibra óptica me funciono de la manera que voy a explicar, pero tal vez si usas otro proveedor de internet debas llamarlo y preguntarle que configuración deberías aplicar.
---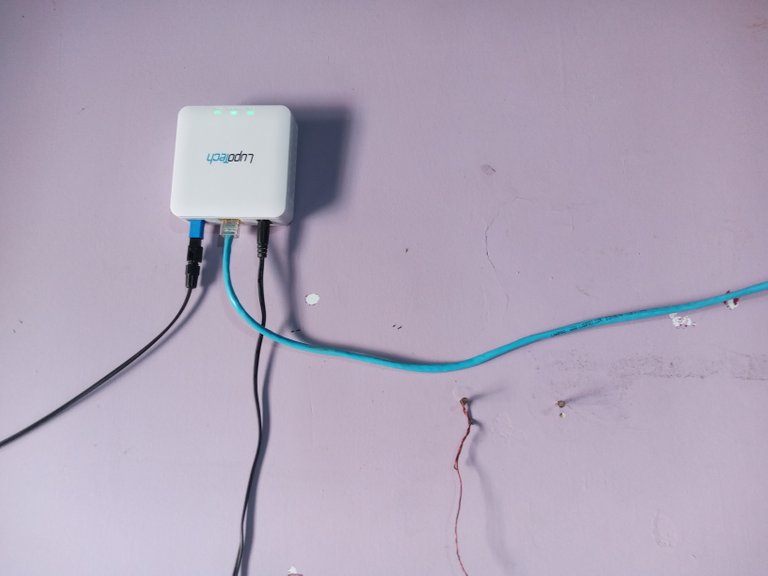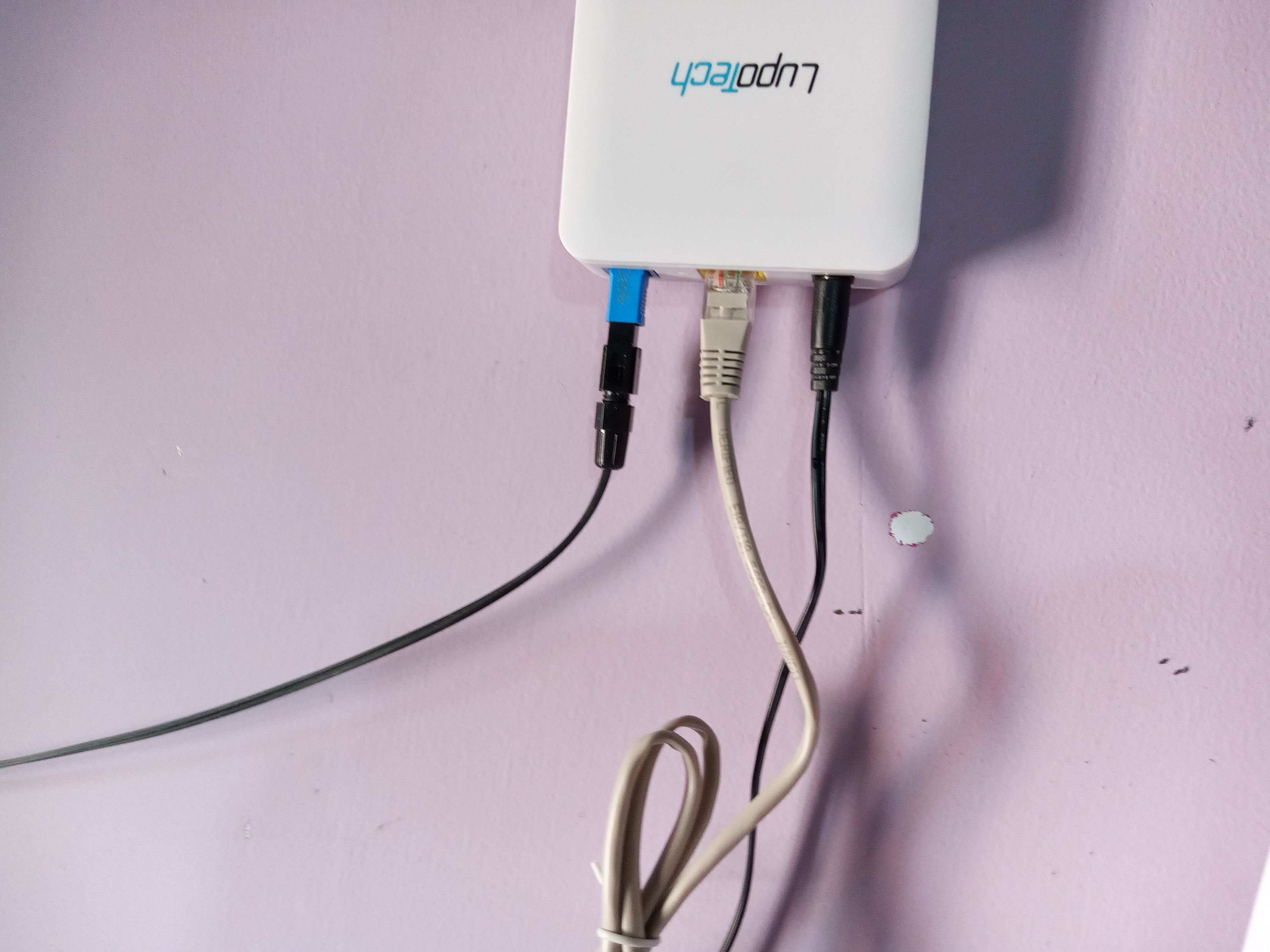 ---
When you enter in your internet browser the following address go: 192.168.1.1.1 a page will open with the configuration menu of your Reuter, you can find things like configuring the name of the Reuter, the wifi key among other things. Now I had a problem and I didn't have the internet option configured correctly, and for a moment I thought that the Reuter was not suitable for fiber optics. But I only had to change the connection type to Dynamic IP and wait a few minutes for it to auto-configure and that was it, I was enjoying wifi and high speed internet.
My user experience is quite good, since in addition to control the wifi internet to the maximum, I can disable it and use only the ethernet connection, I can also comfortably regulate the bandwidth consumed by the devices connected to the wifi and finally it has an elegant design and even comfortable for the view, I have had other Reuters and it is only letters that are very stressful to see them, well one last thing is that the configuration is all in Spanish, that is extremely incredible because when these things are in another language we do not understand them well and as it is a technical language it is worse, but the ease of how it is explained here is incredible.
Of course it has its flaws as the range is not as powerful as if it is a Reuter xp-link or after connecting 5 devices the Reuter gets very hot and the connection is slow, but other than that if it is for purely personal use in the family without sharing wifi to anyone else, it is quite functional and the market price, it is a good choice at low cost.
Thank you very much for watching this unboxing of this Reuter Mercusys, I hope you liked it, see you next time :D
Al ingresar en tu buscador de internet la siguiente dirección ir: 192.168.1.1 se abrirá una página con el menú de configuración de tu Reuter, puedes encontrar cosas como configurar el nombre del Reuter, la clave del wifi entre otras cosas. Ahora a mí me paso un problema y es que no tenía bien configurada la opción de internet, y por un momento llegue a pensar que el Reuter no servía para fibra óptica. Pero únicamente tenía que cambiar el tipo de conexión a IP Dinámica y esperar unos minutos a que se autoconfigurara y listo, ya estaba disfrutando de wifi e internet a alta velocidad.
Mi experiencia de usuario es bastante buena, ya que además de controlar al máximo el internet wifi, lo puedo desactivar y usar únicamente la conexión ethernet, además puedo regular cómodamente la banda de ancho que consume los dispositivos conectados al wifi y por ultimo tiene un diseño elegante y hasta cómodo para la vista, ya que he tenido otros Reuters y es solamente letras que de tanto verlas estresan mucho, bueno una última cosa es que la configuración esta toda en español, eso es sumamente increíble ya que estas cosas cuando están en otro idioma no las entendemos bien y como se trata de un lenguaje técnico pues es peor, pero la facilidad de como se explica aquí es increíble.
Claro tiene sus fallas como que no es tan potente el alcance como si en lo es un Reuter xp-link o que luego de conectar 5 dispositivos el Reuter se calienta mucho y se pone lenta la conexión, pero fuera de eso si es para uso netamente personal en la familia sin compartir wifi a más nadie, es bastante funcional y por el precio de mercado, pues es una buena opción a bajo costo.
Muchas gracias por ver este unboxing de este Reuter Mercusys, espero que les haya gustado, nos vemos en una próxima ocasión :D
---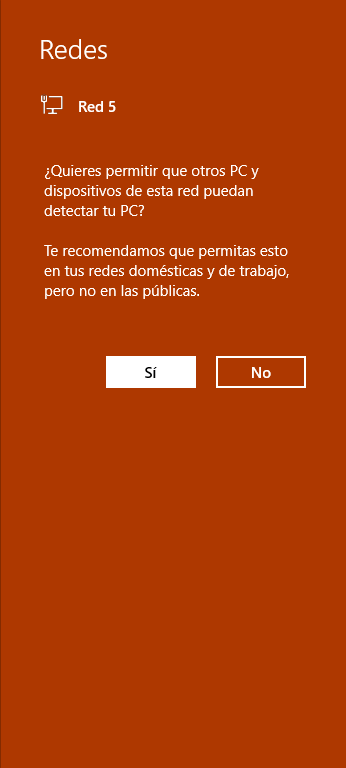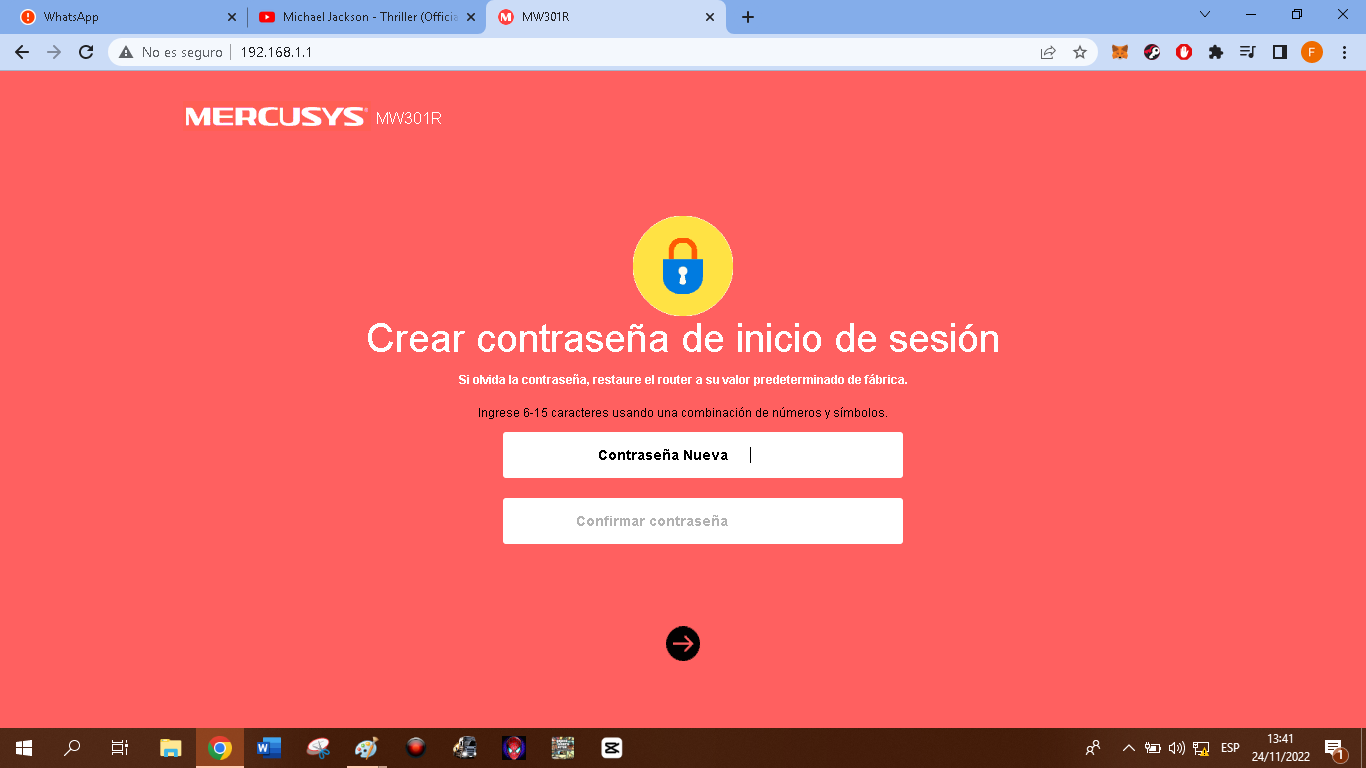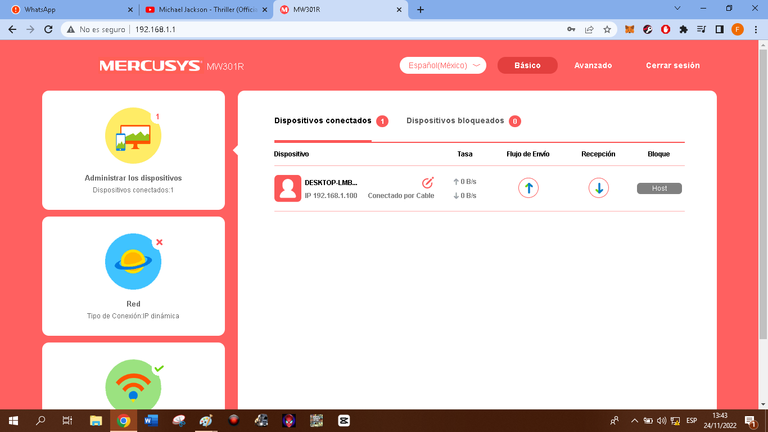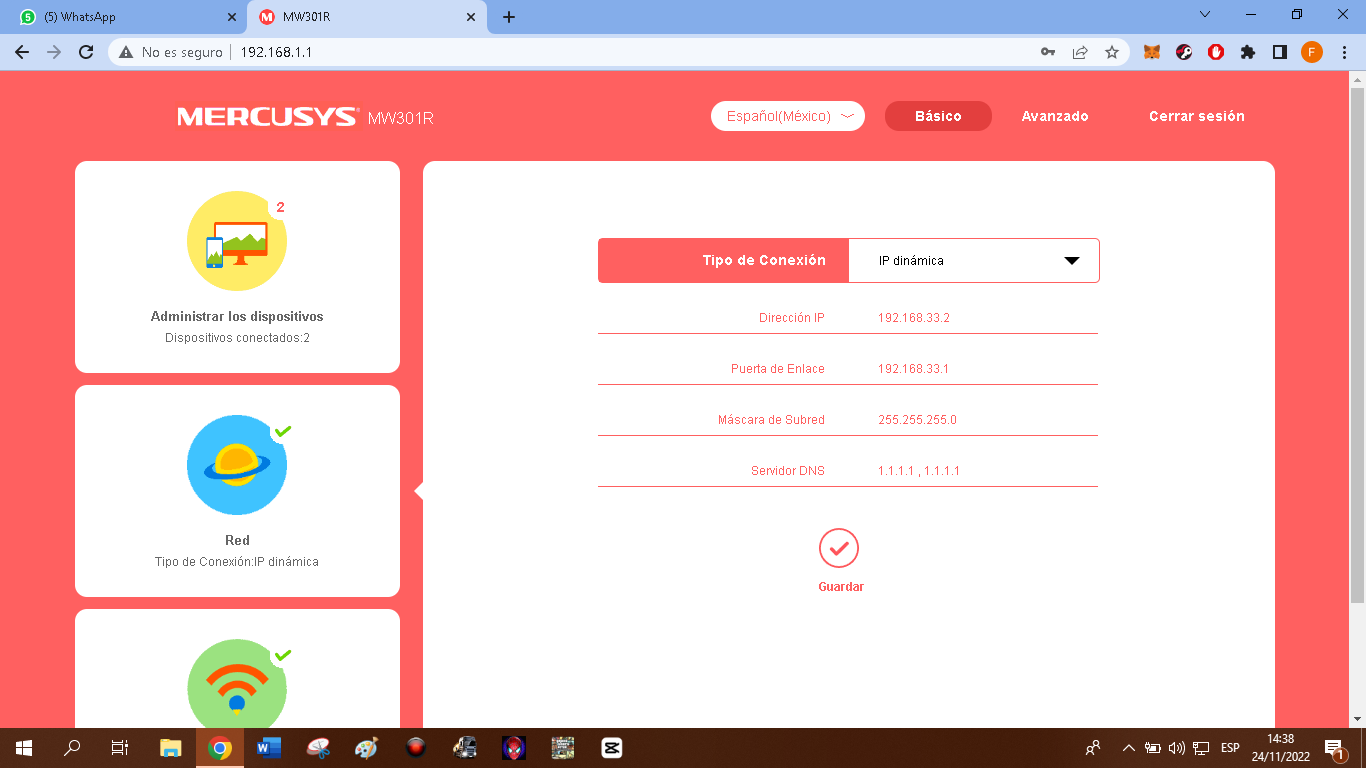 All the materials used in this publication belong to me, in the thumbnail, the background and the arrow were taken from canva as free resources.
Todos los materiales usados en esta publicacion me pertenecen, en la miniatura, el fondo y la flecha fueron sacados de canva como recursos gratuitos.

---
▶️ 3Speak