---
---
Greetings dear geek friends, are you looking for an application to help you in your content creation projects? or do you want to start a podcast project and you only have your phone as a recording method? Well this post is for you, because today I present to you Smart Voice Recorder an excellent useful and versatile application with which you can make professional recordings only with your phone, let's see what this application is all about :D
The first thing to note about this app is its simple and clean interface, as it is quite easy to use and even intuitive, you don't have to be a recording professional (I don't know if they are called that xp) to use it, as everything is automated and you just have to select some extra functions you want to use, it is a program similar to Audacity regarding external noise suppression and pause reduction and you can also choose the quality you want the result, either phone, radio or CD quality.
As an extra, the application offers automatic or manual sound and pause suppression, you can configure it as you like. Also, in the main menu where the 3 dots are you can see the following settings options: Sample rate, do not disturb with notifications or calls while using the app, screen on and microphone settings - this is for calibration.
First, to start using the application is very simple, just press the red button to start recording and if you want to save it just press the green check and it will be saved. If you want to discard that recording simply press the cancel button when you are recording either because you made a mistake or because there was a loud noise that disconcentro you (happens to me a lot haha) and finally if you want to hear all the recordings you have made simply click on the section that says recordings and you will have your library of recordings that you have made, and the best thing is that it will be totally orderly and it is unlikely that you can get confused.
¿Saludos queridos amigos geeks, estas buscando una aplicación que te ayude en tus proyectos de creación de contenido? o quieres empezar un proyecto de Podcasts y únicamente tienes tu teléfono como método de grabación? Pues esta publicación es para ti, ya que hoy te presento a Smart Voice Recorder una excelente aplicación útil y versátil con la que puedes hacer grabaciones profesionales únicamente con tu teléfono, veamos de que va esta aplicación :D
Lo primero que hay que destacar de esta app es su sencillo y limpio interfaz, ya que es bastante sencilla de usar e incluso intuitiva, no tienes que ser un profesional de las grabaciones (No sé si se llaman así xp) para poder usarla, ya que todo es de manera automatizada y solo des seleccionar algunas funciones extras que desees usar, es un programa similar a Audacity en lo respecto a la supresión de ruidos externos y reducción de pausas y además puedes elegir la calidad que quiere el resultado, ya sea calidad de teléfono, radio o CD.
Como un extra, la aplicación ofrece supresión de sonidos y pausas de manera automática o de manera manual, puedes configurarlo como quieras. además, en el menú principal donde están los 3 puntos puedes ver las siguientes opciones de ajustes: Frecuencia de muestreo, no molestar con notificaciones ni llamad mientras se usa la app, pantalla encendía y ajustes del micrófono esto es en cuanto a calibración.
Primero, para comenzar a usar la aplicación es sumamente simple, solamente debes presionar el botón rojo para comenzar a grabar y si quieres guardarla solo debes presionar el check verde y ya se guardará. Si quieres descartar esa grabación simplemente debes presionar la adopción cancelar cuando estes grabando ya sea porque te equivocaste o porque hubo un fuerte ruido que te desconcentro (me pasa mucho jaja) y finalmente si quieres oír todas las grabaciones que has hecho simplemente debes hacer clic en el apartado que dice grabaciones y tendrás tu biblioteca de grabaciones que as hecho, y lo mejor es que será totalmente ordenado y es poco probable que te puedas confundir.
---
---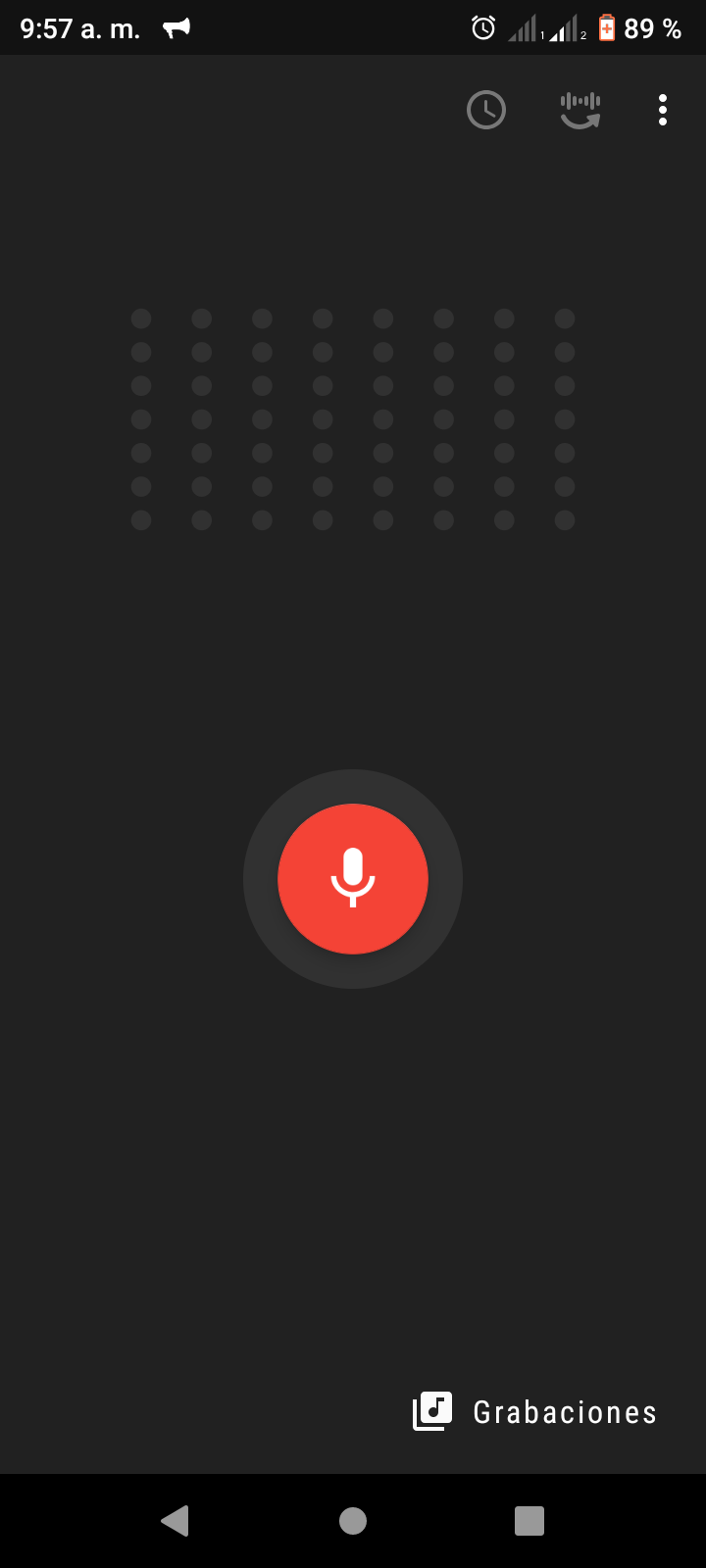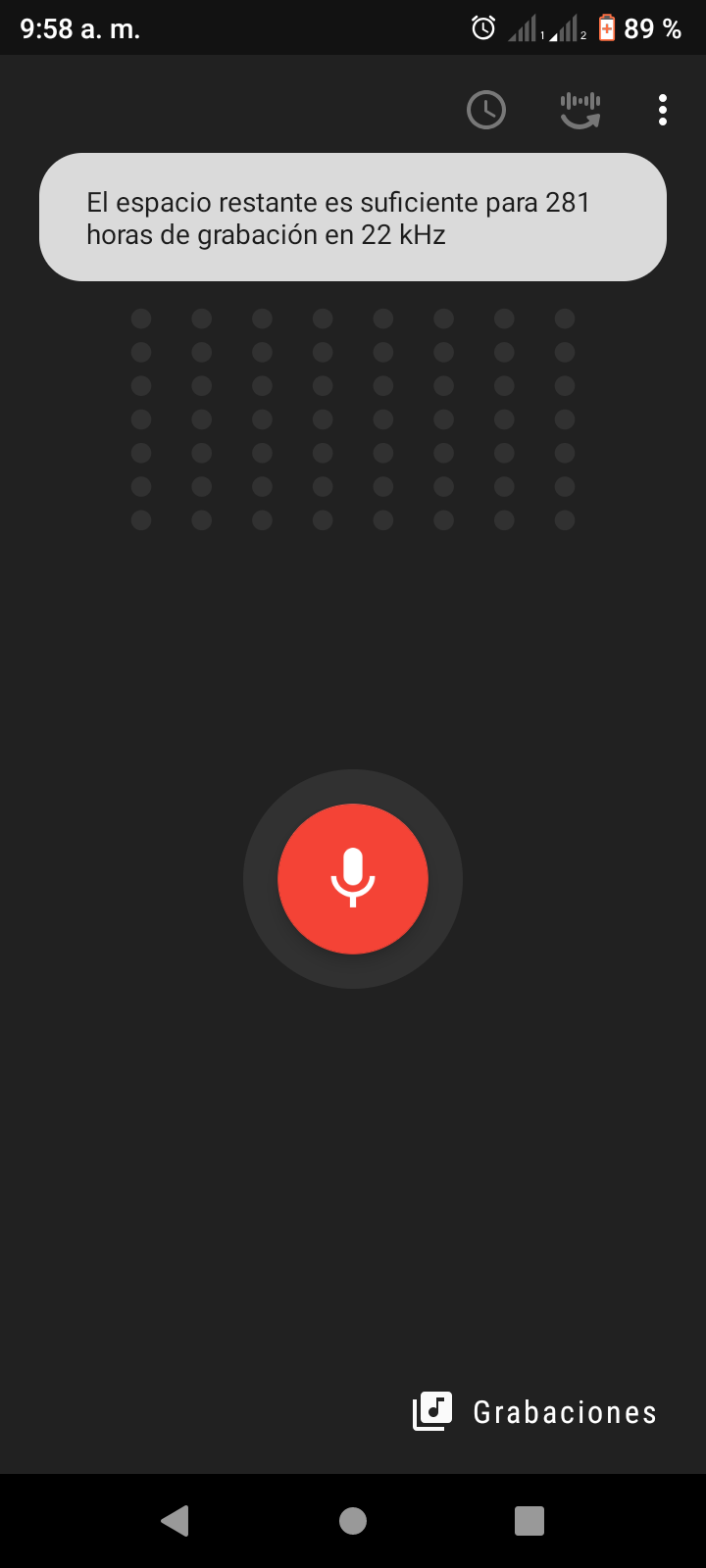 ---
---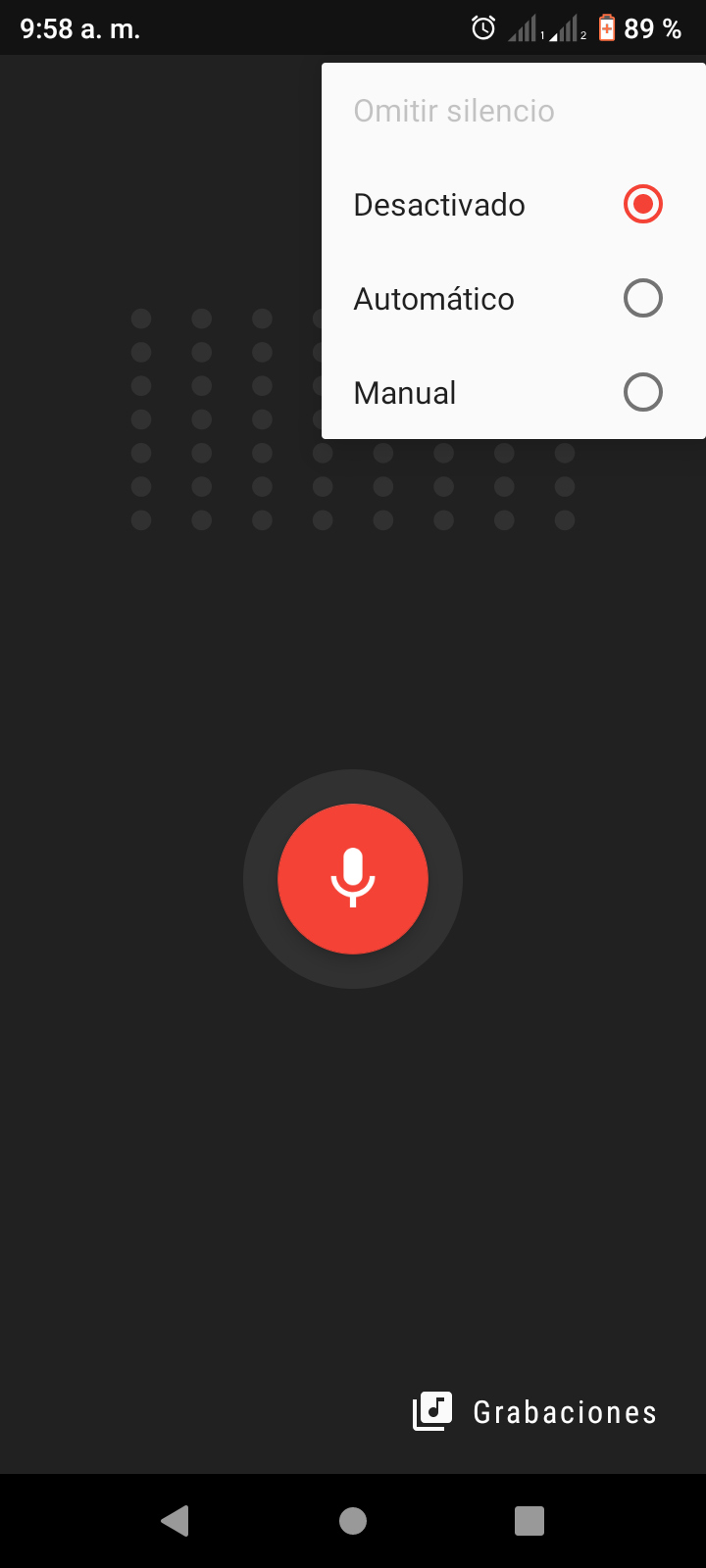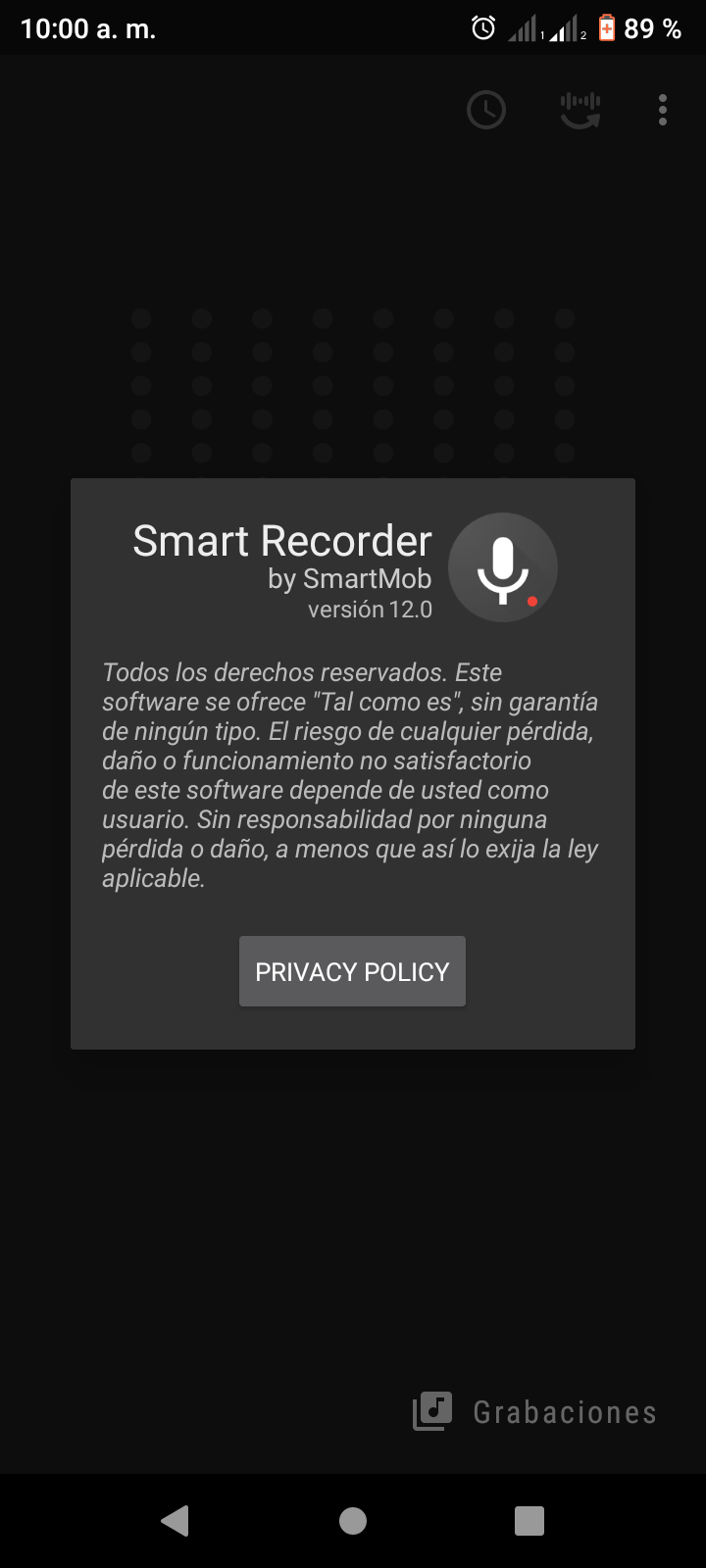 ---
---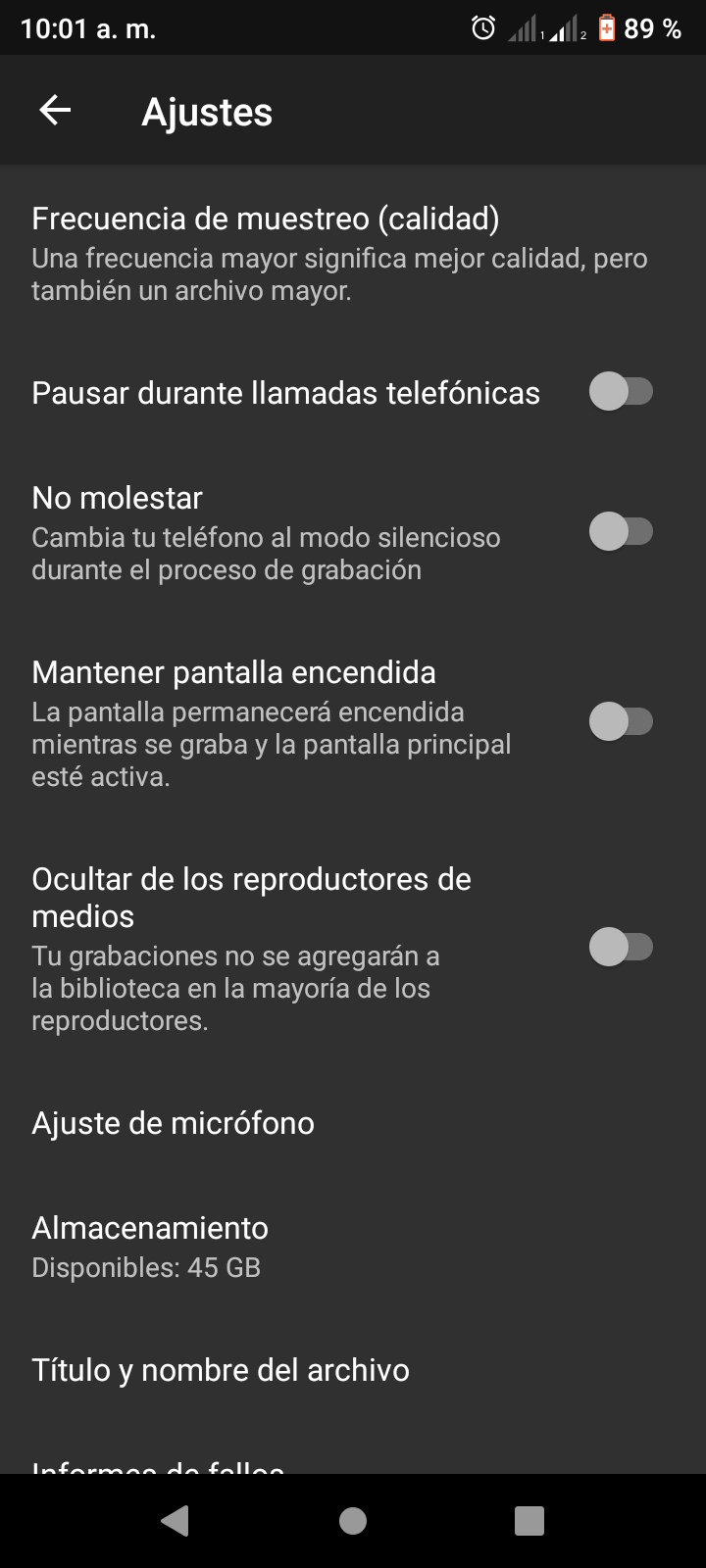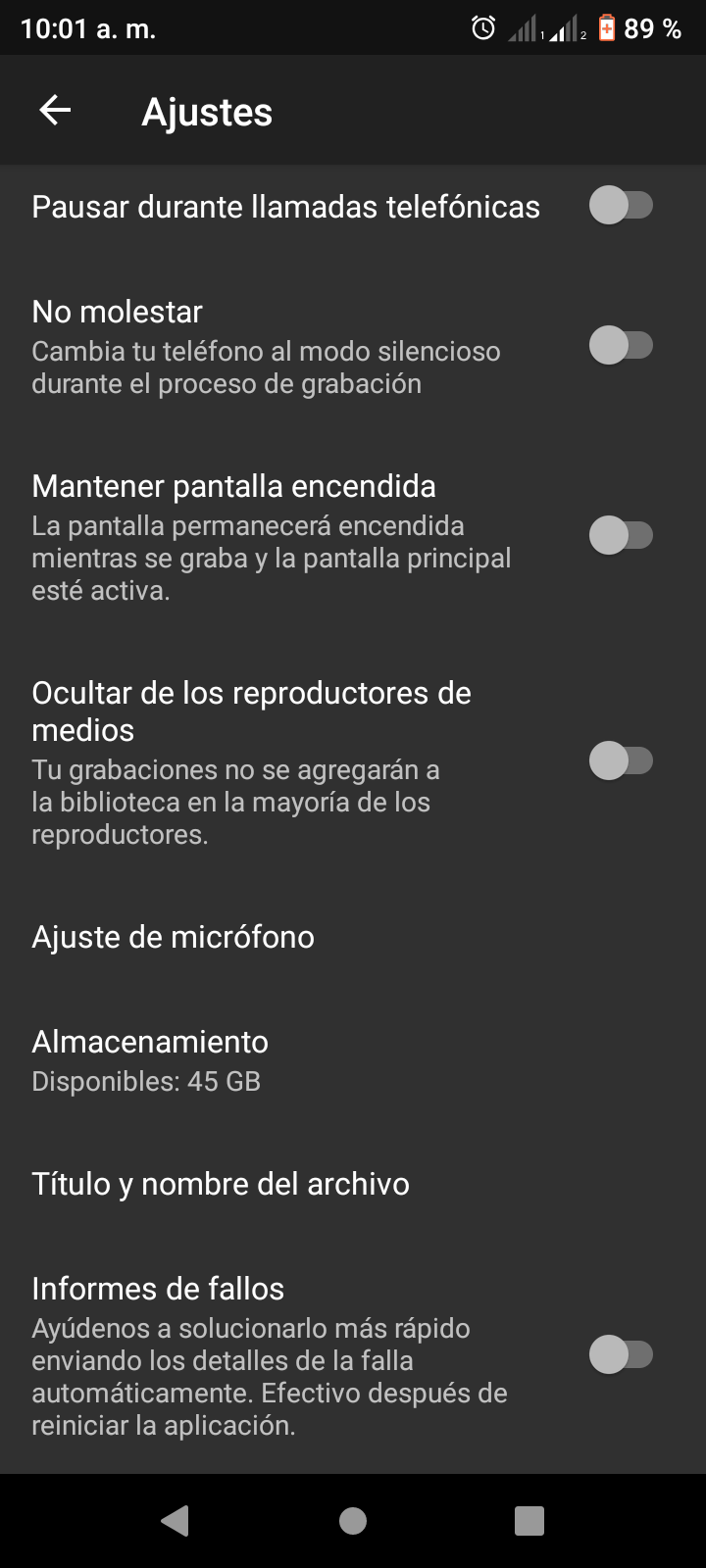 ---
---
Sampling frequency: This means the amount of samples that are taken per unit of time either one second or one minute, and in the case of the application determines the quality of the final audio, usually experts recommend using a sampling frequency of 44.1 kHz or 48 kHz, as it is a standard measure of maximum quality. And the application comes with a wide range of sample quality that you can select, I recommend you to use the 44.1 kHz frequency as it is the best to have better editable results or better sound quality, but of course this will consume much more memory of your device.
Frecuencia de muestreo: Esto significa la cantidad de muestras que se toman por unidad de tiempo ya sea un segundo o un minuto, y en el caso de la aplicación determina la calidad del audio final, normalmente los expertos recomiendan usar una frecuencia de muestreo de 44.1 kHz o 48 kHz, ya que es una medida estándar de calidad máxima. Y la aplicación viene con un gran rango de calidad de muestreo que puede seleccionar, yo te recomiendo usar la frecuencia 44.1 kHz ya que es la mejor para tener resultados mejor editables o con mejor calidad de sonido, pero claro esto consumirá mucha más memoria de tu dispositivo.
---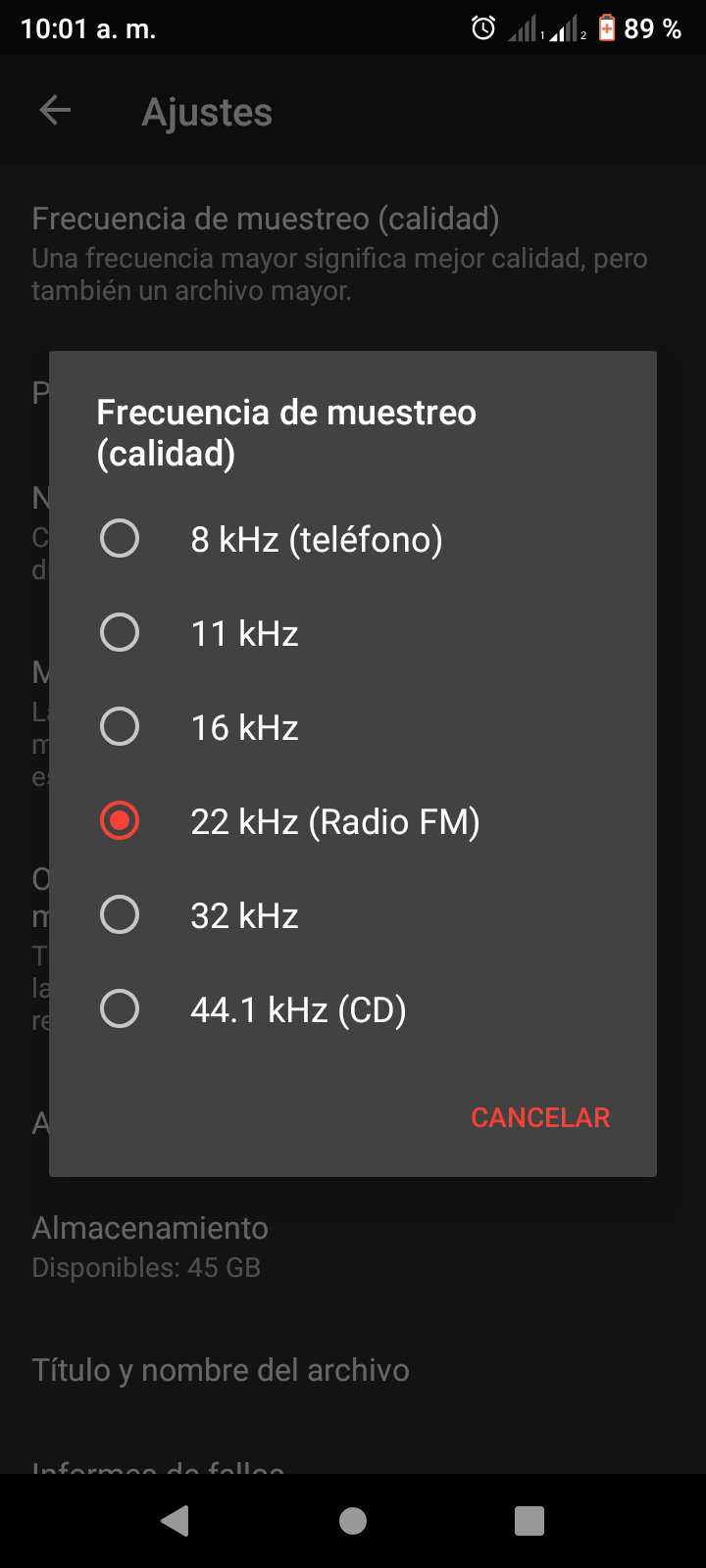 ---
Microphone adjustment: This is used to calibrate the microphone and thus have a better reception or reduction of external noise or adjust the microphone that has the device, for example if you use the default microphone that comes integrated to your cell phone, you must calibrate the application before using it so you can enjoy a better quality in the result, the same if you integrate a professional microphone or bullet to your cell phone, because in this way the application will adjust to the microphone settings and you can have a better result.
Ajuste del micrófono: Esto sirve para calibrar el micrófono y así tener una mejor recepción o reducción del ruido externo o ajustar el micrófono que tenga el dispositivo, por ejemplo si usas el micrófono que por defecto viene integrad a tu celular, debes calibrar la aplicación antes de usarla para que así disfrutes de una mejor calidad en el resultado, lo mismo si integras un micrófono profesional o de balita a tu celular, ya que de esta manera la aplicación se ajustara a la configuración del micrófono y podrás tener un mejor resultado.
---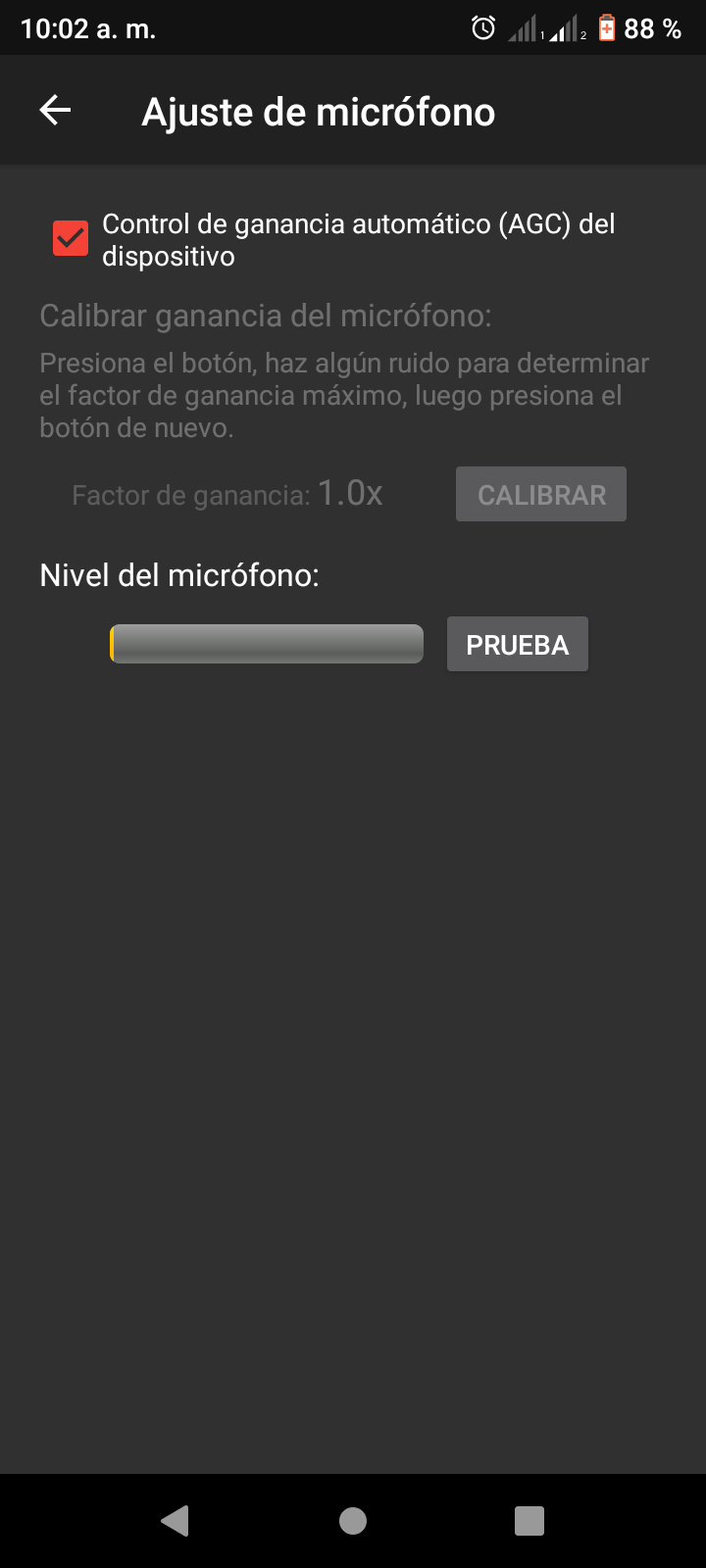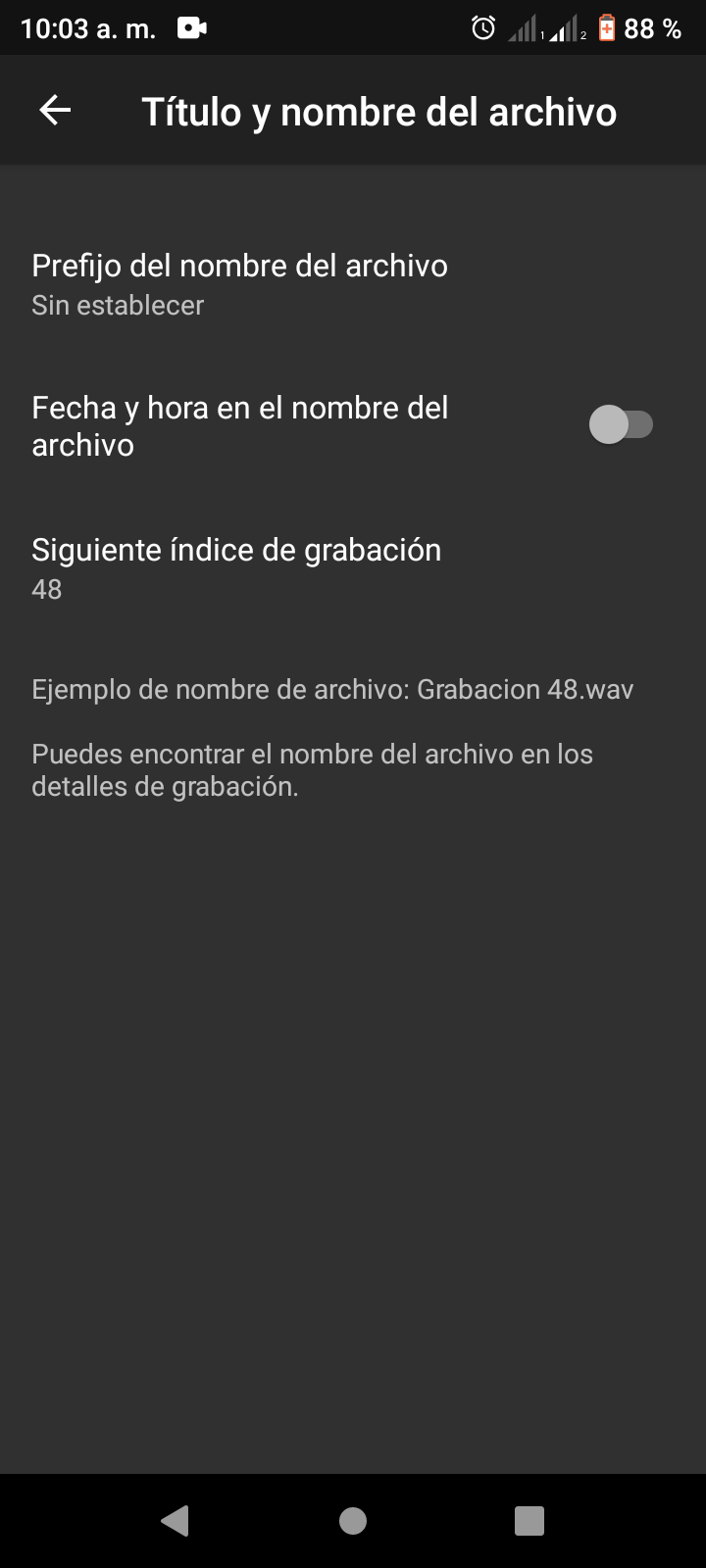 ---
Now, to activate the function of sound suppression or external noises you must select in the upper part the option in the middle, there you will see skip silence, this can be done automatically or manually depending on your taste. The automatic mode will correct the audio automatically and you will not have to remove unnecessary pauses or make many edits. And in the manual mode you choose yourself the frequency you want to skip, to avoid annoying cuts that can affect your audio, of these two I recommend to use the manual mode much more, since the automatic mode cuts even words you say in low volume uncompleting or even damaging your recording.
That is what you can achieve with this professional recording application, as it is very simple, but at the same time very useful and functional. In fact, if you search the internet many podcasters recommend it for Voice-overs or for podcasting if you are just starting out. So if you want to download it to start using it in your projects I will leave you the link below. Thank you very much for reading and watching, I hope you found this information useful and I'll see you next time :D
Ahora, para activar la función de supresión de sonido o ruidos exteriores debes preciar en la parte superior la opción del medio, allí te aparecerá omitir silencio, esto lo puedes hacer de manera automática o manual dependiendo de tu gusto. La manera automática te corregirá el audio automáticamente y tu no deveras quitar pausas innecesarias ni hace muchas ediciones. Y en el modo manual tú mismo escoges la frecuencia que deseas omitir, para evitar cortes molestos que puedan afectar tu audio, de estas dos recomiendo usar mucho más la manual, ya que la automática corta incluso palabras que digas en bajo volumen descompletando o hasta dañando tu grabación.
Eso es lo que puedes conseguir con esta aplicación profesional de grabación, ya que es demasiado simple, pero a la vez muy útil y funcional. De hecho, si buscas en internet muchos podcasts la recomiendan para hacer trabajos como Voice-o ver o para podcast si está empezando. Así que si dedeas descargarla para comenzar a utilizarla en tus proyectos te dejare el enlace a continuación. Mucha gracias por leer y ver, espero que te haya sido útil eta información y nos vemos en una próxima ocasión :D
---
All images were obtained directly from the application on my phone.
---

---
▶️ 3Speak