---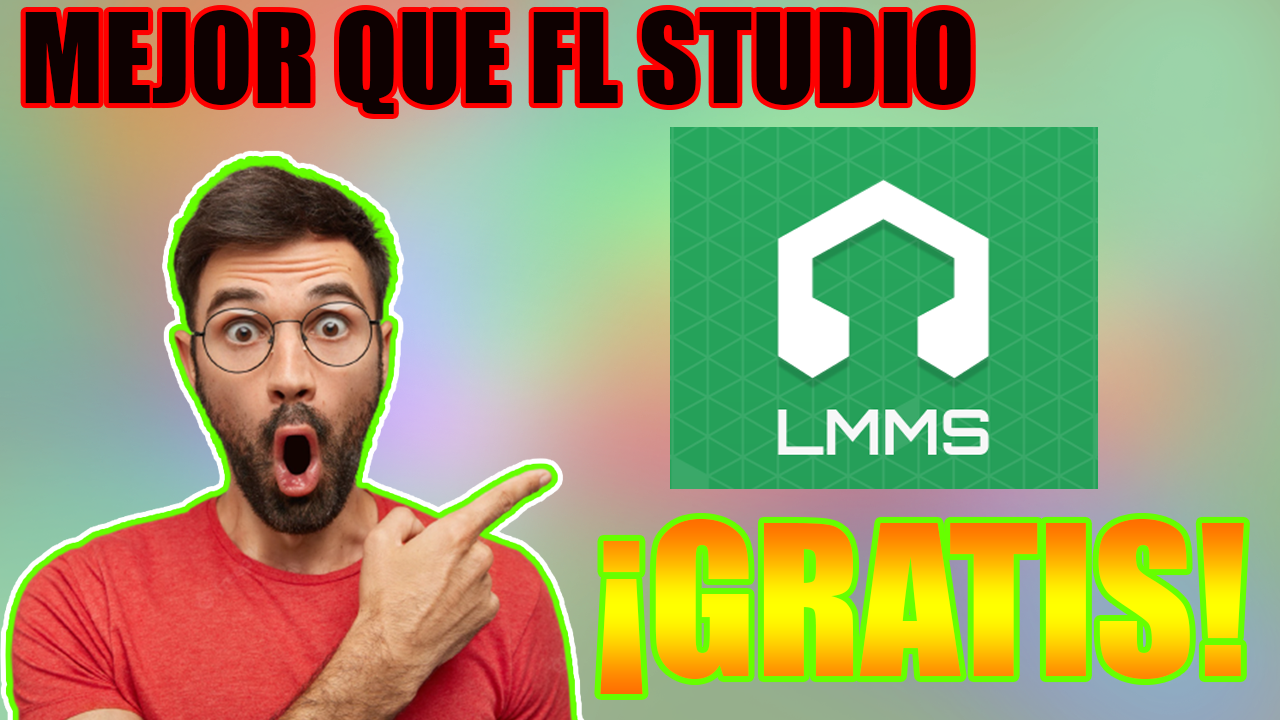 Greetings dear Geek friends, I hope you are very well and that you are also having a great weekend. In this post I bring you a super review of an application that can be very useful if you are thinking of starting in the world of music production or if you are looking to create original songs for your content on Hive, 3speak or any other social network. This is LMMS a super application or music editor, where you can create everything you can imagine and create music or tracks that can be very useful. If you are interested in this I invite you to continue reading or watching the video.
To begin, let's talk a little about what LMMS is, which stands for Linux Multi Media Studio and according to Wikipedia:
*LMMS (Linux MultiMedia Studio) is a free (GPL licensed) open source, cross-platform digital audio workstation (DAW) that allows you to produce music with your computer. It is an alternative to programs such as FL Studio, Logic Pro or Cubase since they are of a professional nature. It is available for GNU/Linux, OpenBSD, Microsoft Windows and Mac OS X. Music can be produced by creating or synthesizing sound, organizing audio samples and through its MIDI keyboard. LMMS is available in 15 languages. The DAW is written from scratch and is intended to be a free alternative to FL Studio, Logic Pro or Ableton.
So as the Wikipedia description mentions, it's a pretty complete program and especially useful if you want to start in this world of music production and it's a bit complicated to pay a license fee for these other music production applications. Another great advantage and that I myself have been able to see it, is that it works even in low performance pc, since some years ago I had a very but very low range laptop, and even so this program worked with total normality.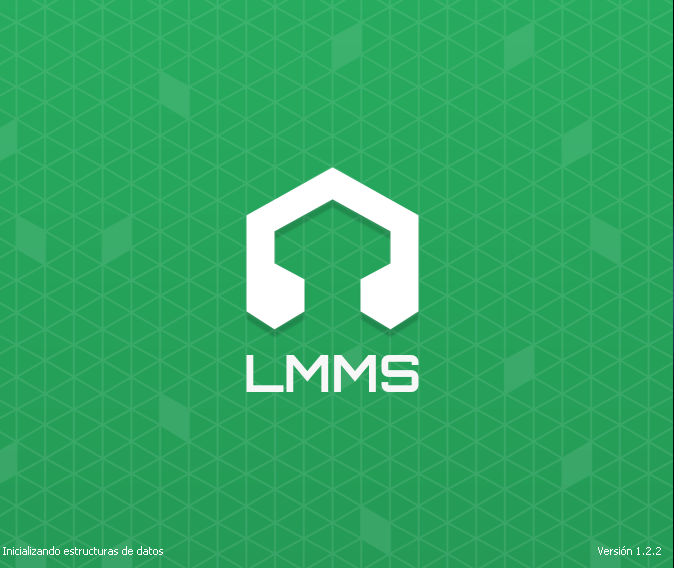 Now that we know what the program is and why it's so unique, let's talk about how it works:
Well, the first thing we do is download it from the official website:
After you have installed it on your computer, we proceed to open the program, and the following text boxes appear:
Where you can make a general configuration of the application, such as: show tips, volume in obs, compact track buttons, directories of the application's characteristics, performance configuration such as auto save or moderate performance depending on the pc you have, the configuration of the audio interface and finally the MIDI configuration that I think is super useful for those who feel very comfortable making tracks with an external musical keyboard.
| | |
| --- | --- |
| | |
| --- | --- |
After making this general configuration, an interface opens where we can see different tools such as the BPM, the different tracks and plugins or sounds to build a song or a track, to start creating your first track (of course this is without being a professional, it's something basic haha). You must click on the vertical bar on the left in the section of my samples, and there you will find various sound tools such as Beats, instruments, effects, shapes, wavesforms, among others. To know how they are heard you must press and hold on the options.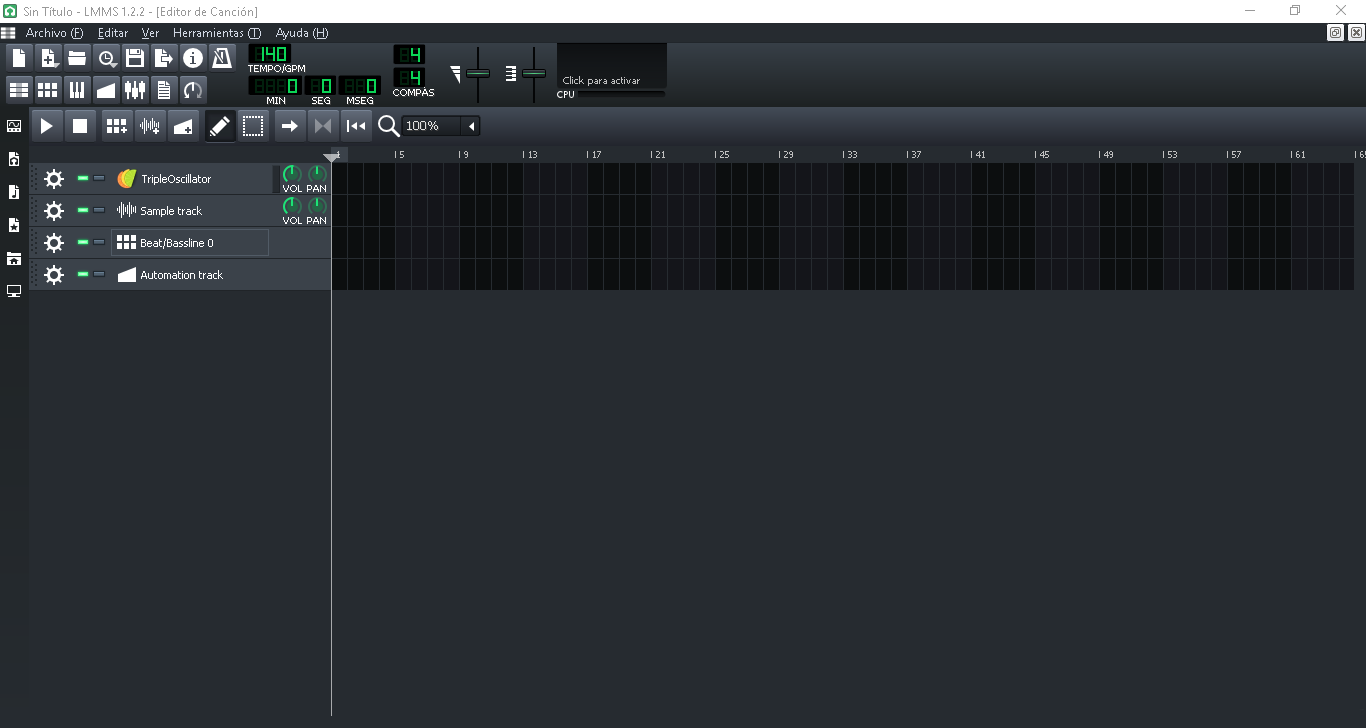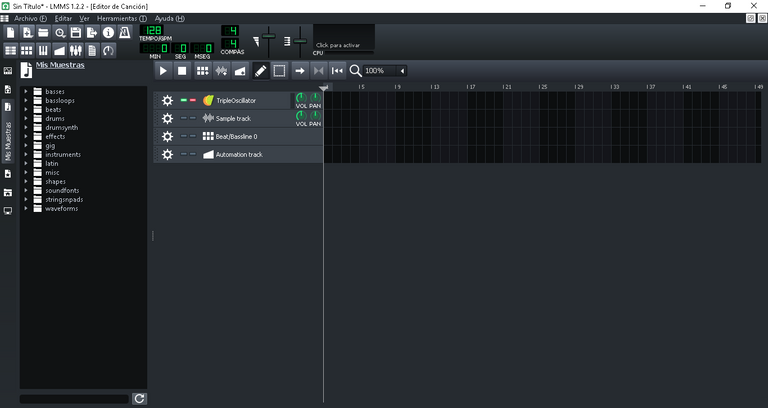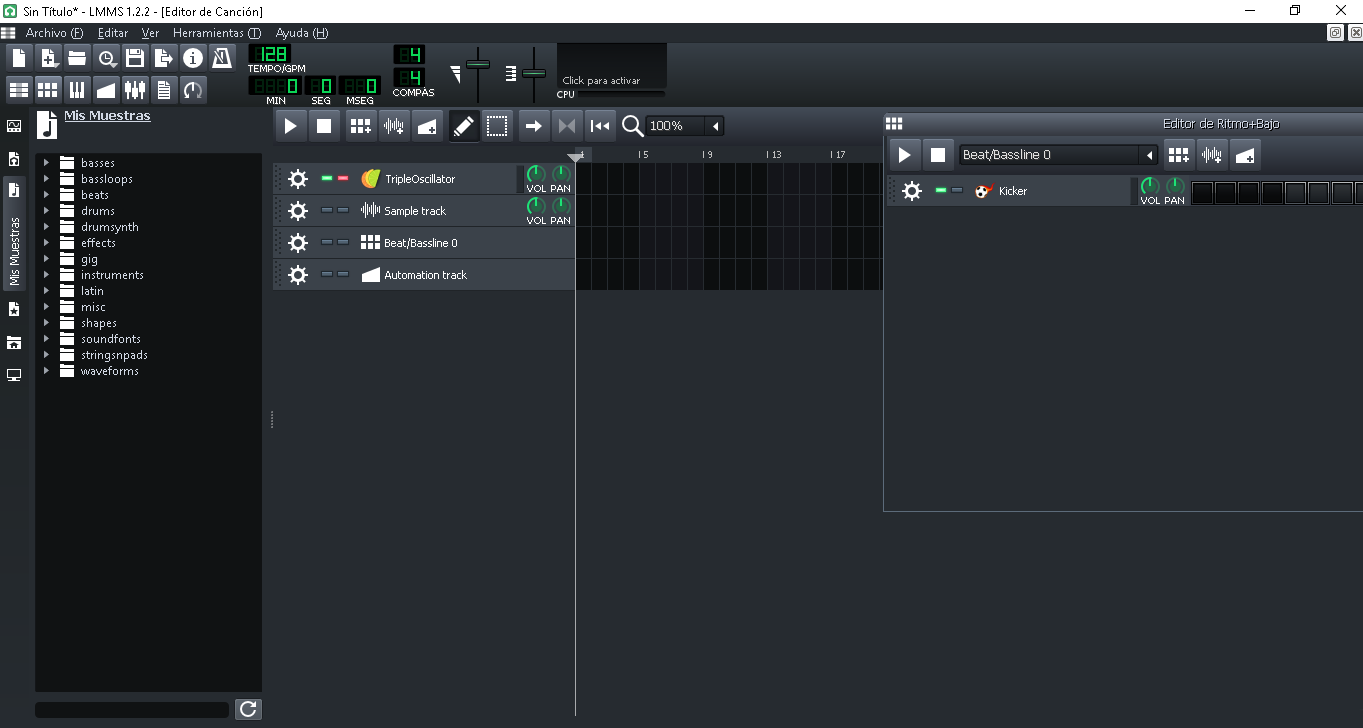 After you have already found the sample that you like the most, you go to where the tracks are in the main menu, and double click on the option that has the 6 boxes or on Beat/Bassline, which when you open it by default you will get a sample a kick beat, but if you want you can delete it or leave it like that does or doesn't affect anything unless you enable boxes. Now that you have the Beat/Bassline option open, double click on the instrument or sample you have selected and it will open in the Beat/Bassline window where you can edit it.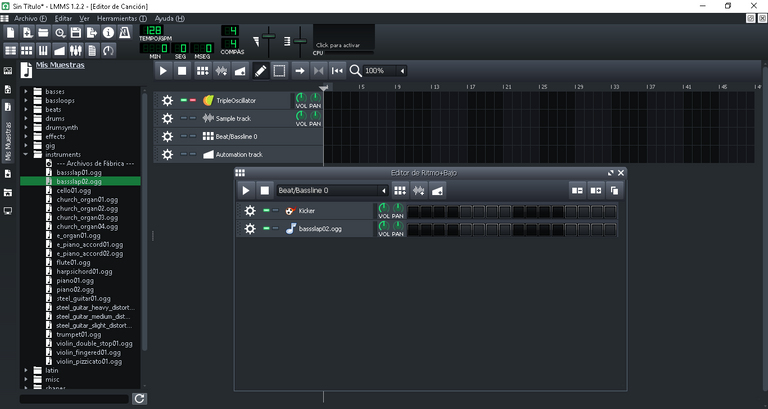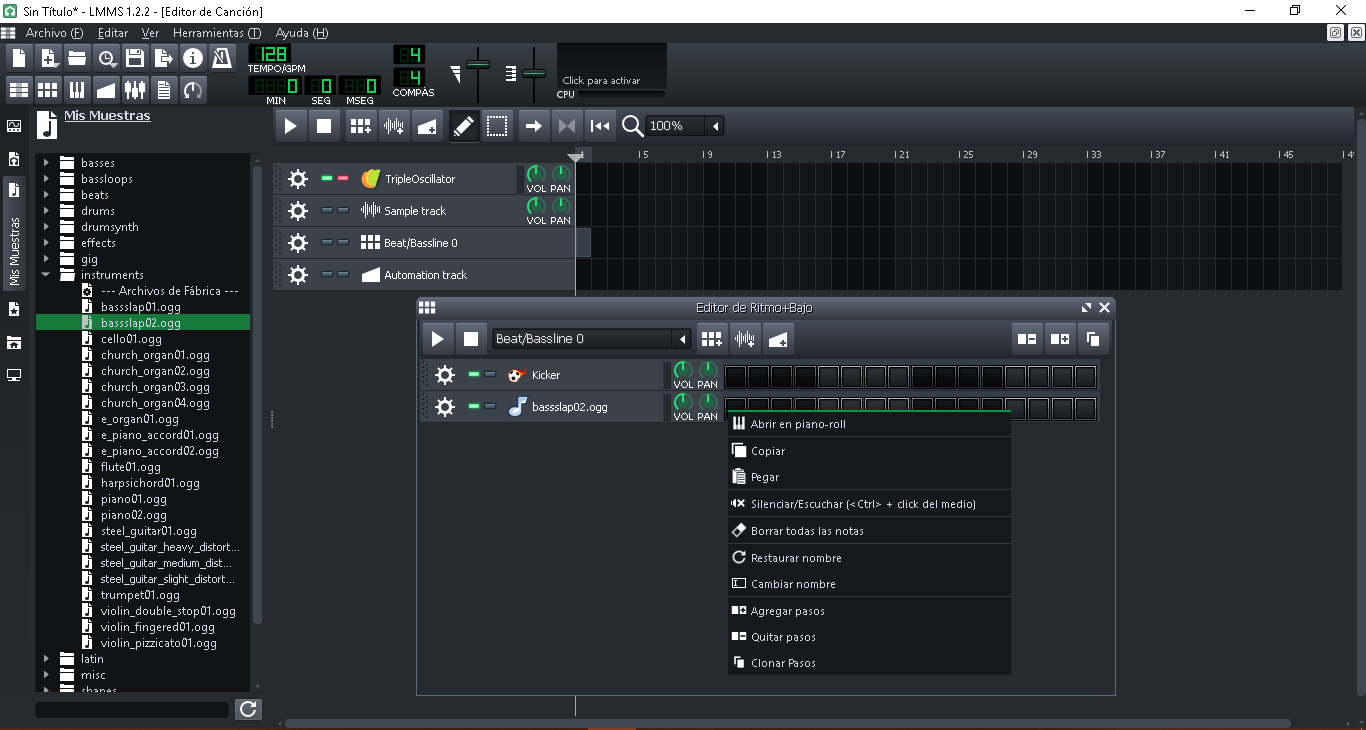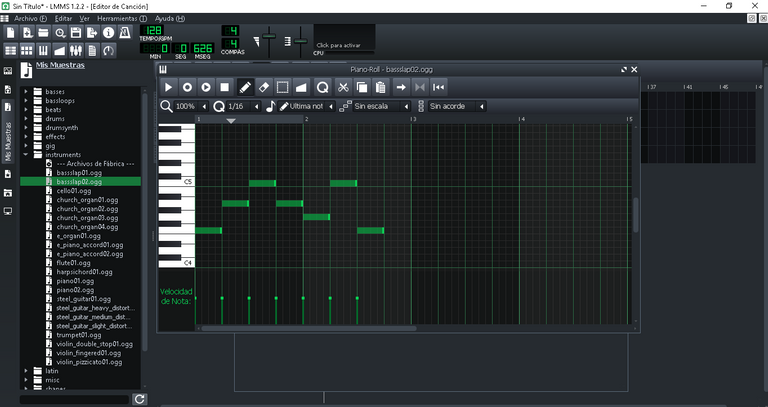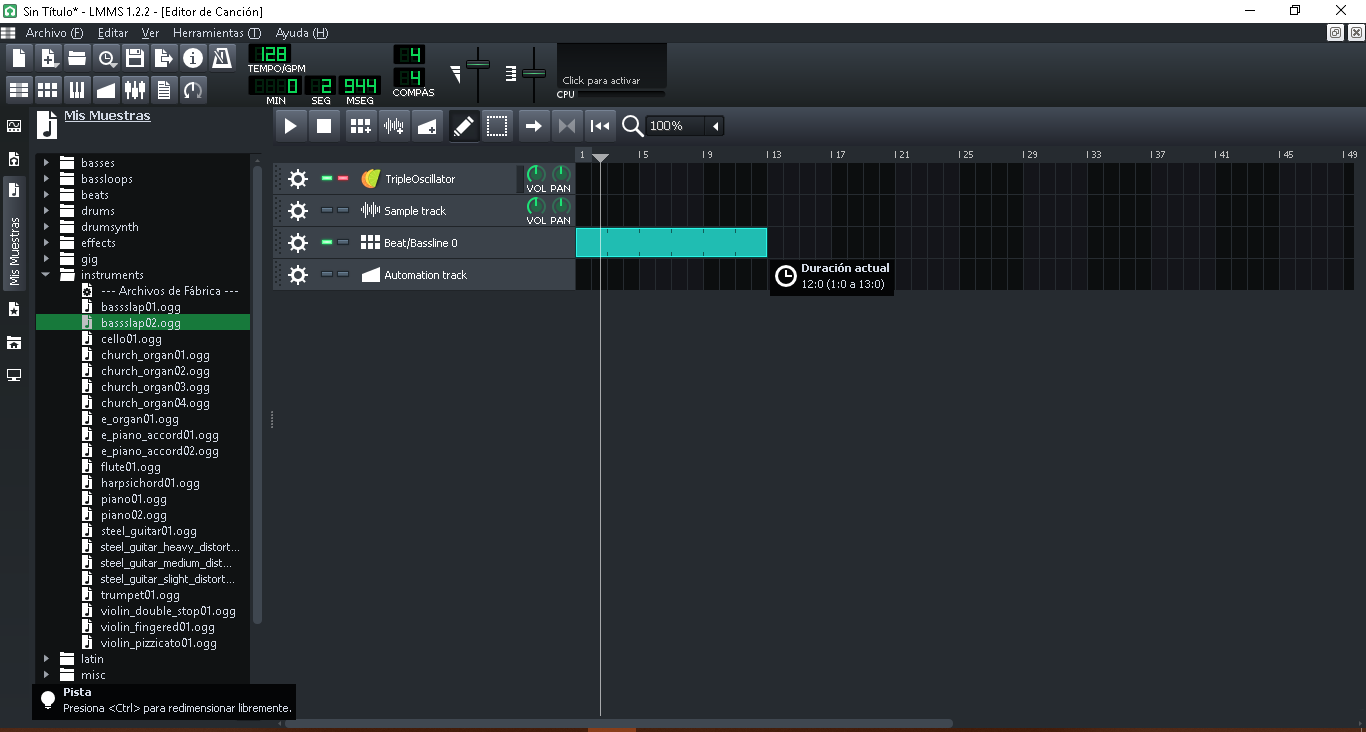 To create music, just click on the boxes of the sample and it will start to play, but if you want to make a melody or edit the sample further, right click on it and select the option open in piano-roll, this is just in case you have selected an instrument like piano, guitar or cello. There you will create your chord or melody and then you will close the window and your melody will be available to add other things like Beats, basses or other instruments.
Now in order to save your work, you must click on the export option and then select the MP3 option, this way you can play it more easily in any place or device or you can publish it on your Spotify channel or even use it in your videos of 3speak or gameplays. The great advantage you have with this application is that all the music you make is totally original, and you can always continue editing your tracks whenever you want.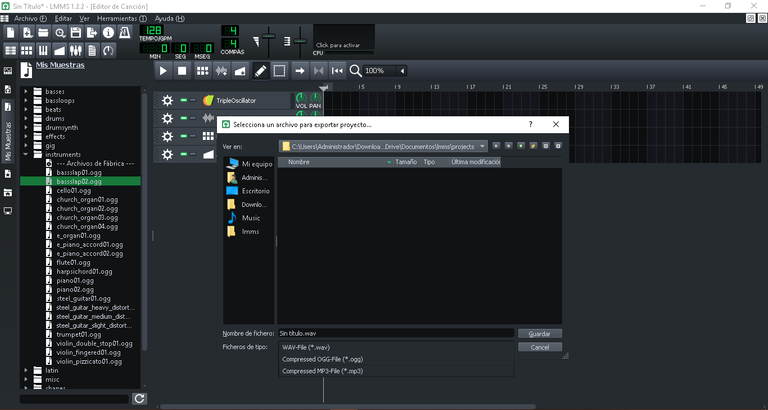 So, if you are thinking of starting a music production project or you want some original music to your liking for your channel, then LMMS is the best tool you can choose, since in addition to being totally free, it is at the same level or even better. than other music publishers. Here I will leave the download link if you are interested, thank you very much for watching and reading, see you in a next coercion: D

ESPAÑOL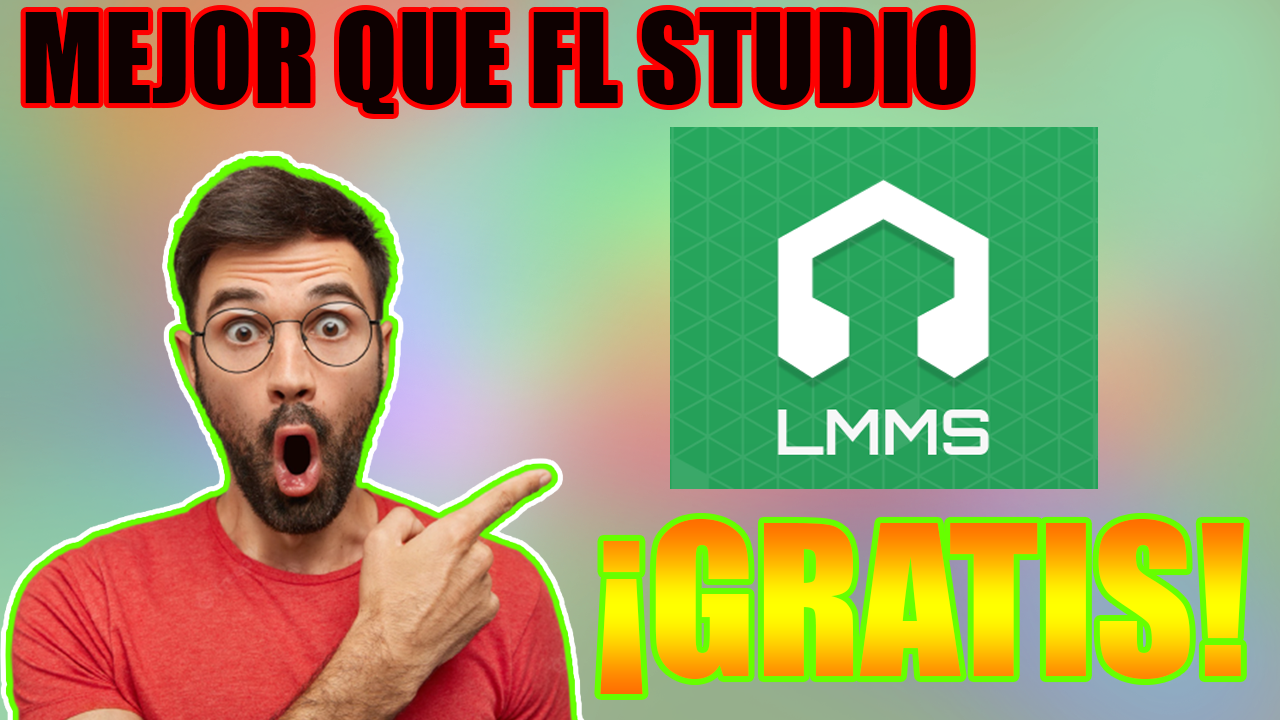 Saludos queridos amigos Geek, espero que estén muy bien y que tambien estén teniendo un excelente fin de semana. En esta publicación te traigo un super review de una aplicación que te puede ser muy útil si estás pensando come3nzar en el mundo de la producción musical o si estas buscando crear canciones originales para tu contenido en Hive, 3speak o alguna otra red social. Se trata de LMMS una super aplicación o editor musical, donde puedes crear todo lo que imaginas y crear música o pistas que te pueden ser muy utiles. Si estas interesando en esto te invito a seguir leyendo o viendo el video.
Para comenzar, hable3mos un poco de lo que es LMMS, que son las siglas de Linux Multi Media Studio y segun Wikipedia:
LMMS (Linux MultiMedia Studio) es una estación de trabajo de audio digital (por sus siglas en inglés DAW) libre (con licencia GPL) de código abierto y multiplataforma que permite producir música con la computadora. Es una alternativa a programas como FL Studio, Logic Pro o Cubase puesto que son de corte profesional. Está disponible para GNU/Linux, OpenBSD, Microsoft Windows y Mac OS X, La música puede ser producida al crear o sintetizar sonido, organizar muestras de audio y mediante su teclado MIDI. LMMS está disponible en 15 idiomas. El DAW está escrito desde cero y está pensado para ser una alternativa libre y gratuita de FL Studio, Logic Pro o Ableton.
Así que como La descripción de Wikipedia menciona, es un programa bastante completo y sobre todo útil si quieres comenzar en este mundo de la producción musical y se te hace un poco complicado pagar una licencia de estas otras aplicaciones de producción musical. Otra gran ventaja y que yo mismo he podido verla, es que funciona incluso en pc de bajo rendimiento, ya que yo hace algunos años tenía una laptop muy pero muy de baja gama, y aun así este programa funcionaba con total normalidad.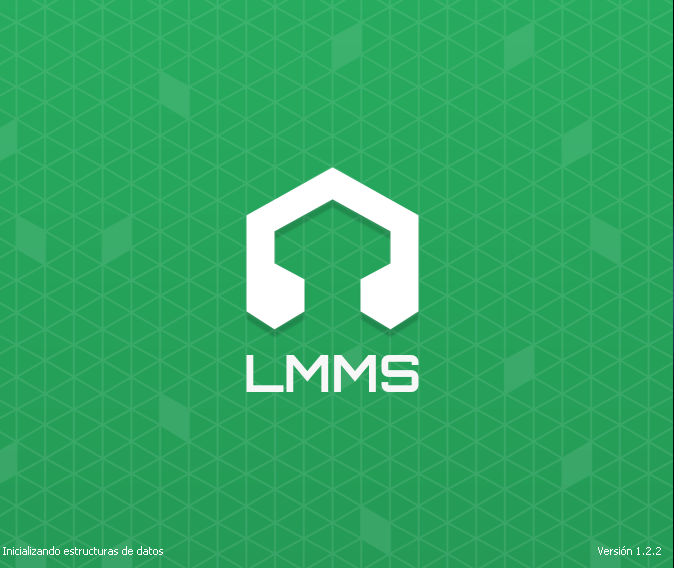 Ahora que ya sabemos que es el programa y porque es tan único, hablemos de cómo funciona:
Bueno lo primero que hacemos es descargarlo de la web oficial:
Luego que lo hayas instalado en tu computadora, procedemos a abrir el programa, y aparecen los siguientes cuadros de texto:
Donde puedes hacer una configuración general de la aplicación, como: mostrar consejos, volumen en obs, botones de pista compactos, directorios de las características de la aplicación, la configuración del rendimiento como el auto guardado o un rendimiento moderado segun el pc que tengas, la configuración de la interfaz de audio y por último la configuración MIDI que de esta última pienso que es super útil para aquellos que se sientan muy cómodos al hacer pistas con un teclado musical externo.
| | |
| --- | --- |
| | |
| --- | --- |
Luego de hacer esta configuración general, se nos abre una interfaz donde podemos ver distintas herramientas como el BPM, las distintas pistas y plugin o sonidos para construir una canción o una pista, para comenzar a crear tu primera pista (claro esto es sin ser un profesional, es algo básico jaja). Debes hacer clic en la barra vertical de la izquierda en la sección de mis muestras, y allí encontraras diversas herramientas de sonido como Beats, instrumentos, efectos, shapes, wavesforms, entre otros. Para saber cómo se escuchan debes mantener presionado sobre las opciones.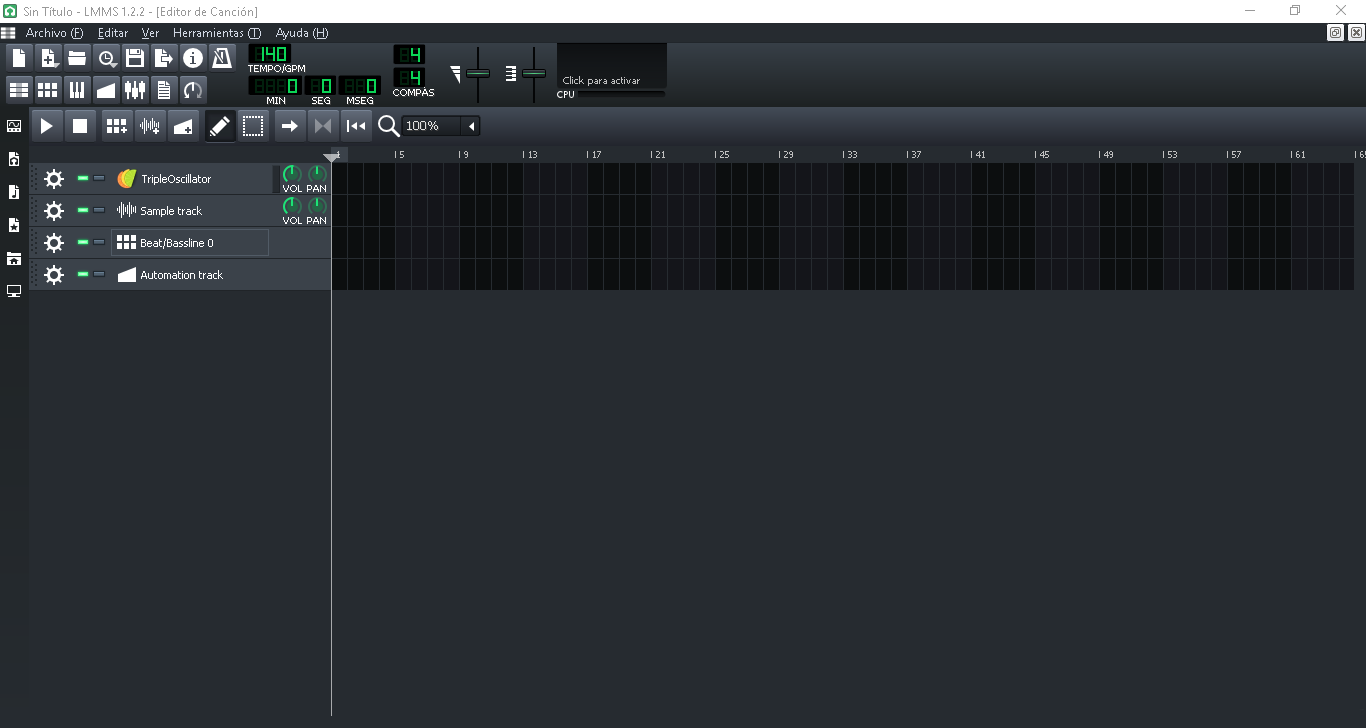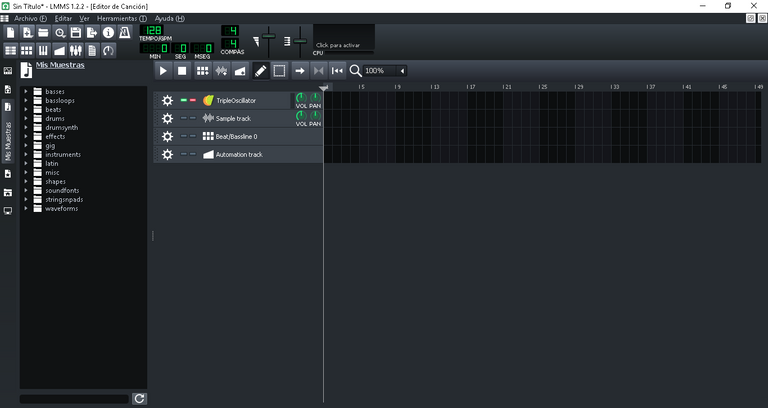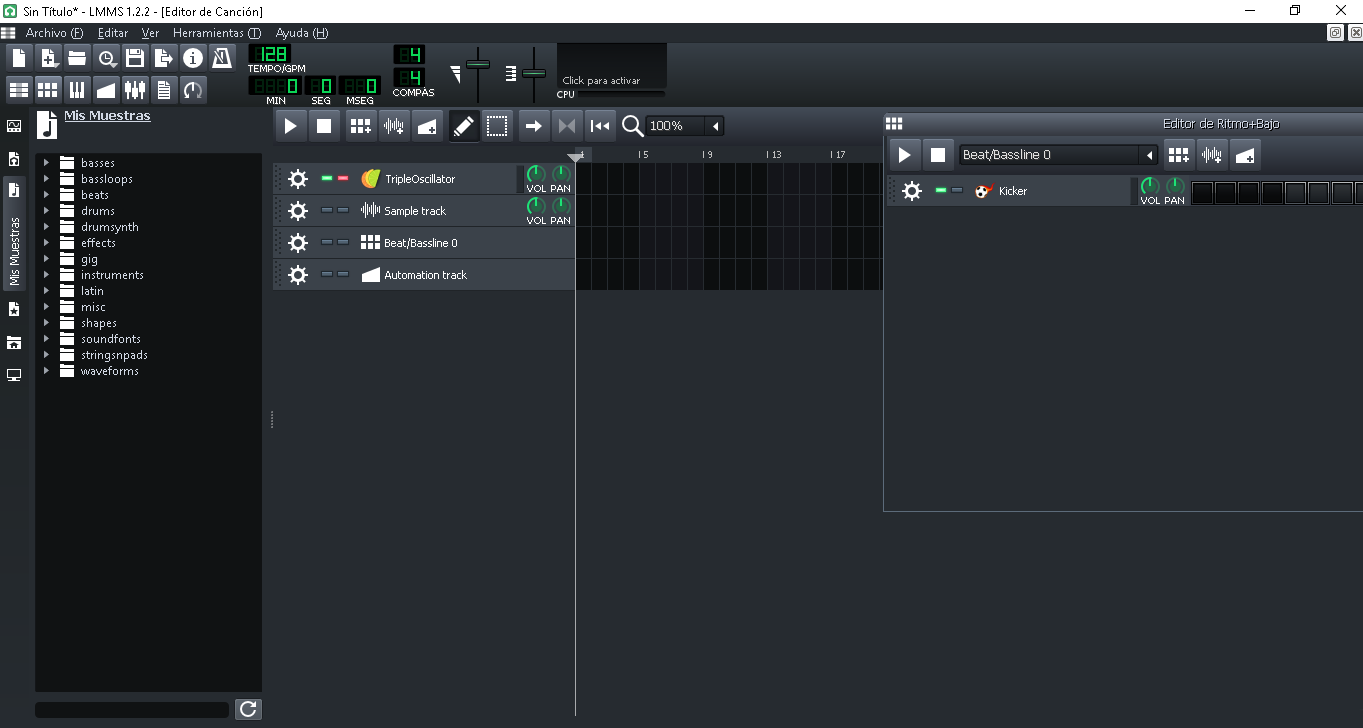 Luego que ya hayas encontrado la muestra que más te gusta, vas hasta donde están las pistas en el menú principal, y haces doble clic en la opción que tiene los 6 cuadros o en Beat/Bassline, que al abrirla por defecto te sale una muestra un beat de kick, pero si quieres lo eliminas o pues dejarlo así es o no afecta nada a menos que le habilites casillas. Ahora que ya tienes la opción de Beat/Bassline abierta, debes hacer doble clic en el instrumento o la muestra que hayas seleccionado y se abrirá en la ventana Beat/Bassline donde puedes editarla.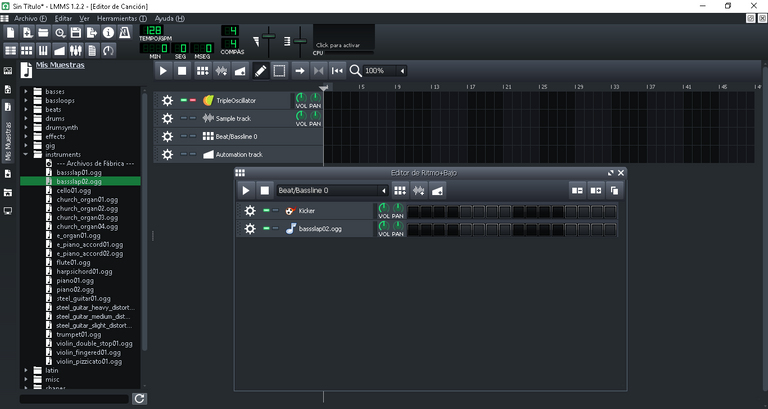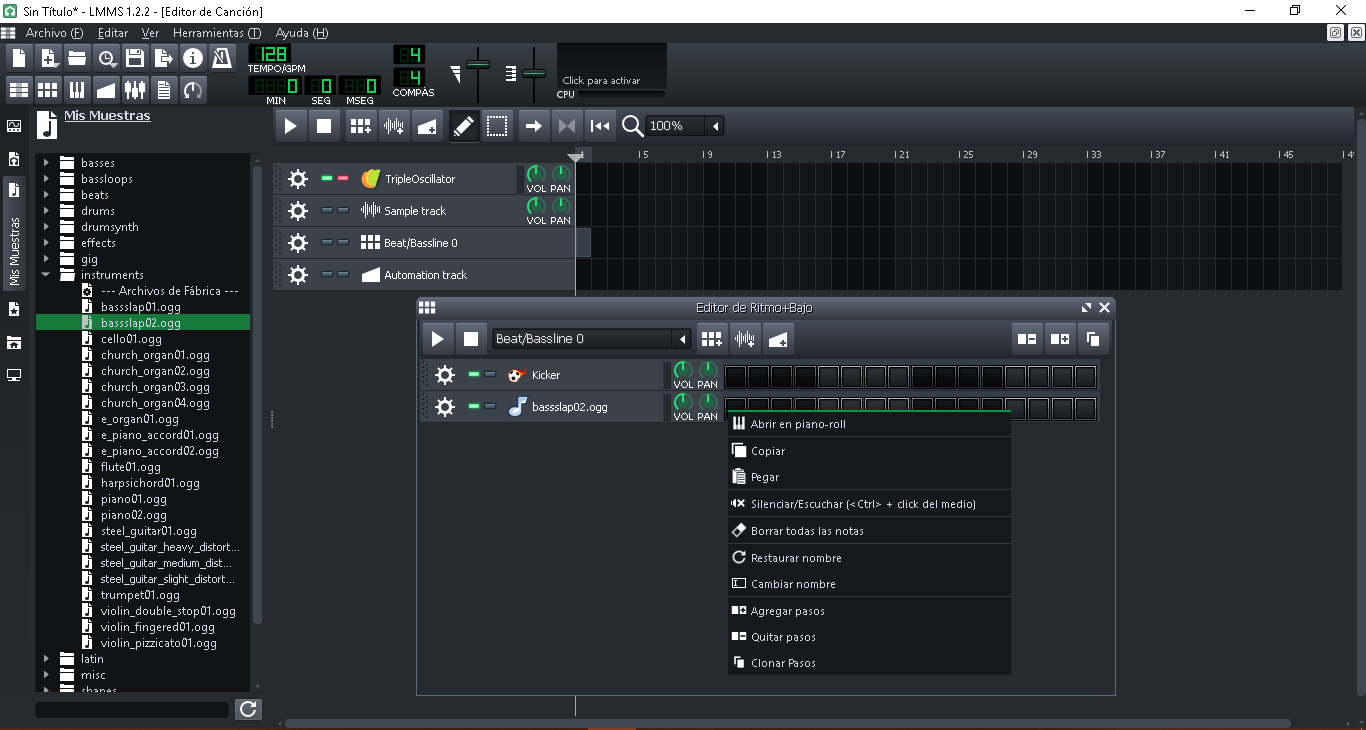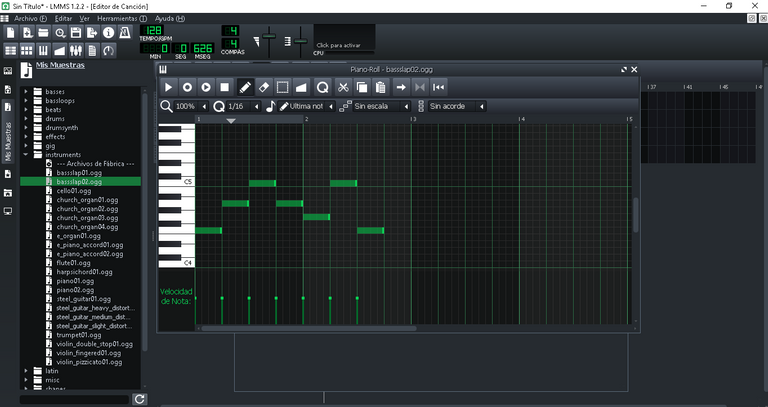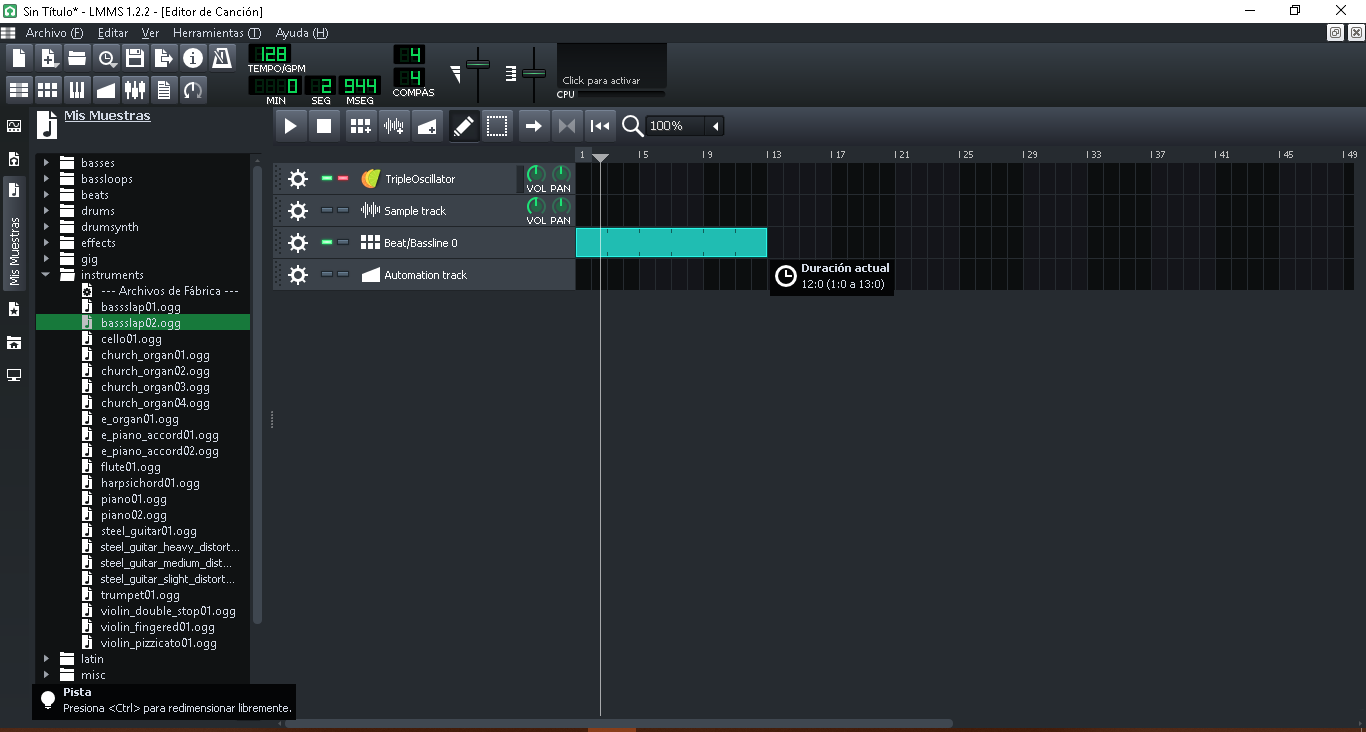 Para crear una música basta únicamente con hacer clic en las casillas de la muestra y comenzara a sonar, pero si quieres hacer una melodía o editar más a fondo la muestra, haz clic derecho sobre la misma y selecciona la opción abrir en piano-roll, esto es por si acaso has seleccionado un instrumento como piano, guitarra o chelo. Allí crearas tu acorde o melodía y luego cerraras la ventana y tu melodía ya estará disponible para agregar otras cosas como Beats, bajos u otros instrumentos.
Ahora para poder guardar tu trabajo, deveras hacer clic en la opción de exportar y luego seleccionar la opción MP3, de esta manera lo podrás reproducir más fácilmente en cualquier lugar o dispositivo o podrás publicarlo en tu canal de Spotify o incluso usarlo en tus videos de 3speak o gameplays. La gran ventaja que tienes con esta aplicación es que toda la música que hagas es totalmente original, además siempre podrás seguir editando tus pistas cuando desees.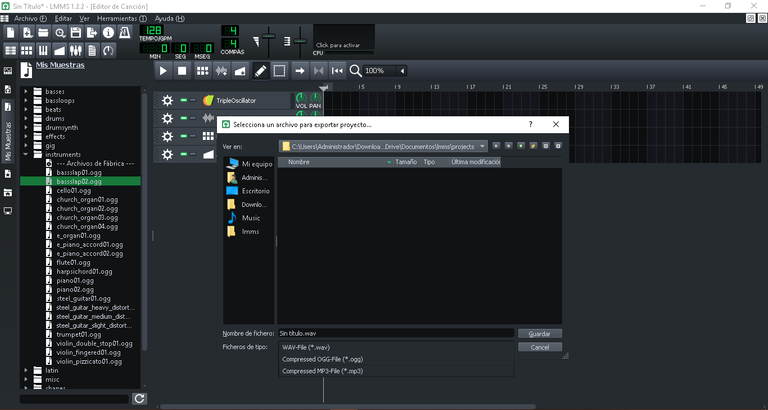 Así que, si estás pensando comenzar un proyecto de producción musical o quieres algo de música original a tu gusto para tu canal, pues LMMS es la mejor herramienta que puedes optar, ya que además de ser totalmente gratuito, esta al mismo nivel o incluso mejor que otros editores musicales. Acá te dejare el enlace de descarga si estas interesado, muchas gracias por ver y leer, nos vemos en una próxima coacción :D

---
▶️ 3Speak