Source google activate logo
---
Constantly when we browse social networks what are the ads that we see the most? We see ads from different online academies that offer us the best courses to start 2023 with a good foot, and although it is true that these courses are very good because the knowledge that one can acquire is huge and therefore worth the effort, sometimes the cost of the course is also huge and is a little out of what some of us can afford. But the interest in learning in areas such as digital marketing, web design or e-commerce or any other area is always present, as we are seeing how this emerging market has an increasing demand for professionals. And is that learning knowledge about these areas is not something complicated, it is simple, and so if you really want to learn something of these courses of demanded professions, today I present an incredible platform where you can not only learn very useful things, but also in some courses get a certificate that can help you in your CV, I'm talking about Google Actívate, a learning platform that promotes Google, the most famous company in the digital world.
Constantemente cuando navegamos por las redes sociales ¿cuáles son los anuncios que más visualizamos? pue anuncios de distintas academias online que nos ofrecen los mejores cursos para empezar el 2023 con un buen pie, y aunque es cierto que estos cursos son muy buenos ya que el conocimiento que uno puede adquirir es enorme y por eso vale la pena el esfuerzo, algunas veces el costo del curso tambien es enorme y se sale un poco de lo que algunos podemos pagar. Pero el interés sobre aprender en áreas como Marketing digital, diseño de páginas web o e-commerce u otra área siempre sigue presente, ya que se está viendo como ese mercado emergente tiene cada vez mayor demanda de profesionales. Y es que aprender esos conocimientos sobre esas áreas no es algo complicado, es sencillo, y por eso si tú tienes muchas ganas de aprender algo de estos cursos de profesiones demandadas, hoy te presento una increíble plataforma donde no solo puedes aprender cosas muy utiles, sino tambien en algunos cursos obtener un certificado que te puede ayudar en tu CV, te estoy hablando de Google Actívate, una plataforma de aprendizaje que promueve Google, la empresa más famosa del mundo digital.
---
---
Why Google Actívate? I give you 3 reasons proven with a lot of time: Innovation, more than 20 years of experience and is the largest company in the field. Because Google is one of the biggest internet companies worldwide, it is also well known that in Google there is constant development and innovation and finally has total experience in the subject, so the fact that this company provides totally free professional courses in areas that they themselves work all the time gives you enough confidence that what you are going to learn will help you a lot and will grow your knowledge on different topics.
What courses does Google Actívate offer? Currently it has a catalog with 51 courses available, among the most prominent are:
Digitalization of your business with Google tools.

Protect your Business: Cybersecurity in Teleworking.

Fundamentals of Digital Marketing

Digital skills for professionals

Exporting a company to other countries

E-commerce
Development of mobile apps
¿Por qué Google Actívate? Te doy 3 razones probadas con mucho tiempo: Innovación, más de 20 años de experiencia y es la mayor empresa en el ramo. Porque Google y una de las empresas más grandes a nivel mundial de internet, además es bien conocido que en Google hay constante desarrollo e innovación y por último tiene total experiencia en el tema, así que el que esta empresa proporcione cursos profesionales totalmente gratis de áreas que ellos mismos trabajan todo el tiempo te da la suficiente confianza de que lo que va a aprender te ayudara mucho y hará crecer tu conocimiento sobre distintos temas.
¿Que cursos ofrece Google Actívate? Actualmente tiene un catálogo con 51 cursos disponibles, de entre los más destacados están:
Digitalización de tu negocio con herramientas de Google.

Protege tu Negocio: Ciberseguridad en el Teletrabajo.

Fundamentos de Marketing Digital

Competencias digitales para profesionales

Exporta una empresa a otros países

Comercio electrónico
Desarrollo de apps para móviles
---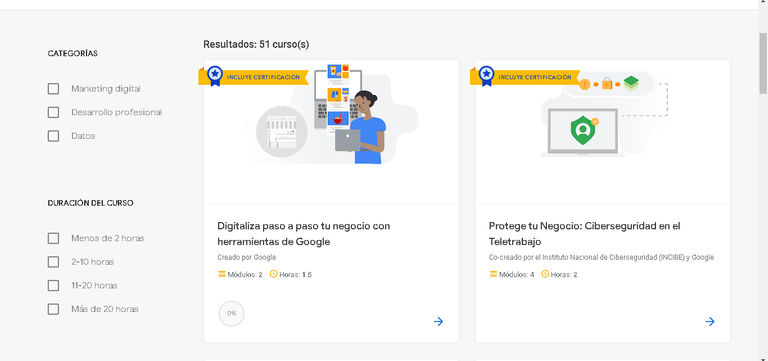 ---
How long are these courses? They vary a lot, as some require more than 40 hours of learning, but others in less than an hour you can finish them and start practicing on your own.
¿Cuánto es la duración de estos cursos? Varían mucho, ya que algunos requieren más de 40 horas de aprendizaje, pero otros en menos de una hora puedes terminarlos y comenzar a ejercer la practica por tu cuenta.
---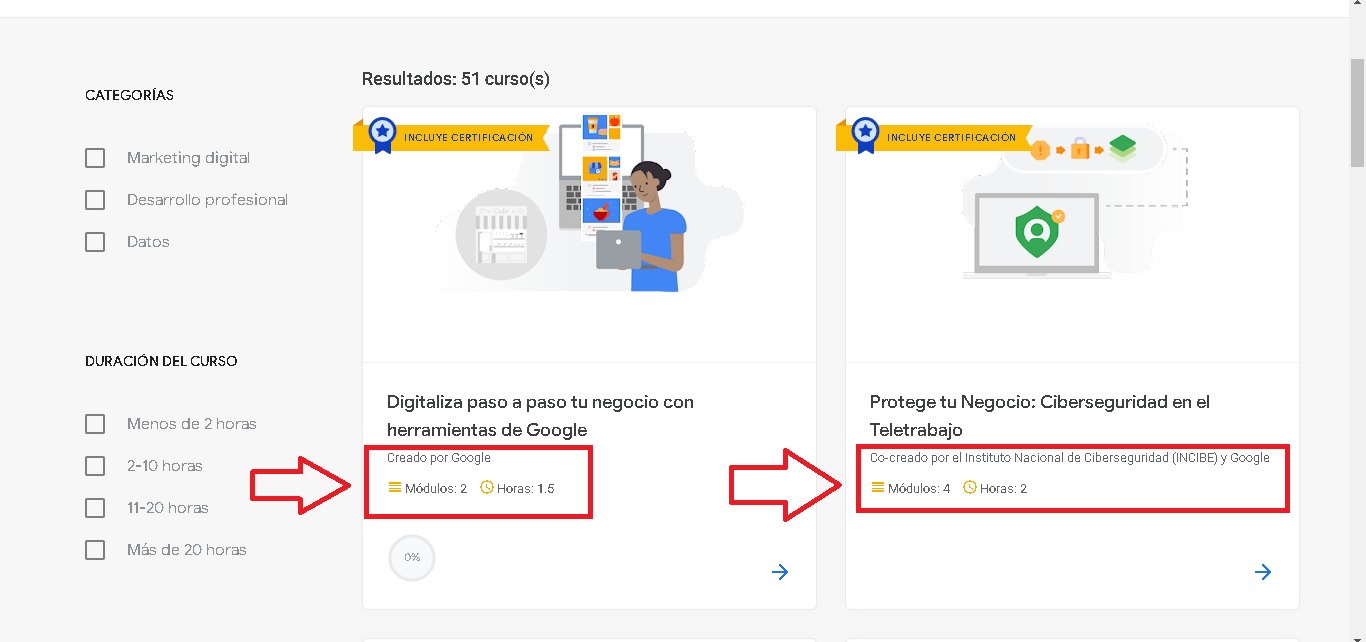 ---
How is the certification of these Google Actívate courses? The certification is provided free of charge only to the courses that so indicate, as there are some that require a payment for certification, but those more important or more demanded the certification is free.
¿Como es la certificación de estos cursos de Google Actívate? La certificación se provee de manera gratuita únicamente a los cursos que así lo indican, ya que hay algunos que, si requieren un pago para la certificación, pero aquellos más importantes o más demandados la certificación es gratuita.
---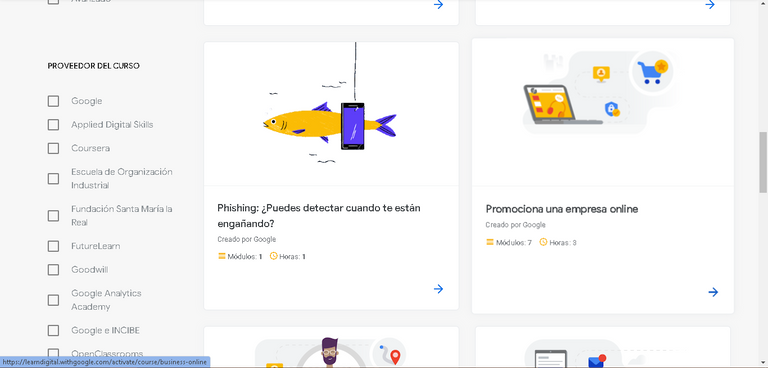 ---
What courses have I taken? In my case my training plan is oriented in web pages and digital pages, as I am interested in starting as a FreeLancer, I started the course of creating web pages and digitalization of a business, and later I will do all the other related courses. From my own experience I can say that the courses are extremely easy to learn, as they place in the lessons an explanatory video and you must complete a questionnaire correctly answering what you learned from the video, of course I recommend writing down all the interesting points to not forget or remember later.
¿Que cursos he tomado yo? En mi caso mi plan de formación está orientado en páginas web y páginas digital, como estoy interesado en emprender como un FreeLancer, inicie el curso de creación de páginas web y el de digitalización de un negocio, y más adelante hare todos los otros cursos relacionados. desde mi propia experiencia puedo decir que los cursos son sumamente fáciles de aprender, ya que colocan en las lecciones un video explicativo y tu debes realizar un cuestionario respondiendo correctamente lo que aprendiste del video, claro recomiendo anotar todos los puntos interesantes para no olvidar o recordar más adelante.
---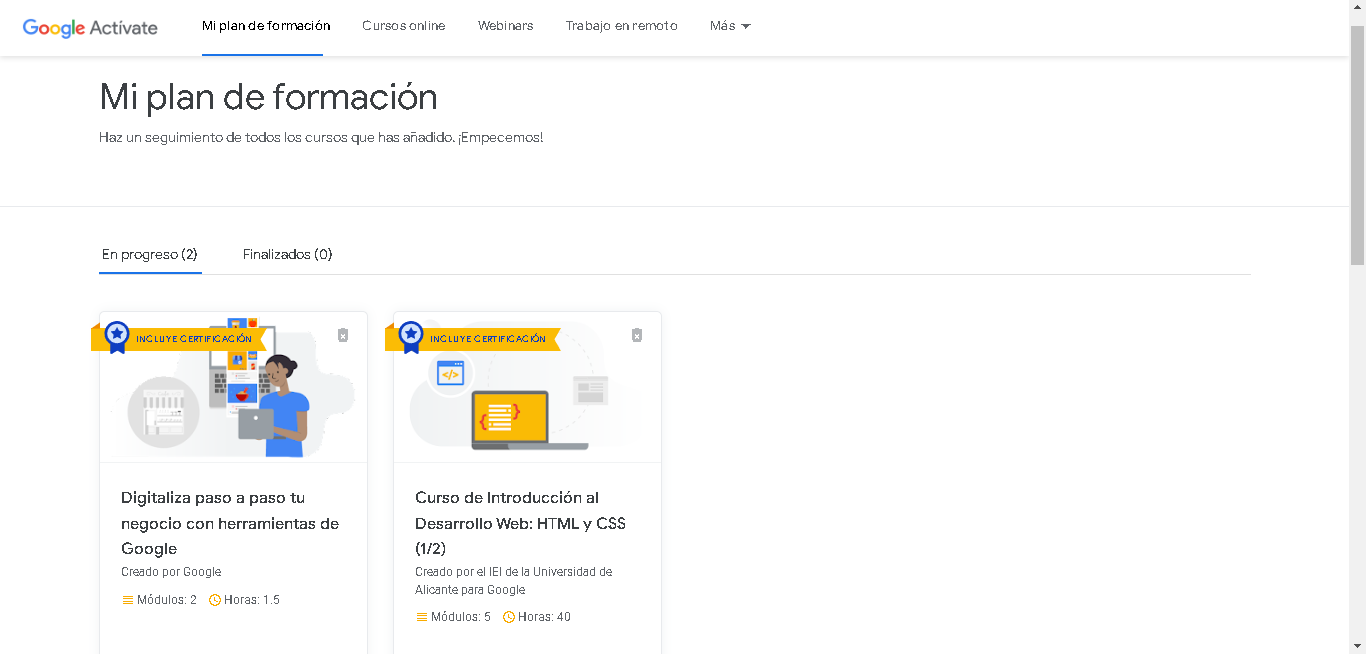 ---
What else does Google Activate have to offer? In addition to the courses you have the opportunity to work remotely with Google or with a company that Google puts you in contact with, you can also have the opportunity to offer courses of what you know how to do or also connect with other methods of learning even more advanced. Also offer Webinars where you can expand your knowledge even more, as well as the opportunity to grow with Google in different areas, which is excellent because you would be working directly with the largest company in the digital world.
¿Qué otras cosas ofrecen Google Actívate? Además de los cursos tienes la oportunidad de trabajar remotamente con Google o con alguna empresa con la que Google te ponga en contacto, además puedes tener la oportunidad de ofrecer cursos de lo que tú sabes hacer o tambien conectarte con otros métodos de aprendizajes aún más avanzados. Tambien ofrecer Webinars donde puedes ampliar tu conocimiento aún más, así como la oportunidad de crecer con Google en distintas áreas, lo cual es excelente porque estarías trabajando directamente con la mayor empresa del mundo digital.
---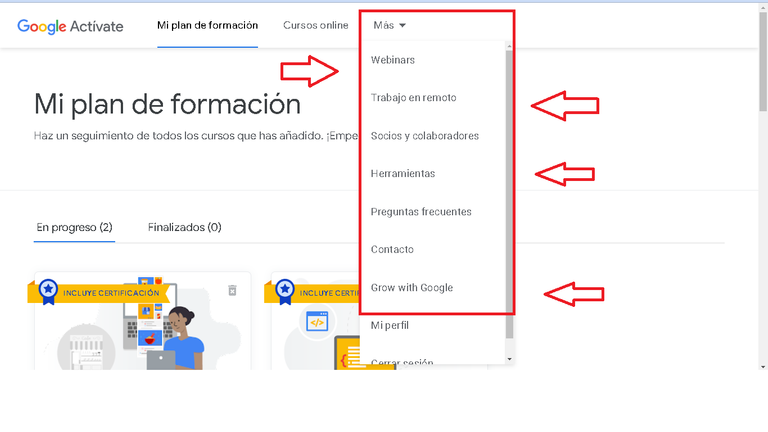 ---
What do I need to get started? First organize the necessary time so you can learn in the best way and without interruptions, and to log in to Google activate yourself you can do it through the following link: https://learndigital.withgoogle.com/activate/courses create your account with your Gmail (if you have it associated with your Google just press the button that says enter with Google and you do not have to do any verification) and you will be ready to start the course you want, also your progress is saved as well as your certification.
¿Que necesito para empezar? Primero organiza el tiempo necesario para que puedas aprender de la mejor manera y sin interrupciones, y para ingresar en Google actívate puede hacerlo a través del siguiente enlace: https://learndigital.withgoogle.com/activate/courses crea tu cuenta con tu Gmail (si lo tienes asociado a tu Google solo presiona el botón que dice ingresar con Google y no tienes que hacer ninguna verificación) y ya estarás listo para empezar el curso que desees, además se guarda tu progreso así como tu certificación.
---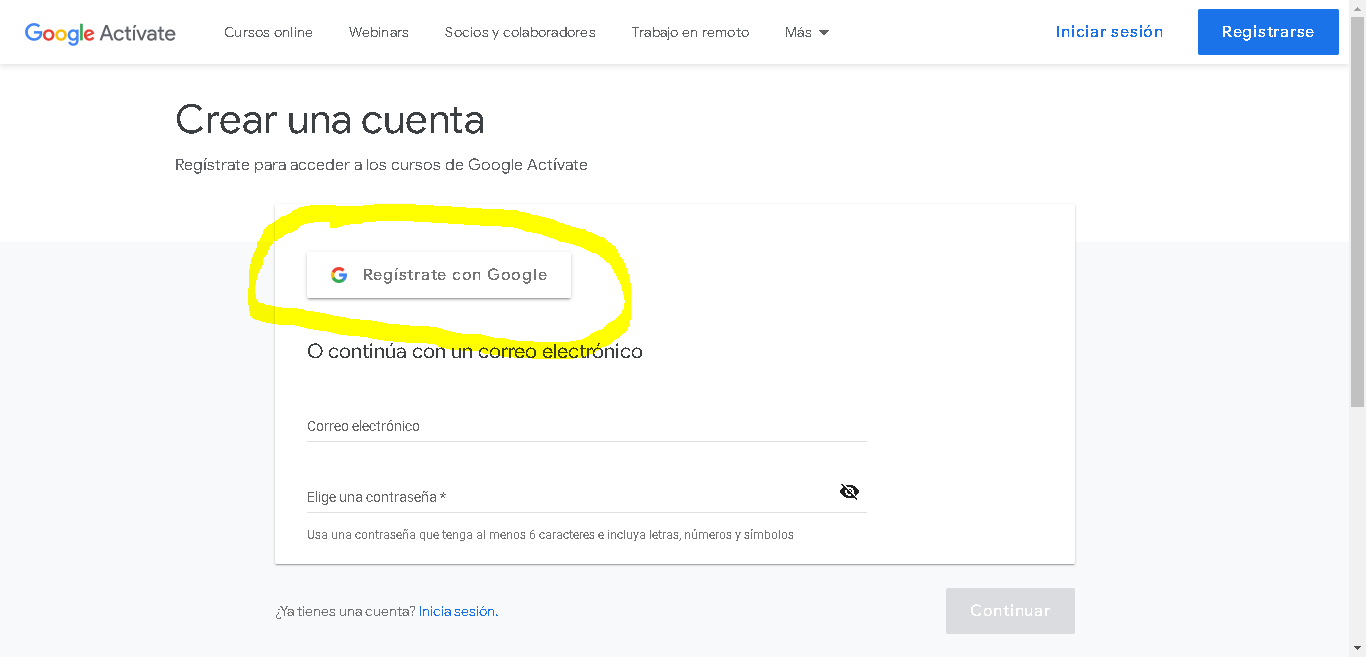 ---
So, if you want to start 2023 learning professionally courses in competent areas of the market or if you just want to start as a FreeLancer in an area such as digital marketing, this amazing Google tool can help you achieve that goal. Remember that it is totally free learning and can take you to new levels only requires selflessness and effort. In addition, you have many opportunities with this learning system, if you want to know more I invite you to visit Google Acirate so you can find the best course for you. Thank you very much for reading, I hope this information is useful for you and see you next time :D
Así que, si quieres empezar el 2023 aprendiendo de manera profesional cursos en áreas competentes del mercado o si solo quieres emprender como FreeLancer en alguna área como marketing digital, esta increíble herramienta de Google te puede ayudar a lograr ese objetivo. Recuerda que es totalmente gratuito el aprendizaje y te puede llevar a nuevos niveles solo requiere de abnegación y esfuerzo. Además, tienes muchas oportunidades con este sistema de aprendizaje, si quieres saber más te invito a visitar Google Acirate para que puedas buscar el mejor curso para ti. Muchas gracias por leer, espero esta información te sea útil y nos vemos en una próxima ocasión :D
---