---

Portada hecha por mi en Canva
---
Hello everyone...
How important is for you to improve your equipment that helps you to create better content? For me it is something extremely important, because this way you can offer something better and better to the community. As something that I've been trying and that I've been doing great when sharing content are the video Vlogs, I needed to start there to improve my content. Of course I wanted to buy a GoPro HERO10 Black Action that goes like a glove to record videos in first person and outdoors, but as the saying goes the big things start small, I could start by buying something that will be very useful when recording videos and this is a tripod for my cell phone and a wifi antenna for my laptop. In this post I will explain why I needed this and what benefits I will get, as well as what I plan to buy for the next one.
Hola a todos…
¿Qué tan importante es para ti mejorar tus equipos que te ayudan a crear mejor contenido? Para mi e algo sumamente importante, ya que de esta manera se puede ofrecer algo cada vez mejor a la comunidad. Como algo que he estado probando y que me ha salido de maravilla al compartir contenido son los videos Vlogs, necesitaba empezar por allí para mejorar mi contenido. Claro yo quisiera comprar una GoPro HERO10 Black Action que va como anillo al dedo para grabar videos en primera persona y en exteriores, pero como dice el dicho lo grande se comienza desde pequeño, pude comenzar comprando algo que me será muy útil a la hora de grabar videos y esto es un trípode para mi celular y una antena wifi para mi laptop. En esta publicación explicare porque necesitaba esto y que beneficios obtendré, así como que planeo comprar para la próxima.
---
---
It is very necessary for a Vlogger, to have implements that help him to produce better content, in my case I was delaying these purchases for various reasons or rather mental blocks that I put myself as: I don't have enough money, I really need it? or I'm sure it will be damaged fast. Having this way of thinking had always prevented me from buying better items to do a better job. For example, to record my videos I always used books to support my cell phone or else I would hold it in my hand resulting in a video with a lot of movement and a constant blur.
But last Friday I told myself that it was time to improve and change, because if I'm going to live from creating content in Hive I can't keep offering something mediocre. So I searched in mercado libre for cheap but sturdy tripods and found a long list of different offers, but what impressed me the most was that they cost less than what one can spend on a weekend trip. So that convinced me and of course the free shipping, I didn't think much about it and bought it.
The wait was 2 days for it to arrive to my hands, but it was worth it, I have already tried it a couple of times taking pictures and recording videos and it is a marvel, I know it will help me to create better content and will motivate me to improve my equipment from time to time.
Es muy necesario para un Vlogger, el tener implementos que lo ayuden a producir mejor contenido, en mi caso yo venía retrasando estas compras por diversos motivos o más bien bloqueos mentales que yo mismo me ponía como: No tengo suficiente dinero, De verdad lo necesitare? o Seguro se me dañara rápido. El tener este modo de pensar siempre me había impedido comprar artículos mejores para hacer un mejor trabajo. Por ejemplo, para grabar mis videos siempre usaba libros para apoyar mi celular o sino lo tomaba con mi mano teniendo como resultado un video con mucho movimiento y un desenfoque constante.
Pero el viernes de la semana pasa me dije a mi mismo que ya era hora de mejorar y cambiar, ya que si voy a vivir de crear contenido en Hive no puedo seguir ofreciendo algo mediocre. Así que busqué en mercado libre trípodes económicos pero resistentes y encontré una larga lista de distintas ofertas, pero lo que más me impresiono era que costaban menos de lo que uno puede gastar en una salida de fin de semana. Así que eso me convenció y claro tambien el envió gratis, no lo pensé mucho y lo compré.
La espera fue de 2 días para que llegara a mis manos, pero valió la pena muchísimo haberlo comprado, ya lo he probado un par de veces tomando fotos y grabando videos y es toda una maravilla, que sé que me ayudara a crear mejor contenido y me motivara a ir mejorando cada cierto tiempo mis implementos.
---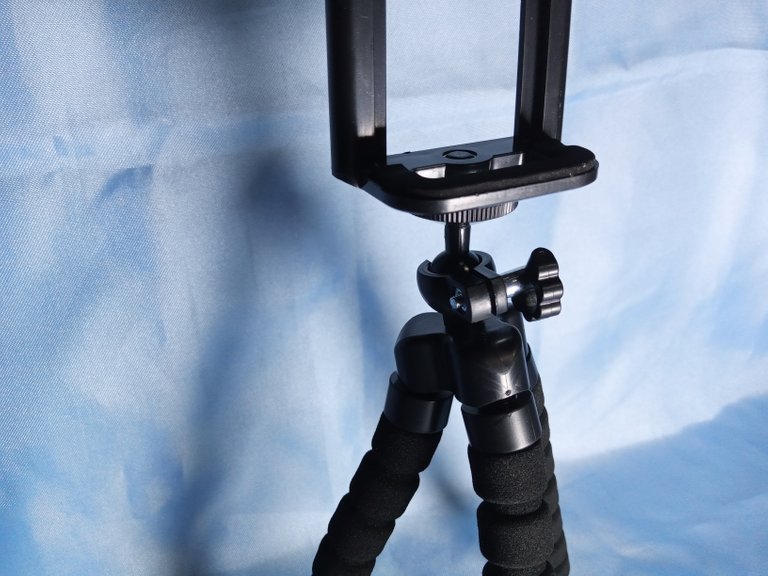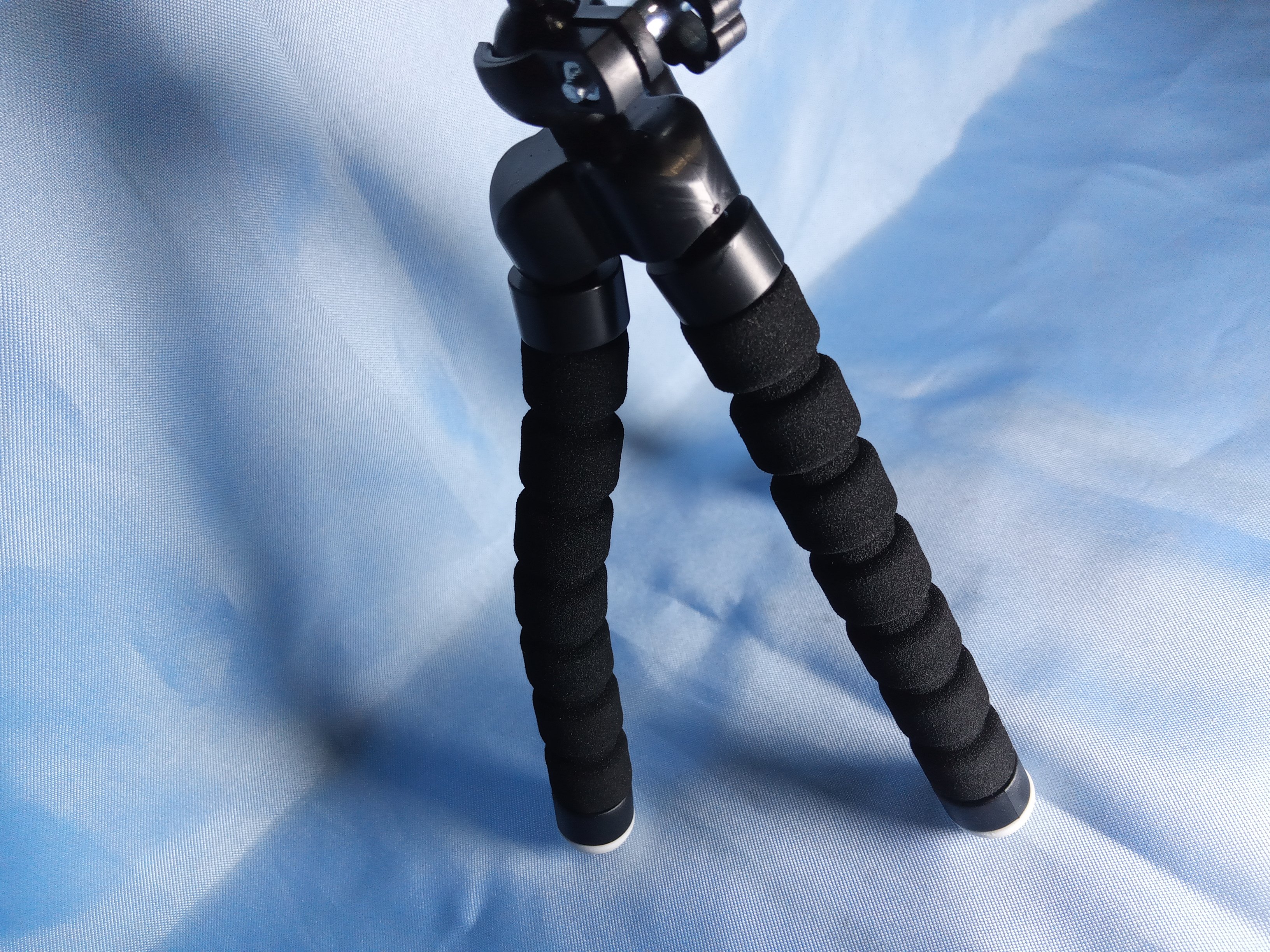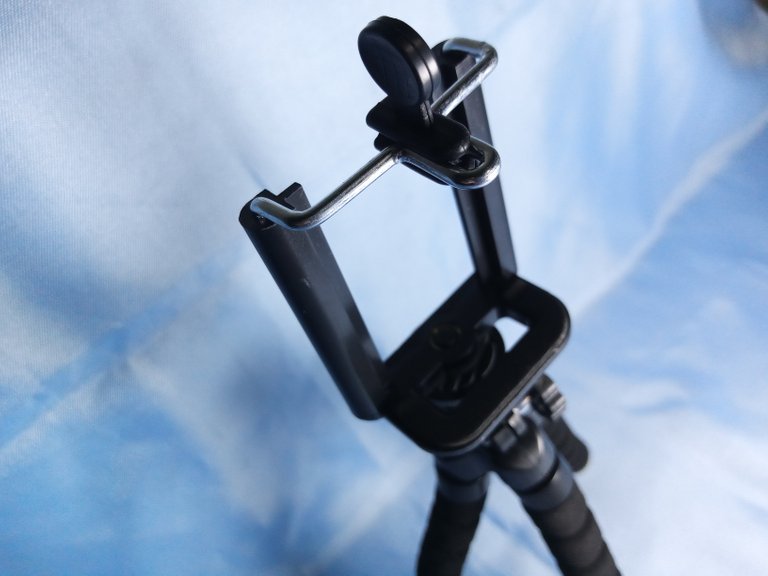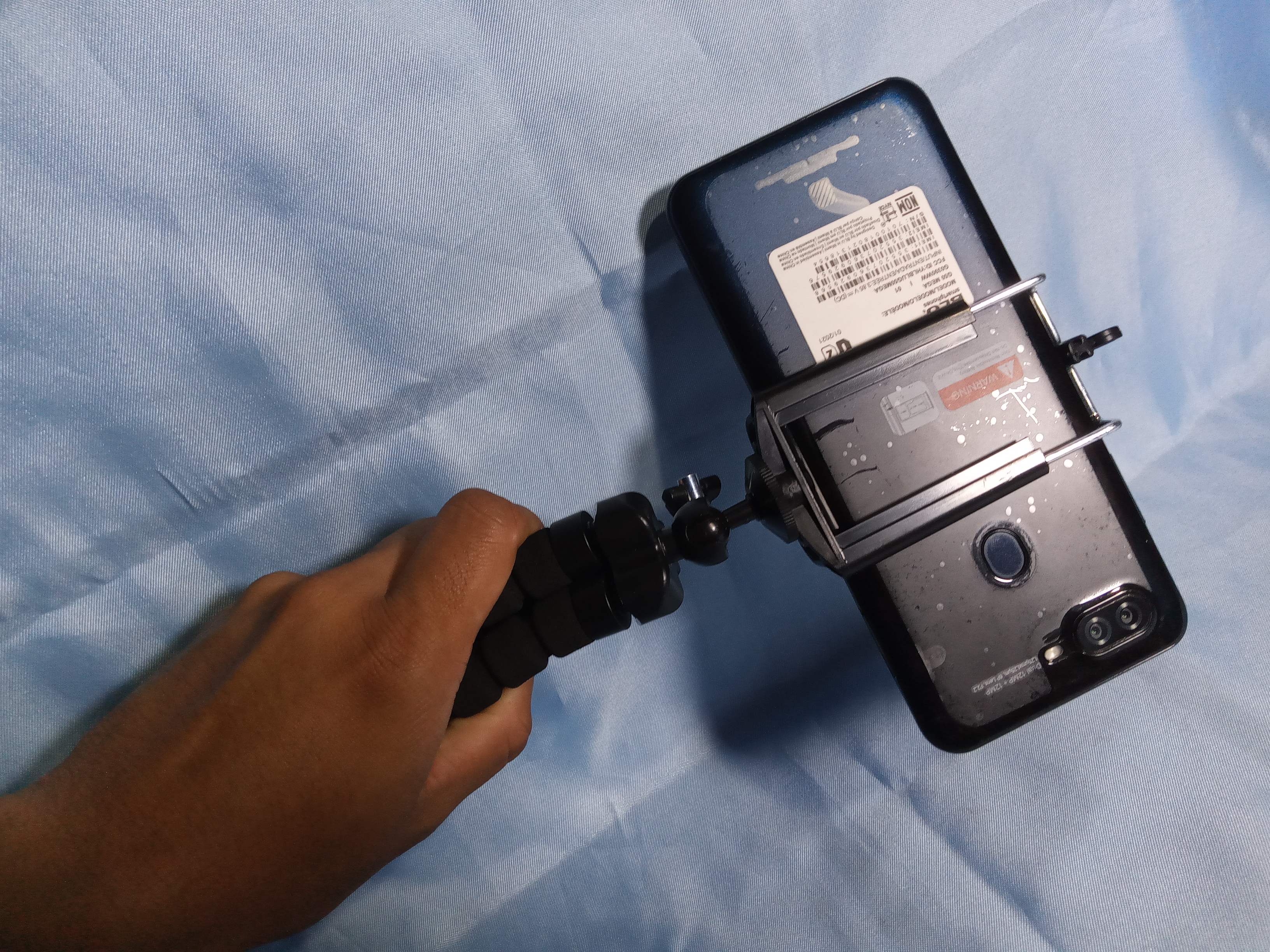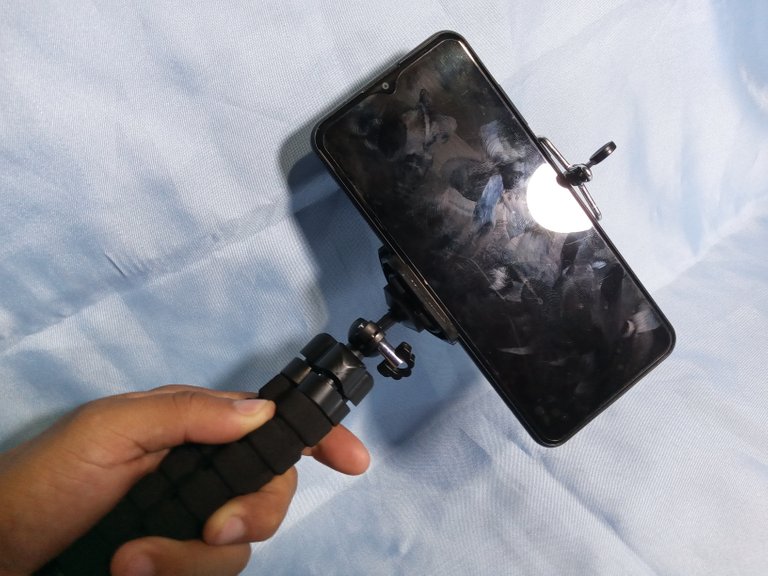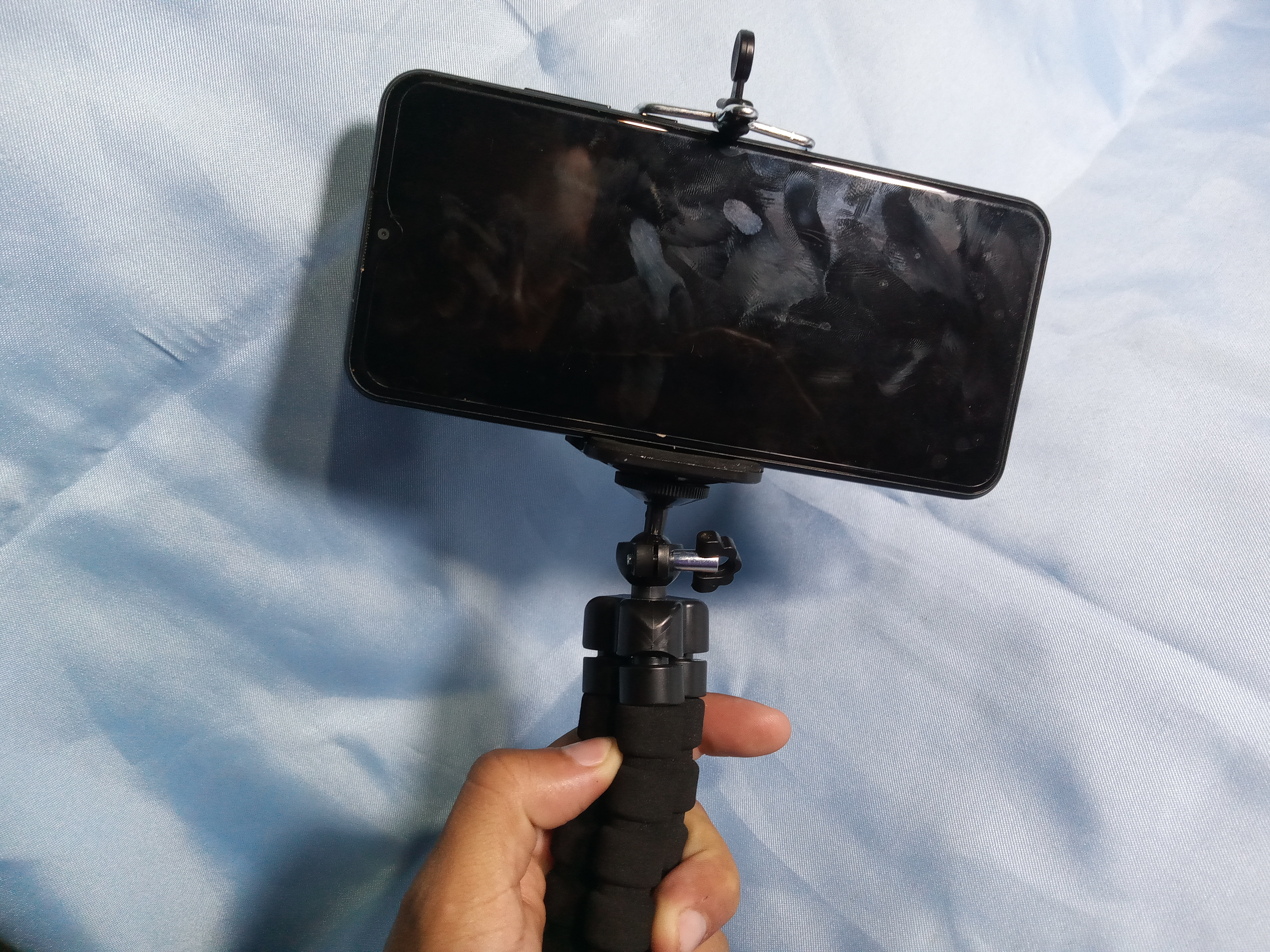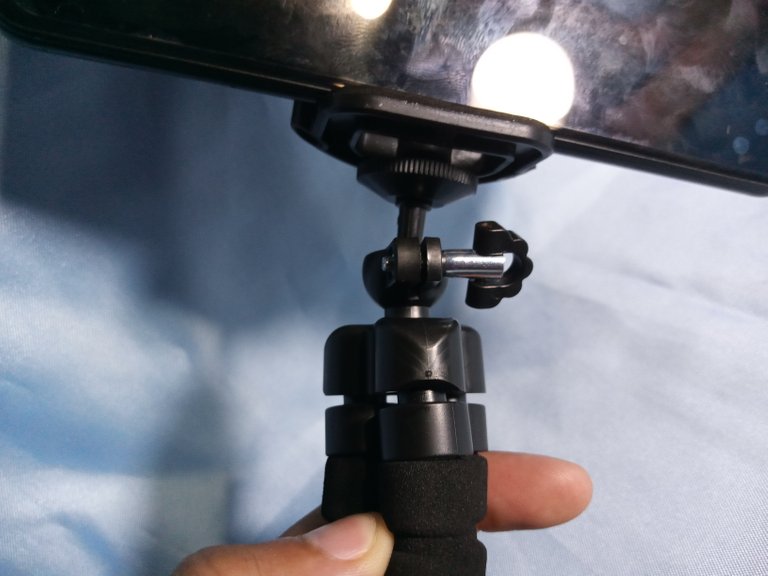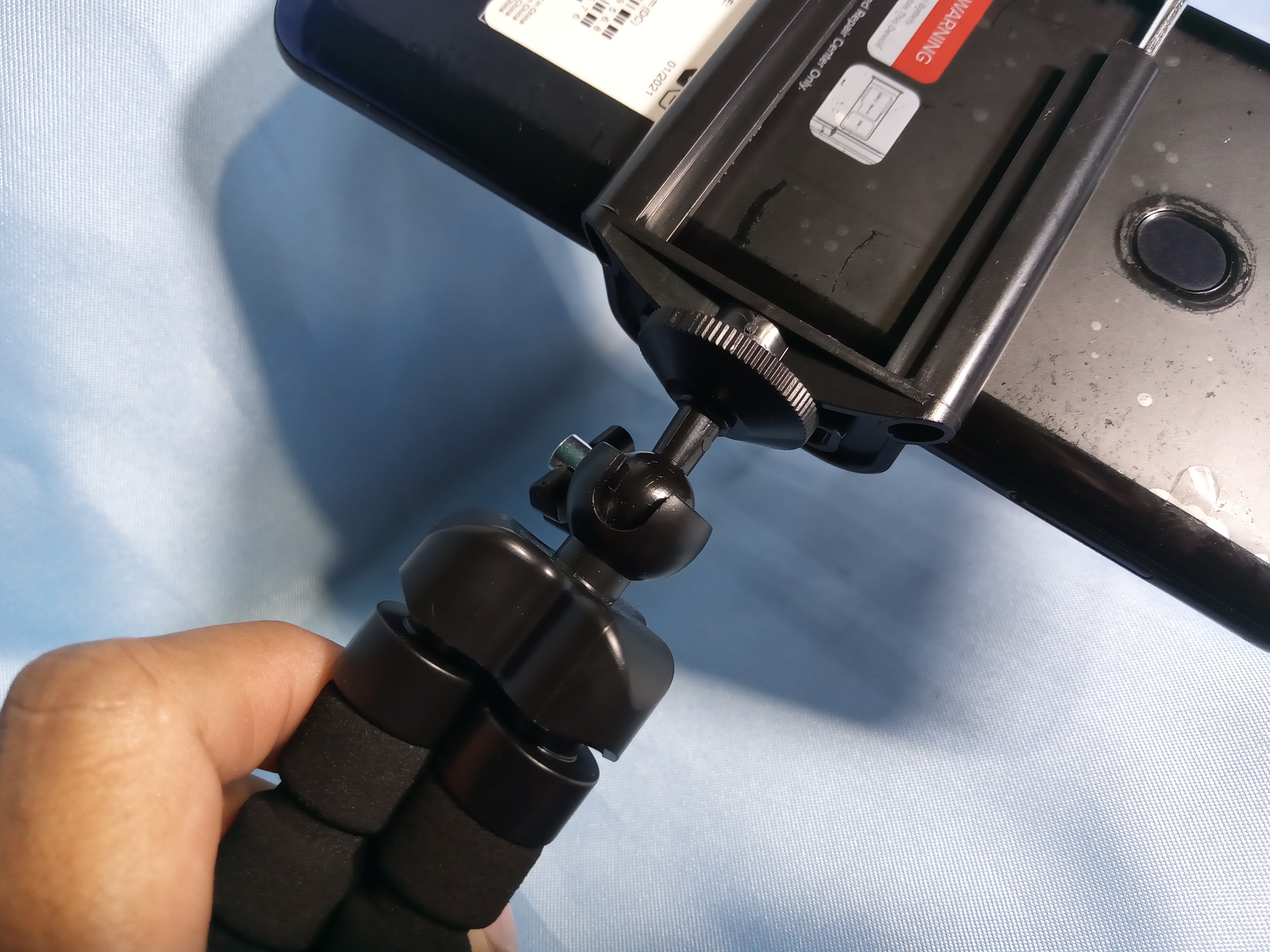 ---
I examined it in detail and although it may seem simple, it is not, it has a strong and sturdy base, it also has a small thread where you can adjust how firm you want the phone and also the spring that presses and holds the phone is very strong. The tripod stands are flexible, I bought it this way because I was planning to use it for multiple purposes besides recording Vlogs. The design is sleek and subtle, as well as unobtrusive, as it can be stored in any bag pocket or carried in the hand. The experience I have had with this tripod has been amazing, I can place my phone from any shot and record without any problem that it will fall or that during recording the phone will move, so, if you want to start with a not very expensive tripod I recommend this one, it costs $3 and I know it will be very useful for you.
Lo examine a detalle y aunque pueda parecer simple, no lo es, tiene una base fuete y resistente, además tiene una pequeña rosca donde se puede ajustar que tan firme quieres que este el teléfono y además el resorte que hace presión y sostiene el teléfono es muy resistente. Las paras del trípode son flexibles, lo compre así porque tenía pensado usarlo para múltiples propósitos además de grabar Vlogs. El diseño es elegante y sutil, así como discretos, ya que se puede guardar en cualquier bolsillo de un bolso o llevarlo en la mano. La experiencia que he obtenido con este trípode ha sido increíble, puedo colocar mi teléfono desde cualquier toma y grabar sin ningún problema de que se vaya a caer o que durante la grabación se mueva el teléfono, así que, si quieres iniciar con un trípode no muy costoso te recomiendo este, cuesta $3 y sé que te será muy útil.
---
---
Now let's talk about the Wifi antenna, this is also a necessary implement to improve my content since I will get better stability while surfing the internet, since the internet in my area is very very bad, so bad that connecting via Wifi to the internet results in constant drops about 4 or 5 times per hours and that's all day long. Of course a profitable solution is to get a fiber optic internet service, so I will have better stability and speed, but I still need to gather to acquire it, so I had to buy this antenna to be able to continue working comfortably.
This antenna cost a little more than the tripod, it cost me a little more than $5, but I see it as a good investment to improve my content, because without a stable internet I can not work comfortably in Hive, because to make life in Hive I need good internet, for example, to make comments and see the publications of others I need a good stability, to publish my videos also, as well as to upload images or photographs to the Front-end of Hive blog or peakd.
One of the features that most caught my attention of this antenna is that it extends the range of re3ception of your computer or even a phone, for example my laptop has a range of wifi signal reception of 10 without interruptions and with interruptions of about 5 meters, but with this antenna I tested it with a neighbor's wifi that would never reach my living room since the point of origin of the signal is 30 meters from my house and when I put the antenna I saw that I had 1 bar of signal and I could surf the internet, not as fast as I wanted but I could do it. So I see this also as a good investment to improve my content.
The features of the antenna according to the seller is that it has a reception range and range of 10 to 30 meters, a maximum browsing speed of 150 Mbps and is versatile, small and powerful, plus it can be bent at an angle of 45 degrees and rotated at an angle of 15 degrees for greater possibility of reception. It also has a blue blinking light that tells you whether or not it is receiving the internet signal.
Ahora hablemos de la antena Wifi, esta tambien e un implemento necesario para mejorar mi contenido ya que conseguiré mejor estabilidad mientras navego por internet, ya que el internet en mi zona es muy pero muy malo, tan pésimo que conectarse por Wifi a internet resulta en caídas constantes unas 4 o 5 veces por horas y así es todo el día. Claro una solución rentable es conseguir un servicio de internet de fibra óptica, ya que así tendré mejor estabilidad y velocidad, pero aún me falta reunir para poder adquirirlo, así que tuve que comprar esta antena para poder seguir trabajando cómodamente.
Esta antena si costo un poco más que el trípode, me salió en poco más de $5, pero lo veo como una buena inversión para poder mejorar mi contenido, ya que sin un internet estable no puedo trabajar cómodamente en Hive, porque para hacer vida en Hive necesito buen internet, por ejemplo, para hacer comentarios y ver las publicaciones de otros necesito una estabilidad buena, para publicar mis videos tambien, así como para subir imagen o fotografías al Front-end de Hive blog o peakd.
Una de las características que más me llamo la atención de esta antena es que amplía el rango de re3cepocion de tu computadora o hasta de un teléfono, por ejemplo mi laptop tiene un rango de recepción de señal wifi de 10 sin interrupciones y con interrupciones de unos 5 metros, pero con esta antena la probe con un wifi de un vecino que nunca llegaría a la sala de mi casa ya que el punto de origen de la señal está a 30 metros de mi casa y al poner la antena vi que tenía 1 barra de señal y podía navegar en internet,, no tan rápido como quisiera pero podía hacerlo. Así que veo esto tambien como una buena inversión para poder mejorar mi contenido.
Las características de la antena segun el vendedor es que tiene un rango de recepción y alcance de 10 a 30 metros, una velocidad de navegación máxima de 150 Mbps y es versátil, pequeña y potente, además se puede doblar en un Angulo de 45 grados y girarse en un Angulo de 15 grados para mayor posibilidad de recepción. Tambien tiene una luz parpadeante azul que te indica si está recibiendo o no la señal del internet.
---
| | |
| --- | --- |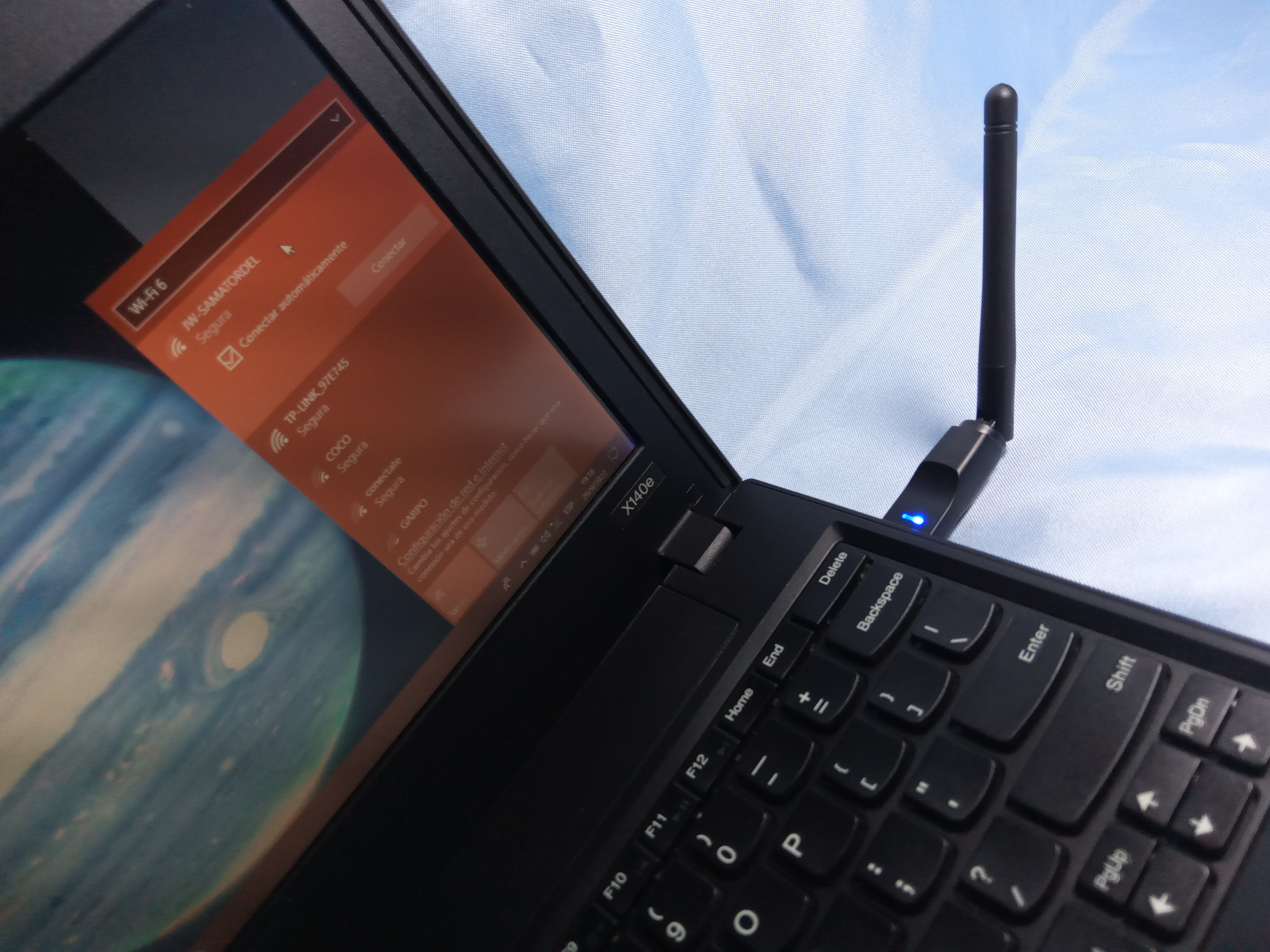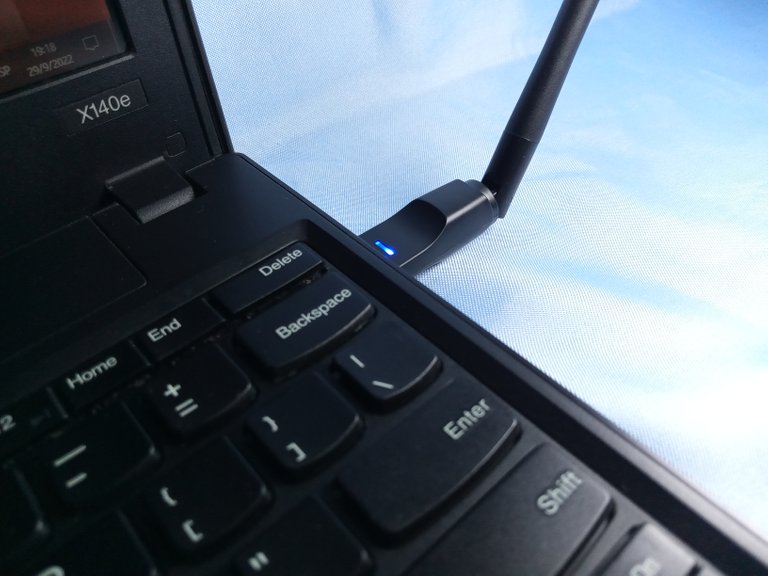 ---
In conclusion, these purchases will help me to create better content and will also make me aware that upgrading equipment is not an afterthought, but a priority, just as in any job. Now that I plan to buy in a next time, I have many things in mind, but I think that something important is a microphone either bullet or wireless, but with a good range of reception so that my voice is heard better and without much noise in the videos. In addition, I am thinking of finishing to gather to acquire the fiber optic service that I know will help me a thousand percent to the creation of content, since as many have mentioned and more the friend Omar rojas, that fiber optics is necessary for a Hiver, So I hope to get it soon.
Thank you very much for watching this video and read my publication, I hope you liked it, if you want to purchase the items I buy I will leave the links below. See you next time :D
En conclusión, estas compras me ayudaran a crear un mejor contenido y tambien me mentalizaran que mejorar implementos no está de más, sino que es una prioridad, así como en todo trabajo. Ahora que planeo comprar en una próxima ocasión, tengo muchas cosas en mente, pero pienso que algo importante es un micrófono ya sea de balita o inalámbrico, pero con un buen rango de recepción para que mi voz se oiga mejor y sin tanto ruido en los videos. Además, estoy pensando en terminar de reunir para adquirir el servicio de fibra óptica que sé que me ayudara un mil por ciento a la creación de contenido, ya que como muchos han mencionado y más el amigo Omar rojas, que la fibra óptica es necesaria para un Hiver, Así que espero poder obtenerlo pronto.
Muchas gracias por ver este video y leer mi publicación, espero que te haya gustado, si deseas adquirir los artículos que compre te dejare los enlaces más abajo. Nos vemos hasta una próxima ocasión :D
---
Compra el tripode en MercadoLibre
Compra la antena wifi en MercadoLibre
Musica de fondo tomada de Pixabay:
Music by prazkhanal from Pixabay
Music by Music Unlimited from Pixabay
Imagen de fondo de mi portada tomada de:

---
▶️ 3Speak