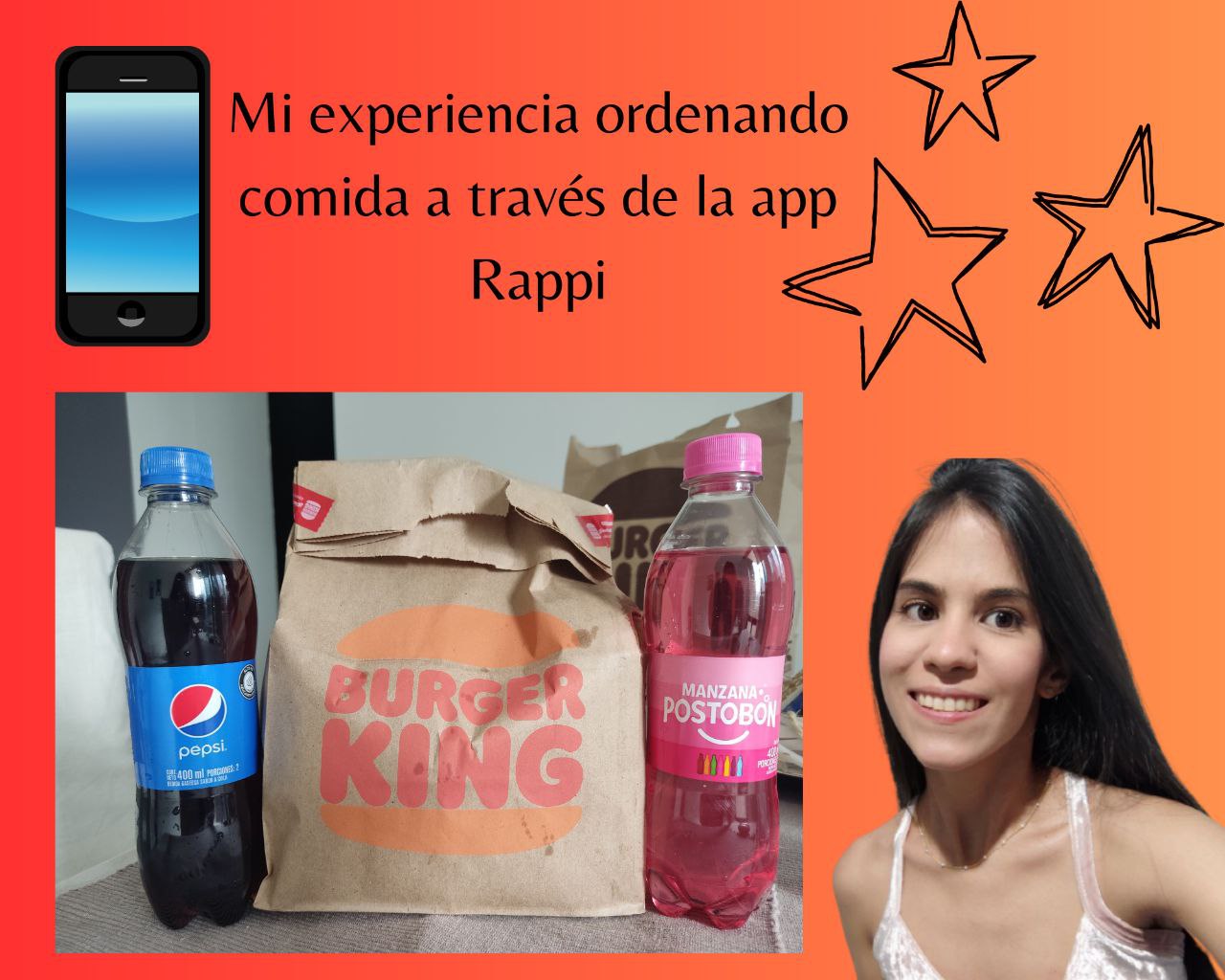 Imagen hecha por mi en Canva // Image made by me in Canva
Hola a todos, espero que la esten pasando increíble en este fin de semana un tanto caluroso. Por aquí, hemos estado sin ganas de cocinar mucho y como estabamos solo dos personas en casa, decidimos ordenar comida rápida por la app de Rappi. Si les soy honesta, yo nunca la había usado, siempre prefería salir de casa caminando o en bus a comprar lo que se necesite. Esta vez, fué la excepción, teniamos muchas ganas de seguir descansando después de una larga caminata esta mañana. Así que aquí les voy a hablar un poco de mi experiencia usando la aplicación y del tiempo de llegada de nuestro pedido.
Hi everyone, I hope you are having an amazing time this hot weekend. Around here, we haven't felt like cooking much and since there were only two of us at home, we decided to order fast food through the Rappi app. To be honest, I had never used it, I always preferred to leave the house walking or by bus to buy what I needed. This time, it was the exception, we wanted to continue resting after a long walk this morning. So here I am going to tell you a little about my experience using the application and the arrival time of our order.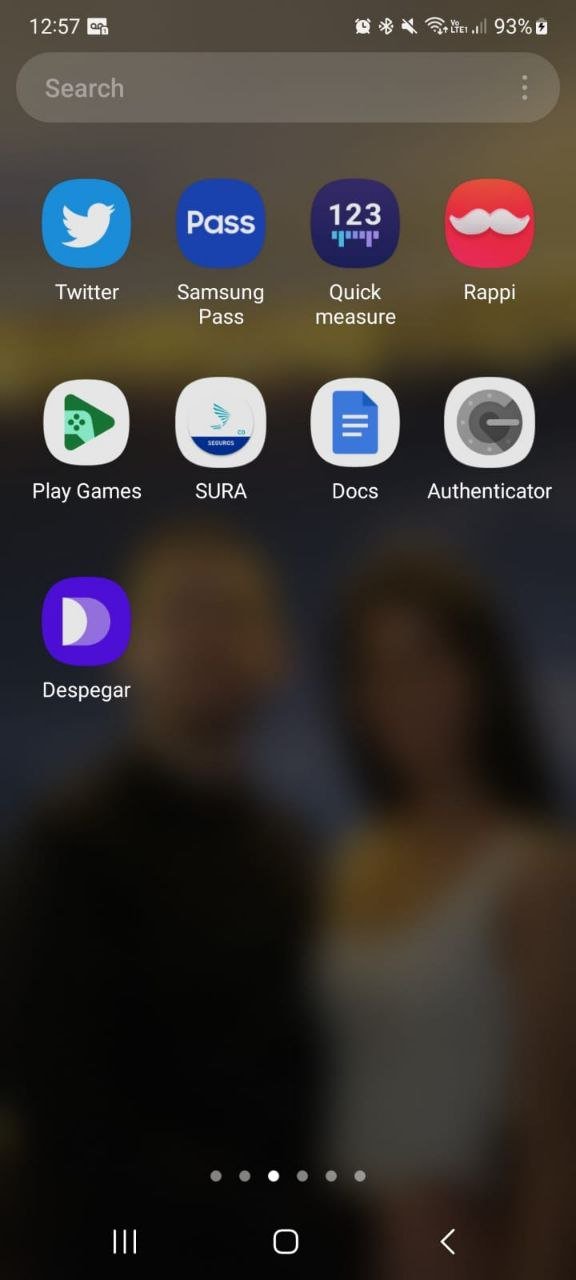 Lo primero que hice fué abrir la app desde el teléfono. Debo decirles en primera instancia que algo que me gusta de Rappi es que la puedes configurar con la información de tu tarjeta de debito o crédito, de manera que cuando ordenes comida, mercado o medicina, la misma app se encarga de descontar de tu tarjeta el monto exacto. Esto es algo bueno porque si no cuentas con efectivo no tienes que salir corriendo a buscar aunque si lo deseas, el efectivo también es un método de pago.
The first thing I did was to open the app from my phone. I must tell you first of all that something I like about Rappi is that you can configure it with your debit or credit card information, so that when you order food, groceries or medicine, the same app takes care of deducting the exact amount from your card. This is a good thing because if you don't have cash you don't have to run out and get it, although if you want, cash is also a payment method.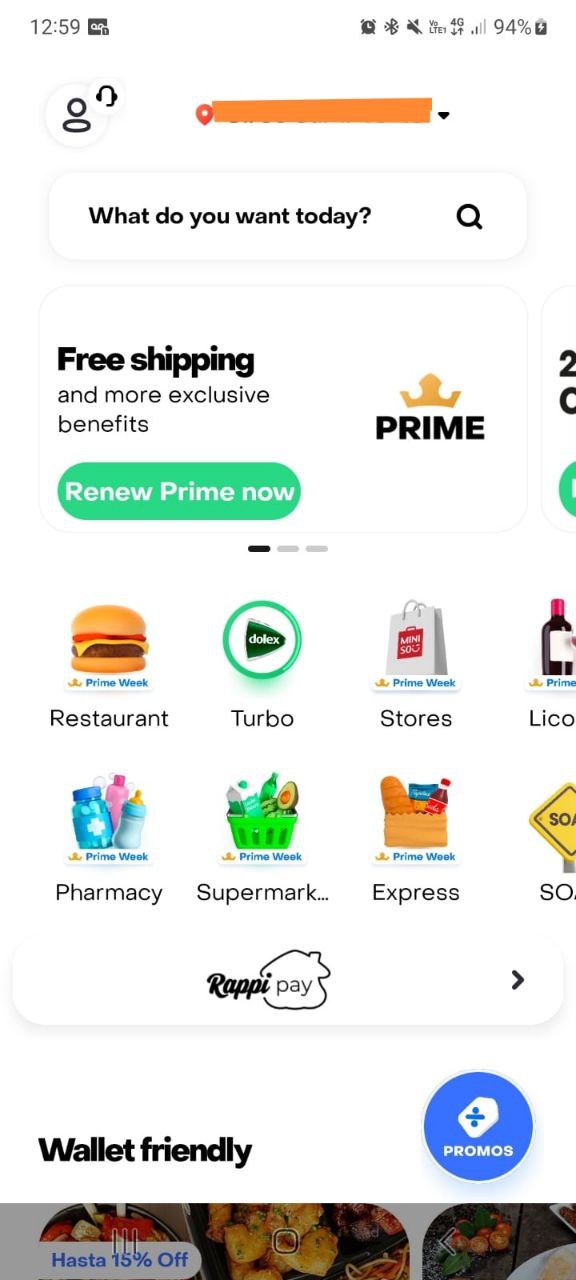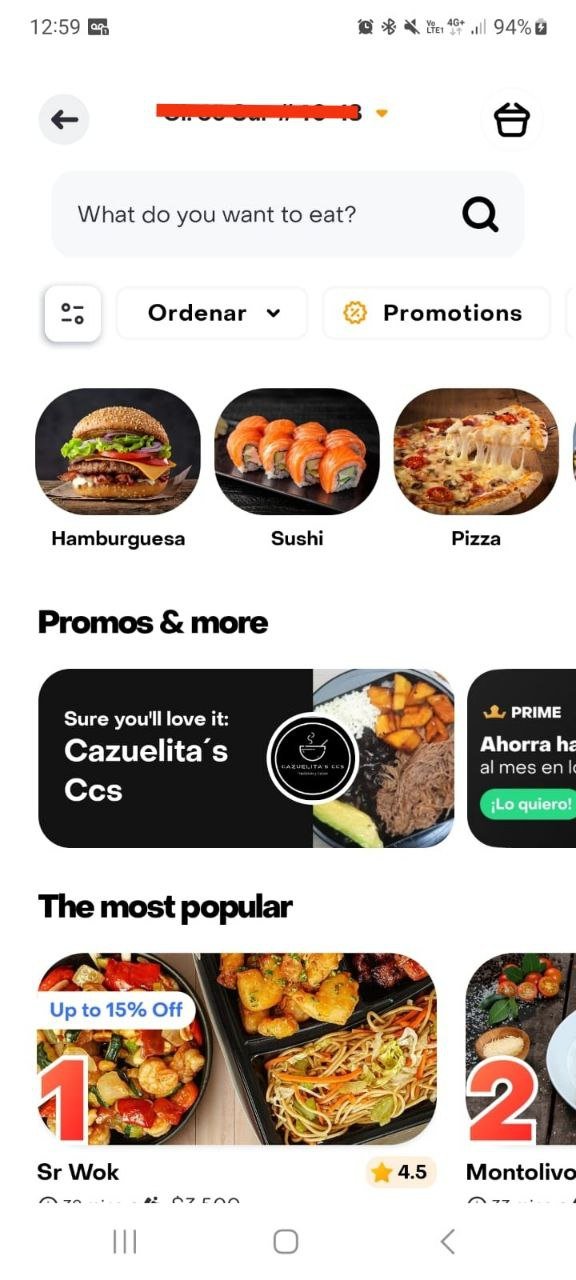 Una vez que tienes la app abierta, tienes las diferentes opciones como restaurantes, tiendas, licores, turbo, supermercado, entre otras, lo cual también me parece increible. Con Rappi no estas limitado a pocas cosas, sino más bien tienes opciones amplias para esos días que andas en apuros y necesitas algo en casa en unos 10 minutos. Rappi turbo es la opción perfecta cuando necesitas algo así, pero esta vez, en nuestro caso, estabamos buscando restaurantes así que hicimos click allí y nos salieron muchisimas opciones pero ya teniamos uno en mente como buenos catadores de comida.
Once you have the app open, you have the different options such as restaurants, stores, liquor, turbo, supermarket, among others, which I also find incredible. With Rappi you are not limited to just a few things, but rather you have ample options for those days when you are in a hurry and need something at home in about 10 minutes. Rappi turbo is the perfect option when you need something like that, but this time, in our case, we were looking for restaurants so we clicked there and we got a lot of options but we already had one in mind as good food tasters.
Inmediatamente buscamos Burguer King puesto que yo llevaba días con ganas de comerme una hamburguesa de carne de allí con papas fritas. Había una opcion llamada "Populares" que me dispuse a ver y me antojé de un combo de hamburguesa llamado Promo Whopper con Queso. Una vez hice click en ese combo, tenía opciones como agregar adicionales, quitar algunos ingredientes o agrandar las papitas, así que revisé para ver qué se me antojaba cambiar o agregar.
We immediately looked for Burger King since I had been craving a beef burger from there with fries for days. There was an option called "Populars" which I set out to check out and craved a burger combo called Promo Whopper with Cheese. Once I clicked on that combo, it had options like adding additional, removing some toppings or making the fries bigger, so I checked to see what I was craving to change or add.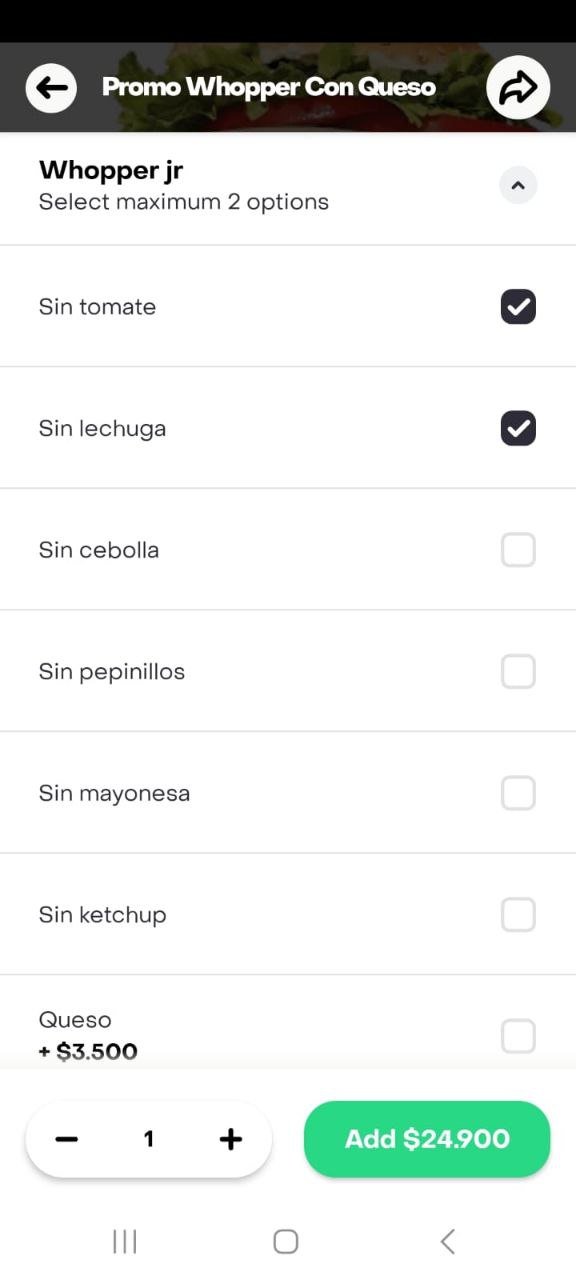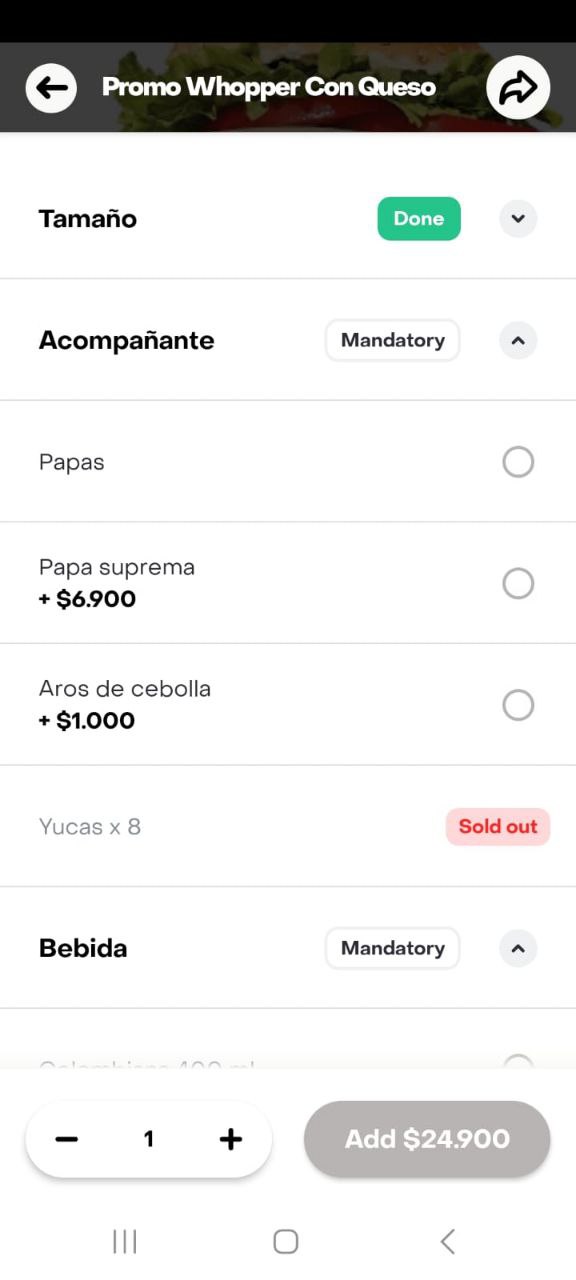 Con mi combo de hamburguesa decidí quitar la lechuga y el tomate porque no acostumbro a comer vegetales en la calle. Además decidí agrandar las papas. No quise agregar adicionales porque sentí que ya con un combo de papas grandes y la hamburguesa era suficiente. La única restricción del combo es que máximo podias quitar dos opciones lo cual me parece un poco restrigindo porque realmente tampoco deseaba la cebolla, sin embargo la pedí. El combo venia muy completo papas, hamburguesa y una bebida a escoger.
With my hamburger combo I decided to remove the lettuce and tomato because I don't usually eat vegetables on the street. I also decided to make the fries bigger. I didn't want to add any more because I felt that a combo of big fries and a hamburger was enough. The only restriction of the combo is that you could only take off two options, which seems a bit restrictive to me because I didn't really want the onion either, but I did ask for it. The combo came complete with fries, burger and a drink of choice.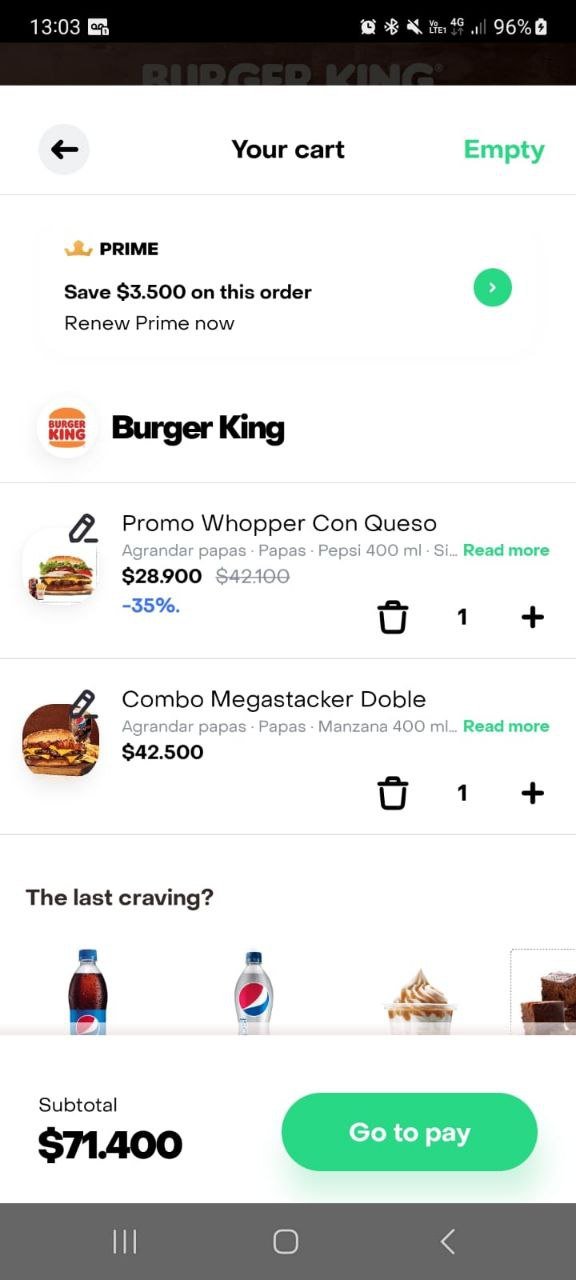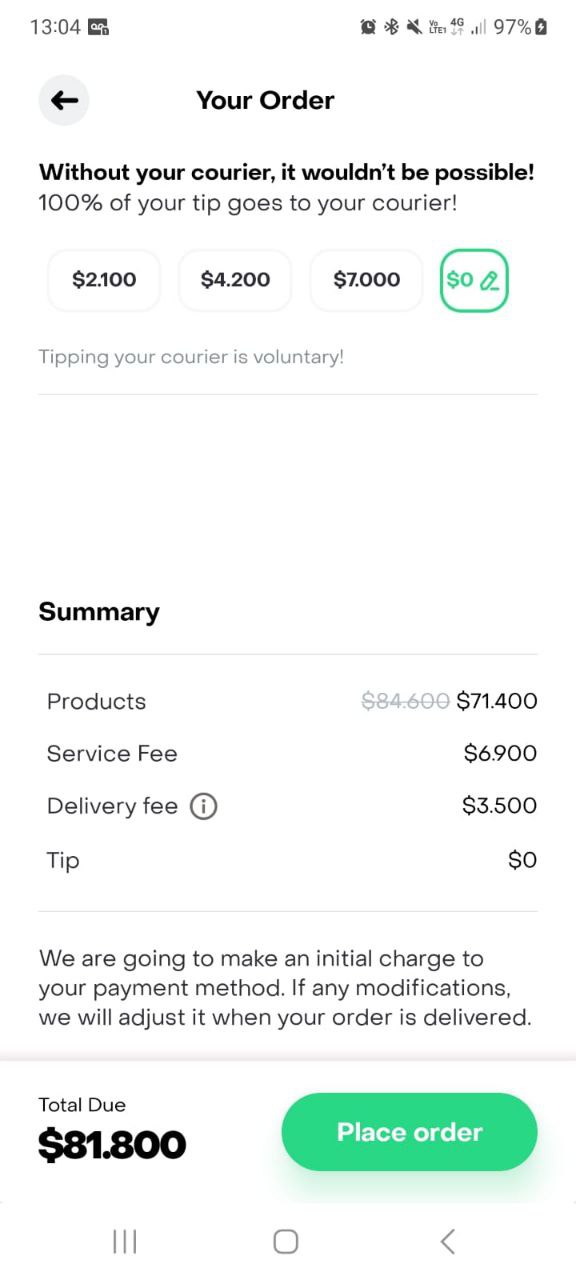 José también buscó el combo que se le antojaba y también agrandó su combo de papas fritas. Al ordenar, agregamos a la orden nuestros combos y Rappi nos muestra lo que se ordenó con el precio final sin el delivery y el costo del servicio, una vez verificado los combos, hacemos click en "Go to pay" y allí nos lleva a otra ventana, donde nos mostrará el precio total final que será descontado de nuestra tarjeta.
Jose also looked for the combo he was craving and also enlarged his fries combo. When ordering, we add to the order our combos and Rappi shows us what was ordered with the final price without delivery and the cost of the service, once verified the combos, we click on "Go to pay" and there takes us to another window, where it will show us the final total price that will be deducted from our card.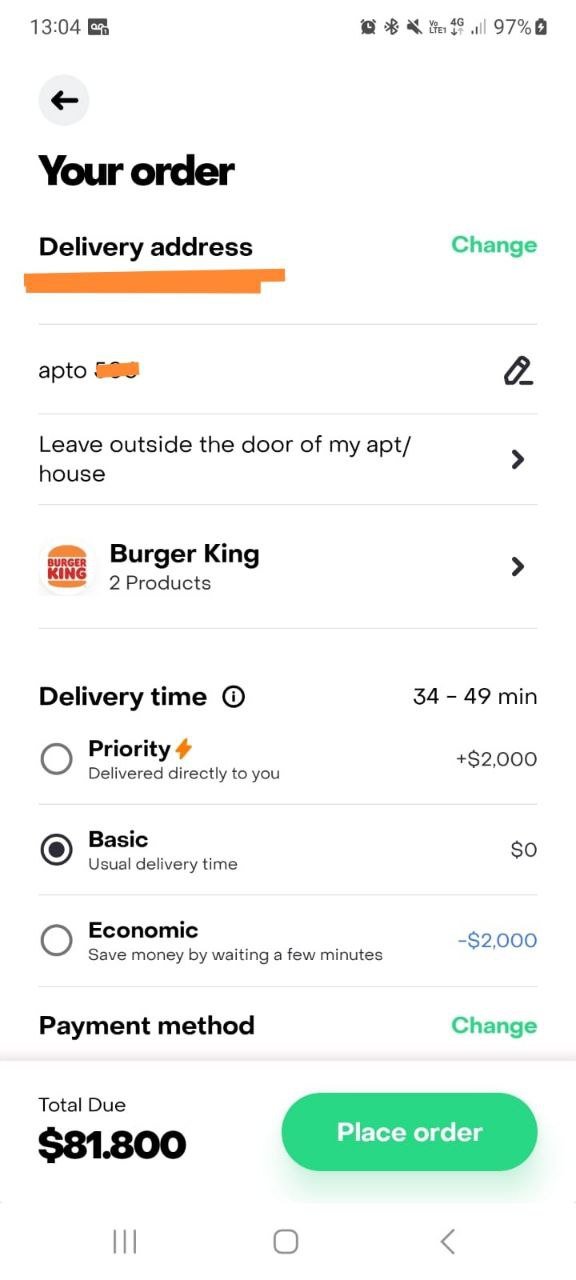 Una vez listos, dejamos la opción de delivery básico para no tener que pagar más, verificamos la dirección e hicimos click en "place order" y así nuestro pedido fué puesto en marcha en la sede más cercana la cual era en el centro comercial Mayorca que está a unos 15 minutos en carro desde nuestro lugar de residencia.
Once ready, we left the basic delivery option so as not to have to pay more, verified the address and clicked on "place order" and our order was placed at the nearest location which was in the Mayorca shopping center which is about 15 minutes by car from our place of residence.*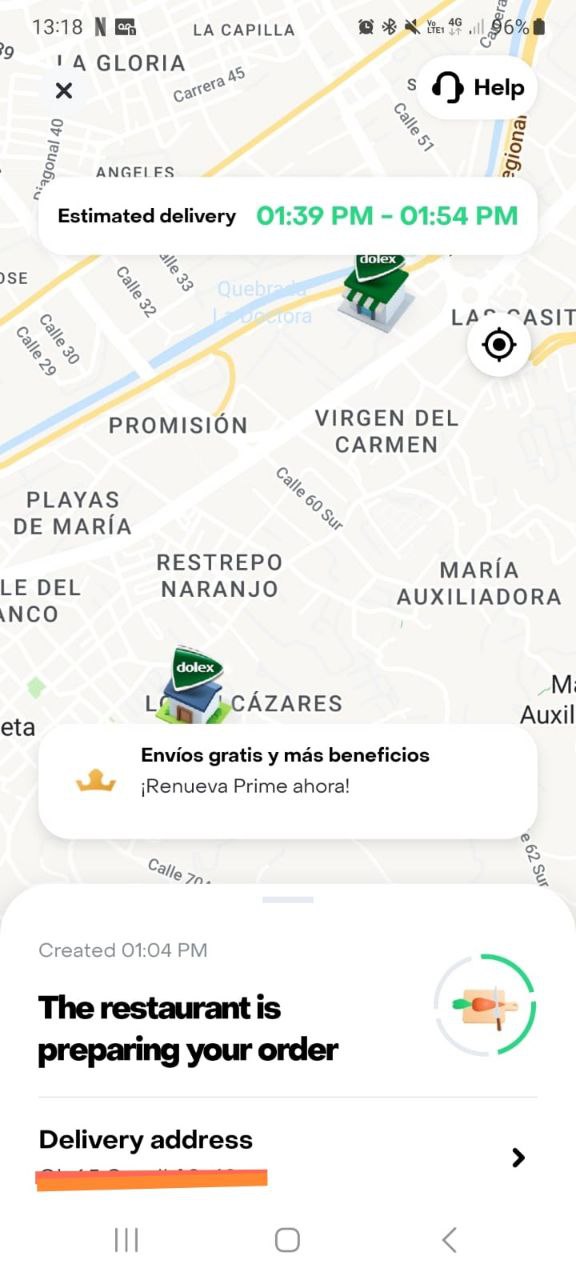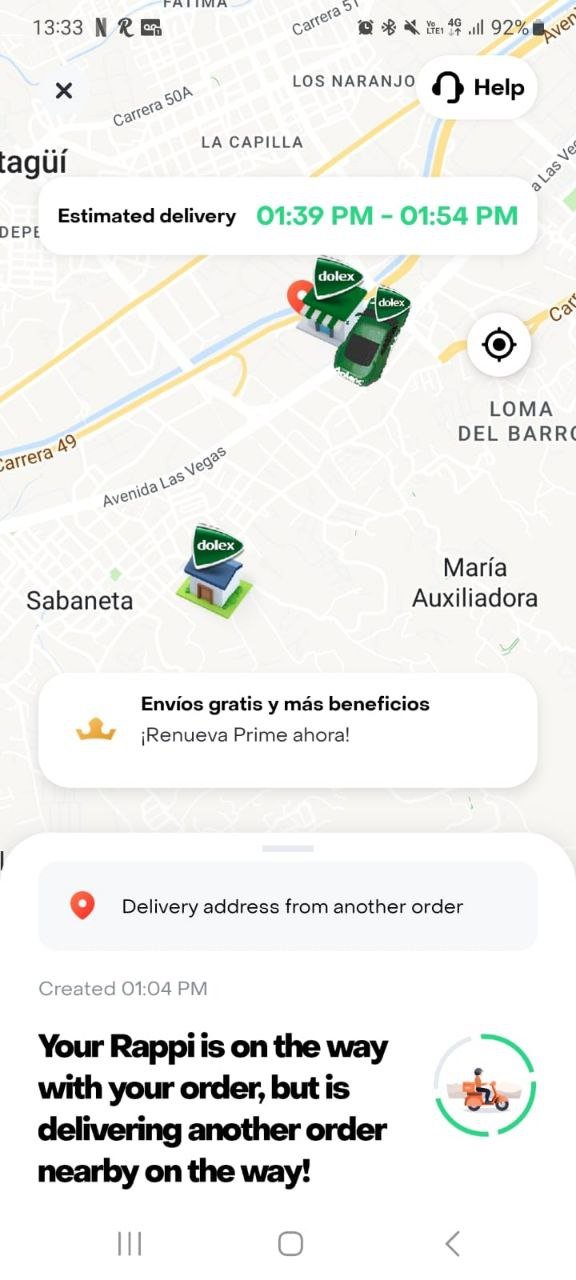 Seguidamente la app nos muestra que el restaurante ya está preparando la orden y en la parte superior sale un tiempo estimado de delivery, es decír el pedido a las 13:18 se empezó a preparar, a las 13:39 ya debería estar de camino a casa y a la 13:54 ya deberíamos estar recibiendo las hamburguesas. Sin embargo, no todo es color de rosa, teníamos mucha hambre pero debíamos ser pacientes. Para nuestra sorpresa nos cambiaron el tiempo de entrega el cual también fué mostrado en pantalla. Lo bueno es que nosotros estabamos enterados de todo, con la app, le hacemos seguimiento a nuestro pedido.
Then the app shows us that the restaurant is already preparing the order and at the top there is an estimated delivery time, i.e. the order started to be prepared at 13:18, at 13:39 it should be on its way home and at 13:54 we should be receiving the hamburgers. However, not everything is rosy, we were very hungry but we had to be patient. To our surprise they changed the delivery time which was also shown on the screen. The good thing is that we were aware of everything, with the app, we follow up our order.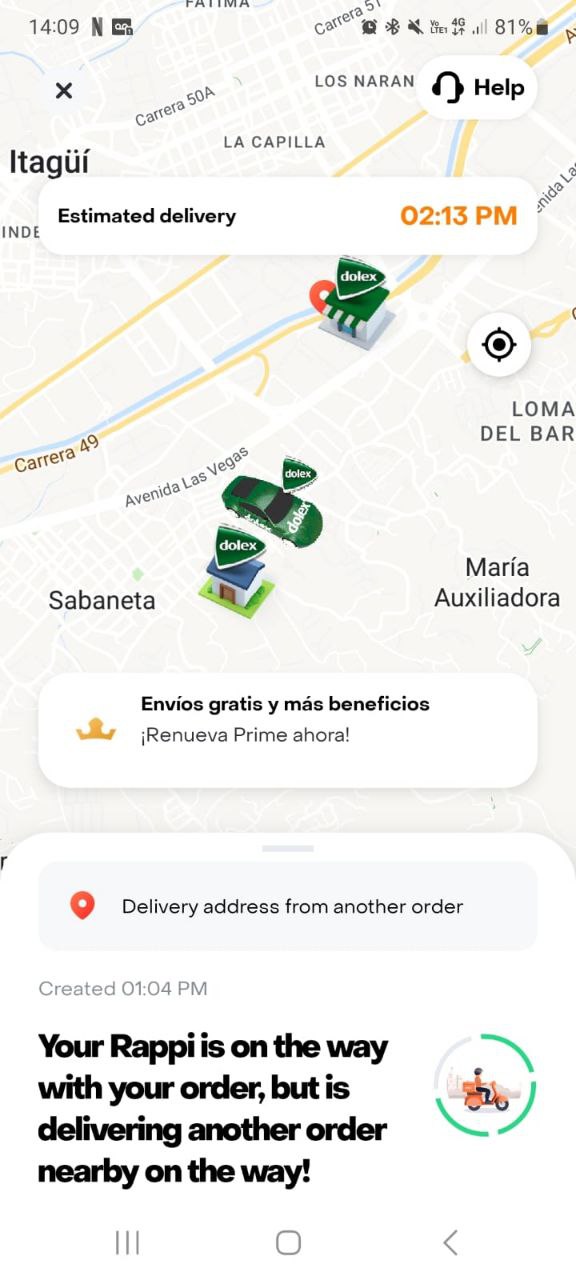 La persona que entregaría el pedido, estaba entregando otro pedido al mismo tiempo. Pero para ser sincera la espera no fué tan larga. Una recomendación que les doy es que una hora antes de la hora que deseen comer traten de hacer su pedido puesto que depende de muchas cosas. Supongo que unas de ellas son la demanda del restaurante y el tráfico.
The person who would deliver the order was delivering another order at the same time. But to be honest the wait was not that long. One recommendation I would give is that an hour before the time you want to eat try to place your order as it depends on many things. I guess one of them is the demand of the restaurant and the traffic.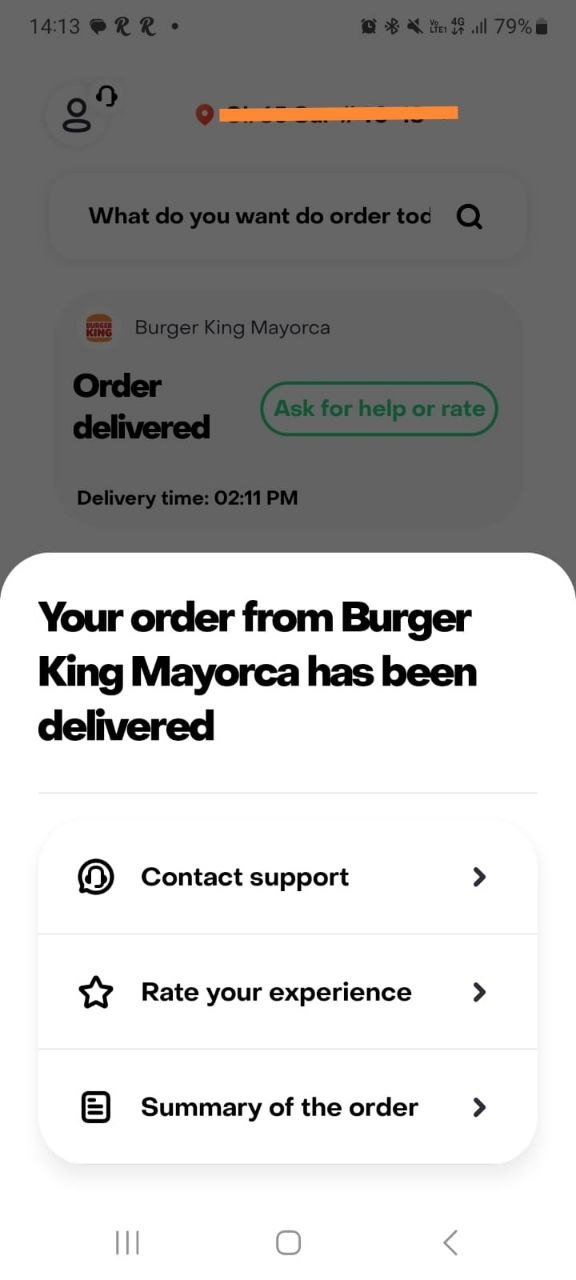 Una vez llegó el pedido, la aplicación nos informa que fué entregado así que bajamos a portería a buscarlo. Y así fué como disfrutamos de nuestras deliciosas hamburguesas las cuales estaban bastante buenas, muy completas y de buen tamaño. Otra recomendación es traten de tener hielo en casa para sus bebidas puesto que no llegan totalmente frías.
Once the order arrived, the application informed us that it was delivered so we went down to the porter's to pick it up. And that's how we enjoyed our delicious burgers which were quite good, very complete and of good size. Another recommendation is to try to have ice at home for your drinks since they do not arrive completely cold.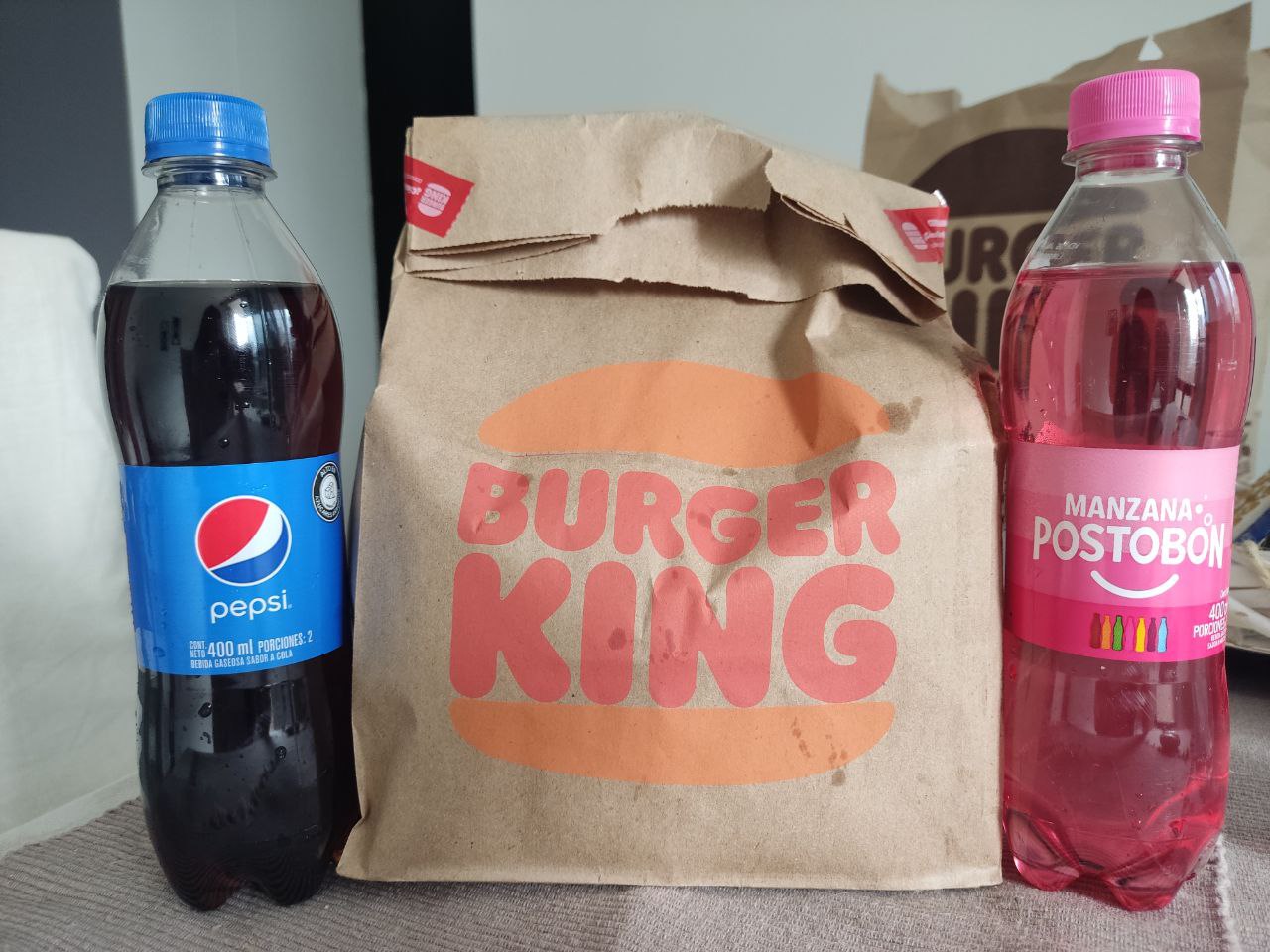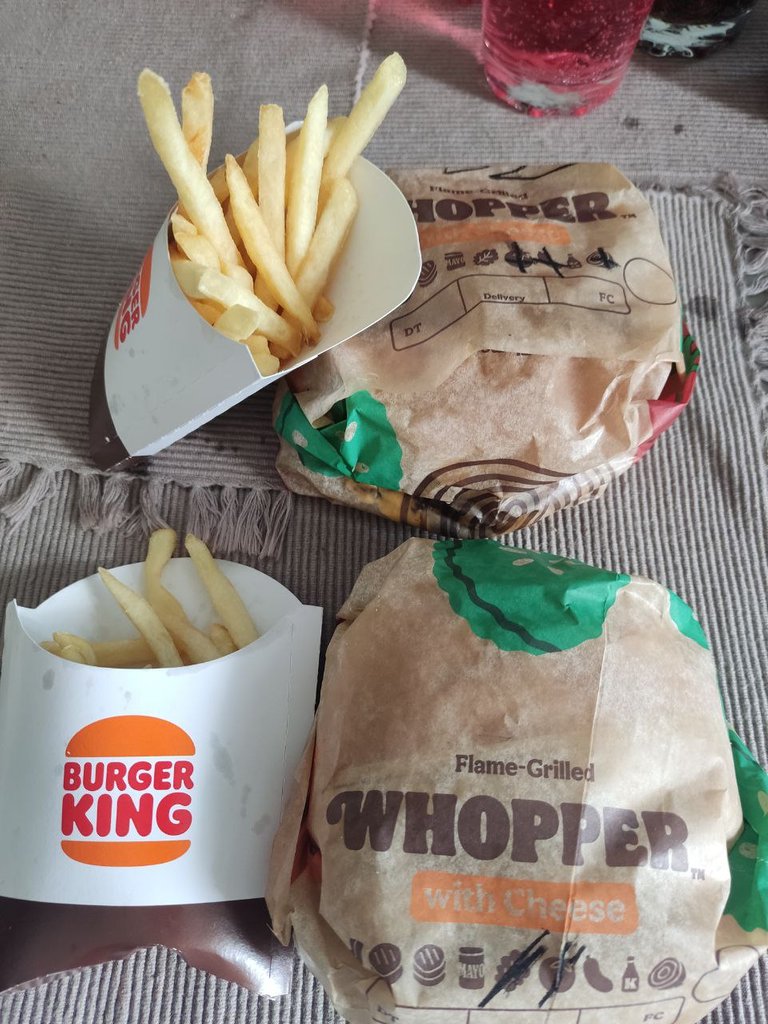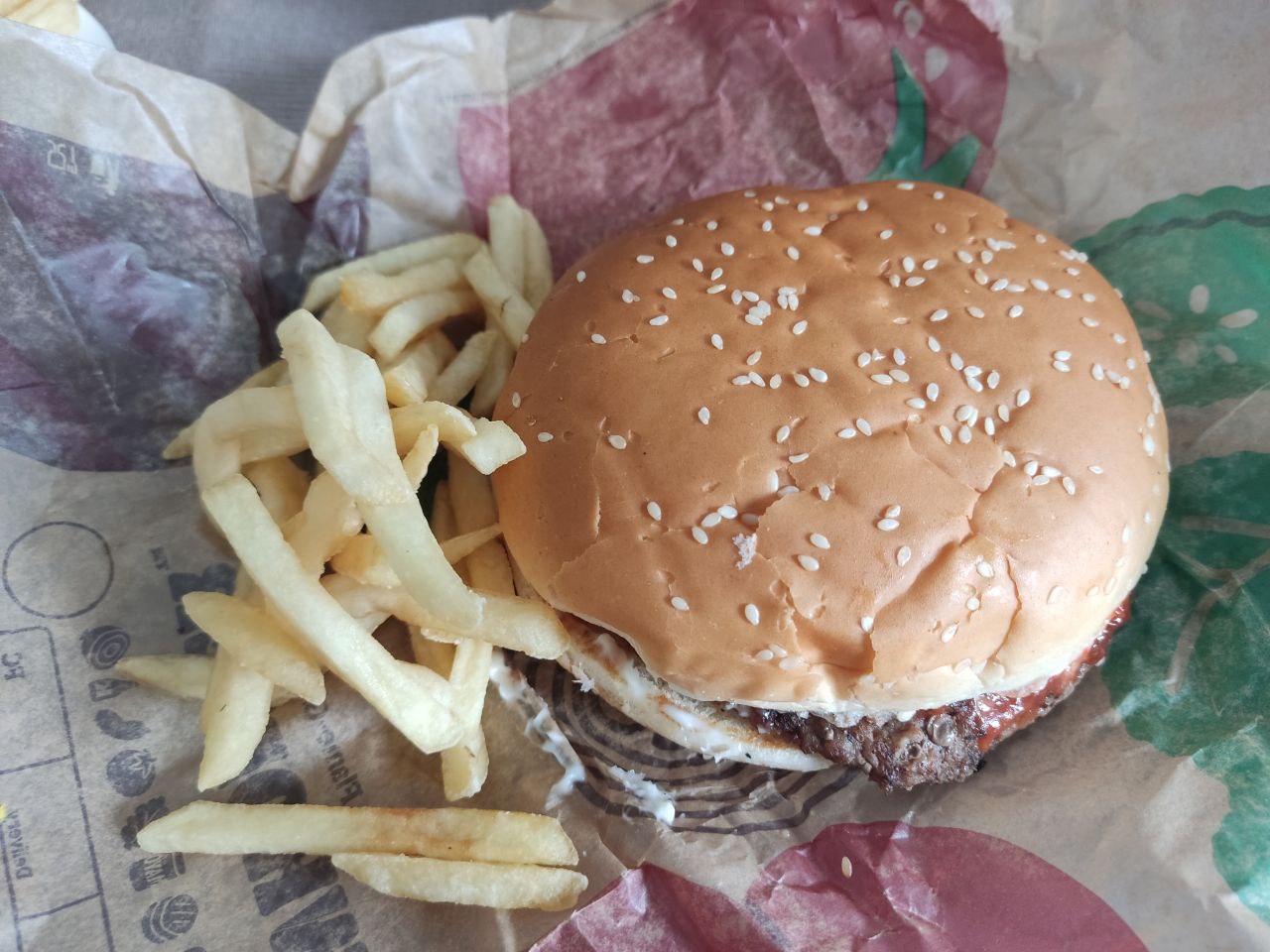 El servicio de Rappi es bueno, la aplicación es rápida y tienes opciones amplias. La demora es un poco tediosa cuando quisieras tener tu orden en menos tiempo pero en mi opinión, vale la pena. Es una buena opción si quieres comer en tus restaurantes favoritos sin salir de casa puesto que el pedido llega en perfecto estado.
Rappi's service is good, the app is fast and you have ample options. The delay is a bit tedious when you would like to have your order in less time but in my opinion, it is worth it. It is a good option if you want to eat at your favorite restaurants without leaving home since the order arrives in perfect condition.
Claro que la volvería a usar, me encantó. La recomiendo. Esto fué todo por hoy, espero que les haya gustado. Nos leemos en uno próximo post. Un abrazo
Of course I would use it again, I loved it. I highly recommend it. That's all for today, I hope you liked it. See you in the next post. Best regards
Todas las imágenes son Captures desde la app en mi dispositivo móvil | All images are Captures from the app on my mobile device