A promise of the gamer world project: blood strike [Esp/Eng]
Buenas, buenas mi querida comunidad de @geekzone volvemos por aquí con un nuevo gameplay, pero no de #callofduty, esta vez probaremos un juego diferente, muchos conocerán el "Call of duty warzone" y de igual forma sabrán que hace aproximadamente un año se dió a conocer el inicio del dessrrollo de su versión mobil, siendo esta la causa de que juegos que intentaban igualar a este grandioso shooter de nuestra saga de video juegos favorita, invadieran la plataforma de descargas, sin embargo, solo uno de tantos juegos fue el que me gustó por jugabilidad y similitud a nuestro querido warzone, por eso el día de hoy verán una partida de battle royale clasificado en "Project: blood strike" o mejor conocido como el nuevo warzone lite.
Good, good my dear community of @geekzone we return here with a new gameplay, but not of #callofduty, this time we will try a different game, many will know the "Call of duty warzone" and also know that about a year ago was announced the beginning of the development of its mobile version, being this the cause of games that tried to match this great shooter of our favorite video game saga, invaded the download platform, however, only one of many games was the one that I liked the gameplay and similarity to our beloved warzone, so today you will see a battle royale game classified in "Project: blood strike" or better known as the new warzone lite.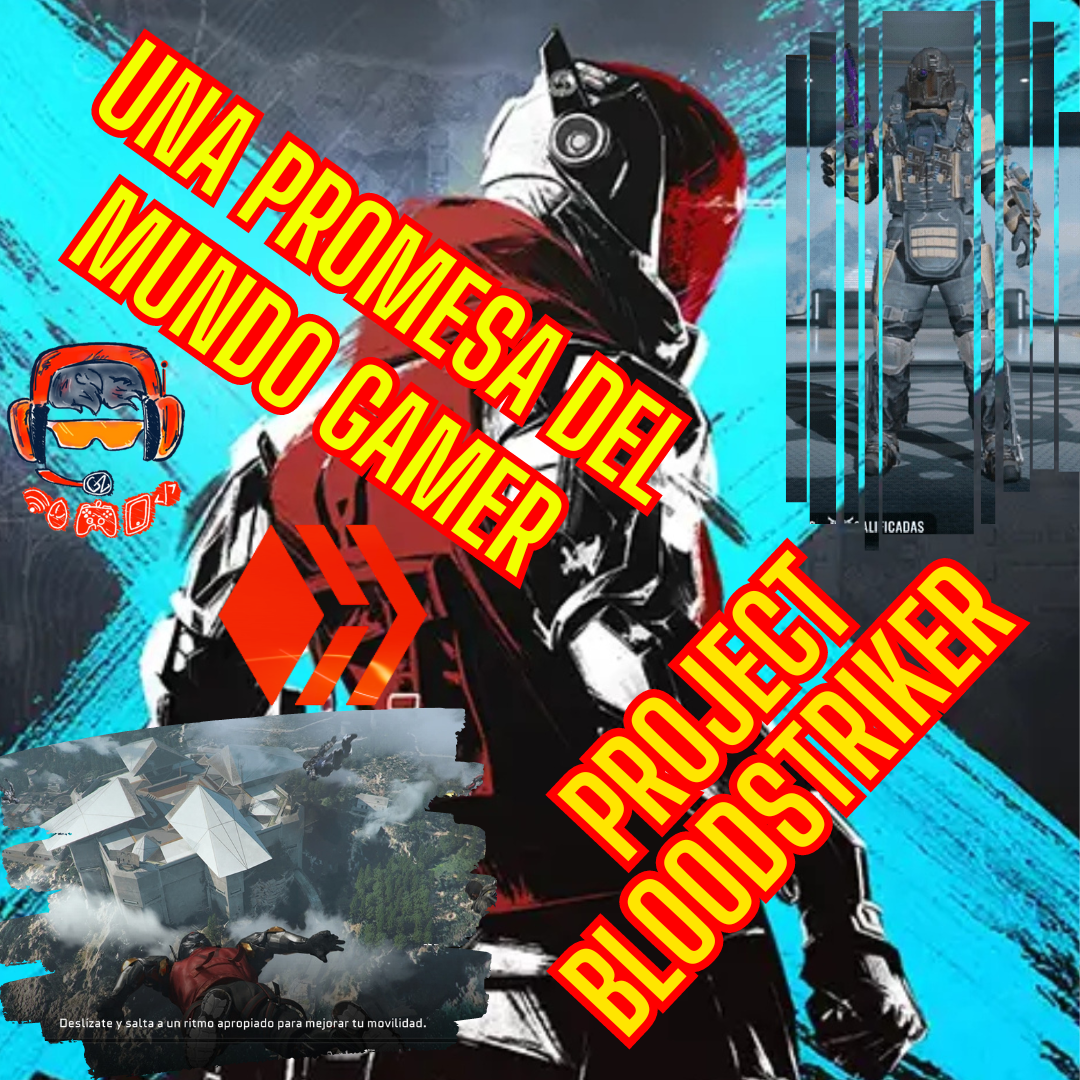 Como siempre, me encontraba en el lobby para iniciar mi partida, estaba a punto de iniciar hasta que me di cuenta que el modo de juego no está en battle royale, si no en zona caliente puesto a que anteriormente intenté jugar a 4 dedos jugando unas partidas en dicho modo por el motivo de mejorar, por lo que seleccioné los modos y puse el br clasificado. Inicio el emparejamiento rápidamente, pensé que la partida iniciaría en un instante, no obstante tuve que esperar unos 50 segundos para poder emparejar, primera vez que esto me pasa jajaj. Luego de finalmente emparejar entramos en el lobby de pre partida en lo que practicamos un poco nuestra puntería y movimientos, nuestra permanencia en este fue un poco larga pero después de todo finalmente iniciaba lo bueno. Nos encontrábamos en el avión listos y preparados para desplegar, esperé por un momento que se lanzaran algunas personas para luego lanzarme puesto a que sigo a los enemigos y caer con mucha acción.
Luego de un pequeño rato desplegamos a toda velocidad divisando la multitud que caía en esta zona, al abrir el paracaídas caigo arriba de una caja de loot por lo cual bajo y la looteo. Al abrirse veo que ésta contenía 1000 monedas y una INP-9 arma que es muy buena pero no utilizo mucho. Luego de registrar un poco la zona, me encuentra una alerta de pasos lo cual me informa que tengo un enemigo cerca así que empecé a tratar de encontrarlo, sin esperarme que este caería al lado de mi con su paracaídas, empezamos a intercambiar disparos simultáneamente, pero lastima, el enimigo logró aniquilarme, seguidamente vuelvo a desplegar cayendo en la misma zona encontrando en una caja un francotirador el cual tiempo después intercambié por la KAG-6 una de las mejores armas de este juego a mi parecer.
As usual, I was in the lobby to start my game, I was about to start until I realized that the game mode is not in battle royale, if not in hot zone since I previously tried to play 4 fingers playing a few games in that mode for the reason of improving, so I selected the modes and put the br classified. I start the pairing quickly, I thought the game would start in an instant, however I had to wait about 50 seconds to be able to match, first time this happens to me hahahah. After finally matching we entered the pre game lobby where we practiced a little bit our aim and movements, our stay in this lobby was a little long but after all the good stuff was finally starting. We were in the plane ready and prepared to deploy, I waited for a moment for some people to launch and then I launched myself since I follow the enemies and fall with a lot of action.
After a little while we deploy at full speed spotting the crowd that fell in this area, when I open the parachute I fall on top of a loot box so I go down and loot it. When I open it I see that it contains 1000 coins and an INP-9 weapon that is very good but I don't use much. After searching the area a bit, I find a footsteps alert which informs me that I have an enemy nearby so I started trying to find him, without expecting that he would fall next to me with his parachute, we started to exchange shots simultaneously, but too bad, the enemy managed to annihilate me, then I deploy again falling in the same area finding in a box a sniper which later I exchanged for the KAG-6 one of the best weapons in this game in my opinion.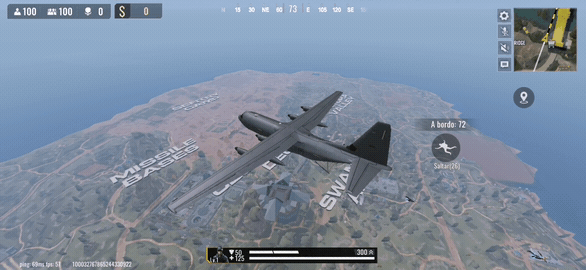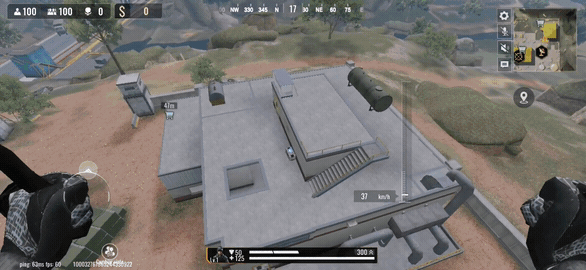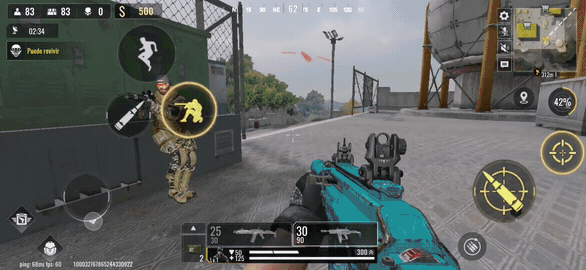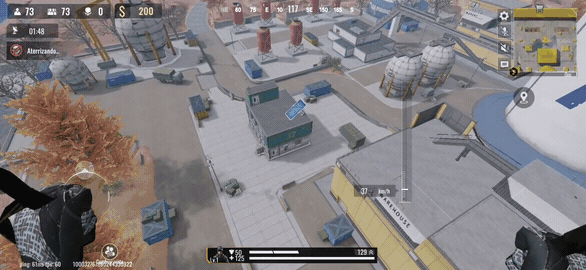 Al cabo de un pequeño tiempo me acerqué a un edificio en el cual me estaba marcando una alerta de pasos por lo cual empecé a buscar por los alrededores de este puesto a que me marcaba los pasos a la izquierda, pero cuando iba a la izquierda me los marcaba a la derecha y luego arriba de mí por lo que deduje que estaba en el techo en lo que usé una tirolesa que se encontraba en la parte trasera de este para subir y efectivamente, mi corazonada era correcta, el oponente estaba en el techo campeando por decirlo así en lo que le empecé a disparar con mi KAG-6 logrando una baja más en mi cuenta, sin pensarlo me marca más pasos debajo de mi en lo que salté del techo y abrí mi paracaídas divisando al enemigo, mientras subía la escalera dirigiéndose al techo en lo que apliqué la misma jugada del oponente anterior, sin embargo, este fue un poco más difícil de matar.
Al subir por la tirolesa le disparé quitándole la placa haciendo que se cubriera con una pared, esto causó que me barriera hacia él, no obstante el enemigo reaccionó y se dirigió al lado opuesto por lo que le disparé con mi URB gastando mis balas, pero este aun no había caído en lo que cambié a mi arma secundaria saltando hacia él y disparando haciéndome con una baja más. Seguidamente a toda esa acción tomé mi recorrido en busca de más enemigos a los cuales matar, ya que tenía 20500 monedas compré un uav para localizar más enemigos, después de hacer mi compra aperturé el mapa para seguir en dirección a los enemigos estaba muy cerca de estos, al finalizar el tiempo del uav compré otro nuevamente hasta que llegué a donde se encontraban mis oponentes.
Salté un muro que me separaba de estos y sin demorar tenía a un enemigo detras mío por lo que empecé a barrerme y a dispararle sin lograr darle ni un solo disparo, intenté cubrirme en una carpa pero no tuve éxito puesto que el enemigo logró derribarme. Luego de ser derribado intenté reanimarme con un kit de reanimación que poseía en mi inventario pero no tuve oportunidad, el enemigo me remató velozmente en lo que volví a desplegar cayendo en mi loot recuperando mis armas para tener la posibilidad de defenderme.
After a short time I approached a building in which I was marking a footsteps alert so I started to look around this building because it was marking the steps to the left, but when I went to the left it was marking them to the right and then above me so I deduced that he was on the roof so I used a zipline that was in the back of this to climb and indeed, My hunch was correct, the opponent was on the roof so to speak so I started shooting him with my KAG-6 getting one more casualty in my account, without thinking about it I marked more steps below me so I jumped from the roof and opened my parachute spotting the enemy, while climbing the ladder heading to the roof so I applied the same move of the previous opponent, however, this one was a little more difficult to kill.
When I went up the zip line I shot him removing the plate making him cover himself with a wall, this caused me to sweep towards him, however the enemy reacted and went to the opposite side so I shot him with my URB spending my bullets, but he still had not fallen so I switched to my secondary weapon jumping towards him and shooting making me with one more casualty. After all this action I took my route in search of more enemies to kill, since I had 20500 coins I bought an uav to locate more enemies, after making my purchase I opened the map to follow in the direction of the enemies I was very close to them, at the end of the time of the uav I bought another one again until I got to where my opponents were.
I jumped over a wall that separated me from them and without delay I had an enemy behind me so I started to sweep me and shoot him without getting a single shot, I tried to cover myself in a tent but I was unsuccessful since the enemy managed to knock me down. After being knocked down I tried to revive myself with a revival kit that I had in my inventory but I had no chance, the enemy finished me off quickly so I deployed again falling into my loot recovering my weapons to have the chance to defend myself.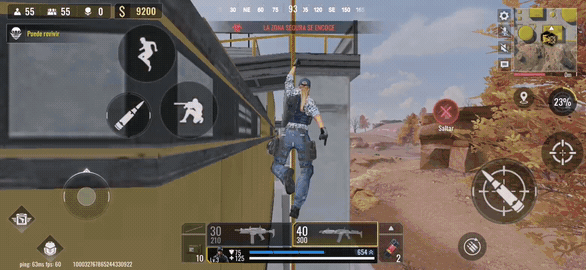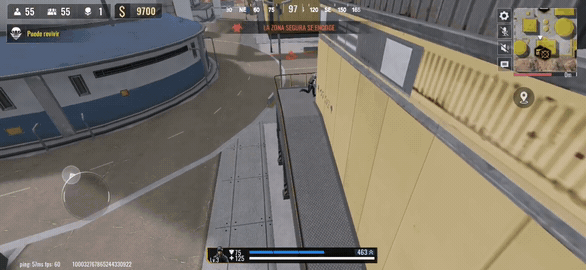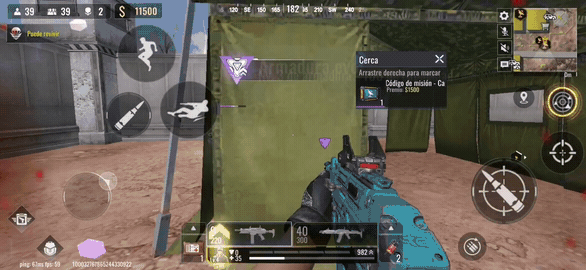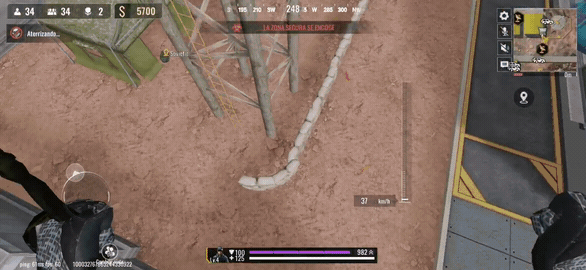 Al caer en mi loot anterior salgo de la carpa a buscar a más enemigos situación que no duró demasiado puesto que me venía un enemigo de frente, me barrí hacia una carpa para esperar que se acercara y ya cuando el oponente estuvo cerca usé mi KAG-6 y lo maté muy sencillamente, al asesinar a mi enemigo me fui de esa zona hacia una gasolinera y al frente de esta se escuchaban disparos. Al acercarme, un enemigo me comenzó a disparar por lo que me escondí en una máquina y le lancé una granada con la esperanza de matarlo, sin embargo, la granada no hizo daño alguno ya que el enemigo huyó un tiempo antes de lanzar la granada.
Entré al establecimiento en busca de éste pero ya no se encontrá en este lugar, al salir veo la alerta de pasos y me dirigí hacia el lugar donde los marcaba, al ver el enemigo estaba en una montaña así que le empecé a disparar acertando uno que otro disparo pero este no padecía por lo que me hizo perseguirlo un buen rato hasta que logré matarlo con mi URB.
When I fell in my previous loot I leave the tent to look for more enemies situation that did not last too long since I had an enemy coming in front of me, I swept towards a tent to wait for him to approach and when the opponent was close I used my KAG-6 and killed him very simply, when I killed my enemy I left that area towards a gas station and in front of it I could hear gunshots. As I approached, an enemy started shooting at me so I hid in a machine and threw a grenade at him in the hope of killing him, however, the grenade did not do any damage because the enemy fled for a while before throwing the grenade.
I entered the establishment looking for him but he was no longer in this place, when I went out I saw the alert of footsteps and I went to the place where I marked them, when I saw the enemy he was in a mountain so I started to shoot him hitting one or another shot but he did not suffer so I had to chase him for a while until I managed to kill him with my URB.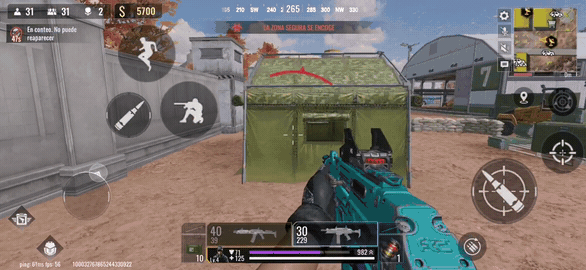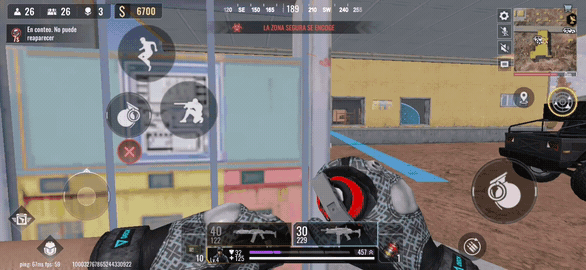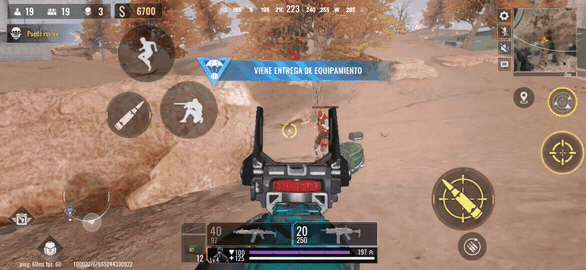 No pasó mucho tiempo para encontrar a un nuevo enemigo, en este caso el enemigo me tomó un poco desprevenido y logró acabar con mi placa o escudo yo también le disparaba simultáneamente, por otro lado se me gastaron las balas del cargador y ya estaba un poco tocado en lo que me barrí cubriéndome en el costado de una pared que se encontraba cerca de mi en lo que pude recargar y lograr matarlo con mi URB. Pero la acción no paraba y los disparos nunca cesaban, un enemigo nuevo apareció al otro lado de la pared llegando en un carro mientras me estaba curando pero este no me deje me empezó a disparar por lo que detuve mi vendaje y le disparé como él a mí, sin tener éxito, el oponente logró derribarme, rematándome velozmente sin darme un chance de reanimarme.
Nuevamente volví a desplegar ¿y cuantas oportunidades de volver a desplegar puedes tener? Se preguntarán, bueno mis amigos yo tampoco lo sé en su totalidad. Seguidamente al aterrizar en una zona específicamente en un hangar, pude lootear una vector arma muy efectiva en este jugué además de ser un arma muy veloz, al intentar salir de este ya que había visto un enemigo me llevó la mala suerte de que me asesinara un enemigo por la espalda a G18 dándole fin a mi partida y quedando de top 8 en este br para así subir de oro IV a oro III.
Y así termina este gameplay amigos, sin duda una partida llena de disparos, emociones y mucha acción en su totalidad les recomiendo project: blood strike en su 100% es un juego muy completo y muy similar al warzone en mi opinión, a pesar de no tener muchos gráficos lo compensa su buena jugabilidad y fluidez. Nos vemos pronto espero les haya gustado esta nueva edición, gracias por leerme y ¡hasta la próxima!.
It didn't take long to find a new enemy, in this case the enemy took me a little off guard and managed to kill my plate or shield I was also shooting simultaneously, on the other hand I spent the bullets in the magazine and I was already a little touched so I swept covering myself on the side of a wall that was near me so I could reload and kill him with my URB. But the action did not stop and the shooting never stopped, a new enemy appeared on the other side of the wall arriving in a car while I was healing but this one did not let me started shooting so I stopped my bandage and I shot him as he shot me, without success, the opponent managed to knock me down, finishing me off quickly without giving me a chance to revive me.
I redeployed again and how many redeployment opportunities can you have? You may ask, well my friends I don't fully know either. Then when I landed in an area specifically in a hangar, I could loot a vector weapon very effective in this game besides being a very fast weapon, when I tried to get out of it since I had seen an enemy I was unlucky to be killed by an enemy in the back to G18 ending my game and being top 8 in this br to climb from gold IV to gold III.
And so ends this gameplay friends, no doubt a game full of shooting, emotions and lots of action in its entirety I recommend project: blood strike in its 100% is a very complete game and very similar to warzone in my opinion, despite not having many graphics it compensates for its good gameplay and fluidity. See you soon I hope you liked this new edition, thanks for reading and see you next time.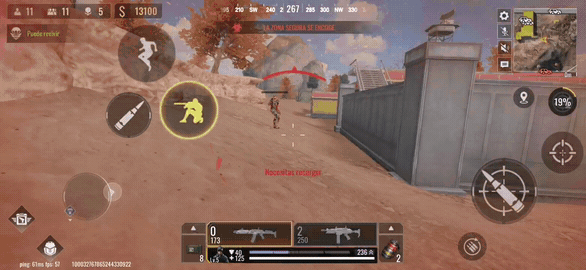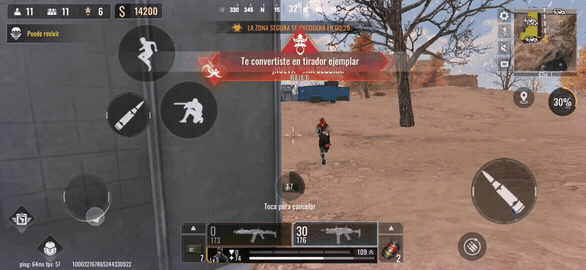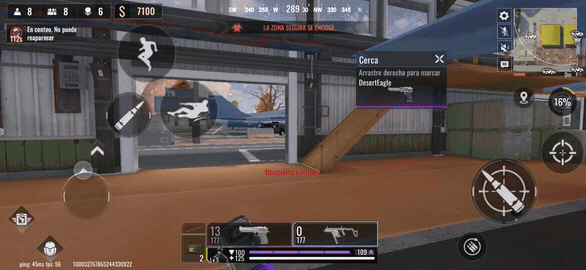 Todos los derechos reservados de @elmiguelacho. No autorizo el uso de ningún material de mi propiedad
All rights reserved by @elmiguelacho. I do not authorize the use of any material of my property.
...Gracias... Dando Lo Mejor Para Tí...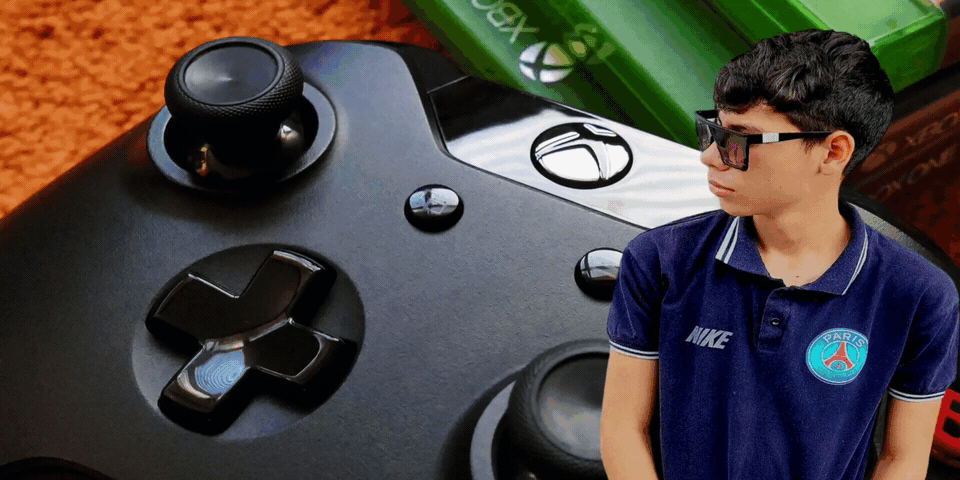 ...Thank You... Giving The Best For You...
Portada editada en Canva
Cover edited in Canva
Grabador de pantalla utilizado Az Screen Recorder
Screen recorder used Az Screen Recorder
Gifs creados en la aplicación/Gifs created in the application HD Video To Gif Converter
Logos propiedad de / Logos owner of @hiveio @geekzone
Traducción realizada en/Translation made in Deepl
---
---