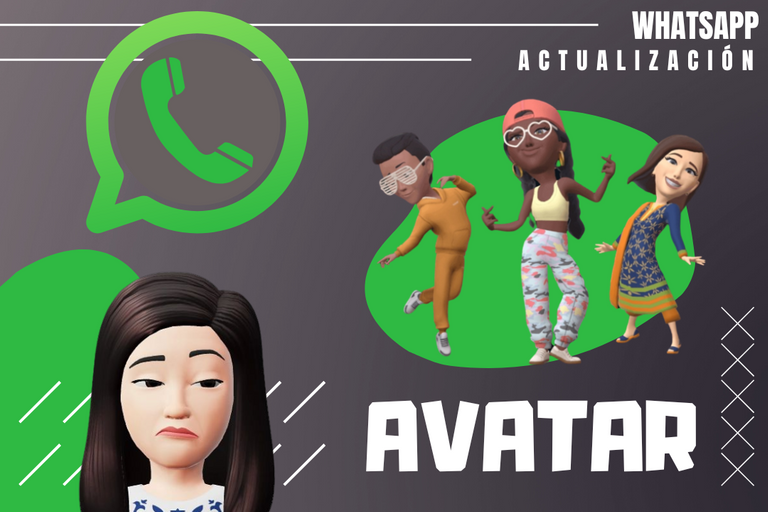 ---
Yo sé que están leyendo esto con la cara de mi avatar en la portada 😒 diciendo algo tipo: "¿Eli usa WhatsApp?" Pero no se hagan, yo sé que ustedes también lo usan, quieran o no, lo usan. Ya que, aunque decimos amar la Web3, aún dependemos y usamos mucho la Web2, ya que este avance, apenas comienza.
Por otra parte, si bien es cierto WhatsApp es una de las redes sociales más utilizadas en el mundo, al menos eso creo 😅. Esto, aún cuando existen otras mejores en muchas formas, como por ejemplo Telegram, que con solo darte la oportunidad de editar tu comentario enviado, ya le lleva la delantera a WhatsApp e incluso a Twitter.
I know you're reading this with my avatar's face on the cover 😒 saying something like, "Does Eli use WhatsApp?" But don't be done, I know you use it too, whether you want to or not, you use it. Because, although we say we love Web3, we still depend on and use a lot of Web2, since this advance is just beginning.
On the other hand, while it is true that WhatsApp is one of the most used social networks in the world, at least I think so 😅. This, even though there are others that are better in many ways, such as Telegram, which, just by giving you the opportunity to edit your sent comment, is already ahead of WhatsApp and even Twitter.
Las redes sociales viven en una constante actualización y eso obviamente incluye a WhatsApp, en las últimas actualizaciones, noté que ahora sí podemos los administradores de un grupo eliminar el mensaje o comentario de otro usuario y esto es genial, algo por lo cual también amo Telegram.
Otras de las actualizaciones que he notado es que ahora puedes hacer o crear comunidades, algo que no he hecho, pero estoy en una, ya que soy parte de la administración de un grupo, que está en una comunidad. Allí puedo ver los demás grupos en los que estoy y además los demás grupos, supongo creados por la misma persona que administra la comunidad, pero en los cuales no estoy.
Ahora también puedes ver los estados de WhatsApp de un contacto haciendo clic sobre su foto de perfil en el chat, sin necesidad de ir a Estados y buscar el suyo. Los usuarios de cuyos estados que no has vistos salen dentro de un círculo verde.
Social networks live in a constant update and that obviously includes WhatsApp, in the latest updates, I noticed that now yes we can the administrators of a group delete the message or comment of another user and this is great, something for which I also love Telegram.
Other updates I have noticed is that you can now make or create communities, something I have not done, but I am in one, as I am part of the administration of a group, which is in a community. There I can see the other groups I'm in and also the other groups, I guess created by the same person who administers the community, but in which I'm not in.
Now you can also see the WhatsApp statuses of a contact by clicking on their profile picture in the chat, without having to go to Statuses and look for their status. Users whose statuses you haven't seen are circled in green.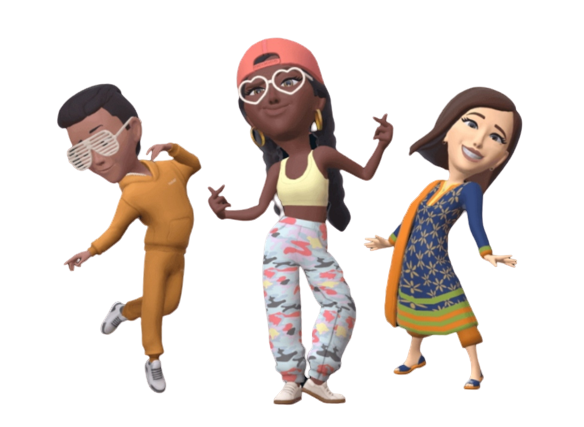 En mi caso, siempre he querido dejar WhatsApp y no es algo que me quite el sueño, sin embargo aún cuando lo he intentado no he podido dejarlo y sé que esto le pasa a muchos. Mi trabajo tenía que ver con WhatsApp, vendía seguros de salud, así que por ese medio me contactaban los clientes. El grupo escolar de la escuela está en WhatsApp y el grupo de Asesoría migratoria y por más que lo intenté migrar a telegram, fue imposible. Así mismo algunos familiares y amigos, usan solo esta red social.
Algo que me gusta mucho de las redes sociales (sí, la Web2) son los stickers, GIF y emoji que puedo utilizar en ellas. Claro, no al punto excesivo compulsivo de @liveofdalla que ahora se cree más un avatar que humano (es broma Dalla), pero me encanta expresar mis emociones a través de ellos en especial de GIF y si has estado conmigo en algún chat, de discord por ejemplo, comprenderás de que hablo.
In my case, I have always wanted to leave WhatsApp and it is not something that keeps me awake at night, but even when I have tried I have not been able to leave it and I know that this happens to many people. My job had to do with WhatsApp, I sold health insurance, so that's how I was contacted by clients. The school group at school is on WhatsApp and the Migration Advice group and no matter how hard I tried to migrate it to Telegram, it was impossible. Also some of my family and friends use only this social network.
One thing I really like about social networks (yes, Web2) is the stickers, GIFs and emoji that I can use on them. Of course, not to the excessive compulsive point of @liveofdalla who now thinks he's more of an avatar than a human (just kidding Dalla), but I love to express my emotions through them especially GIFs and if you've been with me in any chat, discord for example, you'll understand what I'm talking about.
Yo soy muy básica en WhatsApp, solo chatear lo necesario con los necesarios, rara vez veo estados y si envío stickers. Converso con mi familia y muy pocas veces, pero algunas es por un buen rato y otras con alguna que otra amistad muy de mi confianza. Del resto solo lo necesario. Pero hoy, me puse a configurar el Tema de mi teléfono y queria ver si era posible colocarlo en WhatsApp, así que buscando esta opción me encontré con otra.
Ya es posible crear nuestros propios avatar en WhatsApp, sin la necesidad de tener extra otra aplicación. Aunque debo confesar que tengo Bitmoji y desde mi teléfono puedo usarlos directamente en WhatsApp, sin embargo para quienes no tiene está aplicación, es muy mejor que de una vez WhatsApp te dé la opción, por supuesto que debemos agradecer a la tecnología META 😂🙊.
I'm very basic on WhatsApp, I only chat as much as I need to with the people I need to, I rarely see statuses and I do send stickers. I chat with my family very rarely, but sometimes for a good time and other times with some friends I trust a lot. From the rest, only the necessary. But today, I started to configure the theme of my phone and I wanted to see if it was possible to place it in WhatsApp, so looking for this option I found another one.
It is now possible to create our own avatar in WhatsApp, without the need to have extra another application. Although I must confess that I have Bitmoji and from my phone I can use them directly in WhatsApp, however for those who do not have this application, it is much better that once WhatsApp gives you the option, of course we must thank the META technology 😂🙊.
Personalizar tu avatar funciona igual que con otras aplicaciones de avatar exclusivamente. Eliges el color de tu piel, forma de cabello, color de cabello, forma del cuerpo, creo que el sexo es automático, ya sabes que por Whatsapp nos espían y claramente sabía que soy mujer 😂🤷🏻‍♀️. También puedes escoger tu ropa, tu cara, forma hasta de la barbilla, cejas, si quieres usar rímel o estar al natural y muchas cosas más.
Algo que a @zullyscott le puede gustar, es que estos avatar pueden usar gorros, no solamente puedes personalizarlos con piercing o lentes, si no también con un gorro. Por otra parte y creo que es lo mejor, no necesitas crear varios, puedes entrar las veces que quieras y tan solo editar, cambiarte la ropa, el peinado, los accesorios y todo será como está tu última actualización de avatar, ya que también existen stickers.
Customizing your avatar works the same as with other avatar apps exclusively. You choose your skin colour, hair shape, hair colour, body shape, I think the sex is automatic, you know that Whatsapp spies on us and clearly I knew I was a woman 😂🤷🏻. You can also choose your clothes, your face, chin shape, eyebrows, whether you want to wear mascara or go au naturel and much more.
Something that @zullyscott might like is that these avatars can wear hats, not only can you customize them with piercing or glasses, but also with a hat. On the other hand, and I think this is the best thing, you don't need to create several, you can enter as many times as you want and just edit, change your clothes, hairstyle, accessories and everything will be like your last avatar update, as there are also stickers.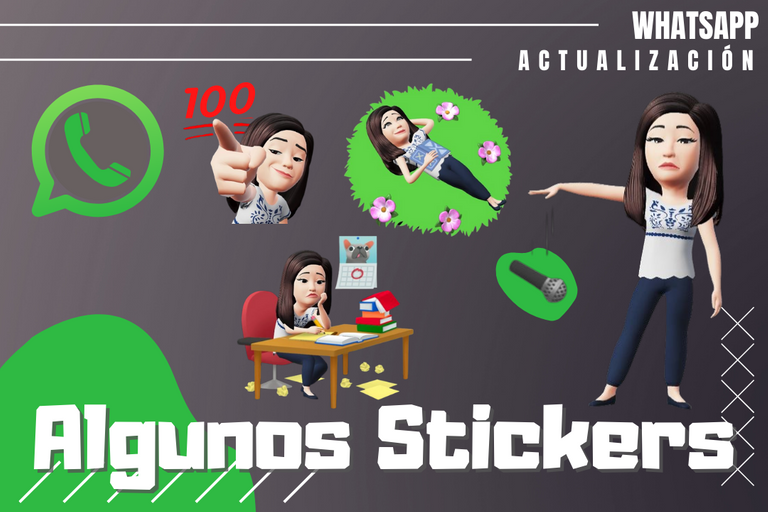 Así como lo dije y como lo ves, hay stickers para usar en el chat, no son muchos, pero quizás con el tiempo agreguen más. Ya los veré haciendo sus avatar de WhatsApp, luego de decir que no usan WhatsApp y de criticarme por usarlo 😒😮‍💨.
Just as I said and as you can see, there are stickers to use in the chat, they are not many, but maybe with time they will add more. I'll see you guys making your WhatsApp avatars, after saying you don't use WhatsApp and criticizing me for using it 😒😮‍💨
Así quedó mi avatar de WhatsApp y sí, lo sé, me veo más aburrida en el avatar que en la misma vida real, pero ni modo, no es inteligencia artificial (AI) para hacerme tan bella como realmente soy 😂🙊. Sé que este era uno de esos post que jamás esperaron ver de mí (tampoco lo pensé), pero me emocionaron los avatar esos y quería que si no lo han descubierto, así como yo, ustedes también lo sepan.
This is what my WhatsApp avatar looks like and yes, I know, I look more boring in the avatar than in real life, but no way, it's not artificial intelligence (AI) to make me as beautiful as I really am 😂🙊. I know this was one of those posts you never expected to see from me (I didn't think so either), but I got excited about those avatars and I wanted you to know if you haven't figured it out, as well as me.
---

Imagen de portada realizada en canva. Imágenes y capturas tomadas por mí desde la aplicación de mensajería instantánea de WhatsApp, algunas editadas en canva.
Cover image made in canva. Images and screenshots taken by me from the WhatsApp instant messaging app, some edited in canva.