¡Hola, chicos!
Siempre leo en algunos chat que utilizamos para hablar sobre Hive e interactuar con usuarios de esta plataforma, a personas recomendando las aplicaciones que usan para editar sus videos.
He leído algunas que quizás ya ustedes conocen, muchas gratuitas y otras que son pagas o con poco acceso a la parte gratuita y tienen cosas que te gustaría usar pero debes pagar por ello.
Lo que más leo, es que buscan una aplicación que no deje en el video editado una marca de agua, siempre que puedo recomiendo XRecorde e incluso en las publicaciones de mis videos digo que la uso, pero aún no he visto que nadie lo haga y me sorprende. Es por ello que hoy les traigo mi reseña y tutorial de lo que para mí es una excelente aplicación y muy fácil de usar.
Hi guys!
I always read in some chat we use to talk about Hive and interact users of this platform, people recommending the applications they use to edit their videos.
I read some that maybe you already know, many free and others that are paid or with little access to the free part and have things that you would like to use but you have to pay for it.
What I read the most, is that they are looking for an application that does not leave in the edited video a watermark, whenever I can I recommend XRecorde and even in my video posts I say that I use it, but I have not yet seen anyone do it and I'm surprised. That is why today I bring you my review and tutorial of what for me is an excellent application and very easy to use.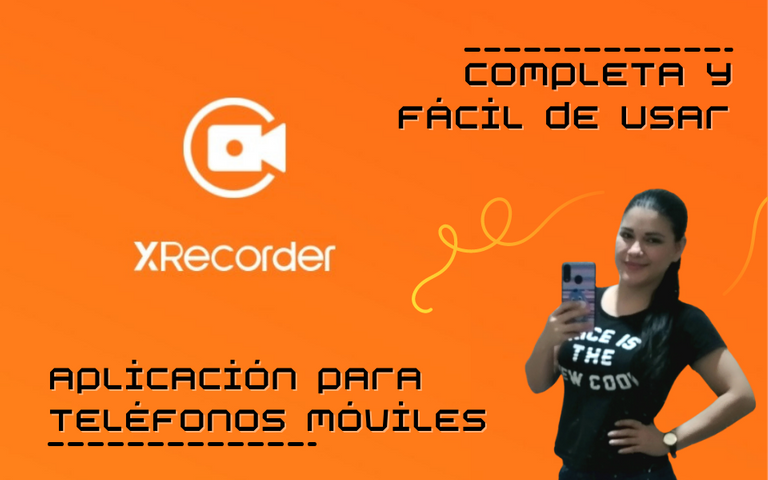 Si buscas una aplicación para editar videos que no deje marca de agua ¡Te la tengo!
XRecorde para mí es una aplicación sencilla, a diferencia de las demás, pero acaba de hacer una actualización que de verdad merece la pena ser recomendada.
No solo puedes editar tus videos o convertir tus imágenes en videos, también puedes grabar la pantalla de tu teléfono, el sonido que este esté generando y además se puede escuchar tu voz y por esta razón fue que la conseguí.
If you're looking for a video editing app that doesn't leave a watermark I've got it for you!
XRecorde for me is a simple app, unlike the others, but it has just made an update that is really worth recommending.
Not only can you edit your videos or convert your images into videos, you can also record the screen of your phone, the sound it is generating and you can also listen to your voice and for this reason I got it.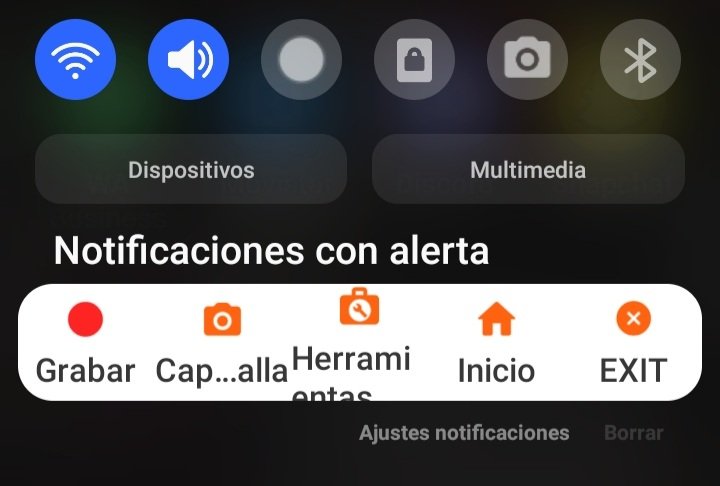 Cuando instalas la aplicación desde Play Store, te pedirá colocar la opción de la app en el menú de tu teléfono, donde aparecen las notificaciones. Justo el círculo que está luego del altavoz (tercera posición) es de la aplicación y al hacer clic comienza a grabar a la cuenta regresiva de 3, 2, 1, o también aparace el menú de XRecorde como muestro en la imagen.
When you install the application from the Play Store, it will ask you to place the app option in the menu of your phone, where the notifications appear. Just the circle that is after the speaker (third position) is from the application and when you click it starts recording in the countdown of 3, 2, 1, or also the XRecorde menu appears as shown in the image.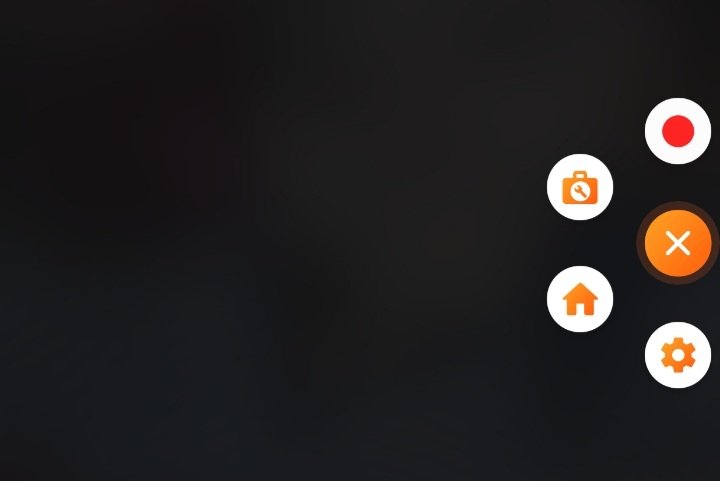 Puedes grabar pantalla de tus gameplay y te saldrá una burbuja de la aplicación en la pantalla, que también puedes quitar si deseas, pero si la dejas, puedes pausar, parar y continuar grabando, sin entrar al menú que mostré arriba en la imagen.
You can record screen of your gameplay and you will get a bubble of the application on the screen, which you can also remove if you want, but if you leave it, you can pause, stop and continue recording, without entering the menu that I showed above in the image.
---
Ahora bien, si queremos editar un video ¿qué debemos hacer? Ir a la aplicación en nuestro teléfono móvil, abrirla y automáticamente nos saldrán varias opciones.
Now, if we want to edit a video, what should we do? Go to the application on our cell phone, open it and we will automatically get several options.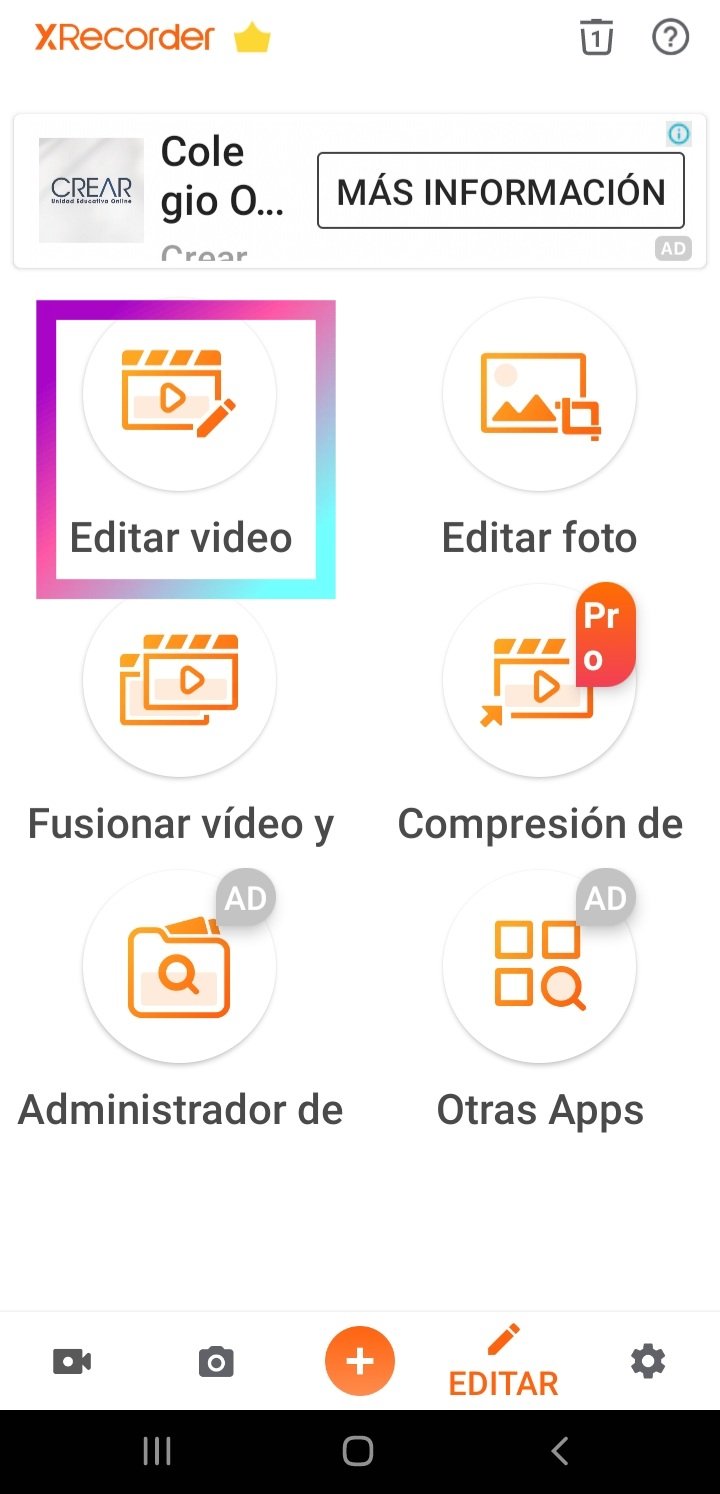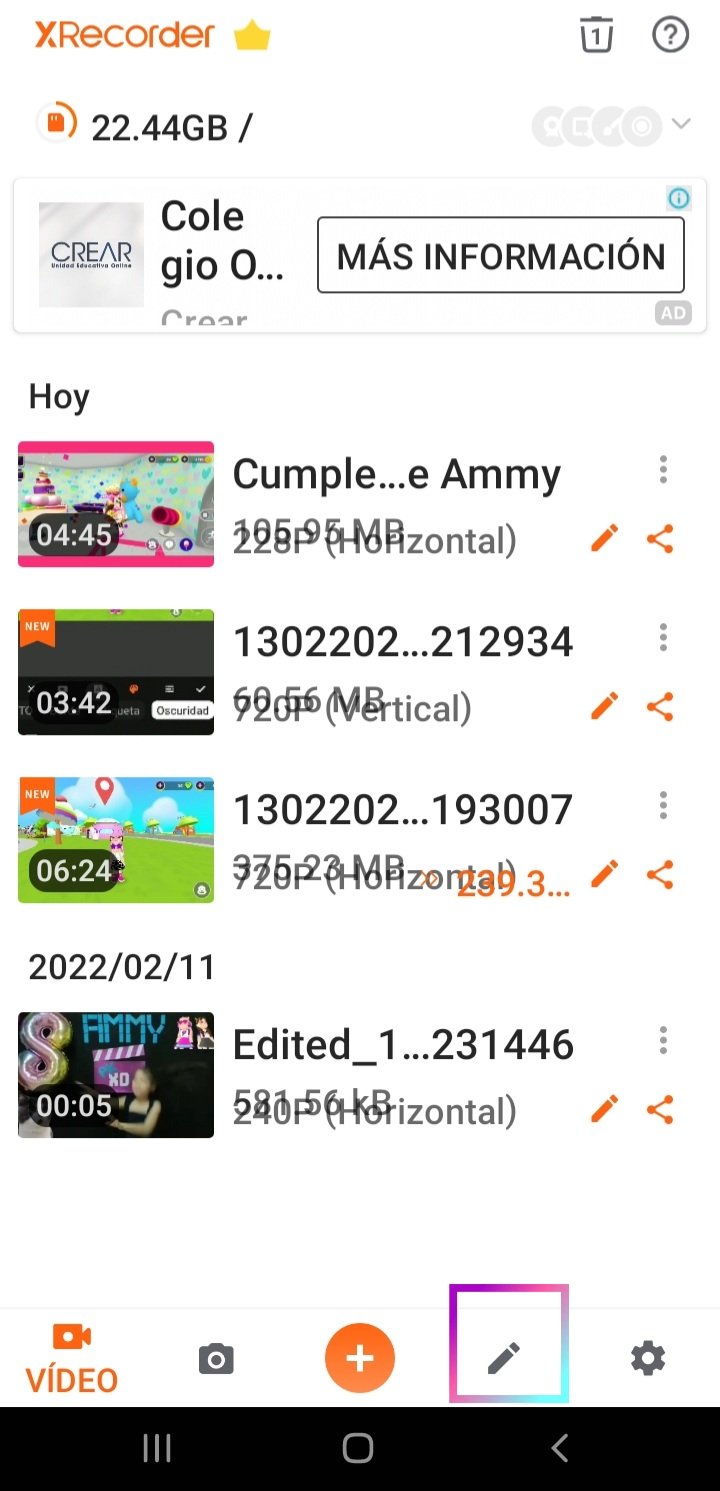 ---
Si hemos estado trabajando en la aplicación, nos saldrán en la pantalla principal, abajo en el menú seleccionamos la opción del Lápiz, como señala la imagen y luego la opción de editar video.
Nota: Si solo vamos a convertir imágenes a videos, también seleccionamos está misma opción. Sirve para videos, imágenes o fusionar ambos.
If we have been working in the application, we will be in the main screen, below in the menu we select the option of the Pencil, as shown in the image and then the option to edit video.
Note: If we are only going to convert images to videos, we also select this same option. It can be used for videos, images or both.
---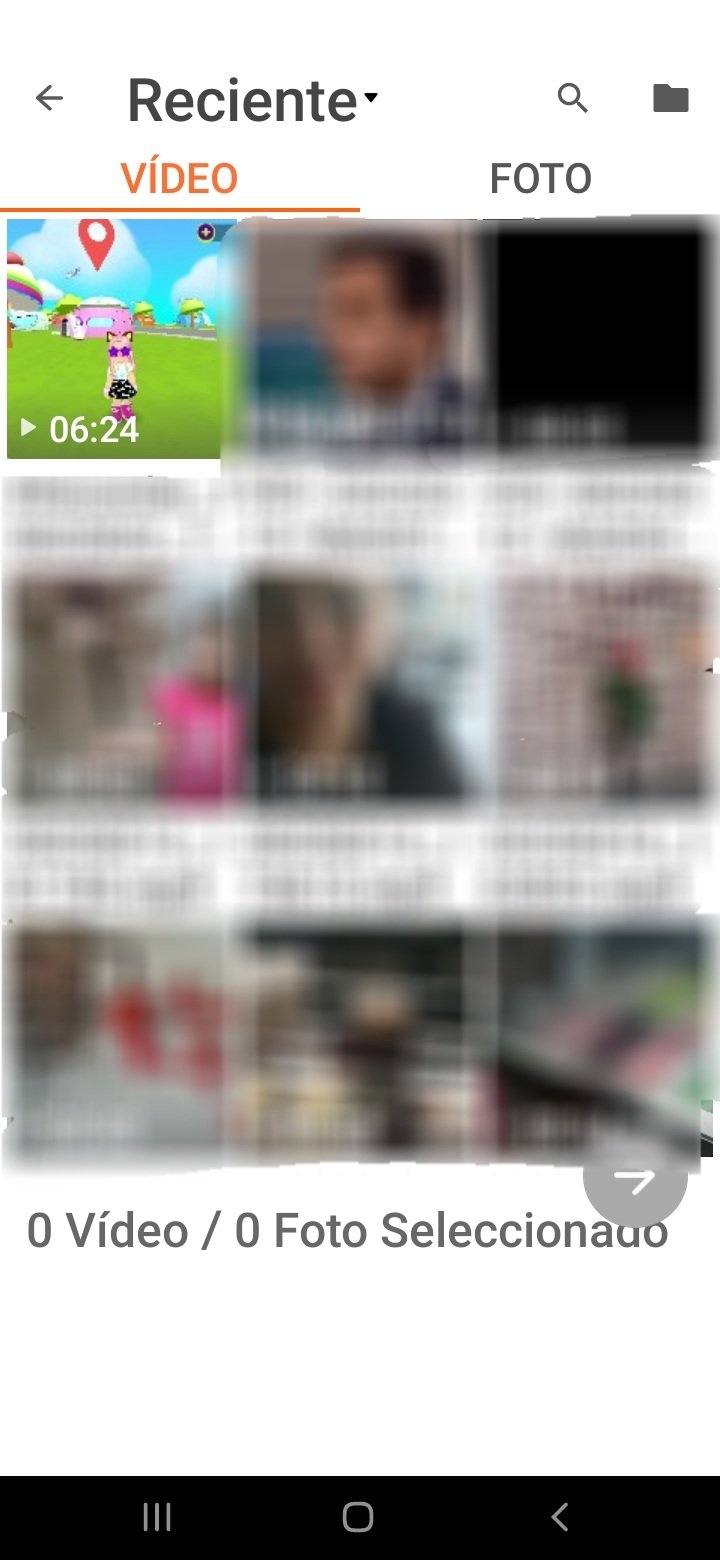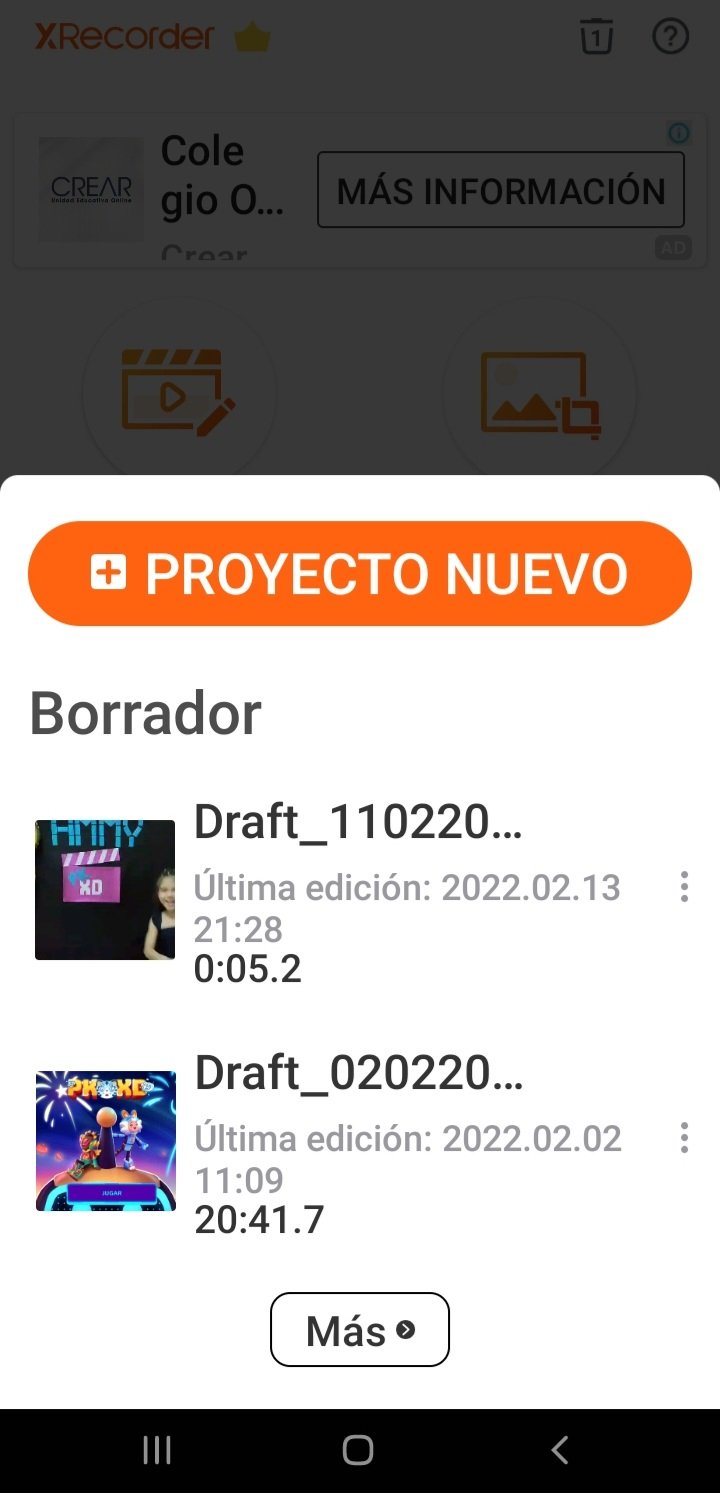 ---
Luego de hacer clic en Editar Video, seleccionamos la opción Proyecto Nuevo, al menos que queremos editar alguno de los proyectos guardados que ya venimos trabajando.
Luego de esto nos dará dos opciones: Video / Foto, escogemos la opción de lo primero que vayamos a trabajar, en mi caso Comenzaré con un video y no con una foto.
After clicking on Edit Video, we select the option New Project, unless we want to edit one of the saved projects we have already been working on.
After this it will give us two options: Video / Photo, we choose the option of what we are going to work with first, in my case I will start with a video and not a photo.
---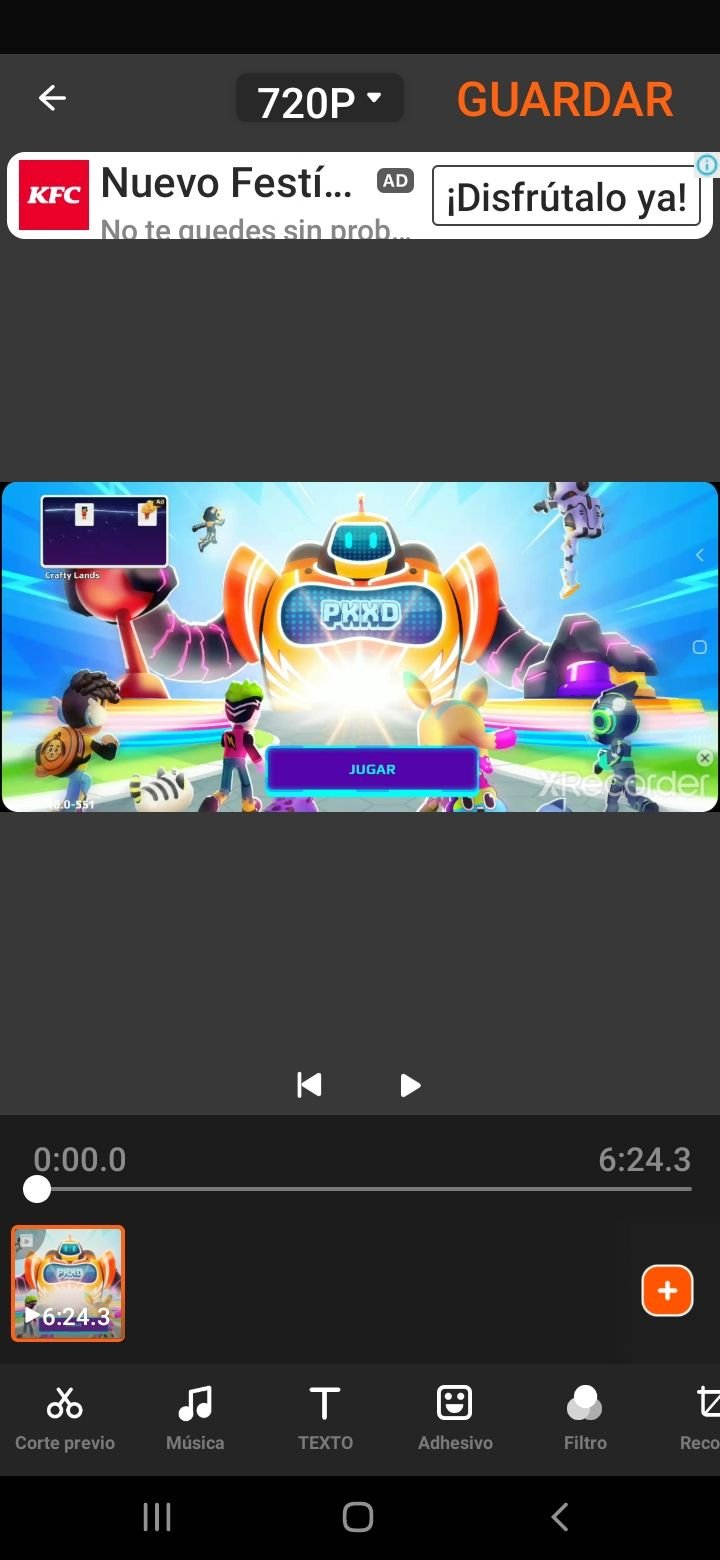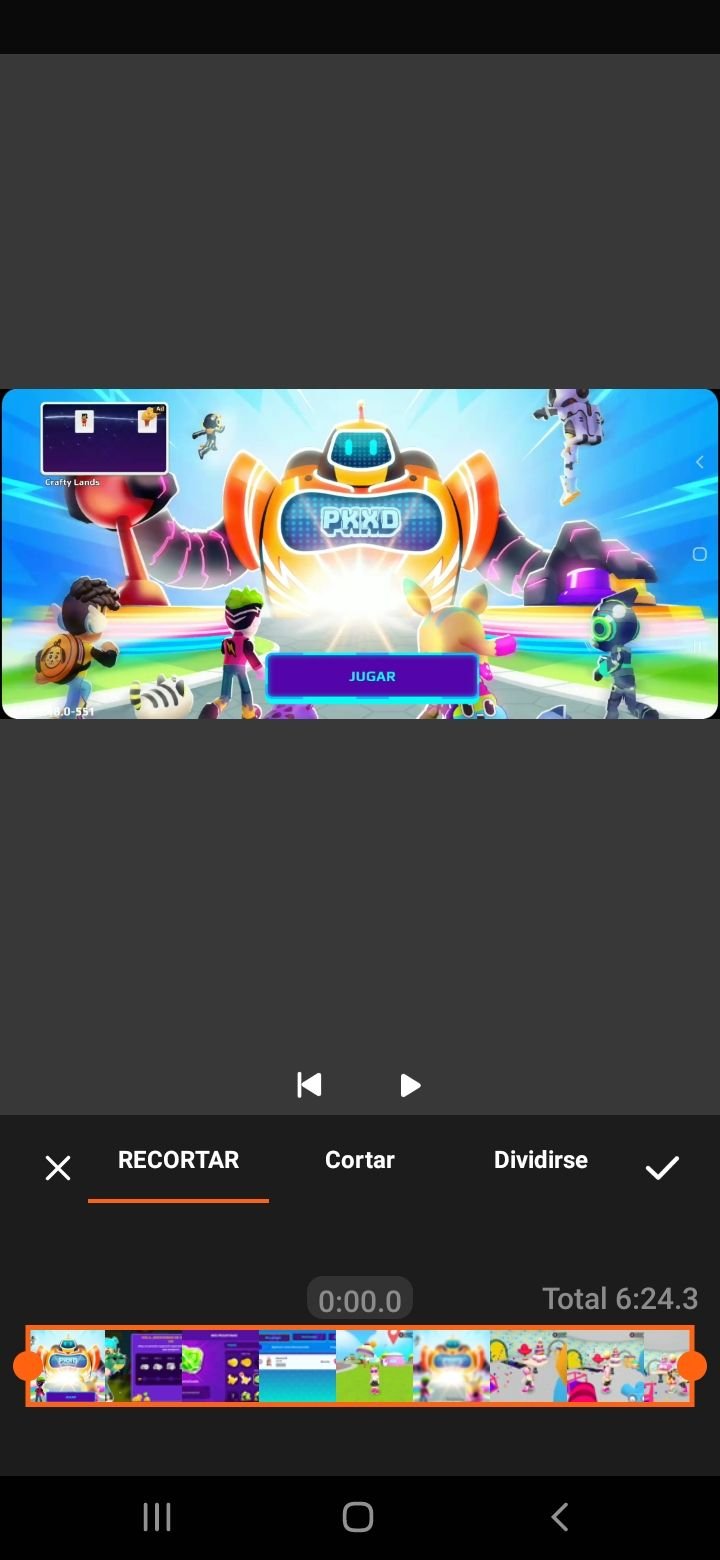 Ya aquí podemos comenzar a editar nuestro video, ponemos añadir más videos o fotos en la opción del símbolo + (más), que sale en naranja. También nos aparecen más opciones en el menú como recortar, por si solo queremos un fragmento del video seleccionado.
Here we can start editing our video, we can add more videos or photos in the option of the symbol + (more), that appears in orange. We also have more options in the menu like trimming, in case we only want a fragment of the selected video.


Podemos además de recortar, colocar música, texto, con la actualización podemos colocar adhesivos o pegatinas, que también podemos añadir imágenes en png. Tenemos la opción de filtro, recorte de marco, aún cuando sea video podemos ajustar el tamaño de lo que queremos que se vea.
Está la proporción, donde debemos escoger 16:9 así nuestro video sirve para YouTube o 3speak.tv, también puedes colocarle un fondo, editar la velocidad del video, cámara lenta o rápida y graduar el volumen del sonido que tenga el video.
We can in addition to crop, place music, text, with the update we can place stickers or stickers, which we can also add images in png. We have the option of filter, frame cropping, even when it is video we can adjust the size of what we want to be seen.
There is the proportion, where we must choose 16:9 so our video serves for YouTube or 3speak.tv, you can also place a background, edit the speed of the video, slow or fast motion and graduate the volume of the sound that has the video.
---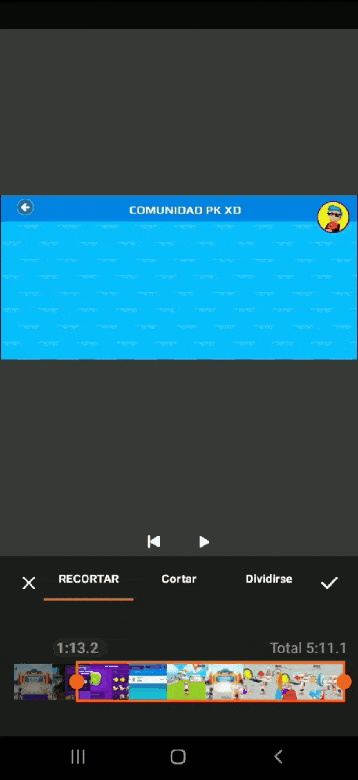 ---
En los GIFs anteriores, les muestro como recortar y colocar música al video. Cuando escogemos una música, audio o sonido, esto nos dará un menú diferente, donde podremos recortar el tiempo de la música, indicar desde que parte del video queremos que comience y además agregar más sonidos o voces.
También podemos ajustar el volumen de la música, que es aparte del volumen que pueda tener nuestro video si hablamos y no grabamos las voces aparte, como muestro en las imágenes a continuación...
In the GIFs above, I show you how to trim and add music to the video. When we choose a music, audio or sound, this will give us a different menu, where we can trim the time of the music, indicate from which part of the video we want it to start and also add more sounds or voices.
We can also adjust the volume of the music, which is apart from the volume that our video can have if we speak and we don't record the voices separately, as I show in the images below...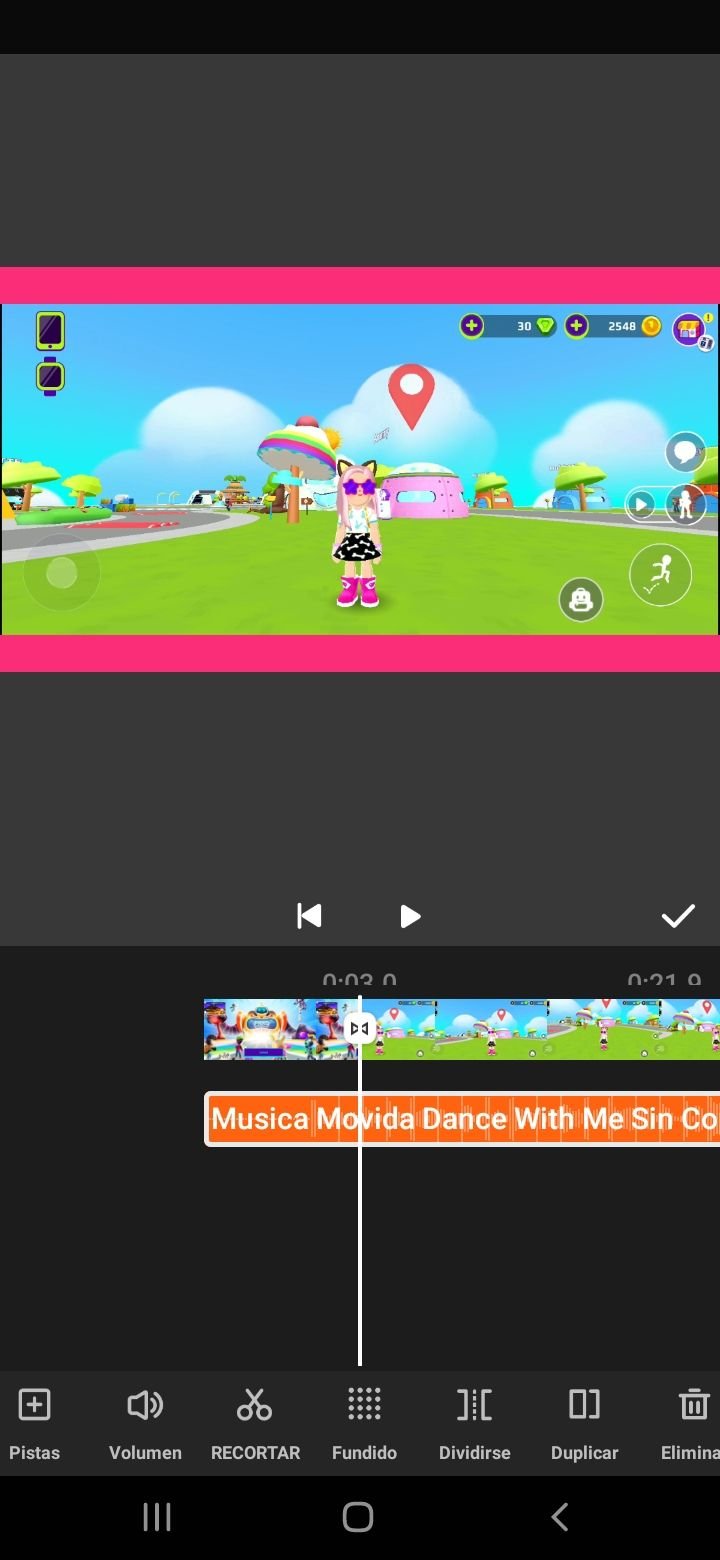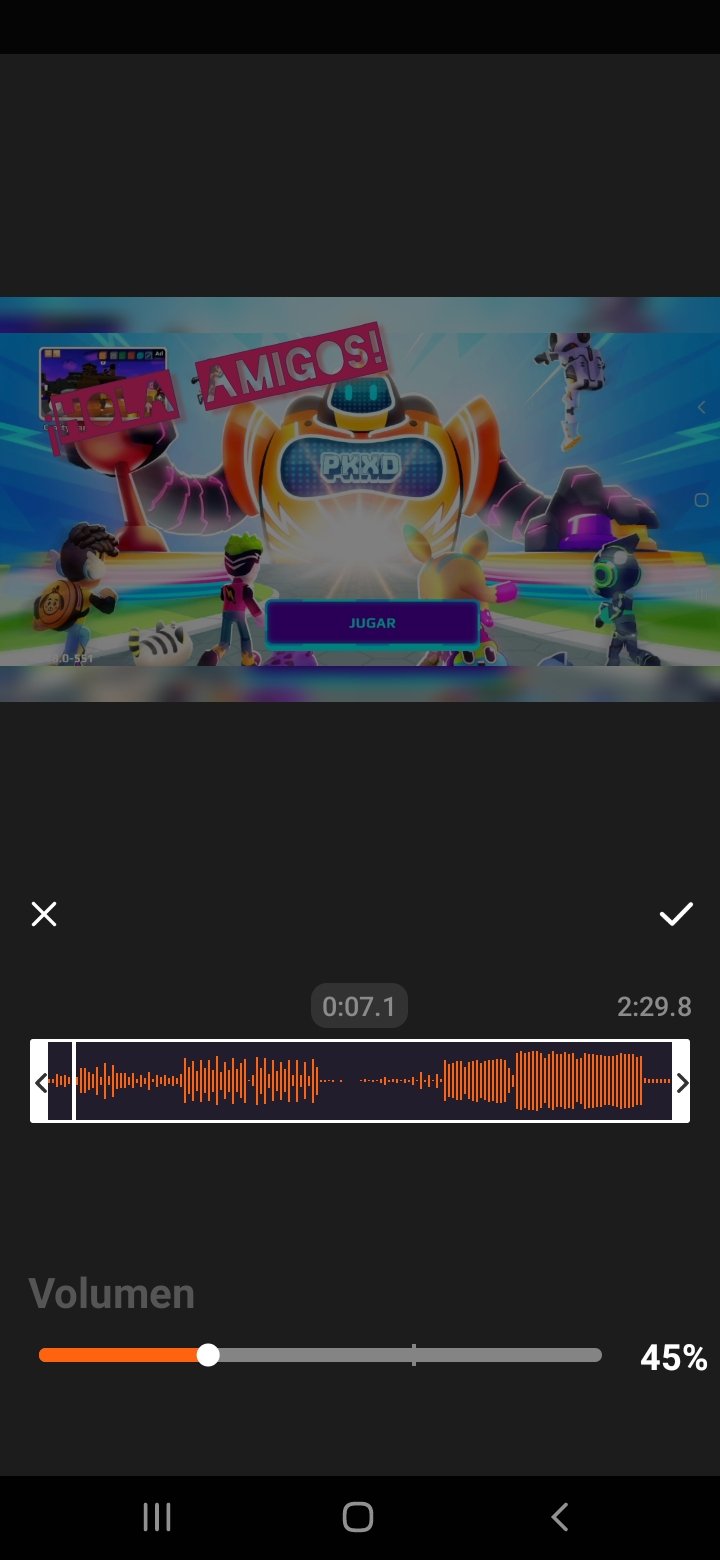 ---
Algo maravilloso que colocaron con la actualización, son las traslaciones de un video a otro o fragmento. Esto y los adhesivos es algo que me gustó mucho cuando lo vi, sin duda alguna y lo uso ahora en las ediciones de mis videos.
Something wonderful that they put in with the update, is the translations from one video to another or fragment. This and the stickers is something I really liked when I saw it, no doubt about it and I use it now in my video edits.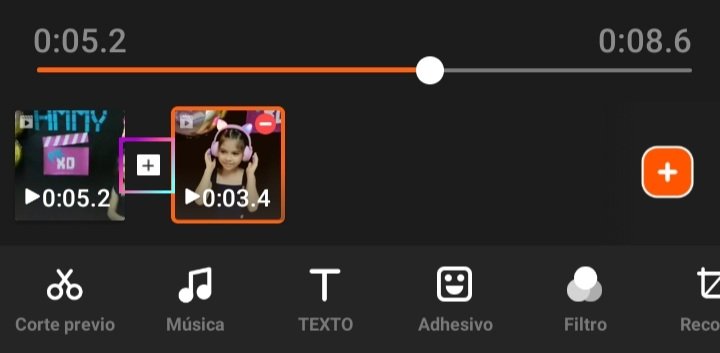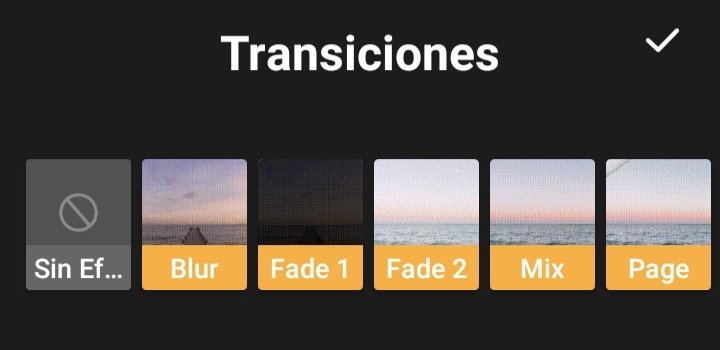 Ahora bien...
¿Cómo quitamos la marca de agua que deja la aplicación?
Fácil. Esto puedes hacerlo iniciando la edición de tu video para que no lo olvides o al final, como tu desees.
Now then...
How do we remove the watermark left by the application?
Easy. You can do this when you start editing your video so you don't forget it or at the end, as you wish.
---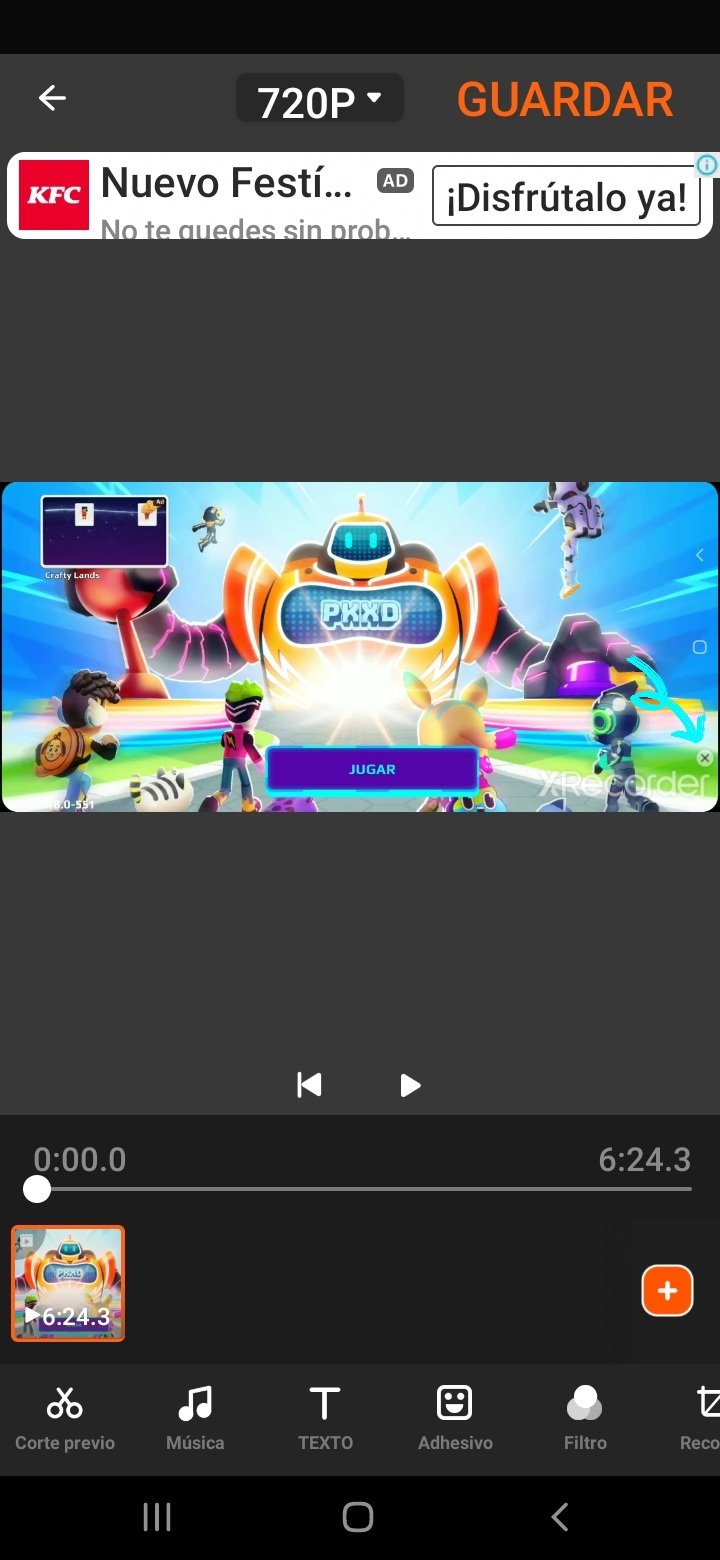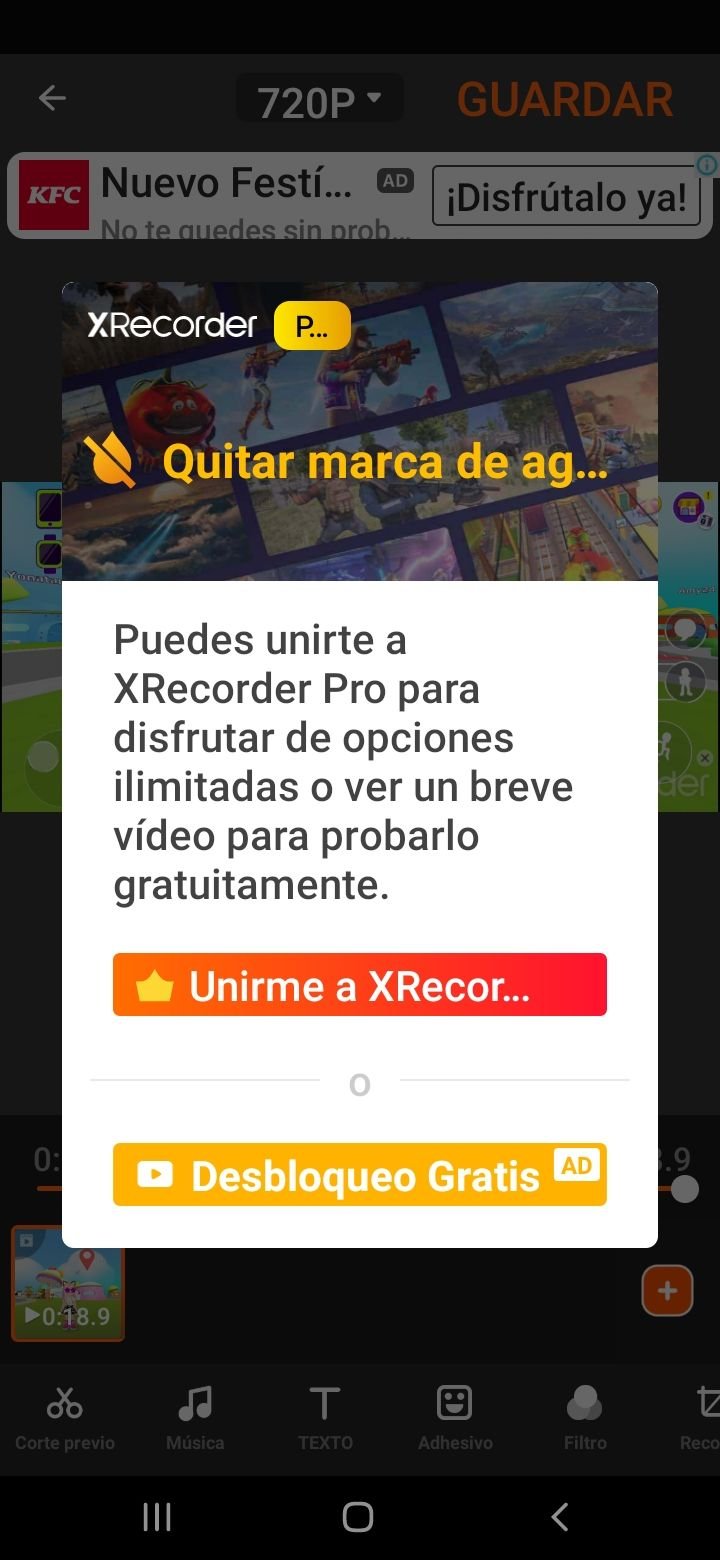 ---
La marca de agua de esta aplicación, sale en uno de los lados de la parte inferior de la vista previa de nuestro video. Hacemos clic sobre una pequeña equis y nos saldrá la opción de Unirte a XRecorde la cual por ser Pro es paga, y la opción de Desbloqueo Gratis, que es el que vamos a seleccionar. Vemos un video promocional o propaganda y listo, se quita la marca de agua de nuestro video.
The watermark of this application, comes out in one of the sides of the inferior part of the preview of our video. We click on a small X and we will see the option to Join XRecorde which is Pro is paid, and the option of Free Unlock, which is the one we are going to select. We see a promotional video or advertisement and that's it, the watermark is removed from our video.
---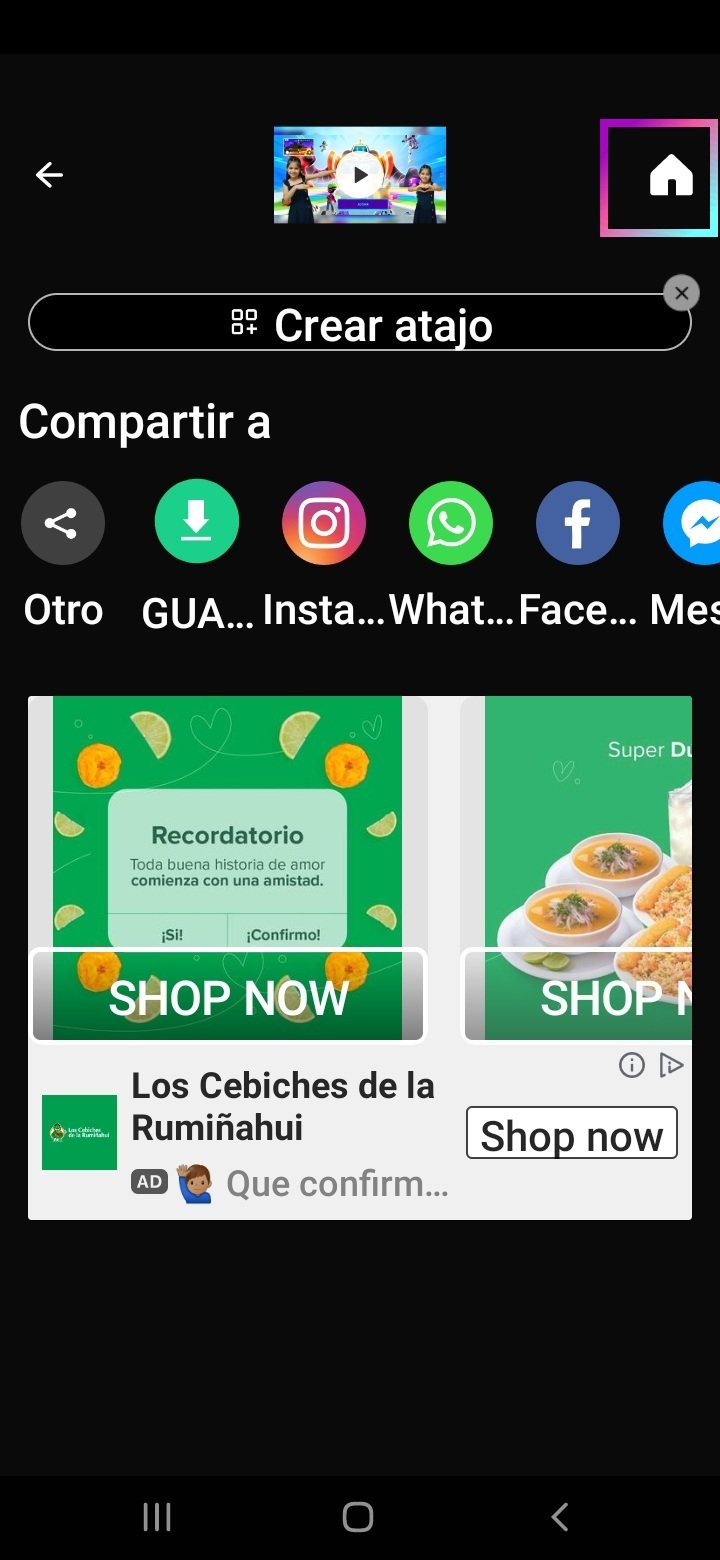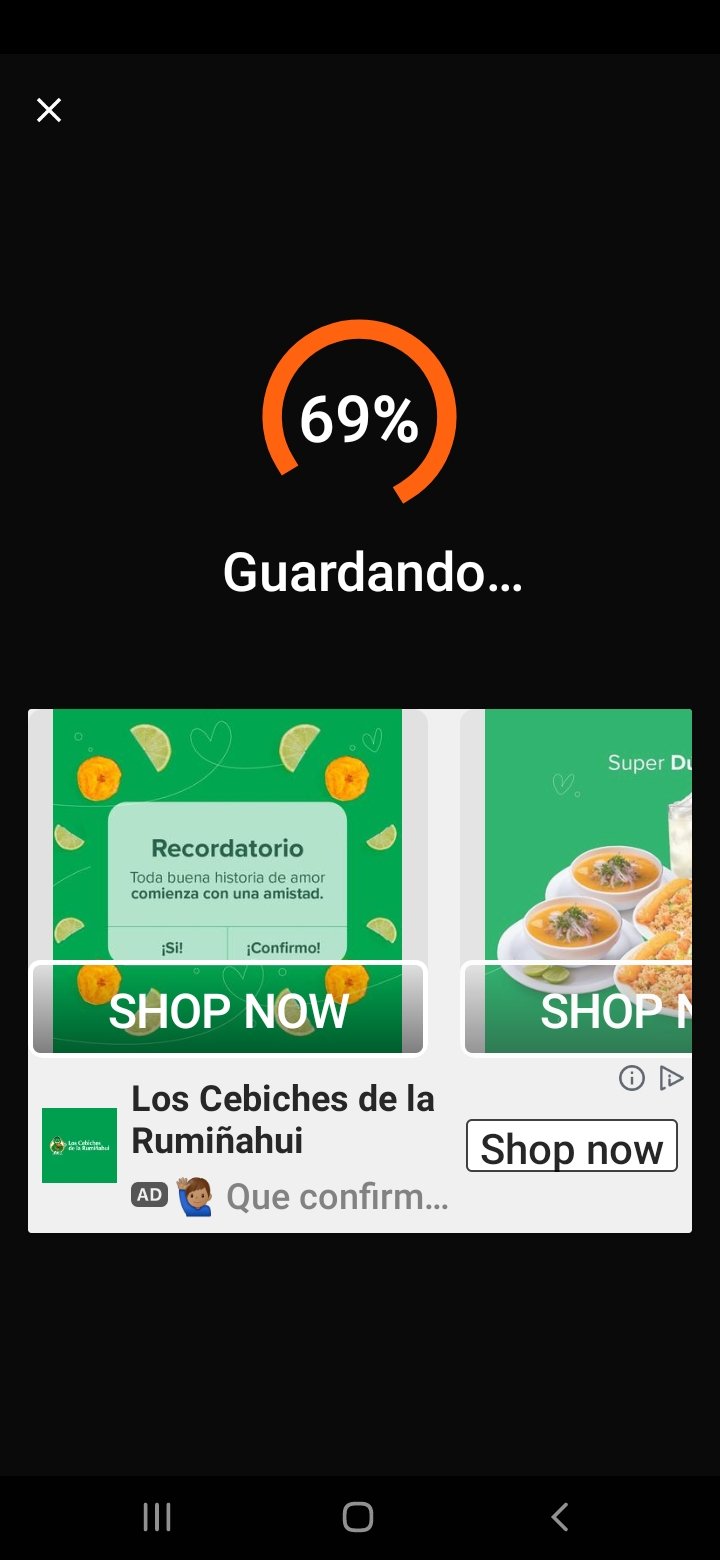 Una vez editado nuestro video, le damos clic en la opción de Guardar, que sale en la parte superior y comienza a cargarse.
Debes asegurarte de tener suficiente espacio en el teléfono. Cuando ya está cargado completo te parece como se muestra en la segunda imagen. Y significa que está guardado en tu Galería, verifica amtes de cerrar.
Si le das a la opción de casita te llevará a la parte inicial, donde saldrá listo tu proyecto y puedes cambiarle el nombre, haciendo clic en los tres puntos para que desglose un menú.
Once you have edited your video, click on the Save option at the top of the screen and it will start loading.
You must make sure you have enough space on your phone. When it is fully loaded it looks like the second image. And it means that it is saved in your Gallery, check before closing.
If you click on the little house option it will take you to the initial part, where your project will be ready and you can rename it by clicking on the three dots to drop down a menu.
---
XRecorde es una aplicación gratuita que la puedes conseguir en Play Store, graba pantalla de una manera clara y soporta Full HD gratis, además tiene muy buena calificación y comentarios.
Lo único malo de esta aplicación, es que contiene anuncios, pero no es algo exagerado como otras y aún así es muy buena.
XRecorde is a free app that you can get on Play Store, it records screen in a clear way and supports Full HD for free, it also has very good rating and reviews.
The only bad thing about this app, is that it contains advertisements, but it's not something exaggerated like others and it's still very good.
---

Todas las imágenes y GIFs fueron capturados desde la aplicación con mi teléfono móvil Samsung Galaxy A20s. Imagen principal editada en canva.
All images and GIFs were captured from the app with my Samsung Galaxy A20s cell phone. Main image edited in canva