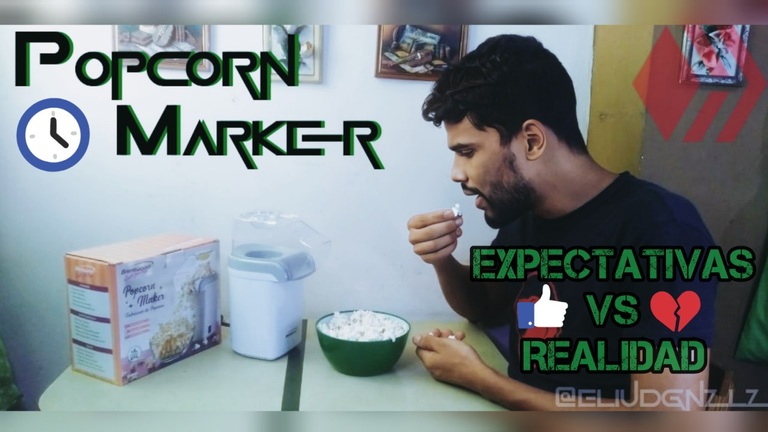 Hola amigos de GeekZone, me pongo a pensar en esos productos electrónicos que compramos y al final terminan guardados porque no cumplen nuestras expectativas, aquí entra la típica frase "No era lo que yo esperaba", (Expectativas VS Realidad), y... también en muchas ocasiones nos dejamos llevar por esa pequeña ilusión que nos presentan.
La Súper y Gloriosa "Popcorn Maker" te podrá hacer todas las cotufas (Palomitas de Maíz) que gustes en cuestión de MINUTOS.
¡No esperes más!
¡Nuestras operadoras te están esperando!.
Esperen un momento... esto se me fue de las manos (jajajajajaja) nada es lo que parece, no les estoy vendiendo la máquina, tampoco es un infomercial; aunque esto no fue adquirido por la TV en una de esas publicidades engañosas (jajajajaja), en mi mente cuando lo vi, tuve esa voz que me decía que era la oportunidad de la vida, y como dije al principio, la realidad no superó a la perspectiva.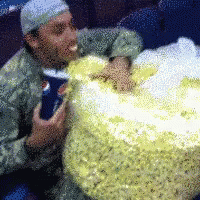 Leyendo la oferta engañosa de la caja, dice "8 tazas en 2 minutos" según mi comprensión lectora, eso se resume a 8 tazas de cotufas (Palomitas de Maíz) cada 2 minutos, si sacamos la cuenta para 10 minutos, son 40 tazas, que poniéndolo en proporción es una gran cantidad, Me brillaron los ojos al pensar eso (jajajajajaja) (Solo le pasa a la gente "Muerta de hambre", osea yo)), junto a mi hermana la compre, ya que como a ella le gustan las cotufas (Palomitas de Maíz), pareció buena idea.
Como la ansiedad por probar la máquina era muy grande, llegamos y la abrimos a eso de las 8:00 PM (18:00), la limpiamos y manos a la obra, la realidad fue que en 10 minutos, no llevábamos las 40 tazas del cálculo, sino 1 y eso porque es la medida que trae, "hijo ese momento, no se llama felicidad", fue muy desilusionador.
La probamos algunas otras veces más en días siguientes, pensando que por la emoción no la habíamos usado bien, y el resultado era el mismo, jamás tuvimos las 40 tazas, ya que, calentaba muchísimo y nos daba temor de dañar la máquina, mejor esperábamos un rato y volver hacer; (se nos cayó el negocio de abrir un cine clandestino (jajajajaja)), en pocas palabras esta máquina no es para personas que les gusta mucho comer cotufas (Palomitas de Maíz), es como para hacer un una porción para 1 niño (jajajajaja).
Tiene 2 virtudes la máquina, la primera es que no utilizamos aceite o mantequilla para prepararlas, por el hecho de que funciona con aire caliente, (Si le queremos agregar mantequilla luego, tiene su contenedor para derretirla), el segundo punto positivo, es que las cotufas (Palomitas de Maíz), son más esponjosas.
En conclusión, la Popcorn Marker no es un mal producto, solo que no cumple con las expectativas, sigue siendo mejor hacer cotufas (Palomitas de Maíz) en el sartén, cacerola, olla, donde la hagan, bueno en su defecto las que vienen para hacer en el microondas; porque si lo sacamos por la cantidad que se puede obtener con la máquina y el tiempo, prefiero el método tradicional, ya que el tiempo va a ser el mismo con mayor proporción.
Debemos evitar dejarnos llevar por los impulsos, de querer gastar dinero en cosas que no nos dejaran veneficios, porque a la larga únicamente nos volvemos consumistas, no sabemos que hacer con las cosas que compramos y luego las terminamos regalando, porque ocupan espacio que necesitamos.

PD: No crean en la mentiras de los infomerciales, y mucho menos en una máquina para hacer cotufas (Palomitas de Maíz), jajajajajaja.

PD 2: El plato hondo verde es solo decoración XD


---

I N G L E S -- I N G L E S

---
Hello friends of GeekZone, I start thinking about those electronic products that we buy and in the end end up stored because they do not meet our expectations, here comes the typical phrase "It was not what I expected", (Expectations VS Reality), and.... also in many occasions we let ourselves be carried away by that little illusion that is presented to us.
The Super Glorious Popcorn Maker can make all the popcorn you want in a matter of MINUTES.
Don't wait any longer!
Our operators are waiting for you!
Wait a minute... this got out of hand (hahahahahahaha) nothing is what it seems, I am not selling you the machine, neither is it an infomercial; although this was not acquired by the TV in one of those misleading advertisements (hahahahahahaha), in my mind when I saw it, I had that voice telling me it was the opportunity of a lifetime, and as I said at the beginning, reality did not overcome perspective.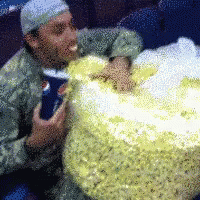 Reading the misleading offer on the box, it says "8 cups in 2 minutes" according to my reading comprehension, that sums up to 8 cups of cotufas (Popcorn) every 2 minutes, if we take the count for 10 minutes, that's 40 cups, My eyes sparkled when I thought that (hahahahahahaha) (It only happens to "starving" people, that is me)), I bought it together with my sister, since she likes popcorn, it seemed like a good idea.
As the anxiety to try the machine was very big, we arrived and opened it at about 8:00 PM (18:00), we cleaned it and got to work, the reality was that in 10 minutes, we did not take the 40 cups of the calculation, but 1 and that because it is the measure that brings, "son that moment, it is not called happiness", it was very disappointing.
We tried it a few more times in the following days, thinking that because of the excitement we had not used it well, and the result was the same, we never had the 40 cups, because it heated a lot and we were afraid of damaging the machine, we better wait a while and do it again; (we dropped the business of opening a clandestine cinema (hahahahahaha)), in short this machine is not for people who like to eat popcorn, it is like to make a portion for 1 child (hahahahahaha).
The machine has 2 virtues, the first one is that we do not use oil or butter to prepare them, because it works with hot air (if we want to add butter later, it has a container to melt it), the second positive point is that the popcorn is fluffier.
In conclusion, the Popcorn Marker is not a bad product, it just does not meet the expectations, it is still better to make popcorn in the frying pan, pan, pot, wherever you make it, well if not the ones that come to make it in the microwave; because if we take it for the amount that can be obtained with the machine and the time, I prefer the traditional method, since the time will be the same with a higher proportion.
We must avoid getting carried away by impulses, of wanting to spend money on things that will not leave us benefits, because in the long run we only become consumerists, we do not know what to do with the things we buy and then we end up giving them away, because they take up space that we need.
PD: Do not believe in the lies of infomercials, and much less in a machine to make popcorn, hahahahahahaha.

PD 2: The green bowl is just decoration XD




---
Translated
Separadores
Imagen De La Portada Editad - Adobe Photoshop CC 2019 - InShot
Fotografias Tomadas Con Mi Telefono.
El tomado Gif Fue Tomado De La Herramienta Que Posee El Editor De Post Que Tiene Peakd