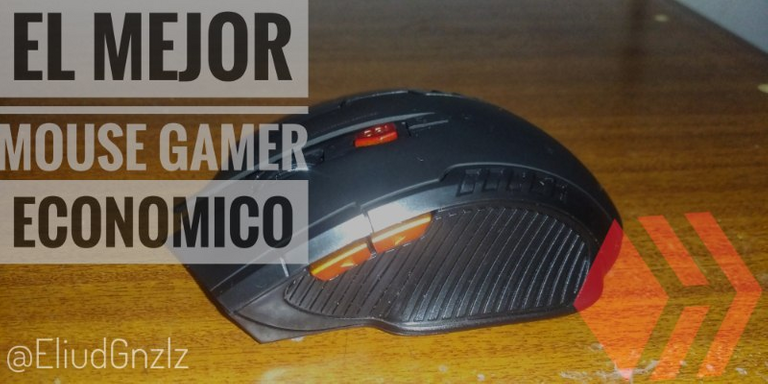 Hola, espero y se encuentren superbién, este post será un tanto diferente, les voy a mostrar lo que me compre, y el motivo por el cual es bueno tener un mouse con 2 botones o más extras, vamos a ello.
Desde hace como 4 o 5 años, había tomado la decisión de que la mayoría de mis dispositivos iban a hacer inalámbricos, ya que, siempre tenía el problema de que sin querer hala los cables y pasaban cosas que no quería, o también por el mucho uso en algún lado del cable se dañaba y era complicado el saber donde para repararlos.
El primer mouse inalámbrico que me compre paso un accidente, en ese tiempo yo usaba laptop y yendo a mi habitación me cayó en un recipiente con agua, (Triste, pero cierto) duro como 2 años, luego del accidente de le daño el scroll (O la ruedita jajajaja) y era muy incómodo, ese mouse también lo había comprado con 2 botones extras como el que les traigo ahora.
Tenía como 6 meses sin mouse hasta que conseguí este por muy buen precio (6$ USD), lo compre por mercado libre, cuando lo vi que lo fui a buscar era como en la foto, ese estilo gamer muy bonito, llegue a mi casa y de una a probarlo, les digo que por su precio es muy bueno y ergonómico, como mi mano es un poco grande se adapta muy bien.
Este mouse posee 6 botones y claro el scroll, 3 de los 6 sabemos para qué funcionan, no hay mucho misterio y nada extra que explicar, a cambio los otros 3 si; el boto de la parte superior del mouse es para los DPI (Dots Per Inch - Puntos Por Pulgada) en resumidas palabras, es la velocidad con que se mueve el cursor por nuestro monitor, a mayor DPI más rápido se mueve, este mouse posee 3 velocidades (1000/1600/2400) y yo lo uso en la media porque es más cómoda.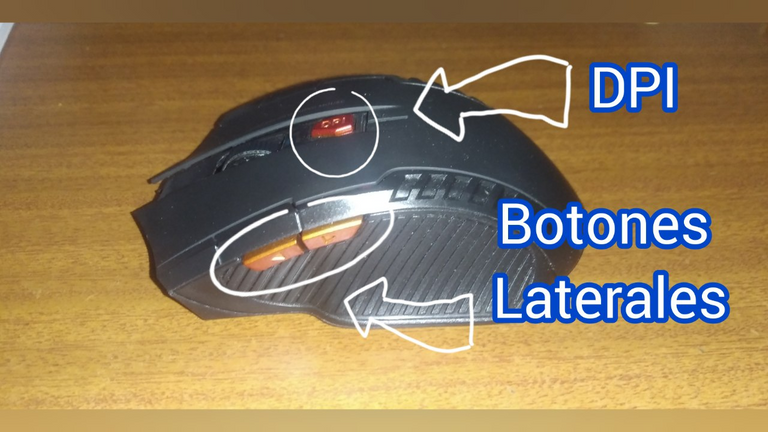 Los botones extras que trae del lado izquierdo tienen una programación definida, se usan para retroceder o avanzar en el navegado, es decir, si entraste a un sitio web buscando algo y quieres darle atrás, en vez de buscar la flecha de atrás en nuestro navegador solo pisamos en el mouse y ya nos ahorra ese movimiento, el otro tiene el mismo comportamiento pero al inverso.
El mouse funciona con 2 pilas AAA, yo utilizo unas recargables y tengo otras de repuesto para cuando las que utilizo están cargando, de ese modo jamás me quedo sin emplear el mouse, lo único que cabe destacar, es que cuando se está agotando la carga, el mouse comienza a fallar, dando la señal que es momento de recargar las pilas, que por lo general, pasa cada 4 o 5 días de uso constante, tampoco es que sean las mejores pilas del mercado y ya llevan sus años de constante uso.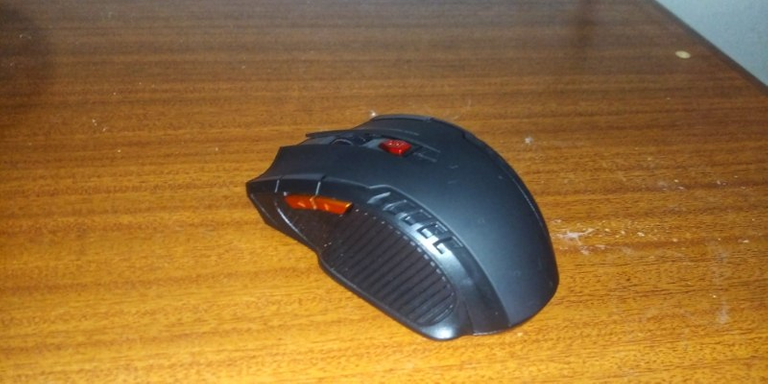 Yo empleos esos 2 botones laterales de una forma diferente, ya que uso un programa para cambiar el comportamiento al momento de darle clic en esos botones, por el hecho de que en ocasiones me tocaba presionar mucho (Ctrl + S) o (Ctrl + Shift + S), es mucho más fácil presionar 1 botón para eso, que hacerlo todo junto, claro esto se puede modificar para cualquier atajo no solo esos, por ejemplo, bajar y subir el volumen de nuestra pc, cambiarlo a (Ctrl + C / Ctrl + V) todo depende de como lo necesitemos.
Voy a adquirir una deuda con ustedes, es el de enseñarles a como usar el programa para configurar los botones extras, como es mejor hacer un video que hacerlo por imágenes en un próximo post se los traeré de regalo
---

I N G L E S

---
Hello, I hope you are doing well, this post will be a little different, I will show you what I bought, and why it is good to have a mouse with 2 or more extra buttons, let's get to it.
Since about 4 or 5 years ago, I had taken the decision that most of my devices were going to be wireless, because I always had the problem that without wanting to pull the cables and things happened that I didn't want, or also because of the much use somewhere the cable was damaged and it was complicated to know where to repair them.
The first wireless mouse that I bought happened an accident, at that time I was using a laptop and going to my room I fell into a container with water, (Sad, but true) lasted about 2 years, after the accident the scroll was damaged (or the wheel hahahaha) and it was very uncomfortable, that mouse also had bought it with 2 extra buttons like the one I bring you now.
I had about 6 months without mouse until I got this one for a very good price (6$ USD), I bought it for free market, when I saw it I went to look for it was like in the picture, that very nice gamer style, I arrived home and at once to try it, I tell you that for its price it is very good and ergonomic, as my hand is a little big it fits very well.
This mouse has 6 buttons and of course the scroll, 3 of the 6 we know what they work for, there is not much mystery and nothing extra to explain, but the other 3 do; the button on the top of the mouse is for the DPI (Dots Per Inch) in short, it is the speed at which the cursor moves across our monitor, the higher the DPI the faster it moves, this mouse has 3 speeds (1000/1600/2400) and I use it in the middle because it is more comfortable.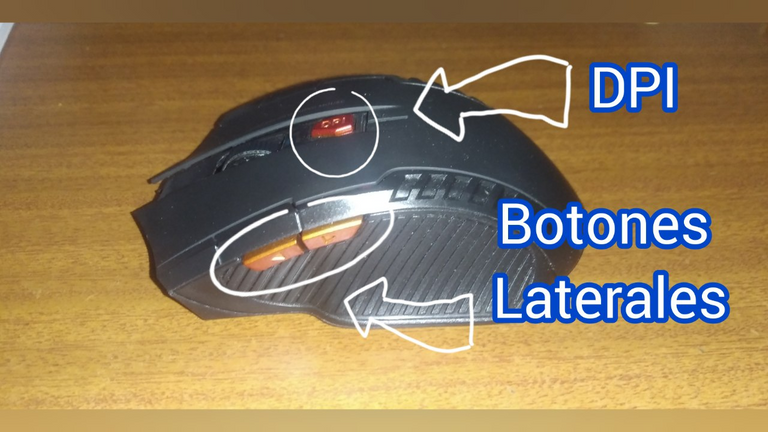 The extra buttons on the left side have a defined programming, they are used to go back or forward in the navigation, that is, if you entered a website looking for something and you want to go back, instead of looking for the back arrow in our browser just step on the mouse and it saves us that movement, the other has the same behavior but in reverse.
The mouse works with 2 AAA batteries, I use rechargeable ones and I have spare ones for when the ones I use are charging, that way I never run out of the mouse, the only thing to note is that when the charge is running out, the mouse starts to fail, giving the signal that it is time to recharge the batteries, which usually happens every 4 or 5 days of constant use, not that they are the best batteries on the market, and they have been in constant use for years.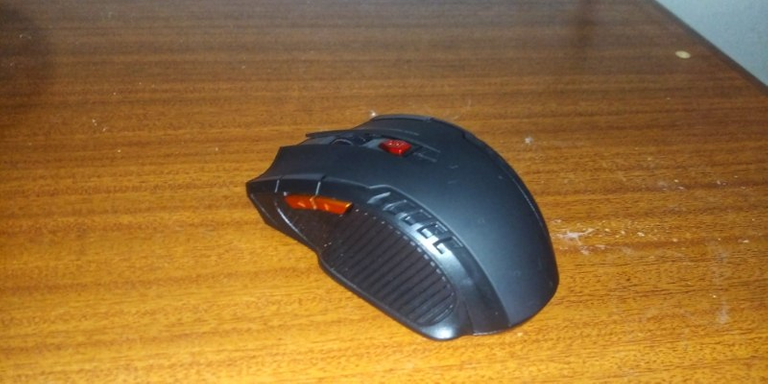 I use those 2 side buttons in a different way, since I use a program to change the behavior when clicking on those buttons, due to the fact that sometimes I had to press a lot (Ctrl + S) or (Ctrl + Shift + S), it is much easier to press 1 button for that, than doing it all together, of course this can be modified for any shortcut not only those, for example, lower and raise the volume of our pc, change it to (Ctrl + C / Ctrl + V) it all depends on how we need it.
I am going to acquire a debt with you, it is to teach you how to use the program to configure the extra buttons, as it is better to make a video than to do it by images in a next post I will bring them to you as a gift.



Translated
Separadores
Imagen editada - InShot / Snapseed
Banner - CCExpres
Todas Las Fotografías Son De Mi Propiedad.