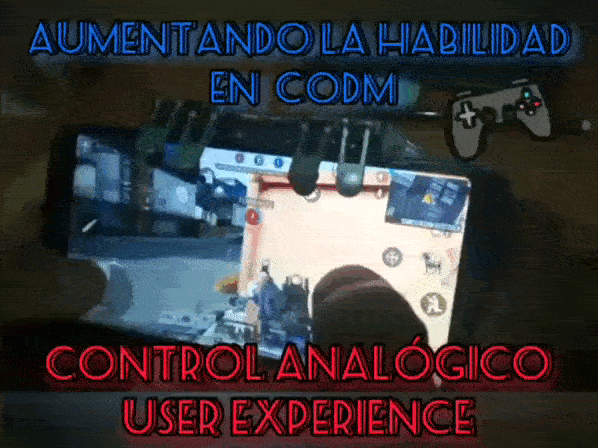 Hola amigos... espero en este nuevo y grandioso día se encuentren muy bien, desde hace algunos meses (No recuerdo cuantos), tengo este producto, que se supone que me lo regalaron para jugar, solo se supone, porque lo use unas pocas veces, creo que con el juego que lo comencé a jugar, no era muy compatible y creaba ciertos bugs.
El nombre de este producto se los debo (ya les digo el motivo), solo le llamo control, ya que como fue enviado desde México a Venezuela por un amigo, no sé realmente como se llama en su producto original, lo curioso del caso es que como yo nunca lo había visto aquí, mi amigo se ofreció a mandarlo (tampoco es que salga mucho jajajajaja).
La historia del control, pues inicio porque antes jugaba mucho Free Fire, luego con el pasar del tiempo me aburrió y lo deje de jugar, es un TPS (Third Person Shooter) (Juego de disparo en tercera persona), imagino que muchos lo conocemos y lo jugamos, la cosa fue que adapte muchos de los controles táctiles a las ubicaciones de los tap del control, la sorpresa al comenzar a jugar, fue que no podía disparar y moverme al mismo tiempo.
Es decir que solo podía disparar para un lugar fijo, del resto si intentaba girar mientras tenía el botón pisado, se volvía loco el muñeco, se movia para arriba y para abajo muy rápido, luego de eso me di por vencido y lo deje llevando polvo.
Hace unos días vi que @josecarrerag había hecho un post de su mandado, casi igual al que tengo yo, solo que el mío no refrigera, de cierta forma me convenció y pues, aquí estoy con el control (jajajajaja).
Les enseñaré a como configurarlo, es muy fácil, cave destacar que solo me ha funcionado con Call Of Duty Movil, con PUBG no lo he probado y no creo hacerlo, porque mi teléfono tiene poco almacenamiento (32 GB) y CODM ocupa 8 GB (Momento sad, jajajajaja), vamos manos a las obras.
Primero que nada debemos de acomodar bien nuestro equipo, preferiblemente que quede centrado, debemos tener cuidado de no dejar ninguna tecla lateral presionada o puede que apaguemos nuestro teléfono.
Ahora dentro del juego, buscamos la configuración de los controles táctiles.
Luego ya solo nos queda modificar el tamaño de cada control y moverlos a la parte superior, guardamos los cambios y listo, toca probar y acostumbrarnos (la parte más fastidiosa jajajajaj).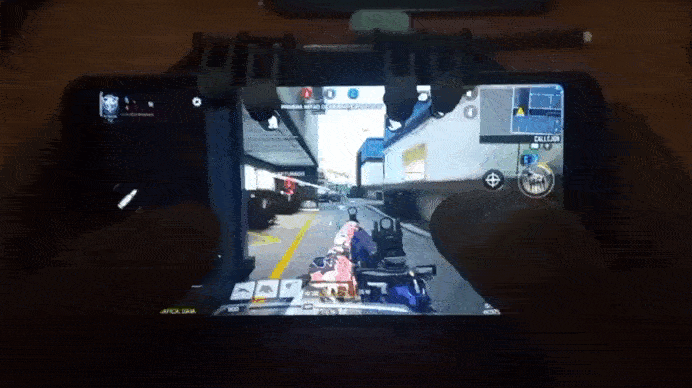 Por lo poco que he jugado hasta ahora, si es mucho más cómodo, ya que nos da un mayor rango visual, por no tener las manos pegadas a nuestro teléfono, tenemos una gran libertad en la movilidad, porque no estamos pendiente de disparar donde giramos y bueno como ya les dije es cuestión de acostumbrarnos a usar estos gatillos, les aseguro que en poco tiempo ya estaré jugando muy relajado con ellos.
Nota: Sé que hay de estos controles que vienen para conectarlos por bluetooth, hay que tener cuidado, ya que algunos juegos no son compatibles con estos mandos y podemos pensar que botamos nuestro dinero.
Un Fuerte Abrazo.
PD: Hoy no hay mensajes extras (jajajajaja)
---

I N G L E S -- I N G L E S

---
Hello friends ... I hope in this new and great day are very well, for some months (I do not remember how many), I have this product, which is supposed to be given to me to play, only supposed, because I used it a few times, I think the game that I started to play, was not very compatible and created certain bugs.
I owe the name of this product (I'll tell you the reason), I just call it control, because as it was sent from Mexico to Venezuela by a friend, I do not really know what it is called in its original product, the funny thing is that as I had never seen it here, my friend offered to send it (not that it comes out much hahahahahaha).
The history of the control, because I used to play a lot Free Fire, then as time went by I got bored and stopped playing it, it's a TPS (Third Person Shooter), I guess many of us know it and play it, the thing was that I adapted many of the touch controls to the tap locations of the control, the surprise when I started playing, was that I could not shoot and move at the same time.
That is to say that I could only shoot for a fixed place, the rest if I tried to turn while I had the button pressed, the doll went crazy, it moved up and down very fast, after that I gave up and left it wearing dust.
A few days ago I saw that @josecarrerag had made a post of his errand, almost the same as the one I have, only that mine does not cool, somehow convinced me and well, here I am with the control (hahahahahaha).
I will show you how to configure it, it is very easy, it is worth noting that it has only worked with Call Of Duty Mobile, with PUBG I have not tried it and I do not think I will, because my phone has little storage (32 GB) and CODM occupies 8 (Momento sad, hahahahahahaha), let's get to work.
First of all we must arrange our equipment well, preferably that it is centered, we must be careful not to leave any side key pressed or we may turn off our phone.
Now, inside the game, we look for the configuration of the touch controls.
Then we just have to modify the size of each control and move them to the top, save the changes and ready, it's time to try and get used to it (the most annoying part hahahahahahah).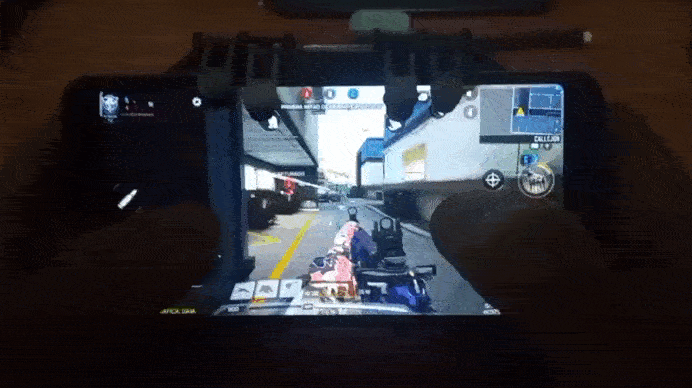 For the little I've played so far, if it is much more comfortable, as it gives us a greater visual range, not having our hands glued to our phone, we have a great freedom in mobility, because we are not pending to shoot where we turn and well as I said is a matter of getting used to using these triggers, I assure you that in a short time I will be playing very relaxed with them.
Note: I know that there are some of these controls that come to connect them by bluetooth, you have to be careful, because some games are not compatible with these controllers and we can think that we throw away our money.
PD: No extra messages today (jajajajajaja)

---
---
Todos los Gif e Imagenes Son De Mi Autoria.

---