---
Saludos mi gente linda de GeekZone, en esta ocasión he visitado una feria tecnológica denominada "EXPORAB DEL SUR", una feria Tecnológica para la industria textil y de confecciones. Realmente he quedado impresionado por la amplia cantidad de modelos presentes, la versatilidad de aplicaciones que ofrecen cada uno de estos equipos, que sin lugar a dudas experimenté la sensación de un viaje al futuro:
Greetings my beautiful people of GeekZone, this time I have visited a technology fair called "EXPORAB DEL SUR", a technology fair for the textile and apparel industry. I have really been impressed by the large number of models present, the versatility of applications offered by each of these teams, which undoubtedly experienced the feeling of a trip to the future: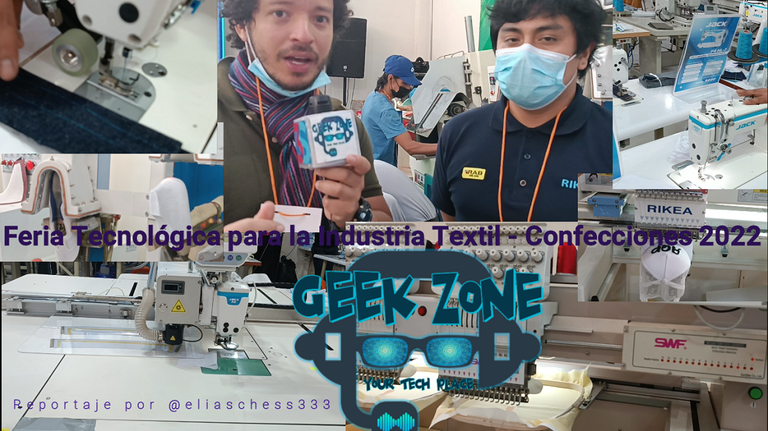 En el transcurso de la visita fuimos asistido por el amigo Enzo, quien muy amablemente nos fue explicando un poco sobre el funcionamiento de estos impresionantes equipos, acá la captura de uno de los momentos de la interacción:
During the visit we were assisted by our friend Enzo, who very kindly explained to us a little about the operation of this impressive equipment, here is a snapshot of one of the moments of the interaction:
Me llamó mucho la atención la evolución que han tenido las máquinas que usaban nuestras abuelitas, teniendo incluso paneles de control para automatizar el espaciamiento de las puntadas de la aguja y obtener acabados de alta calidad:
I was very impressed by the evolution of the machines that our grandmothers used to use, even having control panels to automate the spacing of the needle stitches and obtain high quality finishes: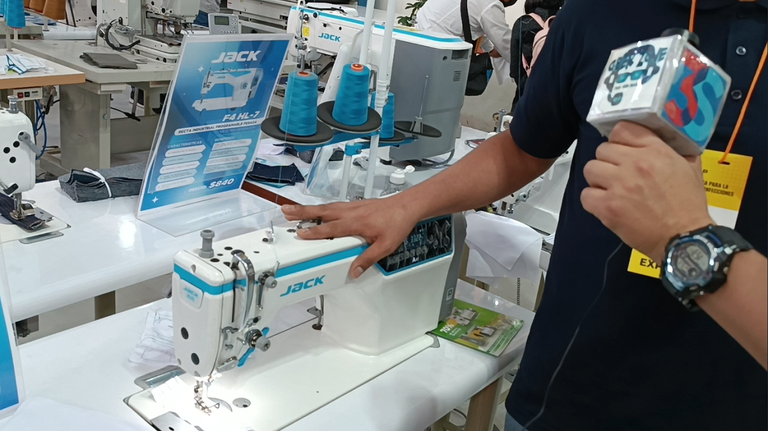 Otro modelo de máquina que me llamó bastante la atención fue uno que tiene un sistema para aplanar la tela después de la costura. Según nos explica el técnico, existen telas que al pasarle la costura se pueden arrugar, y esta máquina soluciona ese problema:
Another machine model that caught my attention was one that has a system to flatten the fabric after sewing. According to the technician, there are fabrics that can wrinkle after sewing, and this machine solves that problem: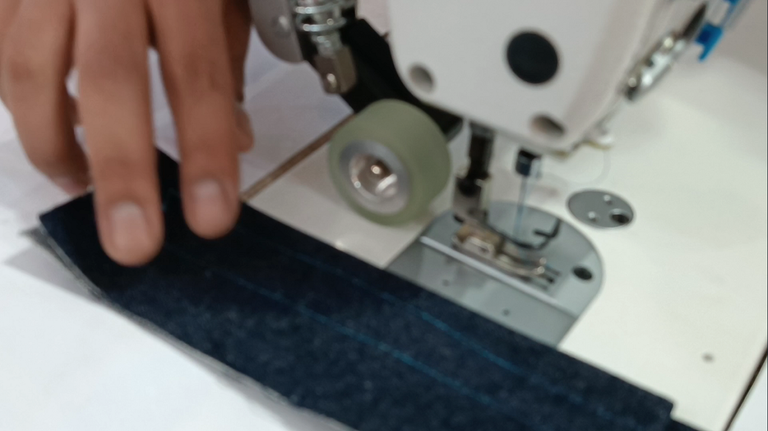 Otro aspecto que me impresionó fueron las máquinas para hacer bordados, sinceramente no me imaginaba que estas máquinas podían existir. Son máquinas con tantos recursos que prácticamente el límite para los diseño lo pones tú, a continuación algunas imágenes:
Another aspect that impressed me were the embroidery machines, I honestly did not imagine that these machines could exist. They are machines with so many resources that practically the limit for the design is set by you, here are some images: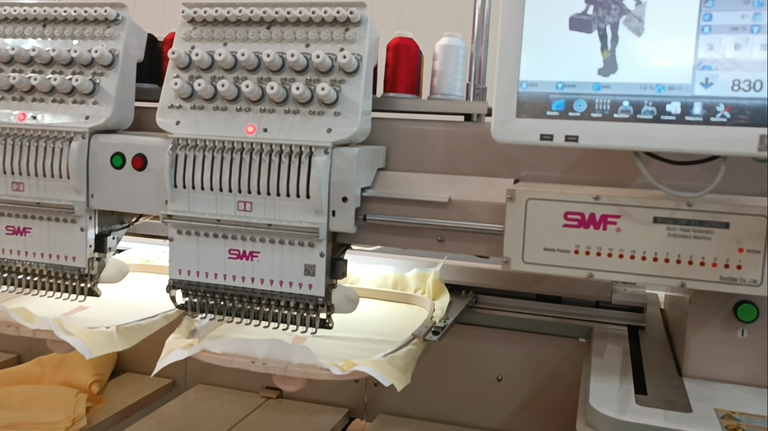 Impresionante también lo que es el bordado de accesorios, como por ejemplo el caso de gorras, con una tecnología de bordado en relieve:
Also impressive is the embroidery of accessories, such as caps, with embossed embroidery technology: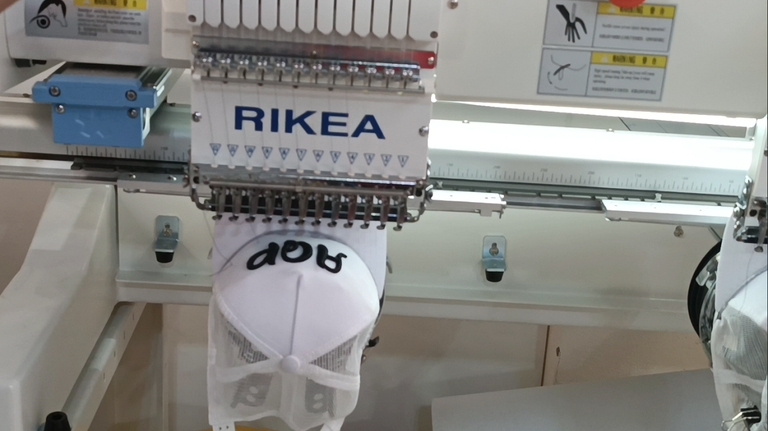 El recorrido finaliza con una muestra de los principales equipos que se utilizan en la confección del calzado, a continuación les presento una máquina conformadora, que tiene partes de frio y caliente para poder de ese modo moldear la materia prima.
The tour ends with a sample of the main equipment used in the manufacture of footwear, then I present a forming machine, which has hot and cold parts to be able to mold the raw material.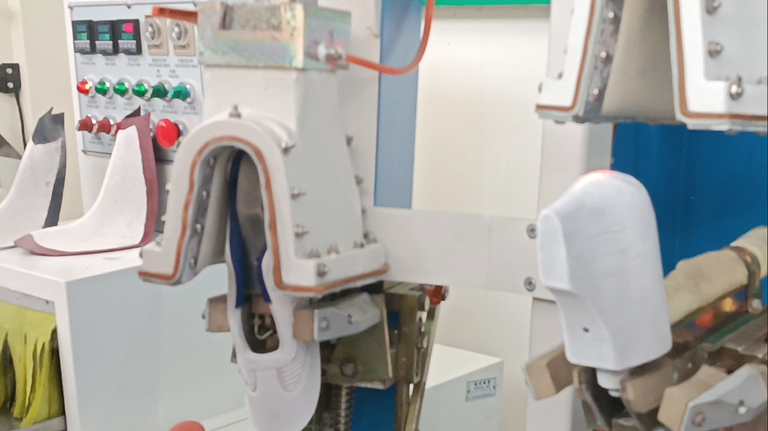 Acerca la entrevista
About the interview
Quiero confesarles en esta sección de la publicación que la interacción con el amigo Enzo fue realmente extensa, sin embargo, ocurrieron problemas técnicos en la captación del audio, por lo que utilicé la técnica del "voz off" para cubrir las enseñanzas adquiridas en esta visita. No obstante, acá te presento un resumen de las preguntas que considero de mayor relevancia:
I want to confess in this section of the publication that the interaction with my friend Enzo was really extensive, however, technical problems occurred in the audio capture, so I used the technique of "voice off" to cover the lessons learned in this visit. Nevertheless, here is a summary of the questions that I consider most relevant:
¿De dónde provienen estos productos?
Where do these products come from?
Yack, Rikea que son algunas de las marcas que distribuimos son productos de origine asiático: China , Korea, Taiwan. Traemos estas máquinas del exterior, con la intención de que el rubro textil y de la confección avance en el Perú, queremos que nuestros productores den el paso de evolucionar.
Yack, Rikea, which are some of the brands we distribute, are products of Asian origin: China, Korea, Taiwan. We bring these machines from abroad, with the intention that the textile and clothing industry advances in Peru, we want our producers to take the step to evolve.
¿La importancia del uso de esta tecnología?
The importance of using this technology?
La importancia de esta tecnología es precisamente para lograr acabados estándar, algo que se exige mucho en los procesos de exportación.
The importance of this technology is precisely to achieve standard finishes, something that is highly demanded in export processes.
¿Cuéntanos un poco de los precios de estas maquinarias para la confección?
Can you tell us a little about the prices of these machines?
Los costos de estas máquinas son costos de feria, se dejan a un precio super accesible, con la intención de llegar a más personas del rubro , que saben cuántos le van a rendir una de estas máquinas. La rentabilidad que puedes conseguir gracias a los rendimientos es realmente impresionante.
The costs of these machines are fair costs, they are left at a super affordable price, with the intention of reaching more people in the industry, who know how many will yield one of these machines. The profitability that you can get thanks to the yields is really impressive.
De igual manera te invito a que veas el recurso audiovisual, para que tengas una experiencia más cercana a todas las enseñanzas adquiridas en la visita.
I also invite you to watch the audiovisual resource, so that you can have a closer experience of all the lessons learned during the visit.
Reflexiones finales
Final thoughts
Es interesante ver la tecnología al servicio de la humanidad, para agilizar procesos, mejorar rendimientos. En esta oportunidad nos hemos enfocados al mundo de la confección de ropa, de calzado. Espero seguir compartiendo con la comunidad más ferias tecnológicas, cada vez me enamora más esta labor de hacer reportajes. Me despido con algunas fotos más:
It is interesting to see technology at the service of humanity, to streamline processes, to improve performance. This time we have focused on the world of clothing and footwear manufacturing. I hope to continue sharing with the community more technology fairs, I love more and more this work of reporting. I say goodbye with some more pictures: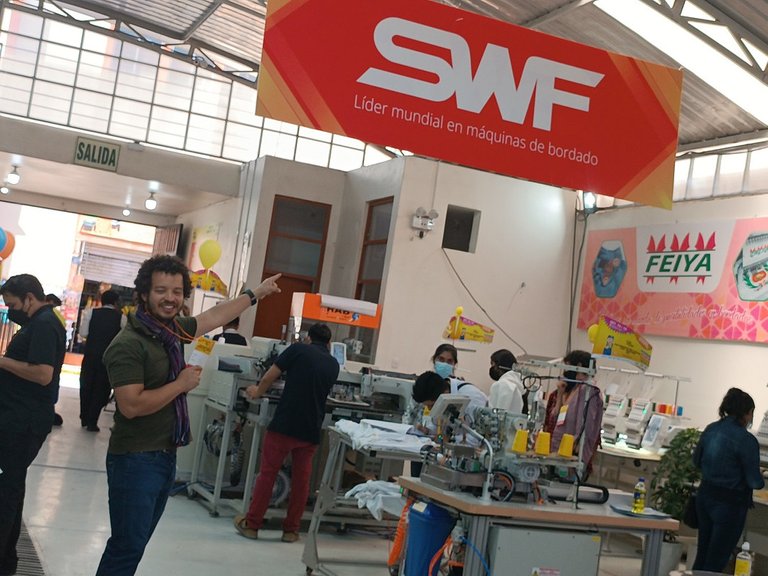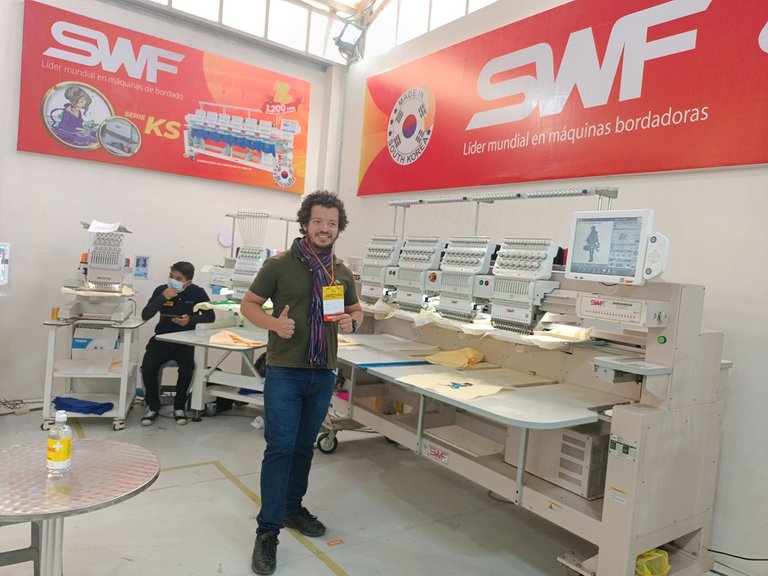 Créditos
@eliaschess333-Director
@normacanaza- Asistente en la grabación del video y toma de fotografías
Los fondos musicales empleados son de uso libre extraídos del portal de Pixabay 1Pixabay 2
El logo de GeekZone es cortesía de la comunidad.
Voz Off: @eliaschess333
Las tomas fueron realizadas usando mi Redmi Note 11-Pro
El audio del voz off fue grabado con mi Redmi Note 11-Pro
El video fue editado con el programa Filmora X
Credits

@eliaschess333-Director

@normacanaza- Assistant in the video recording and photo shooting

The music backgrounds used are of free use extracted from Pixabay 1Pixabay 2 portal.

The GeekZone logo is courtesy of the community.

Voice Off: @eliaschess333

Shots were taken using my Redmi Note 11-Pro

Voiceover audio was recorded using my Redmi Note 11-Pro

The video was edited with Filmora X software.
Agradecimientos
Acknowledgements
A todos los organizadores de la Feria Tecnológica para la Industria Textil – Confecciones 2022, por gentilmente permitirnos la entrada en este importante evento para poder grabar y entrevistar.
To all the organizers of the Technology Fair for the Textile Industry - Confecciones 2022, for kindly allowing us to enter this important event to record and interview.
---
▶️ 3Speak